A Day Two Resto 1967 Camaro Built in the Midst of the Pro Street Surge
By Scotty Lachenauer   –   Photography by the Author
Jeff Harnish always knew what he liked. Over the course of his years that were infected with a bad case of automotive infatuation, the Manheim, Pennsylvania, native never let fads or trends sway him in one direction or another when contemplating a new build. That's one of the reasons why we salute him today, for without the foresight to see his vison through to the end we wouldn't be here generously gawking over his sweet, Day Two '67 Camaro.
Yes, though Day Two rides are super-Nova-hot these days, it wasn't always that way. It's interesting to note that this car was built over 30 years ago, during the heyday of wheeltubs, DayGlo paint, and cars with engine parts sticking through the hood. "This Camaro was a complete 180 from the trends, which is fine with me," Jeff states. "It turned out to be an anomaly of the day, and that's why it's stood the test of time."
It takes a man of conviction to swim against the tide and stick to his guns, which is just what Jeff did. "I had a good idea of what I wanted to accomplish with this build. I wasn't trying to make a statement," Jeff informs. "I just wanted to build a car that looked like the ones I foamed at the mouth over when I was a kid growing up in the '60s and '70s. It was that perfect Day Two look."
Jeff was born into a hard-core Blue Oval family but somehow the young gun gravitated toward the Bowtie line at an early age. "I was born in 1964 and grew up during the peak of drag racing and factory high-performance muscle car popularity, "Jeff states. "Why am I a Chevy guy? I think it was my Hot Wheels Redline Camaros, Corvettes, and Nomads I kept and stashed away!"
Check it out: The Scott's LS Swapped 1969 Chevy Camaro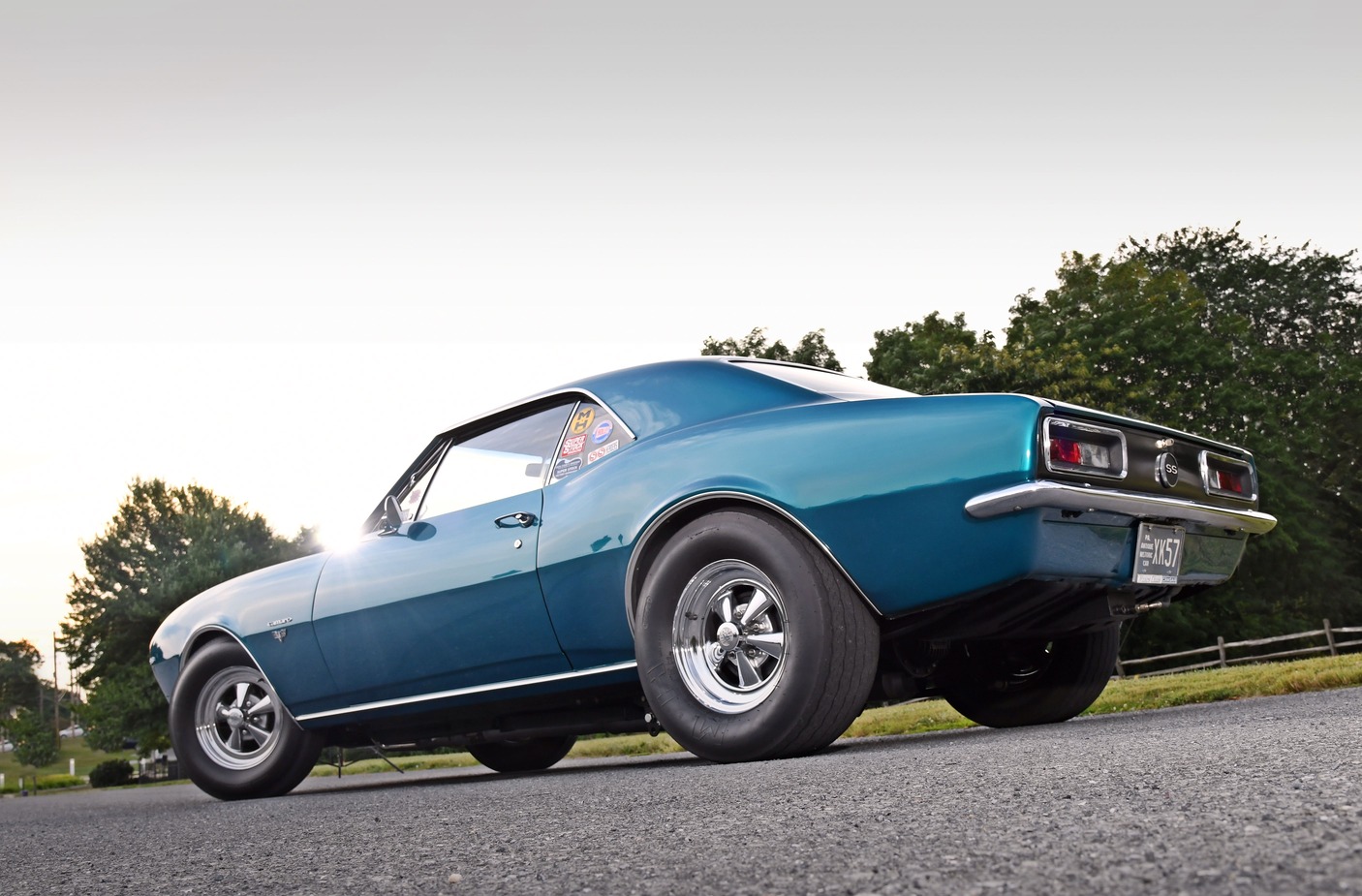 The saga of Jeff and this particular '67 Camaro started around 1989. "The Camaro was purchased as a very solid roller from a friend who was in a financial jam for $300," Jeff explains. "I planned to flip it or part it out knowing I could double or triple my money right off the bat. But I reconsidered because of the fact it was so solid and it had a clean black interior with a fold-down rear seat."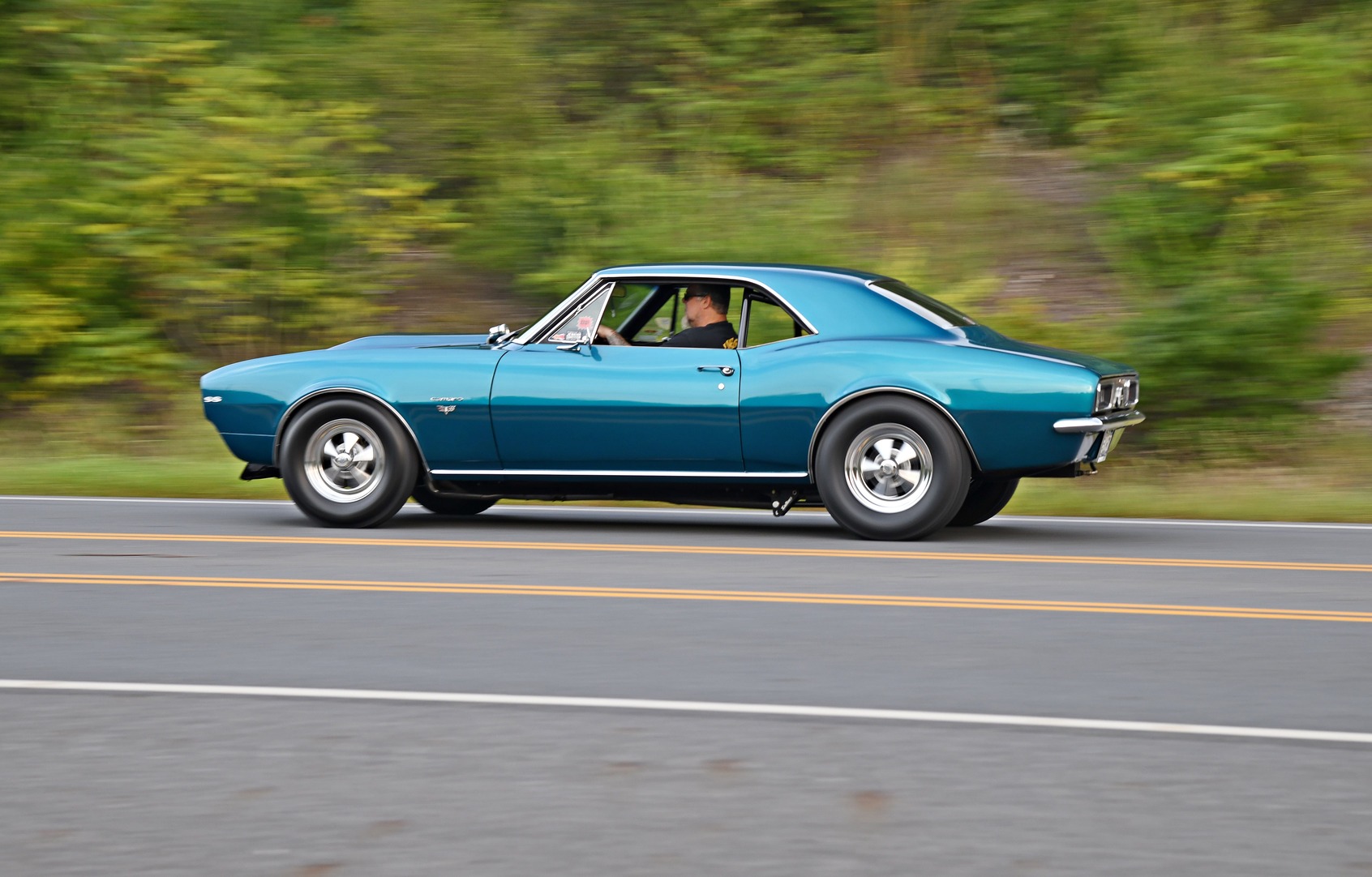 So Jeff decided it was a keeper, and soon found a home for it in a friend's garage who had the space and motivation to get the project started once he finished his own '69 Camaro. Soon boxes from Summit Racing started pouring in and in a matter of months the car was running and powered by a mild small-block. It didn't take long for the primer-skinned cruiser to blow up that first engine… and a few others not long after. "At that point I got serious about the car and sent it to a buddy's shop for some real bodywork and paint while we built a fresh engine," Jeff says.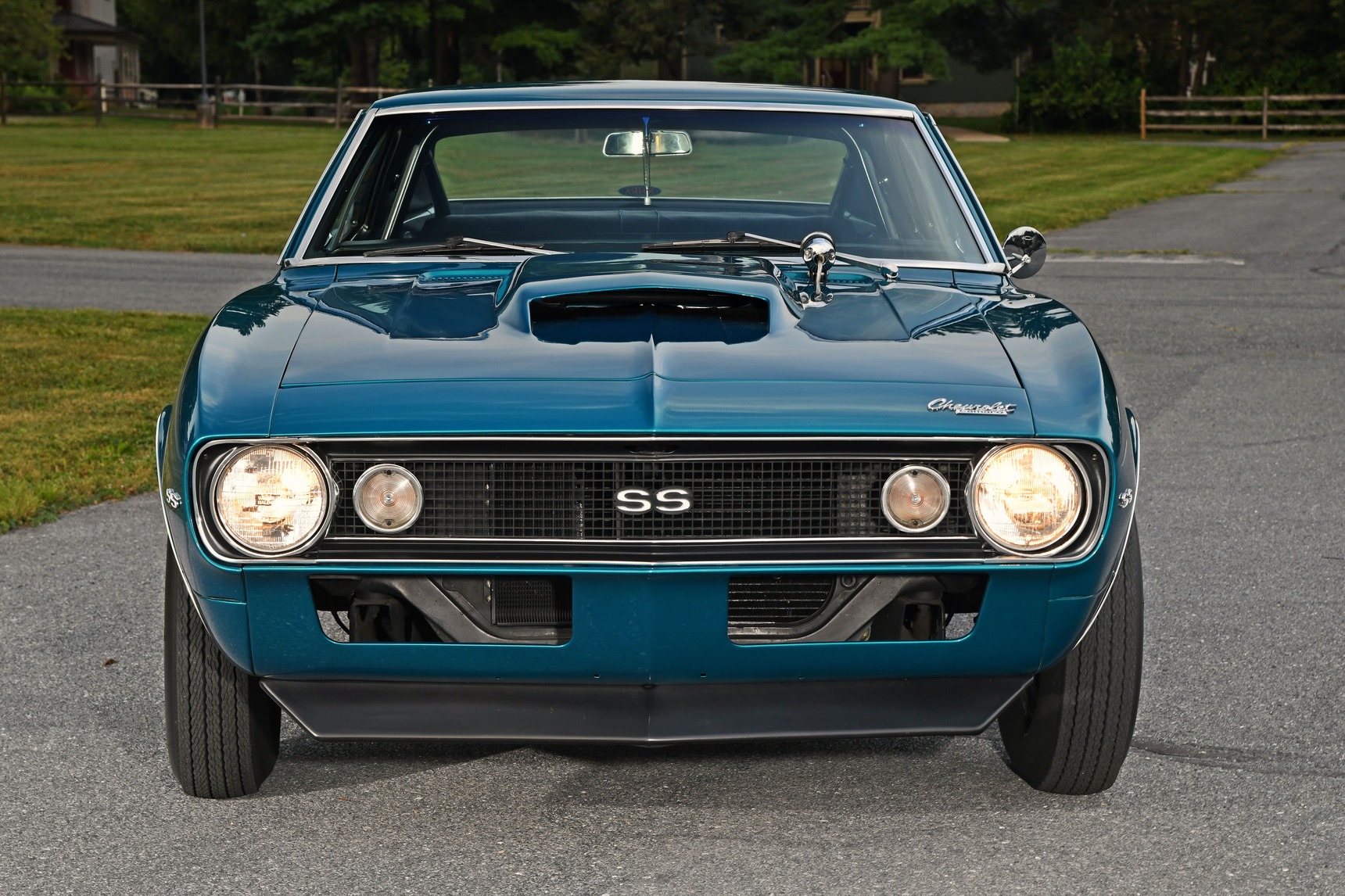 Though Jeff knew what he wanted in the finished project, there was still an urge to break ranks and back-half the car into another Pro Street ride. He used all his willpower on tap to keep with the original plan. "The vision of the car I wanted just kept coming back," Jeff reflects. "I ended up sticking with the more traditional look—the style of muscle car I would see at the track when my dad and I went to the local drags at York US30 when I was a kid."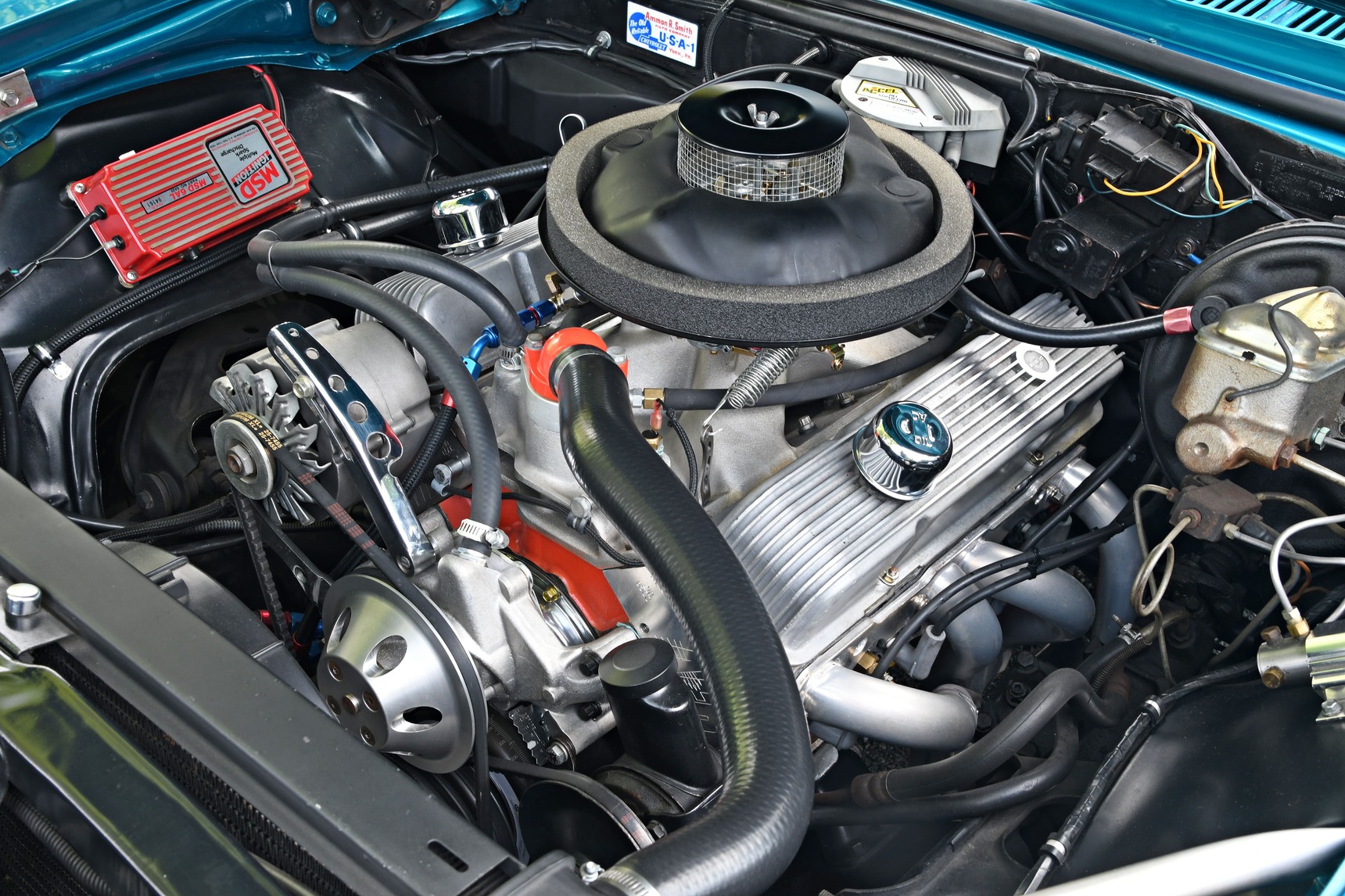 Once the freshly painted body was back from the shop, the Camaro continued to pick up steam. Soon a stroked Scott Shafiroff pump gas 406ci small-block found its way between the rails, now mated to an Auto Gear "Rock Crusher" M22, built by Jody Haag of Jody's Transmissions in Reading, Pennsylvania. The GM 12-bolt was rebuilt and stuffed with 4:10 gears to get the power to the pavement.
More Camaro Goodness: Florida's Finest 1969 Chevy Camaro Convertible
Period-correct suspension add-ons include Moroso drag shocks and a set of Caltracs to keep the wheels firmly planted on take-off. Vintage Cragar wheels, 15×4 skinnies up front and 15×7 in the rear, are shod in Firestone 7.75-15s and M&H 275/60R15 Muscle Car Tires, respectively.
The original stock vinyl interior still looks great, and Jeff brought in some additional accoutrements to preserve the Day Two theme: A trio of vintage Sun blue-line gauges (Super tach, oil, water) sit on the steering column, while a Sun fuel pressure gauge does its service out on the cowl. A Hurst shifter gets this F-body through the gears and a vintage Superior steering wheel keeps it all pointed in the right direction.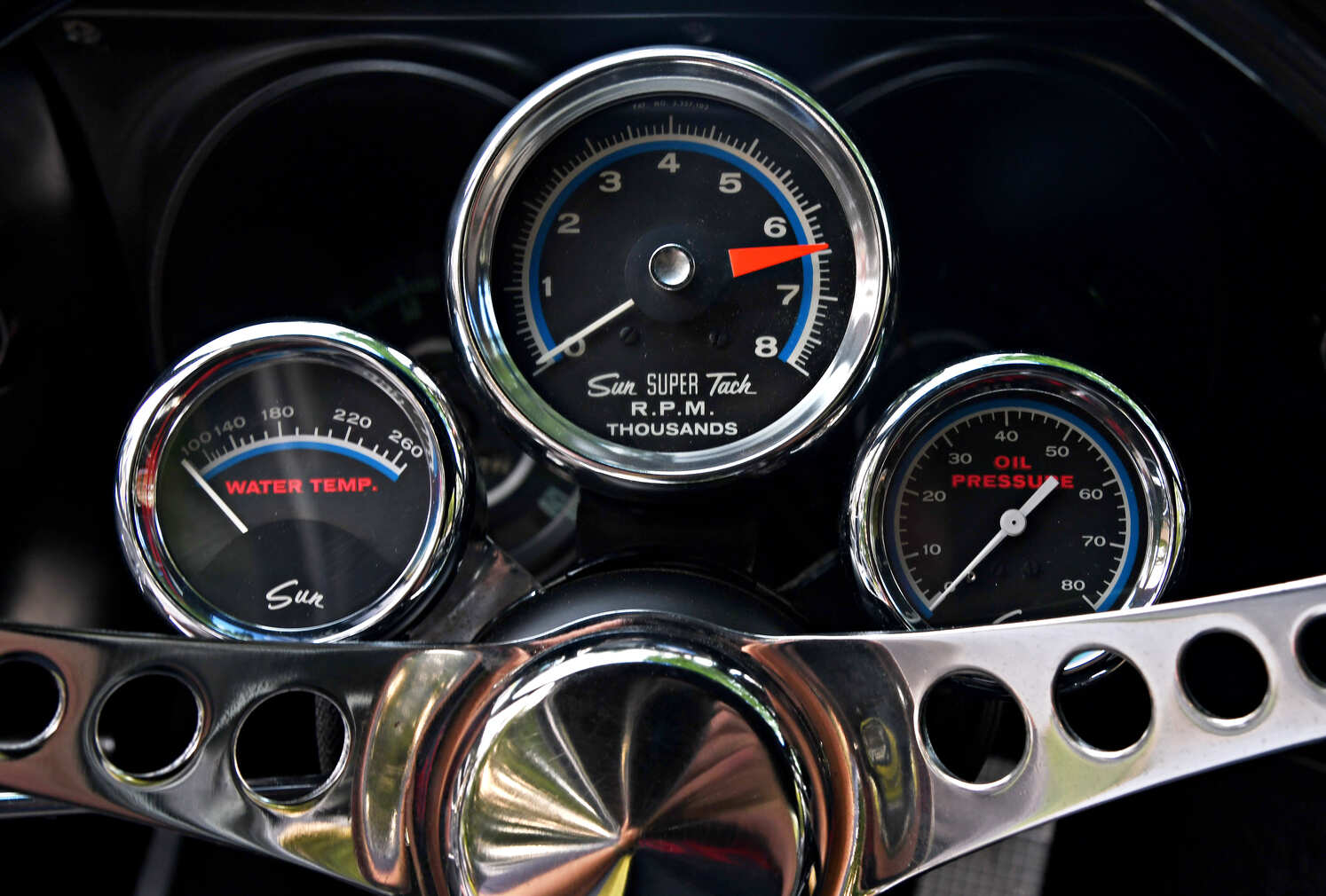 Once Jeff had his Day Two ride complete it was off to the races to find some action. "This ride has survived some street cruising, heavy stoplight racing, and merciless bashing at my hands. It's had three or four different engines over the years, along with a primer paintjob for a while, and a few different wheel combinations, but somehow it always had timeless, old-school style," Jeff continues. "It's maintained a cool rake and attitude to it, and this incarnation has stood the test of time. It's been 30 years since I built this version." 
Special thanks go out to the people who helped make it happen. "My buddy Jerry Sausman helped out when we first built the Camaro. Steve Rose at Rose's Auto Body in Manheim, Pennsylvania, laid down the paint 30 years ago, and it still looks fresh," Jeff adds. "More thanks go out to Rubright Racing (Pottstown, Pennsylvania) and Jody Haag. Of course, a special shout-out goes to my wife, Renee, who several times over the years convinced me not to sell the car. I can't thank her enough for that advice!"
TECH CHECK
Owner:  Jeff Harnish, Manheim, Pennsylvania
Vehicle: 1967 Camaro
Engine
Type: Chevy small-block
Displacement: 406 ci
Compression Ratio: 10.7:1
Bore: 4.155
Stroke: 3.75
Cylinder Heads: AFR 210 aluminum
Rotating Assembly: Callies forged crankshaft, Callies steel rods, JE Forged pistons
Camshaft: Lunati Hydraulic roller
Ignition: Accel HEI, MSD 6AL
Induction: Edelbrock Victor Jr, Holley 850 cfm
Exhaust: Hooker Super Comp 1 ¾-inch with 3.5-inch stainless exhaust, Flowmaster mufflers
Built By: Shafiroff Racing
Tuned By: Scott Shafiroff
Power Output: 550hp
Drivetrain
Transmission: M22 "Rock Crusher" by Jody's Transmissions (Reading, PA)
Rearend: Chevy 12-bolt, 4.10:1 gears, and Moser axles
Chassis
Steering: Stock
Front Suspension: Moroso Drag Shocks
Rear Suspension: Stock leaf spring, Moroso drag shocks, Calvert Caltrac bars
Wheels & Tires:
Wheels: Cragar S/S 15×4 front, Cragar S/S 15×7 rear
Tires: Firestone 7.75×15 front, M&H 275/60R15 rear
Interior
Seats: Original vinyl, fold-down rear seat
Rollbar: Four-point rollbar by Competition Engineering
Upholstery: Vinyl
Carpet: Stock
Gauges: Sun blue-lines
Steering Wheel: Superior
Shifter: Hurst Super Shifter
Exterior
Paint: Factory GM Teal Metallic
Bodywork by: Rose's Auto Body (Manheim, PA)
Paint by: Rose's Auto Body
Hood: Fiberglass Stinger Scoop
Grille: Stock
Bumpers: Stock