The O'Neils' Wish Comes True With The Help Of Cotati Speed Shop
By Brian Brennan   –   Photography By Michael Christensen
When you are a Mopar fan, building and owning a '70 Plymouth 'Cuda most definitely is at the top of your list. Such was the case for Kevin and Gabrielle O'Neil of San Bruno, California, along with the opportunity to work with Zane Cullen of Cotati Speed Shop in Santa Rosa, California.
The basis for this hot rod is a '70 Plymouth 'Cuda that underwent the sheetmetal and powertrain modifications while at Cotati Speed Shop. Fundamentally the Cotati crew took what was presented and "tightened" up the presentation. All the panels were massaged and their factory gaps tightened to what is expected from our hobby. The front and rear bumpers were reworked and fit more tightly to the body. Lastly, the Cotati crew went outside the shop to have a custom rear roll pan fabricated by Dave Hitchenson, who helps on projects from time to time. The rear tubs were also modified for the oversized rubber by the Cotati crew.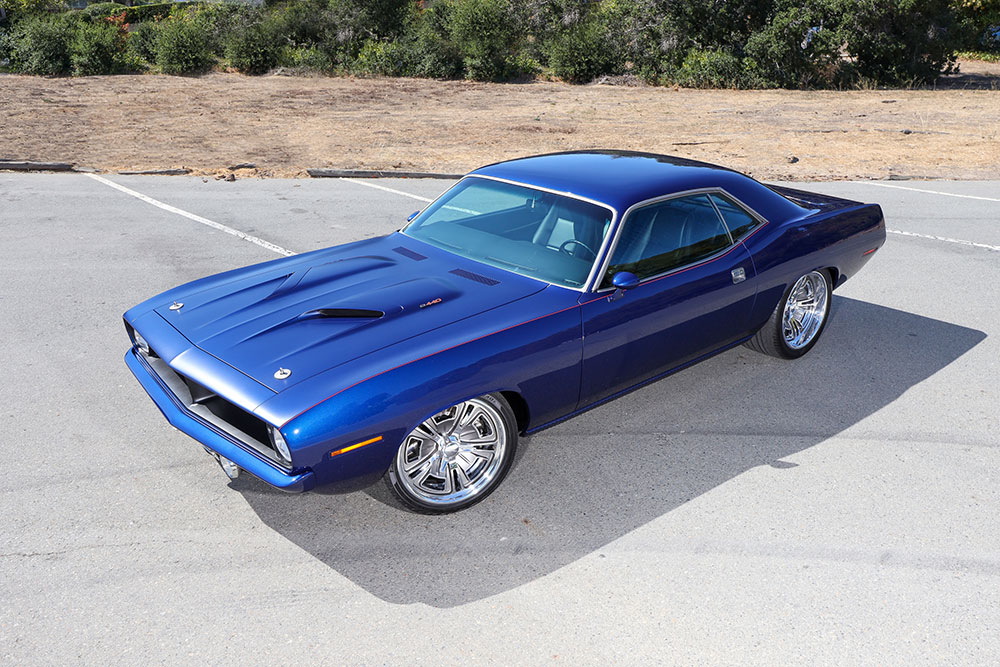 Read More: Parting Shot: 1968 Dodge Charger From Bo Zolland
From here the bodywork and paint was handled by the Cotati crew. The color is a Brilliant Blue Pearl from Axalta in a basecoat/clearcoat combination. Look closely at the hood and you'll see the same color but in a matte clear coat that, according to the crew at Cotati, is a homage to the AAR 'Cudas. There is also a reddish orange pinstripe that runs from the headlight back to the end of the rear quarter window on both sides following the breakover bodyline that was applied by Eric Sedletzky.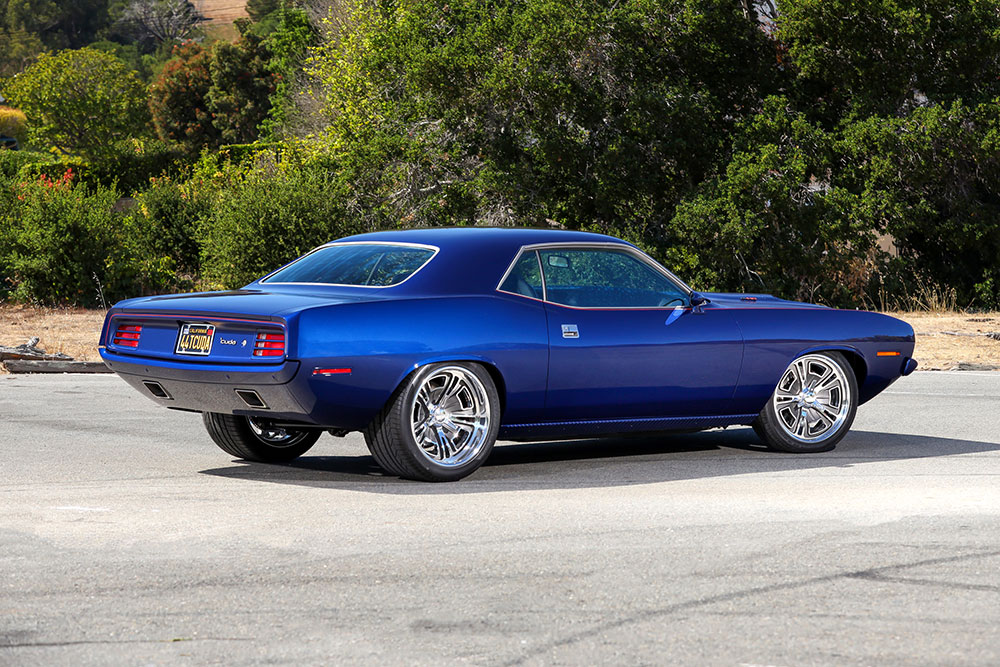 The unibody was modified and reinforced, the K-member was also "tuned up," and the custom engine and transmission mounts were all handled while at Cotati. The underpinnings starting in the front are grounded on QA1 lower control arms using Mopar spindles followed by double-adjustable JRi shocks (complete with reservoirs) together with Hyperco springs. There is a Hotchkis sway bar along with a Firm Feel enhanced factory steering box. In back, a Mark Williams Enterprises modified Dana 60, along with accompanying axles, are employed with a Driveline Service driveshaft. The rear end is held in place by a Detroit Speed and Engineering universal QuadraLink and additional double-adjustable JRi shocks with Hyperco springs and a Detroit Speed Panhard bar. The suspension braking is constructed on Wilwood components. Beginning with an aluminum Wilwood tandem master cylinder and a factory pedal assembly, the Wilwood Superlites are then pressed into service. The caliper and rotor assembly are made up of six-piston calipers in front and four-piston calipers in the rear, all used in conjunction with 14-inch slotted rotors. The wheels come by way of Modsport d.concave Schott Wheels, measuring 19×8 in front and 19×12 in the rear. The rolling stock is made up of Pirelli rubber, measuring 245/35R19 and 355/30R19.
Now for the fun part. The potent display of power is founded on a '70s-era 440 V8. How's that for an old-time vintage engine with brute power? It should be noted that the 440 is now a 500ci power plant. Jim Foley, out of Nevada, who has worked with the Cotati clan for some time, prepped the block, detailed it, and impeccably assembled the long-block. Originally intended for a carb setup, at the last minute the plan changed gears and the motor was prepared for EFI. The iron big-block after prepping was painted in black and then fitted with aluminum Edelbrock heads. They are held in position with a full complement of ARP bolts and then topped with aluminum valve covers. More Edelbrock performance comes in the form of an intake manifold that is embraced with a Holley Sniper EFI feed via an electric Aeromotive fuel pump. The Sniper EFI throttle body is fed clean air through a K&N air filter that resides within a reworked factory air cleaner. The Sniper ignition employs an MSD coil and 8mm Taylor spark plug wires.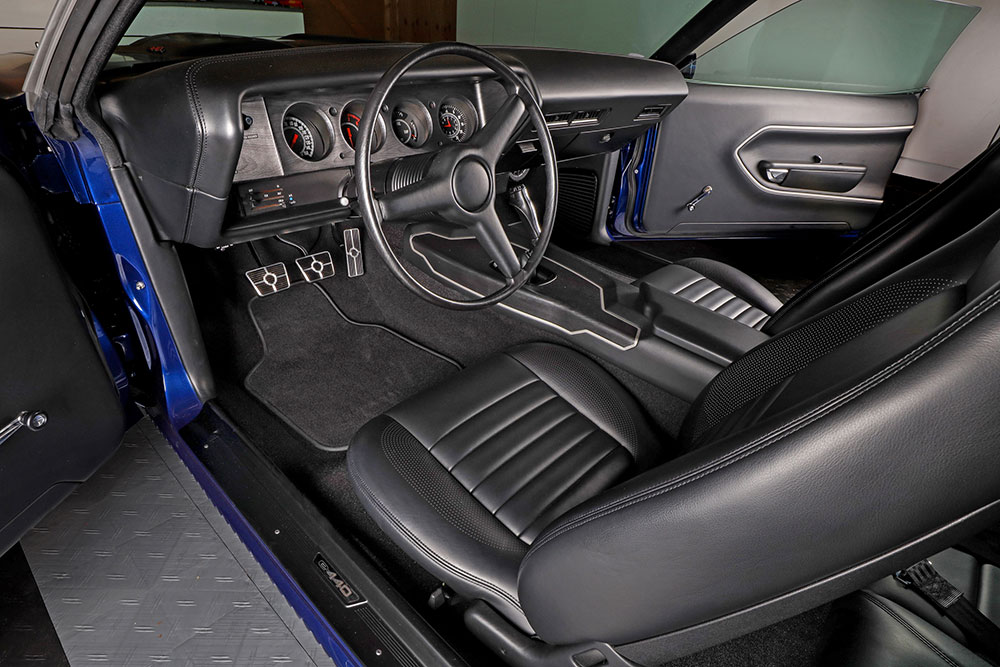 Read More: Hellcrate Redeye Hemi Powered 1970 Cuda
Moving the spent gasses out of the combustion chambers are factory exhaust manifolds through 3-inch stainless steel exhaust pipe rearward to a pair Flowmaster mufflers and custom tips. The entire exhaust system was fabricated through the staff at Cotati and Greening Auto Company. Engine cooling chores fall to a custom Ron Davis radiator working in unison with an electric SPAL fan, a smoothed aluminum Edelbrock water pump, a Billet Specialties Tru Trac serpentine belt system, and a Setrab power steering cooler. From here its electric power is supplied by a tailored Mechman alternator, a Powermaster starter, and a trunk-mounted Optima battery. Hustling the power back to the rear is a TREMEC T56 Magnum transmission. It is run through its gears via a Hurst shifter while a McLeod flywheel and clutch provides the in-between gears pause.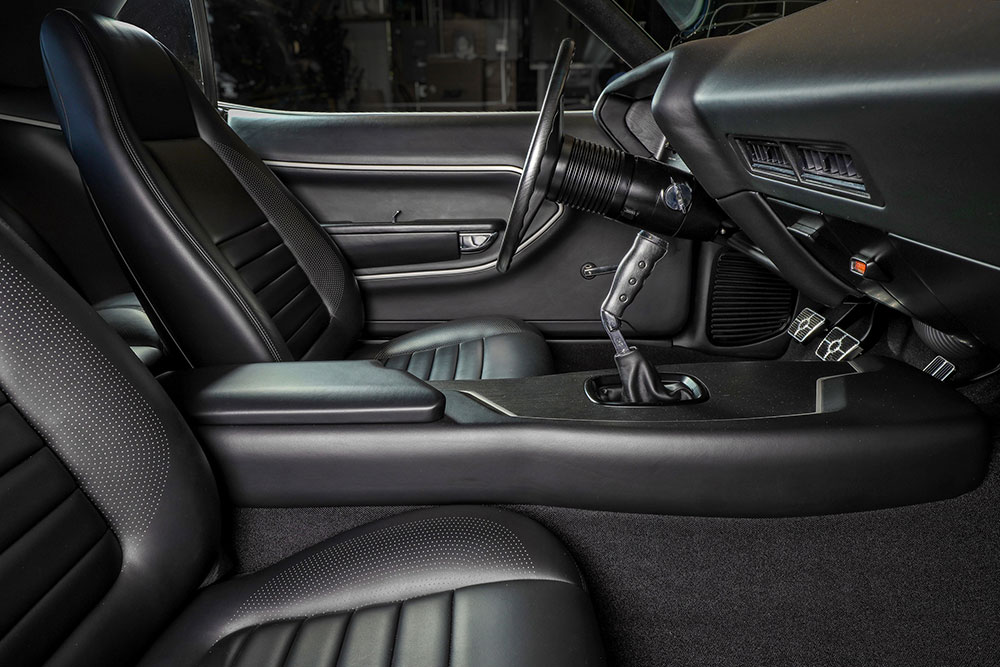 Residing within is a reworked factory dash that still retains the use of leather and plastic, but the factory wood effect was replaced with hydro-dipped material to yield a much more desirable black wood effect. The original factory column and steering wheel are still in use. From here the factory gauges were reworked and customized by Classic Instruments. To maintain one's "cool," a Vintage Air AC system is engaged. All the perquisite wiring is handled by an American Autowire system that was positioned by the crew at Cotati. The seating is a combination of reworked factory front buckets and a newly created rear bench, all stitched in black leather by DJ Designs. As for the shifter it is a Hurst but it's replicated in the highly identifiable "pistol grip" design from the early Mopar days.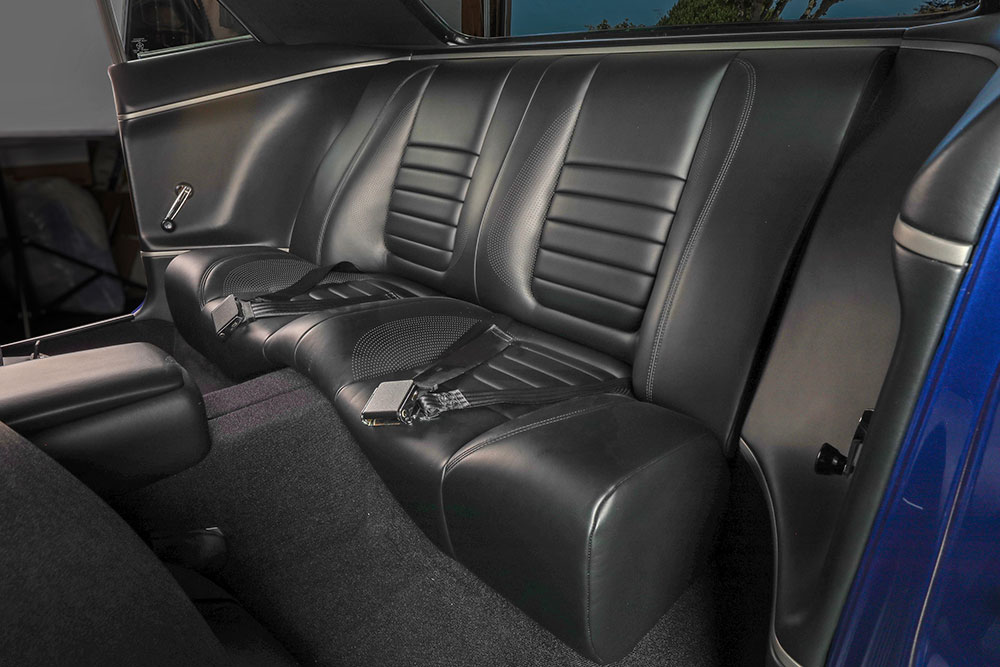 Read More: South City Rod And Custom's Desert Rose 1964 Buick Riviera
We would be remiss if we didn't share with you that this '70 'Cuda has been seen and appreciated at such events as the SEMA Show, Goodguys West Coast Nationals, and took home Best in Class honors while attending the 2020 Grand National Roadster Show. Job well done. MR