"A" Little Chopped and Channeled Coupe Built into a Full Custom
By Brian Brennan – Photography by Chadly Johnson
We first saw Mike Collman's '31 Ford Model A coupe several years back when it made its grand entrance at the 2019 Grand National Roadster Show. The Portland, Oregon, based chopped and channeled brilliant blue custom coupe took home Best Hot Rod in the Suede Palace gathering. From here it's been seen far and wide, receiving lots of attention online and in social media. But we thought it was worth one more look-see, with some great detailed pics.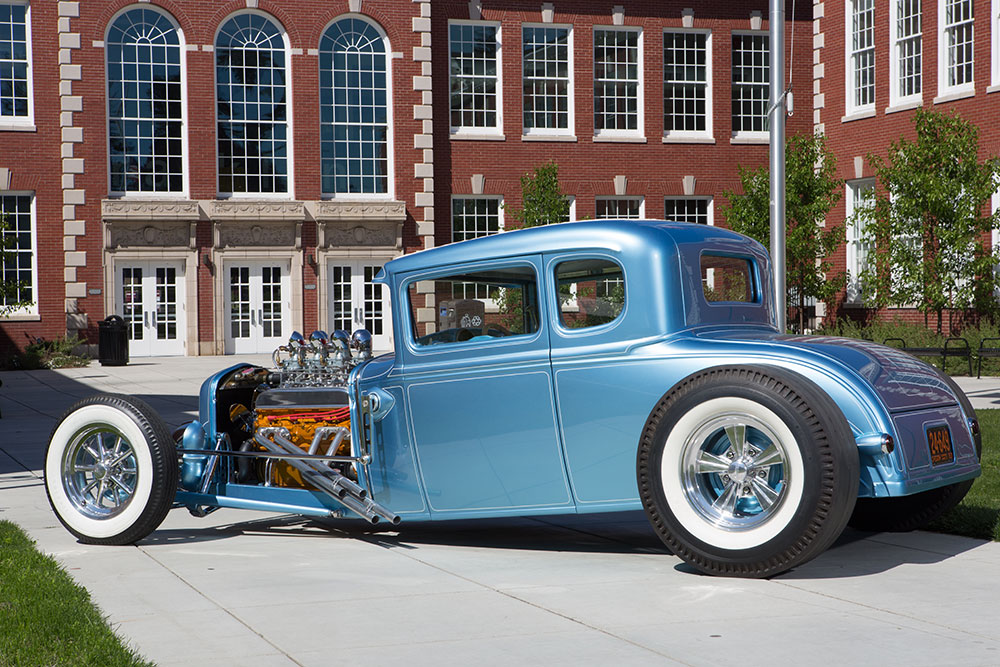 The Model A coupe shows off its 3-inch chop coupled with 4 inches of channeling but look more closely and you will note that the doors were converted to reverse opening (suicide) much like a 32 Ford 3 Window coupe would be. It also features a traditional custom touch in the vinyl padded roof insert by Guys Upholstery and Restoration featuring a diamond pattern in a pearl white.
Without question the striking BASF Ice Blue color grabs you and draws you in–can't miss this Model A custom coupe on a show floor or in a parking lot surrounded by other cool hot rods.
Read More: Classic Car Restoration: 1931 Model A Ford
Mike's friend and builder Tony Wilson managed all the body- and paintwork, applying the BASF Ice Blue paint while Mitch Kim applied the "miles" of white pinstriping. More signature marks on this hot rod are the non-conventional use of pull knobs you might find on a dresser drawer adorning the radiator opening within 4-inch sectioned Deuce grille shell as well as the hole-punched visor.
We are saving our favorite for last and that's the use of custom quad modern headlights, stacked two per side, in '58 Chevy headlight bezels. More Bowtie lighting comes in the way of '39 Chevy taillights and while in back note the recessed license plate and the custom taillight lever that operates the trunk.
Wide whites are always a good look on a custom build. In this reminiscent of the early '60s custom and performance look we find skinnies in front and cheater slicks in back. Here the Rocket Racing polished Rocket Launcher wheels measure 15×4 in front and Radir five-spoke 15x8s in back. In front there are a pair of Coker Firestone 5.60x15s and Radir 8.20×15 pie crust cheater slicks in the rear as the rubber of choice.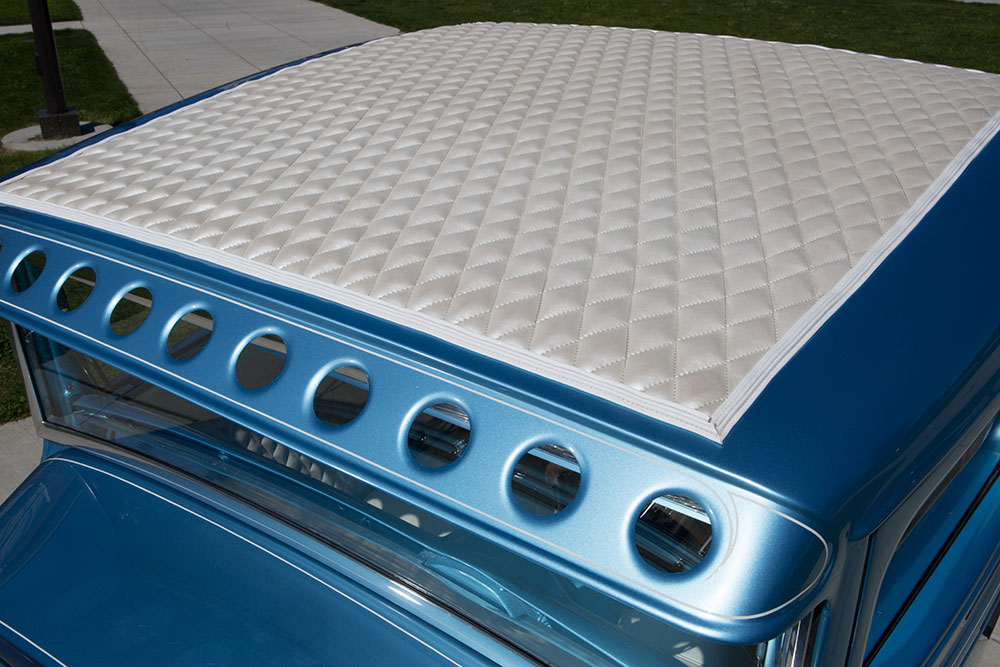 Read More: Deuce Coupe Returns To Its Former Glory
All of us understand that in order to have a kool hot rod it must have a motor of significance resting between the framerails. Mike's custom Model A coupe is no different. To draw attention a 322-inch Buick Nailhead utilizing ARP head studs, while decked-out with six Speedway Motors 9Super7 two-barrel carbs (reminiscent of the vintage Stromberg) that are drawn into service with a Weiand Drag Star intake and further detailed with Offenhauser valve covers. Making sure the fuel fires on command, we see an MSD ignition, coil, ACCEL plug wires, and a vintage Delco-Remy 12V generator.
Exiting the spent gases is a full complement of custom 1-1/2-inch open headers. (We can only imagine how cool the sound must be when pulling into the local armory for the weekend car show!) Linked to the Buick Nailhead is a '39 Ford three-speed (top loader) via Cragar adapter.
From here the power is transferred through the use of a Ford truck clutch and pressure plate back to the '55 Ford Dana 44 rear end fitted complete with drum brakes, stuffed with 3.50 gears, and Dutchman axles all positioned by a pair of stainless parallel four-link setup. On the subject of suspension, the 126-inch wheelbase hot rod is anchored in front with features that show off a lot of chrome in the way of a Super Bell drilled and 4-inch drop I-beam axle, split radius rods, transverse reverse-eye leaf spring, tube shocks, '55 Ford truck drum brakes, and side steering via a Schroeder Sprint Car box.
Read More: 1931 Ford Roadster Built in 132 Days to Compete For the AMBR Title
While there's plenty, in fact more than plenty, of excitement going on outside don't forget to take a look inside. You are sure to notice something going on with the dashboard. Out went the Model A dash and in went a narrowed '51 Ford dash complete with its signature large, single, round speedometer that houses the other instrumentation with a deep recess three-spoke wheel attached to a modified fixed position steering column.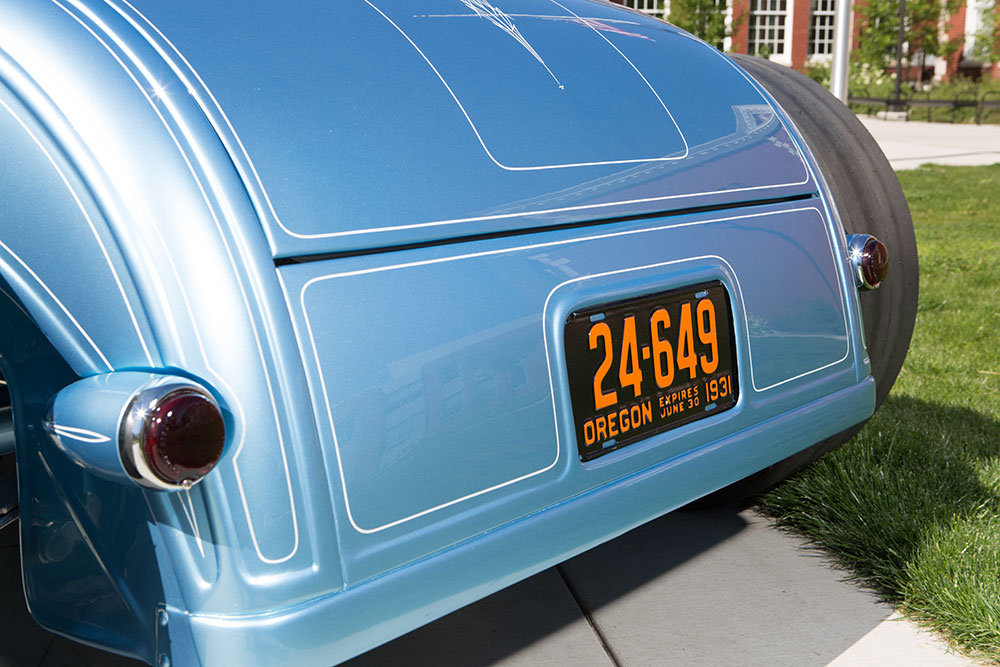 At first glance we thought the dash exhibited engine turning or other metal adornment but upon closer examination we realized the dash has a mirror-like appearance and it is reflecting the diamond pattern that's stitched into the door panels and custom bucket seats by Guy of Guy's Interior Restorations.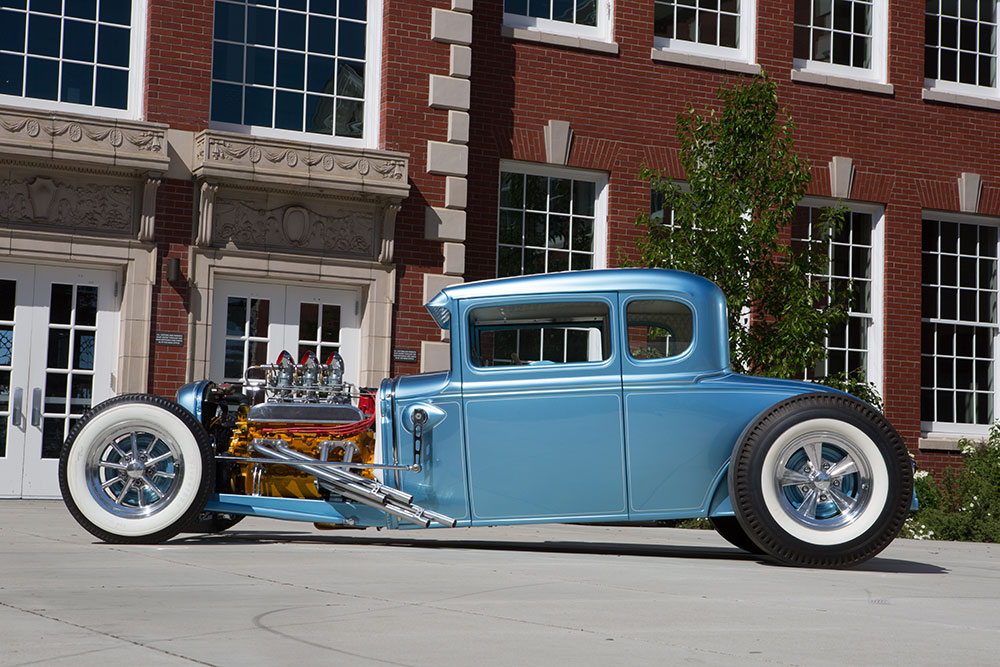 This lil' '31 Model A coupe attracts attention everywhere it goes, and rightfully so as it brings back memories from the early '60s and is so well done. MR