Scott Thurston's Ford Ranger that got away is back…in black
By Chris Shelton   –   Photography by the Author
We all have a story about the one that got away. For Scott Thurston, that was a 1968 Ford Ranger. "My dad had one—black with red guts—that he let me drive in high school," he remembers. "I grew up with that truck camping, hauling hay and wood, and doing whatever else we needed to do. I always dreamed of what it would be like to have it lowered and in a short-wide configuration."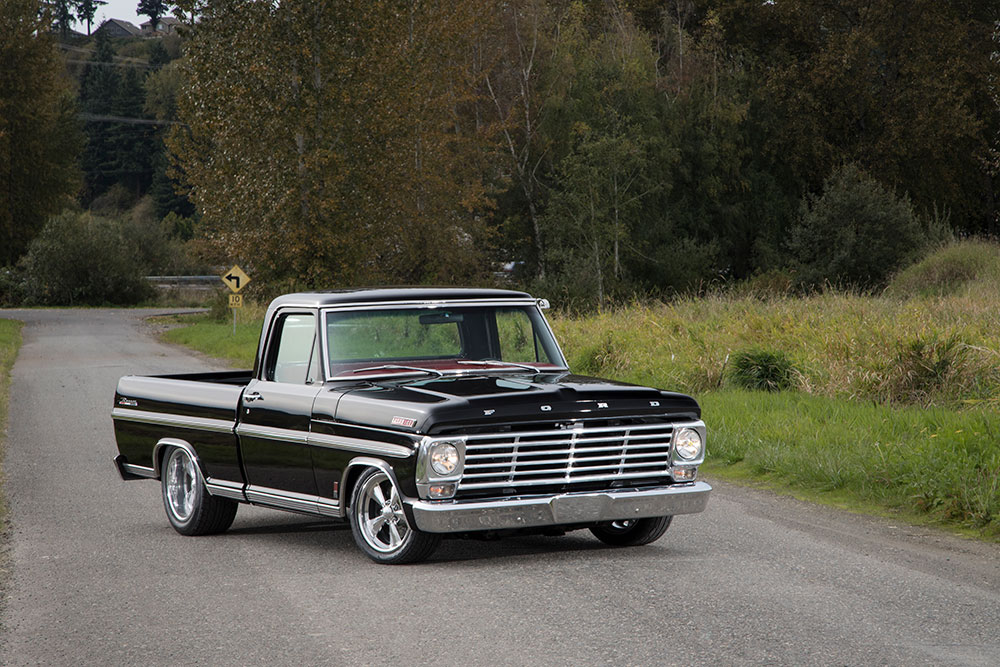 But alas, he would never get the chance; his dad sold the F100 before Scott could get his hands on it. "I built a few cars and trucks since then but always had that truck in the back of my mind. Once my wife, Cheryl, and I were on the back side of raising kids, I let her know that I wanted a 1967-70 Ranger. She agreed the time was right, so the hunt was on."
Scott looked locally for about four months. "All we could find were rusted-up trucks." But a conversation with a friend changed everything. "He suggested I broaden my search," Scott says. He cast his net over the San Francisco Bay Area, about a 1,500-mile jaunt south of the crunchy critters he was finding in Seattle. Within a fortnight he found the truck: a black, big-block, short-wide 1969 Ford F100 Ranger with red guts and no rust. "I had to have it," he says. "I called the guy, discussed the truck, and knew I wanted it, but it was a long way to go to be disappointed." As luck would have it, the seller lived a few blocks from one of Scott's coworkers. "I reached out to Mike Graham and asked if he could give me an hour on his Saturday to look at this truck." Sure enough, it was as nice as advertised. So nice, in fact, Mike said he'd consider buying it for himself.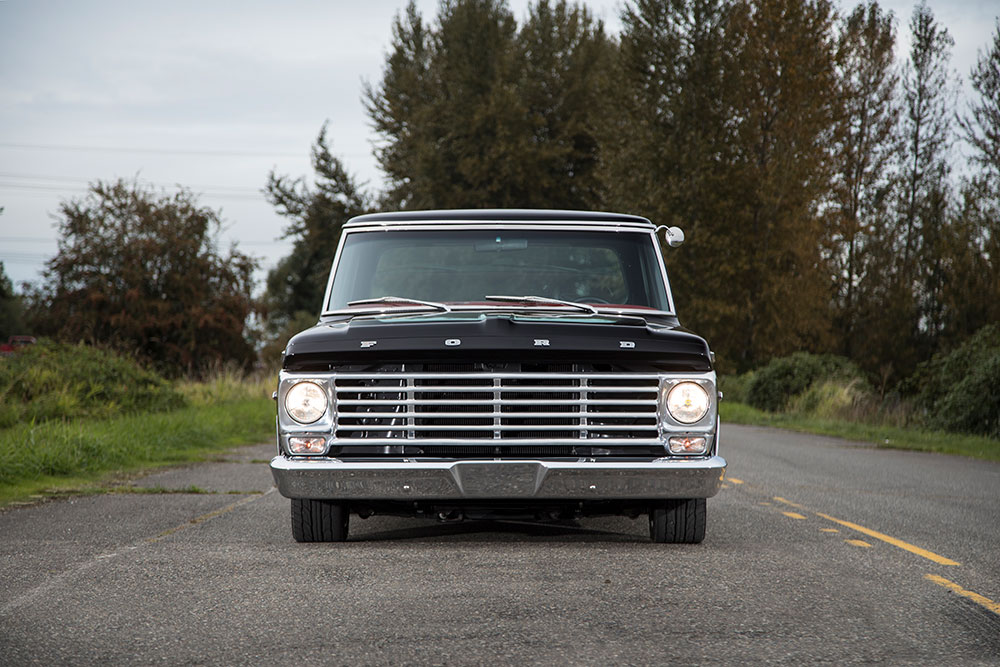 Read More: Matt Girard's 1972 F-100 Carries on a Family Tradition
Mike's consideration was merely an observation rather than a threat, but it underscored the importance of securing the truck. "Then the work began," Scott recalls.
"I offered to send him money, but he wouldn't have it," he continues. "I dropped the name of every person I knew in the hobby, hoping to find some connection that could vouch for me." They found a distant-but-personal connection. "From there I must have reached out every day with a question or status update just to make sure it wasn't sold out from under me." Scott left Seattle on a Friday morning, drove non-stop to the Bay, crashing in a no-tell motel for about three hours until daylight broke, and made the deal early Saturday morning. "We loaded the truck up and headed back home just in time for work on Monday."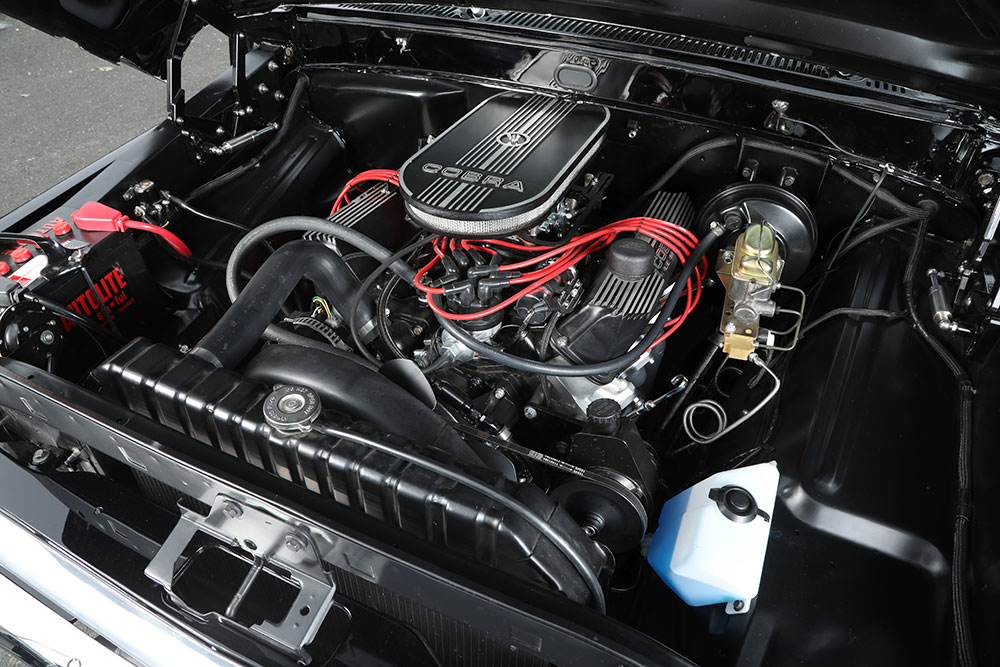 The cab and bed came off for the build. Wayne Christianson machined a Crown Victoria front clip to fit the stripped chassis before it and the inner fender wells went to American Powder Coating for refinishing. Investing in a solid truck paid off dividends in effort and outlay, giving Mike Walters at Rainier Rod and Customs freer rein on the build. Rather than fill rust holes, he filled numerous seams in the hood and bed, including the one that runs the length of the entire bed above the side trim. He also replaced the in-cab tank with a stainless 1970 Mustang fuel tank that mounts behind the rear axle. Scott fills it by a door Walters installed in the bed floor.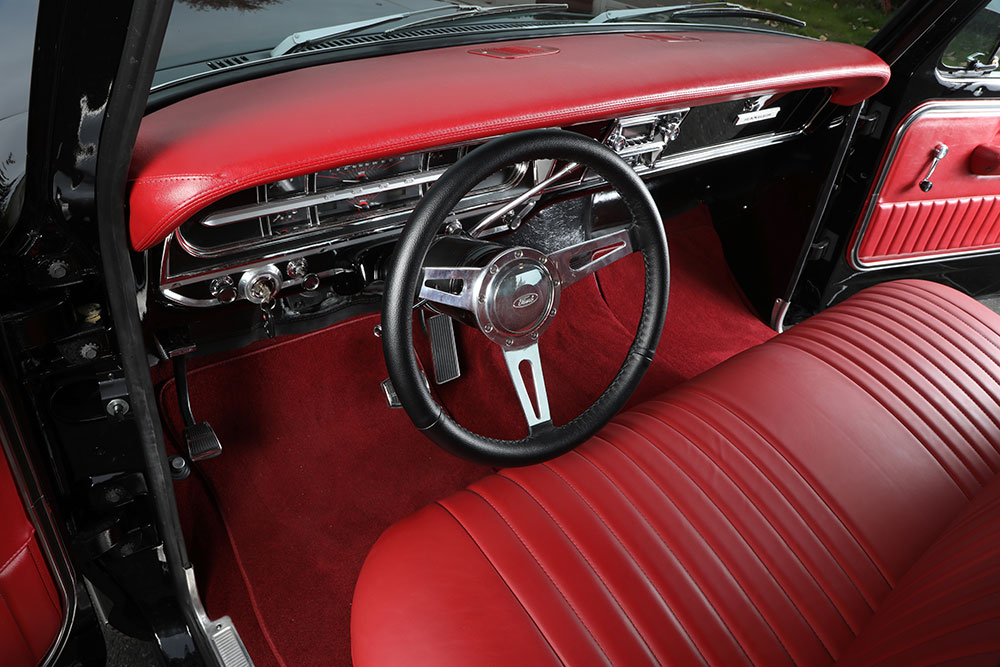 Scott based the powerplant on a 1970 vintage, heavy-duty Ford 390 engine, its block prized for its greater main-journal webbing. Cassell Engines in Spokane machined that block, decking it to square the heads and increase the compression ratio in anticipation for a more-aggressive tune.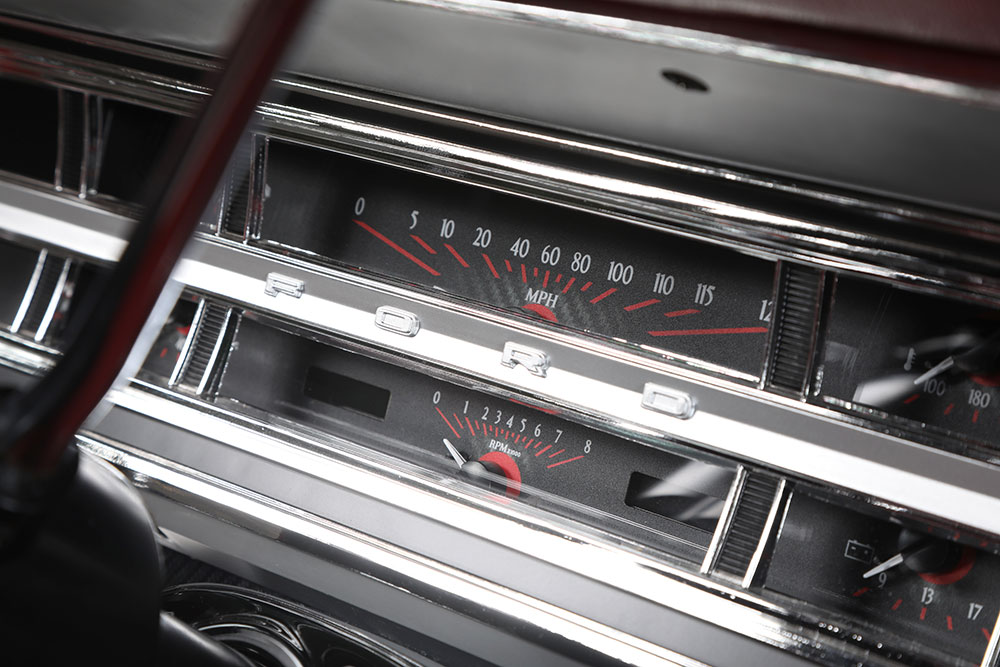 Spokane's A.J. Kautzman built it with flat-top pistons, a combination that yields 10.5:1 static compression ratio with the 70cc chambers in the Edelbrock Performer RPM heads. Kautzman followed the known Edelbrock power combination and used the matching camshaft and intake manifold, but broke rank by using a Holley Brawler 750 cfm. Jim Boorman modified a Duraspark distributor to take a GM HEI module, then tuned it for the application. With 1 7/8-inch Stan's Headers, it made 475 lb-ft of torque at 4,500 rpm and 460 hp at 6,000 rpm.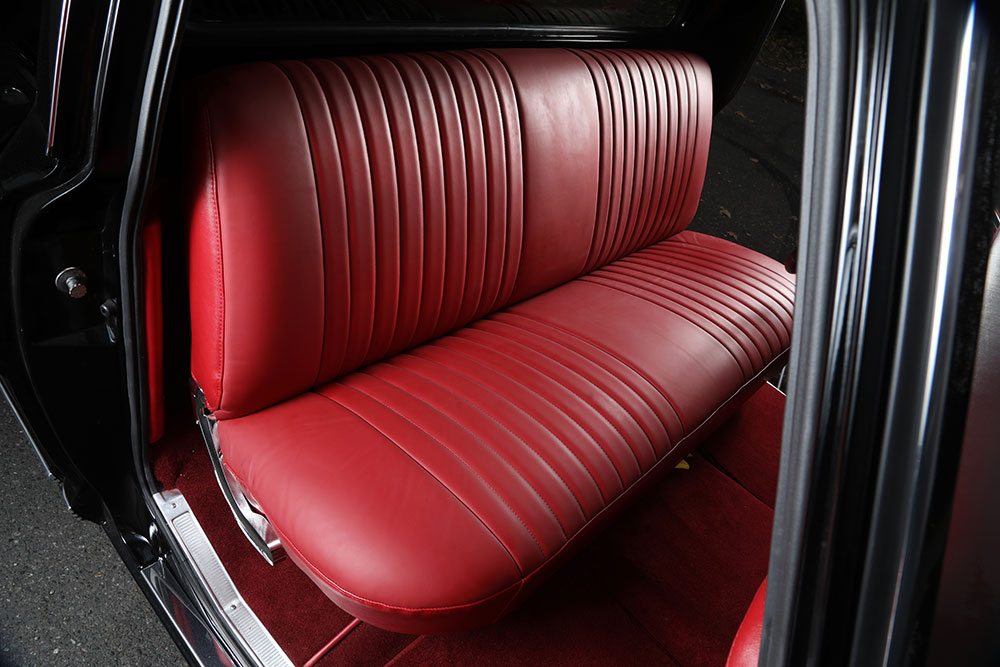 In anticipation of reassembly, Walters applied the PPG DBC2000 urethane base-clear finish. Dennis Carpenter made the side trim, but Scott made up the rest with New Old Stock and good used pieces restored by Tim Kranz at Enumclaw Tire. Tim also restored the original drip rails, windshield trim, and rear-window trim.
Rather than using a roll pan to finish off the back of the bed, Scott used one as a backdrop for a Dodge D100 bumper. On the yonder end, Scott used everything Ford, the only exception was a set of Lucas tri-bar headlights.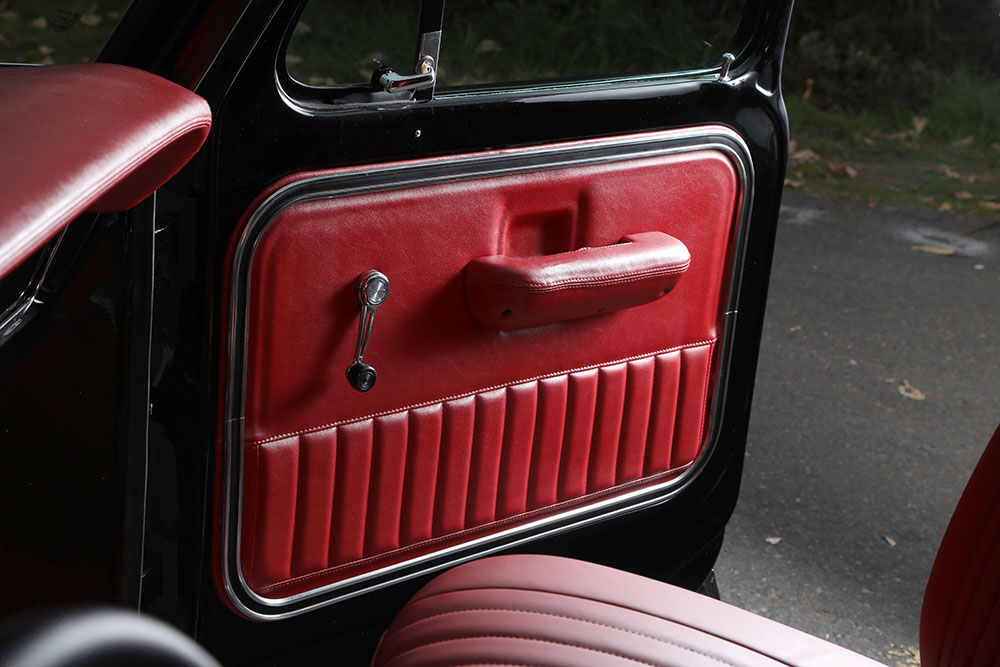 Read More: 1963 Ford F100 With a Ford Big Block And Tuned Suspension
The engine went in along with a Wilcap adapter to accommodate the GM 700R4 transmission. Actually, the truck has the second of such transmissions after a driveline miscalculation destroyed the first one. "Dave Heer at Dave's Valley Auto Clinic towed my ass home and rebuilt the transmission and cut the driveshaft to the correct length," Scott says. Mike Walters also built the 3-inch exhaust system using 44-series Flowmaster mufflers.
The stock rear leaves and axle went back in place, albeit this time with a Fatman Fabrications flip kit. That axle sports 3.89:1 gears on a limited-slip carrier with 31-spline Currie Enterprises shafts. The ends mount a Currie disc conversion kit with 11 1/2-inch Powerstop rotors and '99 Mustang SVO calipers. Ford equipped the Crown Vic clip with 12-inch rotors and two-piston calipers, which Scott left well enough alone.
Mike Curtis at Curtis Speed assembled a set of Armor-series 17×8 and 18×10 wheels with 5.5- and 4.75-inch backspace, respectively. They mount 235/45ZR17 and 295/45ZR18 Nitto NT555 G2 tires.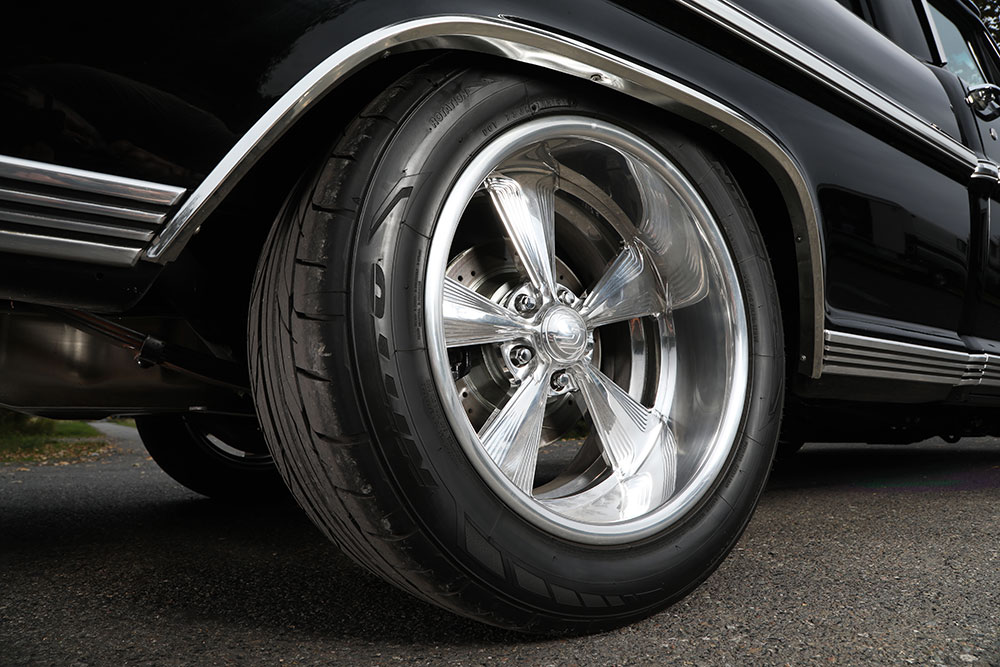 High Tech Rick at High Tech Upholstery, in Auburn, Washington, trimmed the dash, door cards, and factory seat in leather—red, just like dear ol' dad's truck. Auto Custom Carpets made the molded cut-pile rug. Scott wired the pickup with an American Autowire Classic Update harness. He replaced the steering column with a '79 tilt unit and topped that with a GT Performance GT9 steering wheel. Dakota Digital VHX gauges replace the analog pieces. A RetroSound Laguna Beach head unit and Alpine speakers replace the wheezy AM audio system.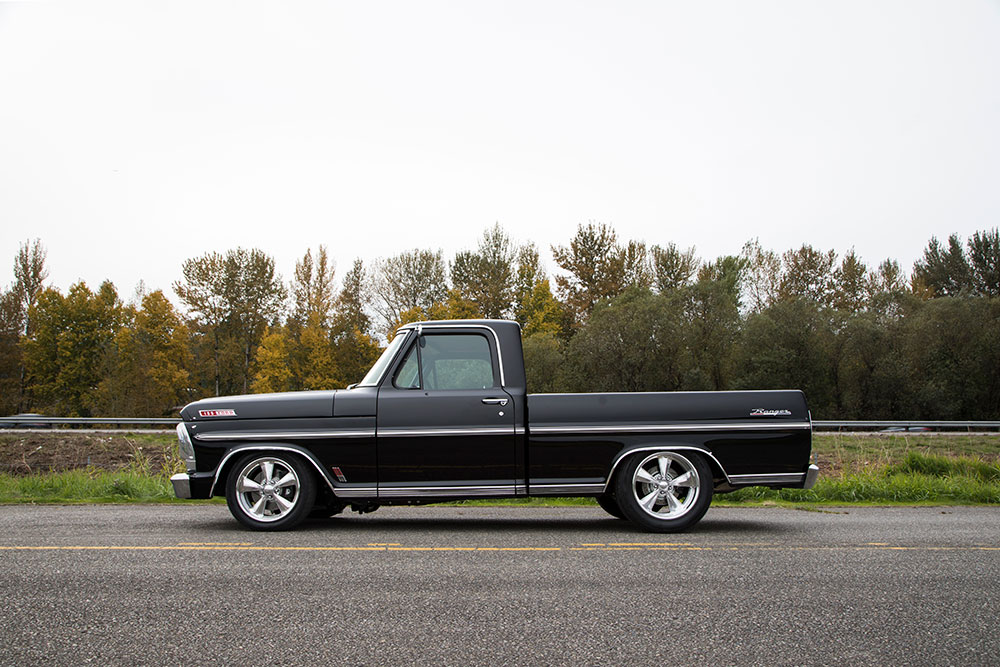 Scott and Cheryl debuted the truck at Deuce Days Northwest. "After that trip we decided that the inside of the bed was so nice we didn't want to carry luggage in it." So, he bought a new trailer to take it to the Goodguys Great Northwest Nationals in Spokane. "Less than 15 miles from the house we hit a bump and the trailer came off the ball; the safety chain's the only thing holding it in place!" he exclaims. "My heart leapt out of my chest as I watched the front of my truck in my rearview mirror, tied to the back of my tow vehicle but out of control." Fortunately, they made it to the roadside unharmed where a good Samaritan helped get the tongue back on the ball. "While doing this all I could see was the top of my brand-new trailer's tongue as big letters that spelled MADE IN CHINA." They limped to the nearest trailer shop and bought the American counterpart. "We traveled to Spokane and had a great time, even though my heart didn't slow down until we arrived."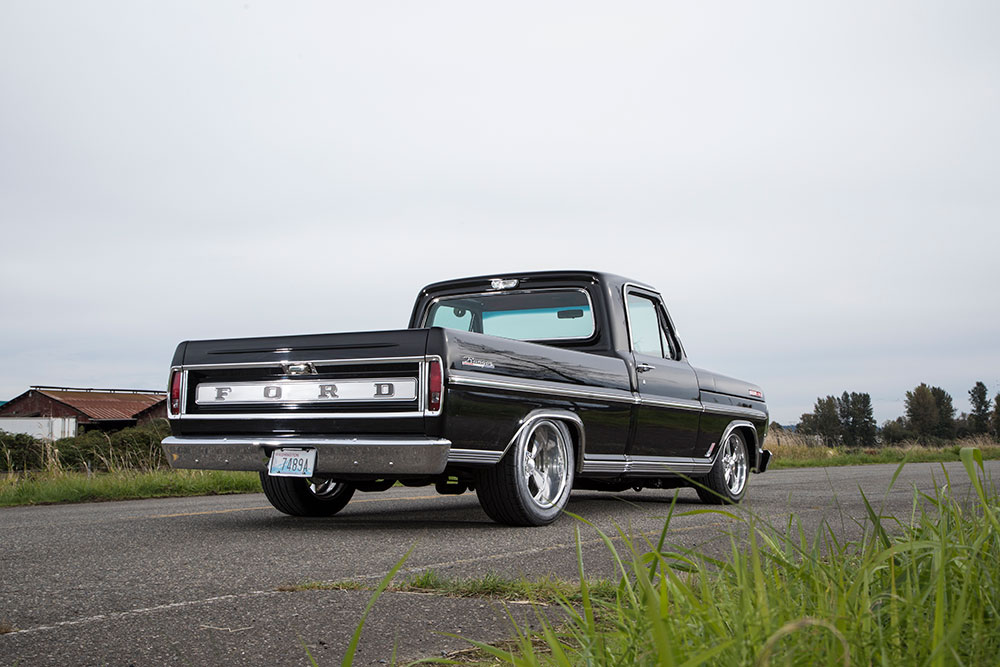 Read More: Coilover Buyer's Guide For Classic Trucks
These days Scott holds tightly to his 1969 Ford Ranger. And who can blame him? The one that inspired him got away decades ago, he had a hard time finding another one like it solid enough to build, and he damn near couldn't seal the deal once he found it. And even once he finished it exactly as he wanted it, it just about ended up on its top at the side of the road! So don't take it personally if he doesn't entertain offers. Good memories are getting harder and harder to replace.