Tom & Tina Keyes Have a "Deuce" But We are Guessing You Haven't Seen Many Like This One!
By Brian Brennan – Photography by Tom & Tina Keyes
In our world of street rods and hot rods there can be no denying that the '32 Ford is "king," and for all of the right reasons. But it's always fun, and frankly more interesting, to see what can be done with a "Deuce" of a different marque. In our wanderings we've come across Tom and Tina Keyes out of Northern California and uncovered that they are building a Deuce of a different marque. It's a 1932 DeSoto 3-window coupe powered by an early Chrysler 354 Hemi.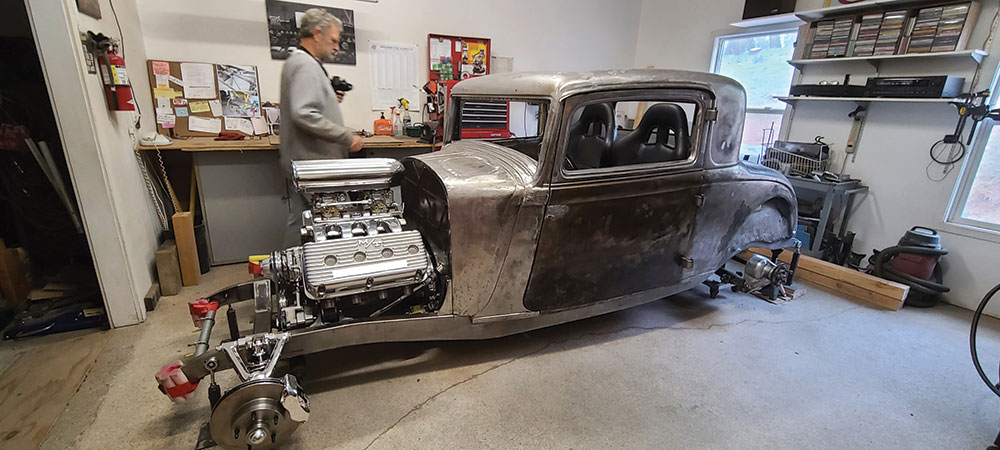 Tom is a retired aerospace engineer who has always enjoyed hot rodding. Now that he has the time and space he decided it was time to build. In his travels he found what at first everyone thought was '32 Plymouth sheet metal out of Star Valley, Wyoming, but after some investigation he realized he had found a 1932 DeSoto 3-window coupe (number 1,315 of 1,691 built). He was able to find out exactly what he had by using the body's VIN and from here he found out that he had a 1932 DeSoto SC business coupe. Part of the decision to look for a Mopar to build was initially linked to the fact that he had an early Chrysler 354 Hemi sitting under the workbench.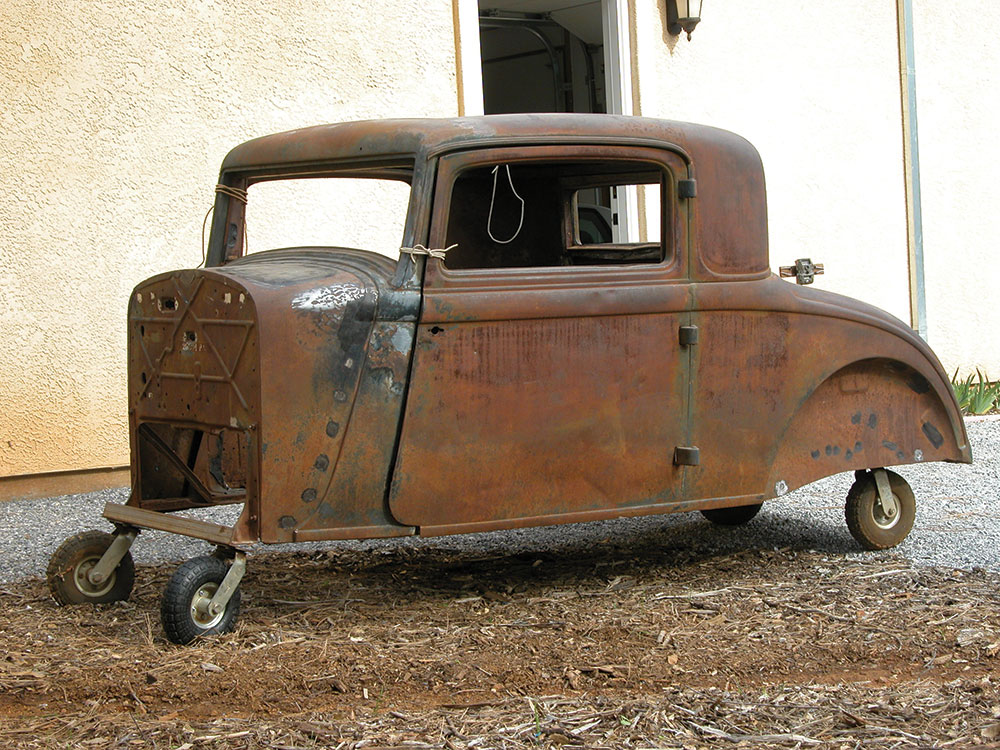 Read More: Highboy Deuce Coupe Triple Play
With body in hand, it was time to find a chassis, but this proved to be a bit of a challenge. In the meantime, interestingly, he and fellow hot rodder Ed Brinkerhoff, fellow Cache Valley Cruising Club rodder, did some measuring on Brinkerhoff's '33 Ford coupe and found out that the 1932 DeSoto coupe was very similar in many measurements. This led to a very appealing changeover. Sitting beneath the 1932 DeSoto 3-window coupe is a set of '33 Ford frame rails from American Stamping. The rails are fully boxed with the wheelbase stretched just a bit to 113 inches. To the American Stamping 'rails you will see something very familiar in the Kugel Komponents polished stainless steel Independent Front Suspension, spindles, sway bar, QA1 coilovers, Wilwood disc brakes, and Kugel modified mid-'80s Dodge rack-and-pinion that's twisted into service by a Summit Racing universal steering column affixed to a Summit Racing polished aluminum 14-inch-diameter Banjo steering wheel. The rear suspension is based on a '71 Jag XJ6 Independent Rear Suspension pumpkin with 3.54 gears, Jaguar inboard disc brakes, and QA1 coilover shocks. Working with the Wilwood brakes is a Kugel underdash 180-degree–mounted brake master and hydraulic clutch cylinders bracket.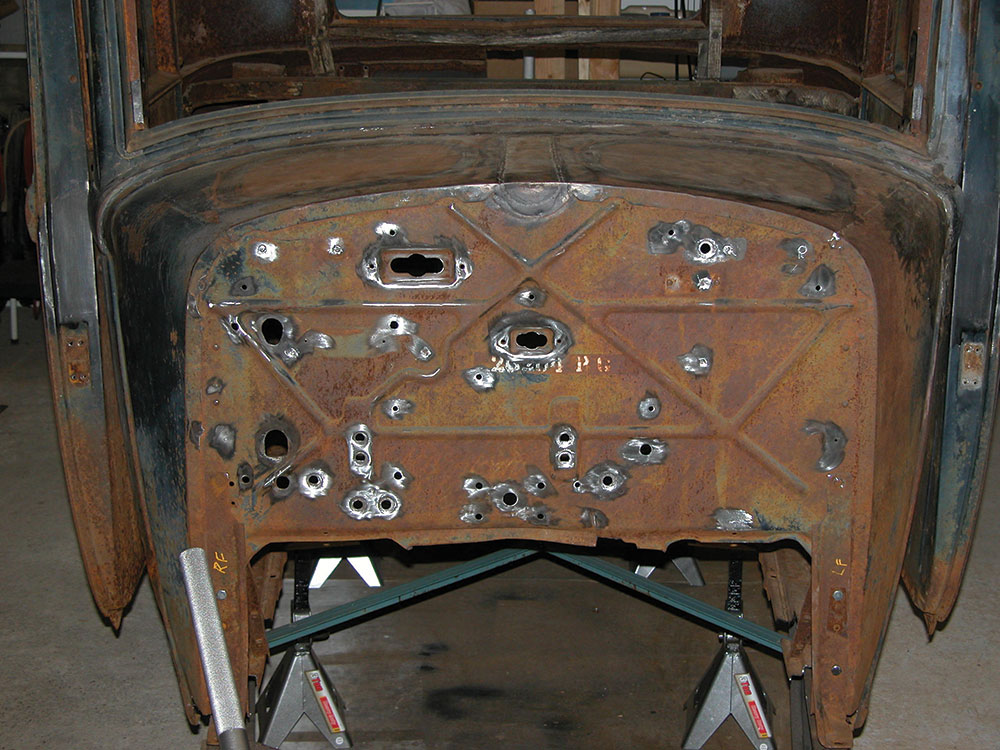 Power comes by way of the early Hemi engine mentioned previously but it too has received a fair amount of tender loving care. Beginning with the 354 Hemi it was bored-over 0.030, while crank, rods, and mains were turned 0.010 under, the block was decked 0.005, and the heads ported and fitted with 392 Hemi stainless valves and intake seats. ARP bolts were used throughout the block to ensure everything stays exactly where it was intended. An Isky cam was used along with adjustable push rods from Hot Heads Hemi followed by a double roller Cloyes timing chain kit pushing the Ross 10:1 forged pistons. Resting on top of the engine is a Hot Heads Hemi intake tunnel ram intake manifold that accepts a pair of Edelbrock 500-cfm four-barrel carbs actuated by a Lokar throttle cable. Feeding the beast is an Edelbrock electric fuel pump while a Summit Racing Hilborn-style injector air cleaner is used.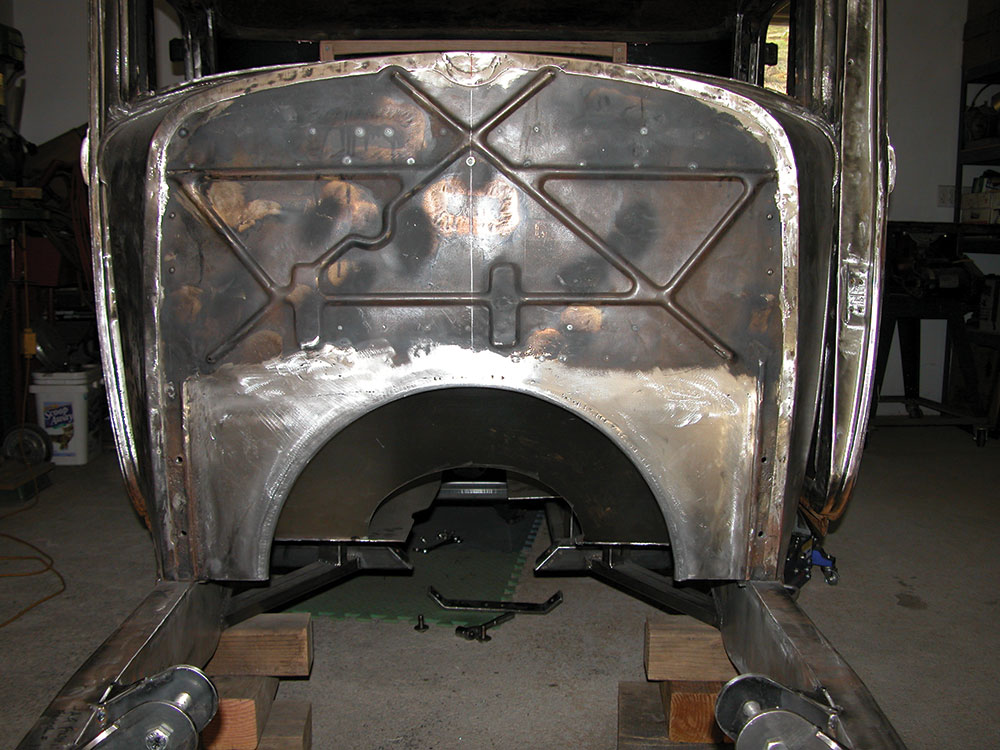 There were a handful of other items used that were modified to fit the early 354 Hemi. For instance, a Chrysler 340 high-volume oil pump and pick up from Hot Heads Hemi was used while the stock Chrysler distributor was outfitted with PerTronix Ignitor III conversion kit and Flame-Thrower coil. Next up is the owner-fabricated zoomie headers measuring a full 2-inch diameter per tube. The water pump is a smoothed aluminum Weiand originally designed for a big-block Chevy while a mechanical Chrysler fan is bolted to a Hot Heads Hemi pulley and a 100 amp Powermaster alternator is in charge of the "power up" system.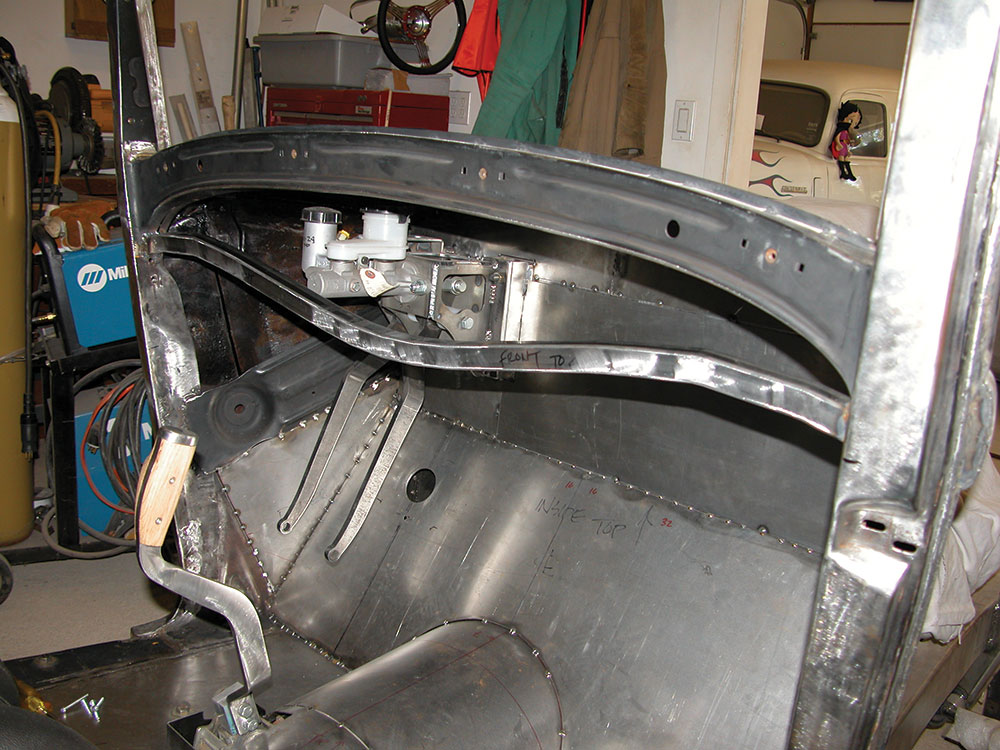 Read More: Red-Ram Hemi Vs. 5.7L Hemi – Identical '32 Ford Builds
Linked to the 354 Hemi is a Chrysler A833 4-speed transmission by way of a mid-'60s early Hemi Trans-Dapt bellhousing. From here an owner-fabricated pistol grip shifter for the Hurst Competition Plus shift linkage was made and a 38-inch driveshaft from Drive Line Services ties the 4-speed transmission to the rear-end.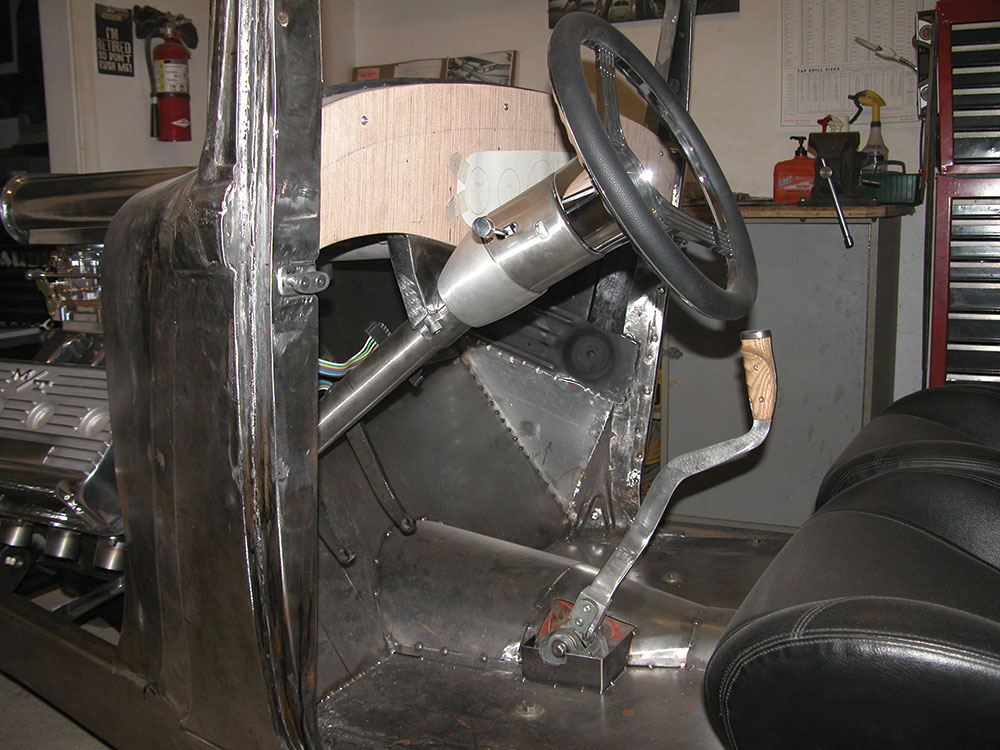 The body is a hot rod project so you just know things are going to change! The flooring was modified to fit the '33 American Stamping Ford frame rails. It should be noted that the Chrysler DeSoto body is approximately 9 inches longer inside than a corresponding '33 Ford but the wheelbase is only 1 inch longer. Because the Ford framerail's rear kickup occurs sooner than the DeSoto the floor was modified to fit, then the trunk floor was modified to fit the Jaguar rear end and then a double rear "firewall" was built to accommodate the trunk-mounted gas tank. It should be noted that Tina managed to have a major hand in the build herself by breaking out the "torch" and performed the welding on the double rear firewall in the trunk. (Doesn't get much better than having your wife welding right beside you.) Plywood was used by the factory in the flooring and this was swapped out for a metal floor. The factory "B"-pillars were boxed, the engine compartment firewall was reinforced to "absorb" the pushing force that occurs because of the underdash Kugel master cylinder and clutch mounting point. A wood dash and wooden roof insert will be in the future. Plans call for the color to be a Kandy Brandywine (KBC01) straight from the House of Kolor.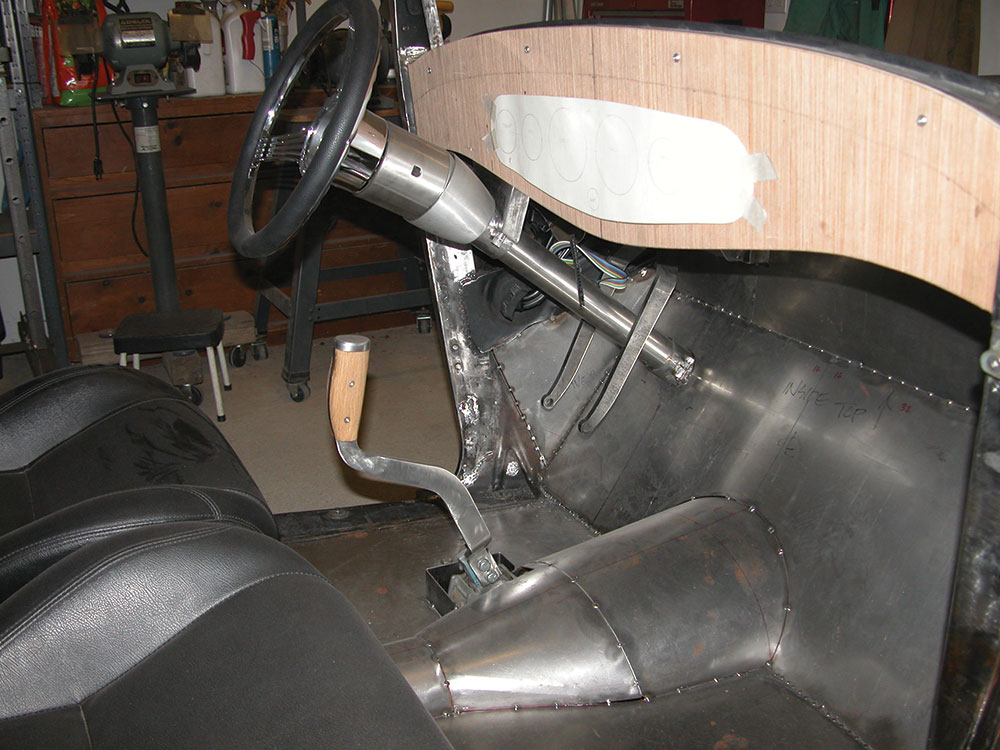 More future plans call for bucket seats with side bolsters and Allstar Performance three-point seatbelts, Specialty Power Windows, AutoLoc electric door opener solenoids that will activate Chrysler K car safety door latches, while the grille shell is from a '34 Chevy with its grille insert.
Read More: Brownstone Roadster: '32 Ford Roadster With SoCal Style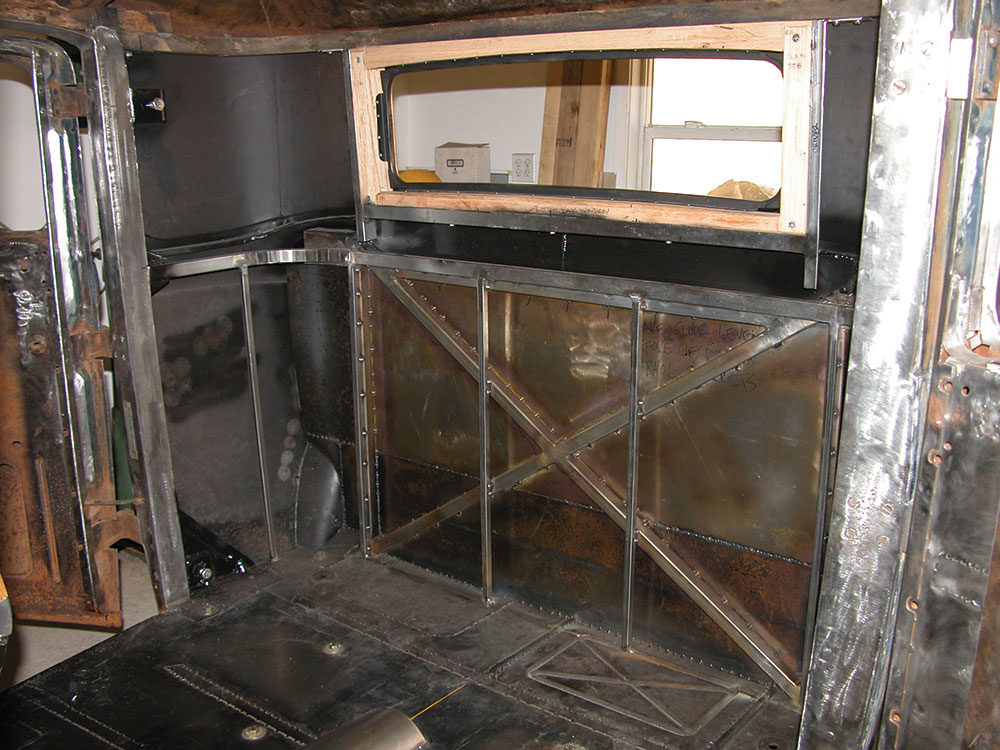 And, all of us know the next story. This saga began back in 2000 but between moving, building a house, and throwing in a lot of life's unexpected happenings it has taken until now to get to where you see this hot rod. It's moving along and with a little luck Tom and Tina should have their "Deuce" on the road. MR