By Brian Brennan – Photography by the Author
It sounds like an oxymoron—"modern traditional"—but that appears to be what's going on today when we take a knowledgeable look at what appears to be old-timey hot rods running the streets. There's nothing like a traditional-built car, built with traditional hot rod parts. While traditional builds are true to form, adhering to the old-time look and performance via nostalgia hot rod parts and pieces, there's also the modern-traditional build that visually replicates the bygone era look but taking "license" as to what's required to get the job done for today's look and performance.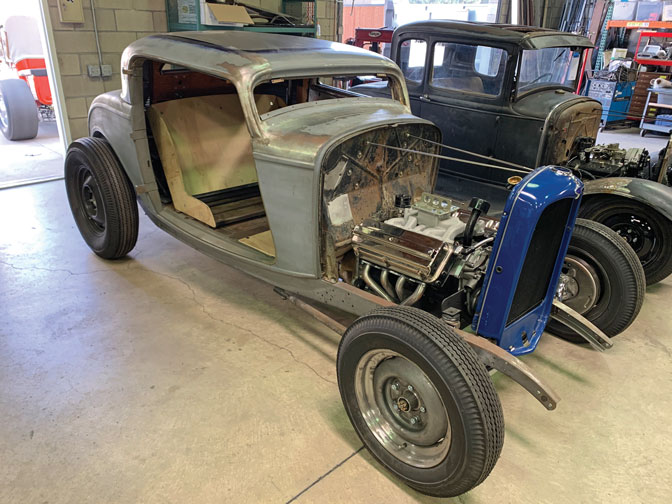 And that's where we find ourselves when taking a look at effectively the same car before us but with notable changes. A quick inspection tells us they aren't the same, with each getting its own "point" across. In our story the basis for both hot rods is the Brookville Roadster steel 1932 Ford three-window coupe body. Both coupes are highboys, both have three pedals, both are chopped (well, the modern traditional hot rod is yet to be chopped but it's coming), both run solid front axles (one an original tube and one a modern drilled I-beam), and both run a venerable version of the Chrysler Hemi (one a vintage Red-Ram Hemi and one a modern Gen-III 5.7L Hemi V-8), but for all of the similarities there's no mistaking they are 180-degree different approaches.
Check Out: In The Garage: 1932 Ford Highboy Roadster
Let's take a look at what it takes to arrive at your destination from two different build routes. On a current visit to Veazie Bros. Fabrication (Evin and Justin) in Pomona, California, we found two similar but different builds. One was clearly the traditional execution and the second build showcases the modern-traditional implementation.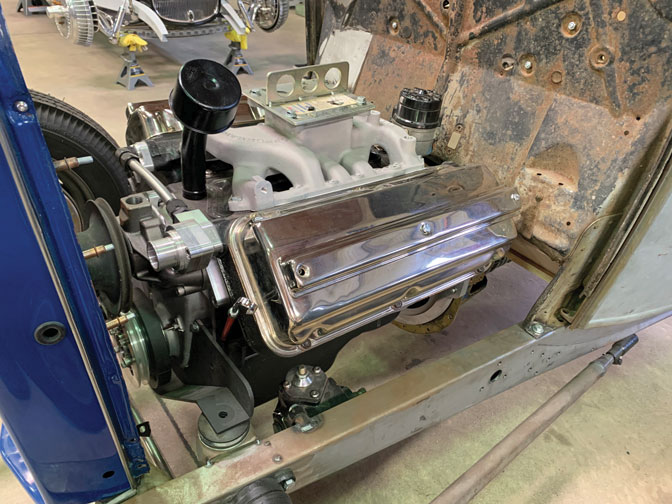 A Little Background
If there's a familiarity to the city's name and location of "Pomona, California" that's OK because there should be. Once upon a time SO-CAL Speed Shop (SCSS), of Pete Chapouris and Alex Xydias fame, occupied a set of buildings at this location. The Veazie Bros. run their business out of the building that was once the fabrication side of SCSS. They started business by signing the lease the day before California was shutdown to comply with COVID-19 restrictions. (Editor's note: Modern Rodding came into being the week before, on Friday, March 13, 2020.)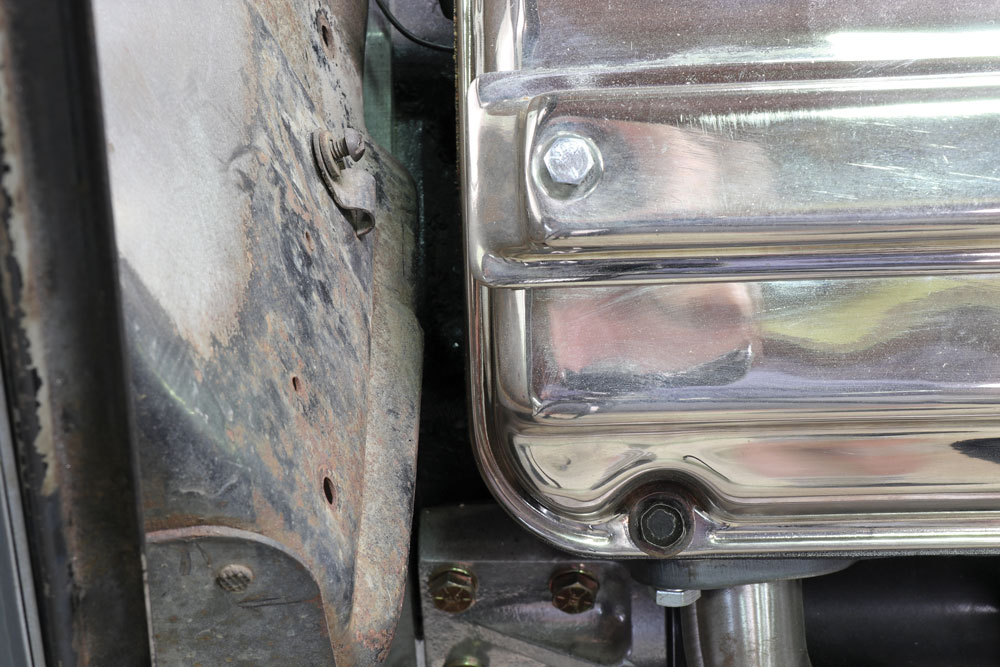 Oftentimes The Veazie Bros. builds are traditional in appearance but when we looked around the shop it told us a different story. They're branching out with their efforts and Modern Rodding will be there to get the lowdown. By now everyone is aware that the Veazie brothers learned from some of the best in Southern California, beginning with Evin at Tommy Sparks Automotive and then onto SCSS. Evin was the first in the door at SCSS and then Justin followed suit. Evin was initially working in fabrication and Justin "up front," but in time Justin moved alongside Evin, as the pair would handle all manners of fabrication through assembly on the various builds progressing through the shop.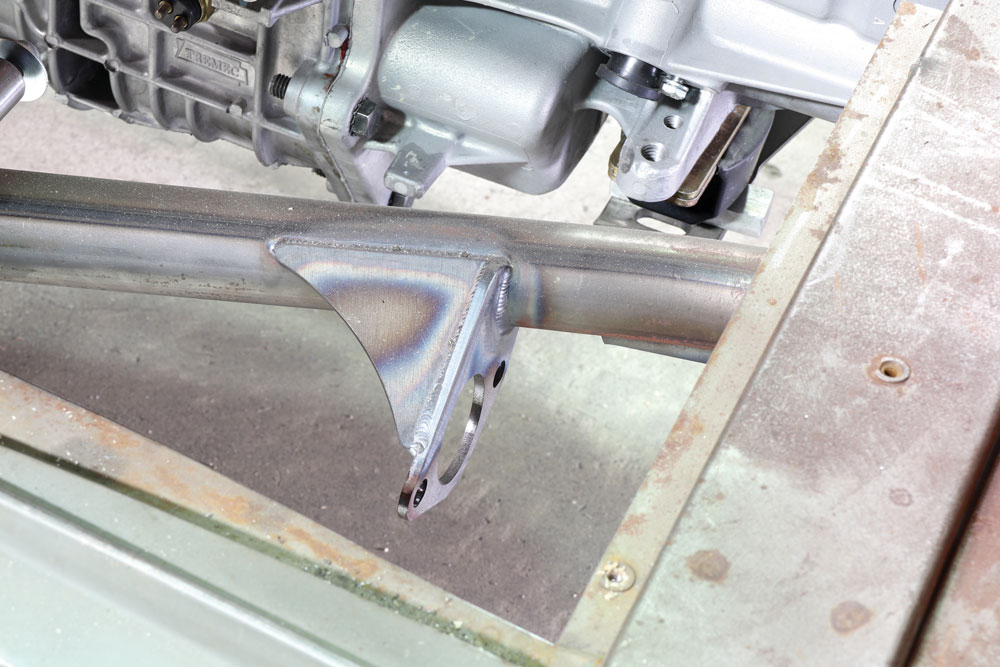 A true "launching pad" for the two brothers came when they found themselves "eyeball deep" on the final assembly of Bill Lindig's 2012 AMBR-winning roadster. (This roadster began its life through the initial crafting of Jackie Howerton.)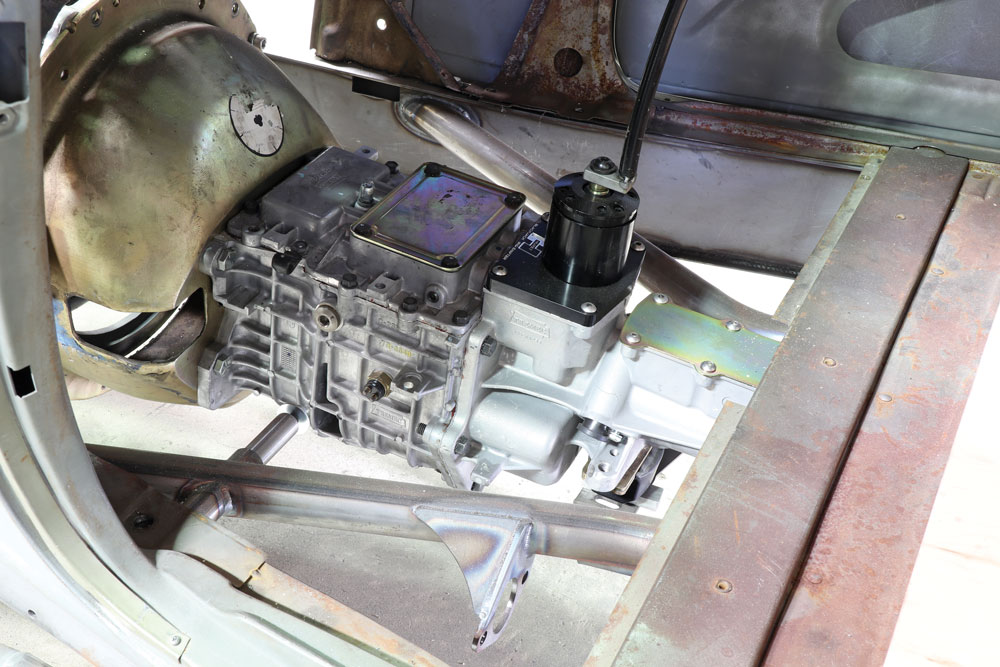 But, let us get back to the subject at hand: the traditional versus the modern-traditional build.
How to Build a Traditional 1932 Ford Three-Window Coupe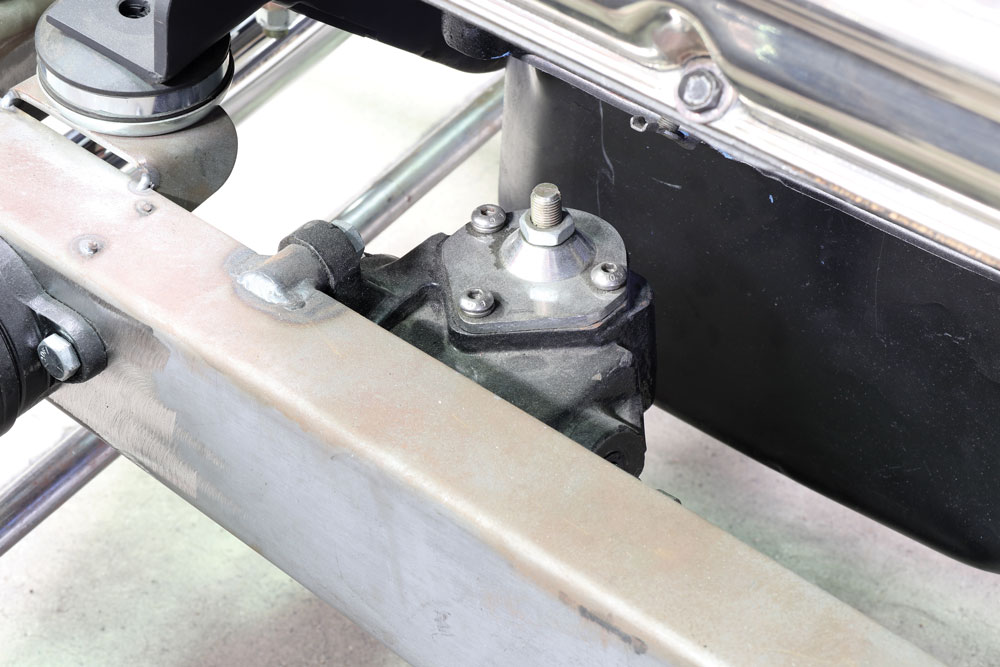 Sundeep "Sunny" Koneru (San Dimas, California) originally wanted a car that could be used in the Race of Gentlemen but that idea rolled to the curb after he found himself at the Rolling Bones soiree held at El Mirage. While there he became captivated with an early OHV V-8 and Koneru knowing that Mel Stultz, from the Race of Gentlemen, would allow early '50s engines at the Santa Barbara get-together, the proverbial wheels began to turn.
Check Out: 1932 Ford Five Window Coupe & It's All Steel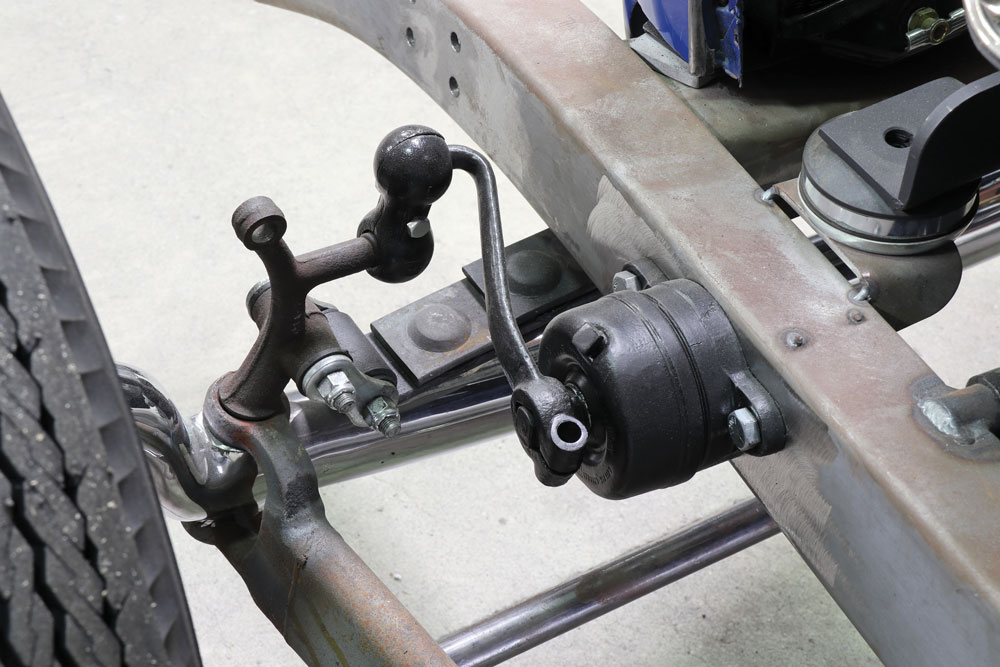 Koneru now had a home for his "baby elephant" that measured out as a 270-inch Dodge Red Ram Hemi. And that's how the 1932 ford 3 window highboy coupe began. As we go through this traditional build you will quickly notice where there are subtle liberties taken with traditional hot rod parts but done to enable the car to function at today's demands. All the while the hot rod maintains a strikingly traditional appearance and function.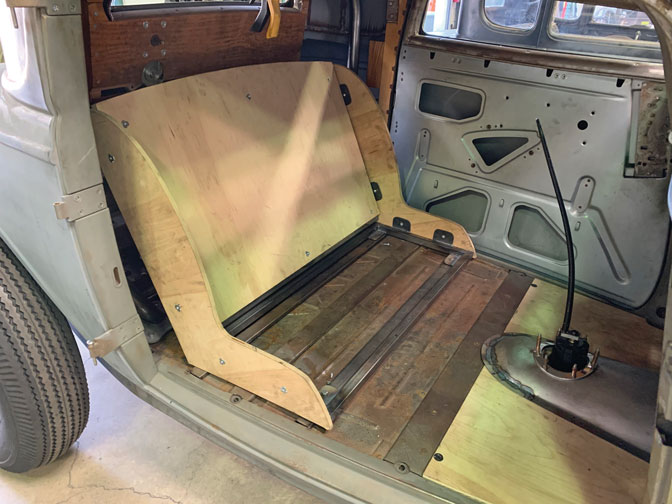 On the subject of the coupe's powerplant, let's take a peek inside and out of the Red Ram Hemi. Howard Allen handled the build utilizing Ross pistons, a Crane cam, Powermaster PowerGEN alternator, an Offy single four intake, electronic ignition, and Sanderson block hugger-style headers. To make the early Hemi fit lengthwise, abiding by the restrictions of a stock 1932 Ford coupe firewall, a small-block Chevy water pump was used as modified via a Hot Heads adapter. This adapter shortens the inclusive engine length by 2-3 inches over a stock Hemi pump. All this time the Hemi rests on a Speedway Motors front engine mount kit. The 270-inch Hemi is buttoned up to a TREMEC TKO five-speed with a Hurst mid-mount shifter via a Wilcap flywheel and adapter, while a Wilwood hydraulic clutch and master cylinder package is used.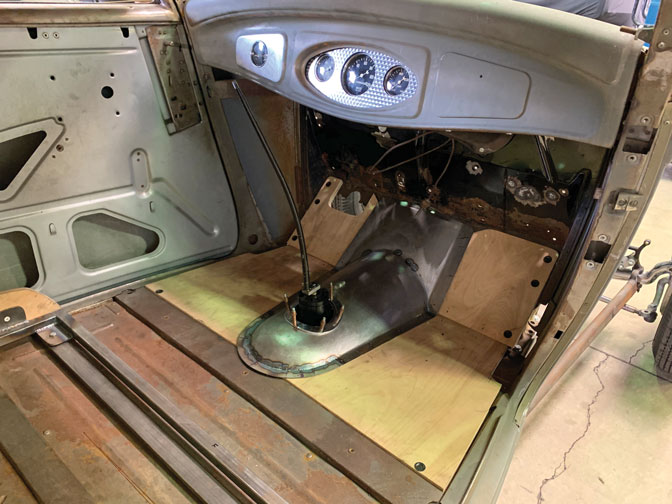 The Red Ram Hemi, while fitting lengthwise, even with a stock firewall, does have the traditional "bump" over the 'rails where the outsized Hemi cylinder heads poke through where the hood side panels would normally rest.
Speaking of resting, the powertrain and body are all positioned on a non-pinched SCSS Step-Boxed frame that uses a flat Model A front crossmember, which allows the car to sit an inch lower in front, a center crossmember, and a lowered rear crossmember fabricated to accept the Winters quick-change. Another touch to the American Stamping Corporation 'rails that SCSS uses are the fender and running board holes that are drilled to give an even more authentic traditional look.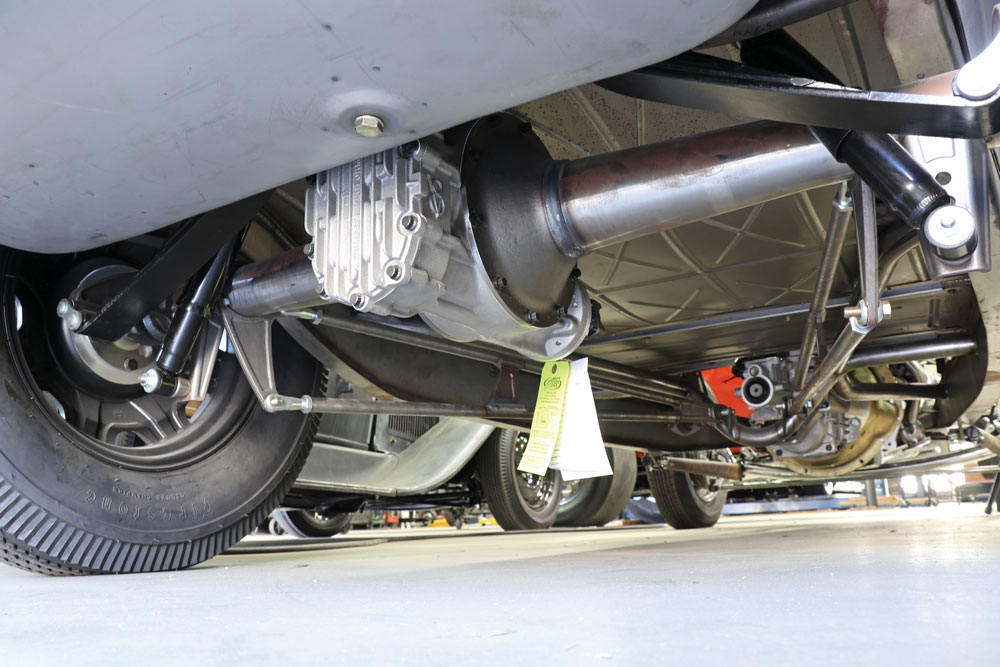 The list of traditional hot rod parts, starts with the V-8/60 front axle that was dropped 2 inches, utilizes Boling Brothers reproduction Lincoln drum brakes, rebuilt Houdaille lever action shocks, yes, the real thing, stock 1932 Ford wishbones split with a Corey Tolbert kit, and the SCSS GT2 reversed-eye six-leaf spring with Nyoglide inserts. The Winters quickie in back is surrounded by 9-inch-style drum brakes, tube shocks, a reversed-eye leaf spring, and a split ladder bar kit all from SCSS. Rolling stock fore and aft is all-traditional in appearance with 1940 Ford 16-inch steelies in front with Firestone/Coker 550-16 rubber, while in back DIVCO (milk truck) 18-inch reproduction aluminum wheels are used with Firestone/Coker 700-18 rubber.
Check Out: 1932 Ford Highboy Roadster New Zealand-Style
The traditional hot rod body is Brookville Roadster tin that has undergone a 5-inch top chop and the A-pillars leaned back while at Flop Custom. Eric Vaughn punched the louvers in the decklid and the Rootlieb hood and an additional 25 on the hood side panels. The roof insert comes by way of Bobby Walden of Walden Speed Shop that the Veazie Bros will turn into a lift-off element later on. While the body is a long way from paint, the early money is on a gray color sprayed by Joe Kennedy.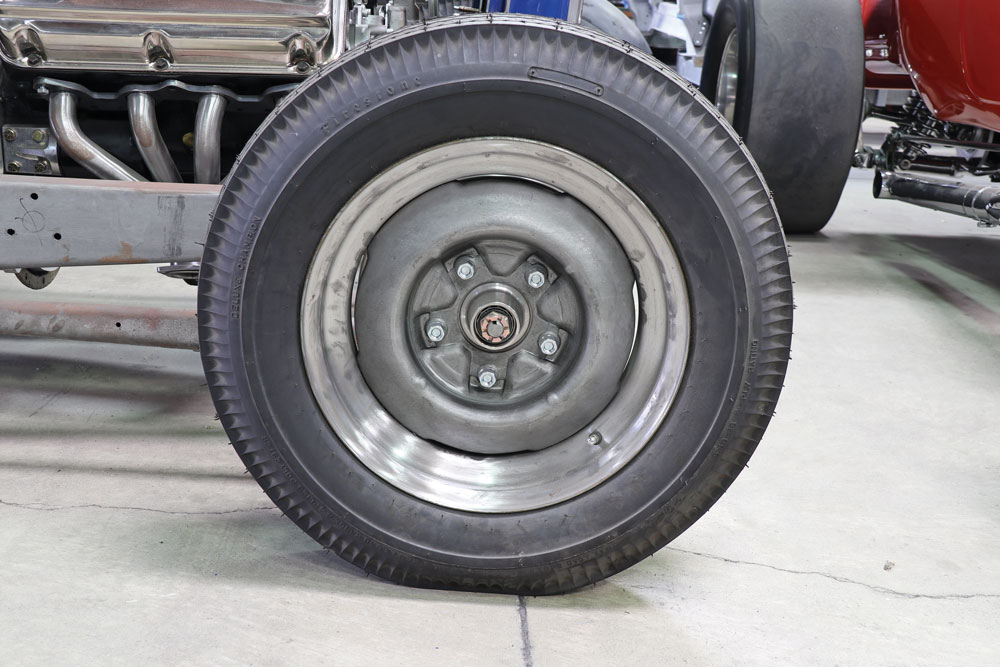 Inside a quick look tells us that the stock Deuce dash is outfitted with '40s-era Stewart-Warner curved-glass gauges, the speedometer flanked by the oil pressure to the left and the water temp to the right, positioned within an engine-turned insert. Directly in front of the driver is a single Stewart-Warner gauge that displays the gas level and amp output.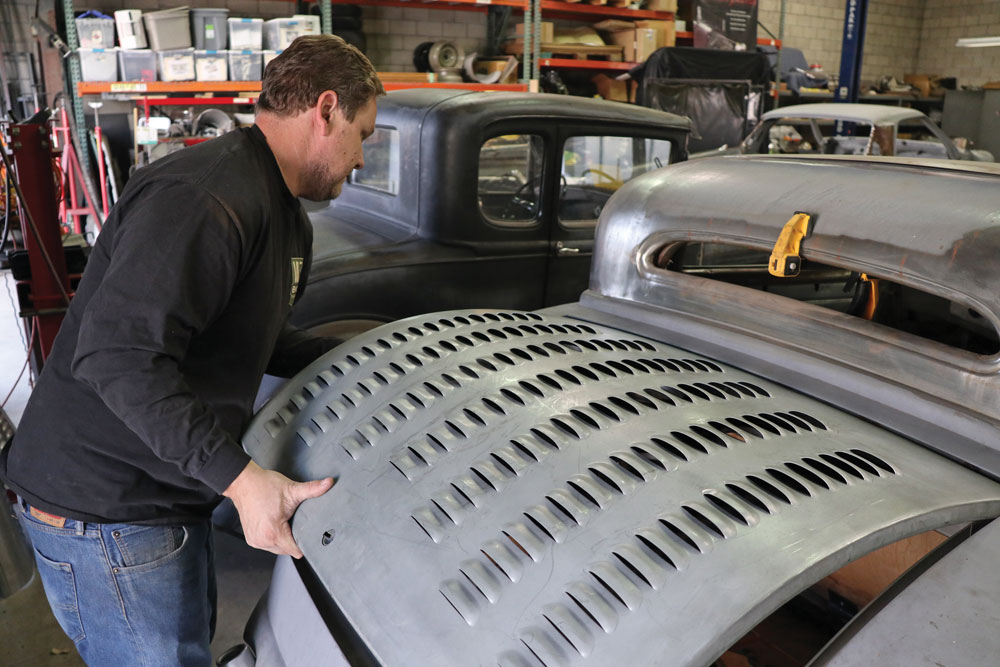 Other interior appointments include an ididit 36-inch Old School paintable steering column decked with a Bell 17-inch spoke wheel. The bench is a modified three-window coupe seat that eventually Elegance Auto Interiors will stitch and accessorize with World War II aircraft four-point seatbelts.
Moving on.
How to Build a Modern Traditional 1932 Ford Three-Window Coupe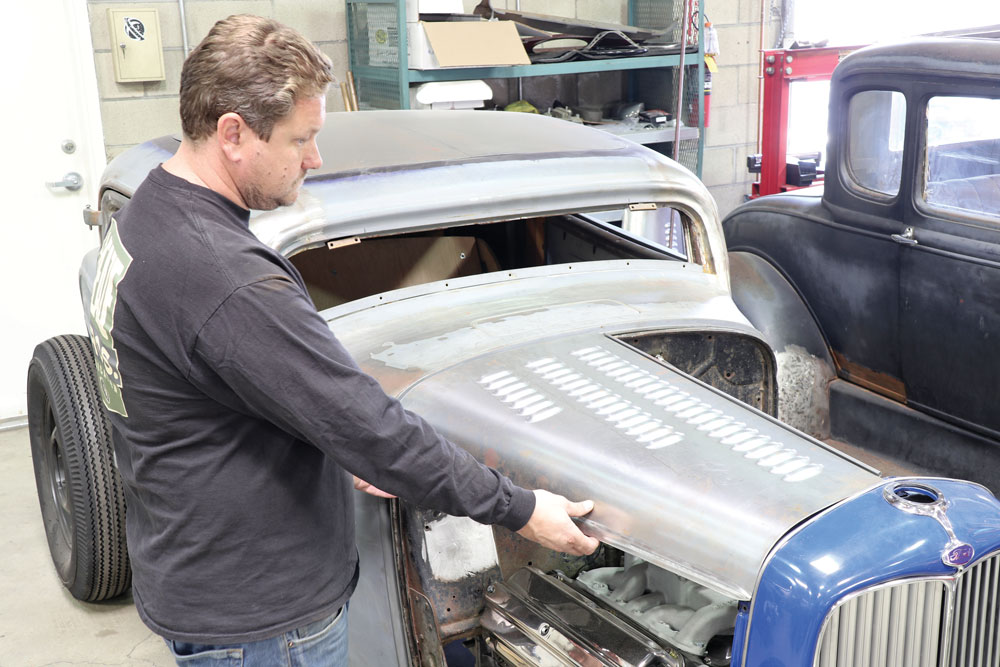 OK, you have just had a steady diet of building a traditional-looking hot rod. Now let's take a look at another 1932 Ford three-window highboy coupe that is traditional in its appearance but with a decidedly "modern" flair. Bruce Fortie, of Magnolia, Texas, is a hot rodder and has been one for many years. The time came when he wanted to do something a little different and while he knew he wanted a Deuce coupe he didn't want just another small-bock Chevy or even Ford-powered three-window. No question the late-model Hemi motor took care of that!
Check Out: 1932 Ford Highboy Roadster Powered by Dart Small-Block Chevy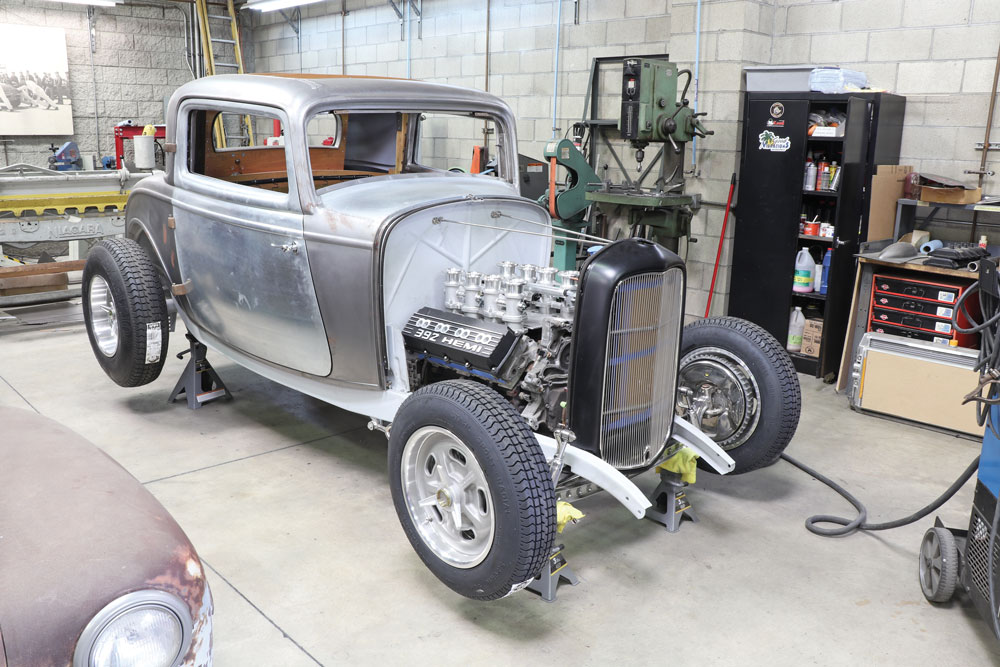 The iron block Gen III Dodge 5.7L Hemi was massaged with a slight overbore and stroke to yield a nostalgic 392 ci by G&G Machine. They made sure to bump the compression to 10.5:1, install a Comp Cams 'shaft, all along maintaining the aluminum heads and adding the aluminum valve covers from The Crank Shop. These valve covers intended for the dual plug cylinder heads are painted in black wrinkle and finned with the Hemi logo cast. When the time comes the proper accent-colored plug wires (red, blue, or black) will be selected.
The eye candy sitting atop this late-model Gen III Hemi is the Borla Stack Injection. The 5.7L V-8 will pump out in the neighborhood of 500 hp with the Borla injection good for a 50hp bump. The system comes with a billet valley cover and vacuum accumulator and cast-aluminum intake manifolds and throttle bodies. There's also an adjustable fuel regulator, high volume (-10 AN) fuel rails, and billet capstan linkage kit.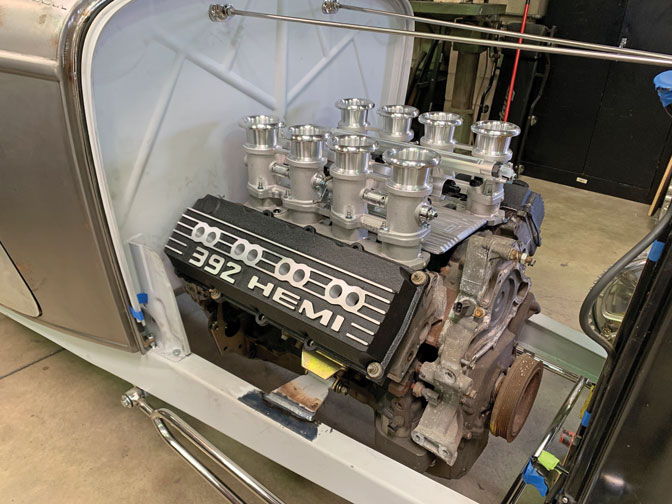 The exhaust will be made up of headers that will push the spent fuel along to a pair of Borla mufflers with all fabrication handled by the Veazie Bros. The Dodge Hemi neatly links to a TREMEC TKO five-speed that ushers the power back to a Ford 9-inch rearend with 31-spline axles. This iteration of the Hemi weighs in at approximately 500 pounds, making it suitable for an early hot rod; the use of a flat firewall makes fitment a non-issue.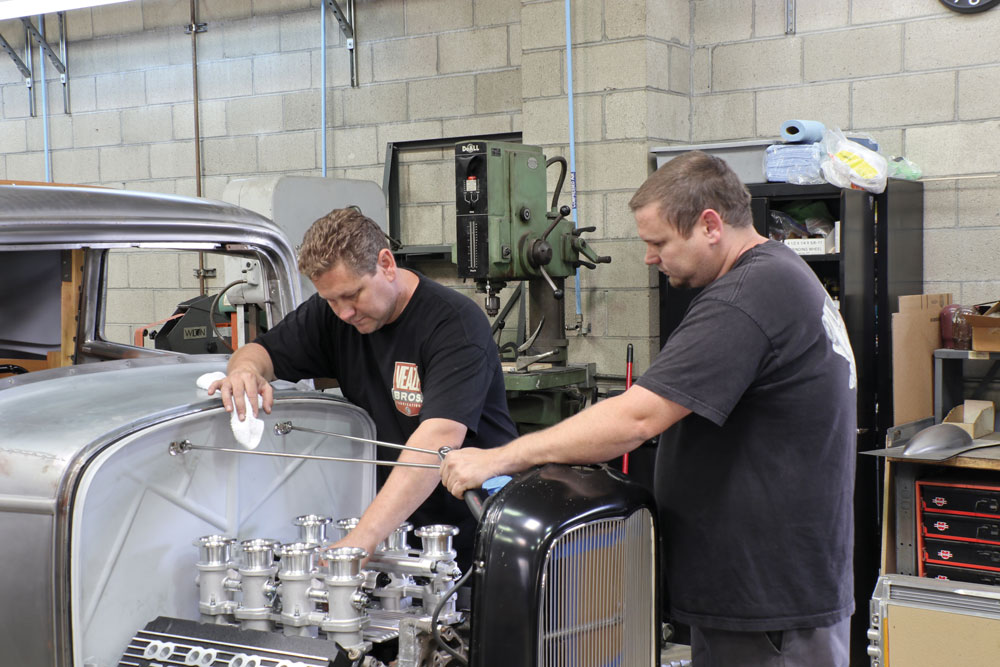 The rear suspension is more SCSS goodies, including their rearend housing with drum brakes, monotube shocks, ladder bars, all hung from the Step-Boxed frame. In front the polished I-beam drop and drilled axle grabs onto SCSS early Ford (1937-1941) forged steel spindles wrapped with SCSS faux finned Buick drums hiding the Wilwood disc brakes, based on Wilwood rotors and calipers, utilizing a Borgeson steering box and a reversed-eye leaf spring with a Panhard bar.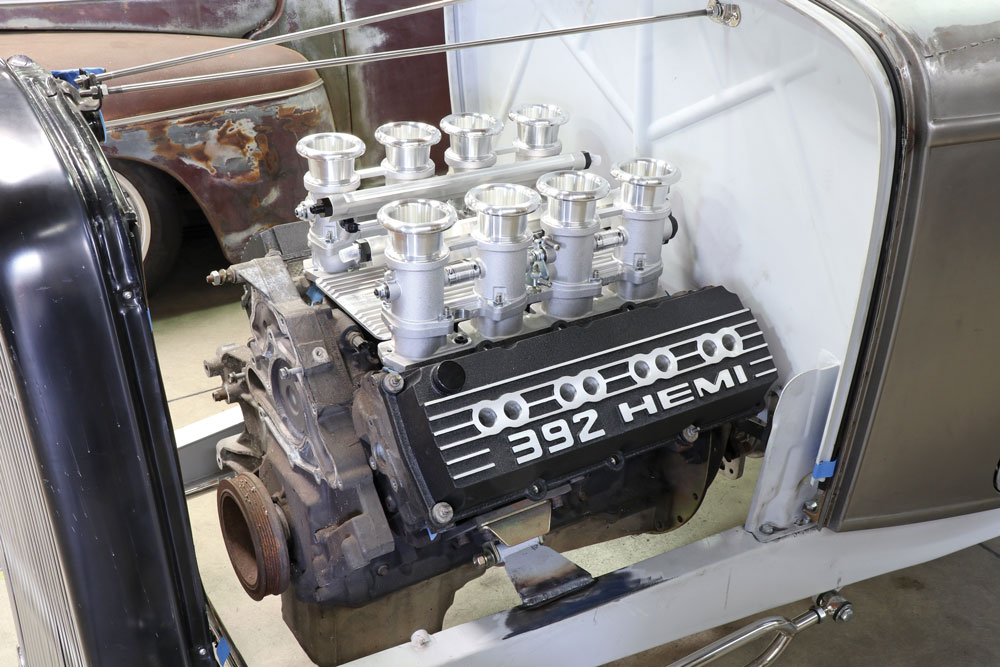 The wheel and tire combination is based on the SCSS Hot Rod wheel that's a one-piece cast-aluminum alloy with a pin-drive knockoff and Excelsior/Coker Stahl Sport radial rubber. The front combo is a 16×5.5 wheel with 550R/16 rubber while in back a 16×8 wheel with 750R16 rubber is mounted.
The body is more Brookville Roadster sheetmetal, this time the '32 Ford three-window coupe body will undergo a 2-inch top chop. The four-panel hood comes by way of Rootlieb while the side panels feature louvers by Jimmy Shine of Shine Speed Shop and a pair of blisters to accommodate the largeness of the Hemi heads. The cowl vent was removed but note the grille shell retains the radiator cap while the insert retains the crank hole.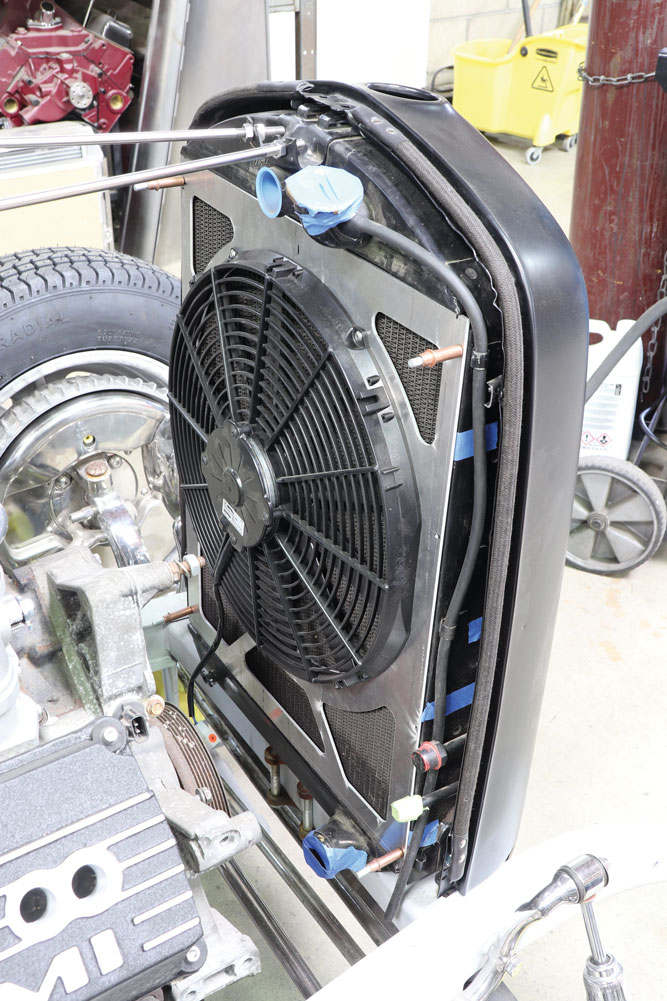 Looking inside you can see the beginnings of the seating based on a Glide 1932 Ford bench that in time will be stitched by Ron Mangus Hot Rod Interiors. Right now, the tin work is nearing completion on the floor to house the TKO five-speed. You will also see that a stock appearing yet flat firewall is used to gain engine room clearance.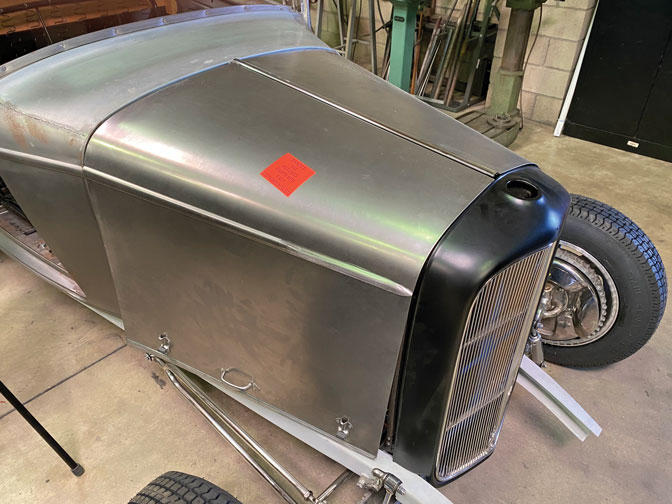 Check Out: 1956 Dodge pickup is Packed with Modern Day Hemi V-8
Traditional Versus Modern Traditional
Well, there you have it. A traditional-looking hot rod is timeless and will forever be cool and something to be proud to own and drive. But hot rodding is all about building a car that reflects your dreams and as such, as we now see, a traditional build can come in different looks. MR
Source
Veazie Bros. Fabrication
veaziebrosfabrication@gmail.com
Instagram: @veaziebrosfab