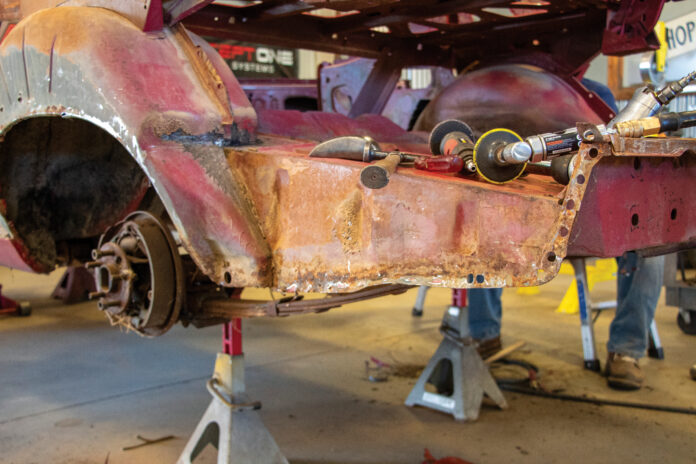 Rust Removal & Replacement of Wheelhouse and Trunk Floor Extension on '66-'69 Ford Fairlanes and Torinos
By Brian Brennan – Photography by Jason Chandler
We're back! Our '69 Ford Torino Fastback Q-code continues to have its "skin" refurbished. This time we take a look at the wheelhouse and trunk floor extension. It should be noted that while we are working on a '69 Ford Torino Fastback the parts and the work required will be the same for '66-'69 Ford Fairlanes and Torinos and other years and models … but more on that later.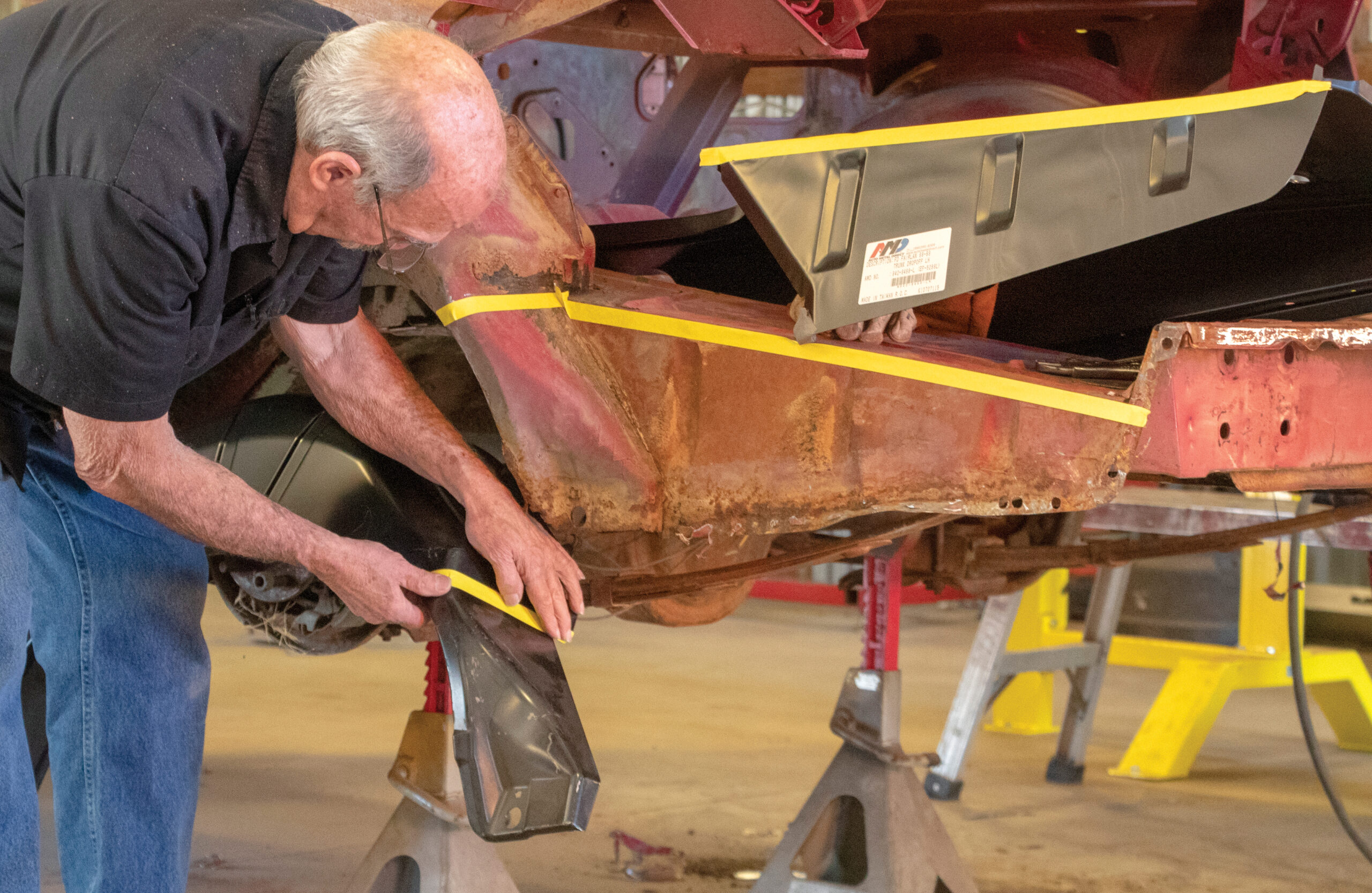 Read More: How to Replace The Quarter Panel on a 1968-1969 Ford Torino Sportsroof
We find ourselves once again back at The Installation Center (TIC) in Cleveland, Georgia, watching Craig Hopkins continue the resurrection of our Torino while using Auto Metal Direct sheet metal. In the past two articles we have looked at replacing entire rear quarter-panels and the core support. Both of those projects required a good bit of effort and expertise. This time we are looking at patch panels; it's been our experience that virtually any rodder who has dabbled in sheet metal work has done some patch panel work.
Let us first familiarize ourselves with the parts at hand.
Outer Wheelhouse Patch Panel
The Outer Wheelhouse patch panel is available in two different part numbers to accommodate the left- and right hand sides. We are working specifically with the left hand (PN 770-8470-L, driver side) outer wheelhouse patch panel for a '68-'69 Fairlanes and Torinos (these parts won't work on similar year wagons). There is also a patch panel for the right hand (passenger side) outer wheelhouse (PN 770-8470-R).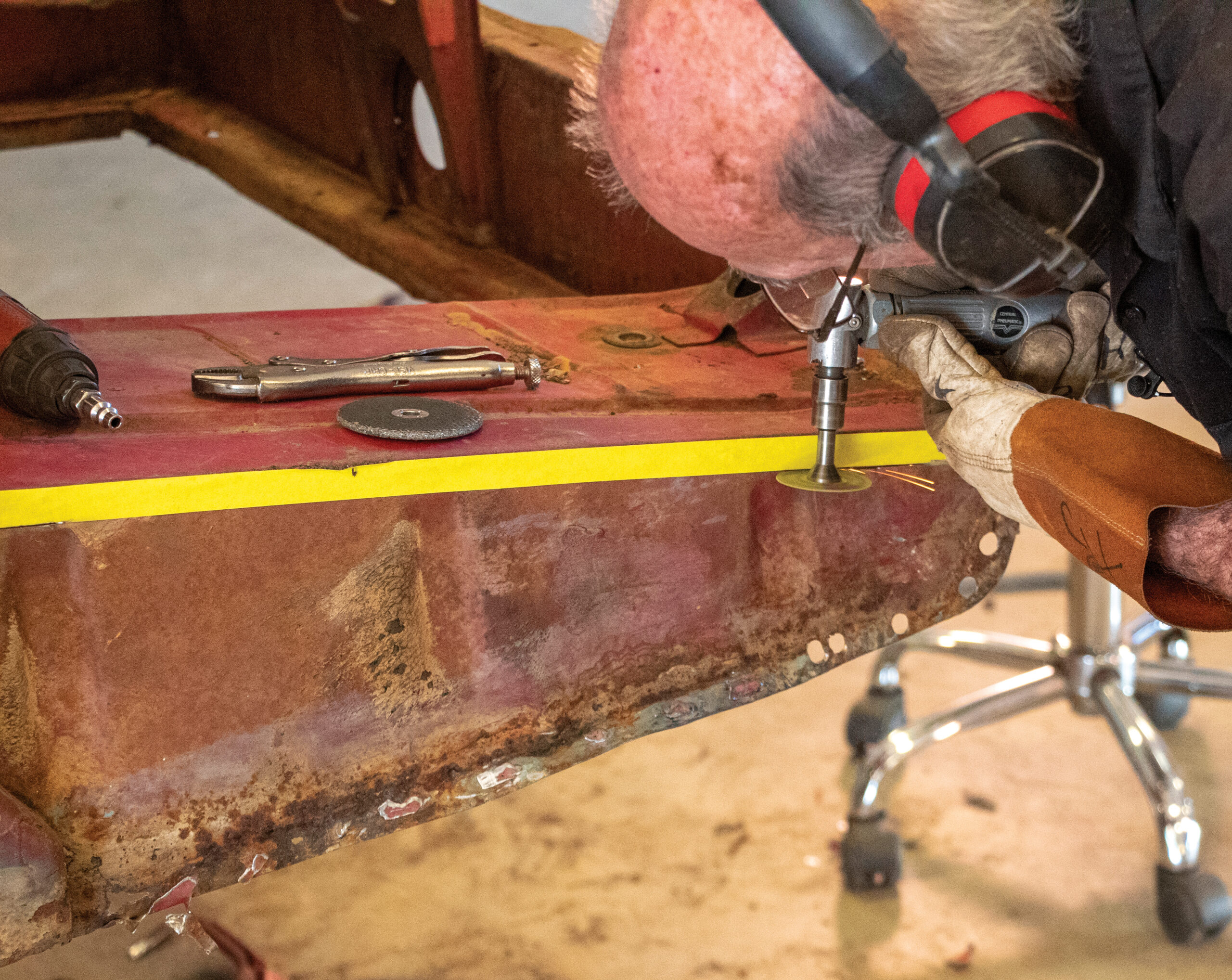 These pieces are stamped for Auto Metal Direct out of a high-quality heavy-gauge steel on Auto Metal Direct exclusive tooling. It should be noted that Auto Metal Direct went to great lengths to make sure that their replicated parts feature the correct original shape, size, bends, tabs, and holes. This Auto Metal Direct component replaces Ford PN C8OZ-5427895-B. The wheelhouse will come to you with an EPD coating to protect against rust and corrosion. We have spoken about EPD, as it stands for electrophoretic deposition. E-coating, as it is commonly referred to, is an immersion wet paint process that uses electrical current to attract material (paint) to the metal surface. It's great for protecting metal during the build process right up and until the body- and paintwork begins.
Trunk Floor Side
The second patch panel that we will be working on within this story is the Trunk Floor Side (PN 840-8468-L, extension). It will work on '68 and '69 Torinos, Mercury Cyclones, and Montegos and '69 Fairlanes and Mercury Comets (except wagon or Ranchero). There's also a Trunk Floor Side for the right hand (passenger side), PN 840-8470-R.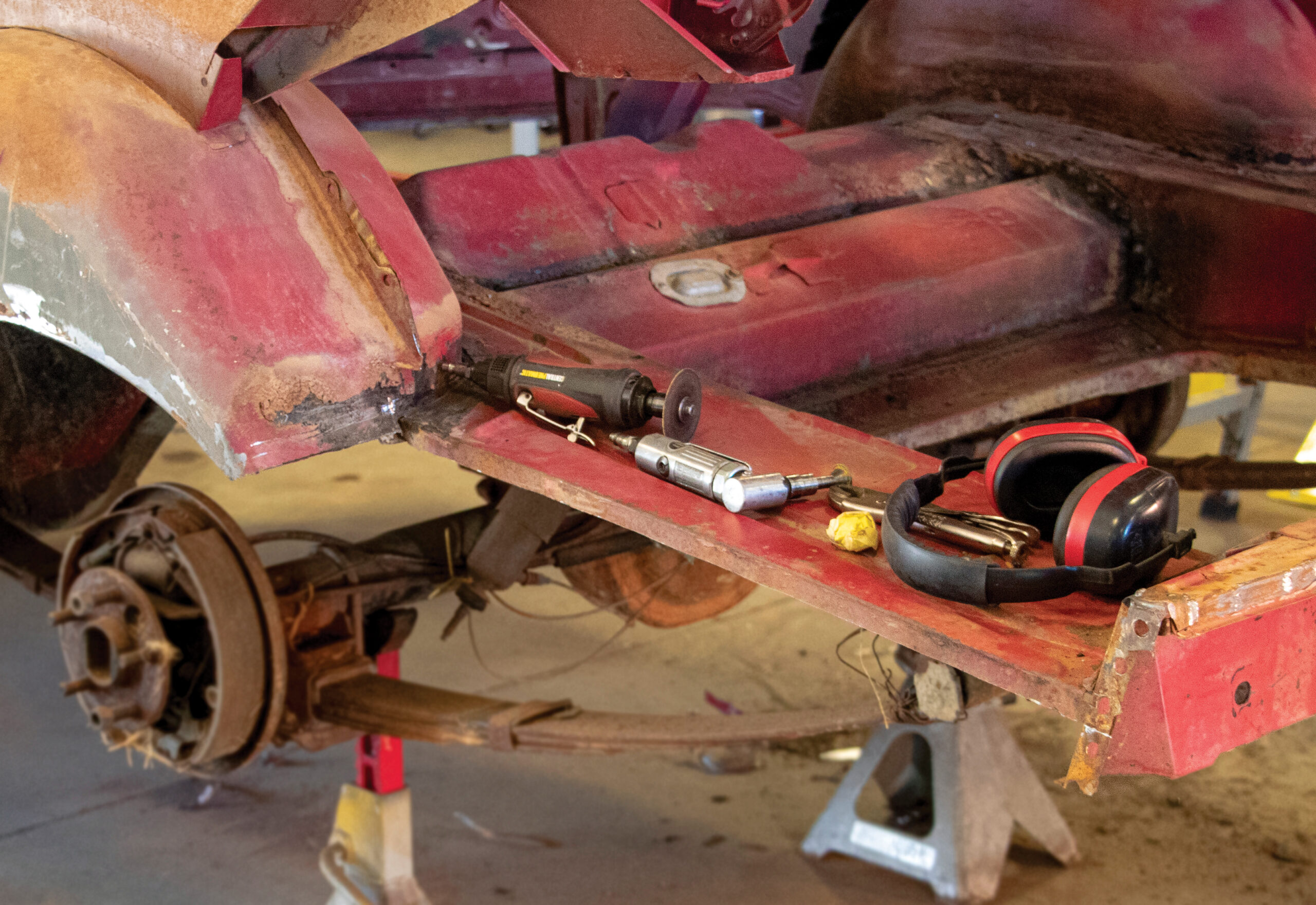 Read More: How To Install a New Radiator Core Support in Your 1966-1971 Ford Torino, Fairlane, or Ranchero
This component is stamped from the same high-quality heavy-gauge steel and each of these pieces features the same correct shape, size, bends, ribs, holes, and tabs like the factory. It arrives EPD coated to help protect against rust and corrosion. This Auto Metal Direct component also replaces Ford PN D0OZ-65112A23-A and comes with the same EPD coating.
Follow along with the photos and it will pretty much be a step-by-step process on how to remove the tired and rusted-out sheet metal and replace it with the fresh sheetmetal from Auto Metal Direct.
Sources
Auto Metal Direct
(877) 575-3586
autometaldirect.com
The Installation Center
(706) 348-6653
amdinstallation.com