Budget Custom Interior Part 2: Tips & Tricks for DIY Upholstery Custom Seats
By Ron Ceridono   –   Photography By John Winter
Back in the Oct. '22 issue of Modern Rodding we introduced John Winter. As we explained then, Winter was looking for a means of upholstering his 1932 Ford coupe that wouldn't demolish his building budget. Not being afraid of a challenge, Winter bought an appropriate sewing machine, a good pair of shears, a few yards of material, and stitched the coupe's interior himself. Since then, he has upholstered his 1936 Ford Tudor sedan and a variety of other vehicles for friends.
Building A Template For The Custom Seat Cushions
While talking to Winter he offered a few tips and tricks he's picked up when it comes to seats in a hot rod. The first example we'll show here is making a seat from scratch with blocks of polyurethane foam. Winter begins by making a pattern of how the cushions should be shaped. The foam rubber is then cut out on a bandsaw and then the individual blocks are glued together to make a cushion. Foam comes in a variety of densities, so the cushions may be soft or surprisingly hard—it's not unusual to make the seat bottoms and the backrests out of different densities to suit individual preferences.
Read More: How To Upholster Panels On Your Hot Rod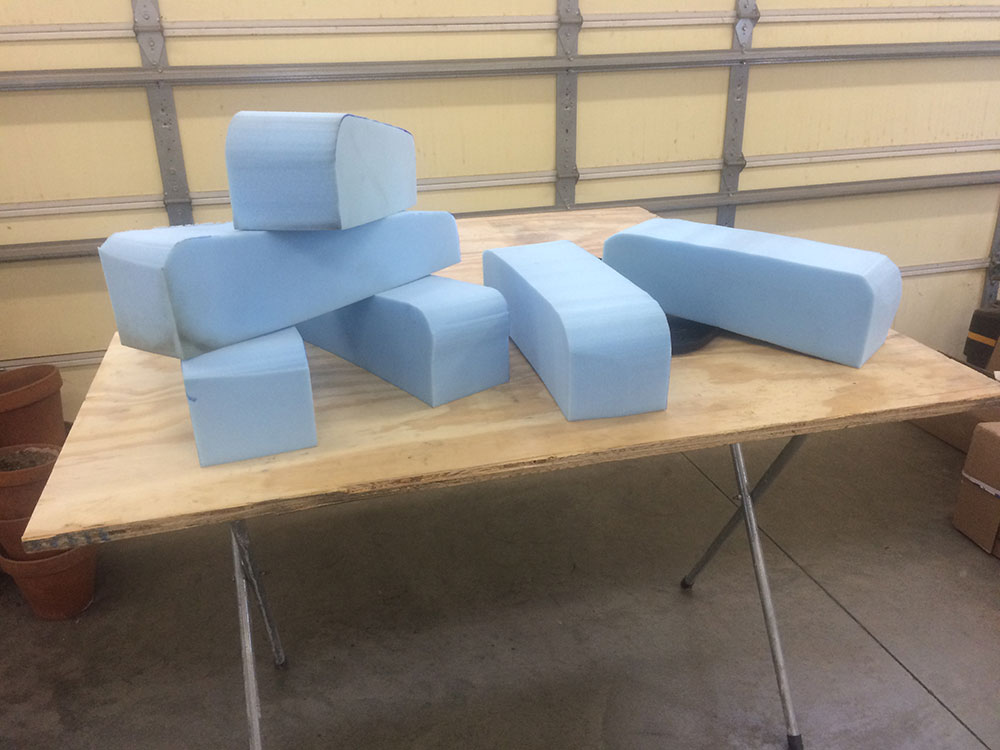 Another option is to make the seat cushions out of one large sheet of foam. In some cases, an extra "band" of foam is wrapped around the front and sides of the cushion to help the edges keep their shape. This extra material may be made from the same material as the seat cushion density or foam that is slightly "harder" to act as leg and side support bolsters.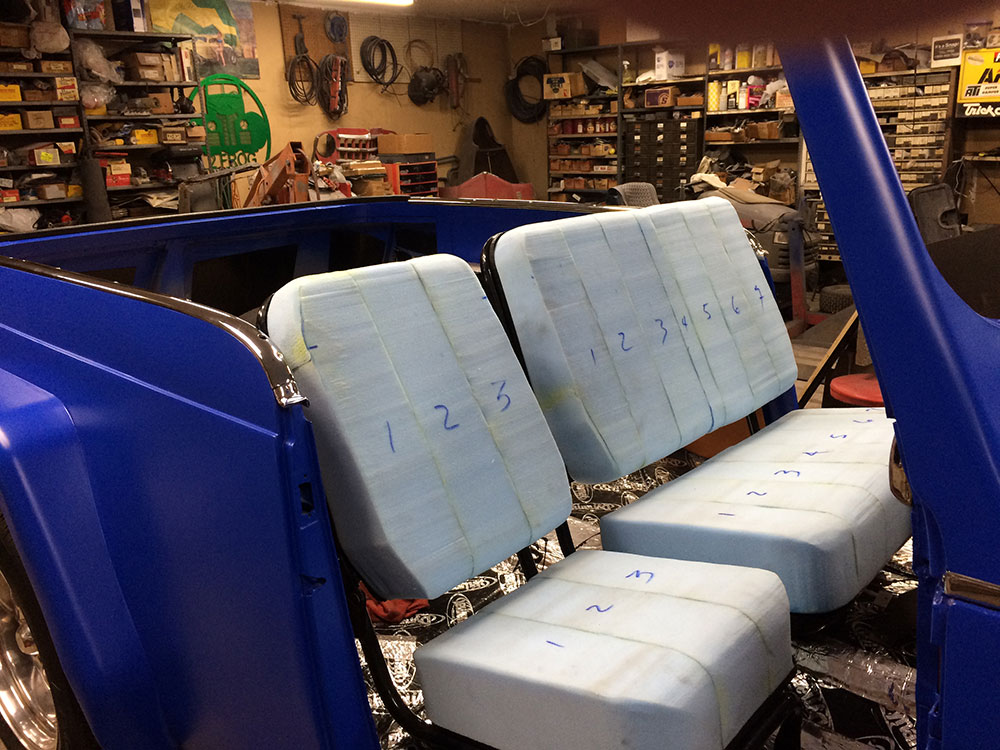 Making Patterns For The Custom Upholstery
Once the cushions are made, patterns for the upholstery are next. Winter has several methods of making patterns. One is to make paper patterns then transfer those dimensions to individual pieces of plastic then onto the fabric being used. Another trick Winter has learned is to make patterns with the sticky transfer paper used to make vinyl signs.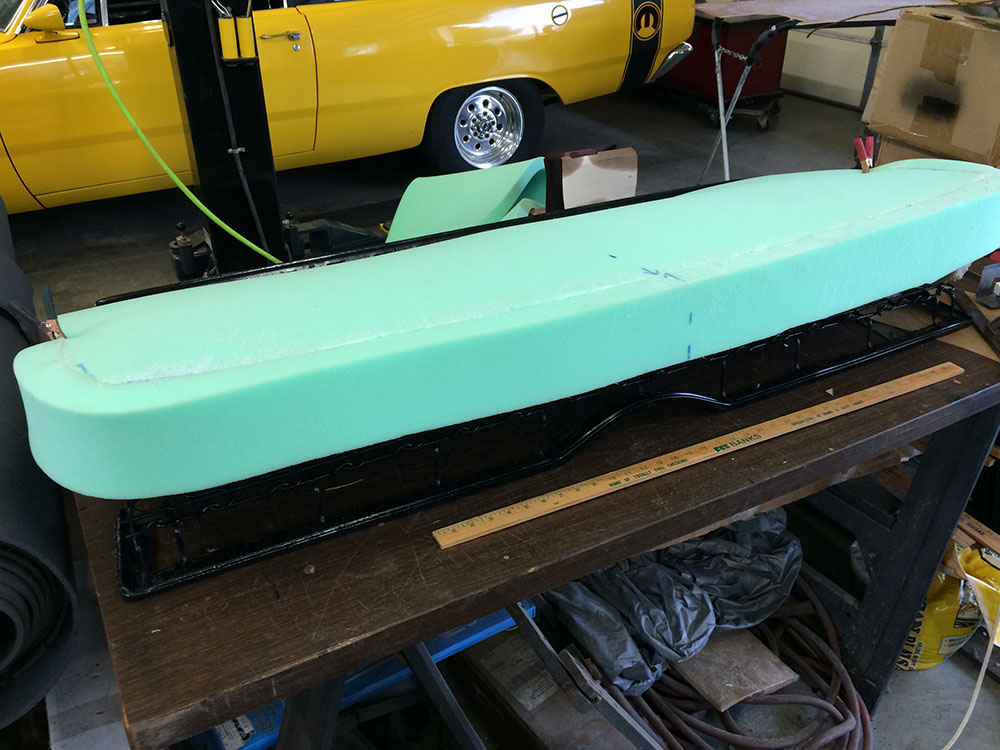 The Importance Of Seam Allowance
Regardless of the material used to make patterns, it's important to allow what is called seam allowance. That is the area between the edge of the fabric and the line of stitches—in other words, the pattern must be made larger than the finished piece will be. Winter suggests allowing 3/8 to 1/2 inch seam allowance for all the individual pieces that will be sewn together.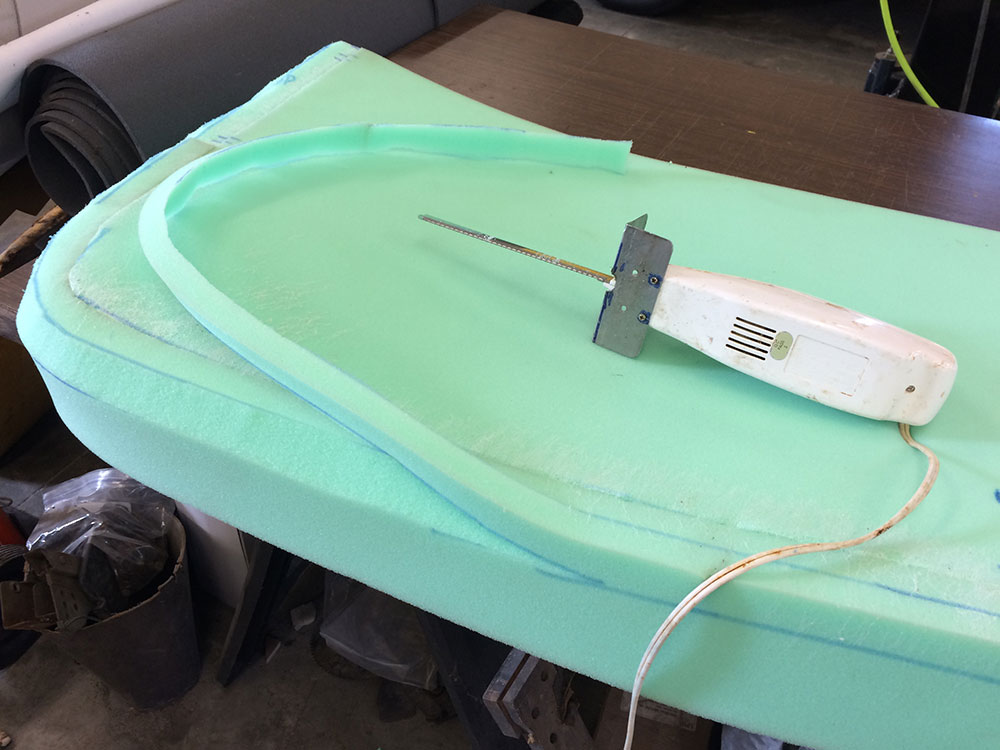 Read More: How to Restore the Interior of Your '41-'46 Chevy Truck
Utilizing Factory Seats
When Winter needed seats for his '36 Ford sedan he came up with a unique solution. He used the front bucket seats and the rear bench from a Chevrolet HHR. But rather than just bolt them in place, he took the covers off the seat, took them apart at the seams, then used the individual pieces as patterns for new, custom covers.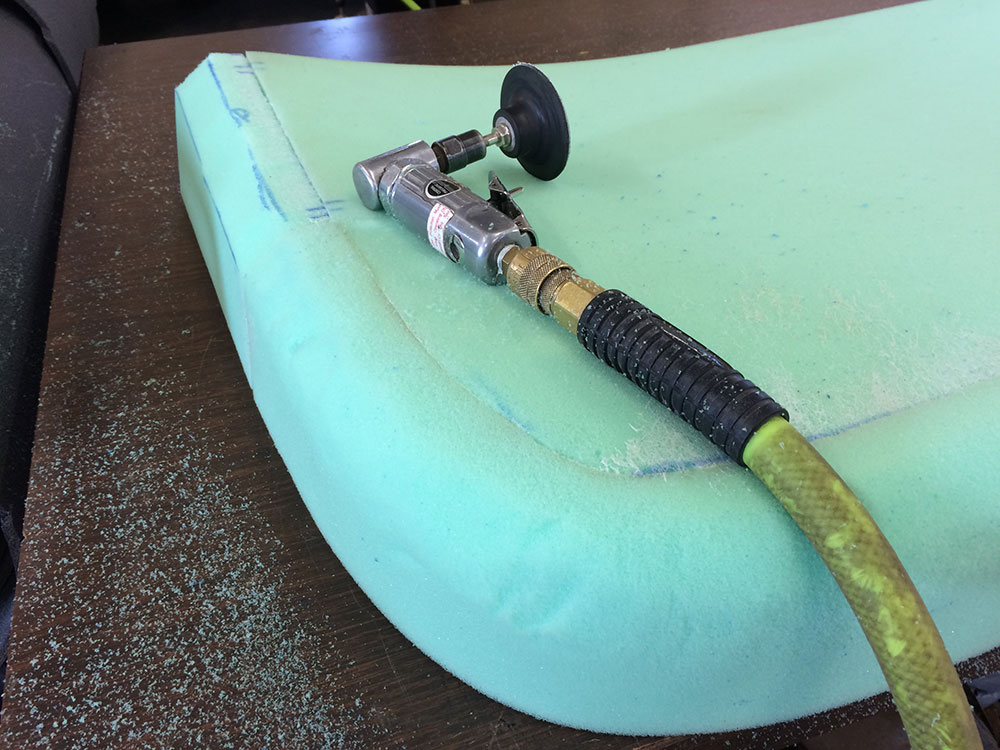 Like many modern factory seats, the HHR cushions were made from solid polyurethane foam. They are made by injecting a catalyzed foam mixture into a mold, the material expands, and to fill the contoured cavities of the mold, the foam solidifies and the result is a seat cushion.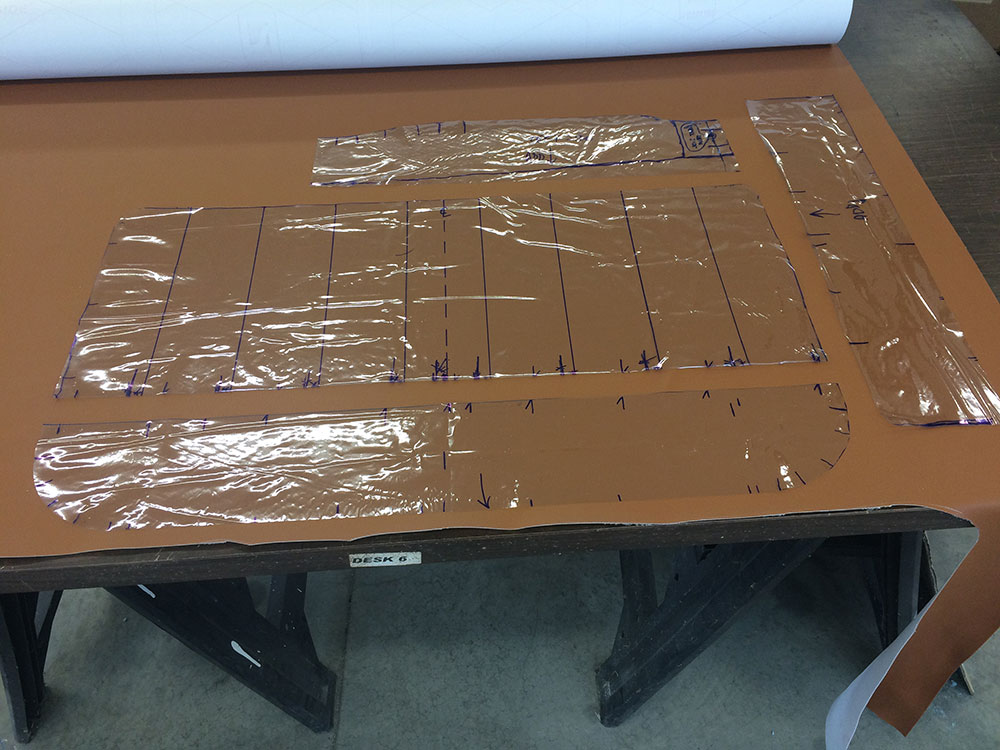 Repairing Split Seat Cushions
Although molded seat cushions are tough, the foam in used seats may have developed splits that require attention. But we've found Winter likes a challenge and he has come up with a unique method of repairing such problems. He uses a combination of drywall tape and vinyl top adhesive to repair damaged areas, and in some cases join sections of cushions together.
Read More: How to Eliminate Interior Rattle On Your Classic Truck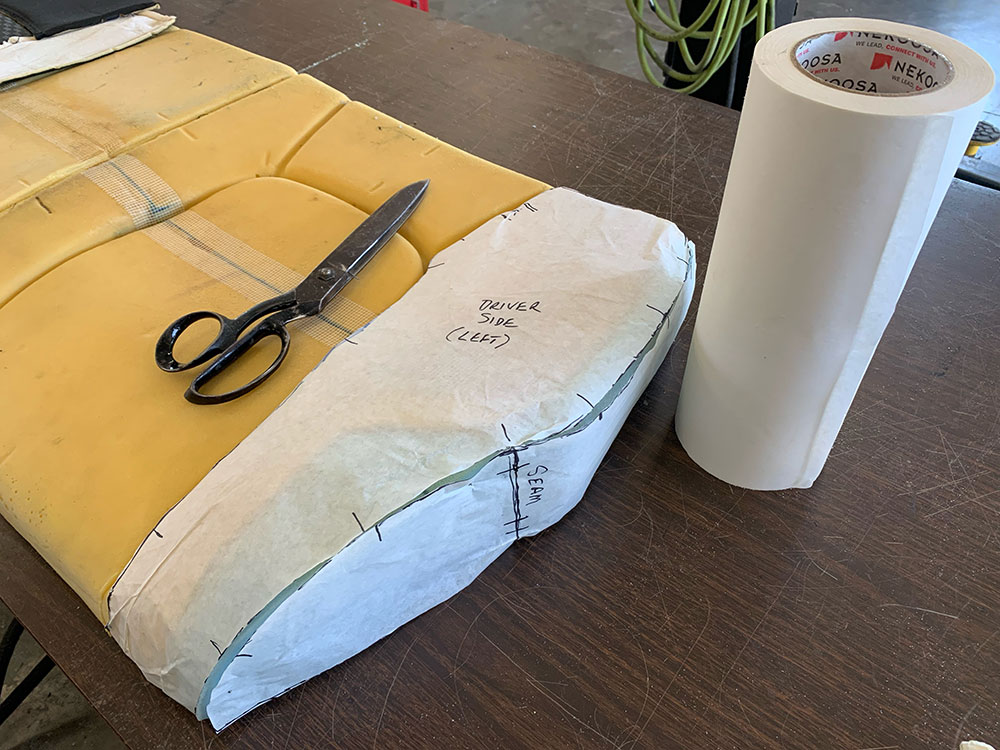 Final Touches On The Custom Seat Cushions
After making repairs to the foam from the front seats, adding foam to the sides of the HHR rear seat to fit around the wheel wells of his sedan, he also made the two-piece rear seat into one piece by gluing the molded foam cushions together. Once that was done Winter stitched new vinyl covers for the front and rear seats, adding pleated inserts in the center of the seating areas for a custom look.  Winter's patience, persistence, and willingness to try something new paid off with a great looking, comfortable, affordable interior for his '36 Ford. The best part is he can say he did it himself. MR