Budget Custom Interior Part 1: Stitching Model A Panels at Home
By Ron Ceridono   –   Photography by John Winter
Like many homebuilders putting a hot rod together on a budget, John Winter received a form of sticker shock when it came time for an interior in his 1932 Ford Coupe. The estimates he received were much higher than expected, but Winter is not a man easily discouraged. So, despite never having done it, Winter decided to upholster the car himself. Winter's latest effort was a full interior in his 1936 Ford Tudor sedan and he was kind enough to show us how he did it. We're going to start with some relatively easy tasks, like covering flat panels, then we'll get into more complicated jobs, like seats and headliners, in subsequent installments.
Read More: How To Update The Front Suspension On Your Ford Model A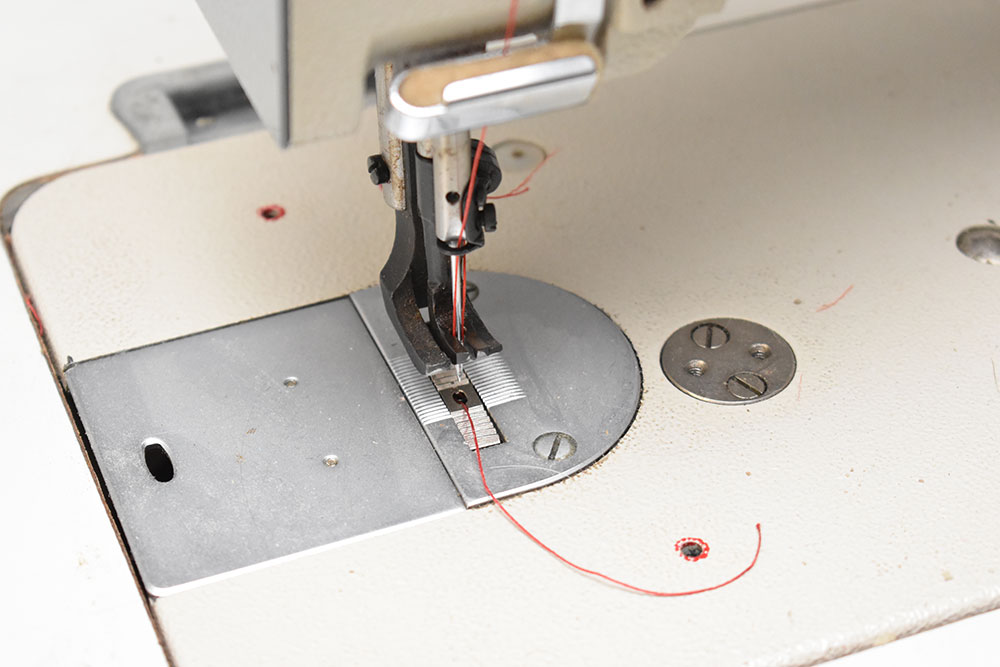 What You Will Need
For those who want to do upholstery at home, there are a few things you'll need, not the least of which is a proper sewing machine. Not to be confused with a common household variety sewing machine, the most common type of machine for upholstery work is the single needle, "walking foot" lockstitch machine. With an ordinary sewing machine, as the stitches are made the fabric is pulled past the needle by what are called "feed dogs." This mechanism pulls on the bottom layer of fabric only. By comparison a walking foot sewing machine pulls the material through from the top and bottom, feeding multiple layers of material evenly. Like anything else, the best way to learn how to sew straight lines is to practice by making chalk lines on scrap material.
Read More: How To Install Speedway Motors' Headlight with Turn Signal
Choosing The Right Material
There is a wide variety of automotive upholstery materials available, vinyl, cloth, and, of course, leather, which is probably best left to those with experience. In most cases vinyl is the material of choice as it's affordable and wears well. When it comes to selecting vinyl there are two common types: standard vinyl and marine vinyl. The difference is marine vinyl has additional UV protection to prevent the color from fading in sunlight (a good choice for an open car). Vinyl comes in an array of colors and textures—there's even distressed vinyl that looks like vintage leather. When purchasing upholstery materials, the price will be per yard. Most automotive fabrics are 54 inches wide, so 1 yard of material would be 36 inches long by 54 inches wide.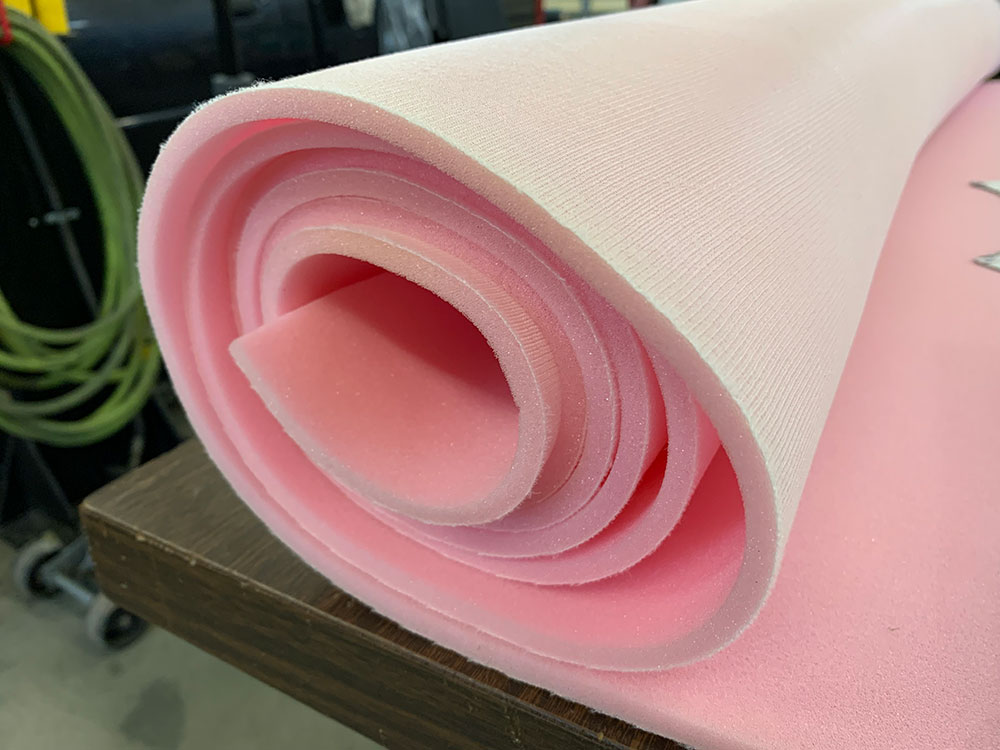 Another material that is used in automotive upholstery is polyurethane foam with fabric backing (called scrim). When creating pleats, the backing holds keep the stitches from pulling through the foam. In addition, the scrim holds adhesives well when the upholstery is glued in place. Foam is available in a variety of thicknesses and densities (scrim backed foam is usually ¼- or ½-inch thick).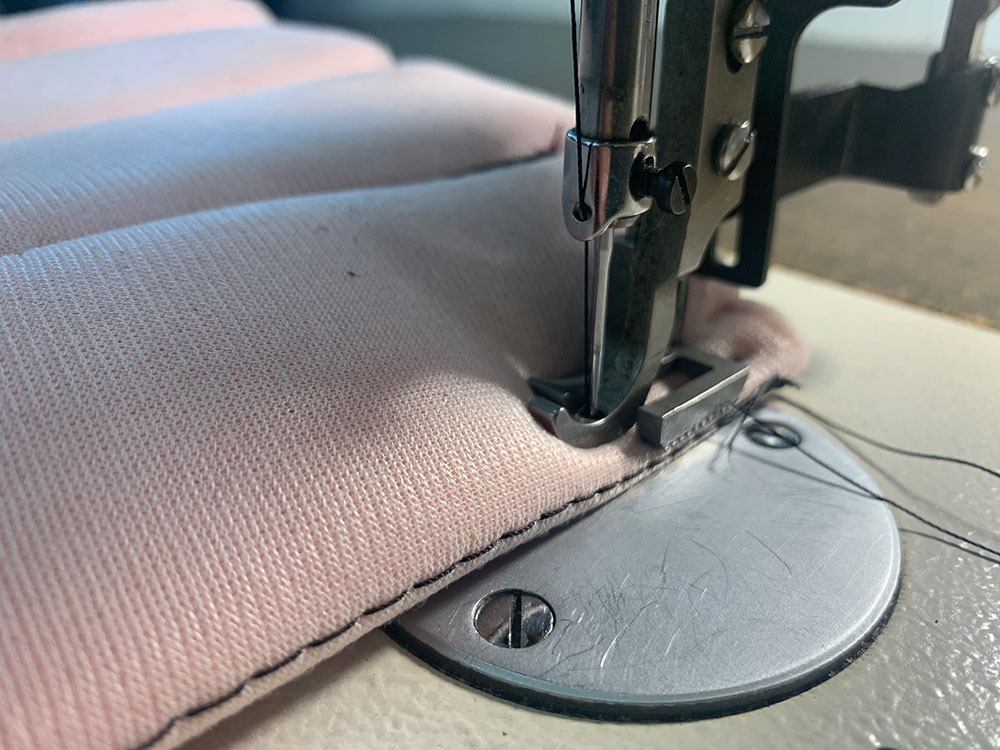 Choosing The Methods Of Fabricating
There are two basic methods of fabricating a flat panel, such as the door panel shown here. If the original upholstery is intact, it can be taken apart at the seams and used for a pattern. When making the upholstery panel from scratch, make a paper pattern (plastic also works) off the door, including all the openings for any handles. When measuring material for a flat panel, keep in mind that pleats, particularly the blind type, will "use up" material so make sure there's enough seam allowance to wrap the upholstery around the backing it will be attached to (normally chip board, heavy cardboard, or Lauan).
Read More: East Coast-Styled 1932 Deuce Coupe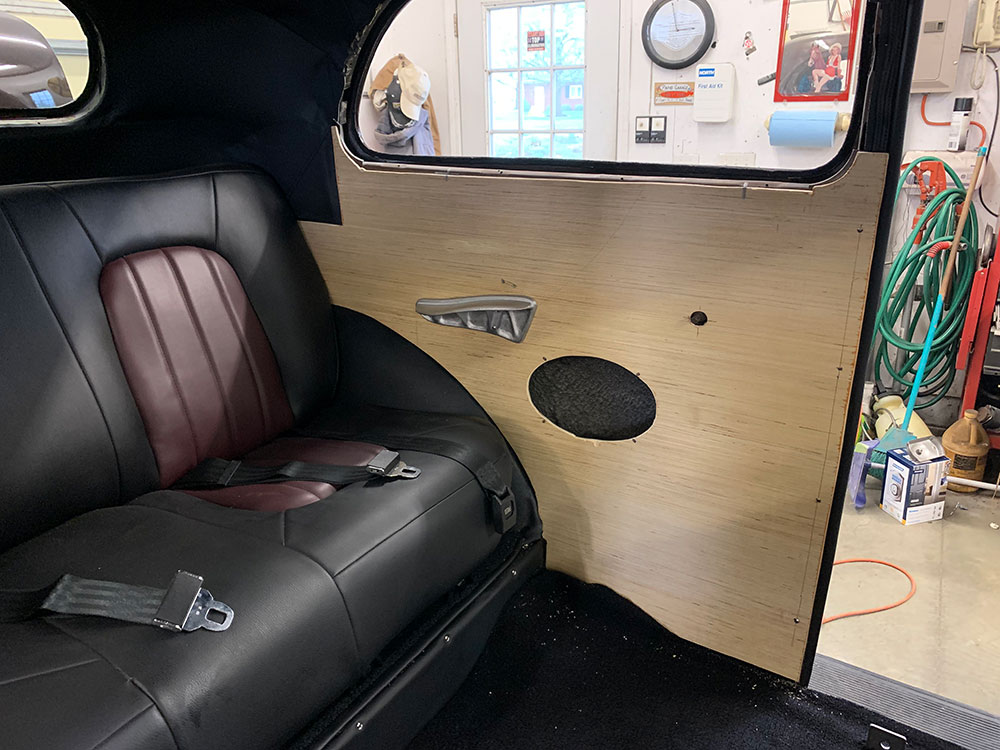 Once the fabric cover is completed, check the fit on the panel it will attach to—it may help to make chalk centerline marks on the upholstery and the panel. If the fit is satisfactory, the back of the fabric and the panel have adhesive applied. Lay fabric for the door panel on a worktable and spray adhesive to the back of it. With the material face down, lay the panel in place. Press firmly. Turn the panel over and smooth out any wrinkles. Finally, turn the panel over, wrap the material around the edges of the backing, and secure it with adhesive and staples, if appropriate. Cut any necessary holes, then trim away any excess material.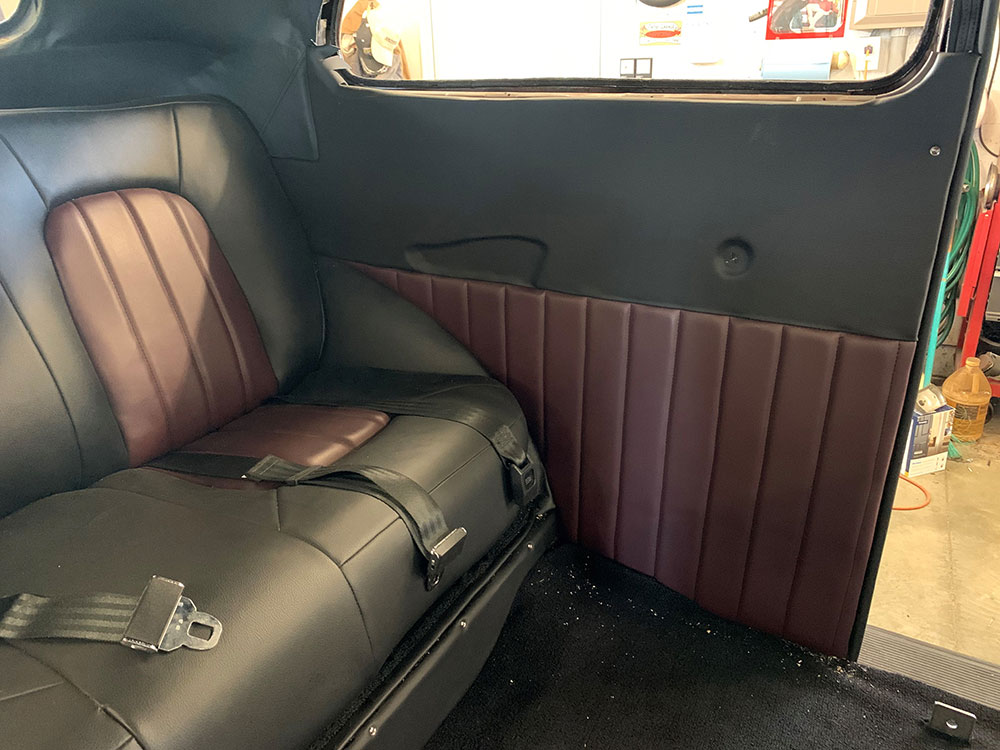 Upholstering your hot rod is rewarding in a variety of ways—you can be creative and let your imagination run wild, you'll save a bunch of money, and perhaps, best of all, like John, you can say "I did it myself." MR