High-End Hot Rod Parts, Killer Projects, and Bonneville History Run in the Kugel Family
By Tommy Lee Byrd   –   Photography By Brian Brennan
Icons of the hot rod world often share a love for speed, but very few can compare to the lifelong passion of Jerry Kugel and his gearhead family. Not only has Jerry conquered many milestones at the Bonneville Salt Flats, but he has also provided innovative products for hot rodders around the world. His company, Kugel Komponents, is known for its independent front and rear suspension systems. We recently had the chance to visit the shop in La Habra, California, and a closer look reveals a multitude of problem-solving hot rod parts and a speed shop packed with great project cars and old trucks.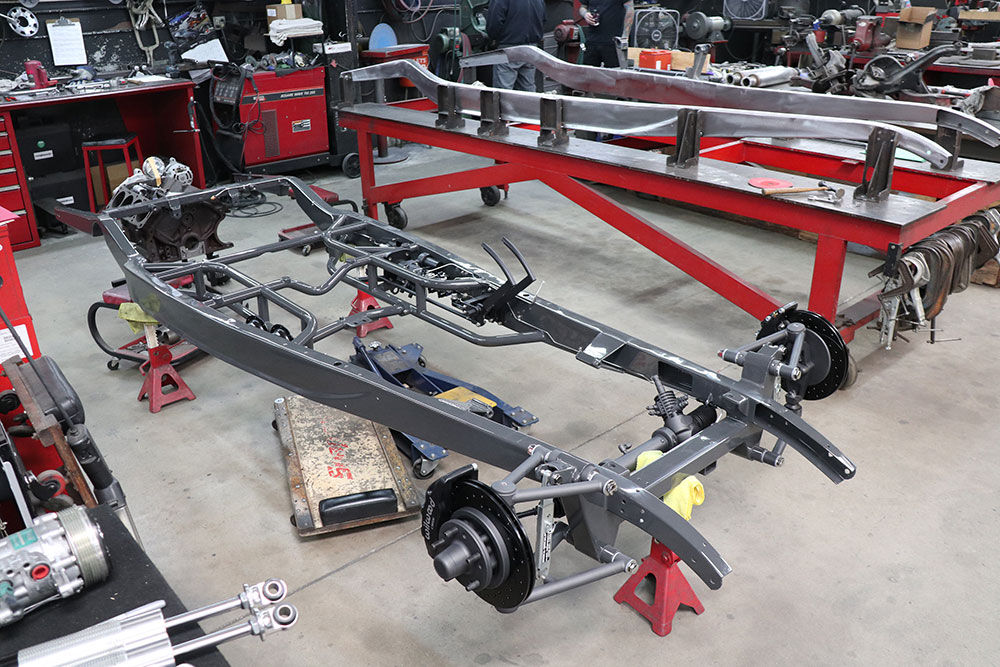 This 1932 Ford roadster chassis belongs to Jerry and Judy's son Joe and will be featured as a complete hot rod in an upcoming issue of Modern Rodding. Here it is being assembled with the full line of Kugel Komponents. It features independent front
Read More: In the Shop: Scott's Hotrods 'N Customs
From a wicked 1964 Ford Fairlane project with a Ford 427 SOHC engine to Jerry's personal record-breaking Bonneville Salt Flats cars, the shop has a wide variety of eye candy. The shop is also where parts are designed, developed, and built, and then go through real-world testing before entering the marketplace. While Kugel Komponents is the brainchild of Jerry Kugel, he relies on his sons, Jeff and Joe, as well as his daughter Jerilyn to keep the business rolling. The other employees in the company feel like part of the family and have decades of experience.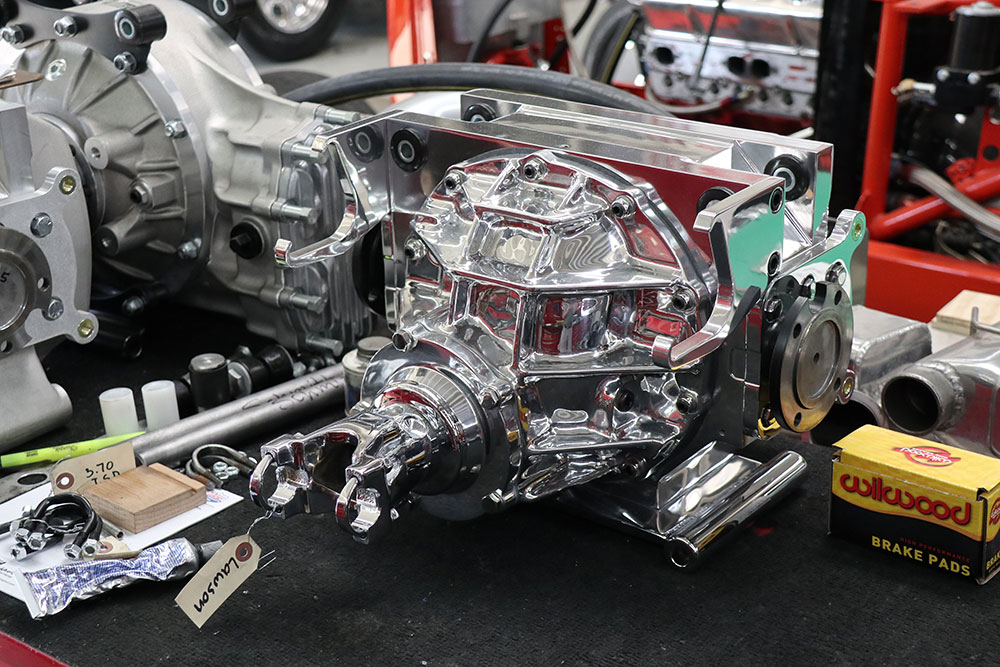 Although some might consider Kugel's independent rear suspension a Jaguar-style design due to the inboard disc brakes, it's obvious that very little of Jaguar's engineering exists in this highly customized rear end, which uses a polished Ford 9-inch center section and inboard Wilwood disc brakes.
Read More: In the Shop: Goolsby Customs
Kugel was the first to offer fully packaged independent suspension systems for street rods and continues to crank out high-end suspension kits for all sorts of applications. This includes full-fendered and highboy hot rods, as well as Chevy C10 trucks and Tri-Five Chevy cars. In addition to chassis and suspension parts, Kugel Komponents manufactures a wide variety of parts and pieces, including pedal assemblies, hood prop kits, shift arm kits, line clamps, and much more.
Read More: In The Shop: Alloway's Hot Rod Shop
Jerry Kugel started his journey like many other hot rodders, but he took it well beyond a hobby and turned it into a very successful business. Now, more than 35 years after making the move to La Habra, he and his family are still building high-end hot rod parts and living the hot rod dream every day. MR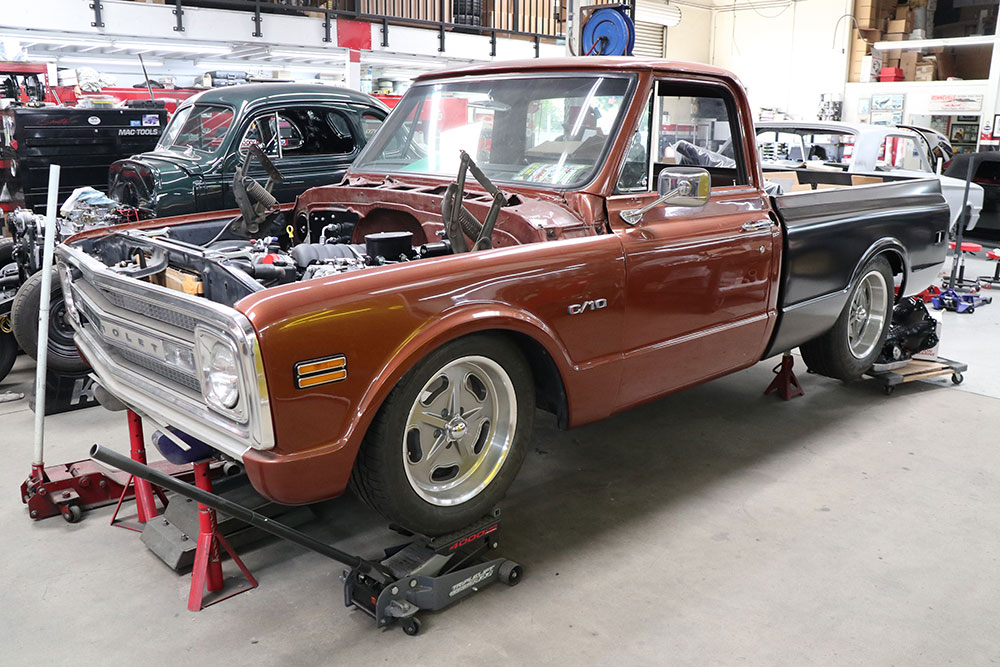 Despite the original focus on street rods, Kugel Komponents has stepped into the classic truck market with comprehensive Independent Front Suspension and Independent Rear Suspension kits that fit the original frame. This Chevrolet C10 truck is in the research and development stage, and you can already get an idea of the great stance. (Look for a story on this setup in an upcoming issue of Classic Truck Performance.)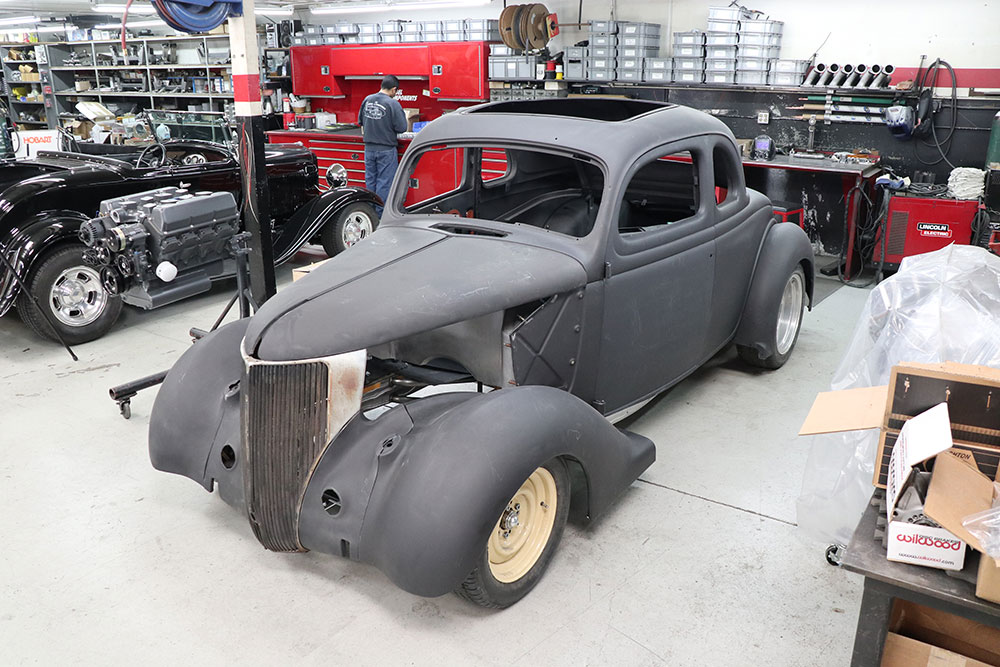 Another project in the shop is this 1936 Ford five-window coupe. The body and chassis are in the mock-up stages. Bodywork is currently being wrapped up by Kev Elliott of Kev's Rod & Custom and the coupe will run a blown Hemi!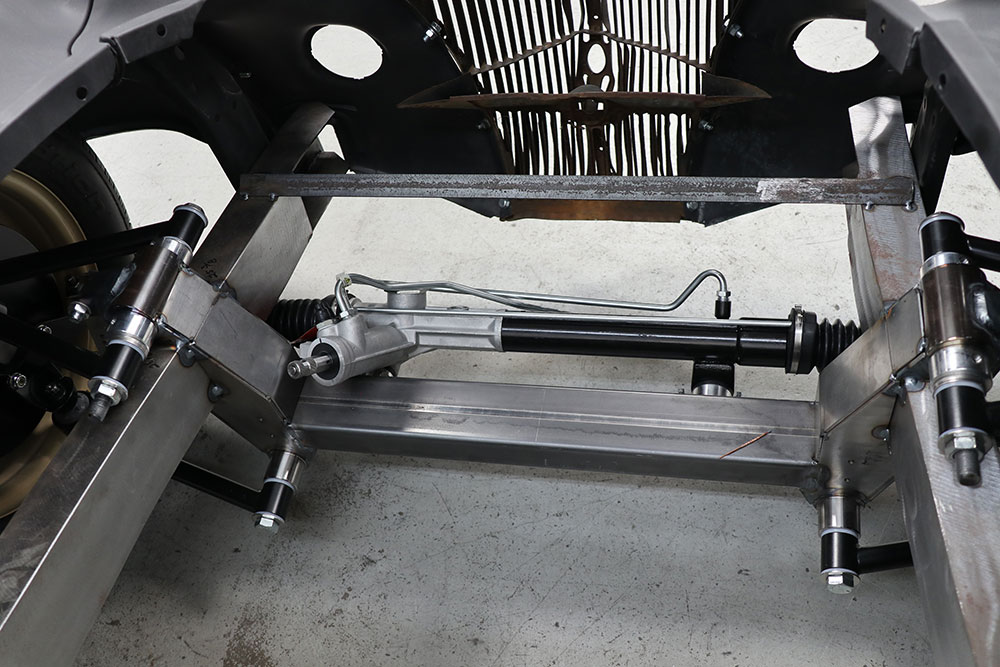 Underneath the '36 Ford coupe is a custom chassis utilizing Kugel's IFS and IRS systems. The front crossmember is only tacked into place, allowing the Kugel crew to step back and look at the ride height, geometry, and potential clearance issues before final welding.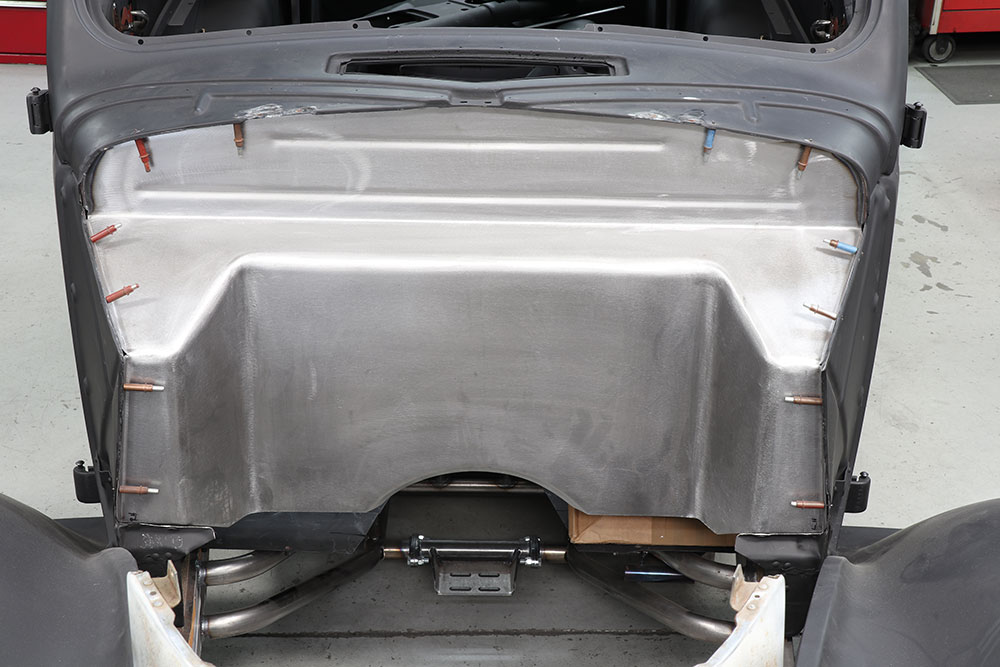 The 1936 Ford coupe is packed with great details, including this beautifully shaped firewall. Cleco fasteners hold it in place for final fitment. Get ready for the blown Chrysler Hemi. You may also notice that a custom transmission crossmember is already in place.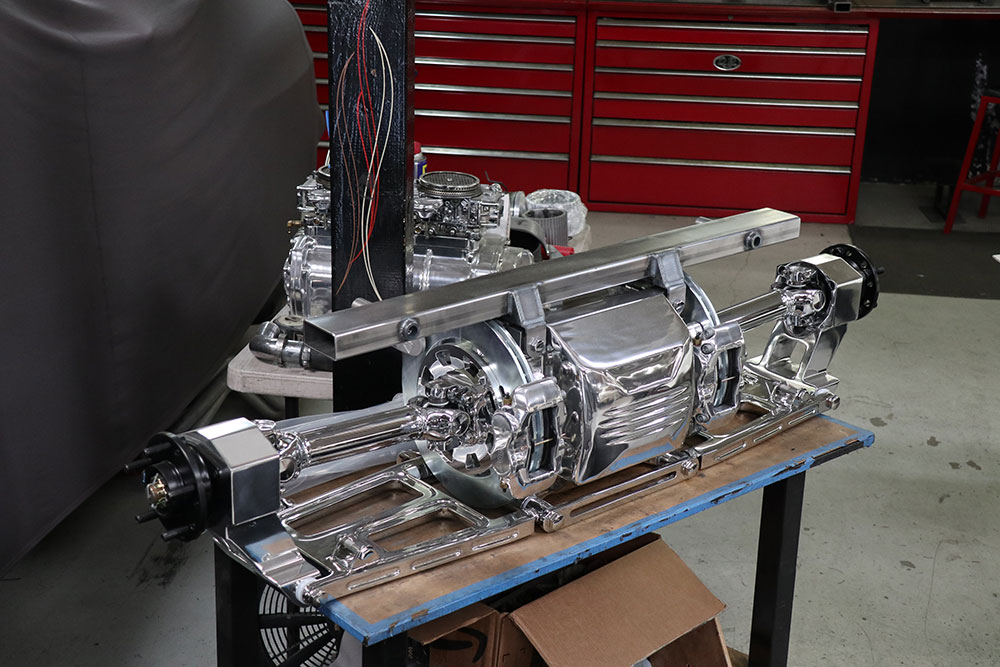 Look at this assembled independent rear suspension system. It's fully polished and includes Kugel's polished cast stainless steel control arms. It has a Ford 9-inch third member and the inboard Wilwood disc brakes feature Dynalite calipers and custom-drilled 12-inch rotors.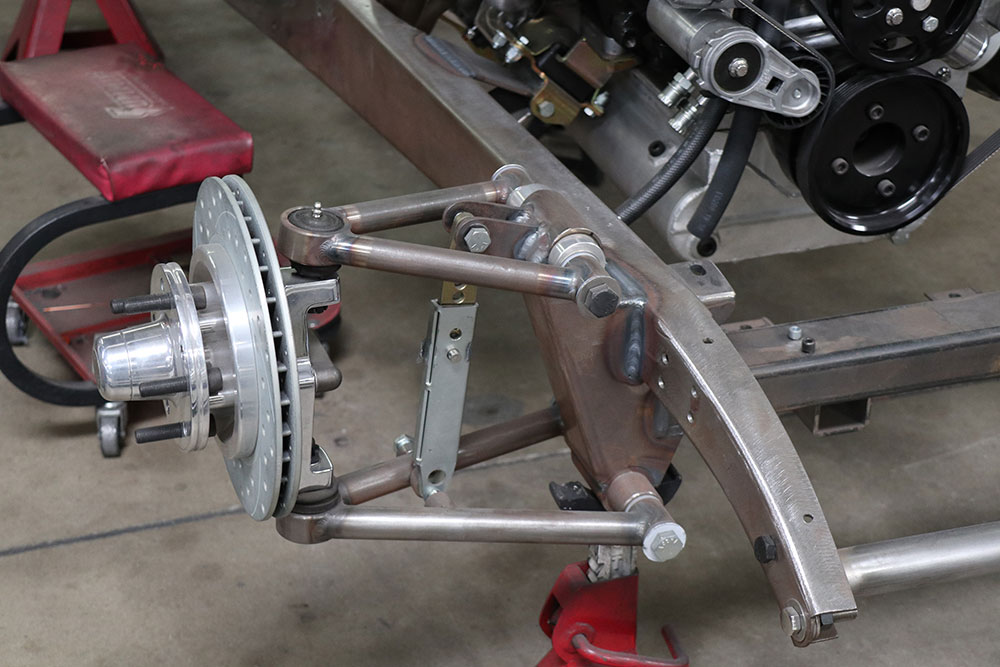 This independent front suspension system is a popular item from the Kugel Komponents catalog, but we wanted to point out a special tool that Kugel offers. It's called a Shock Mock-up tool and it bolts to the coilover mounts and helps you determine the proper shock height, thanks to a quick-release pin for easy adjustment.
Yet another awesome project in the shop is this 1964 Ford Fairlane. It has customized quarter-panels and a special surprise between the shock towers.
Space is always tight in a 1964 Ford Fairlane, but this one features an extremely rare Ford 427 SOHC V8 engine. The heavily modified shock towers provide just enough room.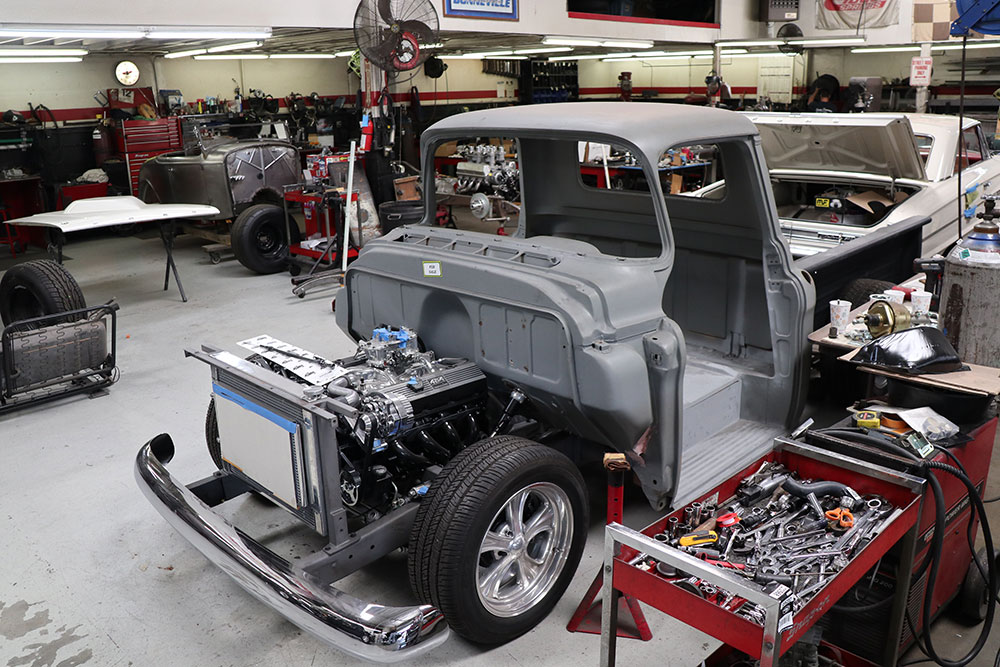 Although it's largely disassembled, this stepside Chevrolet pickup features an excellent stance thanks to Kugel. You may notice that it features a nicely accessorized Chevrolet Performance 454 big-block Chevy engine.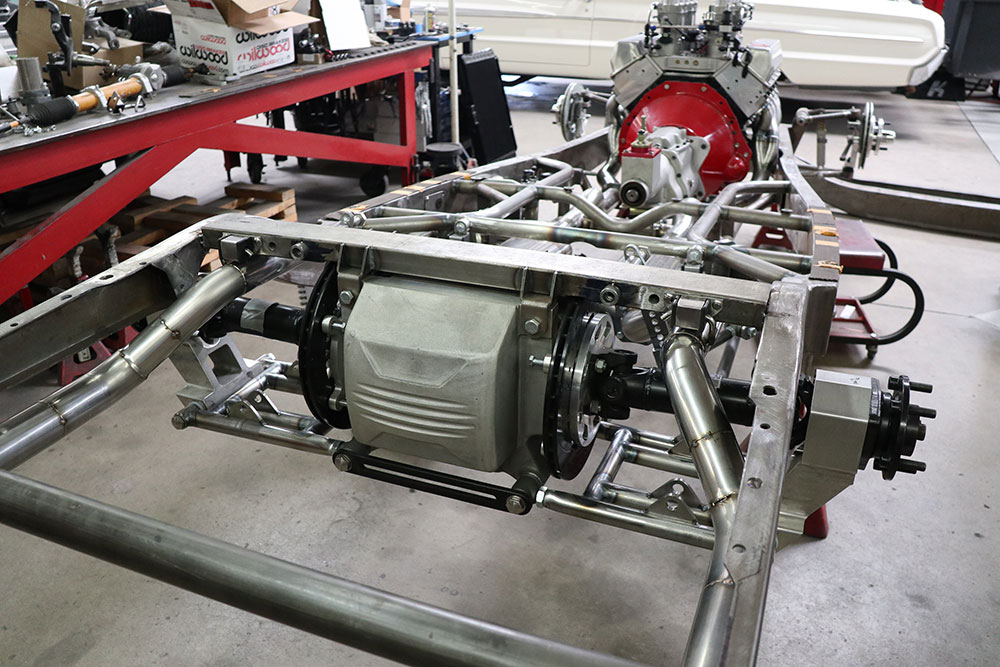 We spotted another 1932 Ford roadster chassis, and this one has the Kugel independent rear suspension mocked up. The rear crossmember is tack welded into place; most components are in place, including exhaust, aside from the coilovers.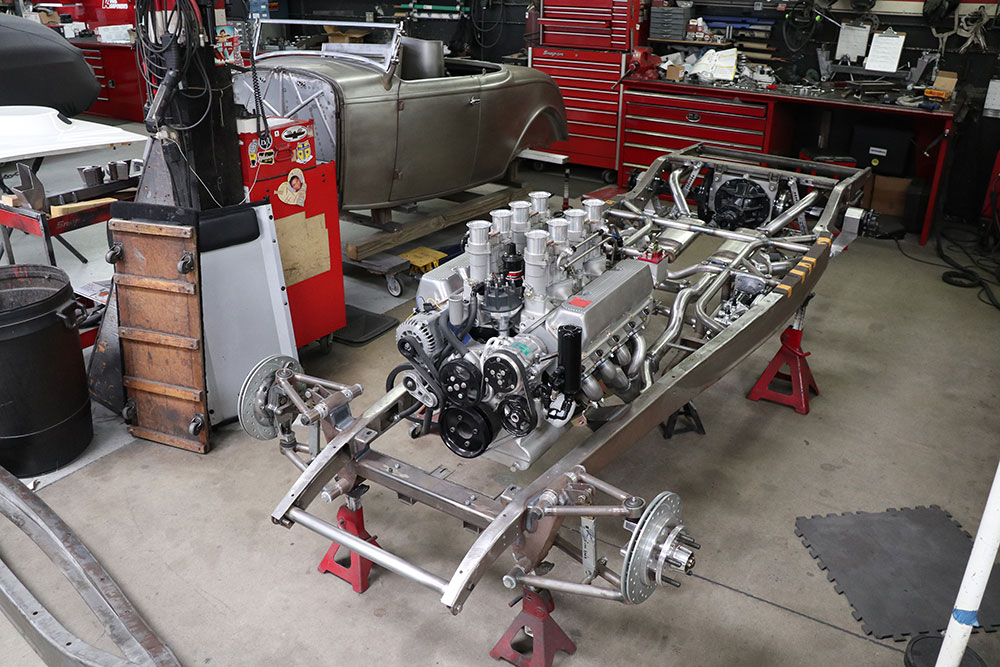 Check out this front view of the 1932 Ford chassis. It features Kugel independent front suspension and Ford power. We're loving the compact Vintage Air serpentine pulley system, Kugel-added remote power steering reservoir, and the Jim Inglese 8-stack system up top.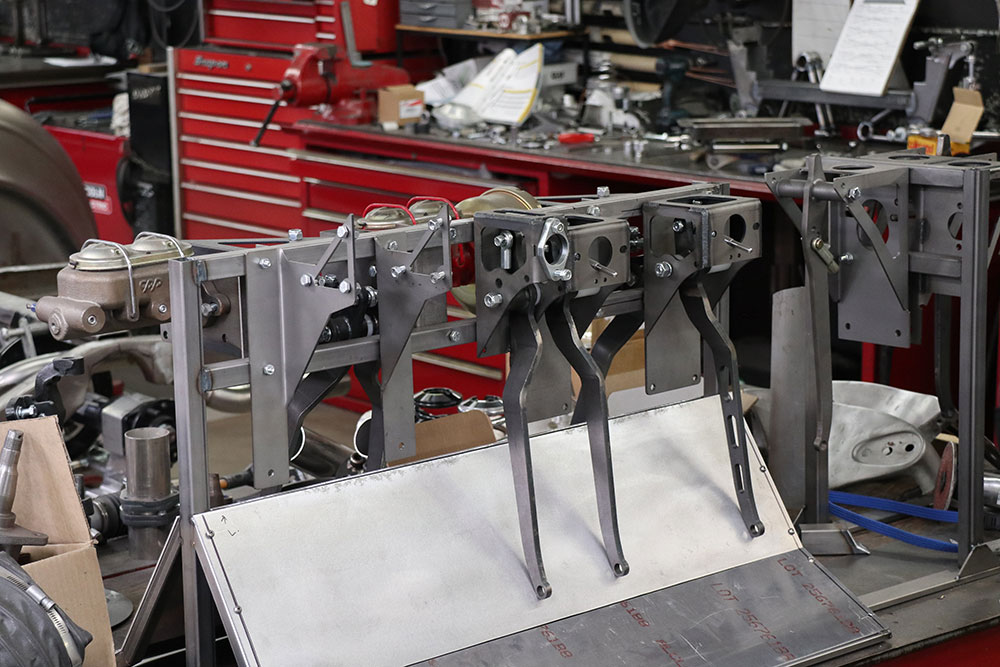 Kugel manufactures custom pedal assemblies for street rods, and we spotted a few examples. These firewall-mounted pedal assemblies are super strong and offer under dash mounting of the master cylinder with 180- and 90-degree configurations.
Founder and owner Jerry Kugel is still involved in the business and inspires all the employees to keep the reputation of his company alive and well. He started Jerry's Garage in 1969 and transitioned into Kugel Komponents in 1977.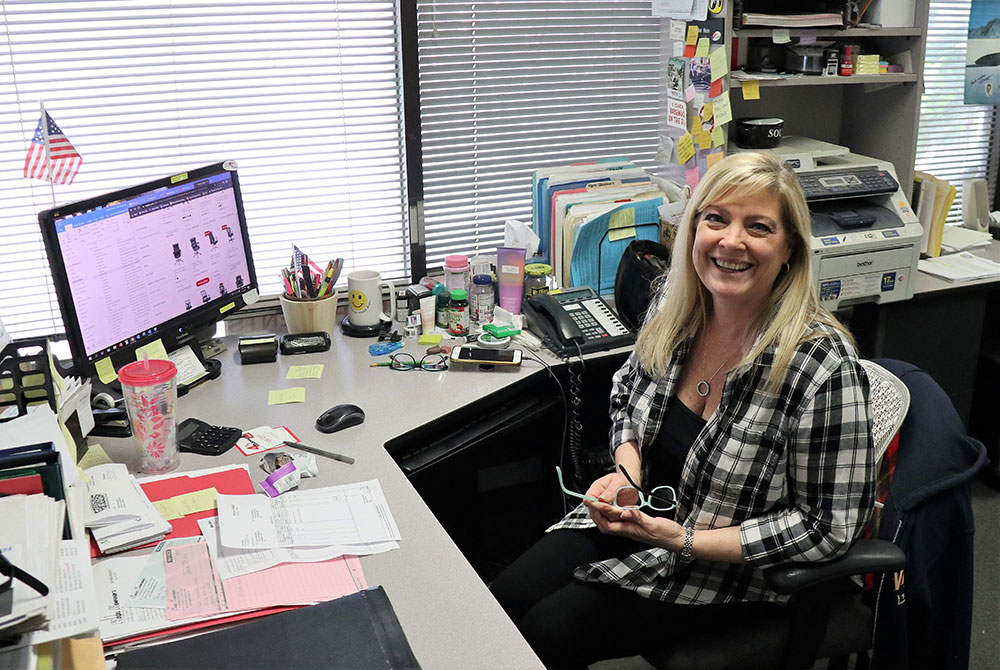 Jerry and Judy's daughter Jerilyn is a vital part of the business. She is the office manager and handles all sorts of tasks within the company. She has worked at Kugel for 22 years.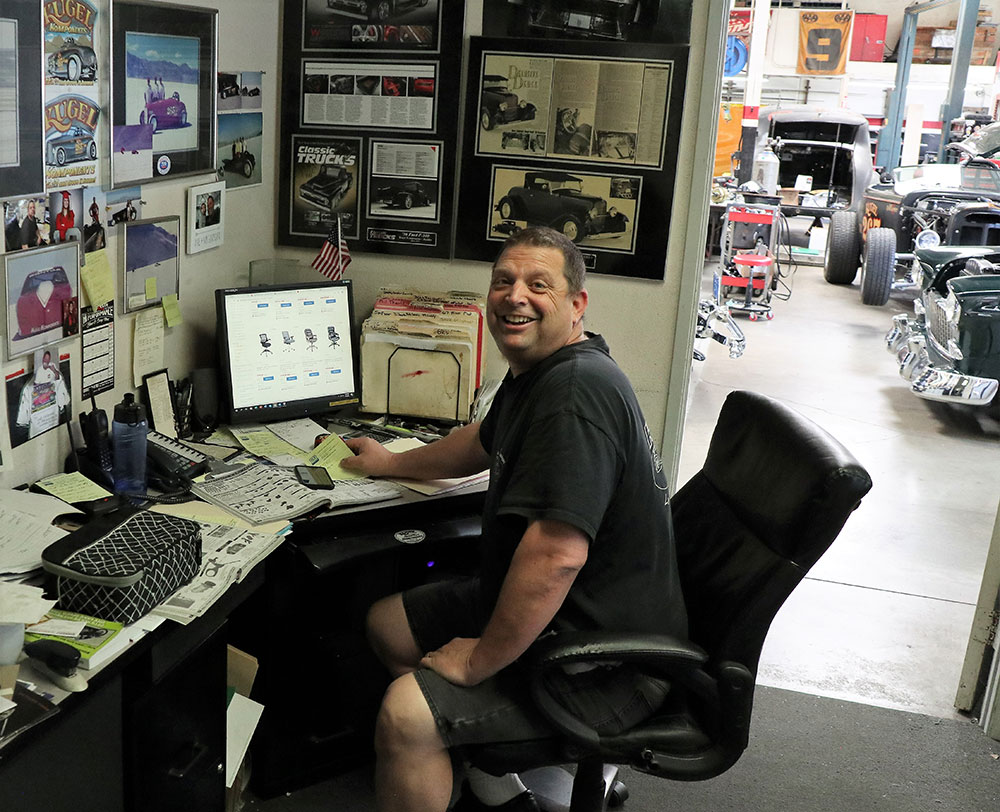 Jerry and Judy's son Jeff is the VP/product manager and handles many aspects of the operations at Kugel. Jeff and Joe have worked at the company for more than 30 years.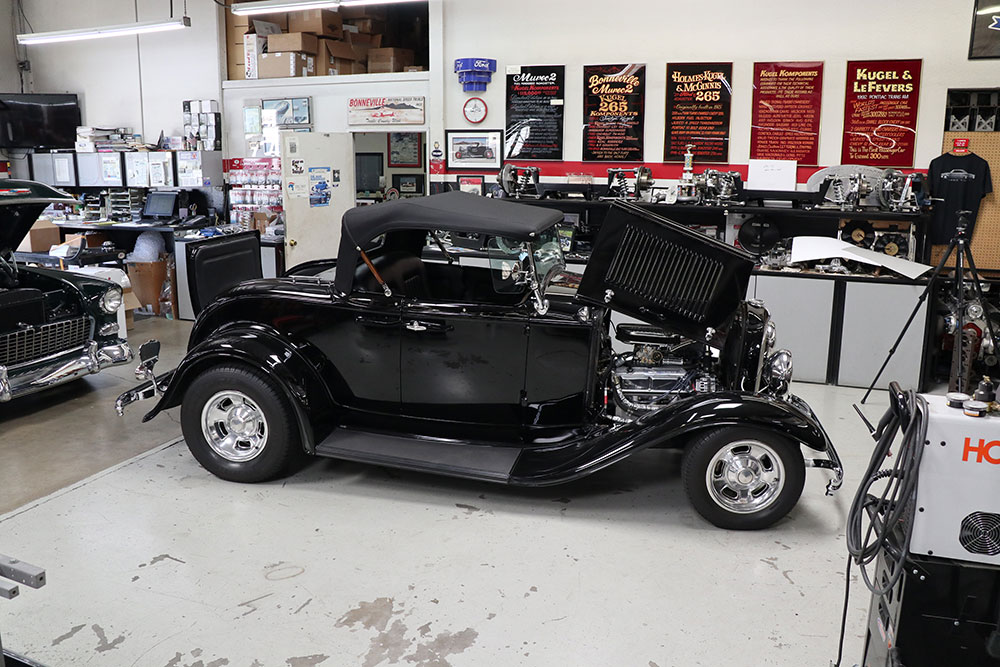 This is the car that started it all for Jerry Kugel's hot rod parts business. This is "Blackie," the 1932 Ford roadster that Jerry has owned since the late '60s. His custom suspension on this car evolved into his original series of products during the '80s and the car is still going strong to this day.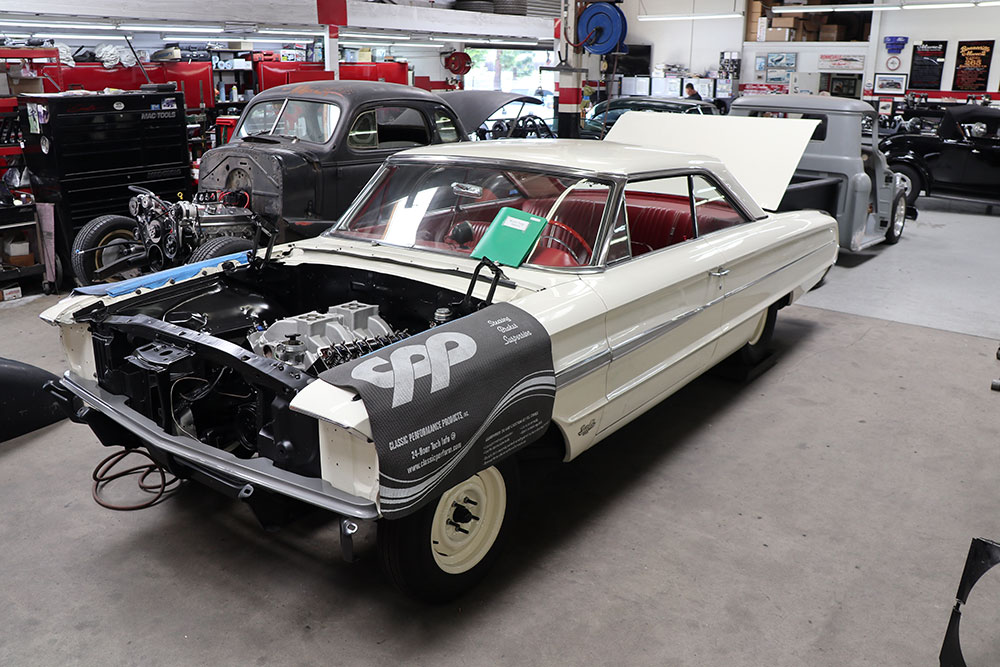 While this factory lightweight 1964 Ford Galaxie doesn't fit the mold of a typical project in the Kugel shop, it does have some custom features that are exclusive to Kugel.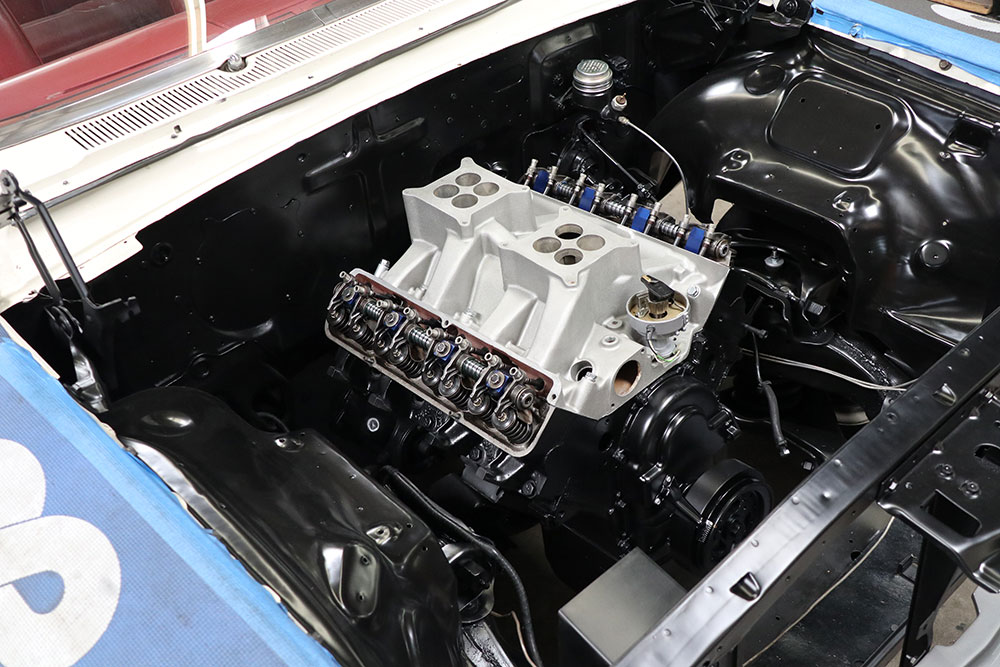 The lightweight Ford features a 427 High Riser, and it is being fitted for a brand-new product from Joe. It's an American-made casting of the popular '62 406 exhaust manifold and it fits 1960-64 Ford Galaxies.
Chris Smith is a fabricator and mechanic and has been with the company for 14 years. His expertise comes into play with each product and special project that makes its way into the shop.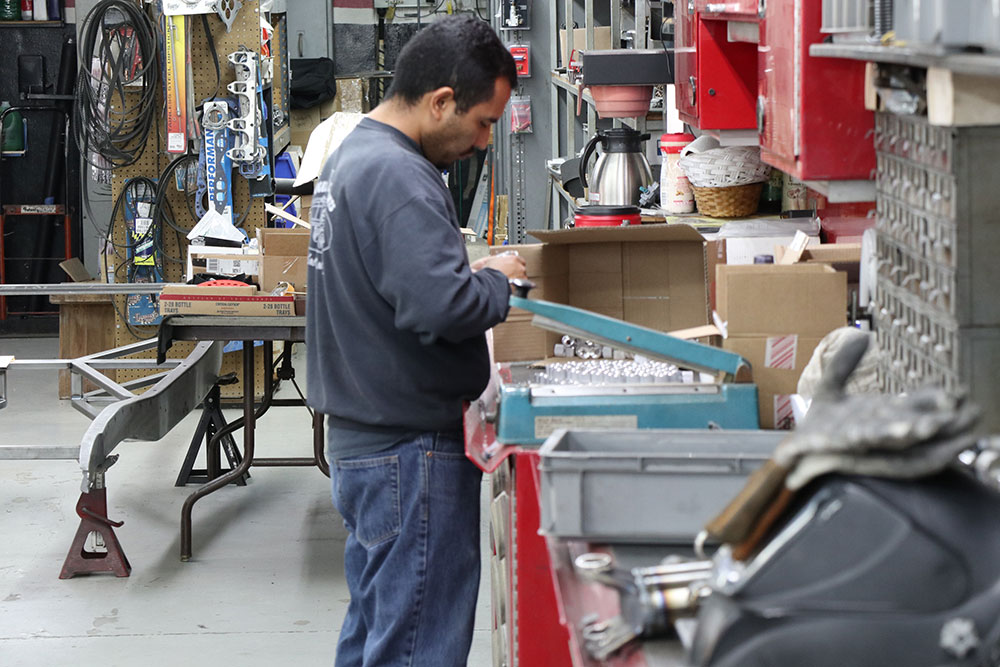 When it comes time for parts to ship out, Rene Juarez handles it with care. He's knocking on the door of 20 years with the company and plays an important role at Kugel Komponents.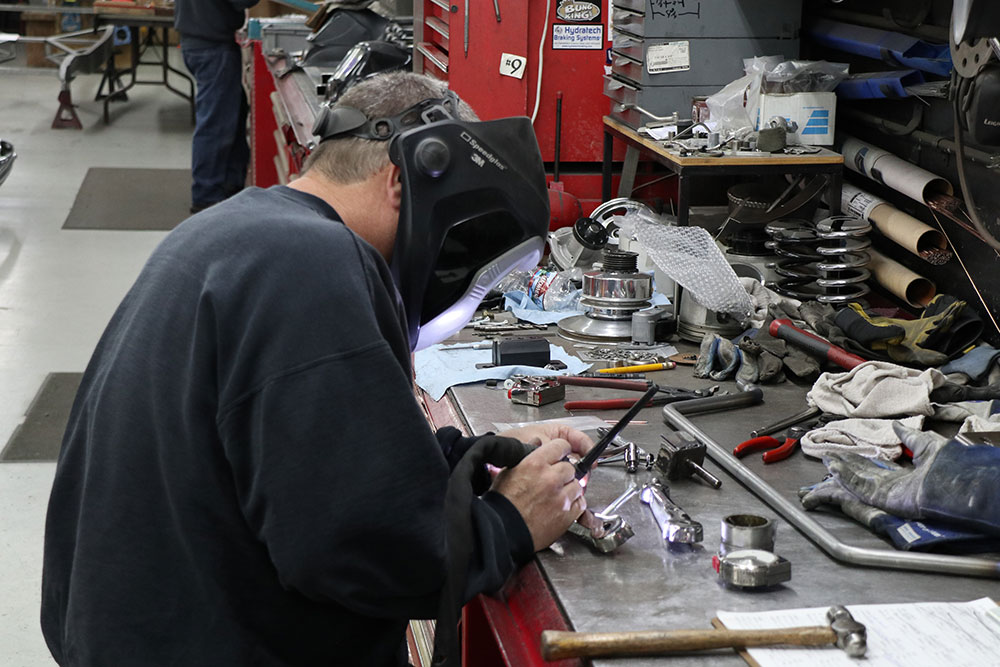 Joe Kugel is the VP/lead fabricator and keeps the welder humming every day. He is also the man who set records with the turbocharged Firebird, putting him into the 300-mph club.
SIDEBAR:
Obsessed with Speed
Jerry Kugel got his first real taste of Bonneville when Mickey Thompson's four-engine Challenger I screamed past him at the 3-mile mark. That moment inspired him to build his own land speed racer, which led to several more race cars throughout the '60s and '70s. During the '80s, Jerry's sons, Jeff and Joe, became victims of the speed obsession and joined the fun by wrenching on land speed record-breaking hot rods and piloting them on occasion. After eclipsing many milestones and setting records with a Model A on Deuce 'rails, the next logical step was to go faster. The Kugel family accomplished that with a 1992 Pontiac Firebird with a twin-turbocharged small-block Chevy engine. In August of 1999, Joe piloted the Firebird to the first 300-mph average in a production-bodied vehicle. It was a milestone that the Kugel family holds near and dear.
Perhaps Jerry's most intense "product" is a complete body and rolling chassis, which he called the "Muroc Roadster." Only 20 were built, utilizing hand-formed bodies by the late Marcel De Ley, and a completely custom chassis with the top-of-the-line Kugel suspension. Jerry built one of his Muroc roadsters for himself and set out to accomplish a personal goal: to drive a '32 Ford roadster to Bonneville, run over 200 mph, and then drive it back home. He did exactly that and exceeded his goal by quite a big margin with a 225-mph blast on the salt.
The Kugel family continues to pursue record runs at the Bonneville Salt Flats. It's an obsession that runs deep and will likely make its way through the generations. In fact, Jeff and Stefani Kugel's youngest daughter Jourdin piloted the Muroc Roadster to a 205.691-mph speed back in 2011. With a rich history at Bonneville and an influential position as a parts manufacturer, Jerry and his Kugel Komponents will forever hold a place in hot rodding history. MR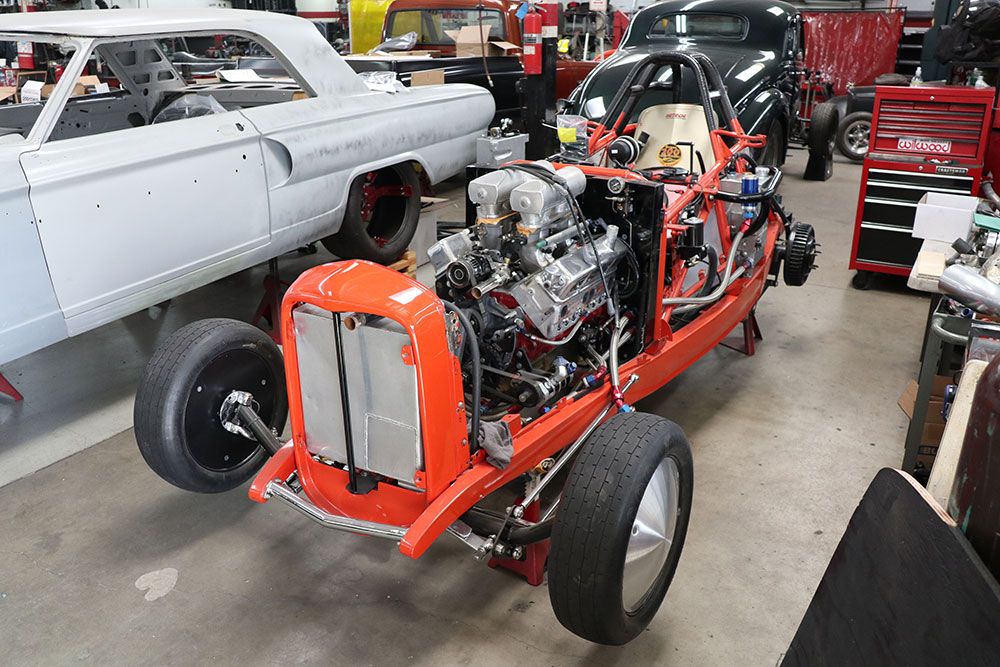 The Holmes Kugel McGinnis 1929 Ford roadster has lots of Bonneville history, and it's currently disassembled in preparation for the 2022 trip to the salt.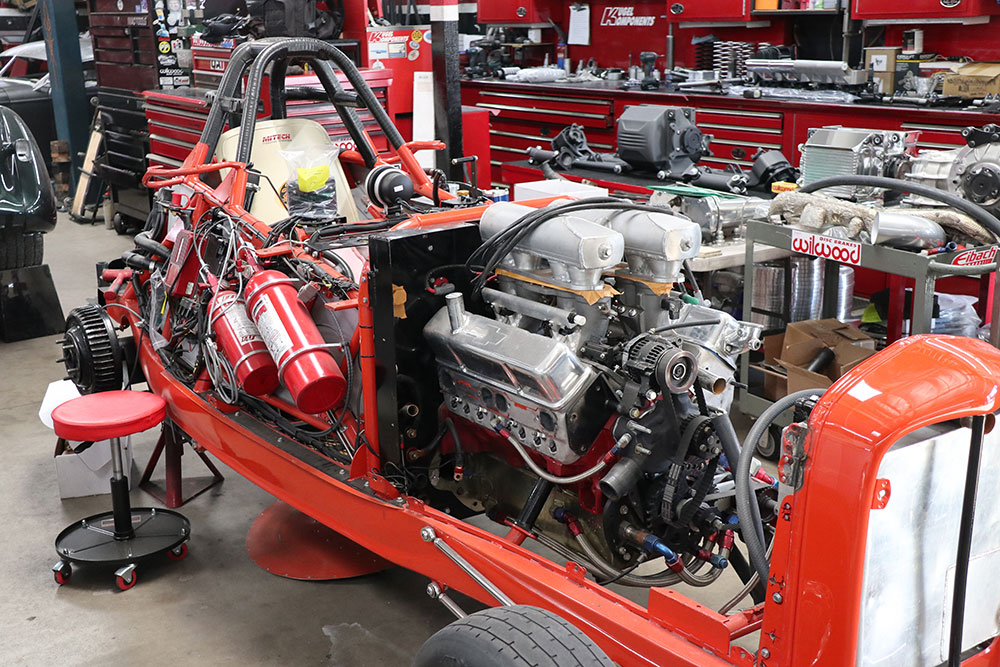 Horsepower for the Model A roadster comes from a fuel-injected small-block Chevrolet engine with lots of trick components throughout.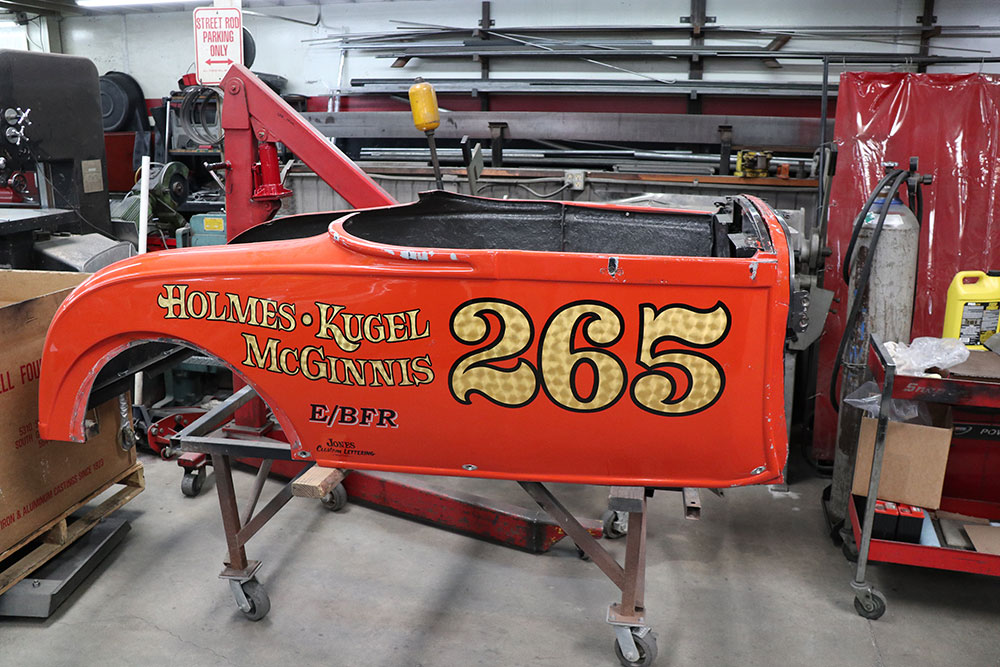 Although there are a few battle wounds, the old paint and gold leaf lettering on the Model A roadster body is awesome.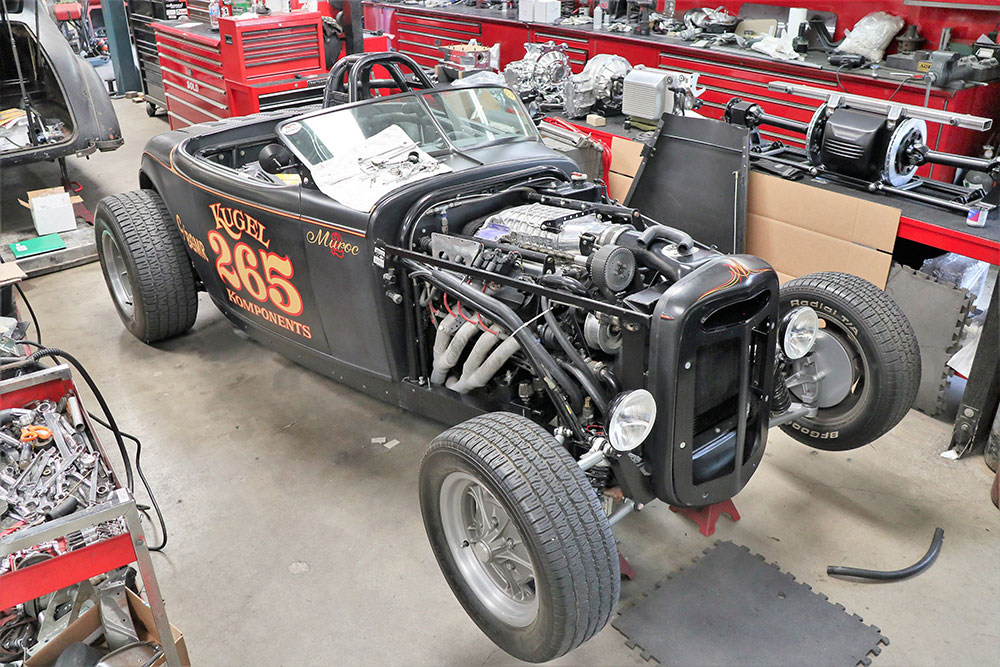 One of only 20 Muroc roadsters produced, this one is a personal project that has been 225 mph at the Bonneville salt flats.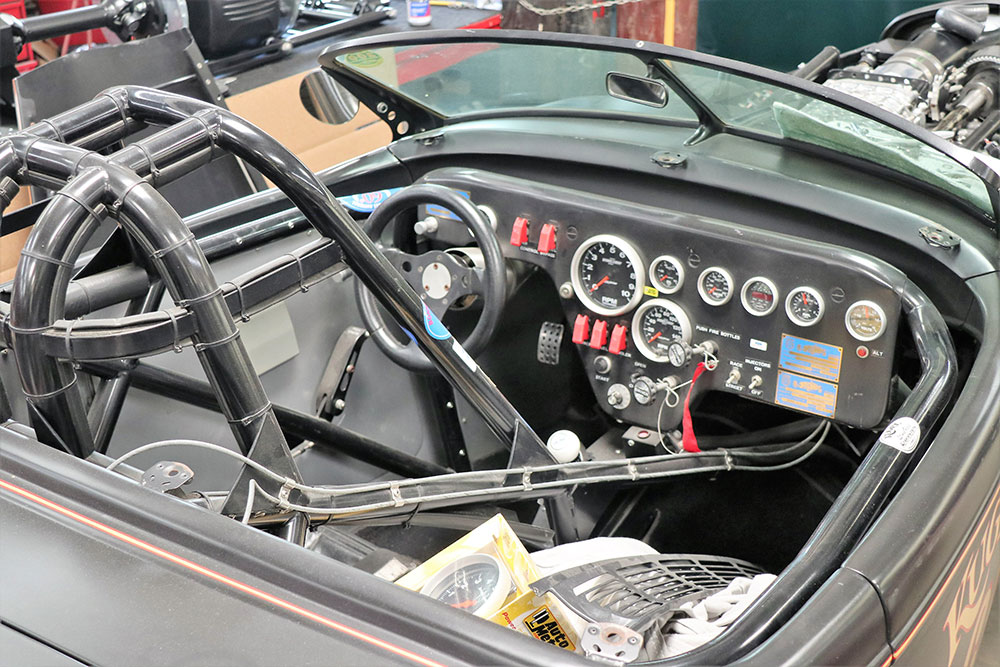 The cockpit of the Muroc roadster isn't your typical street rod, but it has been driven to and from Bonneville, as a personal accomplishment for the Kugel family.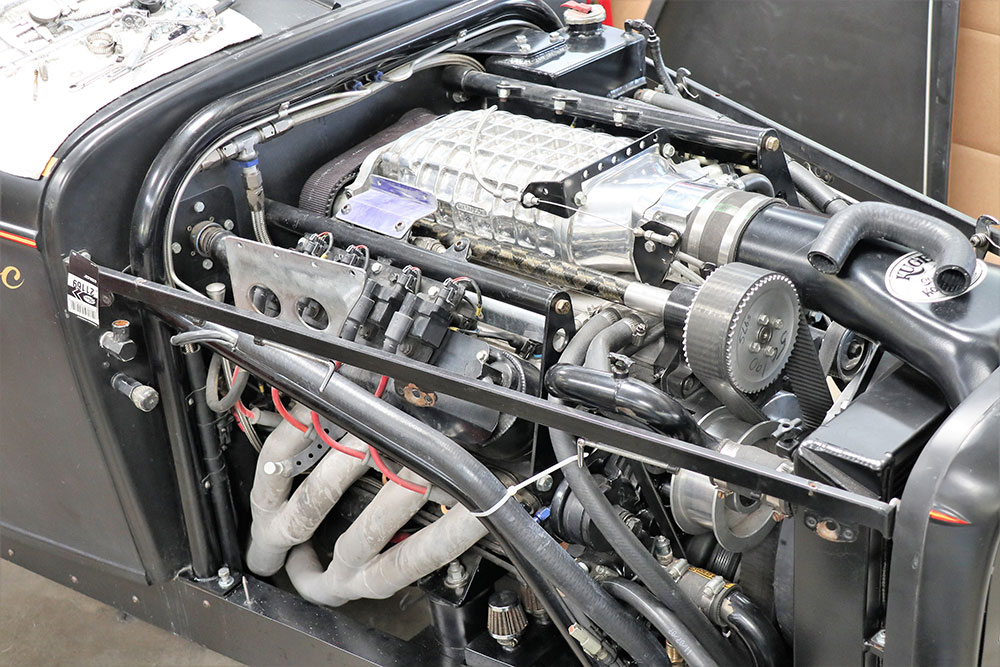 Horsepower for the Muroc roadster comes from a supercharged LS engine. The Magnuson supercharger has been upgraded with a Gilmer belt drive.
Source
Kugel Komponents
(562) 691-7006
kugelkomponents.com