Jeremy Shultz's LB7 Duramax Swapped Chevy 3100
By Scotty Lachenauer   –   Photography by the Author
"I've been into Mopars for as long as I can remember," Jeremy Shultz, owner of this stunning Chevy 3100, says. You might figure that's a weird way to start off a feature on a farm-bred, badass Bowtie but there is a deeper connection to this truck and the owner that only good family values could forge.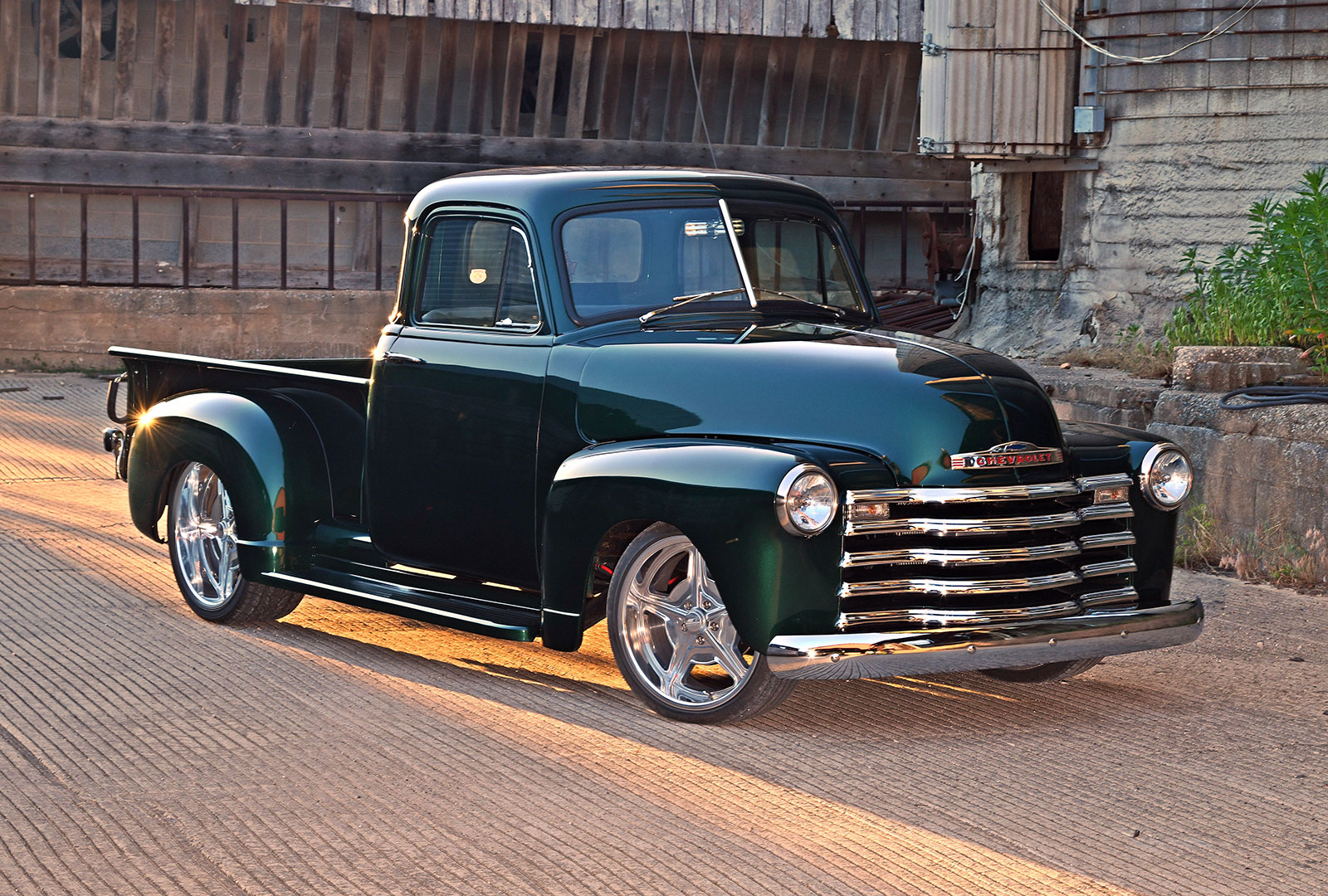 "Growing up I was surrounded by Pentastar muscle. My brother, Josh, had a 360ci motivated Scamp when I was just a young, impressionable kid. My parents' neighbor, Mike, was a Mopar guy as well. He had a big-block, open-headered '72 Duster that we would blast up and down the street with whenever we got the chance. They both played a big part in my love of Mopar muscle cars," Jeremy states.
Read More: Misfit: 1956 Chevy Stepside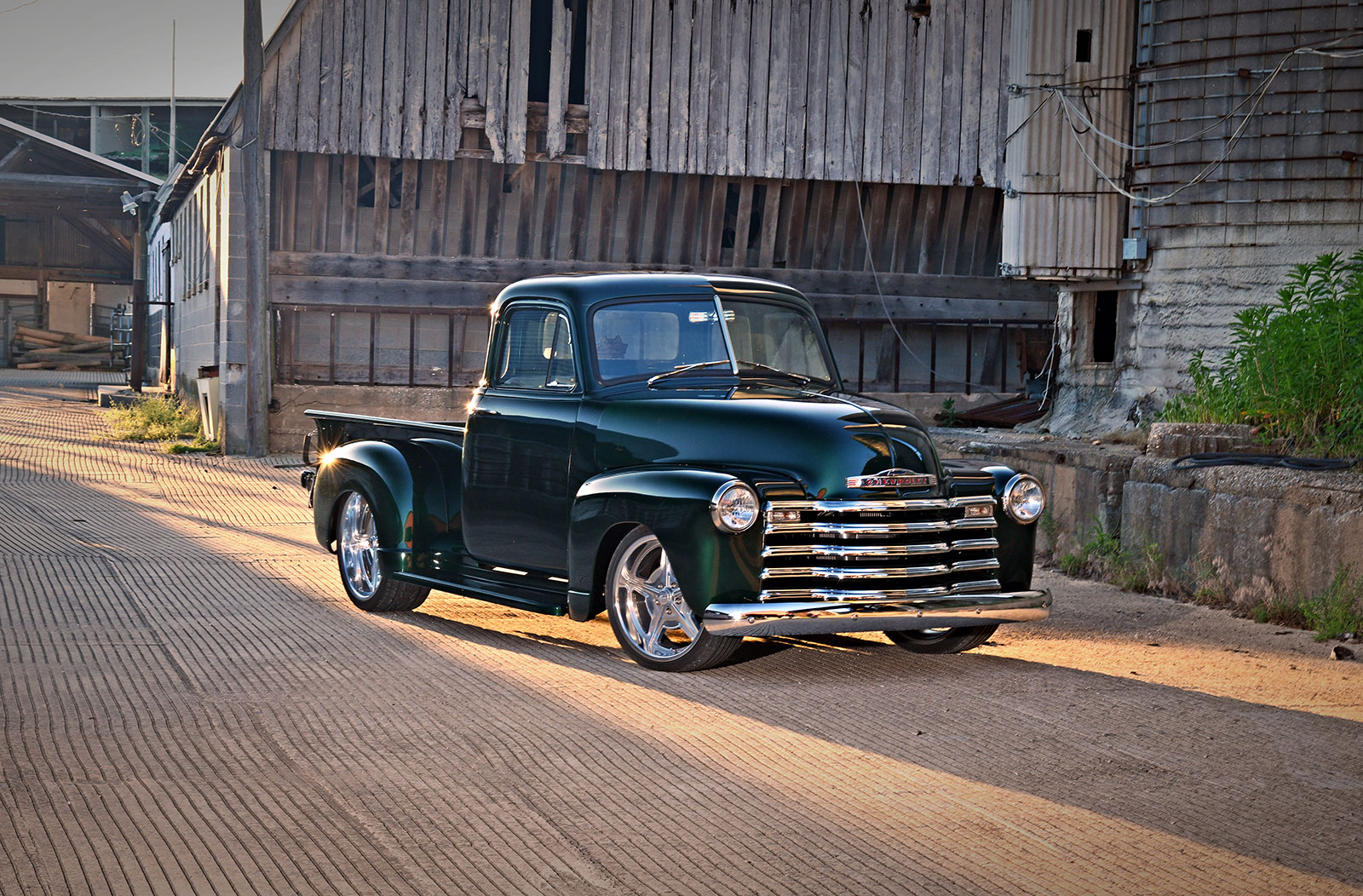 As he got older and more financially stable, Jeremy looked for a project car of his own. Mike still had the Duster and wanted to sell it, and Jeremy wanted it in the worst way. "However, one day I sat down and talked to Pap, my grandfather, who was always into fast cars and hot rods. He told me a bunch of stories about my dad and all the cool cars he used to stash away in the barn. Then out of the blue he offered me an old Chevy 3100 he had kept inside one of the barns. Up till that point I didn't even know this truck existed," Jeremy says.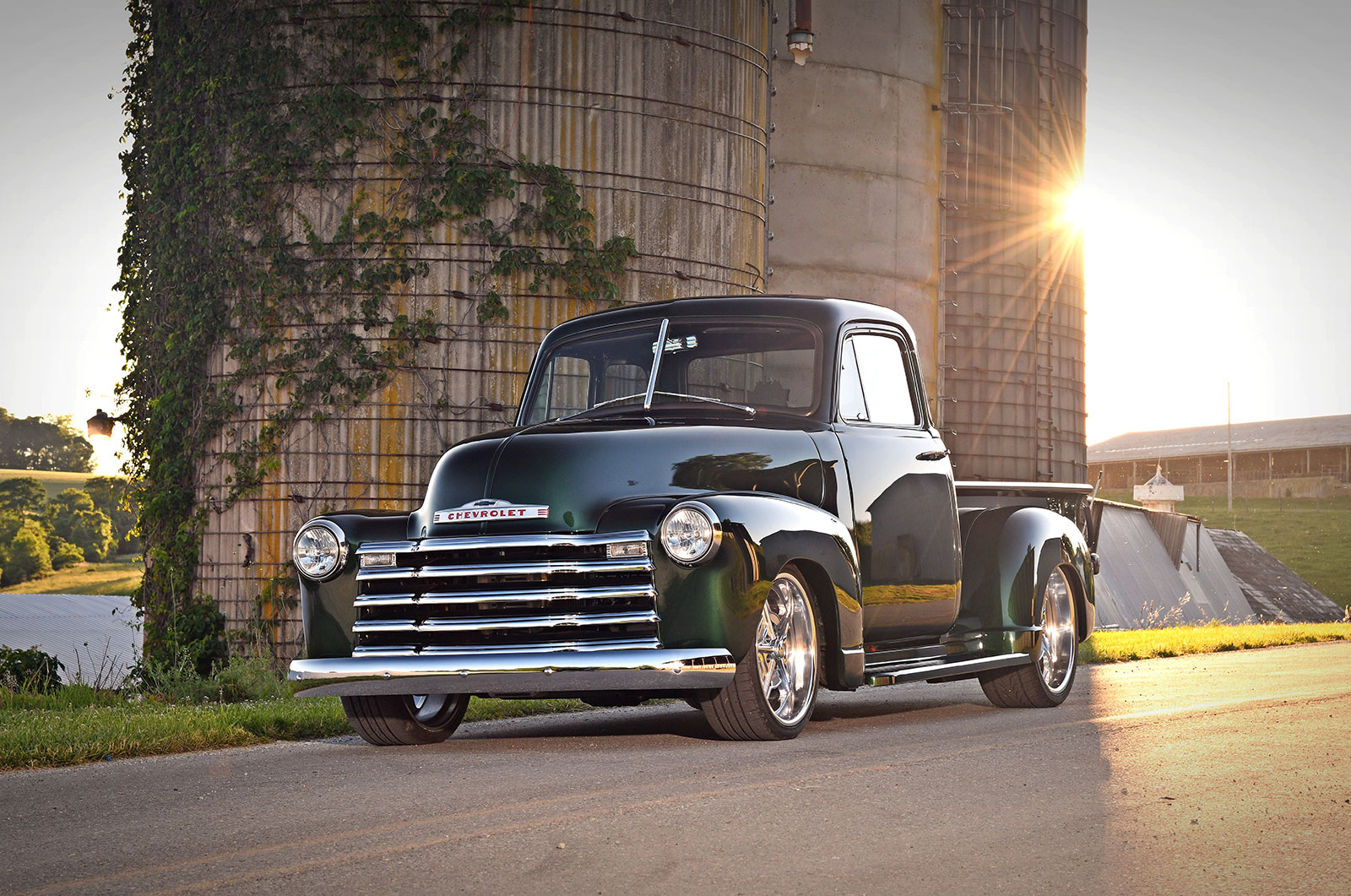 So, the twosome went down to the barn and checked out the Chevy truck. "It was basically a cab mounted to a frame with four flats and a pile of parts next to it. The truck did have a 350/350 combo in it hooked up to a 10-bolt out back. We talked about it some more and I then decided I would keep it in the family and take it off his hands. I figured I'd put my Mopar dreams aside for the opportunity to get this family truck back on the road. I called my buddy Jake and we went down to Pap's house and loaded up my new project."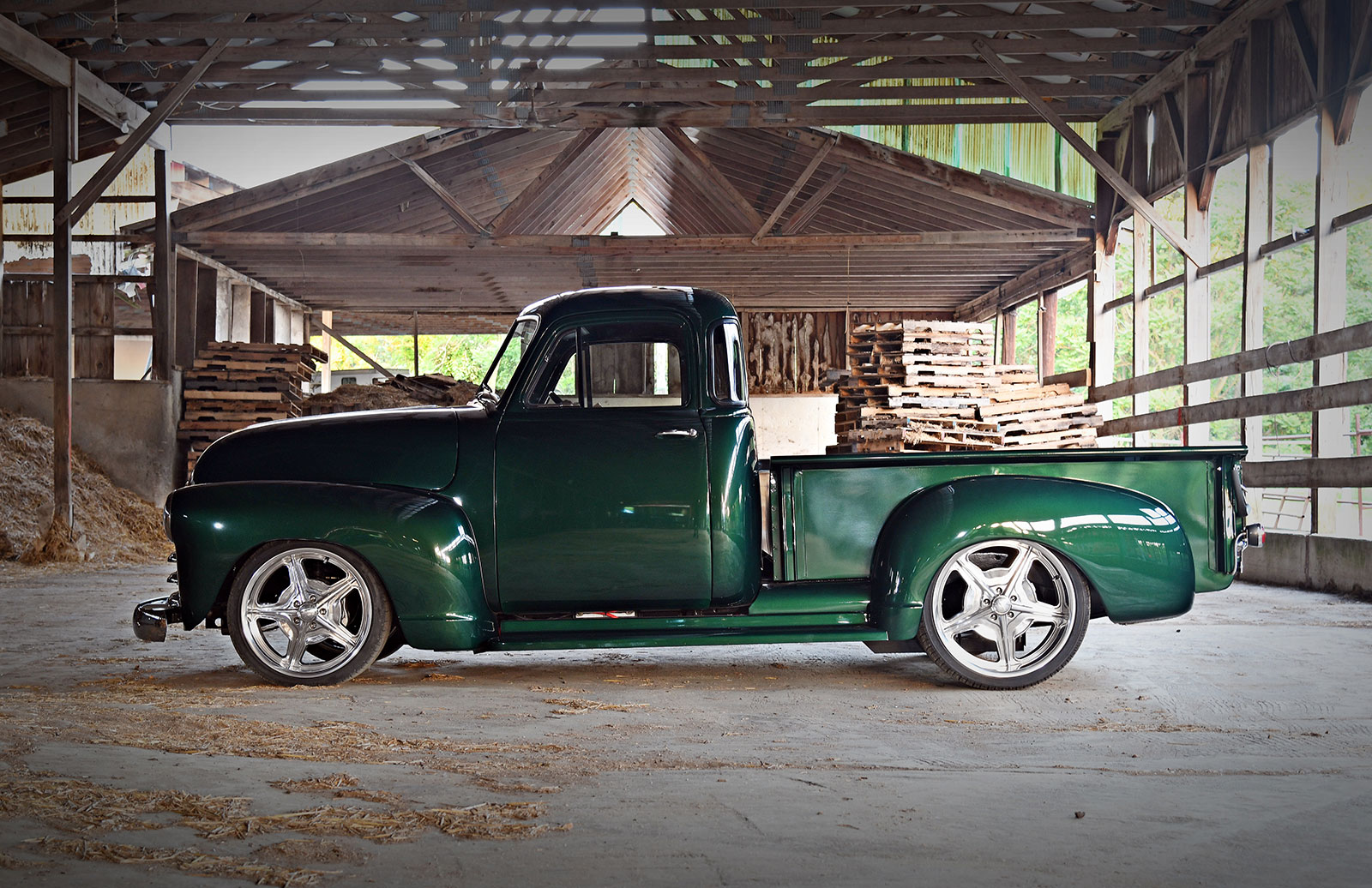 Truck Ache
From there things got interesting. "I had no idea where to start. I was in my early twenties and mechanically inclined but never took on a project this big." The needy '53 Chevy had some shoddy bodywork done, but basically everything on and off the truck needed work. "So that's where I started. I ordered basically every patch panel from ClassicParts.com and got to work," Jeremy states.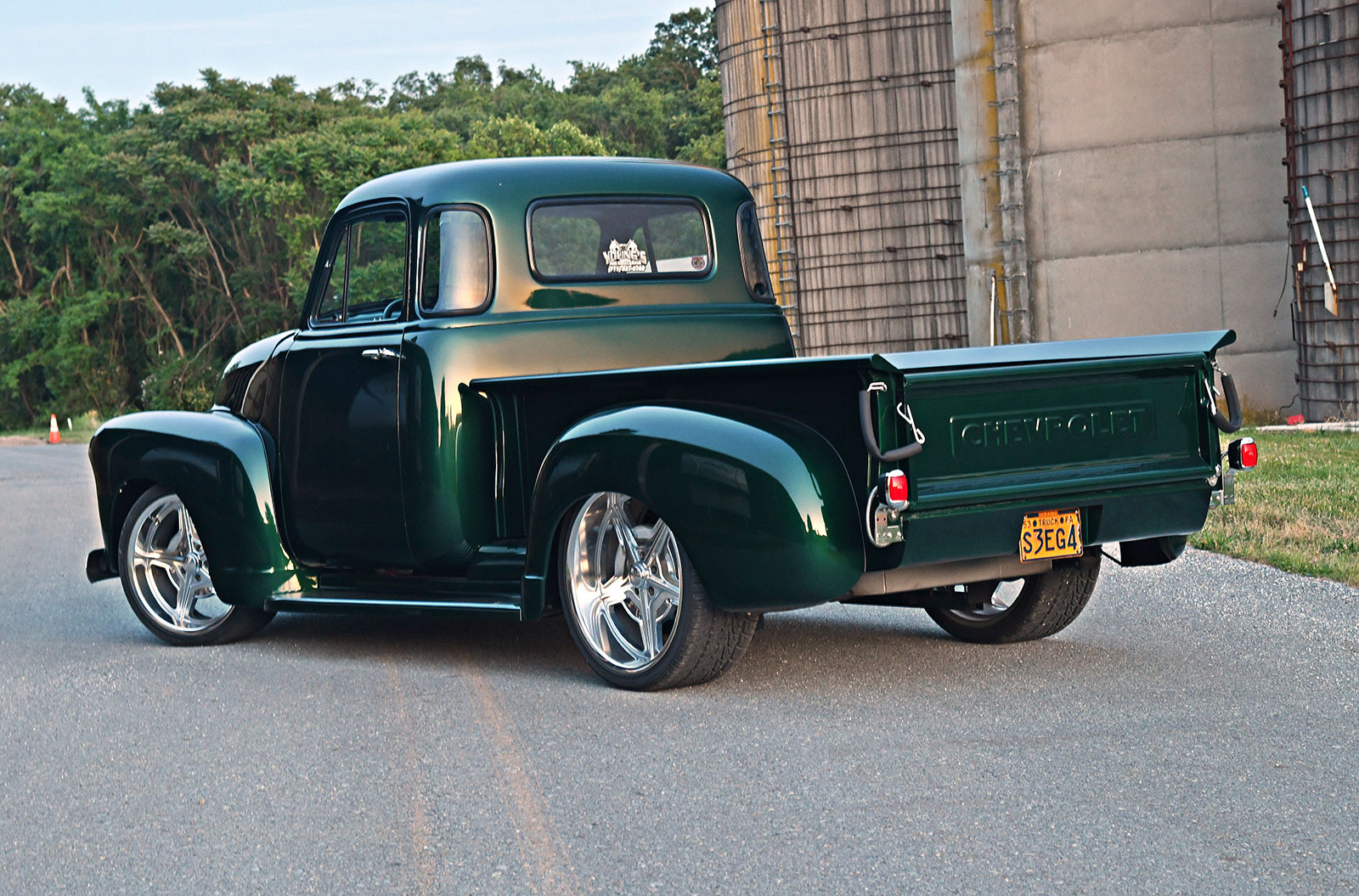 Part of the deal with Pap was that Jeremy received a Lincoln Weld Pak 100 MIG with the purchase. "I am an electrician by trade but never really messed too much with welding. Just a few quick lessons from my brother and friends. I started practicing and soon got really good at patching up the holes on the sheet metal."
Read More: Untamed Beast: A Twin Turbo Dodge D150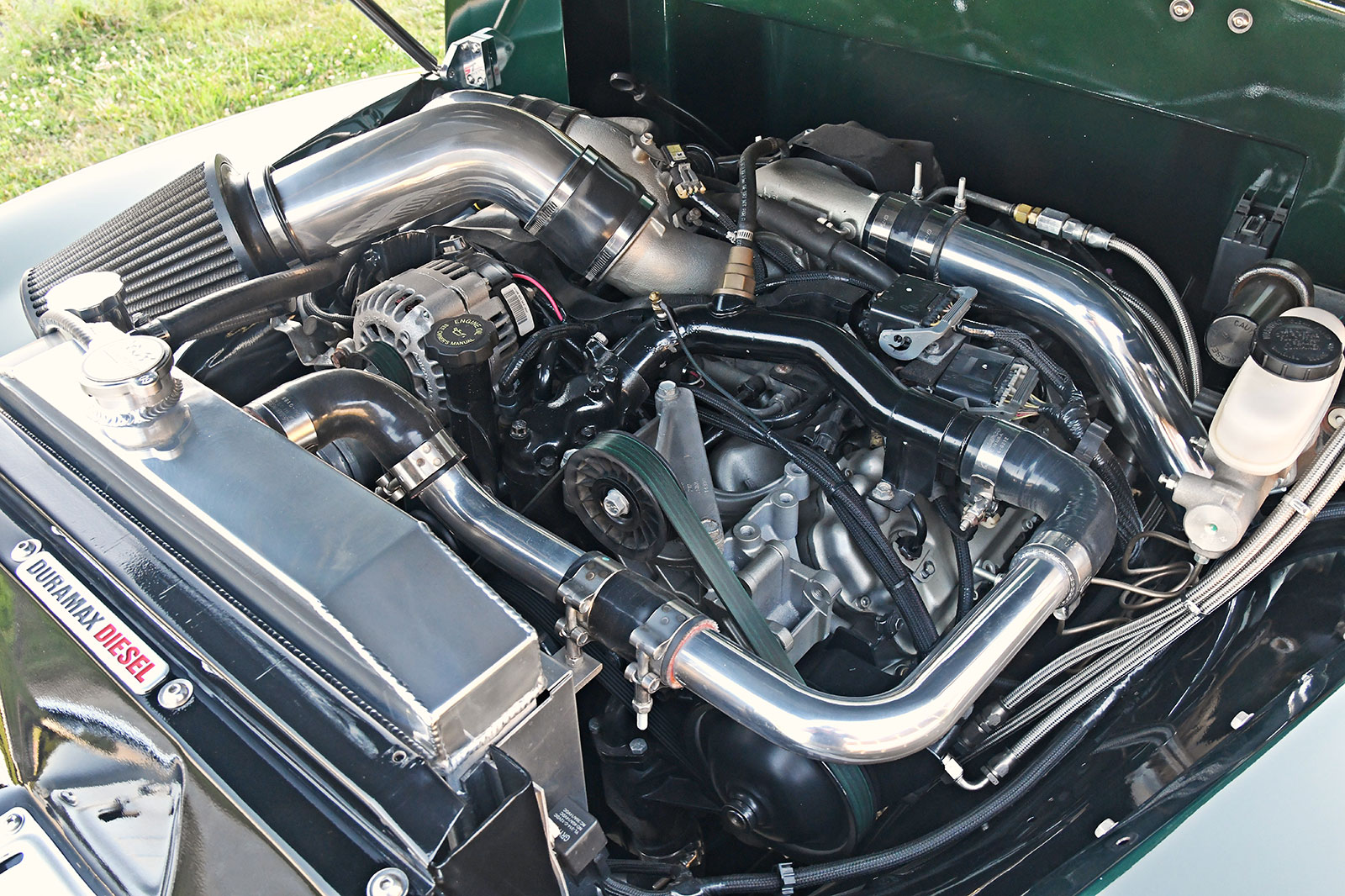 The original plan was to fix up the body, get the small-block running, and put the truck on the street with a flat-black motif. "I just wanted to take Pap out for a ride in it." However, a little over a year into the restoration, Pap was diagnosed with pancreatic cancer, which compounded the other ailments that he had taken on previously. "He [died] a few months later after refusing treatment. After that I slowed down. My incentive to finish the project quickly wasn't there anymore."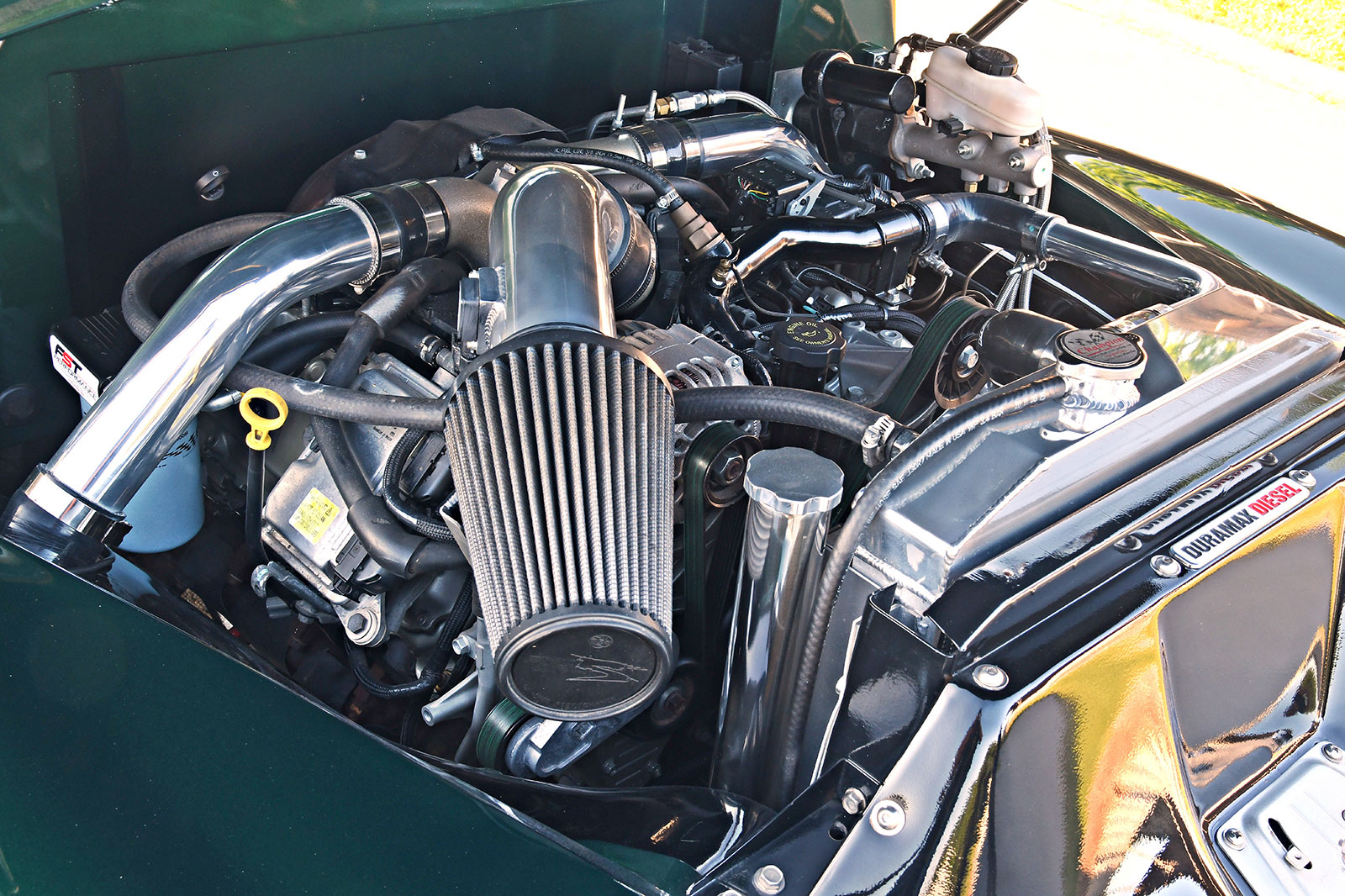 Over the next few months Jeremy would work on the truck and then take extended time off. However, he also went on and made some decisions that would affect the build in a big way. One of them would pan out to be the turning point in the build process. "I bought a 6.0 LS engine and 4L80E transmission to replace the needy 350/350 setup. One day I visited my good buddy Trent Young at his shop, Young's Farm Service and Repair in Brogue, Pennsylvania. He told me he had a motor out back for my truck. Confused, I went and took a quick look."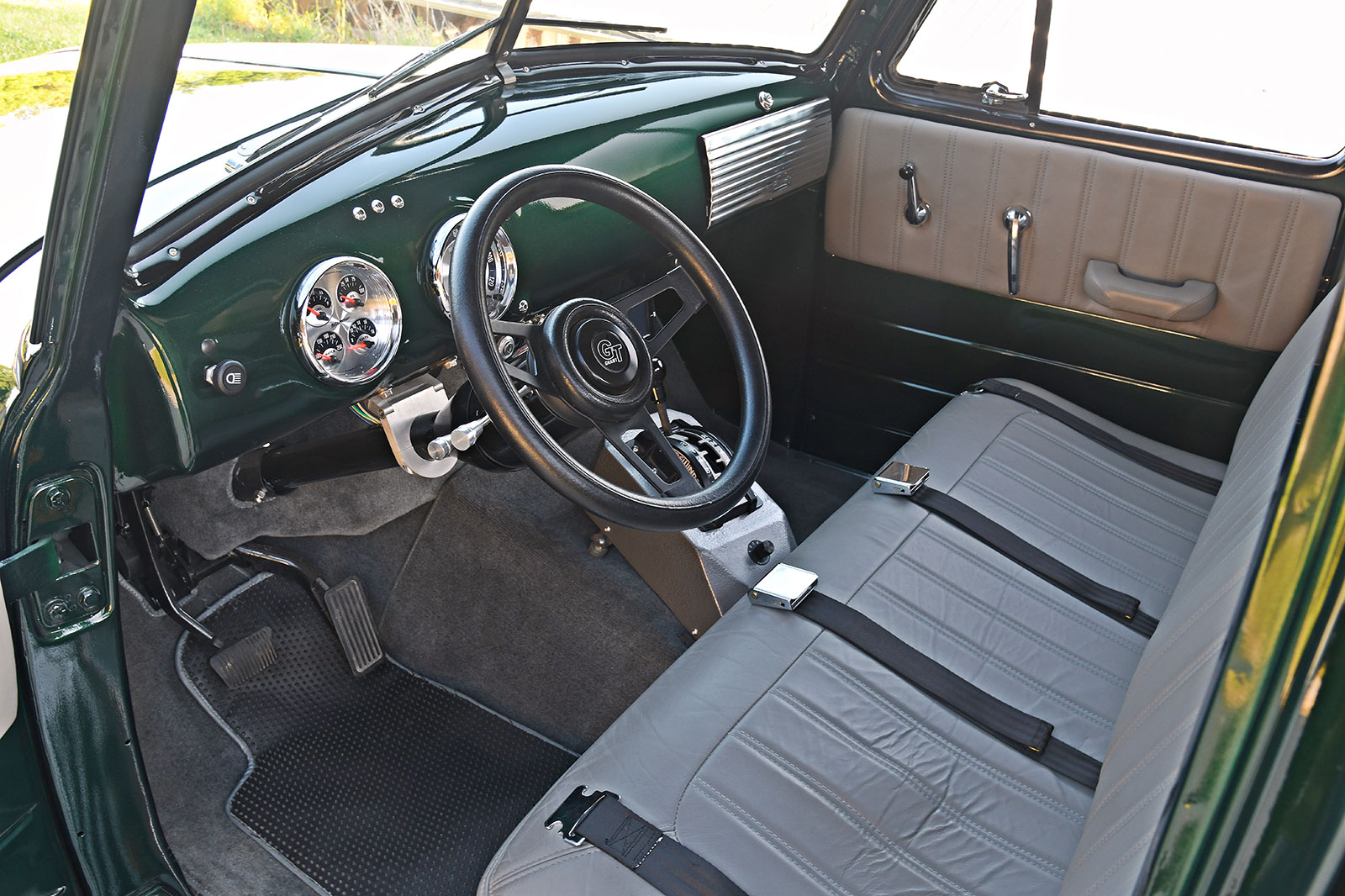 Sitting there under a tarp was a LB7 Duramax that Young had obtained. It was now Jeremy's to do what he wanted with. "Excited, I took all the measurements I could and raced home to see if it would fit. I knew with a few modifications it would work!"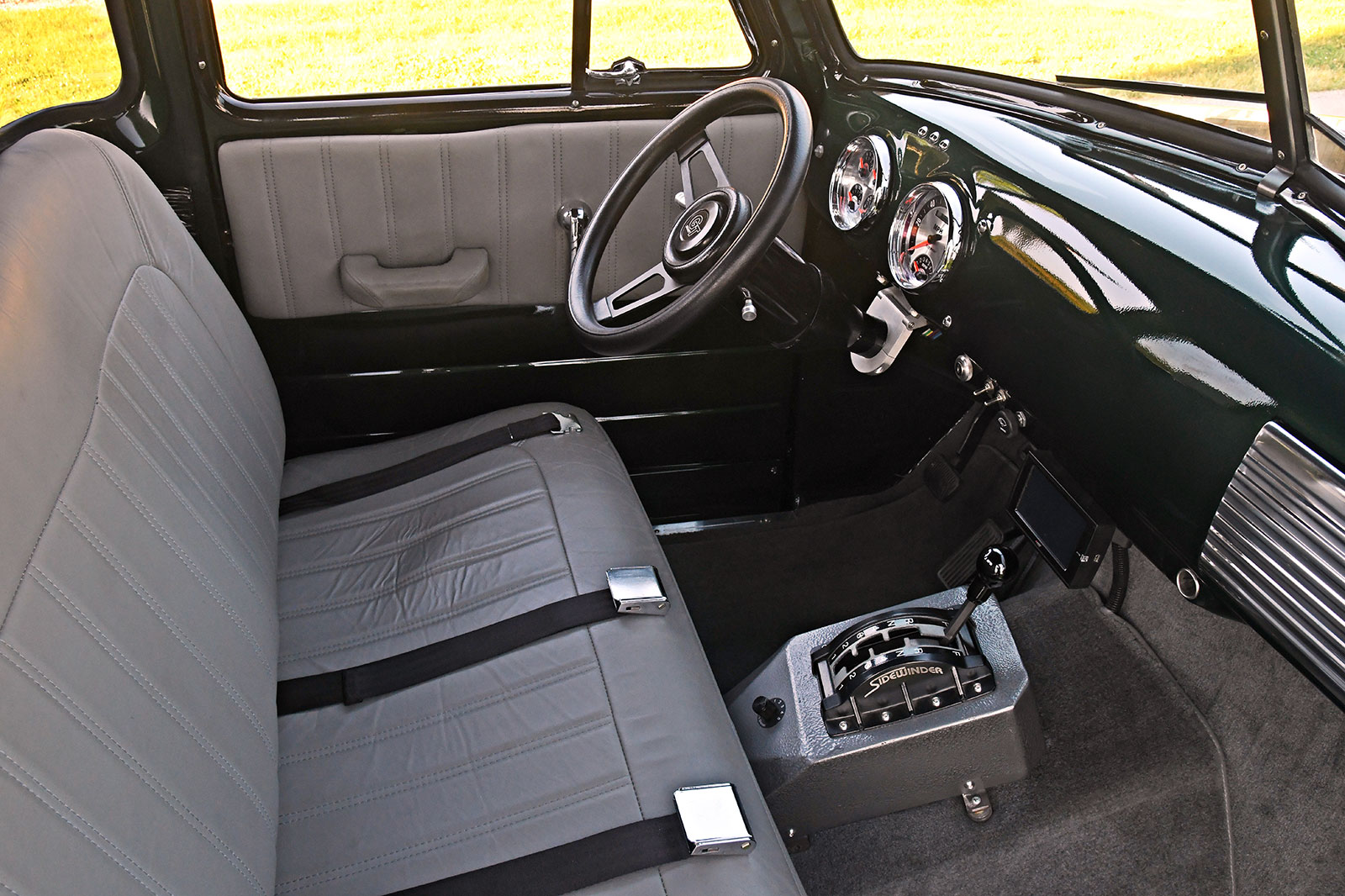 Max Effort
The engine lit a fire under Jeremy. "I was always a big fan of diesel motors since I owned a first-gen Duramax and another LB7-powered truck. Now I wanted to hustle and get this truck done!" From there he did his research online, looking for previous swaps. Unfortunately, he couldn't find anyone who had any info on this engine swap. "That made it even better knowing it was unique. Now I had even more inspiration to see this project to the end."
Read More: Wildfire Warrior: 1959 Chevy Apache
With the help of a group of good friends, Cory Winemiller and Young, Jeremy got the motor and transmission set on the frame at Young's shop. Next the motor and transmission mounts were fabricated and by the end of the first day the diesel and matching trans were securely fastened to the rails. From there the cab was fitted to the chassis minus the floor and firewall. "I had to chop out the floor to clear the Allison transmission and had to recess the firewall 5 inches due to the turbo down pipe. From there it almost seemed like it was all downhill. The big stuff was done," Jeremy states.
Over the next year, new fenders, running boards, bed kit, and other pertinent pieces were acquired to make the truck whole. The motor was resealed, new injectors installed, and it was reassembled. A stand-alone harness kit was also bought and modified by Jeremy to move the ECM/TCM into the cab of the truck.
Once all the body panels were fitted, the truck went to Scott Landis for paint- and bodywork. "He sprayed it in Lime Rock Green, which was a color offered on '14 C7 Corvettes. After seeing it in basecoat I thought I made a big mistake. Scott promised me once it was put in clear coat I would love it. He was right. I really loved it. It was close to the color of my old Duramax truck."
Back at Jeremy's home garage the painted truck was ready for reassembly. "With the help of my wife, Christi, and some good friends, in a few short weeks the Chevy 3100 was looking like a truck again. Then it was back to Young's for final assembly of the drivetrain and fresh wiring and plumbing." The truck would stay at Young's over the winter while being completed. The truck was finally fired up in the spring of 2016.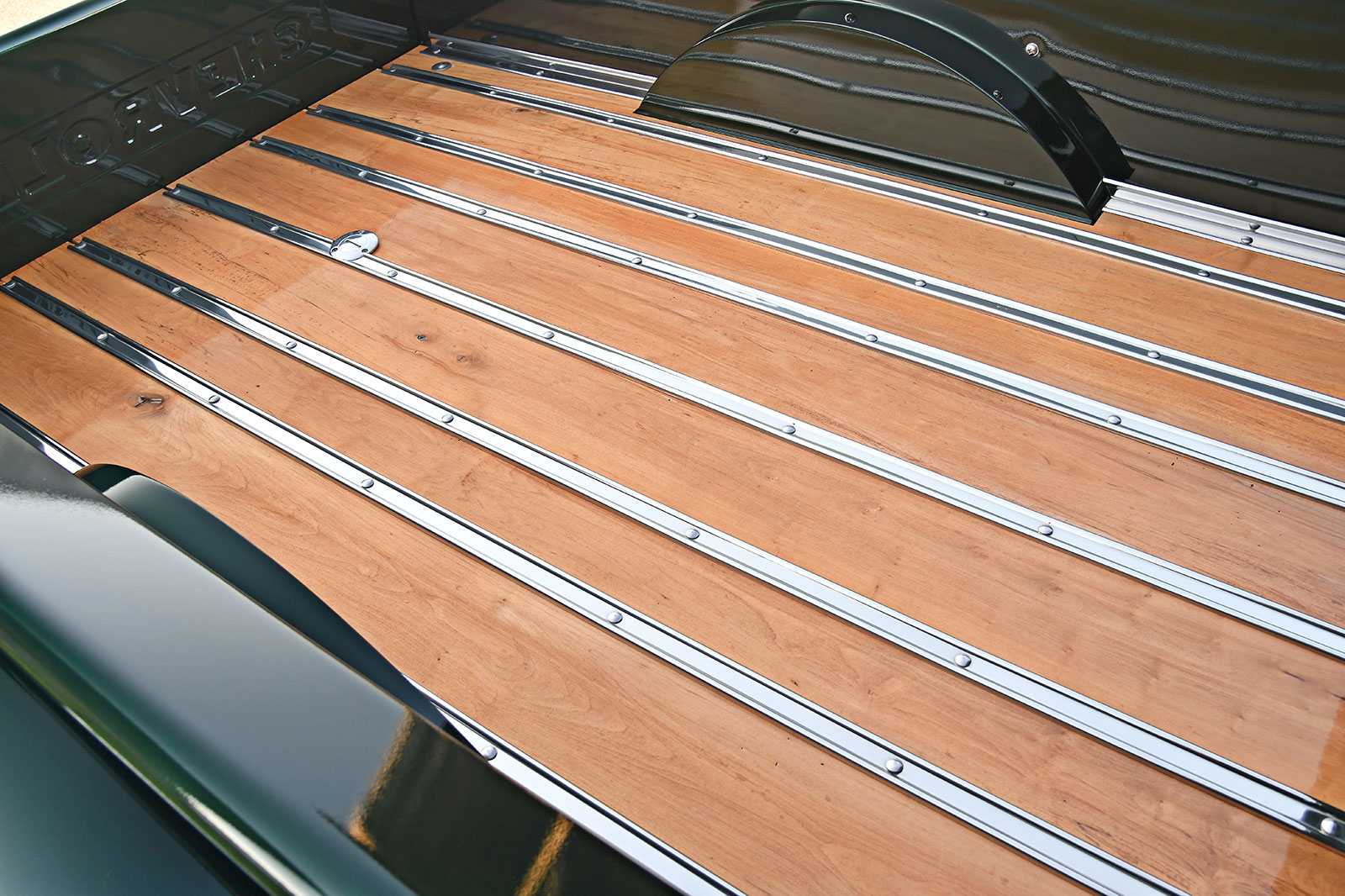 The last stop was at ESH Upholstery in Forest Hill, Maryland, for its fresh interior. "He knocked it out in a few short weeks and had it looking exactly the way I wanted it. Our main goal was to keep it simple and stock looking with a bench seat and stock-appearing dash. The Grant steering wheel was always something I loved as a kid, so I decided to add that as my personal touch."
Read More: Misfit: 1956 Chevy Stepside
After six years of hard work, Jeremy had a truck he could be proud of. Something distinctive and powerful, with the looks that could turn heads. "Since finishing it we've had it out to several big shows. Highlights were winning Best of Show at both the Scheid Diesel Extravaganza in Indiana and the East Coast Diesel Nationals. We also were a top 10 truck at the Goodguys Event in York, Pennsylvania.
Looking back on the build Jeremy knows that none of this could have been done without the help of good friends and without his wife Christi. Of course, there's one person who was the inspiration for the build and couldn't be there when it hit the street. "Even though he didn't get to see the finished product, I hope I built the truck into something that Pap would be proud of."