Justin Reed's Hemi Swapped 1989 Dodge Ram D150
By Fuelish Media
Have you ever wondered why there aren't nearly as many Dodge trucks out at shows as there are Chevy and Ford pickups? Those of you who have are most likely Mopar fans because the vast majority of showgoers probably don't even stop to think about the misrepresentation of Dodge badges at these events. The fact of the matter is that there aren't enough of these trucks being built and customized for show and performance sake. Frankly, there are far less Dodge enthusiasts out there. Also, the aftermarket just isn't as supportive as it is with the automaker's counterparts, which makes it that much harder to build one. It's just the way things are but when there is a badass Dodge truck lurking in the shadows, you had better believe we'll be there to document its presence.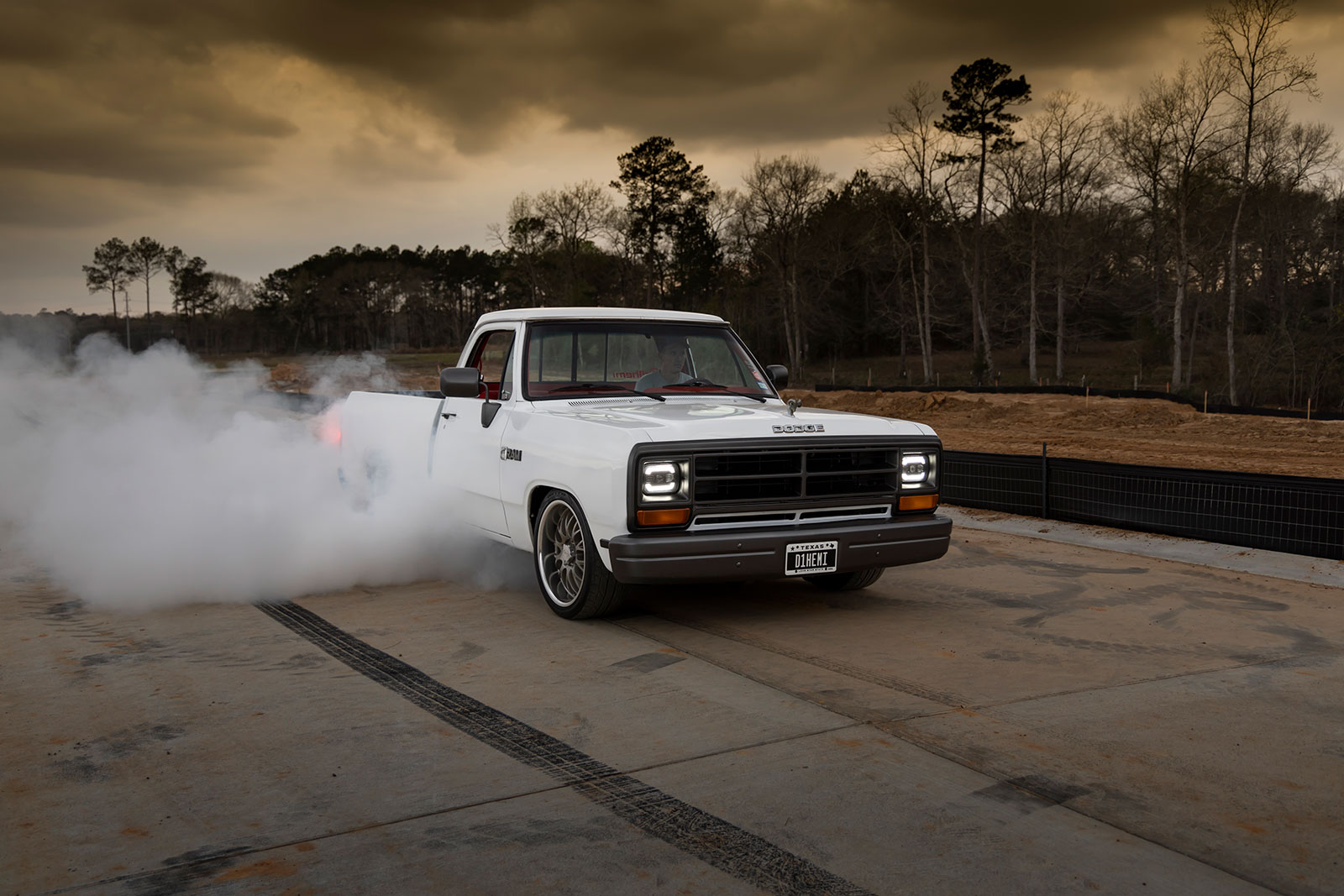 "I am a Dodge lover, and I've been wanting to build a pro touring truck for the longest time," Justin Reed of Whitesboro, Texas, says. "No one builds Dodge trucks, and that gave me the perfect excuse to go out and create something that was a little different from the norm."
Read More: Farm Fresh 1967 Ford F250
Justin soon began his search for an ideal project truck, which he found in this 1989 Dodge Ram D150. He began the inquiry and negotiation process with the previous owner and landed on a deal that would allow him to haul the truck out from under the carport where it had been parked for the last five years. "So, I am now the third owner of this truck," Justin adds. "It had been a farm truck all of its life, was not in running condition, which is why it was parked for so long. The upside was it only having 72,000 original miles on the stock 318 engine, and that it was a very clean, rust-free Texas truck. That's all I know about the truck's past, but it was enough info for me to build on."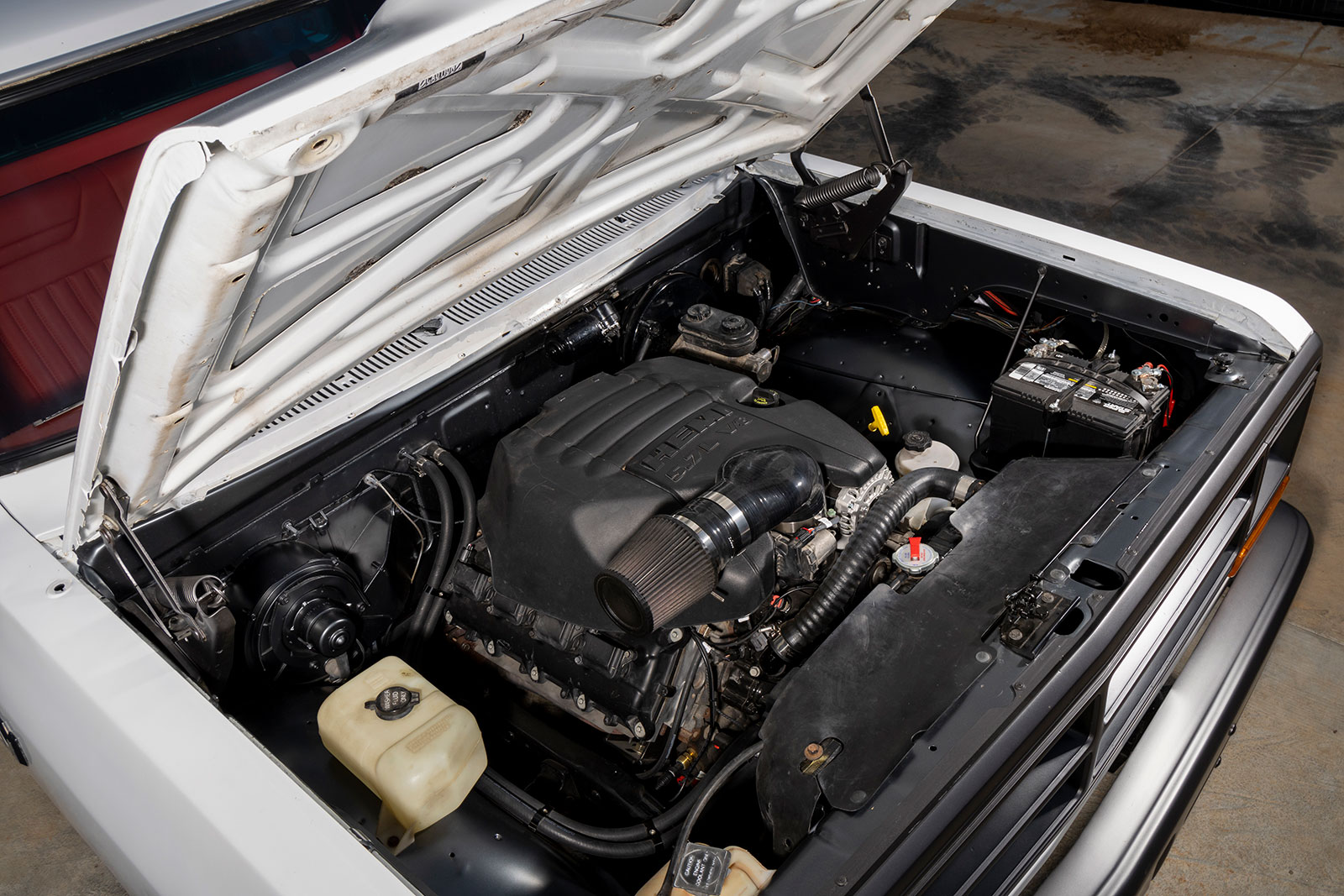 Well, the Ram's factory engine didn't last for long once Justin got it back up and running. He was fine with it, actually. The way he saw it, this was just an opportunity to do something he'd already given some thought to—a HEMI swap. "My buddy has a 1979 Cordoba that he did a HEMI swap on already, so he knew how to do it. So we bought a '16 HEMI engine with an 8 speed transmission from a wrecked truck, then ordered other things over the next six months before we started on the build. Last summer we spent the weekends and some occasional weeknights wrenching to whip the truck back into shape."
Holley motor mounts and a transmission crossmember helped make the engine swap a smooth success. From there, a few additions in the way of an engine harness from Hotwire auto, a K&N air filter, a Corsa exhaust from an SRT8 Dodge Charger and dual electric fans were made to get the HEMI engine up and roaring with style and ultra-reliable performance.
Read More: Truck Jam 2023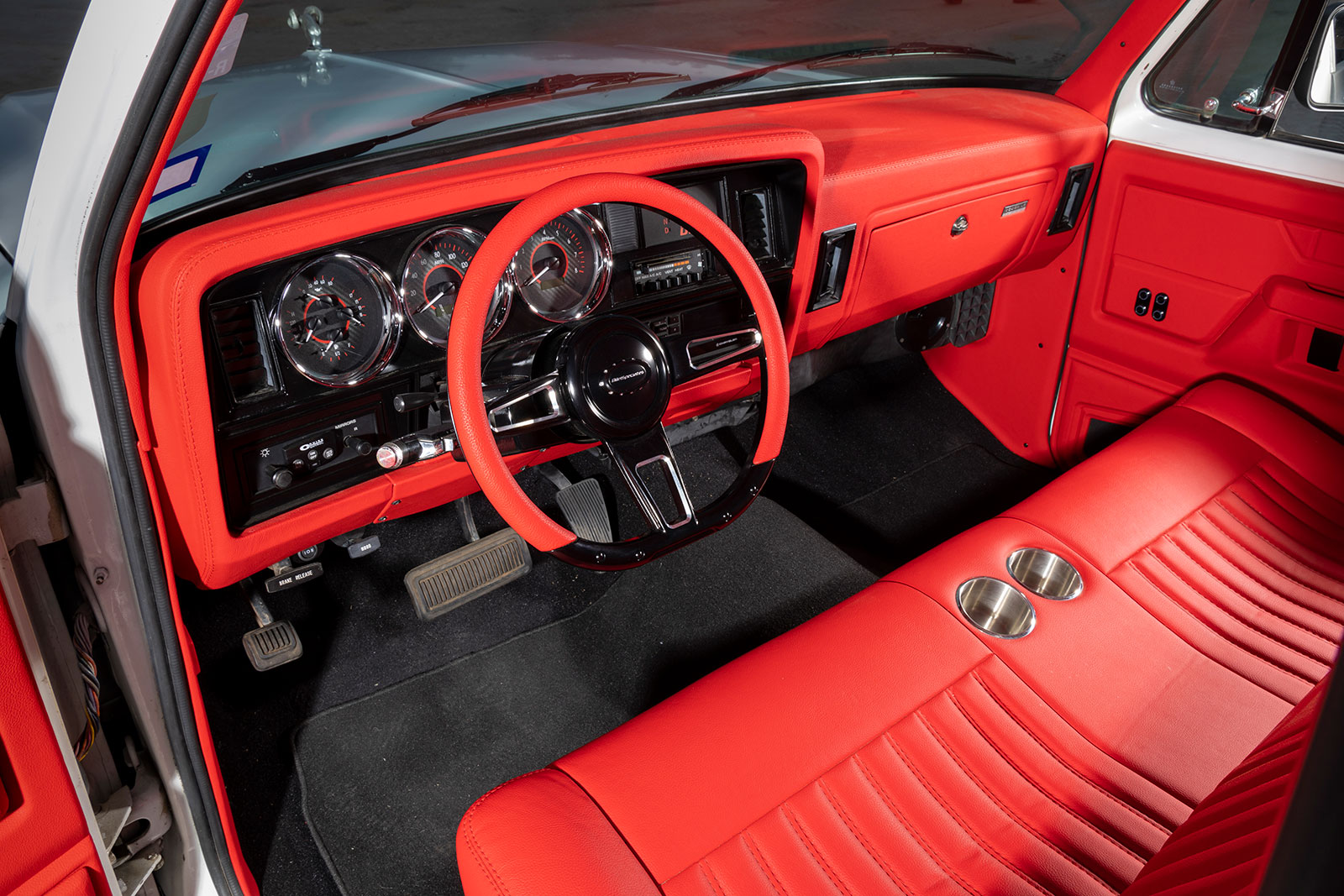 Next, Justin recruited Josh Norris of Grey Bush Hotrods to assist with the chassis overhaul, which would soon leave the Ram's stance much lower and agile. "Josh is a great friend, and while he doesn't have an actual official business yet, he can get a lot done out of his four-car garage," Justin admits. "He is the oldest in our group, so we call him Grey Bush. I came up with his shop name, which he actually kind of likes, so we are running with it."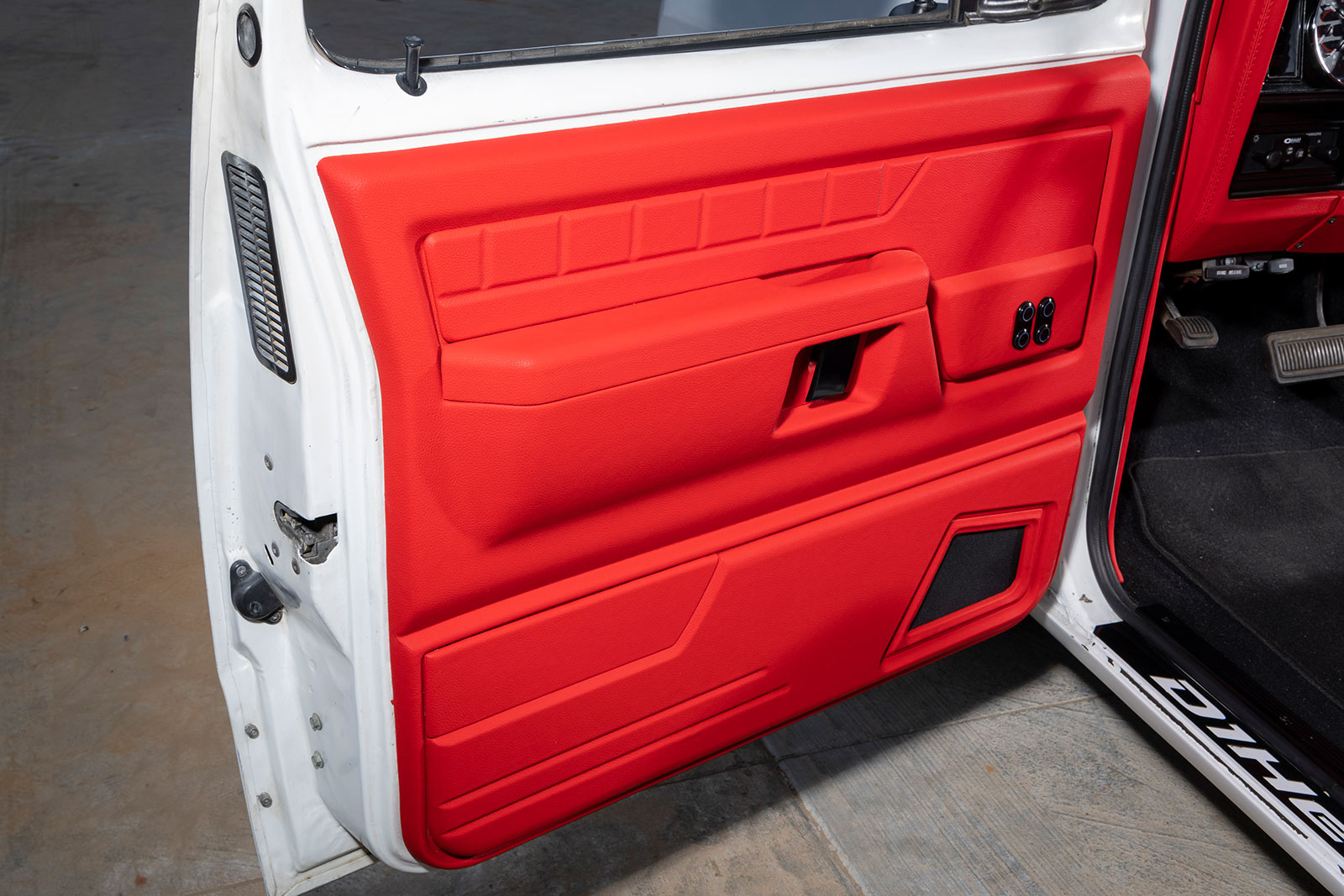 While the Dodge was in the shop, the guys installed a set of custom upper control arms that were fabricated by Brandon Fruth Fabrication, along with a set of modified lower control arms from a Dodge Ram van. The rear of the frame was C-notched and was then outfitted with a custom torque arm bar and axle flip to lower the suspension substantially. A set of 14-inch R1 Concepts drilled-and-slotted rotors were then added to the front end while the stock rear braking system was left in place. The 20×8.5 and 20×10 C44 Coys wheels wrapped in Nitto NT555 G2 tires were then mated and bolted into position to finish up the truck's chassis setup.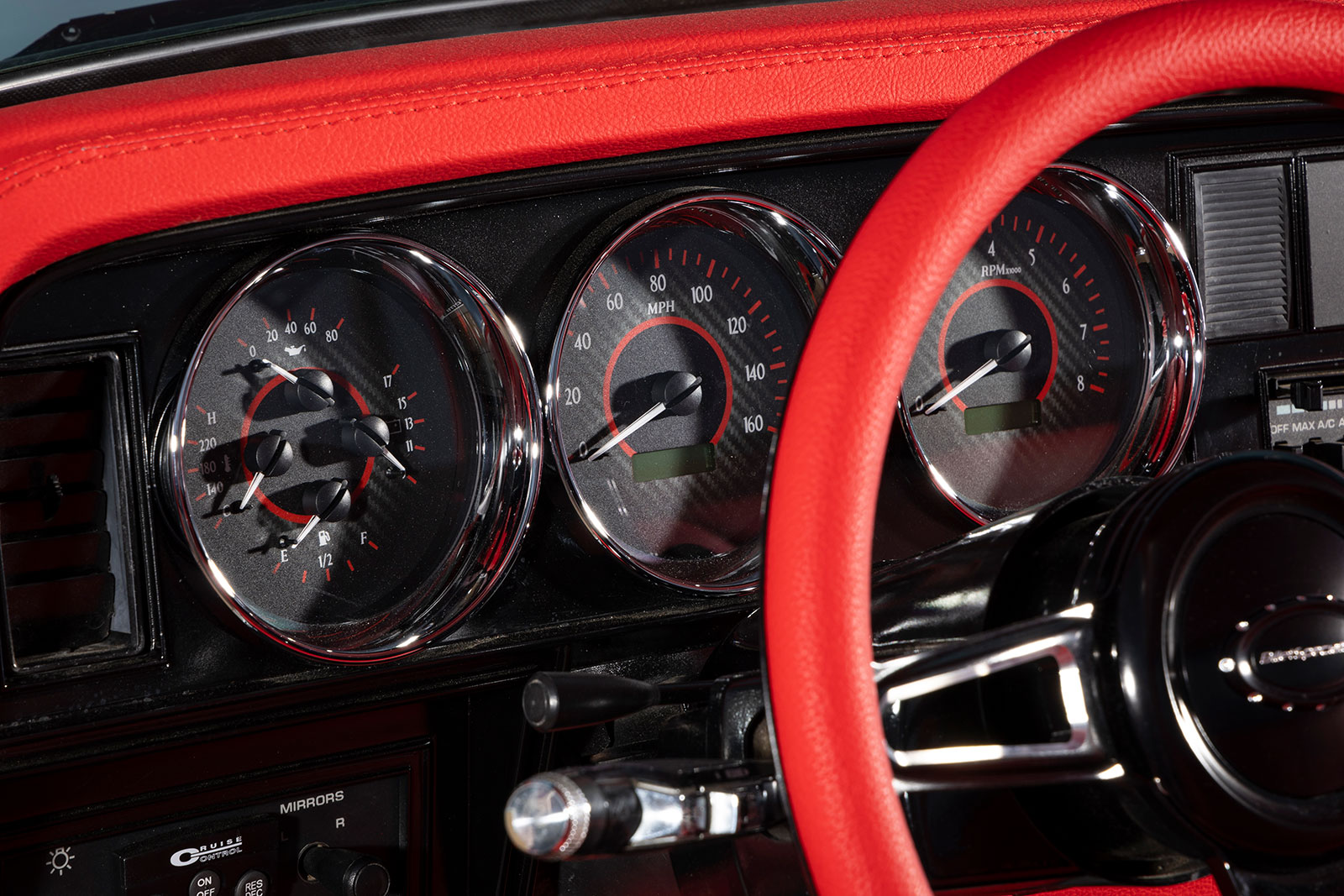 While Justin does have plans to paint his Dodge, he has decided to put it off for the time being but has made some big upgrades to the exterior thus far. What he has done is pull the factory body moldings off and painted the stock bumpers, grille, mirrors, and door handles a satin gray color to contrast the truck's existing stock white paint. BW Customs and Automotive in Whitewright, Texas, was called on to create the one-off tailgate decals and powder coated door sills that would soon adorn the interior. The inside of the bed was treated to a Raptor Liner finish and the engine bay has been sanded and painted to match the bumpers. Even though this might not be what the final version of the truck will look like, it's a pretty damn good start.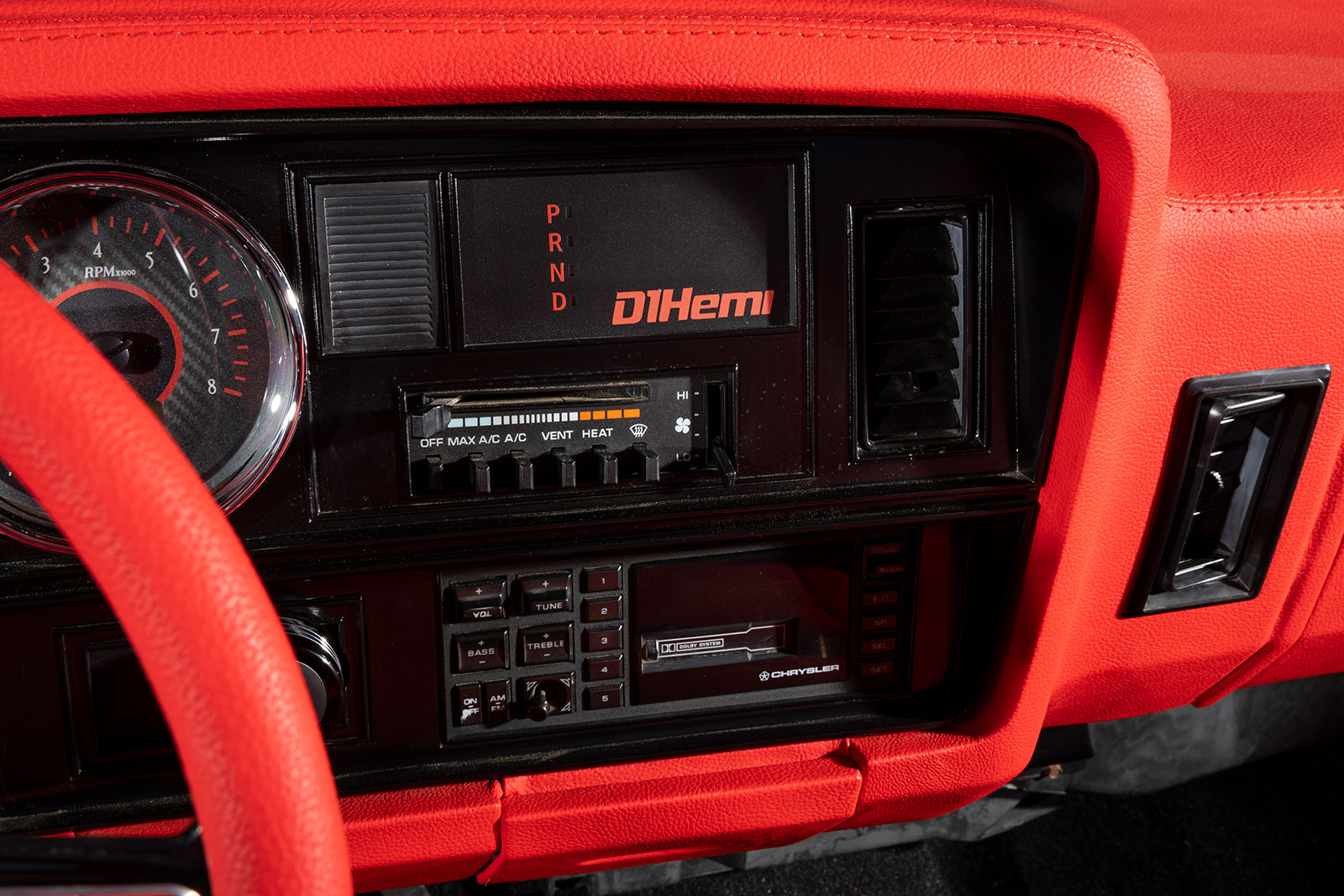 Read More: Modern Patina, Modern Performance '57 GMC WideSide
The inner cab space was fully decked out, however, with a killer red vinyl–covered bench seat, cab panels, dash, and 14-inch Billet Specialties steering wheel in order to completely transform the interior landscape. Dakota Digital VHX gauges, Sublime Technologies adapters to run the AC system, Memphis Audio speakers, custom LED lighting, and various accessories were also pieced together to give the cab space a well-appointed look and feel that may be good enough to withstand any restyling phases that could be in this truck's future.
Before he knew it, Justin had a running, driving, fully customized Dodge truck that he felt was ready to show and put to the test. "We finished up on it the day before the Lonestar Throwdown 2023 show and decided to drive it 250 miles to get there," he says. "Aside from running out of gas along the way due to the gauge reading not being exact, the truck performed great. We still want to install a four-link, add a Hellcat blower, and maybe change up the wheels and some other things, but I just want to enjoy it as-is for the rest of this year. Thank you to my uncle Randall and my buddy Coley Vale for helping out with the project."