John Lisenby's GMC Truck With Blends of '50s Antiquity and LSA Performance
By Rob Fortier   –   Photography by Tim Sutton
Back in the mid '90s I had the pleasure of meeting (thanks to my mentoring coworker, Cortney "Tito" Hallowell, RIP) and ultimately becoming very good friends with a custom bike builder by the name of Matt Hotch. At the time, Hotch was constructing ahead-of-its-time V-twins under the name Hot Match Custom Cycles—some of which you may have witnessed on cable TV's Biker Build-Off series—so we shared a common interest in the two-wheeled variety. But Hotch never limited himself to the cycle world.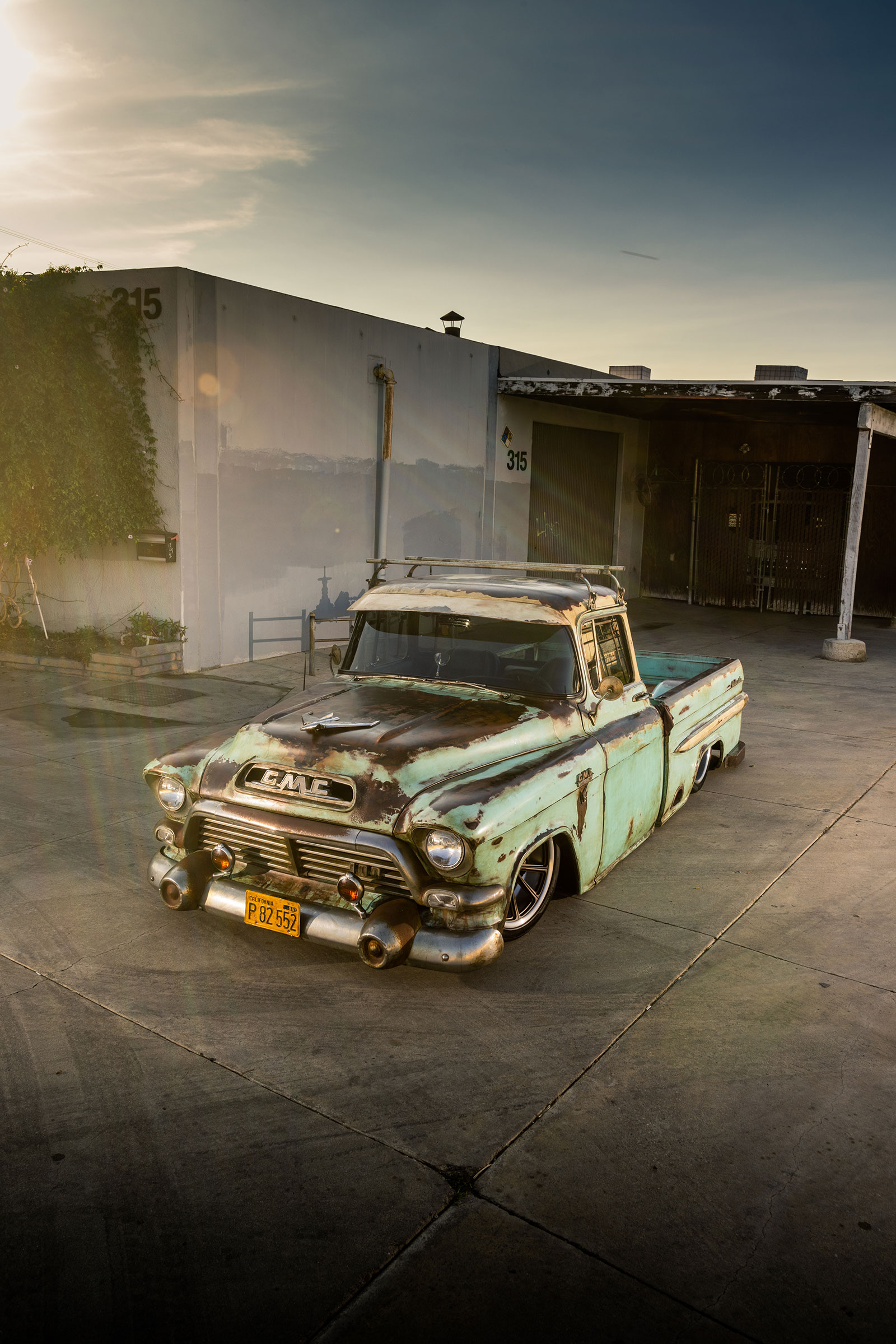 Fast-forward quite a few years to Dino's Git Down back in 2020—my first one repping the pandemic-fresh Classic Truck Performance/In The Garage Media—and who of all people do I run into … my old friend Hotch. As our reunion conversation progressed, Hotch said that he was looking for an original Apache Fleetside bed for a 1957 GMC he'd been working on for his friend/customer John Lisenby. When I sarcastically commented about not being a custom bike (not to mention GMC not making a Fleetside, per se), Hotch simply replied, "It's just got two more wheels … they're all the same!"
Read More: TMI Products' Classic Interior For Your 1967-72 C10 Truck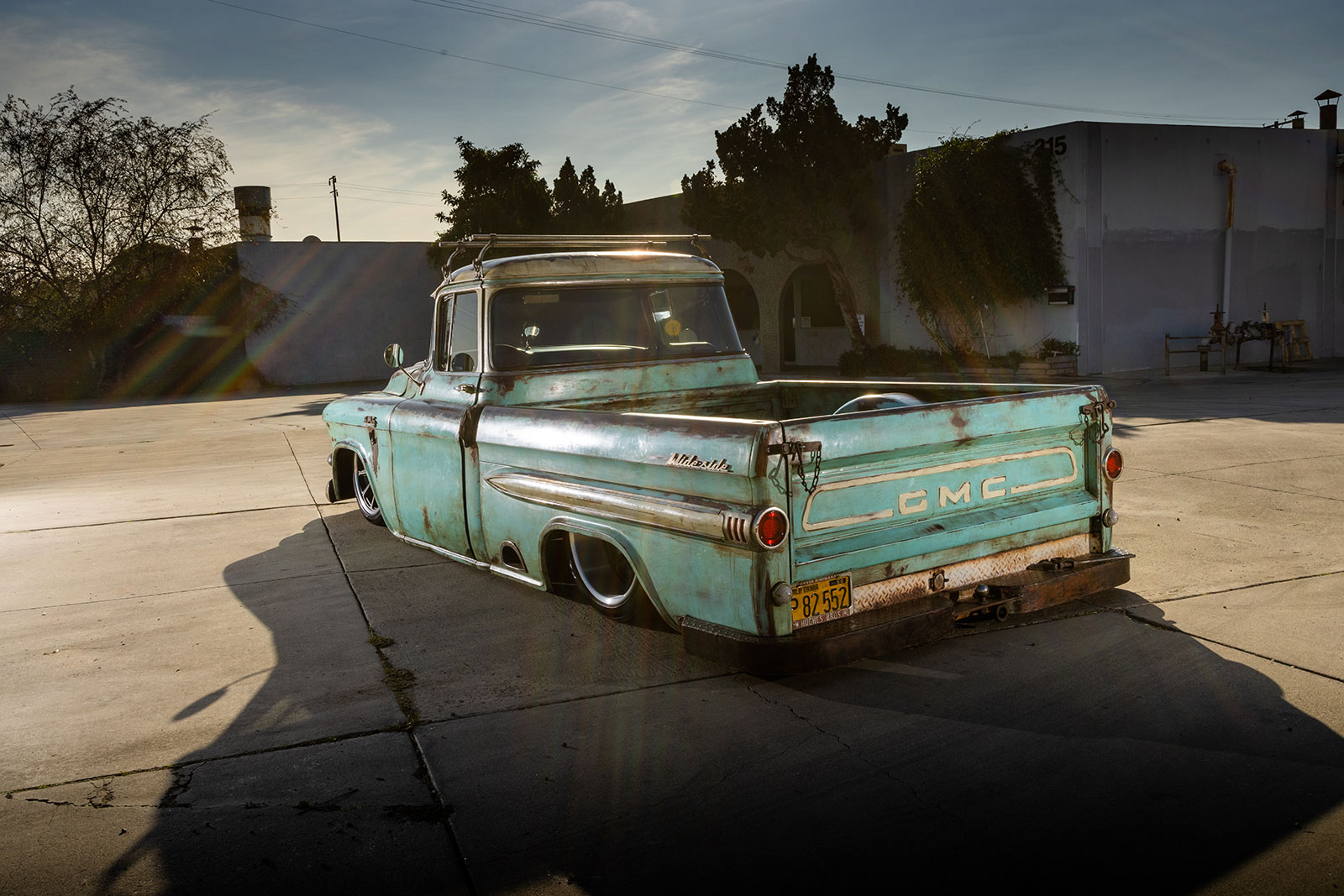 Turns out Hotch had refocused his efforts accordingly and was/is now following his other passion for vintage domestic trucks. John's Wide-side is his first "official" foray into the four-wheeled variety as a builder (though he's built trucks for himself over the years), and I asked him to tell us a bit more about the project.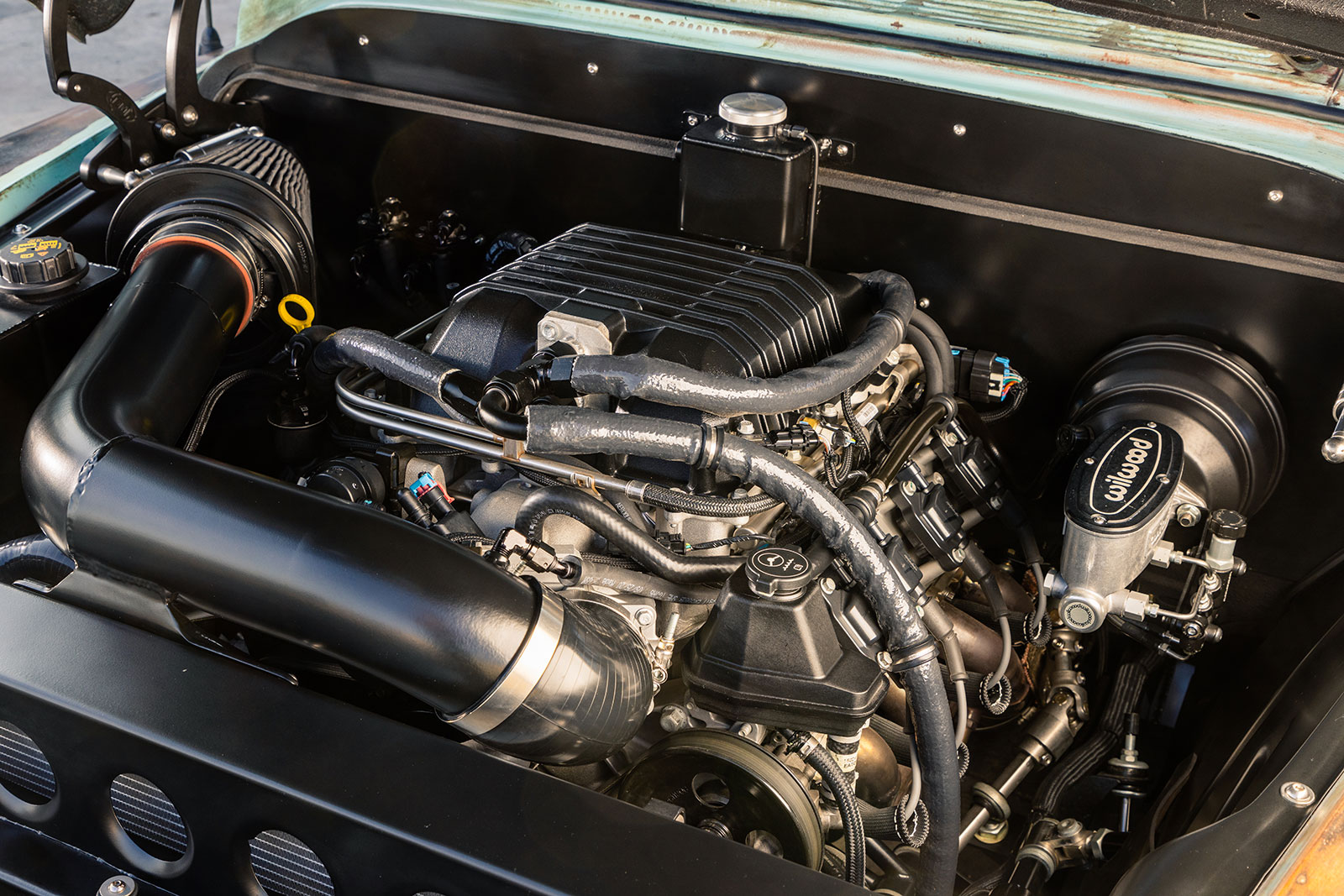 "This 1957 GMC Truck truck was first started by another customer; he was unable to finish it and it sat in my shop for several years. I was working on John's custom COE truck, which I was building from the ground up with 24- and 26-inch semi truck wheels, and we were kind of tripping over the GMC. John finally offered to buy the unfinished truck, and that's when the project started. We put the COE truck on the back burner and started on the 1957 GMC Truck.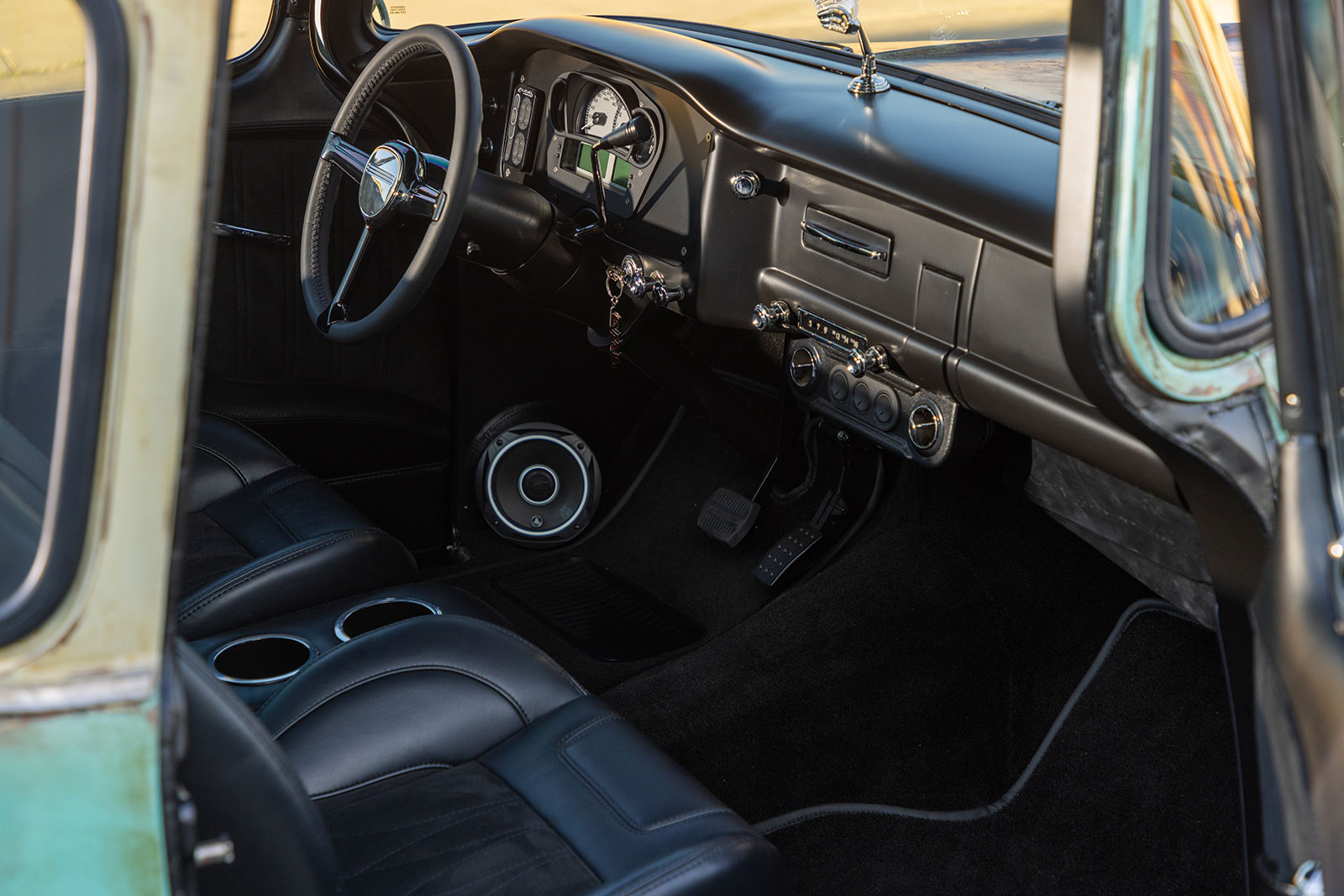 "Originally the GMC had a stepside bed, but I had always loved the '58-59 Fleetside—so even though that truck never came with that style bed we decided to put it on. I had to make a custom framework to attach the bed to the Scott's Hotrods Custom Chassis I had built specifically for this truck. I also made a custom tilt mechanism for the bed floor. We also wanted to make custom bed badges. Chevy called their Apache the Fleetside, while GMC called theirs the Wide-side—but they had never made a badge for it. So, I 3D-rendered the logo and then I had Chopper Dave cast them in brass, which were then chrome plated and then I patina'd them like the rest of the truck. There are a lot of newer parts that were patina'd to match the custom John "Brass Junkie" Moss patinajob, which was done in the factory Placid Blue and Dover White base. I also searched and found all the rare accessories I could for the truck—like the hood ornament, reverse lights, visor, V8, and Hydra-Matic badges. There's a lot of hidden detail on the truck.
"We also made a lot of changes to the interior. Wanting to keep it looking and feeling like a '50s truck, we just decided to keep it simple. We didn't want to make it like a Mercedes inside; we wanted it to feel like you were still driving a truck. So, I ended up with a tilt steering column with a custom steering wheel, Dakota Digital dash, TMI bucket seats with center console, custom carpet and headliner by Vic the Seat guy, a Vintage Auto Sound system with satellite radio (using JL Audio sound system speakers: 6×9 in the center console, 6.5 three-ways in the kick panels, and a 4-inch in the stock center speaker location, all pushed by a 500-watt four-channel amp) and a "very large" AC system from RestoMod air. It also has cruise control, train, horns, fog lights, power windows, power locks, all the creature comforts.
Read More: Chevy 3100 With Distinct Diesel Power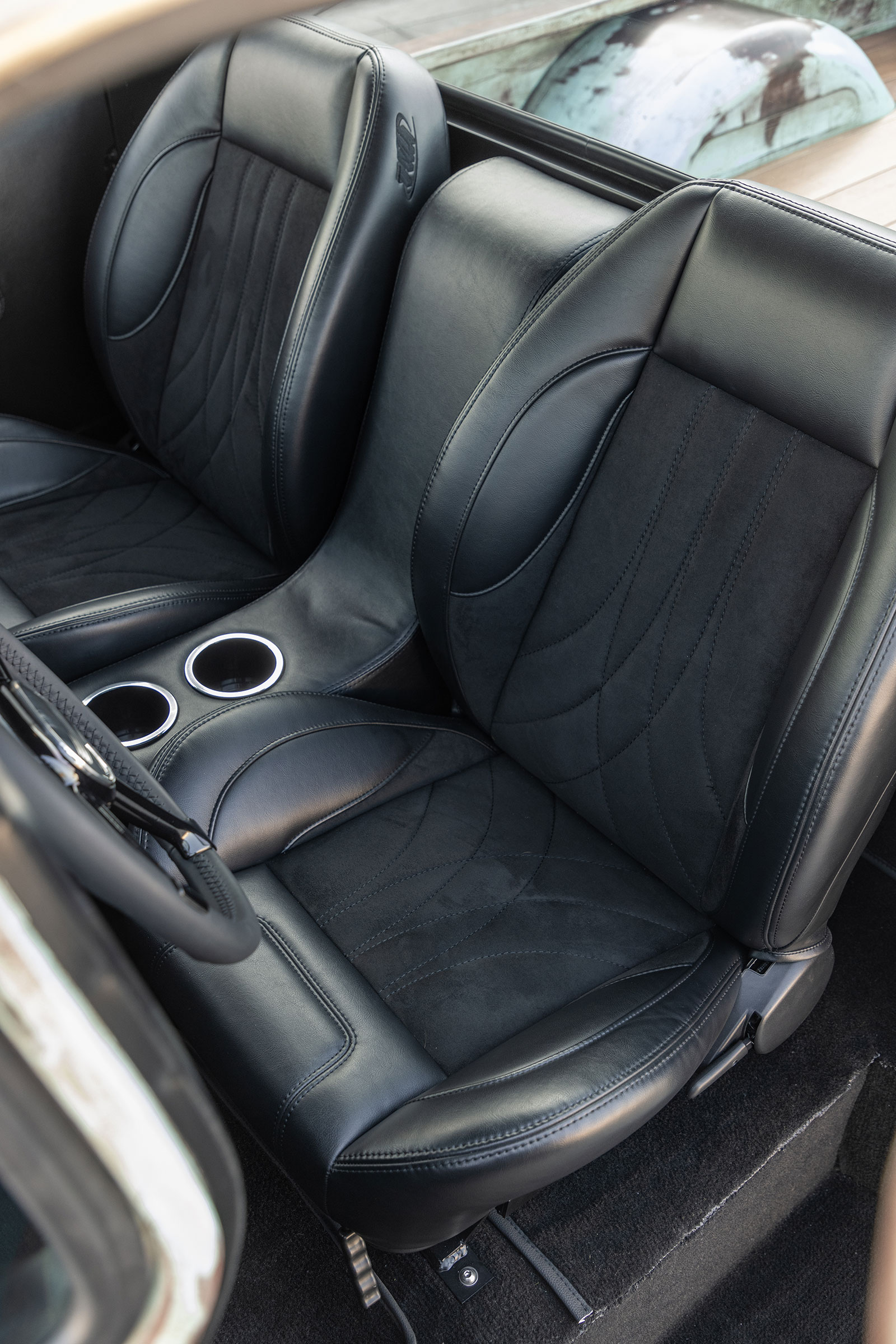 "Originally, the 550hp LSA engine & 4L80E transmission was a Connect & Cruise package from GM Performance—but after the pictures were taken, we did several upgrades to the drivetrain. On the maiden voyage, which was from SoCal to Glendale, Arizona, to Dino's Git Down, we found out it wasn't fast enough for John. So … we tore the engine and front clip apart and installed a Stage 2 BTR cam kit (cam, lifters, valvesprings, and rockers). We also did upper and lower blower lid spacers to help isolate radiant heat. Added Injection Dynamic 1050 injectors and a custom cold air intake that has a special heat-deflecting coating on it that will keep intake temperatures at ambient. We also upgraded the fuel system with a modified ZL1 fuel pump and VaporWorx module to run E85. Ryan Cunningham from BRC Raceworks in Texas did a remote custom tune. We are shooting for around 850 at the crank. We could've made more, but this truck will be daily driven and like his motorcycles will probably end up with a few-hundred-thousand miles in a couple years!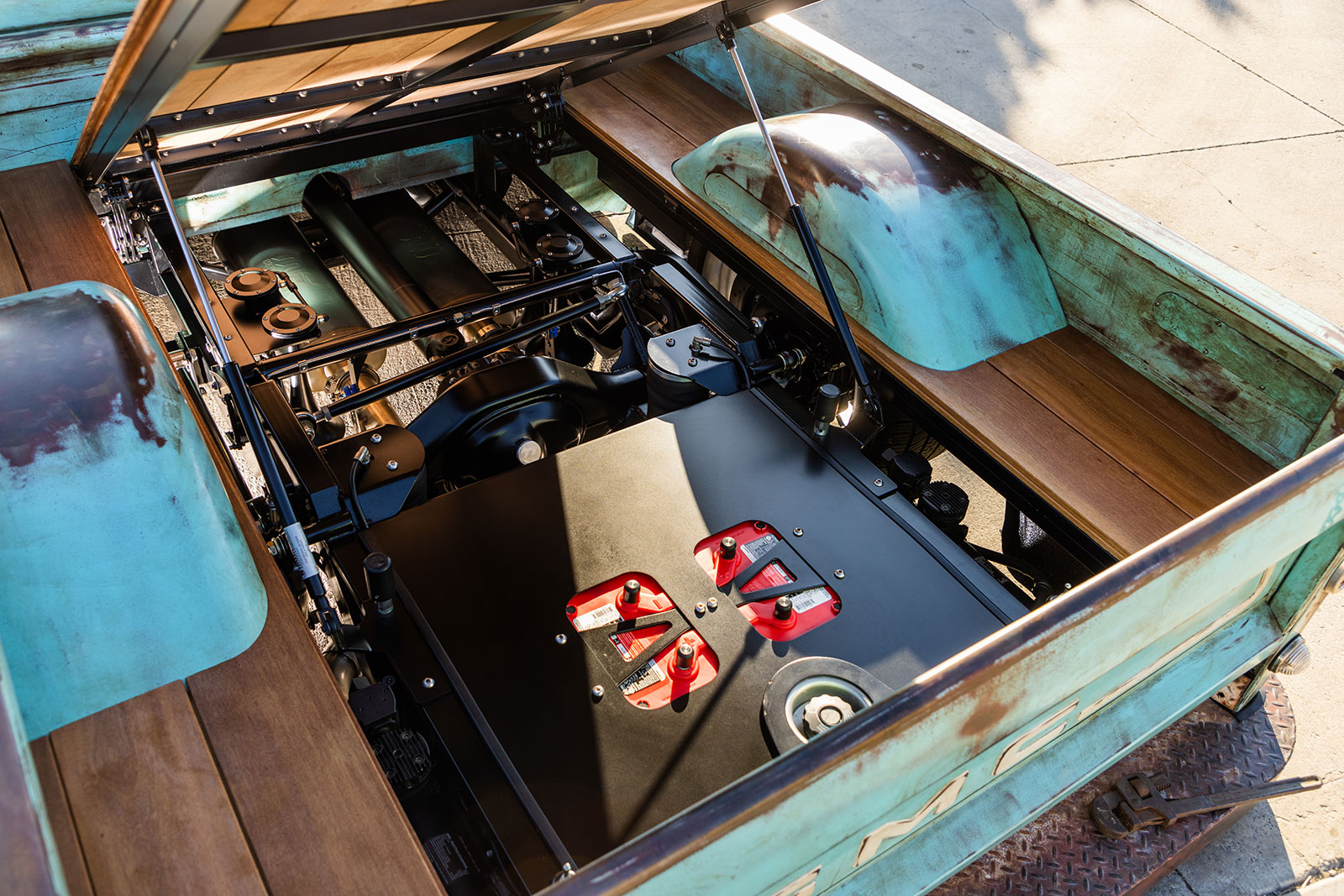 "The cooling system has a C&R Racing custom radiator and extra-large heat exchanger for the LSA blower with Spal fans as well as an extra-large transmission cooler also with Spal fan. That all sits behind the bumper with an air scoop. The exhaust runs through a set of 1-7/8 stainless headers and a 3-inch stainless exhaust with an X-pipe all the way back to the rear vintage Barden bumper where it dumps down. (I also bolted on a monkey wrench to the rear bumper. It vibrates around like it's just sitting there, but it is fully secure. It stops people from tailgating you!) We're running MagnaFlow mufflers with electronic cutouts when you want to make it real loud!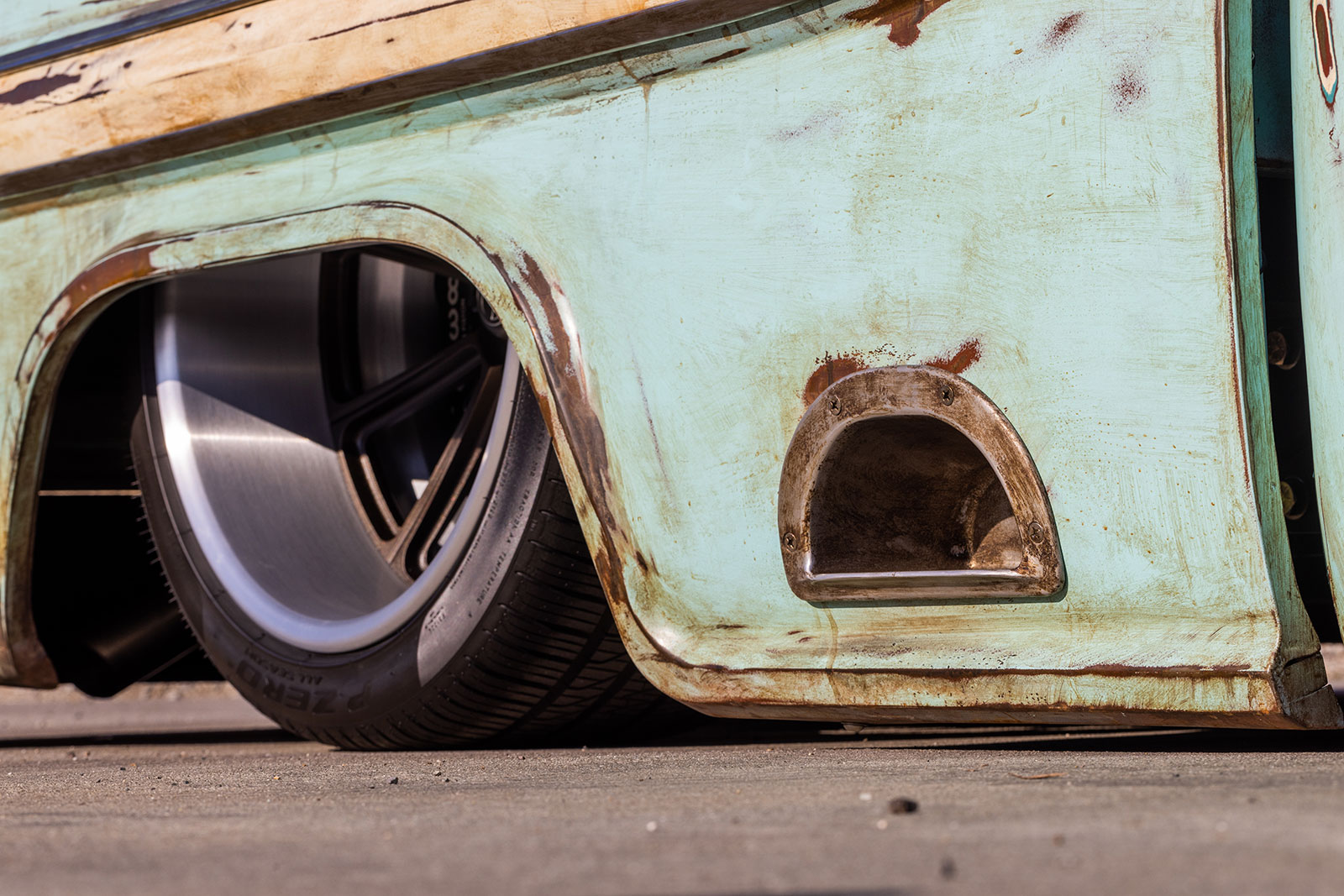 "This truck was built as a driver not a show truck. We had the chassis made by Justin Scott at Scott's Hotrods N Customs. It's a Lay Frame model for 1955-59 Chevy trucks. I modified it to accept a custom GMC core support and body mounts (they are far from being the same as a Chevy). I did internal wiring inside the frame rails and other things to make it work for me. It has adjustable Ridetech shocks and full airbag suspension with Slam Specialties airbags and a full AccuAir air management system. The truck rides on a custom set of 20-inch Curtis Speed wheels. We powder coated them a bronze textured finish to match the patina'd rust and then wrapped in Pirelli tires. Brakes are 14-inch Wilwood brakes front and rear, with a 3.73-geared, four-linked custom Moser 9 inch rear end.
Read More: Canadian-Bred 1962 Chevy Apache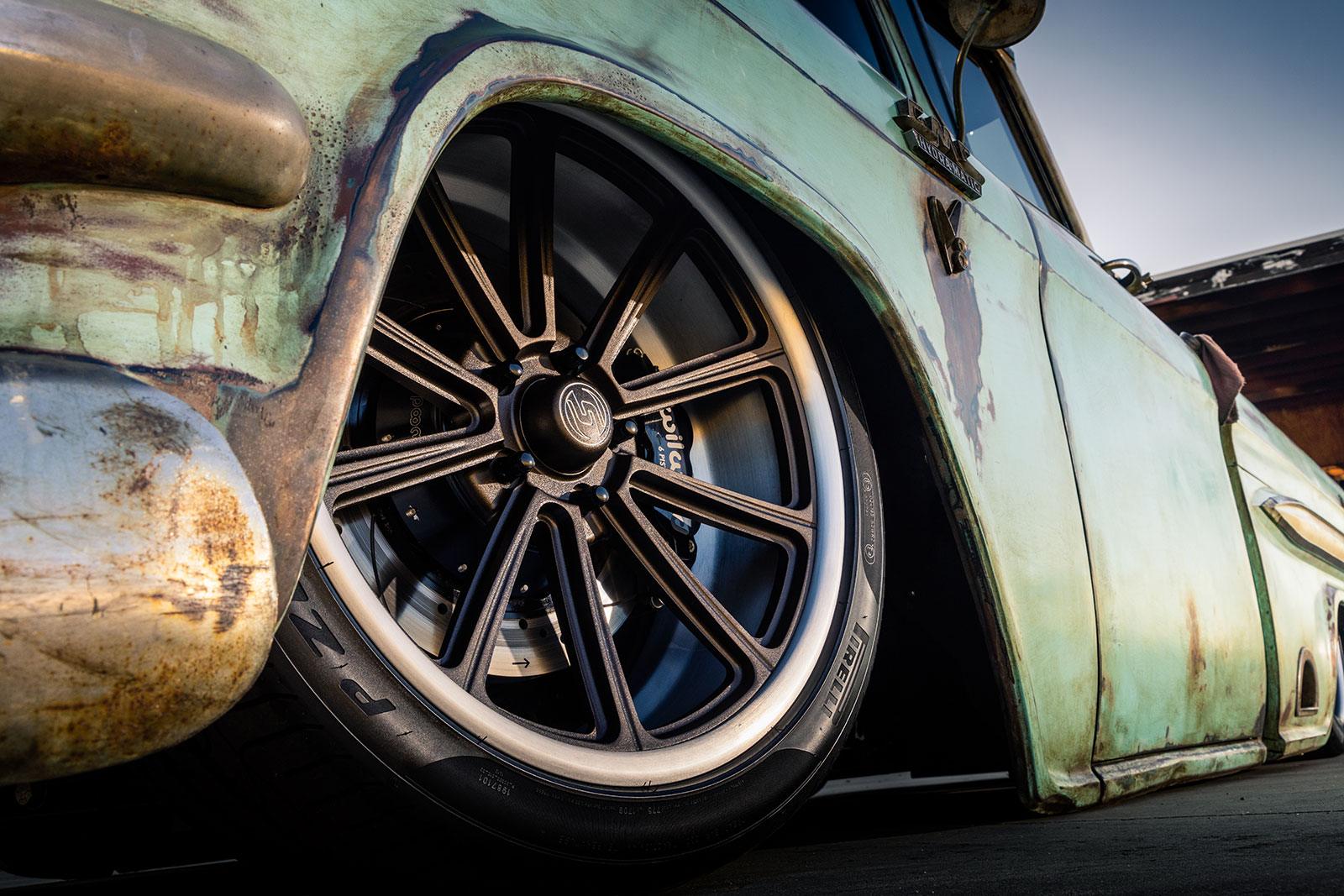 "The Scott's chassis was originally made with a raised bed for the stepside that came with the truck. So, when I converted it to a fleetside, I had to custom make a metal frame to mount the bed and also to incorporate a tilt system. It turned out pretty cool. I also utilized hood pins as the latch release for the tilt bed. John, being a framer and carpenter, wanted to use a special Brazilian hardwood called Apitong that they use on semi truck beds floors—very durable material. I designed a custom shiplap overlap for the wood so it hides the seams; we had it all custom milled."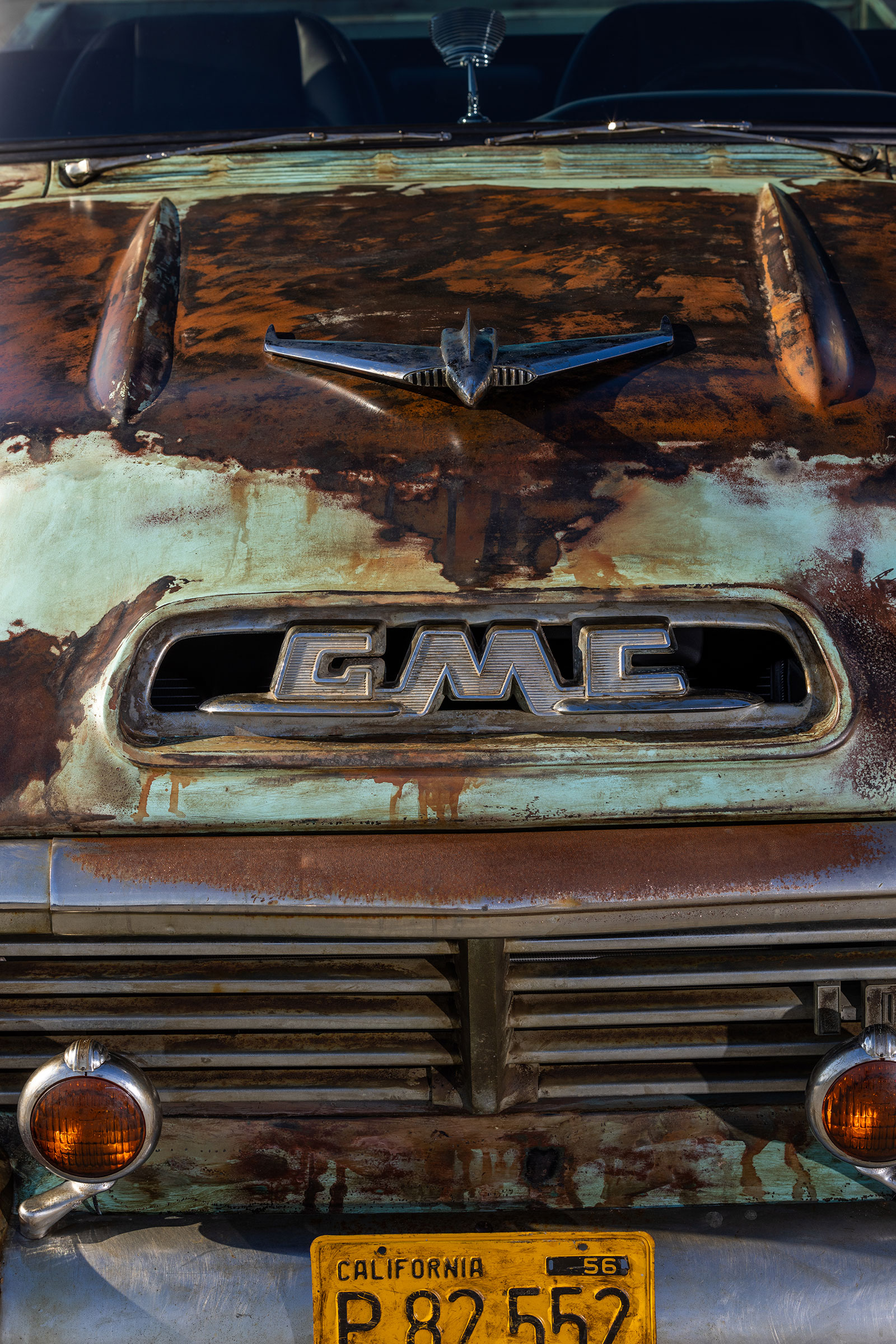 As I was finishing this feature, John had a few words in closing that I felt were beyond appropriate to add:
"[Hotch] had to work long hours to finish the truck in time for Dino's Get Down in Phoenix. He finished the night before we had to leave. We took it for a 70-mile shakedown run around town then drove it to Phoenix the next day. We logged in 1,200 trouble-free miles that weekend. There were 5,000 trucks at Dino's on Saturday and I can't tell you how many people told me that my truck was their favorite truck at the show. A big pat on the back to [Hotch] for all of his hard work."