Goolsby Customs Builds a Killer Vintage Van
By Rob Fortier   –   Photography by John Jackson
I'm going to start off by simply saying I am not much of a "van" guy. I've never really been into the custom van scene, even though my dad had the coolest '75 Dodge Tradesman that he did a driveway custom conversion on (shag carpet, cherrywood paneling, and a set of five-spokes Cragar SS wheels) that same year in Aptos, California. The whole resurgence of custom vans is indeed very cool and great that it's keeping part of vehicular Americana alive and well, but it just wasn't really my thing … until this past SEMA, that is.
Upon entering Hot Rod Alley at the 2022 SEMA Show, I was immediately greeted by this amazing Dodge A108 resplendent in BASF's Autumn Gold with Vanilla White accents—and it held my attention for quite some time. Turns out the talented folks from Alabama's Goolsby Customs were responsible for Matthew Forst's '69 A-Series dubbed "Vantasy," and it was that quality and immense attention to detail Goolsby's known for that drew me in and ultimately made me a van fan!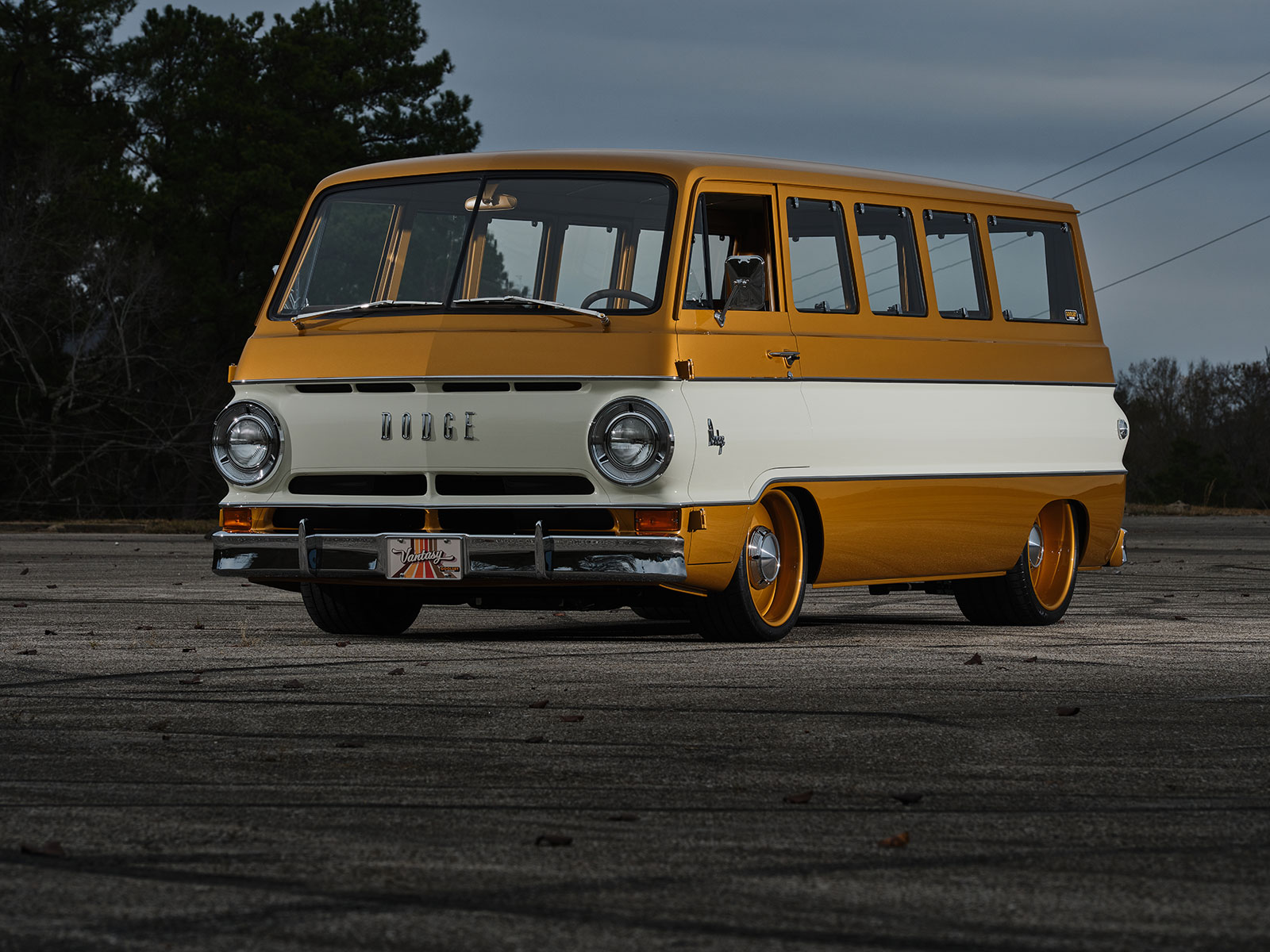 Read More: Tim Casey's 1954 Chevy Advance Design 3100
As the story goes, according to Goolsby Customs, "Matthew called as we were on the way to SEMA a few years back saying he wanted a van built and liked our style. We said, 'Let's get together once we get back from SEMA.' We were thinking, 'A van? What are the odds of this really happening?!' To our surprise, we were on the way back from Las Vegas when the shop called saying a van had just been delivered!" And the rest, as the saying goes, is (shop) history, as we now have the finished product before your very eyes.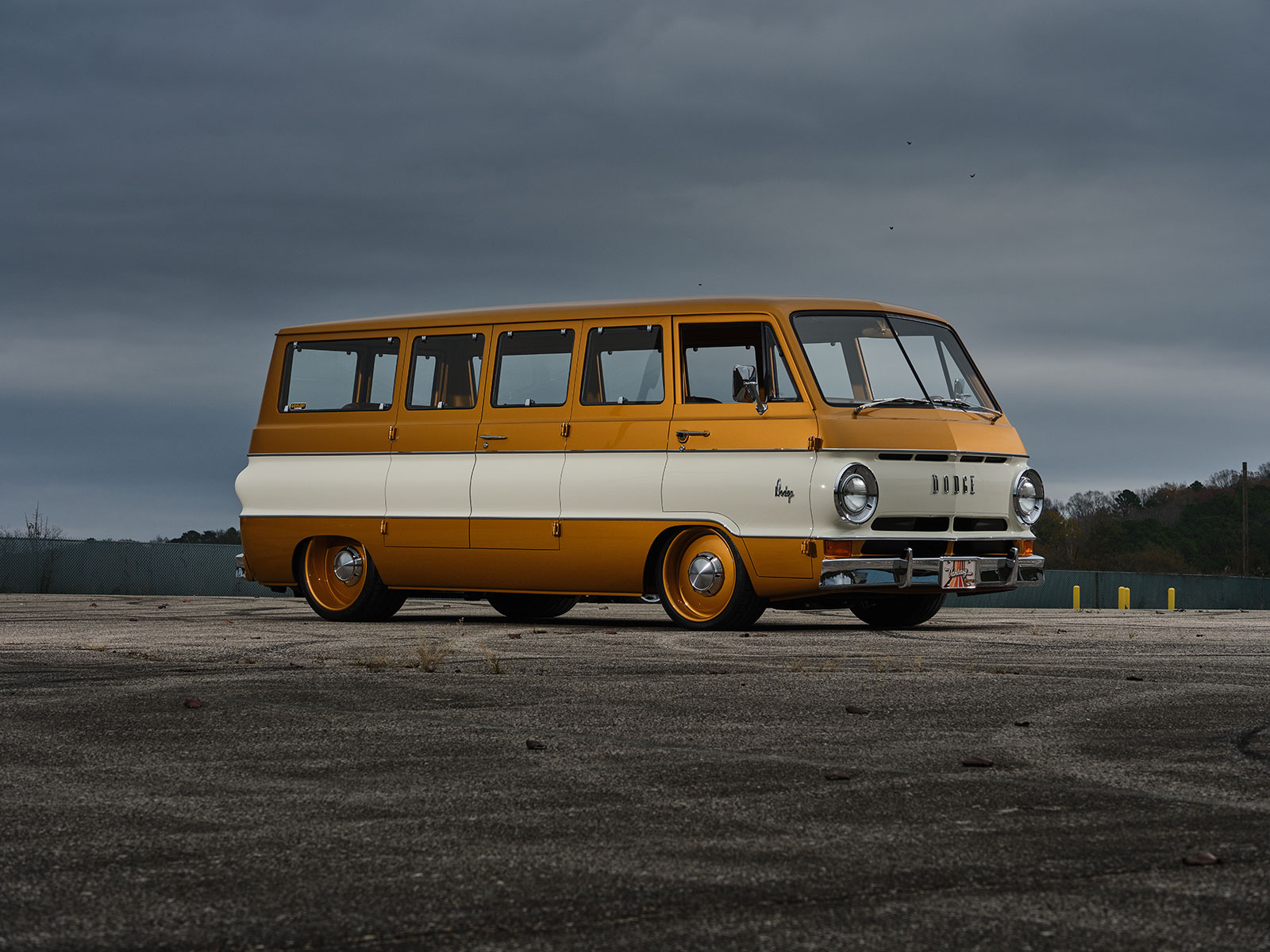 Having always collected vintage Dodge vans, Matthew wanted something different—something most people couldn't even imagine looking cool till it was finally completed. And that's where Goolsby Customs came into the picture. The once-unibody Vantasy is now based on an one-off Roadster Shop Fast Track chassis complete with Penske coilovers and six-piston Wilwood brakes concealed behind 18/19-inch Smoothies Billet Specialties wheels with Greening Auto Company custom-machined hubcaps. And opting to sway away from an old Slant Six engine, Goolsby instead dropped in an aluminum-blocked 396 Hemi backed by a Mopar Performance RFE transmission pushing 485 hp to a Strange Engineering Ford 9 inch rear end.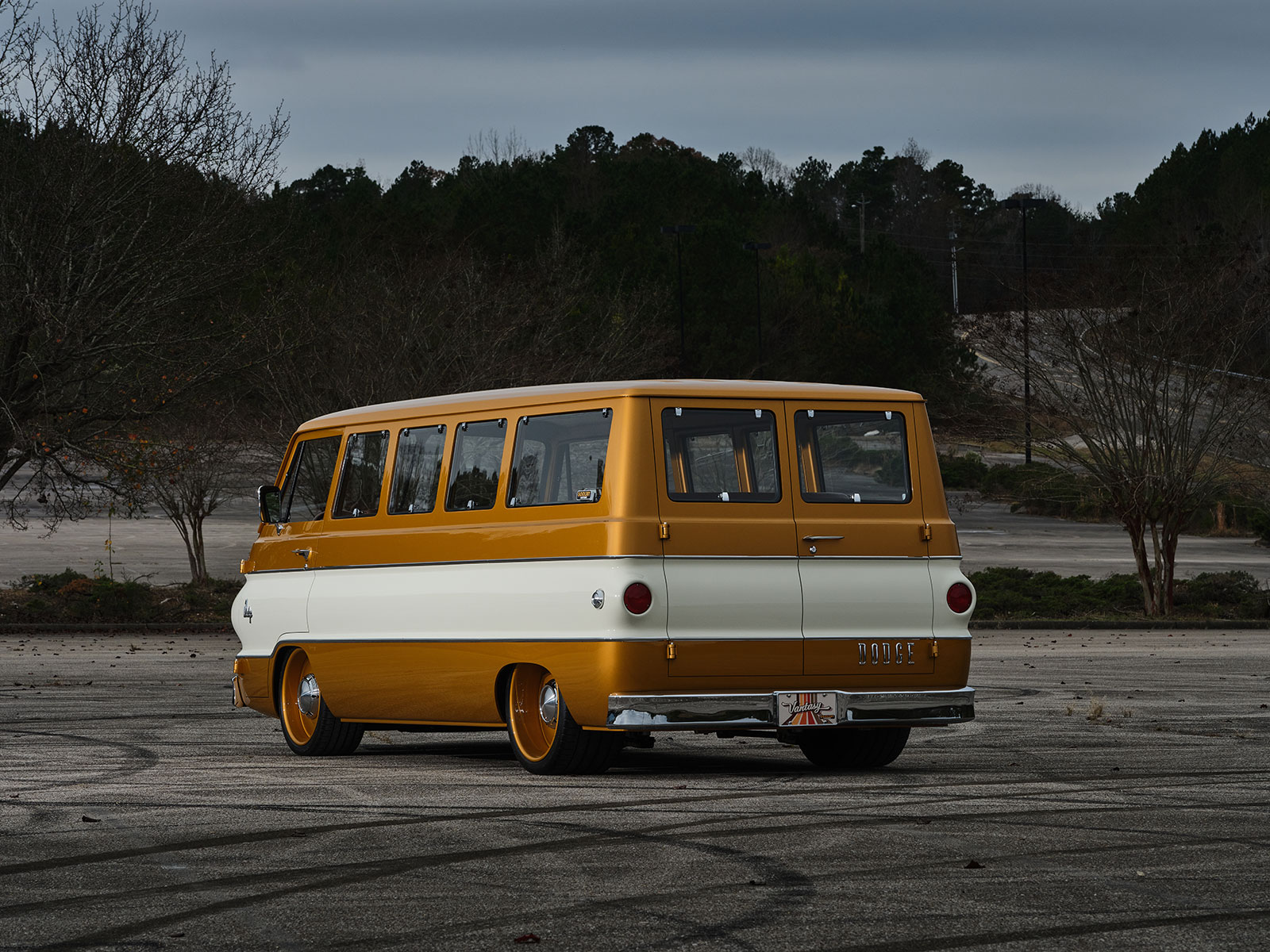 Read More: Goldilocks, Mid-'60s Custom C10
To properly enhance the A108 shell, as Goolsby put it, "We refined the body by sharpening all the lines and gaps, removed all the seams, smoothed and tucked the bumpers, and fabricated/modified window channels and interior trim to make windows pop out." Along with the aforementioned caps, Greening Auto Company also machined the custom aluminum headlight bezels while Lokar extruded the aluminum trim that Goolsby finish-shaped and used to split their amazing two-tone paint job.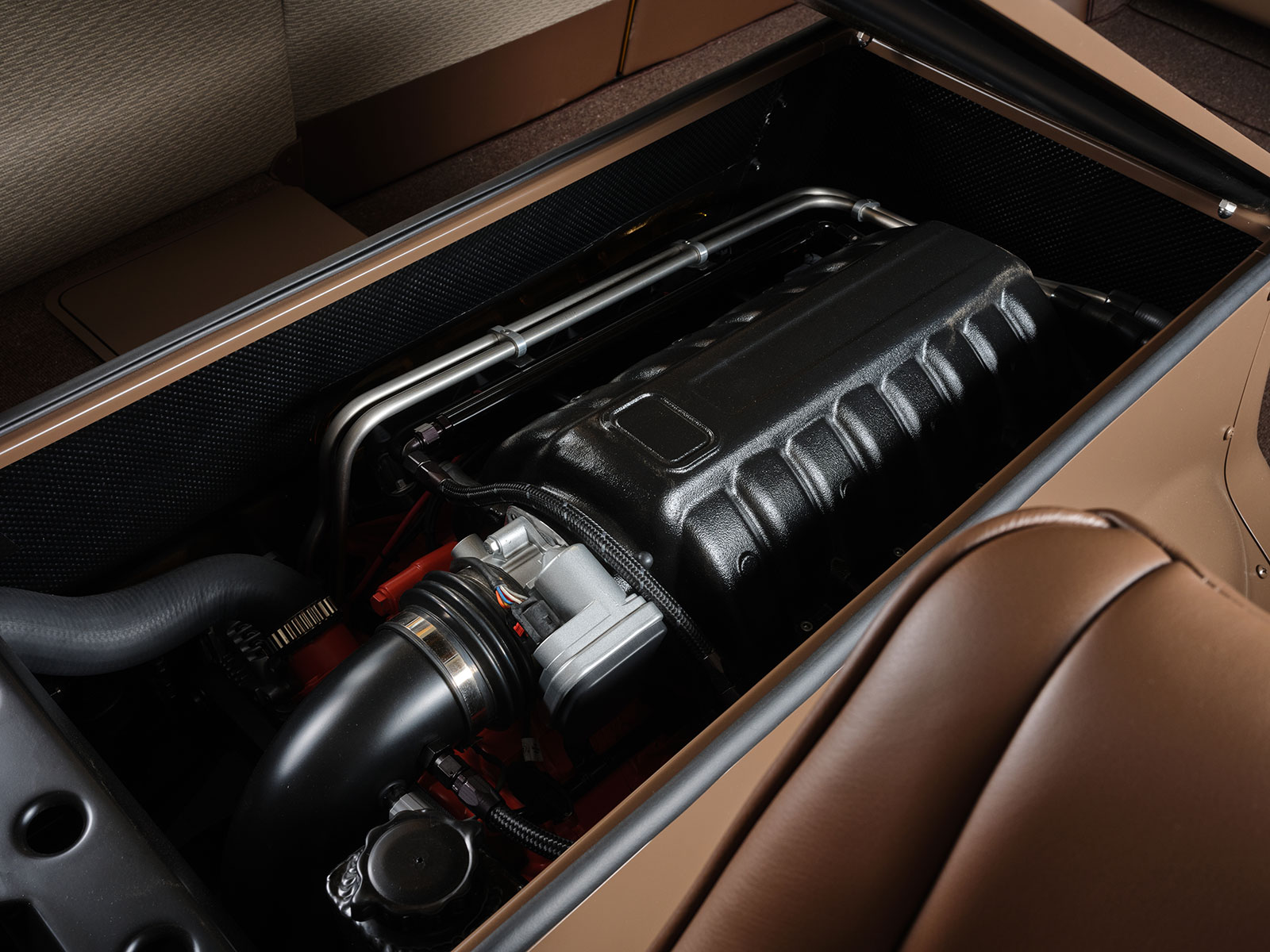 Finally, before the Goolsby crew prepared for their trip to Vegas for last year's SEMA Show, Vantasy became a van reality with a visit to Speed & Design in Joelton, Tennessee, for an exquisite upholstery job. The spacious layout now features Moore & Giles Carlyle 9bark-colored leather over the Dodge's modified seating/paneling with Douglas Aviation material inserts and mocha-colored square-weave carpet and a vintage perforated headliner. Classic Instruments' Custom Shop handled the modernizing of the factory gauge panel, a 3100 Series Sparc industries steering wheel (with custom Dodge logo'd horn button) atop an ididit steering column, dual Vintage Air AC systems were incorporated, and Goolsby powered the van using American Autowire's Highway 22 Series harness.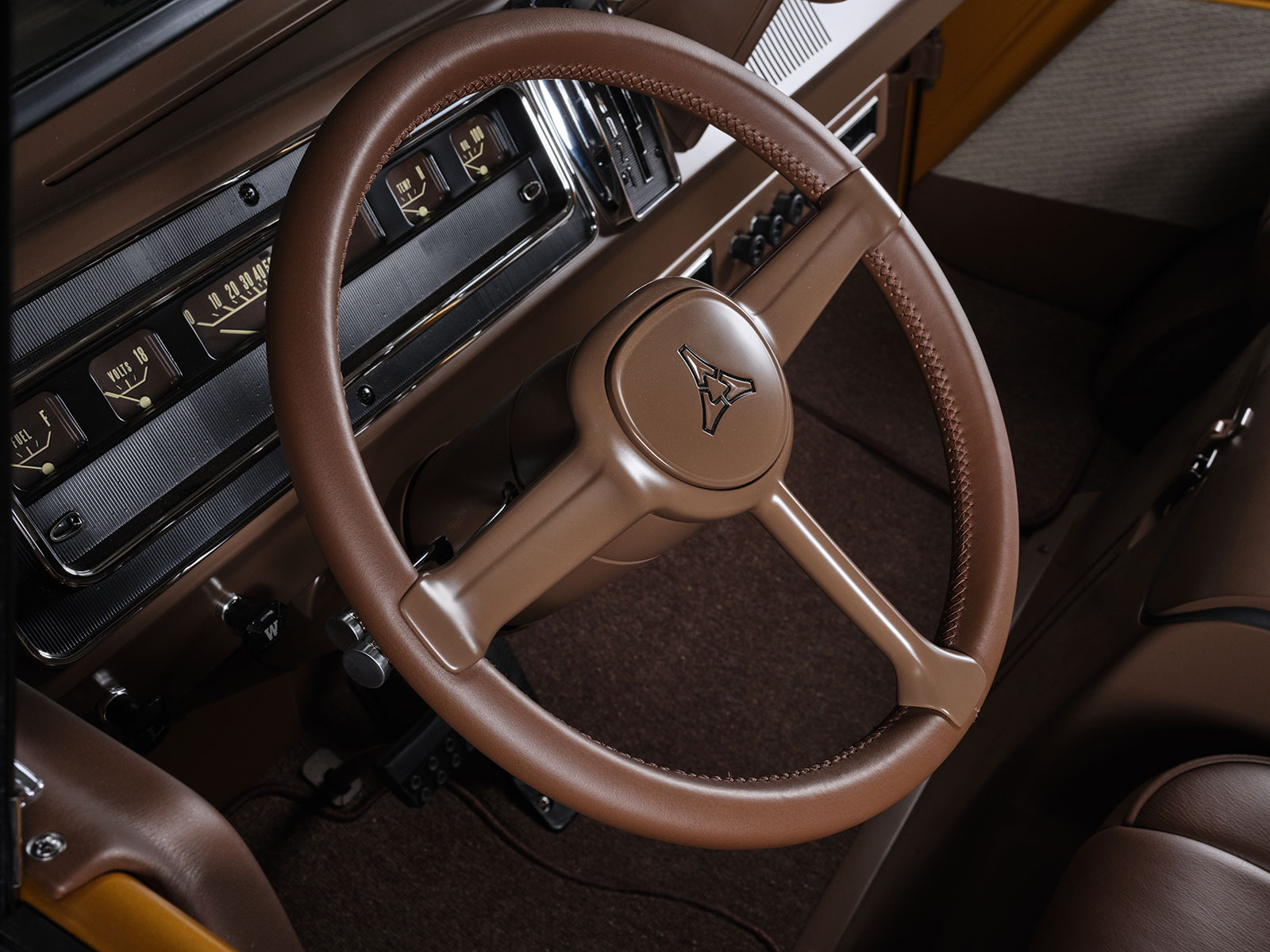 Read More: Goodguys Columbus Nationals' CK1500 Truck Giveaway
Now, while I have no immediate plans on recreating Pop's old copper metallic Tradesman, I will tell you this: Goolsby Customs has changed my opinion on customs vans with the job they did on Matthew Forst's A-Series!