Aubrey King's 1956 Chevy Is a Wolf In Sheep's Clothing
By Brian Brennan   –   Photography by Shawn Brereton
A '56 Chevy may look like all other '56 Chevys but such isn't the case within the world of hot rods. For Aubrey King, of Tennessee, he knew he wanted a '56 Chevy, his favorite Tri-Five Chevy. He also knew he wanted all the modern accessories that would turn this vintage tin into a modern hot rod rolling under traditional sheet metal. To pull all this together Aubrey, along with a number of close friends, and, most importantly, Mike Hoover of Fab-Auto, teamed up to bring this project together.
The '56 Chevy is based on a 210 Delray, and from the outside, with very few giveaways, this is a stocker. Danchuk supplied all the exterior and interior trim along with the glass and bumpers to bring this '56 together. The sheet metal at one time was impeccably prepared to accept the Meca Red (or should we say Hot Rod Red or Pull Me Over Red!). While Aubrey obtained the '56 Chevy painted it was in a "rough and dirty" condition. During the build process he has continually been buffing and polishing to bring the car to its current state. We must admit the paint looks great.
Read More: Reminisce: Premier Street Rod Built 1956 Buick Special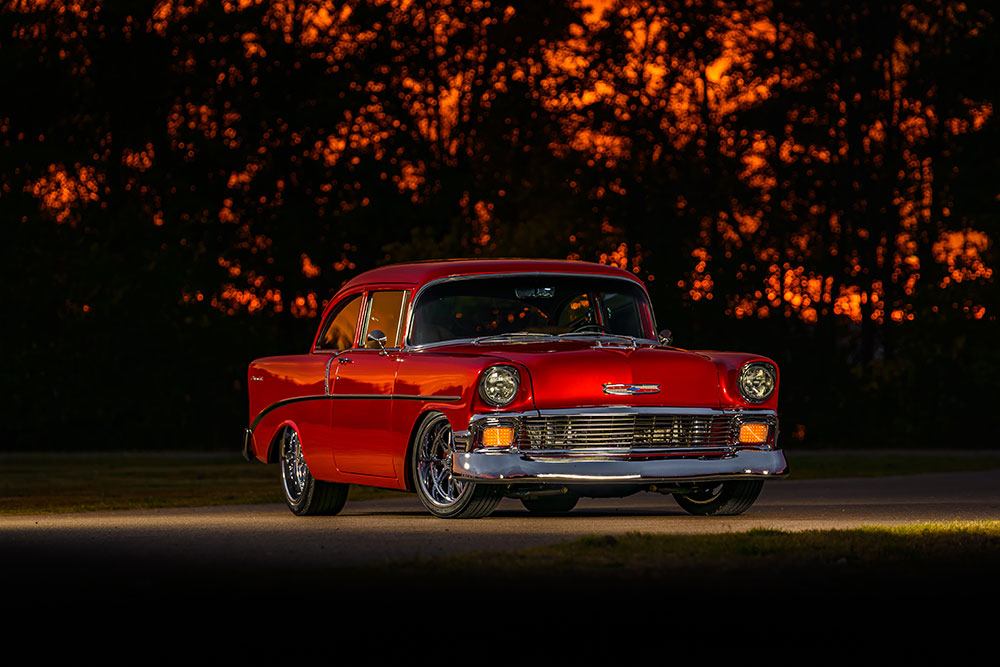 There can be no denying that the Chevy LS engine (obsolete in its own right) has taken the place of the venerable small block V8 of decades past as the powerplant of choice. And why shouldn't it? It has undeniable driveability and reasonable economy. It is both docile yet a "beast" of a V8 that can produce great amounts of usable and controllable power–and do so economically. Aubrey opted for the LS3 engine (6.2L or 376 inches), one of many LS combinations that Chevrolet Performance offers. This particular one is pushing 495 hp and is based on an aluminum block and cylinder heads. It is as Chevrolet Performance intended with its factory internals but a Speartech (the LS and LT retrofit specialists) three-wire harness, standalone ecu and transmission controller, and an rear-mounted Optima battery supplying the juice. The engine controller also handles the GM six-speed automatic 6L90 transmission with a 2,600-rpm stall speed TCI converter that is controlled via a paddle shifter.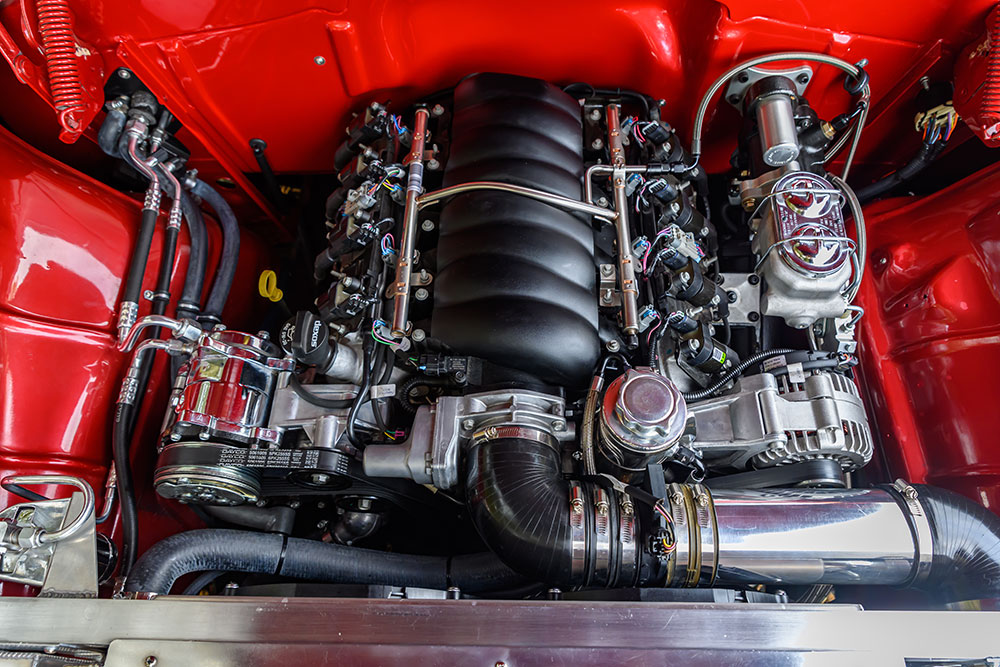 The factory exhaust manifolds were retained and then fit to 2-1/2-inch stainless pipe that exit the spent gasses through an X-pipe in conjunction with a pair of stainless Walker mufflers. The LS engine also utilizes a factory serpentine belt system, which employs the factory alternator, power steering system, and Sanden AC compressor. Cooling falls to an FSR (Four Seasons) radiator with its own pair of variable speed electric fans. There is also a Vintage Air condenser handling the AC needs.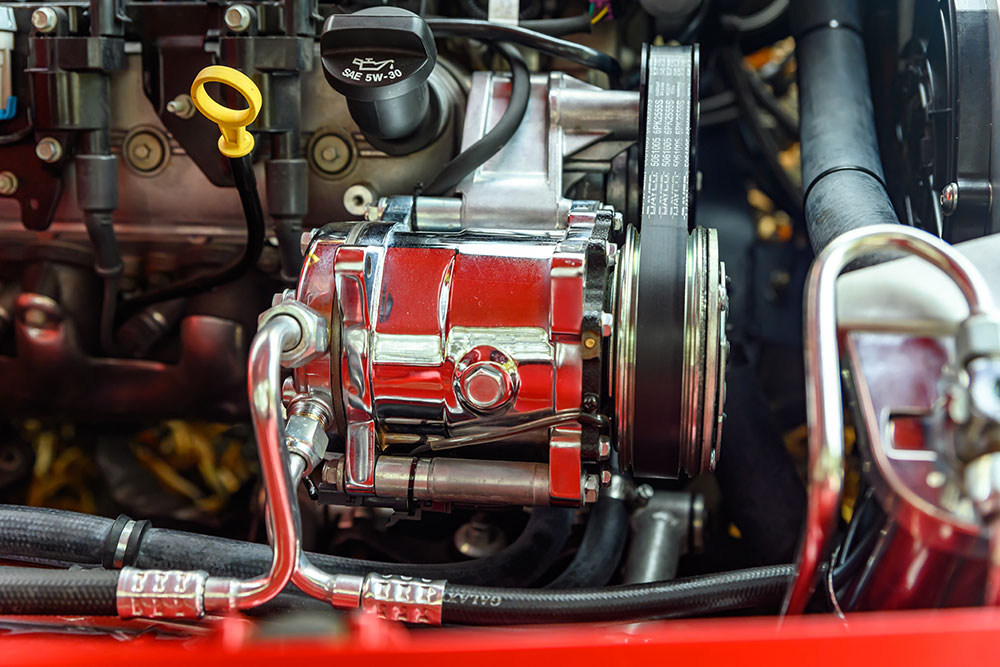 The power is moved rearward via a QA1 carbon-fiber driveshaft to a 2-inch narrowed Ford 9 inch rear end. It was prepped by John's Industries and is equipped with an aluminum pumpkin fitted with positraction, 3.50 gears, and Strange Engineering 31-spline axles.
Read More: America's Most Beautiful Roadster: 1934 Chevy Roadster
More on the suspension. The frame is an original '56 Chevy that now uses Classic Performance Products (CPP) tubular A-arms, 2-inch drop spindles, sway bar, and a CPP 500 steering box. Up front are double adjustable Viking coilover shocks. In back, as mentioned, is the Ford 9 inch rear end that is positioned by a Heidts triangulated four-link, sway bar, and more dual-adjustable Viking coilovers using pro touring springs.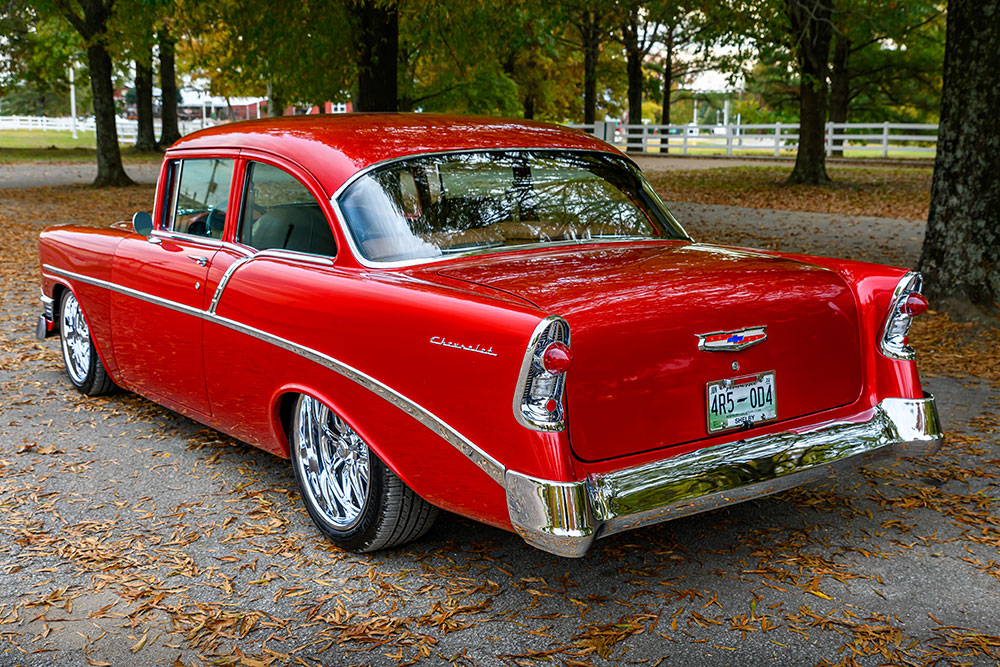 At the corners you will find U.S. Wheel plated orbs, 18s in front and 20s in back. Michelin radial rubber is then wrapped around them in 225/45R18s and 255/45R20s. More corner appointments include the CPP 13-inch drilled-and-slotted rotors in front with 12s in the rear with accompanying CPP red powder coated calipers. The brake system is operated by a CPP Hydra Stop (Street Beast) hydraulic brake assist that features an aluminum Corvette master cylinder (part of the CPP kit).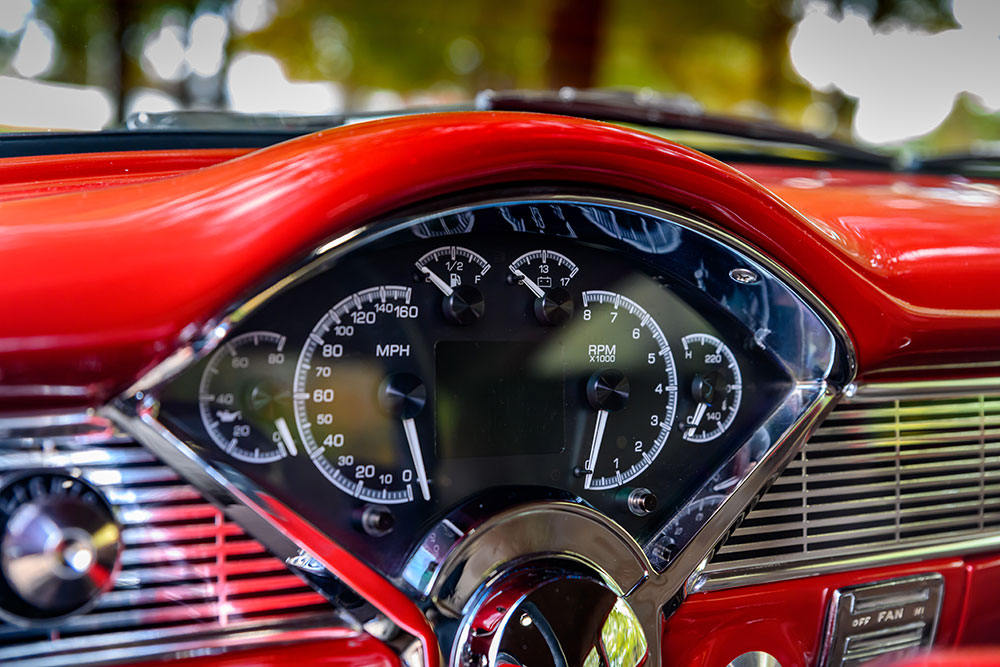 Inside, the stock dashboard is equipped with Dakota Digital gauges made to fit the stock opening. Speartech also supplied the wiring kit that ties in the hot rod's electrics, such as the Vintage Air AC system that is operated by a Dakota Digital controller. Most noticeable is the Flaming River steering column with a lever-actuated-controlled cruise control, tilt lever, and topped with one of their own steering wheels. The interior seating and other related upholstery were handled by TMI with their upholstery package. The seatbelts are from Juliano's while the headliner is a brown vinyl and the carpet is in a brown Daytona weave. The front and rear buckets with waterfall separator and built-in cup holders in a brown vinyl were all stitched into position by Cecil's Upholstery Plus. Aubrey designed and built the custom center console that houses the Speartech shifter, Watson's StreetWorks electric window buttons, storage area, and cup holders.
Read More: East Coast-Styled 1932 Deuce Coupe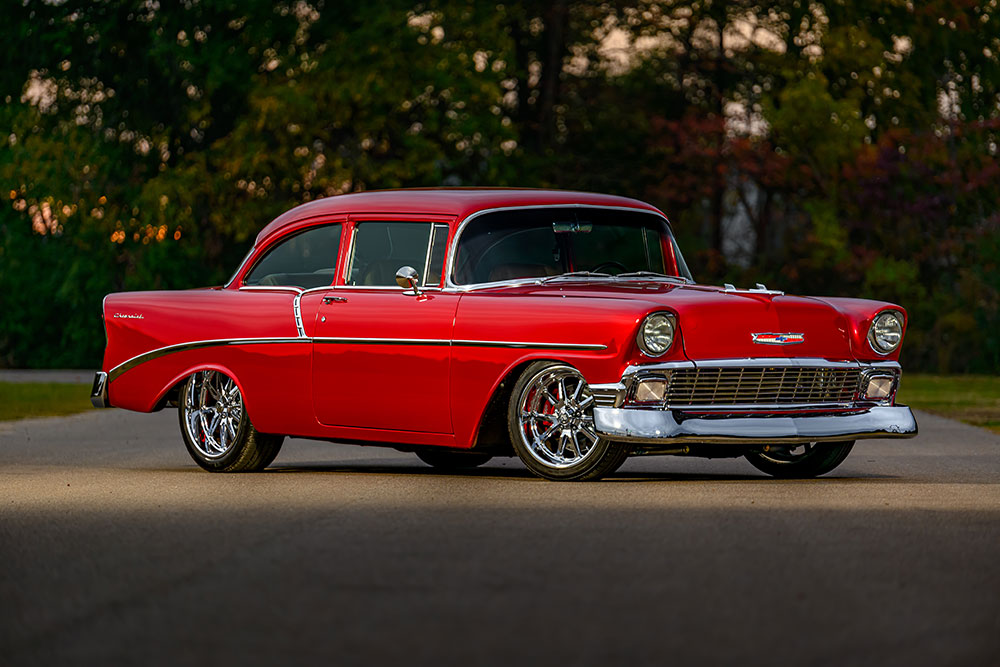 The traditional looks of vintage tin coupled with today's greatest in modern accessories makes this '56 Chevy everything you could want. It is a hot rod that looks and drives well. MR