Roadster Shop's OBS Truck With Plenty Of 80s Vibe
By "Righteous" Rob Fortier   –  Photography by John "Too Hip" Jackson
Everyone's jumping on the retro bandwagon, raving about what Goodguys Rod & Custom Association is calling the "white hot OBS": The Roadster Shop '88 C/K 1500. And for good reason—it is absolutely white hot! You've undoubtedly seen this truck already, whether online or in print, and deservedly so. I have no problem giving a little extra love when and where it's needed!
Read More: Timeless Truck: LS Swapped 1968 Chevy C10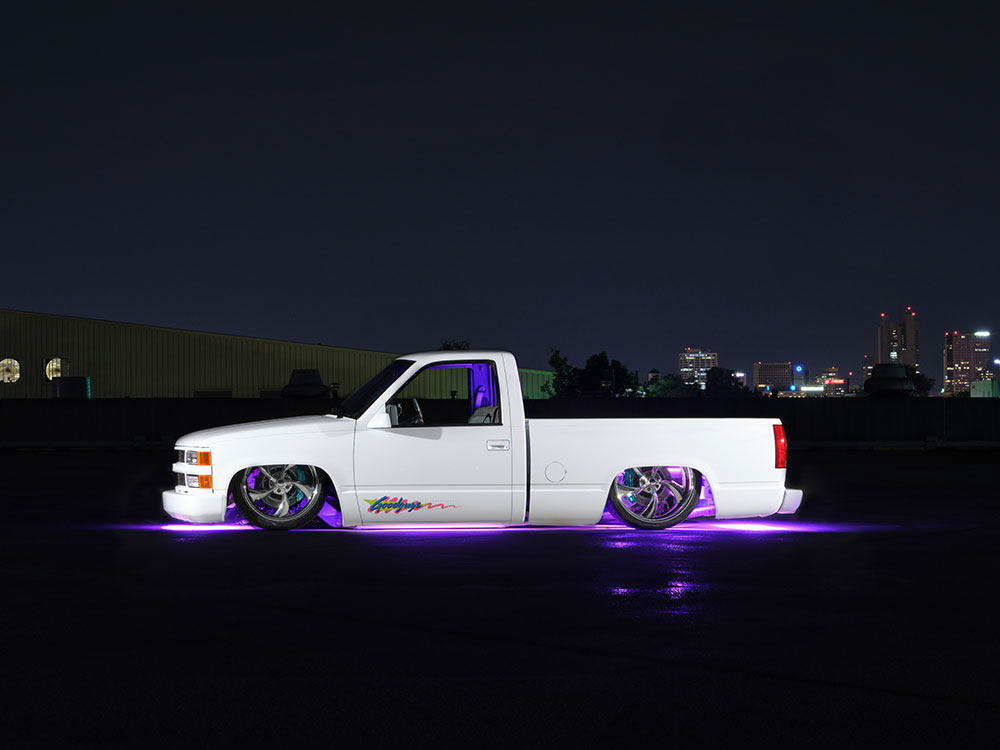 Back when I began my career in 1992, Alice In Chains had just released "Dirt," John Gotti was sentenced to life in prison, and the Chevy/GMC C/K platform was still in its infancy. And while I successfully abstained from rocking the popular hairstyle at the time (and to this day as well), the infamous mullet was still en vogue and went hand-in-hand with Jet Skis and sport trucks, both of which were popular topics of magazine content via Splash and Truckin' (two of the titles housed in the same McMullen & Yee Publishing building where I was employed). I may not have been much of a water sports enthusiast, but becoming very close friends with Courtney Hallowell, I was automatically immersed in the sport and mini-truck trends of the era. That said, when I first laid eyes on Roadster Shop's OBS Low-Pro chassis at last year's SEMA Show, well, suffice it to say, I was immediately taken back to those better times!
Though equipped with a bevy of modern components, from the Roadster Shop independent front/rear airbagged suspensions and rather large diameter Billet Specialties wheels with equally large Baer brakes, the all-white dipped platform was adorned with teal and mauve (at least I think it's mauve!) graphics, just like Richard McPeak used to decorate then-new Kawasaki Jet Skis back in the '80s! Little did I know at the time, that chassis was destined for giveaway glory in 2023.
Read More: 22nd Annual NAPA Auto Parts' Syracuse Nationals 2022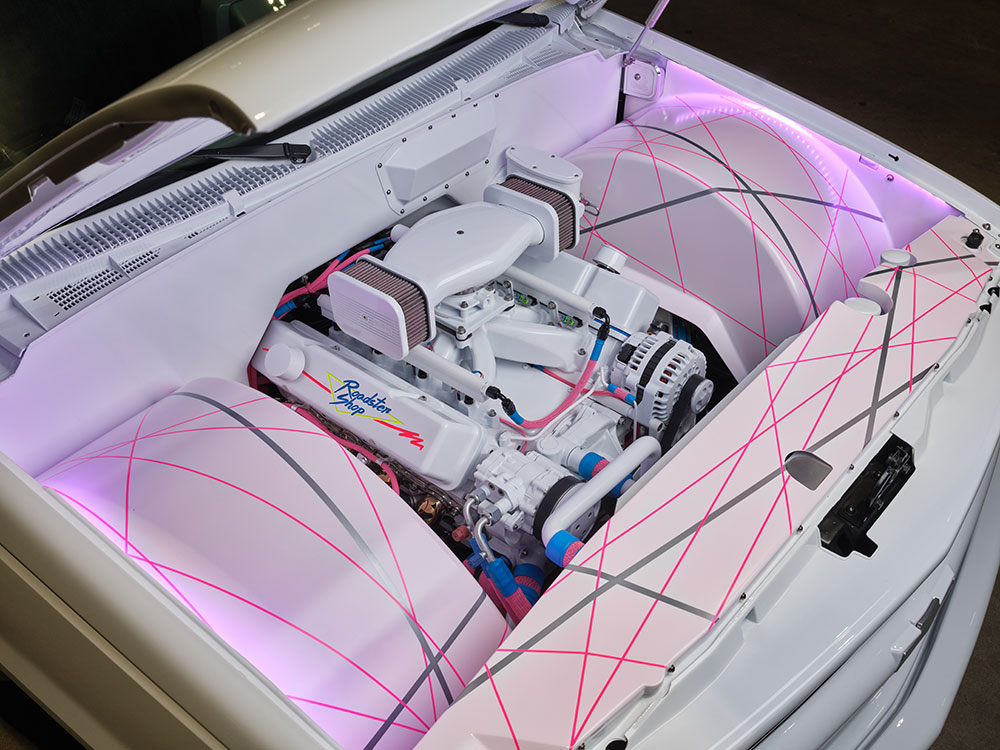 Following SEMA, Roadster Shop commenced to build an '88 Chevy beyond worthy of being on the cover of Truckin' with a scantily clad Tina New draped over the hood—and debuted it at the recent Goodguys Columbus Nationals! In one word, the truck is RAD! Period. I'd definitely clear a spot for it in my garage if it weren't for a potential conflict of interest clause!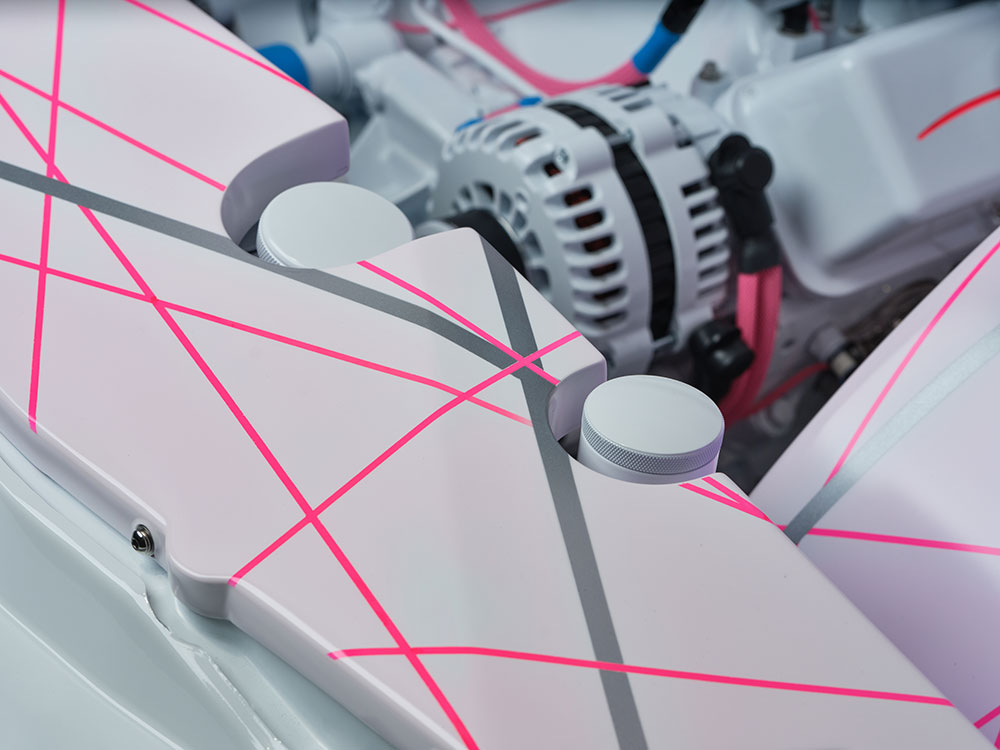 If you, however, would like a chance to win this hella trick truck at this year's Columbus Nationals (where you must be present), there are three ways to go about registering: 1. Be a member of the Goodguys, 2. Register your vehicle at any of the Goodguys 2022-2023 events, or 3. Enter online at good-guys.com.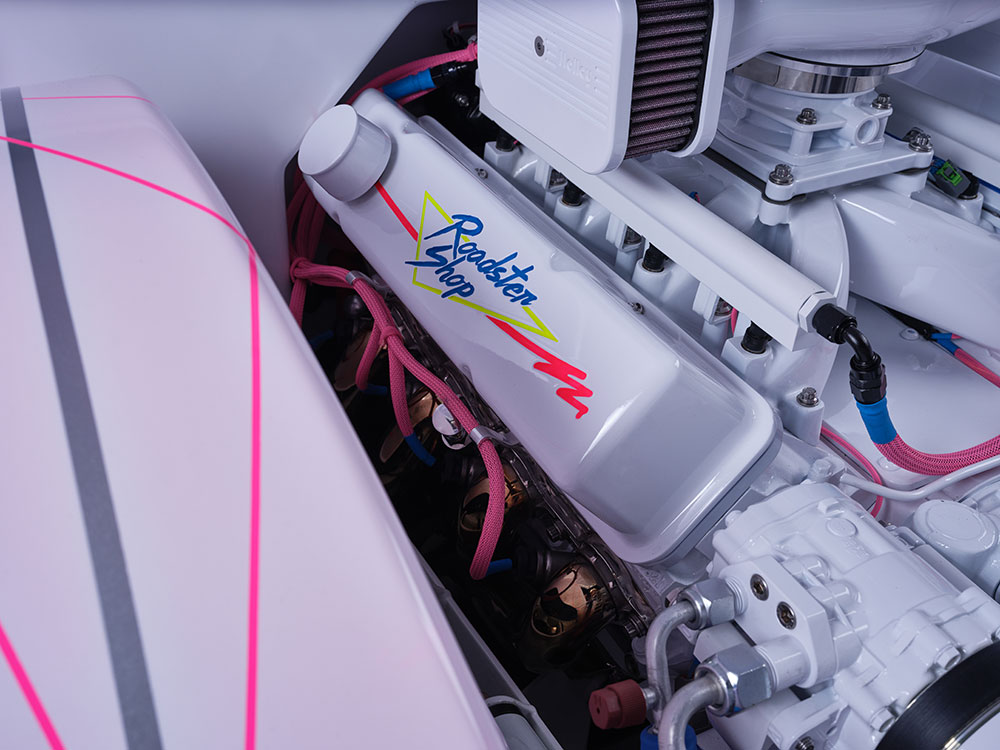 The lucky recipient will drive home an LS3 engine & E-Rod powered (equipped to meet California emissions standards if the winner happens to reside in our wonderfully regulated state) OBS that's been outfitted with the following: Bowler Tru-Street 4L60E transmission, cat-equipped Borla exhaust with Ultimate headers, full DEI insulation/sound deadening, full LMC Truck interior with custom Dakota Digital instrumentation, Vintage Air AC system, Kicker sound system, and that signature white BASF paint job with appropriate rocker graphics.
Read More: How To Remove Rust From Truck Chassis
I totally wish I were that lucky dude! Good luck to all who enter—and thank you Phil and Jeremy Gerber for sparking some truly cherished memories!