Son Builds Mom This Fleet Gray 1955 Chevy Truck She Can Ride To The Local Hot Rod Cruise-In
By Scotty Lachenauer   –   Photography by the Author
Joe Palmonari, of Dorothy, New Jersey, is one of those grateful sons who early on recognized the sacrifices his mom Sue Zanghi made for their family and has paid her back with copious quantities of love and support in return. However, he knew one day he would do something extra special for Mom. He figured out a way he could use some of his life skills to give his mom a unique gift, all while having some fun along the way.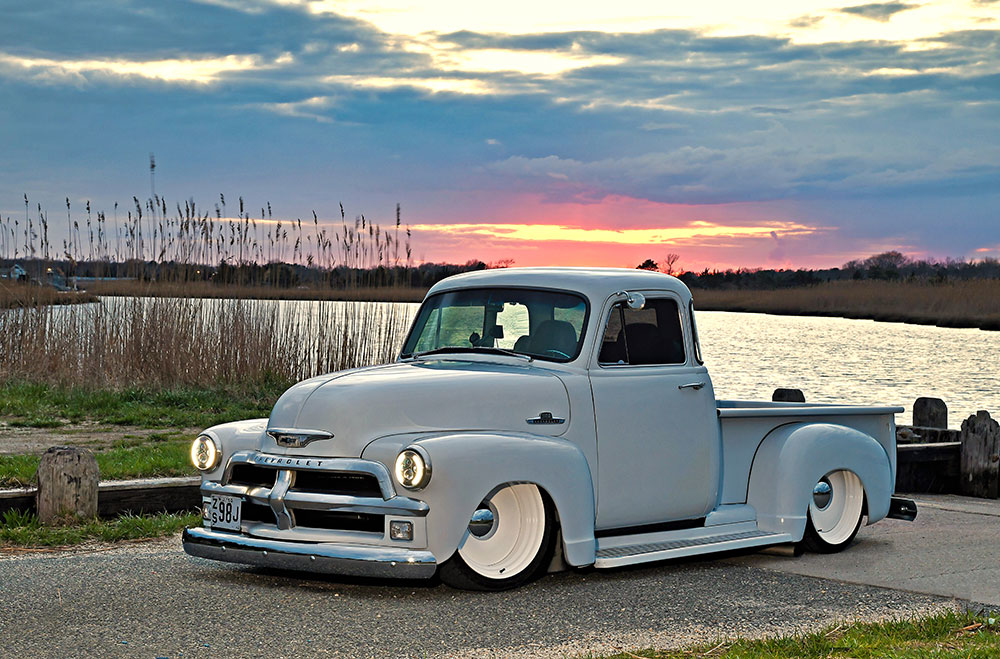 "Mom owned a tavern for over 20 years down here in Milmay, New Jersey. Once it was time to sell the restaurant, she thought about getting a classic truck that she could cruise to shows alongside her sister-in-law, Diane, who has been lucky enough to own a beautiful 1956 GMC stepside truck that's restored real nice," Joe states. He figured this would be the perfect opportunity to give back to Mom in a big way and build her a truck of her own. "I grew up wrenching on rides. I'm the oldest of two. My brother, Bob, and I, along with friend Shawn Torti, worked on whatever was in the garage. We liked lowriders, with airbags and turbos especially. I thought about it and really wanted to do this for my mom."
Mama Said
Plans were then made to find a suitable starting point for Sue's project truck. Joe didn't have to go far to find what he was looking for. "The truck was just a few miles down the road. It was a 1955 Chevy five-window cab that had the floors cut out. The cab corners were also rotted a bit. It was sitting on a 118-inch S10 frame with a stock four-cylinder motor, 4L60E transmission, and the stock rear end. Turns out the frame was once owned by Mom's great-uncle Matt, so this pile of parts had some sentimental meaning to us. Due to that fact alone, we knew we had to resurrect this ride and bring it to a whole new level," he says.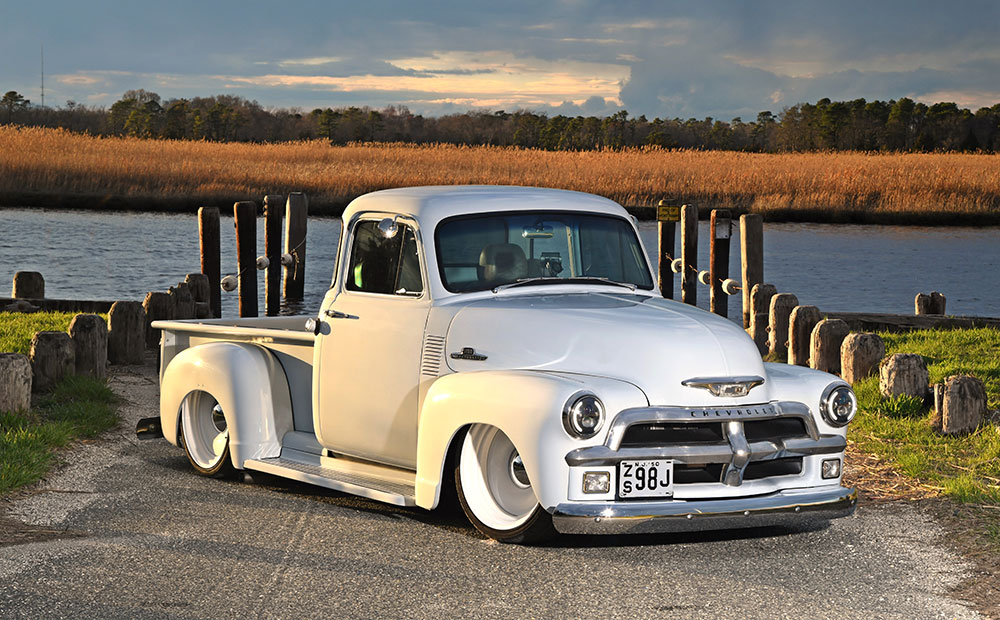 Read More: Edog Design's Traditional Lowrider Truck Goes Hard in the Paint
Once back at the garage, the Chevy truck started its metamorphosis. "Mom gave us a base budget, but that went right out the window. I told her that I was gonna build her a badass, turnkey ride no matter what, and we got to work." The body was separated from the chassis and set aside. "We decided to install a Code 504 conversion kit to the S10 frame to fit the 1955 cab properly," Joe says. These kits come with everything you need to convert the S10 frame rails to accept 1955-59 body. This includes the crossmembers, front and rear box mounts, and the correct motor mounts for your application. The frame was a 118-inch long bed so it needed to be trimmed down to fit the new wheelbase. The completed chassis was then epoxy coated and readied for some choice add-ons.
Suspension options abound for this S10 boned buildup and Joe put some heavy thought into choosing what was best for the Chevy truck and his mom's driving style. To get the truck to sit where he wanted it, the choice was made to install a bagged suspension system. Matt Gyles, of Haggard Fabrication out of Vineland, New Jersey, did the install, using air-ride 2,600-pound bags at the corners. Vintage Air supplied the compressors and tanks that supply the lift, and it's all controlled via an Airlift 3P suspension management.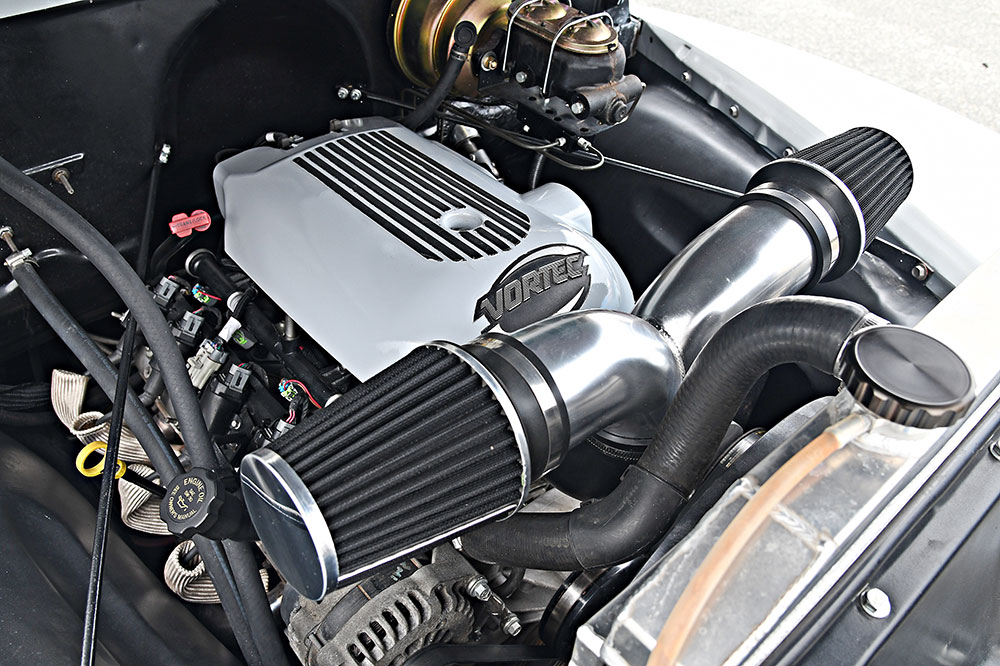 A three-link kit was sourced from Thorbros out of San Francisco, Indiana, and installed out back. The rear is a Chevy '02 ZR2 from a donor S10. It was built to handle plenty of power and then stuffed with 3.73 gears. To bring this truck to a halt, Joe decided to install S10 disc brakes all around. For the look he was after, a set of 22-inch Detroit Steel Wheels with chrome caps give this vintage ride a modern flair. They are shod in Durun tires 265/30ZR22 all around.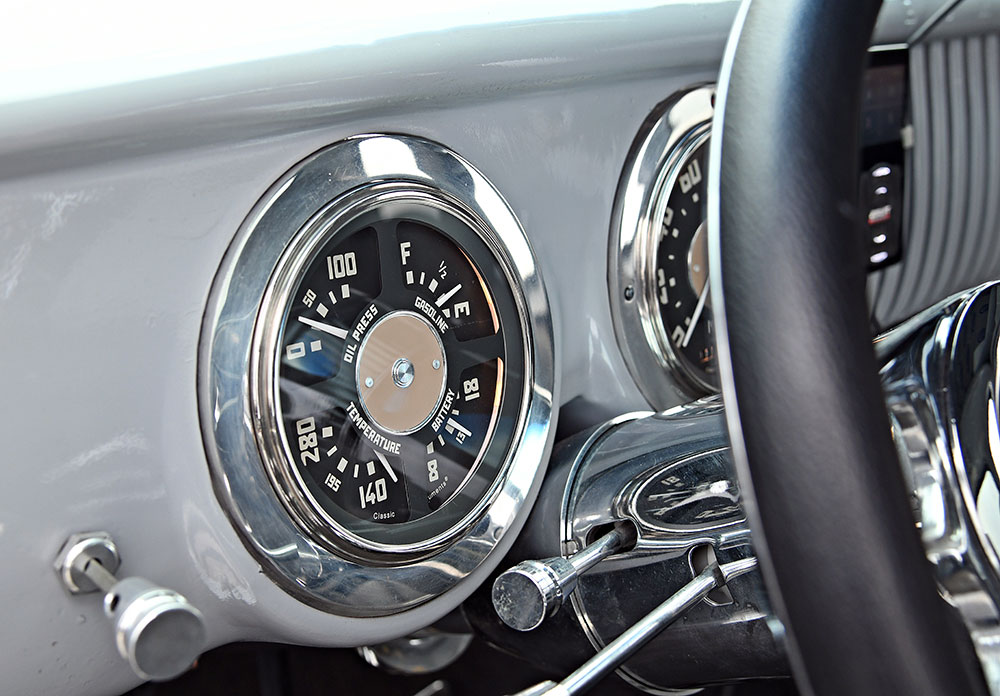 As far as the body goes, this old truck needed some love. "Mom bought a lot of parts. Two new front fenders and running boards. The floor was repaired along with the cab corners. Out back she bought a brand-new Mar-K bed with an 8-inch raised floor for more suspension travel and to work with the C-notch we put in. All the bodywork was done by Carl Haserick and Joe Burns out of Two Weirdos Garage in Estelle Manor, New Jersey," Joe states. Once the body was up to snuff, the truck was blasted in Fleet Gray by Bruce Dehaven at Dehaven's Hot Rod Repair Shop in Minotola, New Jersey.
Read More: How To Install American Autowire Harness On Your 1969 C10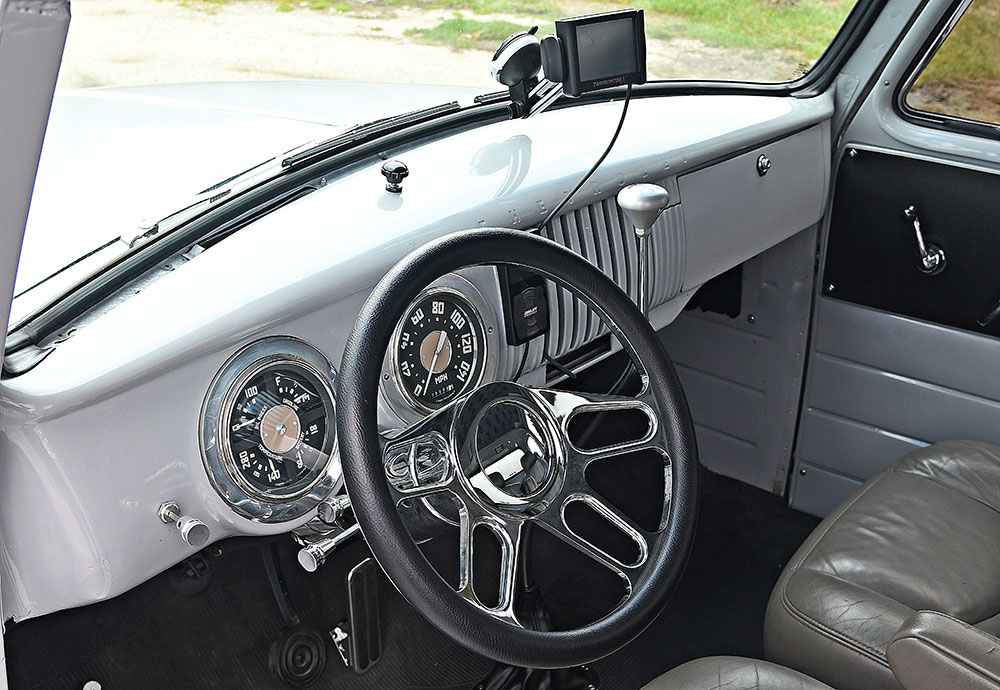 The motorvation of this here ride is nothing to sneeze at either. For the pickup-propellant in this case, Joe dug deep and rounded up a built 5.3 Vortec. To many knowledgeable gearheads, this engine could possibly give you the best bang for your buck in this economy. Either way, it makes a great powerplant for this old  truck, and that's what matters. It's set up with a Holley Terminator X Max along with a fresh wiring system from American Autowire. A 4L60E transmission, sourced from an S10 does the shifting.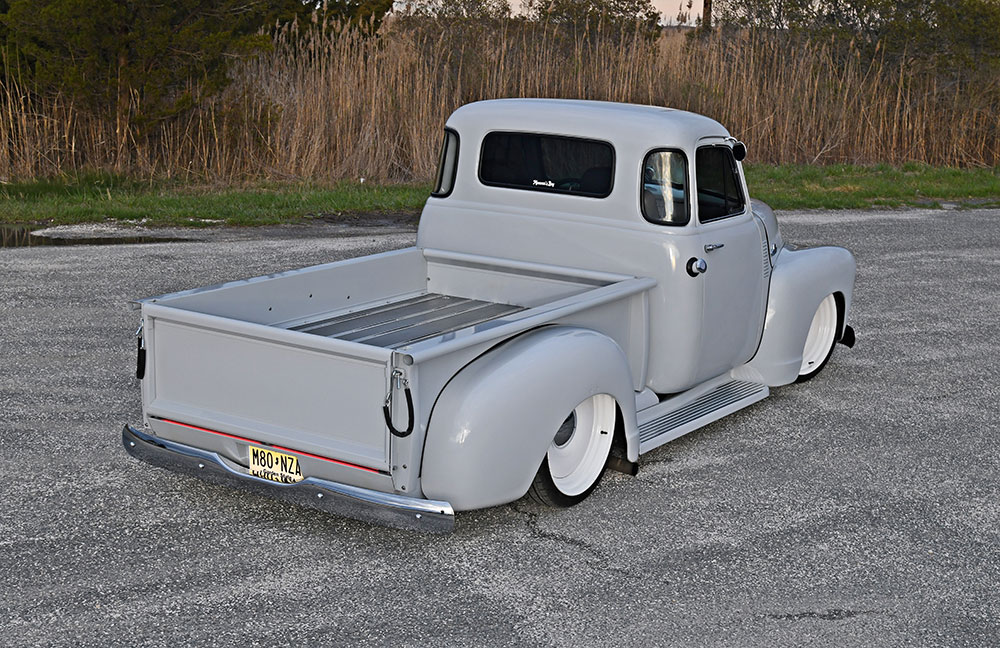 The interior was upgraded by adding a fresh coat of Fleet Gray to the metal. From there, Classic Instruments gauges were installed in the dash. As for the seats, Mama wanted a modern, power-optioned captain's chair to "captain her new ship" around town. So that's what she got. They were sourced from a '05 Silverado (owned by cousin Nick Zanghi) and they blend right in naturally with all the grays. Joe finished it off with a Lokar shifter, tilt ididit steering column, and matching billet steering wheel to bring it all together. Mom also put her own hands to work on her new ride. "She jumped right in and helped out when we needed it. She stained the wood out back before we installed it in the bed with stainless parts," Joe states.
 Mama Mia!
Joe realizes that this "rags to riches" build couldn't have happened without the help of the two old-timers, Joe Burns and Carl Haserick, at Two Weirdos Garage. "We even made our goal to drive it the 300 miles to the Dead Man's Curve car show last August in Mahwah, New Jersey. We did that with no issues there or back," he says.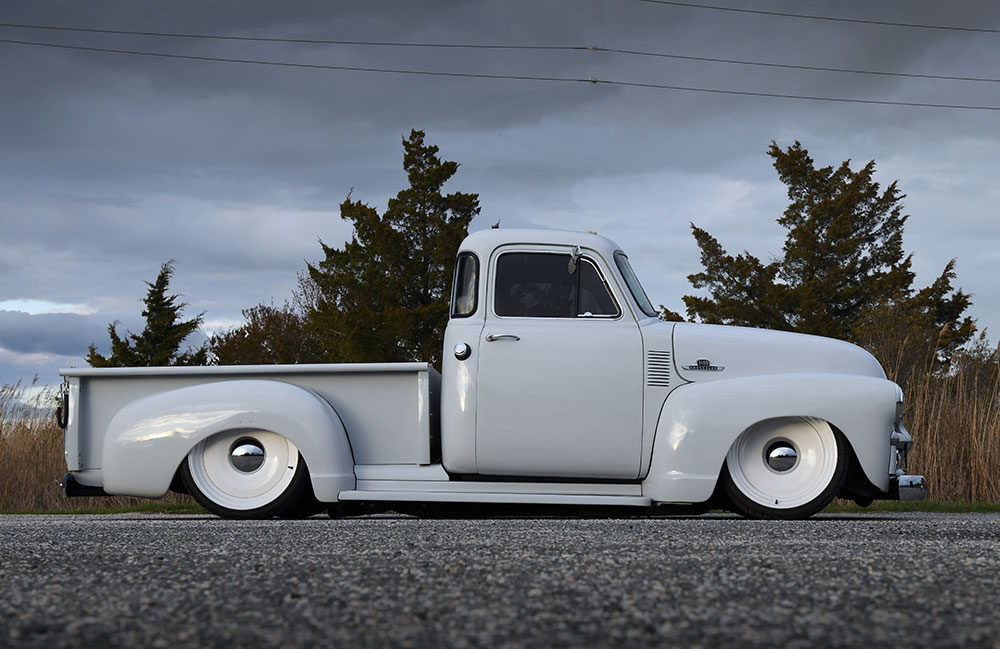 After a year and a half of building this beauty, Joe and Sue can now look back in amazement on how quickly it all came together. "Joe and his friends did an awesome job. They worked hard and did their homework and pulled all this together for a new but old build," Sue says.
With its modern stance, ample power, and smooth-as-silk color palette, this Chevy Truck is an eye catcher wherever it roams. And mama Sue totally agrees, without a doubt. "This truck was exactly what I was looking for, with all the added bells and whistles. I enjoy driving it and watching all the heads turn as I pass."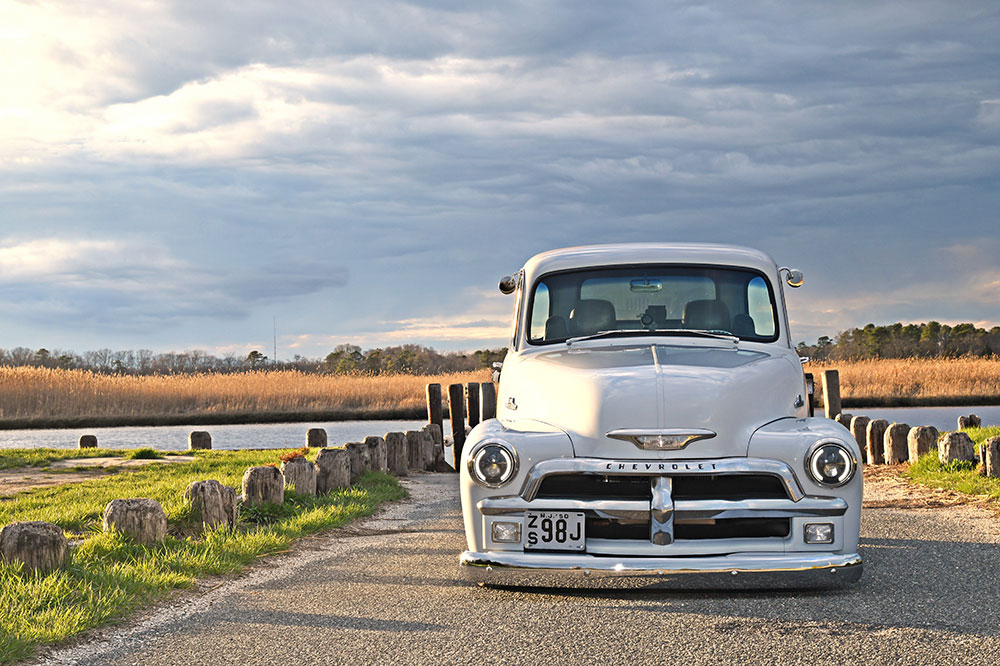 Read More: Coilover Buyer's Guide For Classic Trucks
A round of thanks goes out to all those who helped along the way. Special shout-outs go to Carrie Palmonari and family, and Joe Burns and Carl Haserick for making it all come together. Of course, this wouldn't have happened without mom herself, Sue, for being both the inspiration and recipient of this fine build.