1957 Ford Powered by a Supercharged 5.4L Modular Engine
By Brian Brennan – Photography by John Jackson
Doyle Thomas out of Texas is no stranger to hot rods of all years and makes. This time around he wanted something that was subtle to the eye yet potent when ordered. According to Doyle, "The car had to appear simple and plain and could slip through the night without drawing too much attention. Yet it had to handle the roads and definitely had to have enough power to motivate it when needed!" This 1957 Ford Custom is more than capable of fulfilling its bill of lading. According to builder Mike Rutter of Rutterz Rodz in Bristol, Tennessee, he knew exactly what was needed.
In the beginning, the 1957 Ford Custom came from a Texas-based friend of Doyle's and had been socked away for years in a barn. Yet it was Doyle's first remarks upon seeing the car that should give you a clue as to its condition. "You didn't tell me the barn had no roof!" The 1957 Ford suffered from an abundance of rust that had ravaged the floorpan, trans tunnel, firewall, rear wheeltubs, and trunk. But there was more, as the bottoms of the fenders, rockers, and doors also suffered the wrath of rust. Fortuitously, these components were to undergo replacement or modification as the plans called for an Art Morrison Enterprises chassis to be slipped under the artist-inspired sheetmetal of Eric Brockmeyer.
Check Out: 1957 Ford Custom Powered by a LS3 That Looks Surprisingly Like a FE V-8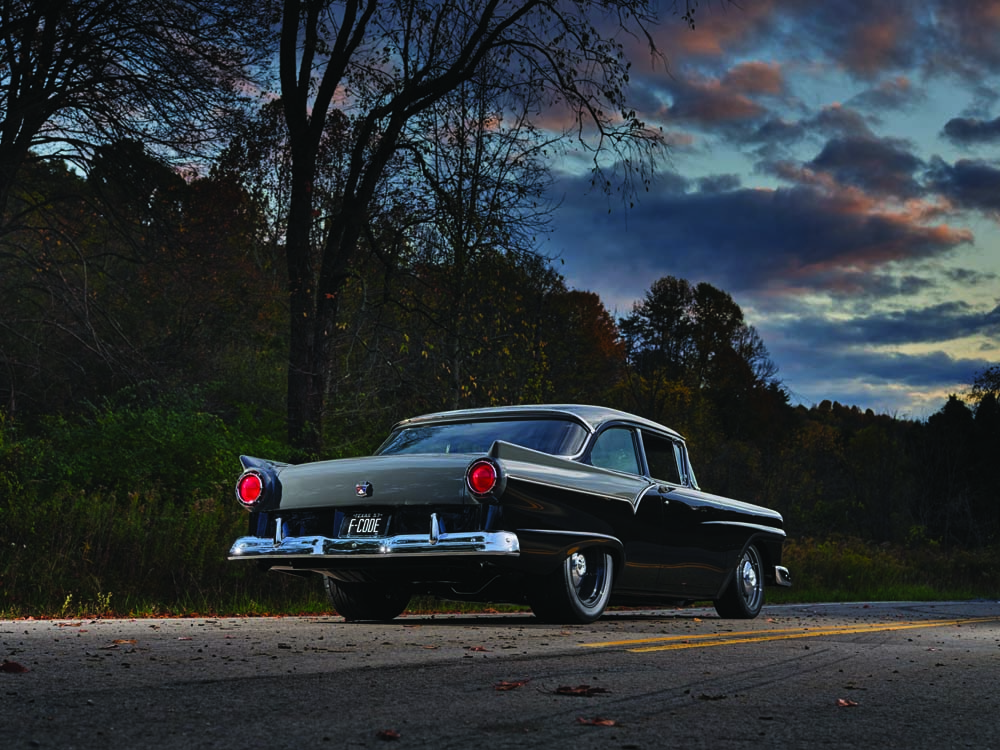 We have chosen to refer to this hot rod as "Moonshine Runner" and, as such, a bit of history on the moonshiners of the past is in order. Many of us have some, if limited, knowledge of these oftentimes-colorful drivers and their cars. I'm guessing when all of us hear "moonshine car" we conjure up a 1940 Ford shod with oversized rubber, its deepened trunk, hefty commercial leaf springs, a beefy rearend, and as much power as could be squeezed out of an ol' Ford Flathead. Yet it was these young men who learned what it meant to drive "wide-open throttle" on country roads, setting the groundwork for a world of performance to come. A healthy dose of youthful testosterone, fearless mental and emotional makeup, and little regard to what might happen should things go awry made these drivers and their cars legendary.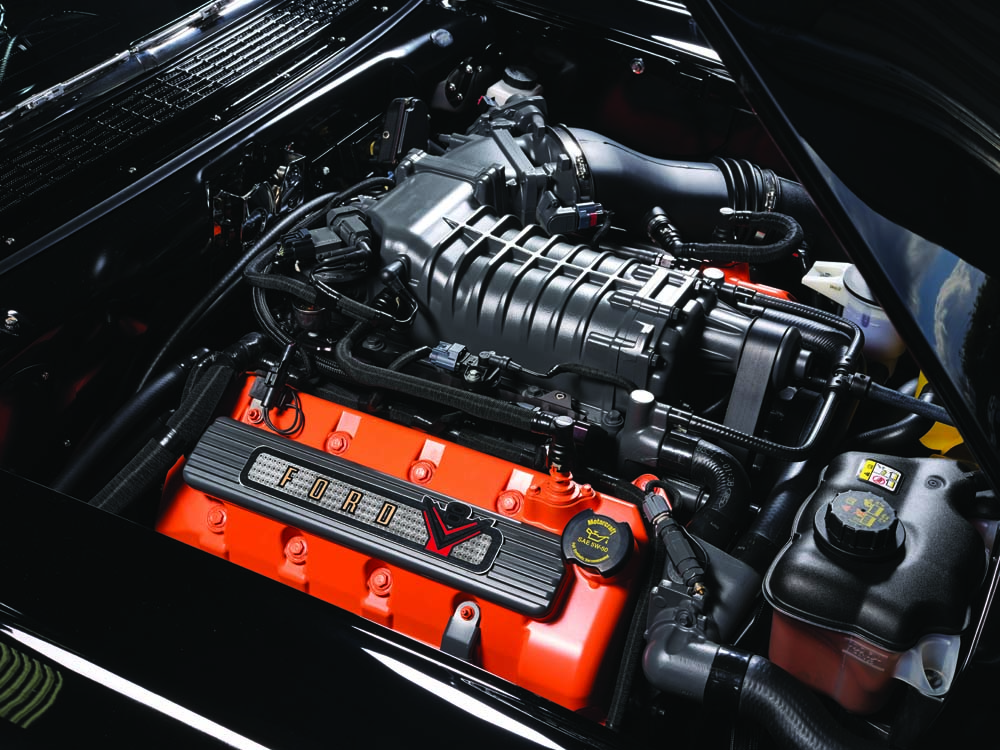 It was in the '30s that the moonshiners ran their whiskey cars during the week and would then find themselves making deliveries to the local dirt track where they would sell and then race their mean machines. In the founding days of NASCAR many a team owner began their racing careers driving the backroads developing those driving skills. According to NASCAR Hall of Famer Curtis Turner, who began his moonshine runner career at the age of 9, "Stock car racing had its roots in Appalachia where the making and selling of homemade whiskey provided financial salvation for the very poor farmers of the Great Depression."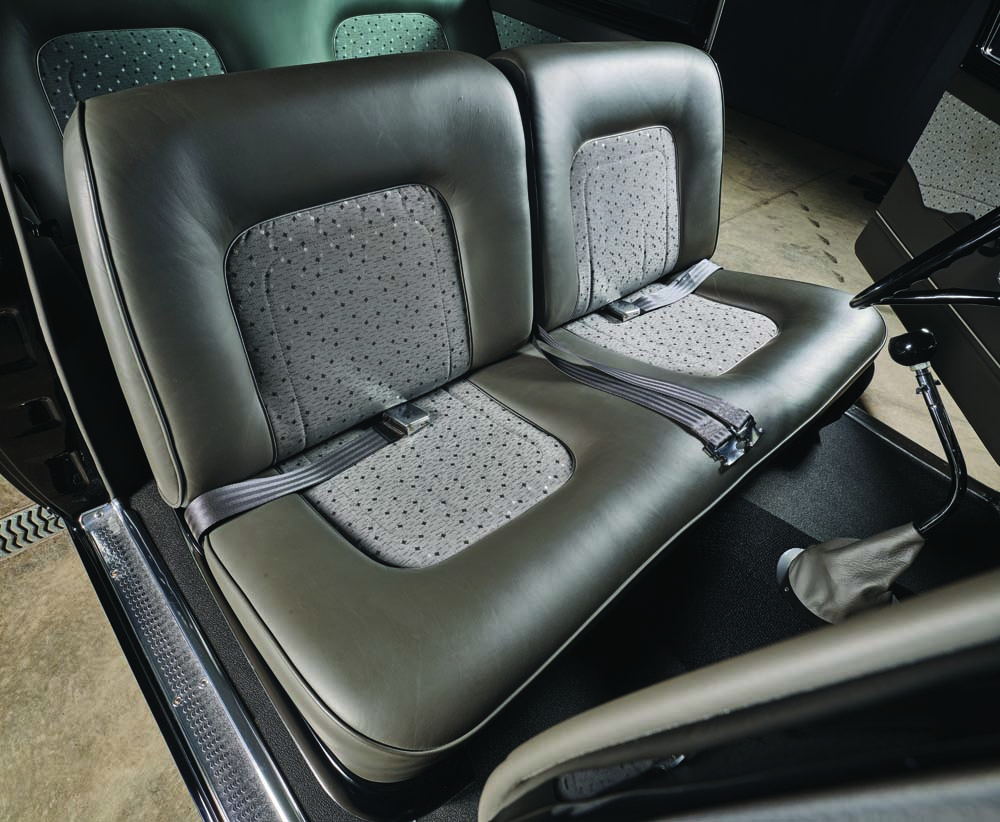 The earliest conversations between Doyle and Rutter revealed to them that they were embarking on building a modern-day interpretation of the rare 1957 Ford "F-Code" car. For the record, the original Ford F-Code car, the 1957 Ford Custom 300, was (and is today) a rare one as most F-Code cars were Thunderbirds.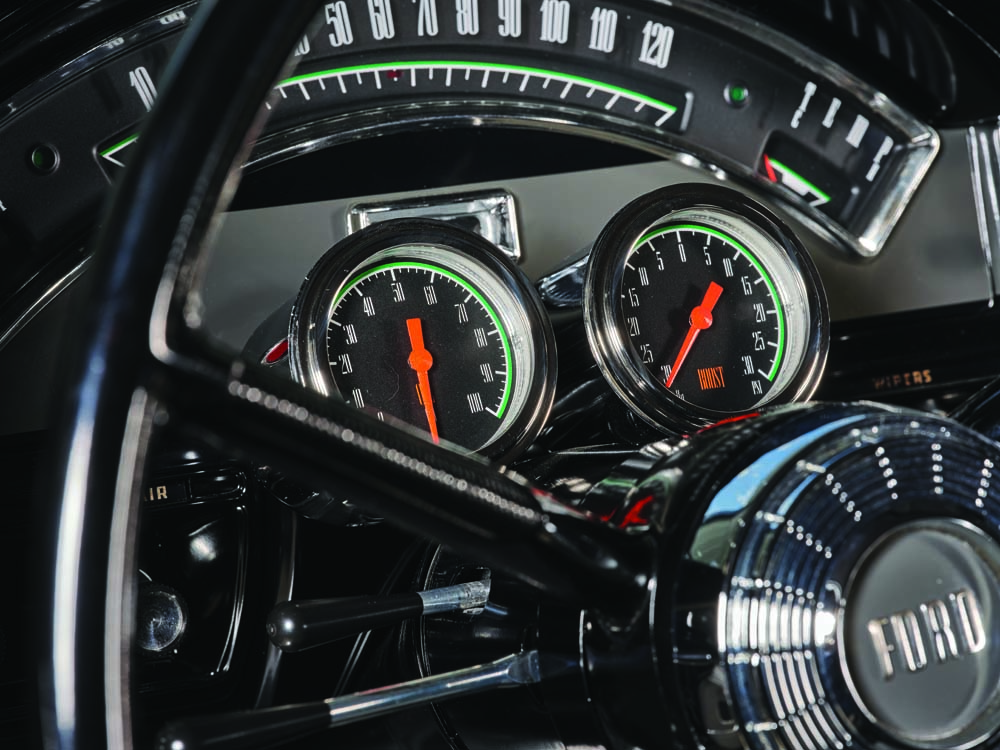 The 1957 F-Code cars, 251 of them, were built for NASCAR and were about 1,000 pounds lighter than a production car as they were sold without bumper guards, armrests, sunvisors, and on some the dashboard were deleted. (We've heard of "radio delete" and "heater delete" packages but this takes it to record heights.) Oftentimes referred to as a "short-trunk car" these Ford Custom 300 bodies were built to be as light as possible and then integrated with a belt-driven McCullough supercharger now sitting on a 312-inch Y-block cranking out a factory-spec 300 hp. They were built to beat the Chevys and Chryslers during the earliest days of NASCAR.
Check Out: Shop Truck or AMBR Contender?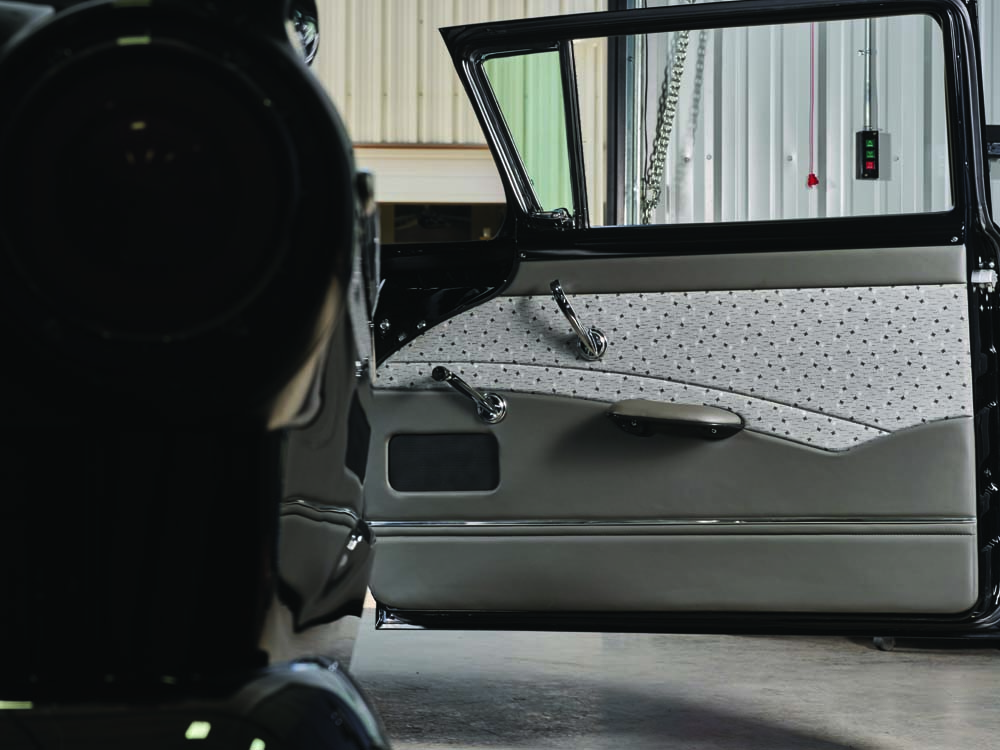 Back to present day, Doyle and Rutter have used the GT 500 drivetrain on earlier builds and they soon realized this was the perfect choice for their modern-day presentation of a 1957 F-Code short-trunk street machine. To be specific, the drivetrain came out of a 2012 Mustang displacing 330 ci (5.4L) supercharged Ford modular V8. The all-new aluminum V-8 produces a factory-rated 550 hp and 510 lb-ft of torque while coupled to a TREMEC six-speed to move all of that power back to the rear wheels. A Ford flywheel, twin disc clutch, and pressure plate are employed to handle this power.
Both the engine and trans package are located by Art Morrison Enterprises mounts and crossmember furnished with Energy Suspension polyurethane bushings. The factory exhaust manifolds now connect to 2-1/2-inch custom mandrel-bent tubing that draws the spent gases rearward to a pair of Flowmaster mufflers. Speaking of gas, a Tanks 17-gallon tank is used to hold all of the modern-day go-juice—no alcohol here—well at least not that kind of alcohol! More GT 500 engine compartment appointments can be seen in the radiator, fans, recovery tanks, and plumbing, as this was all retained to give the build its present-day 1957 F-Code appearance.
To further enhance its vintage appearance the car was fitted with F-Code instrumentation addressed by the specialists at Classic Instruments while a Flaming River tilt column, now topped with an N.O.S. steering wheel, is bookended with a pair of Classic Instruments custom supercharger gauges plus a dash-mounted custom face tach. You can't see it in the photos but the custom-face tach has the "Thomas Hot Rods" logo featured. We are dealing with a three-pedal car, while you will note the faux Ford four-speed toploader shifter as it conceals its purpose as the TREMEC 6 speed shifter.
In the continuing effort to pay homage, the current power windows are disguised in their operation via manual crank handles. No radio or heater delete on this contemporary F-Code as the original radio, complete with the CONELRAD red diamond dial displays set at 640 and 1240 kHz was revised with modern electronics by R&B Vintage Audio with additional Bluetooth capabilities. Memphis Audio came through with amps and speakers to boost the sound. As for cool climes how about a Vintage Air system, including rear A/C, where the controls are hidden beneath the dash along with the air registers—you can still see the original dash-mounted heat and vent controls.
All of the wiring comes by way of an American Autowire system massaged and put to work by Rutter. The fore and aft bench seating, with custom belts, is straight out of 1957 stitched with N.O.S. Ford Custom cloth inserts, seats, and door panels, while the remainder of the seating is in gray leather all neatly crafted by Paul Atkins Interiors. To further the correct F-Code feel a rubber floormat was used instead of carpeting.
While the body appears to be 1957 the discerning eye will tell you that the bodylines were meticulously straightened, gaps evened, a custom floorpan, transmission tunnel, the custom firewall and inner fenders, the rockers (smoothed and slightly widened), and the decklid lengthened to match the quarter-panel edge were all methodically fashioned. The custom wheeltubs were bent into shape by Shawn Taylor. The painstakingly executed bodywork was handled by Johnathon Tolley of Rutterz Rodz before Rutter himself sprayed on the Axalta SuperJet Black with Lead Foot Gray applied to the top and upper rear quarters.
This modern-day hot rod rests on an Art Morrison Enterprises chassis based on the factory 116-inch wheelbase and built with Rutterz custom specs. The chassis utilizes Art Morrison Enterprises IFS coordinated with Wilwood 2-inch drop Pro spindles, SL6 six-piston calipers, including 14-inch drilled-and-slotted rotors in front and SL4 four-piston calipers with 14-inch rotors and integrated parking brake in the rear. A Ford master cylinder and a custom pedal assembly manages the braking and acceleration package into play.
JRi single-adjustable coilovers are used in front (450-pound springs) and back (180-pound springs) while an Art Morrison Enterprises rear Panhard bar is used in back and a 1-1/8-inch sway bar is used in the front, whereas the steering comes by way of a Flaming River power rack-and-pinion. The rearend is based on a Ford 9-inch built by Strange Engineering with its S-Series centersection stuffed with Truetrac 3.70 gears and S/S Series 31-spline axles and positioned by an Art Morrison Enterprises triangulated four-bar.
Check Out: JP Koop's Classic 1957 Ford F100: The Michigan Tuxedo
Holding this hot rod in its aggressive stance are custom-machined aluminum wheels by Sage Speed and Custom that are overlaid with 1956 Ford center caps. The front slugs are 18×8 while the rears are 18×10 and mounted to them are Nitto Diamond Back radials with smoothed sidewalls measuring 245/40R18 and 295/45R18 rubber.
We didn't mention earlier that the orange accent color used under the hood was a tribute to Doyle's "day job:" Whataburger. Knowing this, should you be out on a Friday night and stop by don't be surprised if you see the Moonshine Runner—think of it as its "home." MR