Riding on a Roadster Shop RideLine Chassis Makes This Blue Oval Something of a Marvel
By Brian Brennan   –   Photography Courtesy of Roadster Shop
View our featured video for this car here >>>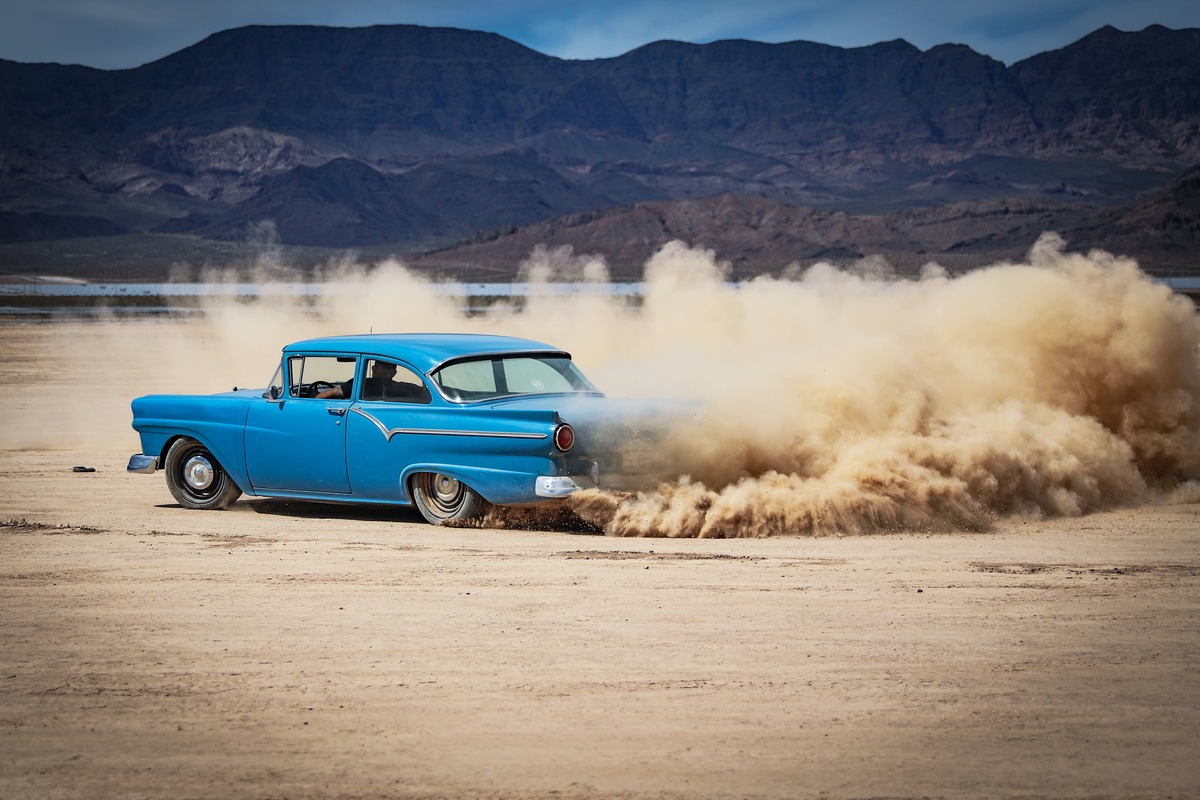 The tale of one car with 2-1/2 stories; one is technical, one is a feature, and the remaining is a bit of human interest. All of us have our reasons for why we build our hot rods the way we do. And, frankly, it doesn't really matter to anyone other than ourselves why we build, what we build, or how we build it. The goal for all of us is to have fun with cars along the way.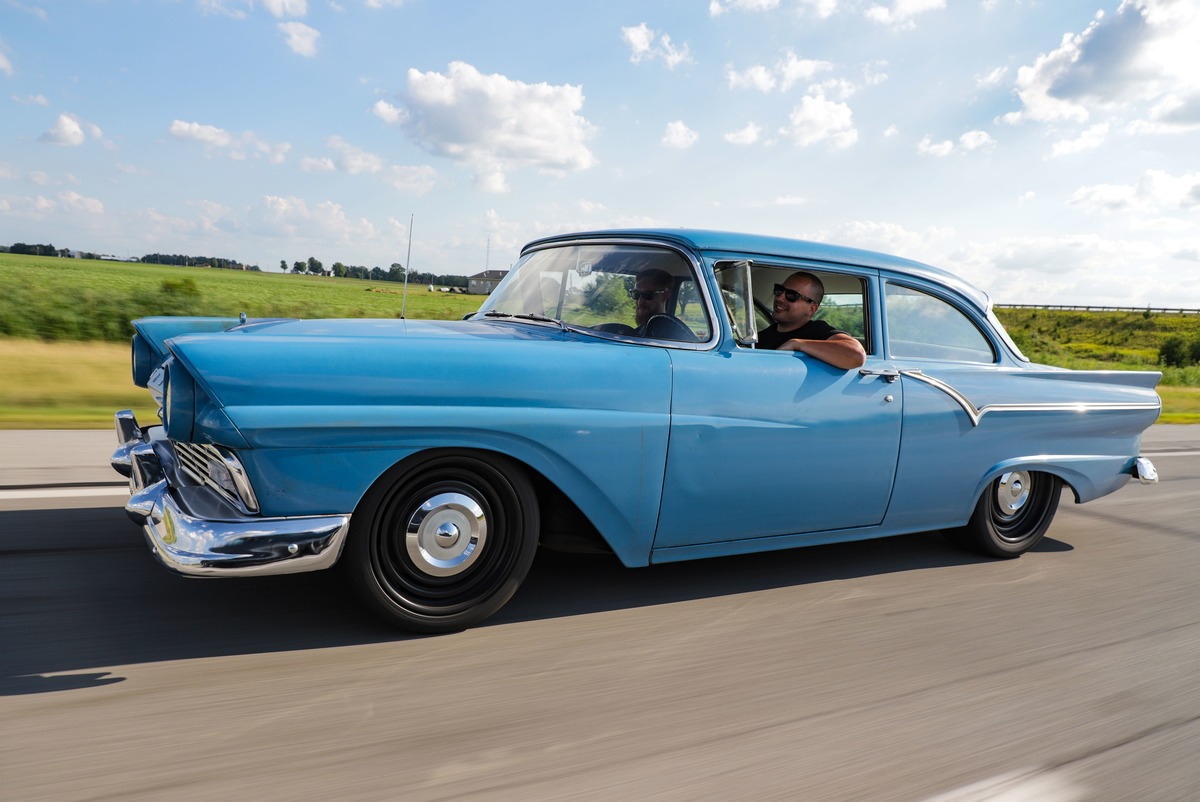 George Poteet (member of the Memphis Street Rods) has pieced together many a project during his transition into "hot rod adulthood." (I checked, by definition "hot rod adulthood" starts at prepubescence and we never outgrow it.) One of George's all-time favorite rides is his 1957 Ford Custom two-door sedan that meets his hot rod adulthood goals. He has owned this particular Ford for 20-plus years and it also reminds him of one that his grandfather once owned in the same color. Given this 1957 Ford has lots of miles under its oil pan, George gave it some thought and decided it was time to upgrade. (This isn't his first one. He had one many years ago fitted with a Ford 427 Cammer motor.) In his mind the current "upgrade" meant from bumper-to-bumper but beneath the patina'd sheetmetal. During the build he threw in a few enhancements readily accessible while driving, thereby yielding the perfect road car.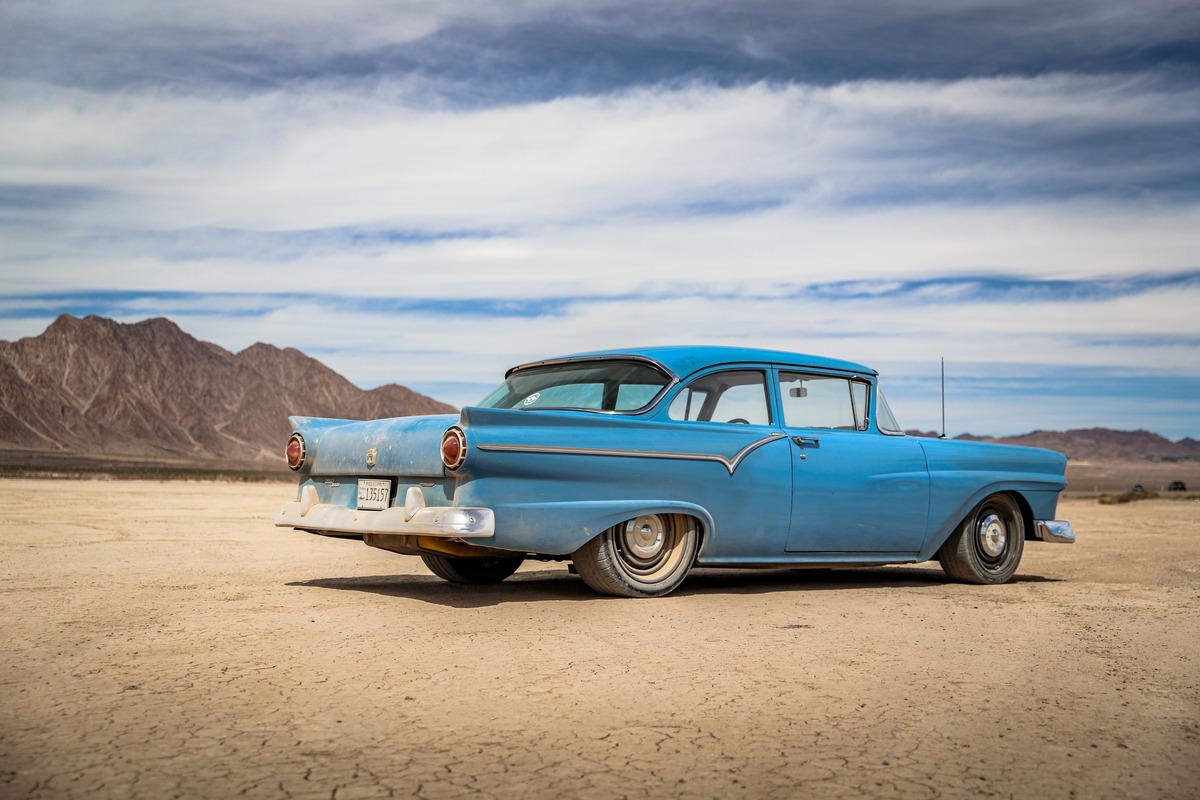 George tells us, "I really like this car and want to make long trips and cruise around." We've surmised that he likes driving and from what we've seen of this 1957 Ford Custom as it continually racks up 10,000 miles a year we would agree. He drives it often and hasn't hesitated for one "asphalt divot" from jumping in and taking off from the South to the West Coast attending rod runs along the way.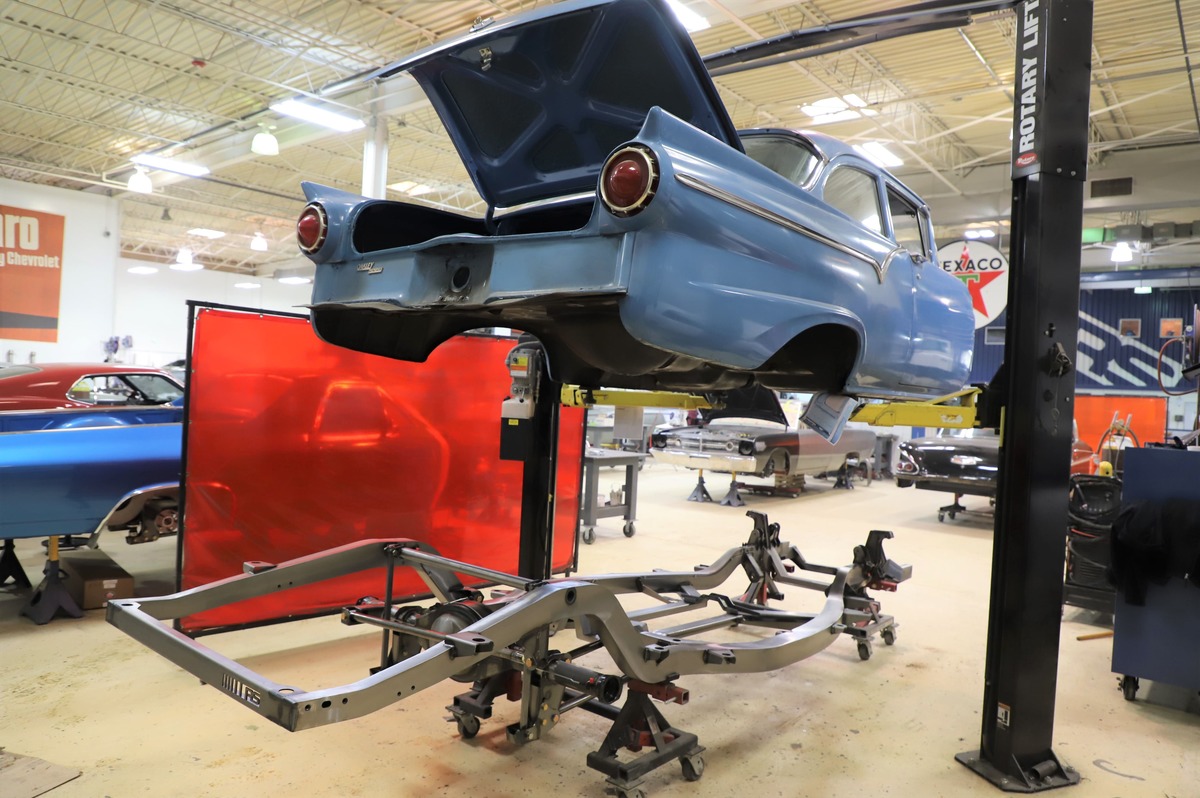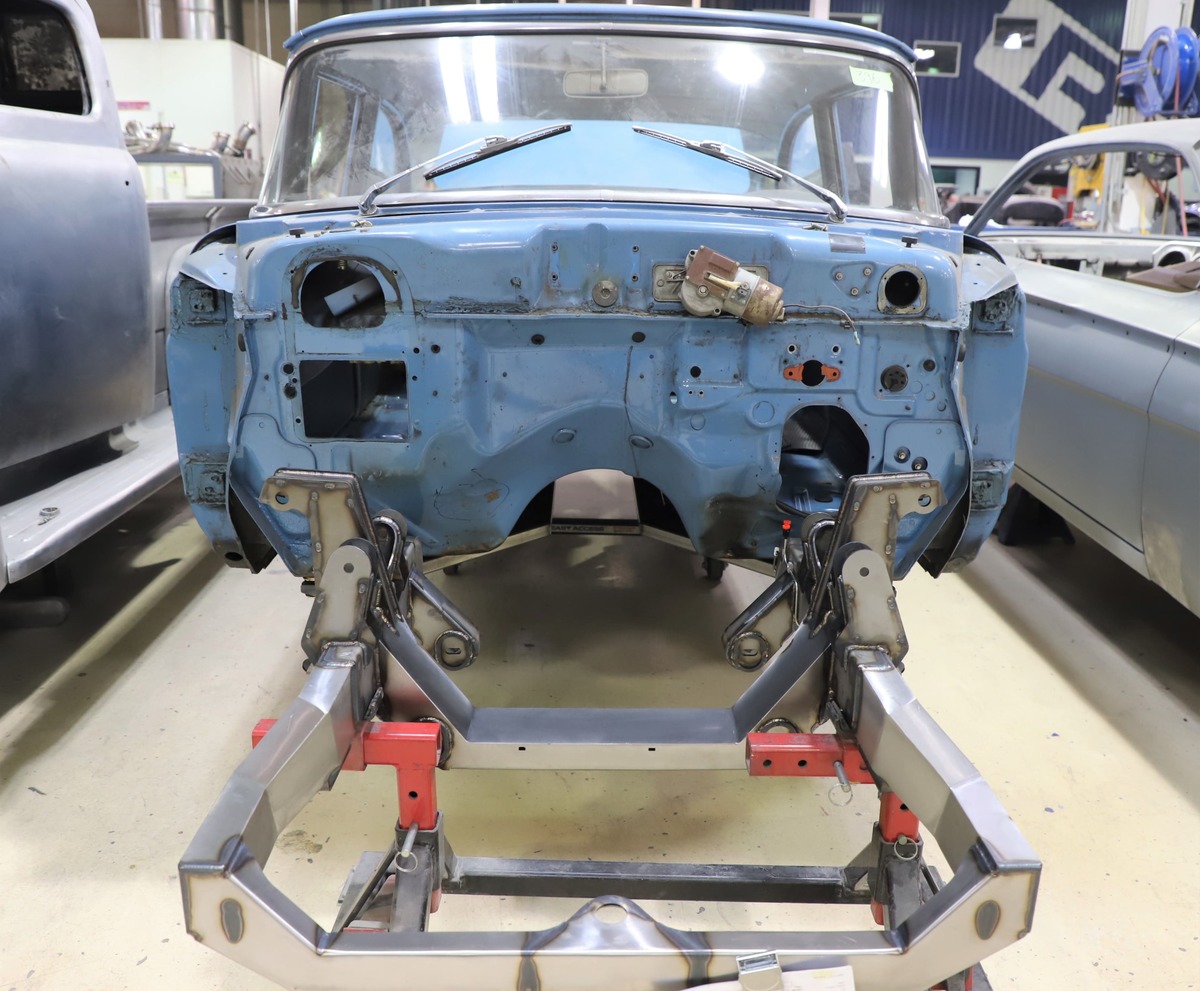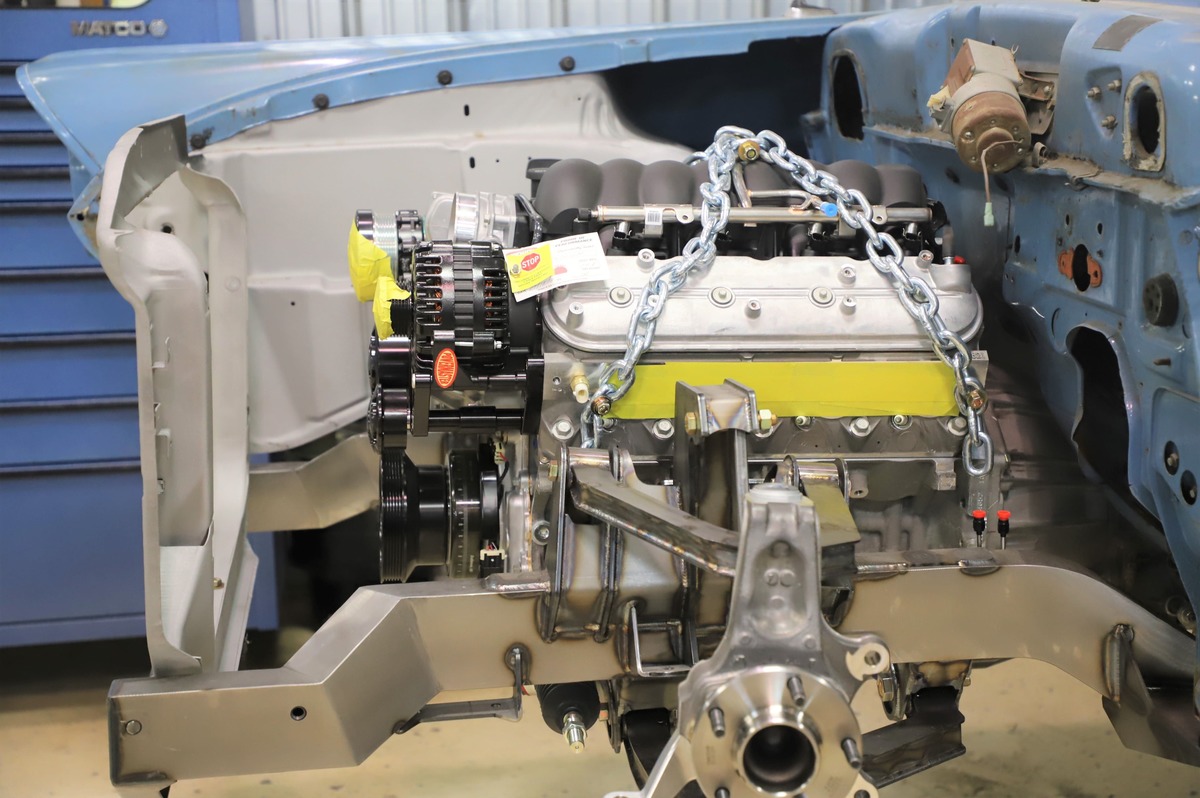 When it comes to upgrades, sliding a Roadster Shop chassis beneath the sheetmetal and dropping in a camouflaged LS3 is a good start toward checking off all the boxes and providing the miles of smiles. Let's start with the build based on the RideLine chassis that according to the Roadster Shop was designed with the long haul in mind rather than carving turns through canyons. The RideLine was designed and built with the intent of enjoying the ride and sacrificing some of the all-out performance for road pleasure. (If you want a performance chassis Roadster Shop has those too!) We've taken the opportunity to blend together the construction and the feature photos into a composite story representing a more complete picture of the 1957 Ford Custom. Let's take a look at how Roadster Shop rolled one of their driver series RideLine chassis underneath the Ford two-door sedan. Of course, a great ride is always enhanced by the appropriate amount of grunt. In this case, look closely, as this "almost" Ford in a Ford isn't the combo you may first think it is! (More on that shortly.)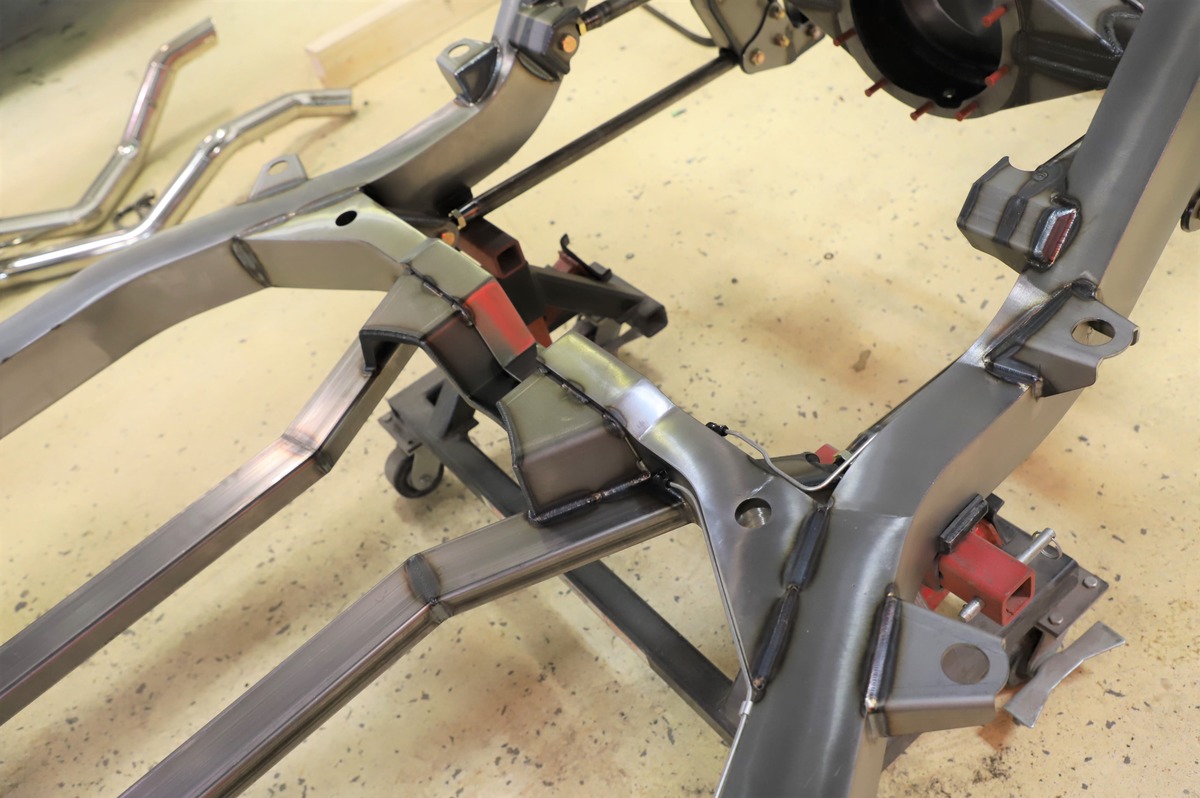 Some of the highlights of the Roadster Shop RideLine chassis include the 6-inch SV coilovers with 14-inch light-rate high travel springs designed to give an OE ride quality. Next up is the 1.25-inch mandrel-bent and poly mounted sway bar, along with FAST LINK 4-Bars (DOM 1.5-inch diameter and right- and left-turn threaded adjusters), and booted and sealed bushing assemblies that increase the lifespan of the components. Wrapping up are the two-piece, clamshell-formed control arms with OE bushings and power rack-and-pinion steering bringing this chassis to completion. More of the bling and performance can be seen in the Corvette C6 spindles coupled with Baer Brakes calipers and 14-inch rotors spinning in front and back.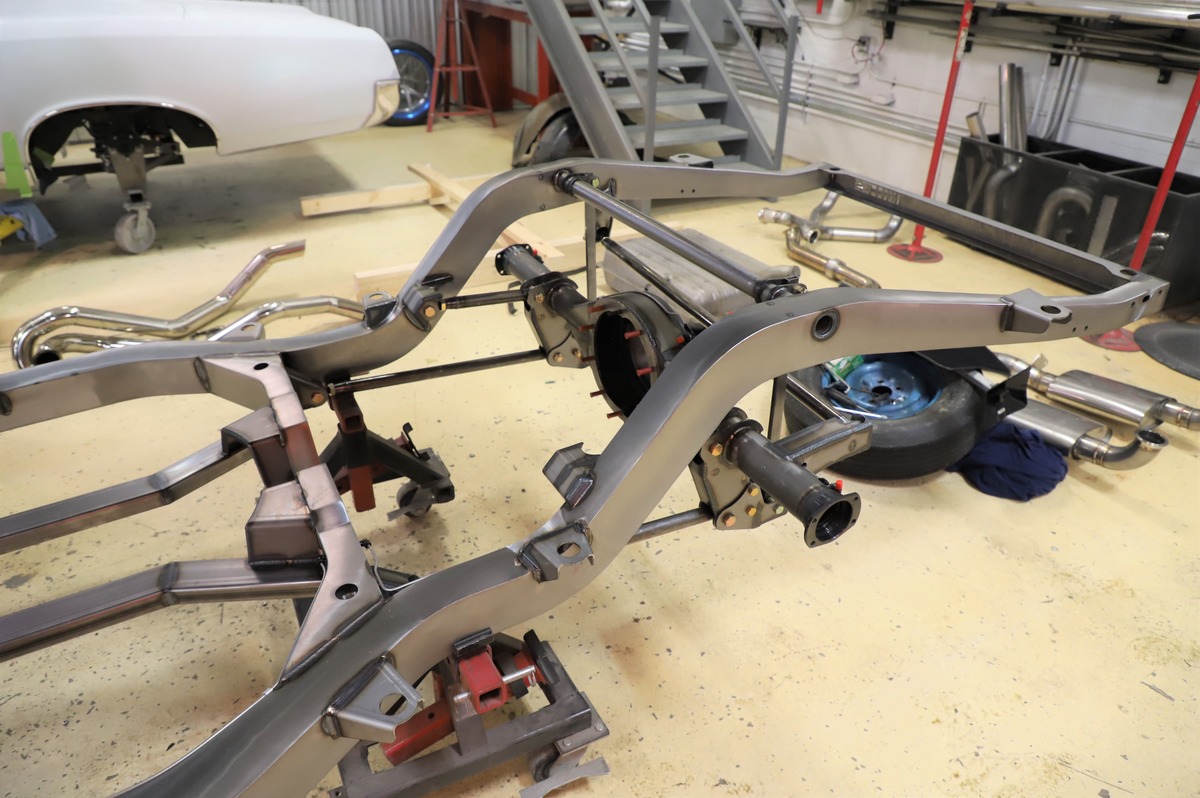 As mentioned earlier, George has owned this 1957 Ford Custom for several decades and up and until this upgrade it was powered by an aluminum head–equipped Ford 351, plenty of cam, attached to a four-speed, and run back to the 4.11 gears. However, to bring the car up to modern driving demands something had to be done. The ride was sent over to Roadster Shop where they positioned the RideLine chassis and dropped in the Chevy LS3. Inside you will find a Paul Atkins interior, but more on this in a few paragraphs.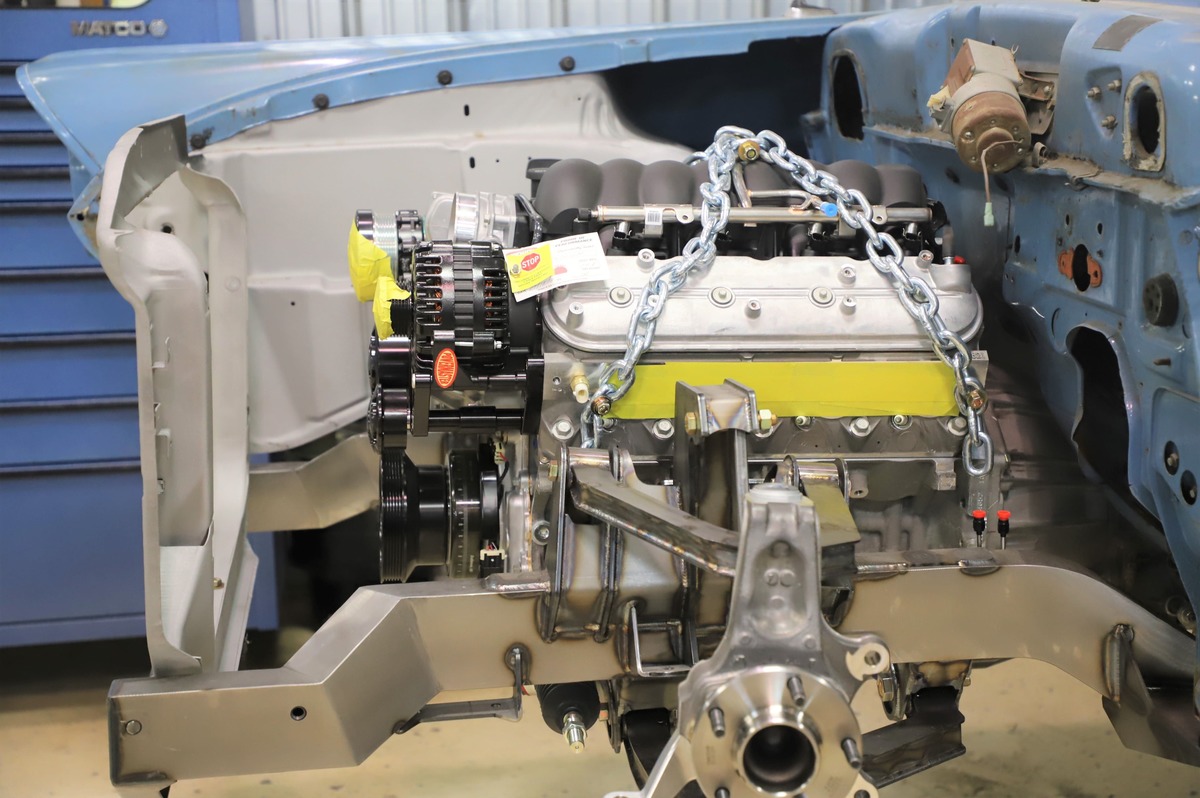 The new powerplant is an aluminum LS3 (376 inches in hot rod speak) that when finished looks surprisingly a great deal like a Ford FE hi-po 390 … now do you see the "almost" Ford in a Ford? The nod goes to the crew at Roadster Shop for pulling off the transition. It's also a sure bet that the FE never output 480 hp and 450 lb-ft of torque so easily and reliably. There are any number of touches that make you rethink what's under the hood but one of our favorites are the valve cover decals. Take a close look at the genuine Ford Thunderbird valve covers and what should be a "390" decal is now a "376" decal. You gotta love the attention to detail!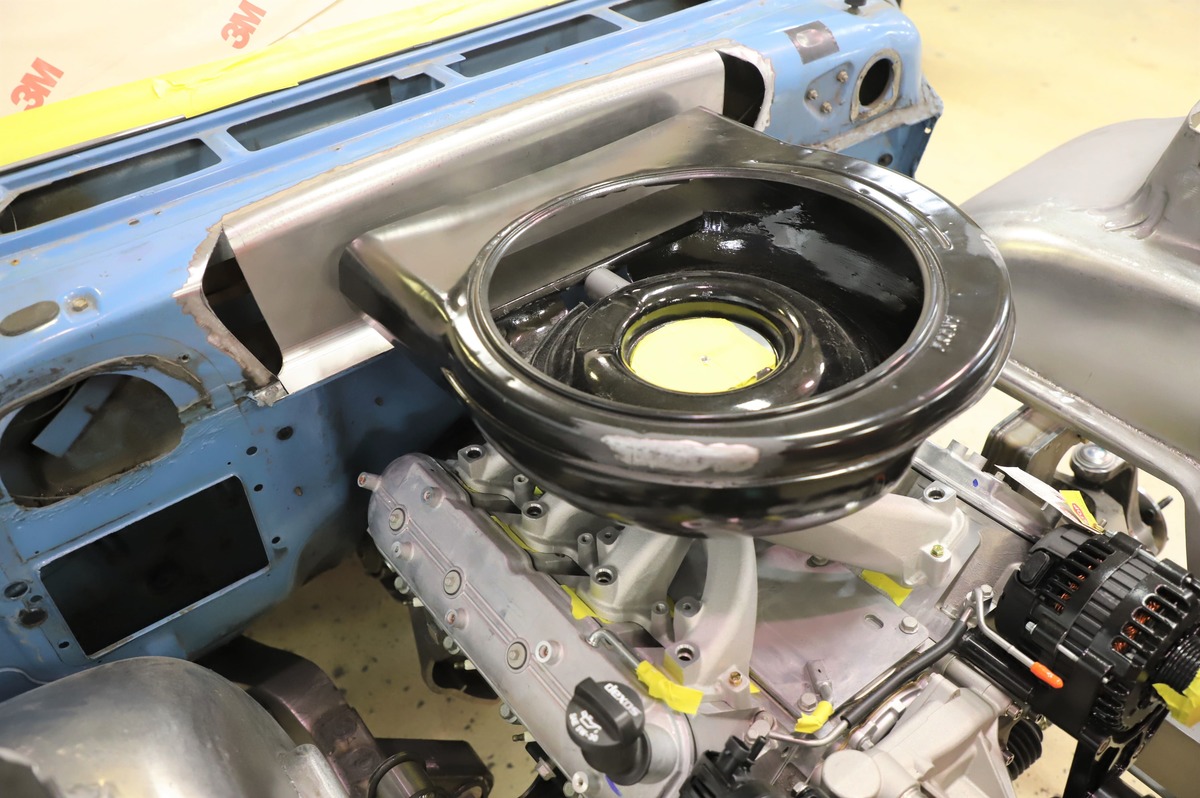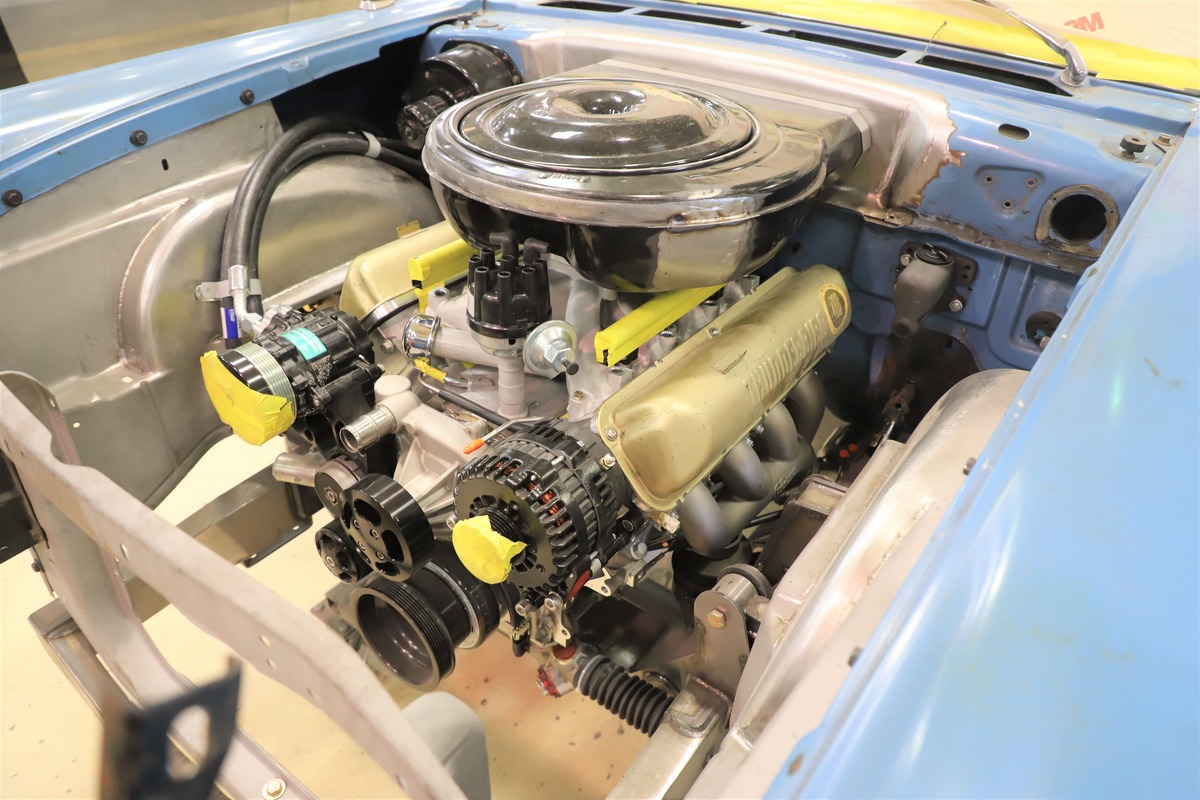 The intake/throttle body setup comes by way of Holley multi-point with a GM DBW throttle body while the distributor looks like any conventional Ford setup. The factory-looking headers are coated Hooker Headers (Holley) for protection and topflight appearance. Making sure there is plenty of gas onboard for whatever the road ahead holds is a Rock Valley 18-gallon tank. Another period touch and example of Roadster Shop craftsmanship is the 1963-era NASCAR Holman and Moody original air cleaner modified to accept the GM DBW throttle body. (As the Roadster Shop folks say, "Purists will start crying here.") Also, note its nifty and functional cowl induction. Any moment you will notice the serpentine belt system wrapped around a Front Runner from the folks at Vintage Air (they also received the nod for the A/C). The LS3 is matched to a 4L60E trans that moves the power back to a Ford 9-inch rearend equipped with 3.70 gears. The chassis rests on Roadster Shop Forgeline OE1 18-inch-diameter wheels front and back all wrapped in Michelin Super Sport rubber measuring 255/40R18 in front and 275/35R18 in back.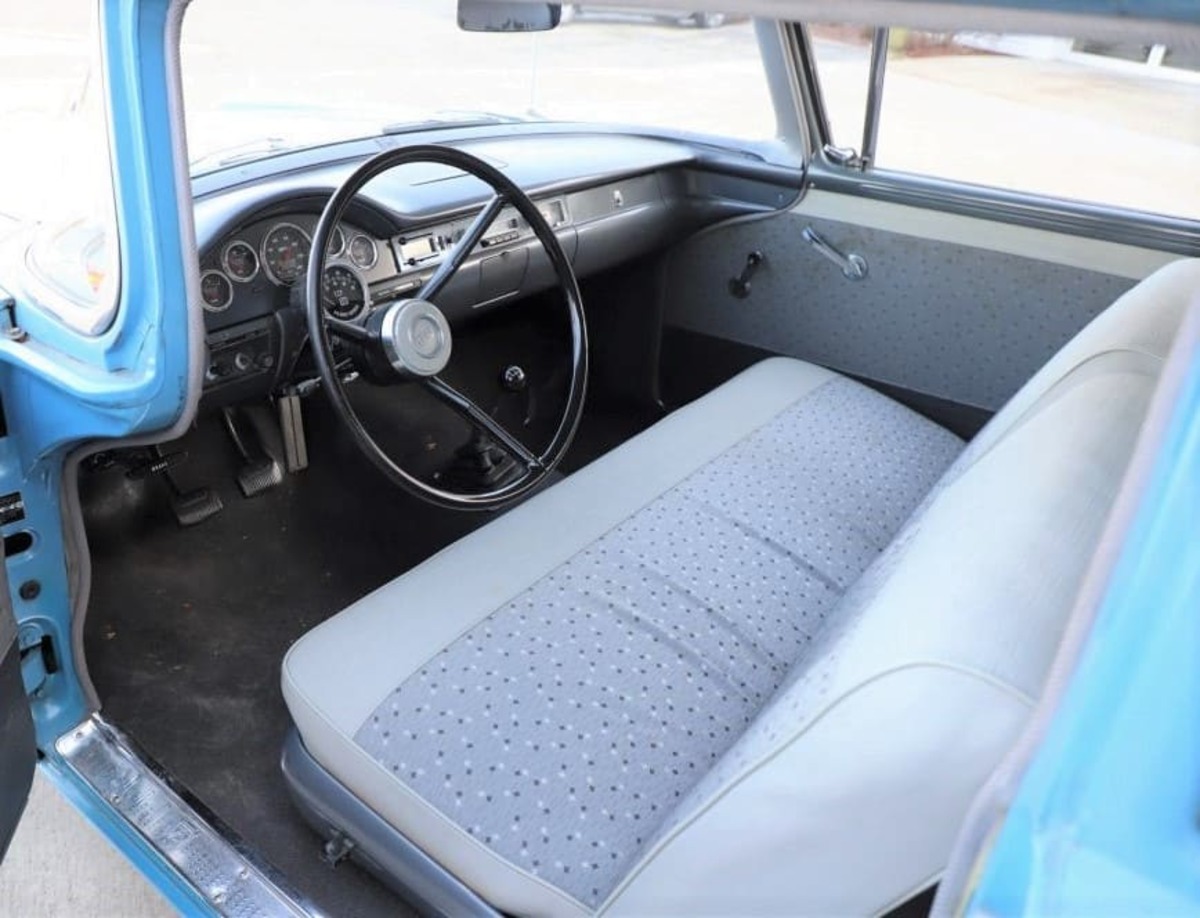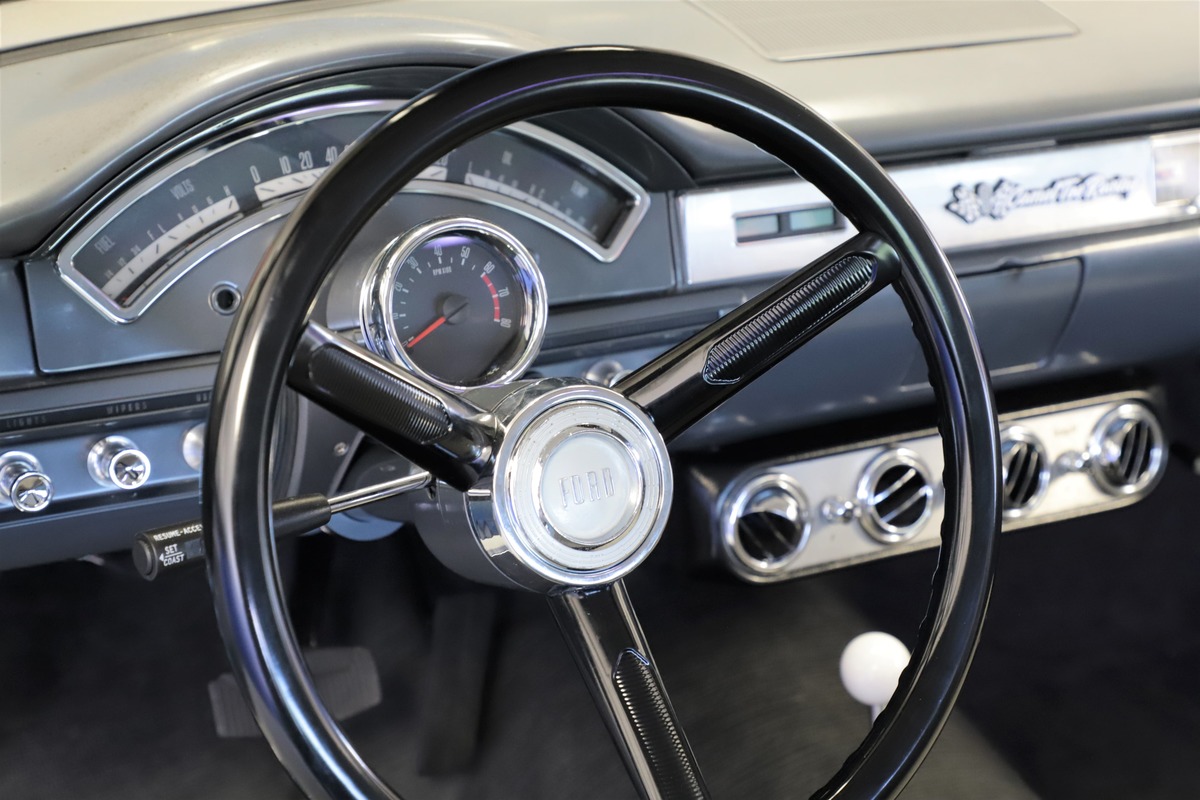 Inside the seating, dash, carpeting, and headliner all look to be original, but they are upgraded without sacrificing the vintage appearance. The stitchwork comes by way of the sewing machine at Paul Atkins Interiors. Atkins allowed the interior to keep its utilitarian mid-'50s appearance but beautifully sewn the likes the factory would not have accomplished. Additionally, an American Autowire Highway 22 fuse panel is used and from this originating point the custom wiring was handled by Roadster Shop. The ididit steering column is replete with turn signals and cruise control while a CON2R factory-appearing wheel sits there ready to be handled. From here the obligatory column-mounted tach by way of Dakota Digital is ready to match the escalating climb of the LS3 revs. The factory-appearing but fully modernized instrumentation is more Dakota Digital hardware in the form of the custom RXT gauge cluster. A Vintage Air Heritage Series underdash A/C unit maintains the traditional look but provides present-day cool climes.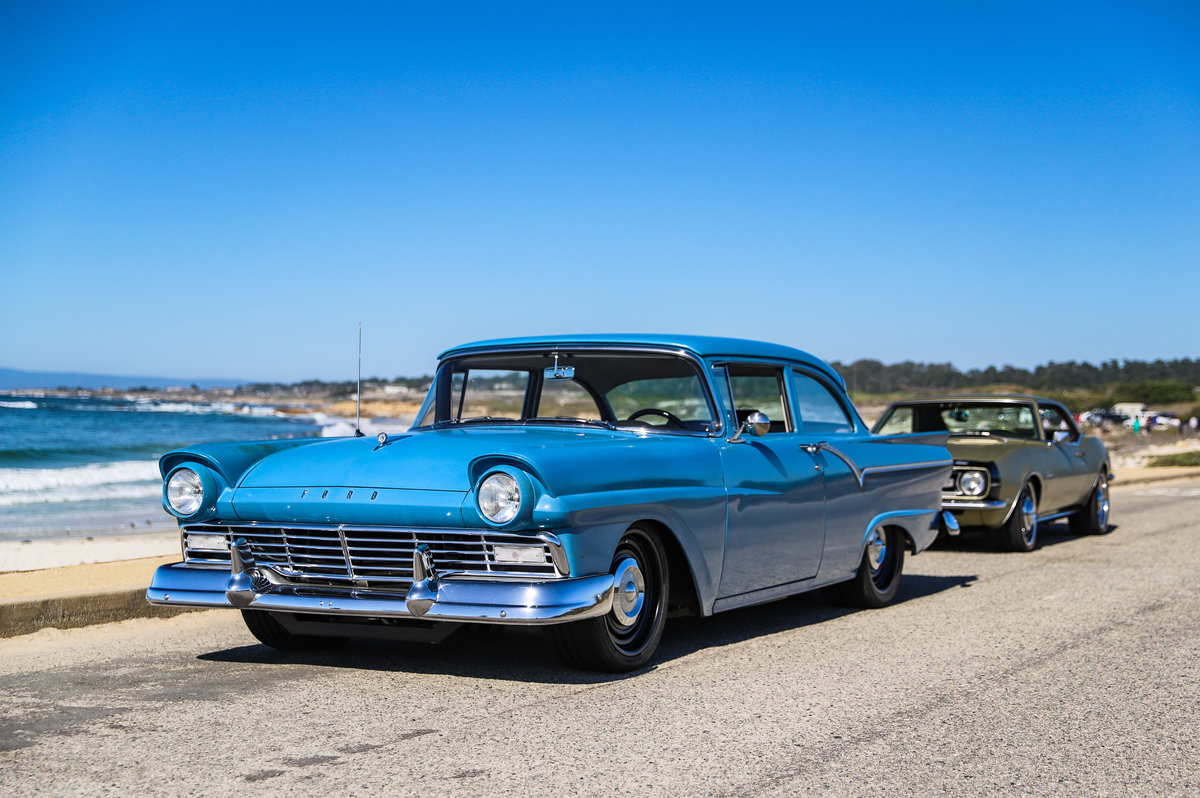 When writing about the body- and paintwork it becomes a very short paragraph. The 1957 Ford Custom two-door sedan shows off its original turned into true patina appearance. That's it!
There's more but it would be best to see this hot rod in action to fully appreciate the vintage looks coupled with today's power and handling. It may not get you through Mulholland Drive, a 21-mile and one of the best-known scenic roads in the States, or the Tail of the Dragon at Deals Gap with its 318 curves in 11 miles as quickly as many other rides, but this 1957 Ford Custom two-door sedan one will get you there and back in comfort … time and time again! MR
1957 Ford Custom Powered by a LS3 That Looks Surprisingly Like a FE V-8