Adapting Repro-Roadster Quarters to a Bill Sather coupe
By Gerry Burger
Now, we all know Texas is horse country. Yessiree Bob, Texans love their horses almost as much as they love horsepower. Bill Sather is a horsepower-lovin' Texan through and through, and while Texas is known for quarter horses, Sather was having his latest steed quartered—as in adding a pair of new quarter panels. Yes, his 1934 Ford coupe was in need of some rust and wreck repair in the quarter panel region so he left it to the team at BBT Fabrications to fit his coupe with a pair of reproduction quarter panels from Steve's Auto Restorations (SAR). BBT Fabrications' Troy Gudgel would also befit the new Steve's Auto Restorations rear panel between the quarters and below the decklid. Finally, they would be building a very cool rolled pan.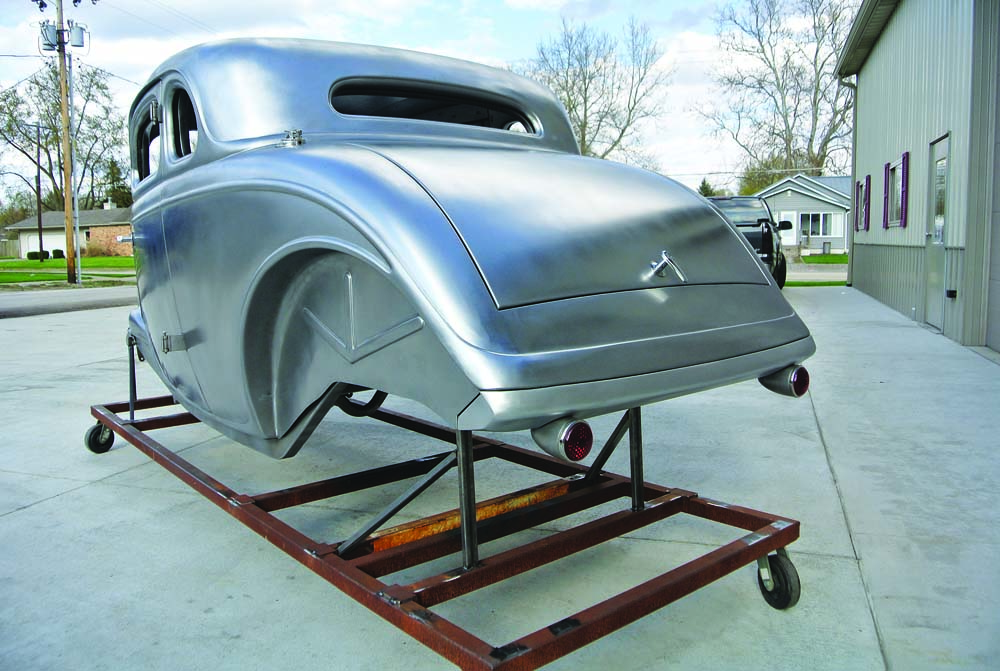 Read More: Ford Never Had This in Mind When Designing the 1971 Ford Ranchero
So far this sounds like pretty standard fare, but of course, there is always a hitch … and we're not talking about a place to park your horse (Burger, I'm not sure Texans "park" their horses. —B.B.). The hitch is this, SAR doesn't make reproduction steel quarter panels for the 3 or 5-window coupe. They do make a very nice reproduction of the 1934 Ford roadster quarter-panel and as it says on their website, these quarter panels can be trimmed to fit coupe bodies. Actually, adapting the '34 roadster quarters to the coupe body involves trimming and some forming in areas for a perfect fit, but it's a high-quality part and a great start. At this point, we also need to confess this tech piece is slightly out of a sequence of the actual build. We have already shown how BBT Fabrications "repaired and re-chopped the top" on this coupe (Modern Rodding Mar. '21 issue, "CHOP CHOP"). These quarter panels were installed prior to the top repair.
Now for a little Ford fun fact, it seems ol' Henry didn't bother stamping the "crow's foot" in the roadster quarter panel. The closed cars had these stiffening beads stamped into the inner fender well, but the roadster left the factory with smooth inner fender wells. We like to think Henry left them that way for a smooth look on future Ford Highboy Roadster, but regardless of the reasoning (no doubt cost was a consideration), to make a roadster quarter panel believable on a 5-window coupe it needs the crow's feet rolled or stamped into the inner fender well. BBT Fabrications managed that by making a die set from plywood and using their Pullmax to form the beads within the dies.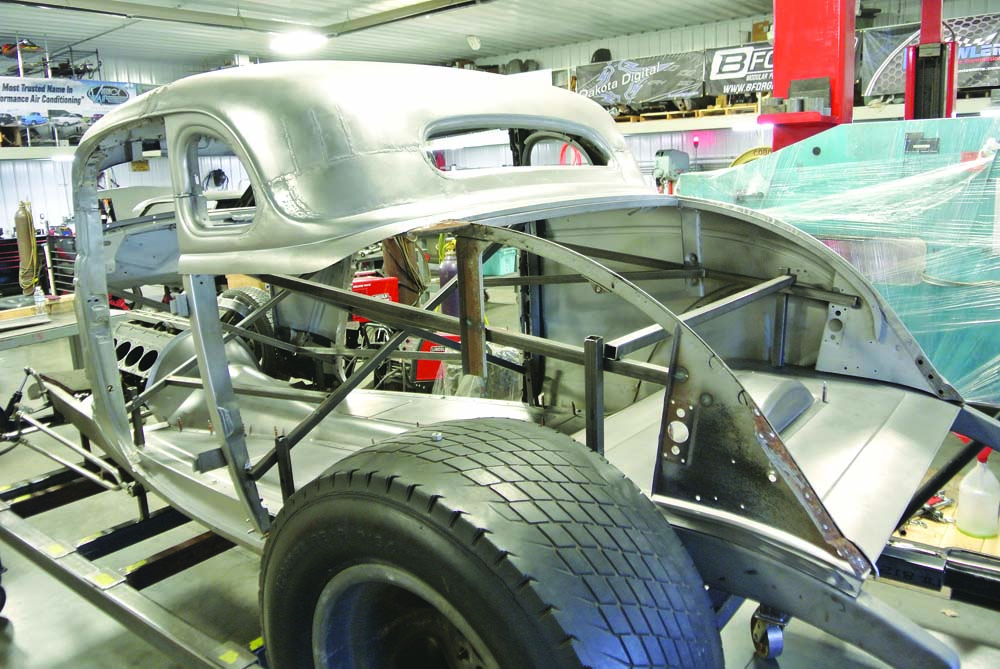 After extensive crossbracing, the body with 1-inch box tubing, the actual fitting of the new SAR quarters to the coupe body began. The first step is removing most of the original quarter panels but leaving several inches of sheet metal behind the B-pillar and also several inches of original tin below the window body bead. The SAR repro roadster quarter panels would initially be fitted over this original sheet metal and the two pieces are then each carefully trimmed for a perfect fit.
Read More: Pieced Together '34 Ford Highboy Coupe
The quarter panels were fit to a reproduction panel below the decklid, also from Steve's Auto Restorations. This area would take a bit of slicing and dicing to get a perfect blend as the adapted quarters round the corner and mate with the center panel. Obviously, it was all well within the abilities of BBT Fabrications and in the end, the coupe was well quartered. But wait there's more …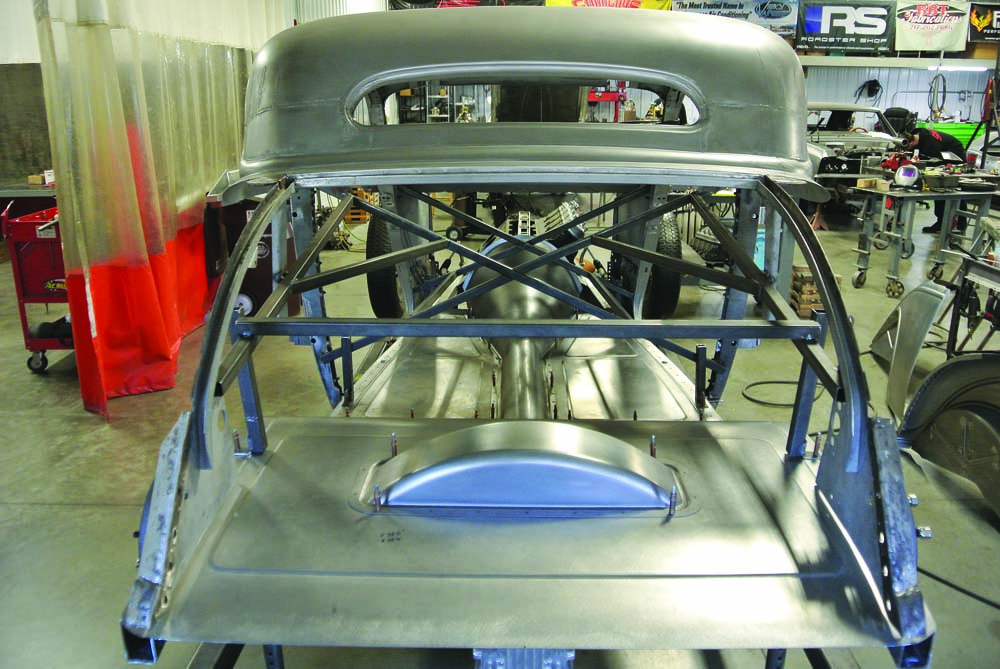 No real hot rodder would just bring a chopped highboy coupe back to stock configuration. With that thought in mind, BBT Fabrications grabbed the nearest sheet of 18-gauge steel and proceeded to form a very cool rear-rolled pan. We like the fact that it is a bolt-on rear panel, as adding a seamless rolled pan can sometimes make the lower body look a bit long. The body seam breaks up what would otherwise be an expanse of sheet metal. The rear pan is actually more angular than rolled, another nice detail. The final touch is mounting a set of 1937 Ford taillights to the bottom of the pan. With the decklid latched, gapped, and fitted, the entire car is now beautifully metal finished. The final step will be finished bodywork and mile-deep black paint. MR
SOURCES
BBT Fabrications
(217) 586-5699
bbtfabrications.com
Steve's Auto Restorations
(503) 665-2222
stevesautorestorations.com