Rick Love's '39 Ford Coupe Has Made the Rounds … Several Times!
There are hot rods and then there are hot rods. What does that mean? Rick Love of New Braunfels, Texas, is no stranger to our hobby, its industry, nor driving his home built 1939 Ford Deluxe coupe from event to event since 1984. The Grabber Blue and flamed 1939 Ford coupe has ushered Rick, whether it be coast-to-coast or state-to-state, numerous times as he covers the rodding world, helping car guys everywhere maintain their cool. Rick is the executive vice president of one of the oldest, largest, and most reputable manufacturers in our hobby, as the name Vintage Air is synonymous with air conditioning throughout our industry.
A Little History
Rick tells us:
"Since I was young kid … in upstate New York, I had always thought the 1939-1940 Ford coupe was one of the best-looking hot rods there was. After I sold my 1940 Pontiac at the Street Rod Nationals in 1984, I decided I really wanted to build one—and it had to have a killer set of flames. I went to the NSRA Nats North in Detroit and found a somewhat-faded black coupe sitting by its lonesome with a small For Sale sign. The guy I bought it from was the second owner and he had owned it since 1970 and had turned it into a street rod in 1972 and driven it ever since. The black paint was shot over the original green. Despite being in the north its entire life, it was rust-free and still had all of its original sheet metal."
Read More: Speak Easy Green 1932 Ford Phaeton
 (Quick story from Modern Rodding freelancer Gerry Burger: I was with Rick when he bought the 1939 at the Nats North. It was black with burgundy velour interior (that faded to pink) but a very solid car. We looked it over carefully and Rick fretted about it all weekend before finally pulling the trigger. Now, Rick isn't exactly famous for throwing money around so you can imagine what it was like to part with that large sum of money.)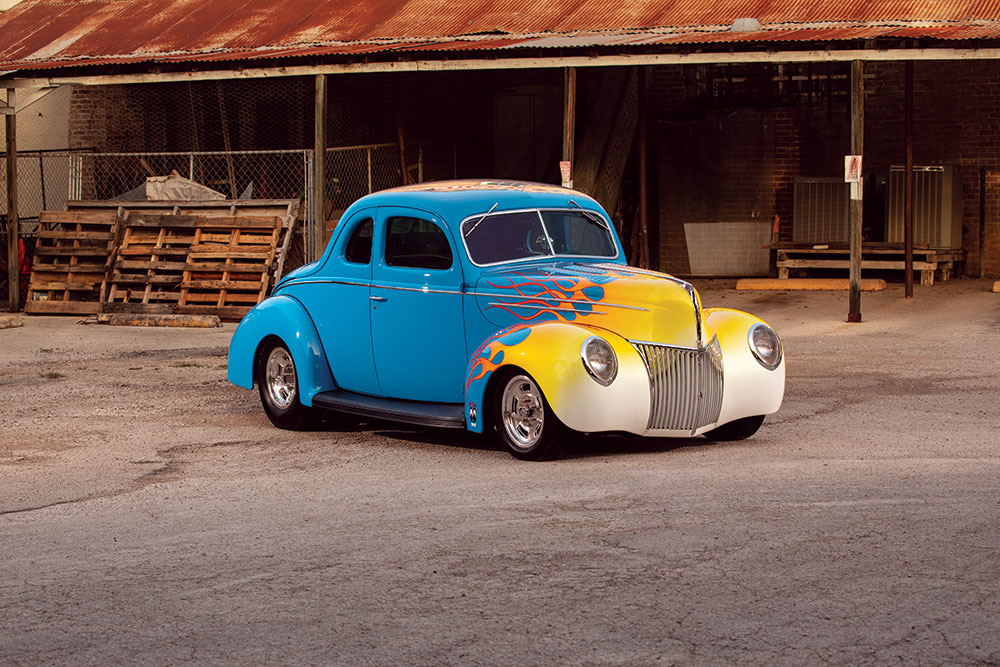 "I drove the car home and started a teardown, intending on a simple rebuild and refresh. I was living in a small house with a one-car garage, so I would have to roll the car out into the driveway to work on it." This first build back in 1984 to 1985 produced results from Rick and his two close friends Danny Zoeller and Jim Linton. "We did the bodywork and PPG Mustang Grabber Blue lacquer in my buddy Danny Zoeller's two-car garage, and a friend of mine from Dallas named Pat Barnhart added the multi-color candy and pearl flames.
Famed Texas 'striper, the late Jake Hudson, outlined the flames and added the 'Hot Licks by Pat' logo on the front fenders. A local San Antonio trimmer replaced the worn-out red crushed velvet interior with a traditional black vinyl tuck 'n' roll pattern over the original stock bench seat. We finished the build in the spring of 1985 and our 'South Texas Bunch' group attended quite a few events, including the Nats South in Knoxville [Tennessee] and the Street Rod Nationals in St. Paul [Minnesota]. For the next 30 years, the old 1939 would take me to numerous events from coast to coast and even serve as a daily driver when needed.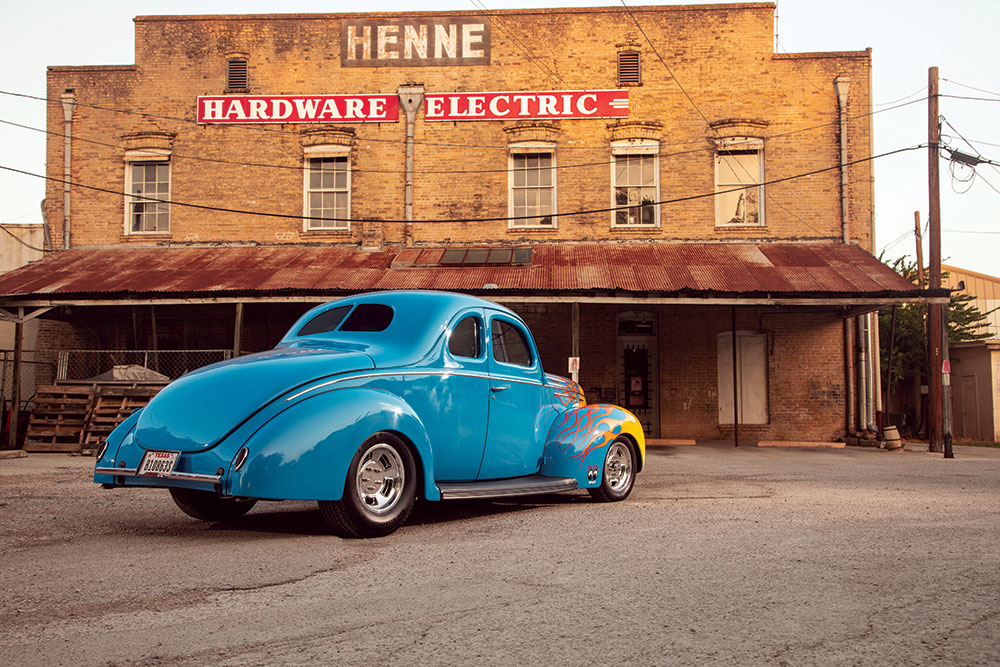 "My wife, Linda, then girlfriend, and I drove it to Florida on our first vacation together, and we used it in our wedding. It has also served as an R&D vehicle for some Vintage Air product development, and even got some wind tunnel time as Jack Chisenhall (Vintage Air founder) was developing new condensers to operate with the then-new 134a refrigerant in the early '90s. Like most longterm hot rods, I continued to upgrade it and add new parts through the years."
Almost to the Present
Rick spun the odometer to the tune of 180,000-plus miles between 1984 and 2014. The once-new paint and interior had begun to show the wear and tear of all those miles. On the drive home from the 2014 L.A. Roadsters Father's Day Show the engine was making rumbling noises, the bad kind, and by the time the coupe rolled into the driveway the front pan seal had vanished and there was oil everywhere.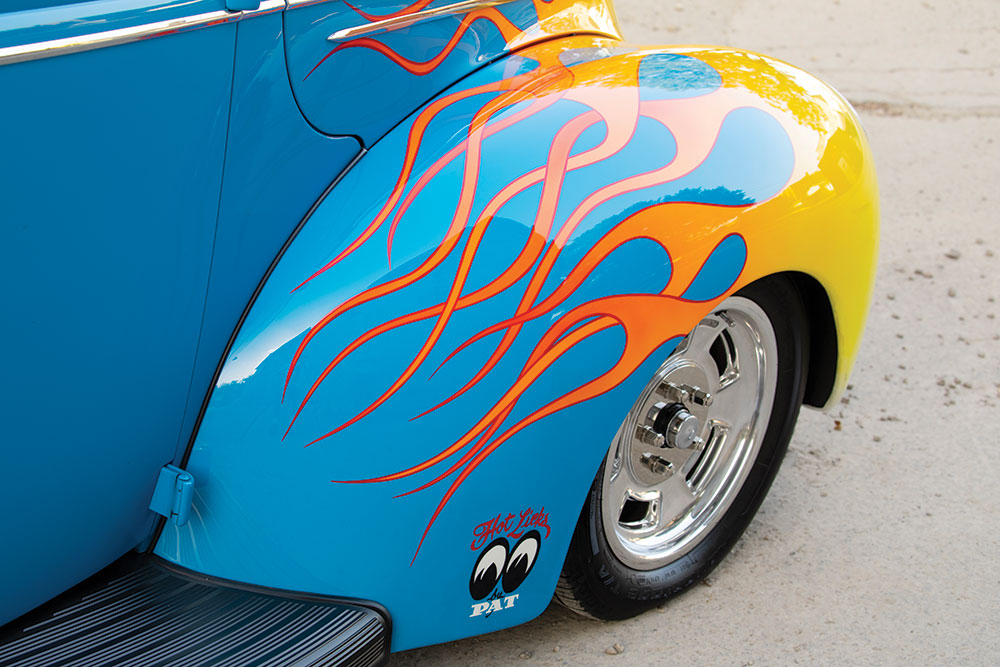 Now that it was time for the second build, which took place between 2014 to 2019, Rick, Zoeller, and George Packard jumped in and generated what appears to be the same car yet thoroughly upgraded from bumper to bumper and floorpan to roof. What was supposed to be a "quick turnaround," the "remove and replace," turned into a complete rebuild that altered a one-year build into a four-year build. Oh well!
Read More: Brownstone Roadster: '32 Ford Roadster With SoCal Style
Zoeller and Packard managed all of the bodywork and gaps, which a 1939 Ford Deluxe coupe had, focusing on even tighter gaps this time around. It was once again back to the PPG Grabber Blue paint that Zoeller applied while afterward he and Packard managed the cutting and buffing of the final paint.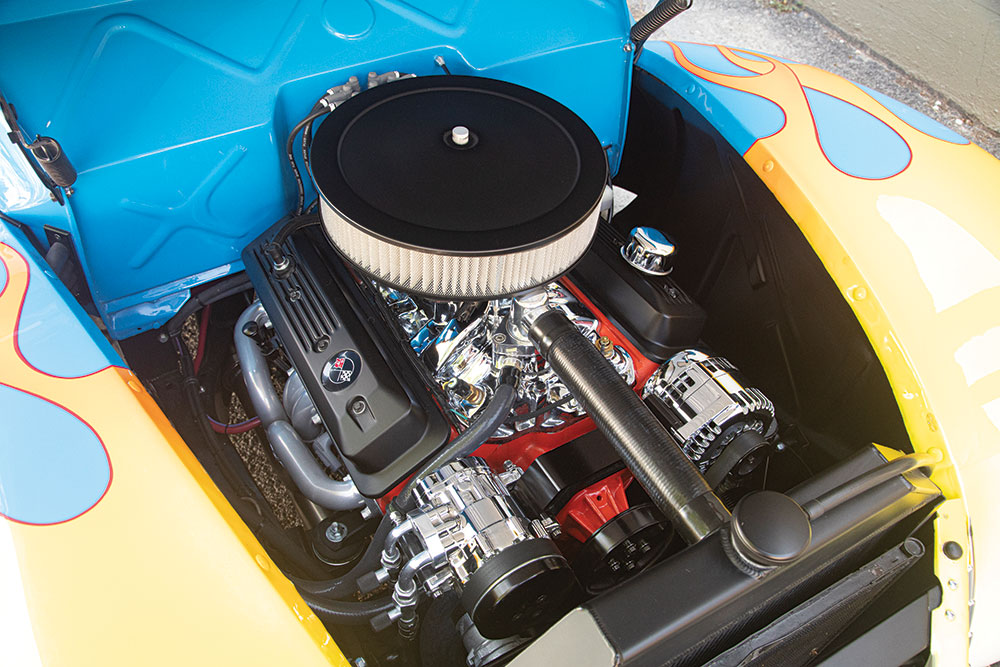 John Kosmoski of House of Kolor was able to find in his own collection of paints a match of the candy toners and pearls that was used for the original flames. Raymond Lund, a second-generation San Antonio custom painter, laid out and applied the licks, nearly duplicating the original flames. Lund also pinstriped the flames and replicated the original hand-lettered Hot Licks logo. All of this highly detailed paintwork is spread over an original steel 1939 Ford Deluxe coupe with a filled cowl vent, shaved decklid and front bumper, and louvered hood. There are also mini-tubs (straightened/reworked stock tubs) by Wade's Rod & Custom.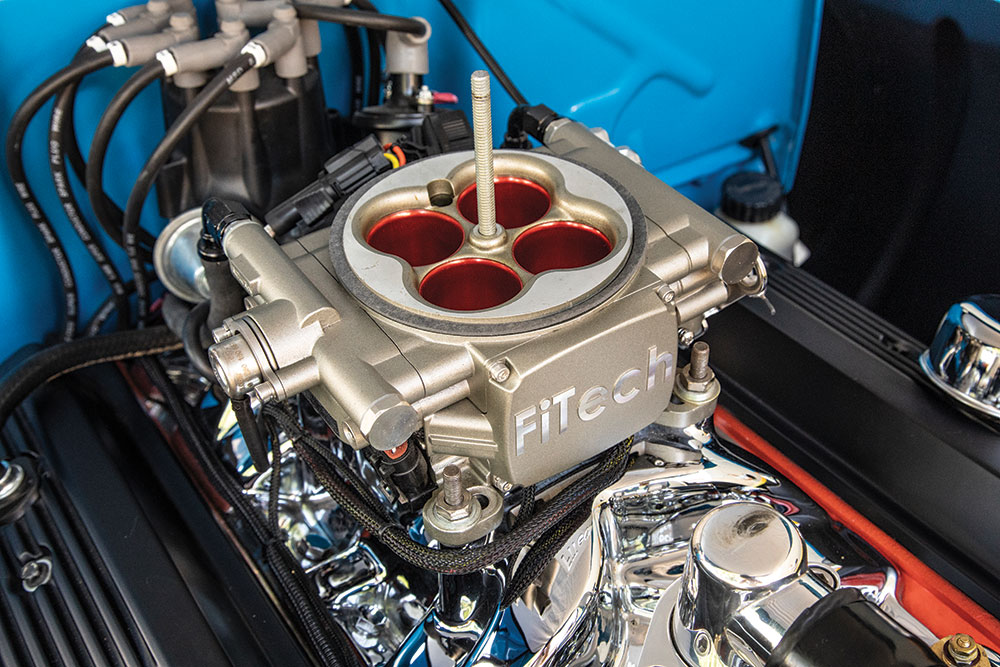 Getting Close
Remember, the second rebuild received its incentive because of a failing small block Chevy. It's 30 years later and while a new V8 engine was dropped in, Rick didn't wander from the "tried-and-true" small block. This time it's a much more potent ZZ4 crate engine producing nearly double the horsepower and ready for another 200,000 miles. The ZZ4 engine is equipped with a Comp roller camshaft, Corvette valve covers, a dual-plane high-rise Edelbrock intake topped with a FiTech 30003 Go Street throttle body EFI (and ECU) with a Camaro low-profile 14-inch round air filter.
Fuel is fed through an in-tank Walbro electric fuel pump located in a Tanks 16-gallon gas tank. Other engine goodies include an electronic MSD distributor, coil, and 8mm primary wires. Supplying the juice is a trunk-mounted Optima YellowTop battery that rests within a Detroit Speed battery mount. Bringing the small block V8 to life is a Chevy high-torque mini starter.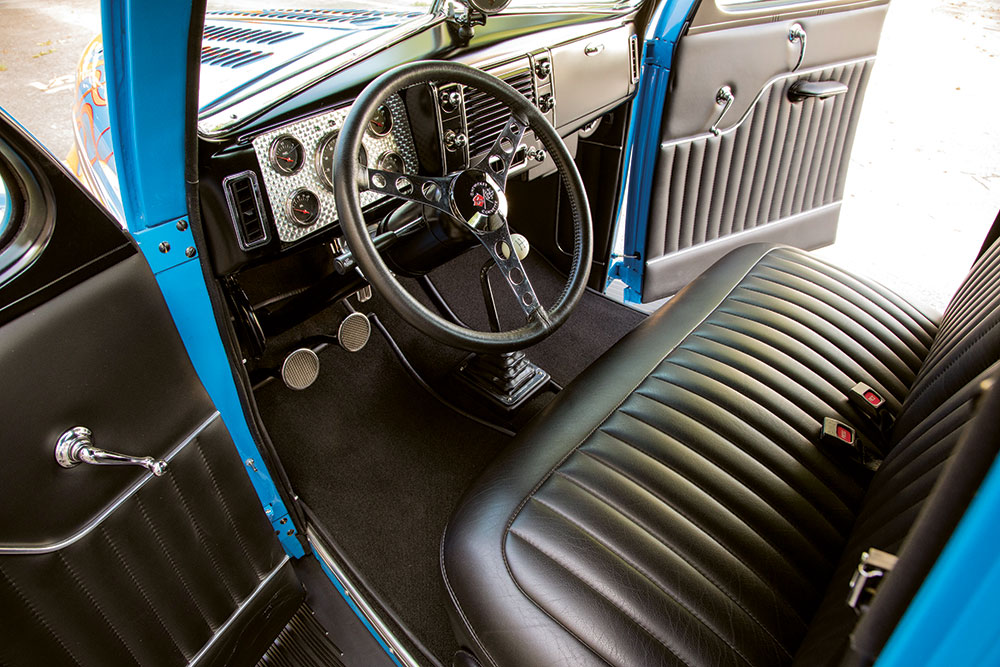 Next up the cooling chores fall to a C&R Racing aluminum radiator with a Vintage Air 19-inch brushless fan while the Vintage Air Front Runner manages the Mechman 170-amp alternator, power steering, and AC compressor. Making sure the discharge leaves smoothly, a pair of Sanderson 1-3/8-inch ceramic-coated manifolds move the gasses along to and through the 2-1/2-inch stainless steel tubing exhaust fabricated by Darrell Cimbanon of Cimtex Rods all the while utilizing a one-pipe-in-two-pipes-out Borla muffler.
A BorgWarner World Class 5-speed manual transmission with an S10 tailshaft housing (to ensure proper placement of the shift lever within the interior) is bolted to the small block Chevy. All of the necessary transmission mods were properly handled by Bowler Performance Transmissions. Gear selection is made easier through the use of the ubiquitous Hurst shifter moving effortlessly thanks to the Centerforce flywheel, clutch, and pressure plate. Scooping up the power on the way to the rear wheels is a John's Industries–prepped Ford 8-inch rear end complete with 3.55 gears. Positioning the rear axle is a stainless steel RideTech triangulated 4-link kit with coilovers, a Chassis Engineering sway bar, and Ford drum brakes.
Braking begins through the benefit of Ford stock floor pedals then moving onto a 1968 Mustang dual reservoir master cylinder while a pair of Wilwood calipers pinch GM 10-inch rotors in front. Speaking of "in front" a Chassis Engineering 4-inch dropped axle with a stainless steel four-bar system is used along with a pair of 1937 Ford spindles and RideTech shocks. Handling the steering chores is a CPP 500 power steering box twisted into service by an ididit steering column topped with a Corvette Correction 15-inch C1-style three-spoke wheel.
The horn button contains the C1 crossed flag Corvette emblem and this theme is carried through via the Classic Instruments custom gauges that feature the same C1 logo on the speedometer. At the corners sits a set of Halibrand wheels measuring 15×6 in front and 15×7 in back, all draped with BFGoodrich rubber measuring 185/60R15 and 235/75R15.
Read More: Building a Traditional '33 Ford Five-Window Coupe in 1960s Style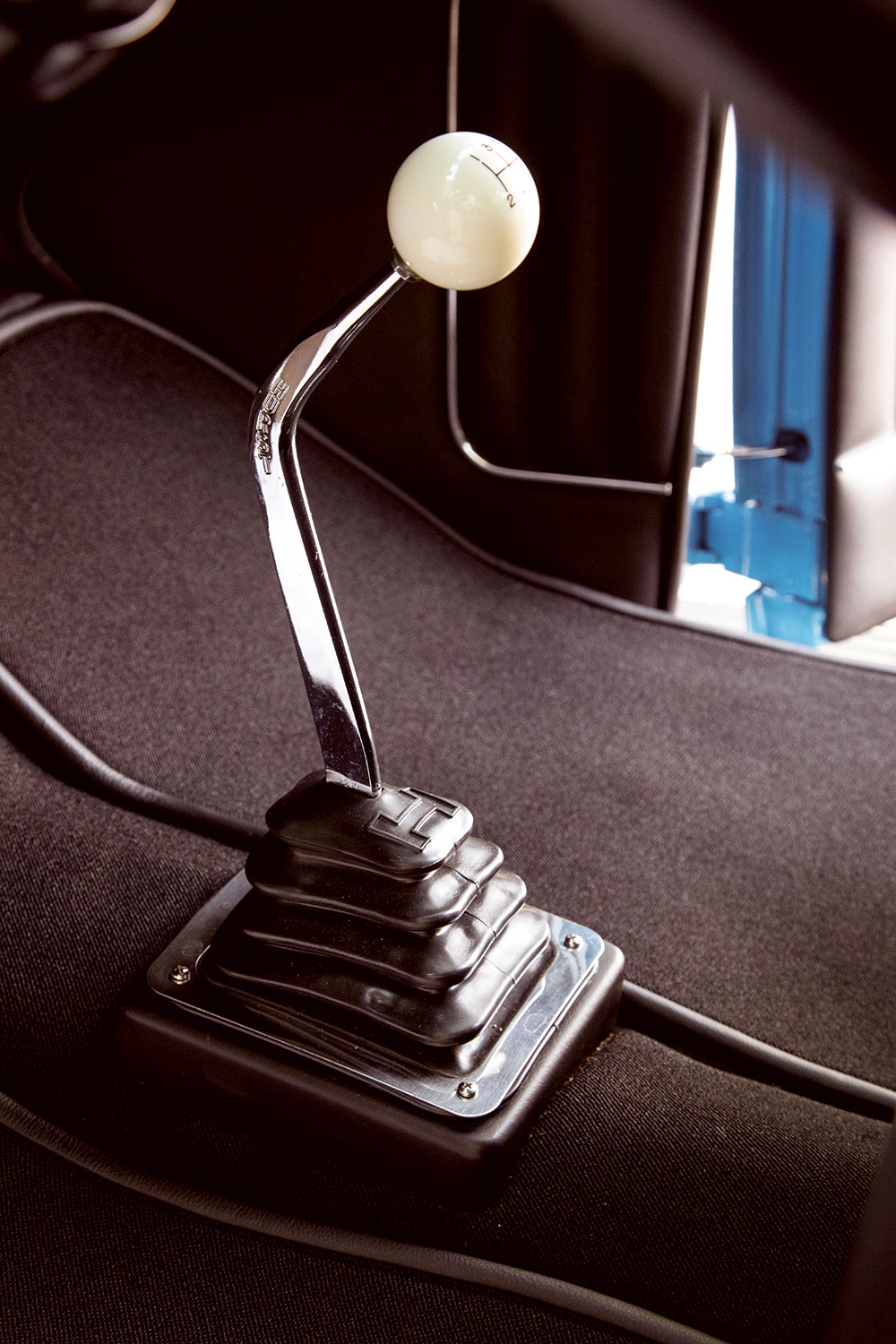 The interior is based on a stock dash with louvers molded in by Cimtex Rods and from here the Classic Instruments custom face gauges are used along with a dash-mounted Rocket Tach. Since the coupe had well-worn and tired wiring, Rick also thought it a good idea to rewire the hot rod; this time he used an American Autowire Highway 15 kit. The 1939 coupe uses an OE Ford split-bench seat and custom seats in the back (liberal use of the word "rear seat"). Robert Hernandez of Gabriel and Son Custom Auto Upholstery stitched the Miles & Giles black leather over the seating along with the use of positioned Lokar aluminum trim strips. There's also a pair of Juliano's three-point seat belts that are fitted to the interior. The Daytona black weave carpeting comes from Auto Custom Carpets.
Attaboy
While Rick has racked up the miles behind the wheel of his homebuilt coupe it should also be mentioned that in 2019 he was one of three recipients added to the Vintage Air Hall of Fame. Prestigious? He was inducted in the same class as the likes of multi-award-winning builder Steve Moal of Moal Coachbuilders and Grammy award-winning musician Jimmie Vaughan. How's that for rarefied air! Additionally, Rick received recognition from the Hot Rod Industry Association and the National Street Rod Association as their Person of the Year for 2018.
A homebuilt and continuously driven hot rod is always a good sign for any car guy, but especially one who works in the industry. MR