Rich Riopel Resurrects This Old Beat Up Truck
By Scotty Lachenauer   –   Photography by the Author
Anyone who has resurrected a vintage ride from a crumbling carcass and colossal pile of parts can appreciate the amount of work that goes into the process. It's a tedious task, to say the least, and the experience could bring on waves of frustration and loads of self-doubt during the course of this possibly massive undertaking.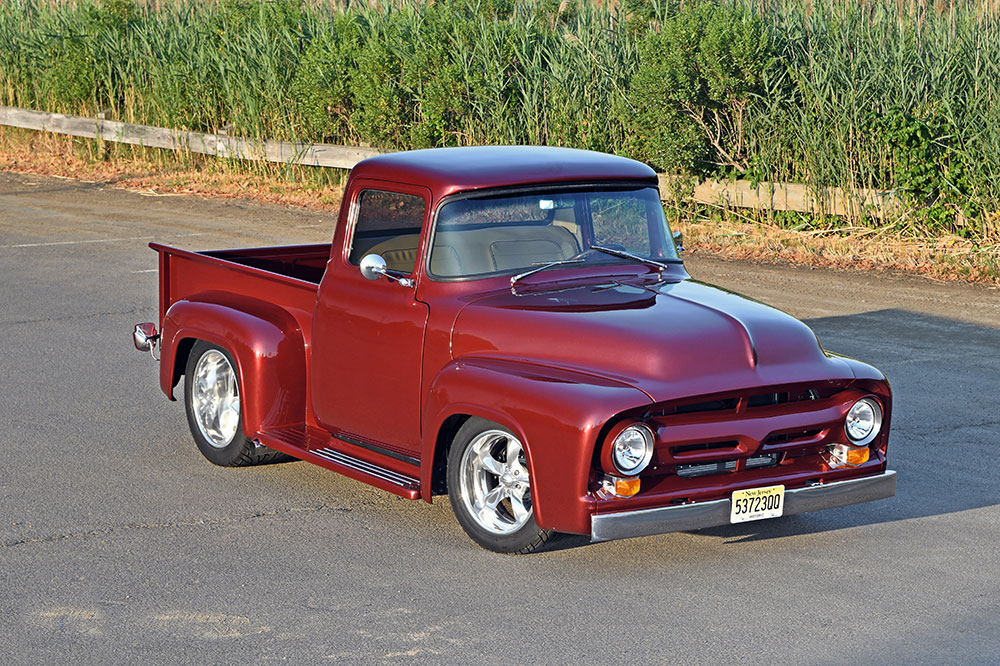 The person willing to create his or her dream ride from the ground up needs to be strong and steadfast or the project will never get the chance to breathe clean air and get its rubber firmly planted on the pavement.
Read More: A Coyote-Swapped First Gen Ford F100, That Took a Lifetime to Build
Pipe Dream
Rich Riopel of Morganville, New Jersey, knew just what he was getting into when he "jumped into the fire" and put his skills to the test to build this stunning '56 Ford F100. "I grew up on a small farm and my grandparents had a mom-and-pop school bus business. At 5 years old I was helping them out. I started on small jobs I could handle but then I eventually moved onto brake jobs, swapping engines, and even painting the buses," Rich states.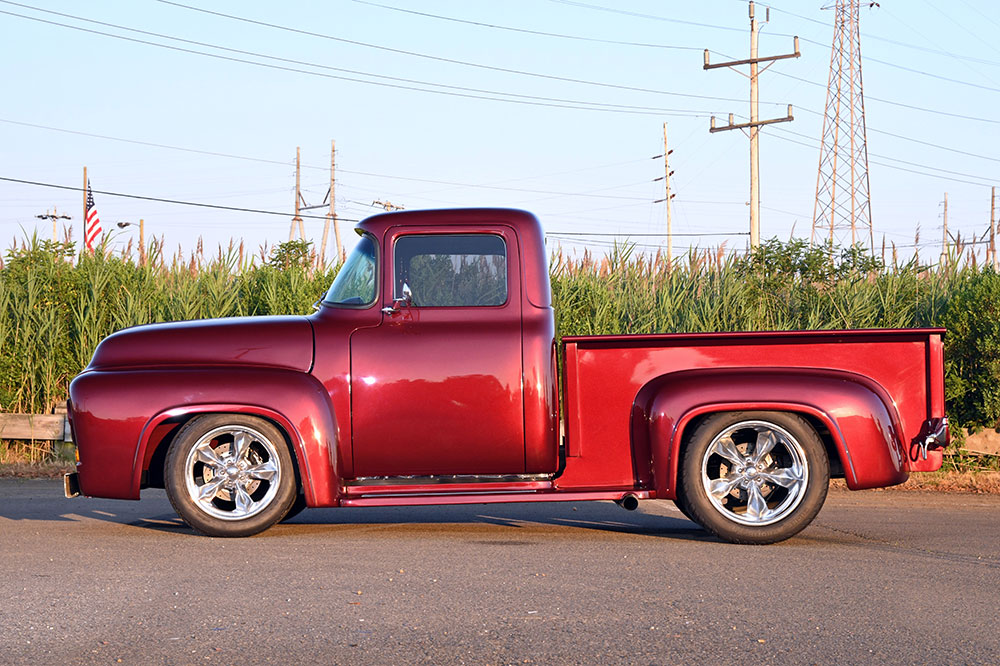 While that was going on, the entrepreneur-in-training started his own side job. "I began fixing bikes and selling them to the local kids. However, that didn't last long because by the time I was 13 I was working on my own cars. I bought a Simca, then '54 and '51 Chevys, and even bought a Volkswagen.  I'd buy 'em and fix 'em and then sell them for a profit."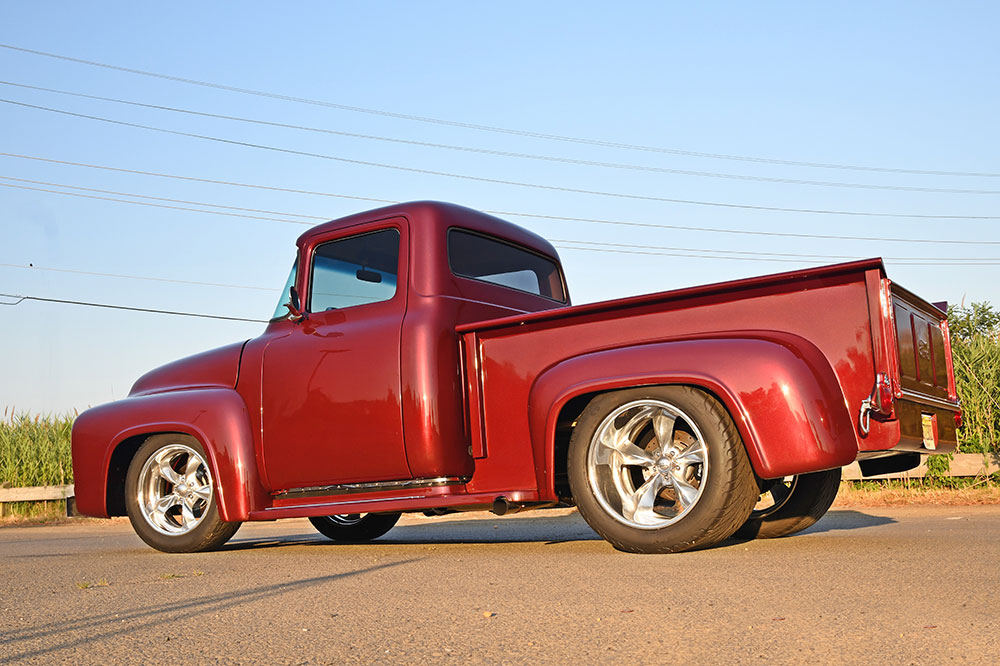 When Rich earned his driver's license at 17 he went out and got his first ride, a '56 Chevy. That was soon sold off and a '64 Bel Air handled the daily driving duties. "I was now learning the plumbing trade and needed transportation to and from work." That Chevy suited him just fine for the time being, but soon another vehicle caught his eye. Enter this '56 bedded Blue Oval.
Plumbed Crazy
"Now that I was a working tradesman for Plumbers and Pipefitters of Local 9 I really wanted a truck for my personal use." Rich soon found an old beater Ford some friends used to haul around lumber and junk at a construction site. "For $200 I got the truck. It was a tired '56 that needed work. I tried to fix the engine, but never got it going. It was now in pieces, and I just moved it out to the shed for the time being."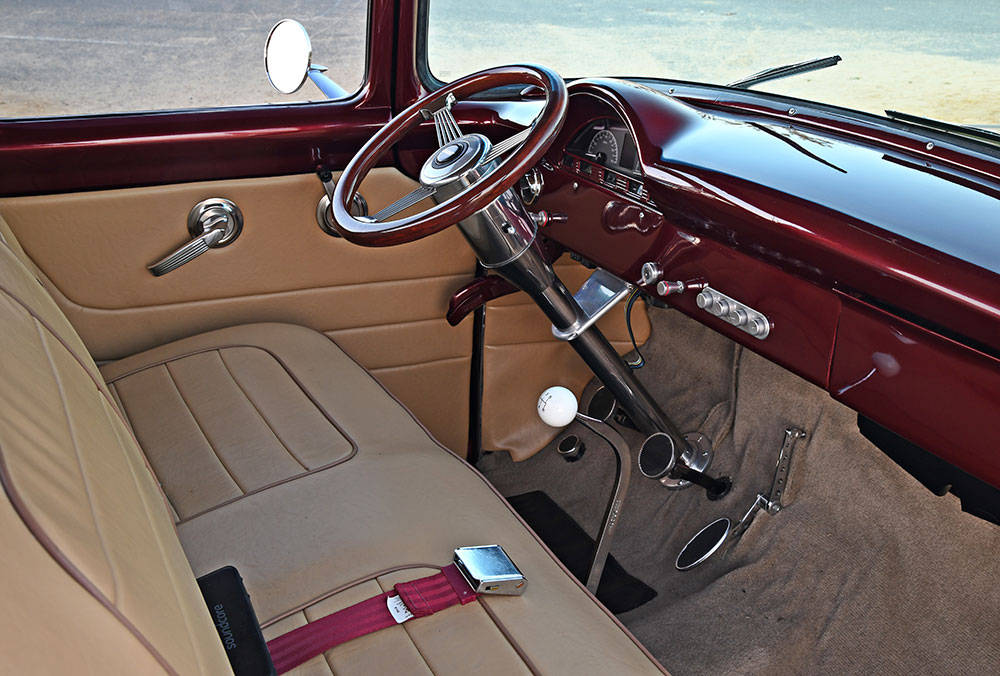 That "short" slumber would last over 40 years while Rich and his wife raised three children. In 2013 Rich started playing around with the Ford. "We had built our house in the '80s and I moved the truck and parts to my own new garage. It sat until I had the time to give to it. I started by working on the frame."
Read More: 31st Annual Cruisin' Ocean City 2022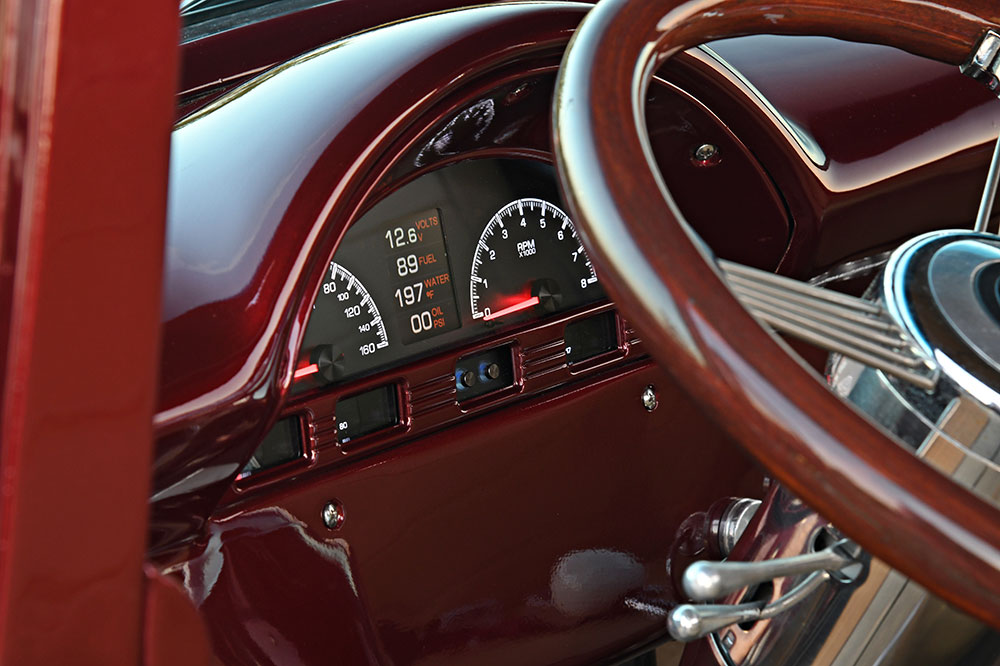 Rich knew he had a tall order in front of him. However, the thought of months of work ahead did not faze him one bit. He soon removed the cab and got to work sandblasting the rails and starting fresh from the ground up. "I boxed and narrowed the frame because I knew I would be adding plenty of horsepower. I welded in a Progressive Automotive tubular X-member and transmission mount as well for stability. From there I painted it gloss black and started with my suspension add-ons."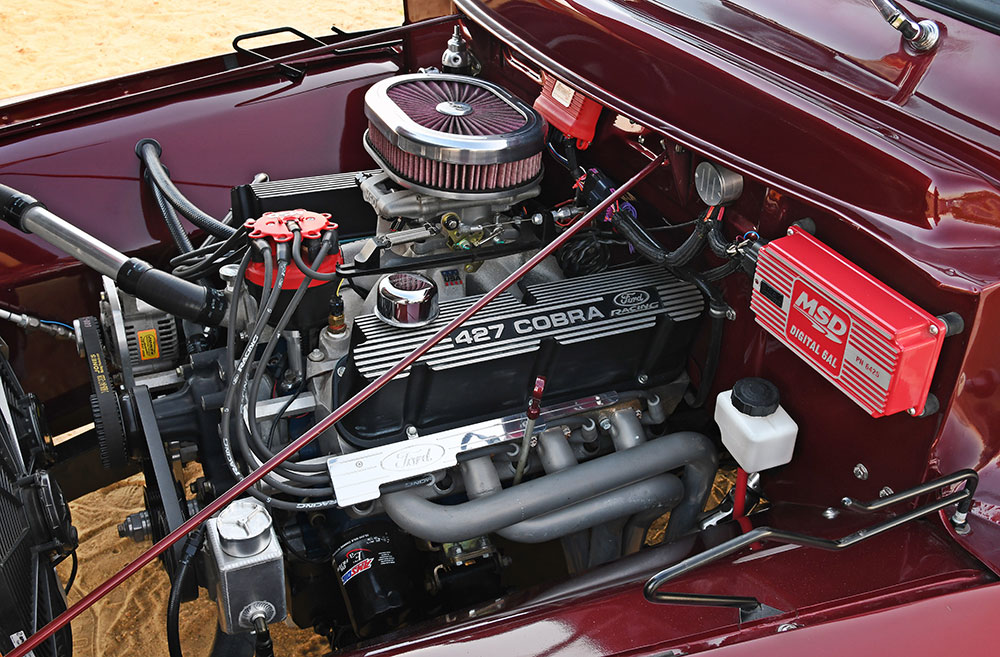 To help with the frame buildup, Rich made his own rotisserie to help with build. The suspension in this Ford got a complete makeover, courtesy of Total Cost Involved and Rich's bank account. This includes an independent front suspension, which includes a power rack-and-pinion setup and Ridetech coilovers. The rear suspension is based on a Total Cost Involved four-link with a Ford 9 inch rear end from Currie stuffed with 3.89 gears to get the power to the pavement. Wilwood brakes on the corners help this Blue Oval stop on a dime.
The body on this Ford needed some help. Rich planned ahead and made a list of all the patch panels he needed to get this truck's cab up to snuff. LMC Truck supplied the needed metal and Rich did all the welding and bodywork. However, the two pieces on this truck that were not reproduced were the doors. "My brother-in-law Frank LaRoza and I went to West Virginia and grabbed two used doors, as well as a hood, front fenders, and rear fenders. I also replaced the rear bed. It was a company up by Niagara Falls. I chose a '48 tailgate because I liked the script 'Ford' lettering. It's the same tailgate besides the lettering."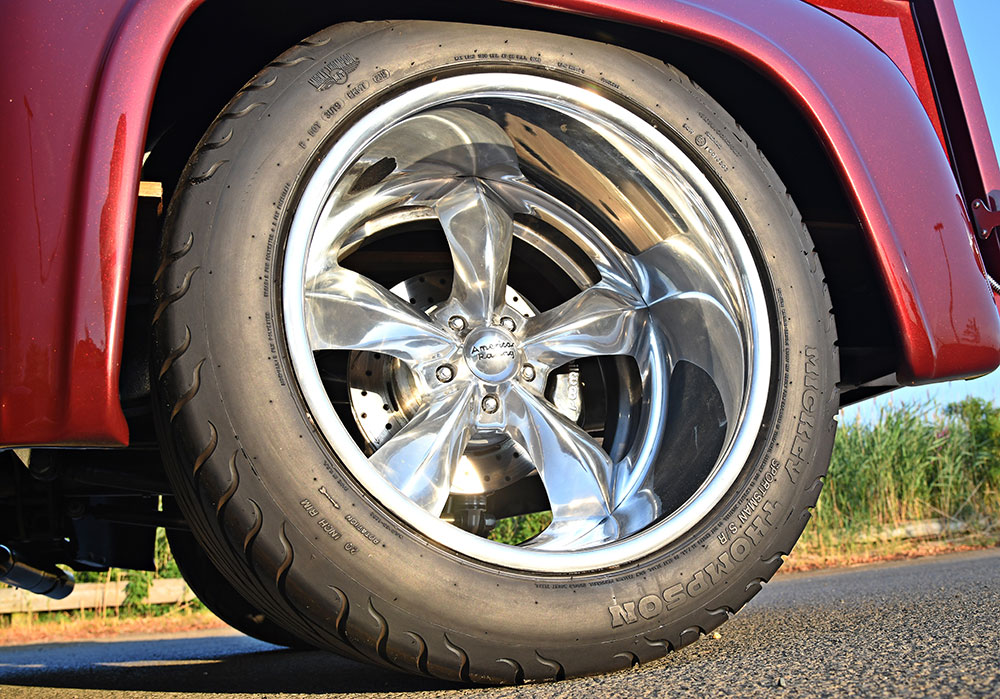 However, Rich wasn't satisfied with the stock look of the truck. "One major modification I did to the cab was the doors. I rounded off the corners. It's something that I feel makes this truck stand out. I also built a new firewall for a cleaner look to the engine bay." Other modifications include shaving the drip rails, shortening the fenders, lengthening the running boards, removing the gas tank filler, removing the cowl vents, and shaving the door handles and door locks. Once Rich finished the bodywork, Bill Grabowski of Solveri Collision in Point Pleasant, New Jersey, basted this bedded hot rod in Charley Hutton–designed PPG Checkered Red.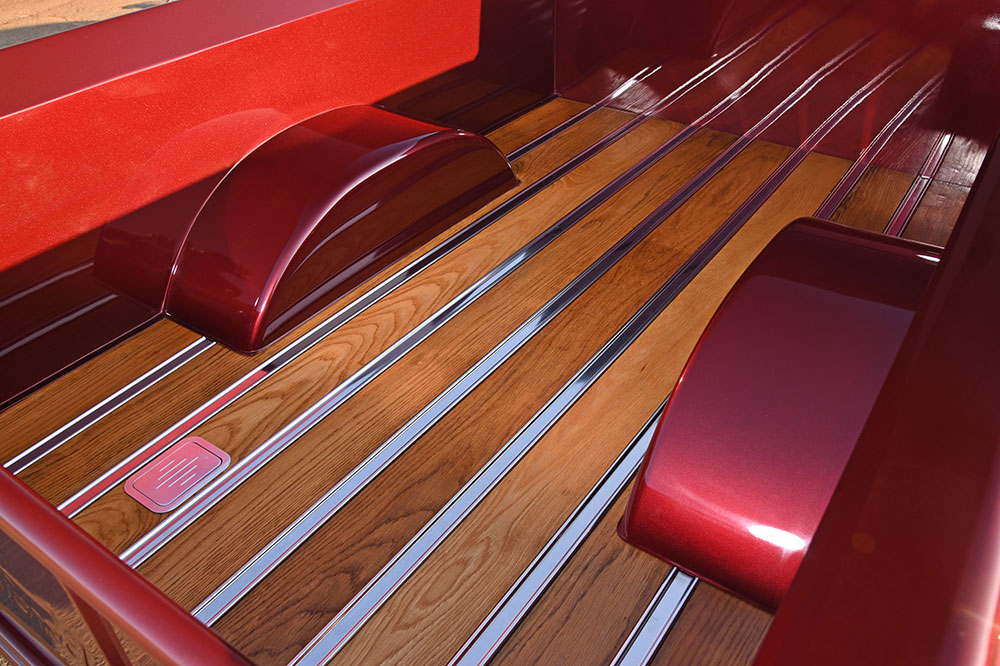 Motorvation for this here hot rod came directly from Ford Racing. "I went with a Ford 427 crate engine, which is based on a 351 Windsor. From there I added a Jones Racing drive system and an MSD Atomic EFI setup, working with a Super Victor Edelbrock intake."  A TREMEC TKO 600 5 speed manual transmission does the shifting. Ceramic-coated, long-tube TCI headers feed 3-inch stainless steel pipes, leading into a pair of 3-inch Pro Series mufflers from Pypes Exhaust out back. Electric cutouts add extra growl when Rich flips the switch.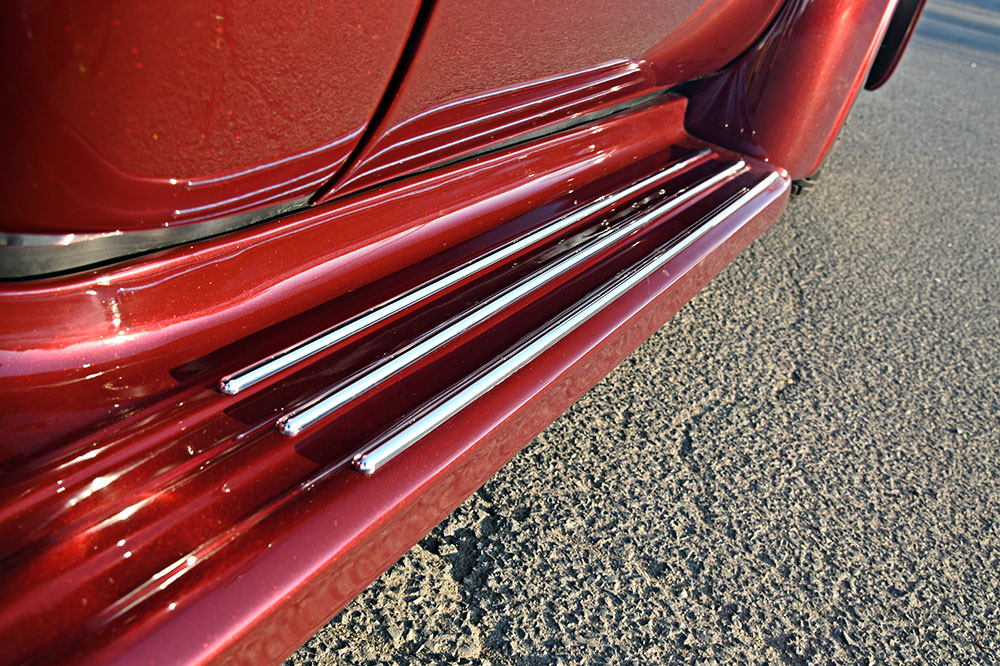 Once the drivetrain was complete, Rich set his sights on the interior. "I had John of Ace Auto Top and Seat Covers in Shrewsbury, New Jersey, make me a custom cockpit. We reused the original seat frame for the build." Other accoutrements include a Dakota Digital gauge cluster, a tilt ididit steering column topped with a Grant steering wheel and a Hurst Shifter. HVAC is courtesy of Vintage Air, and Ron Francis wiring ties it all together.
Read More: Goodguys Columbus Nationals' CK1500 Truck Giveaway
Other highlights of this build include the Torq Thrust American Racing wheels at the corners. They are shod in Mickey Thompson Sportsman tires; 28×10.00/R18 up front and 31×18.00/R20 in the rear. The tilt-forward hood treatment was a tasty add-on and it features a true look Ford logo on the inside skin.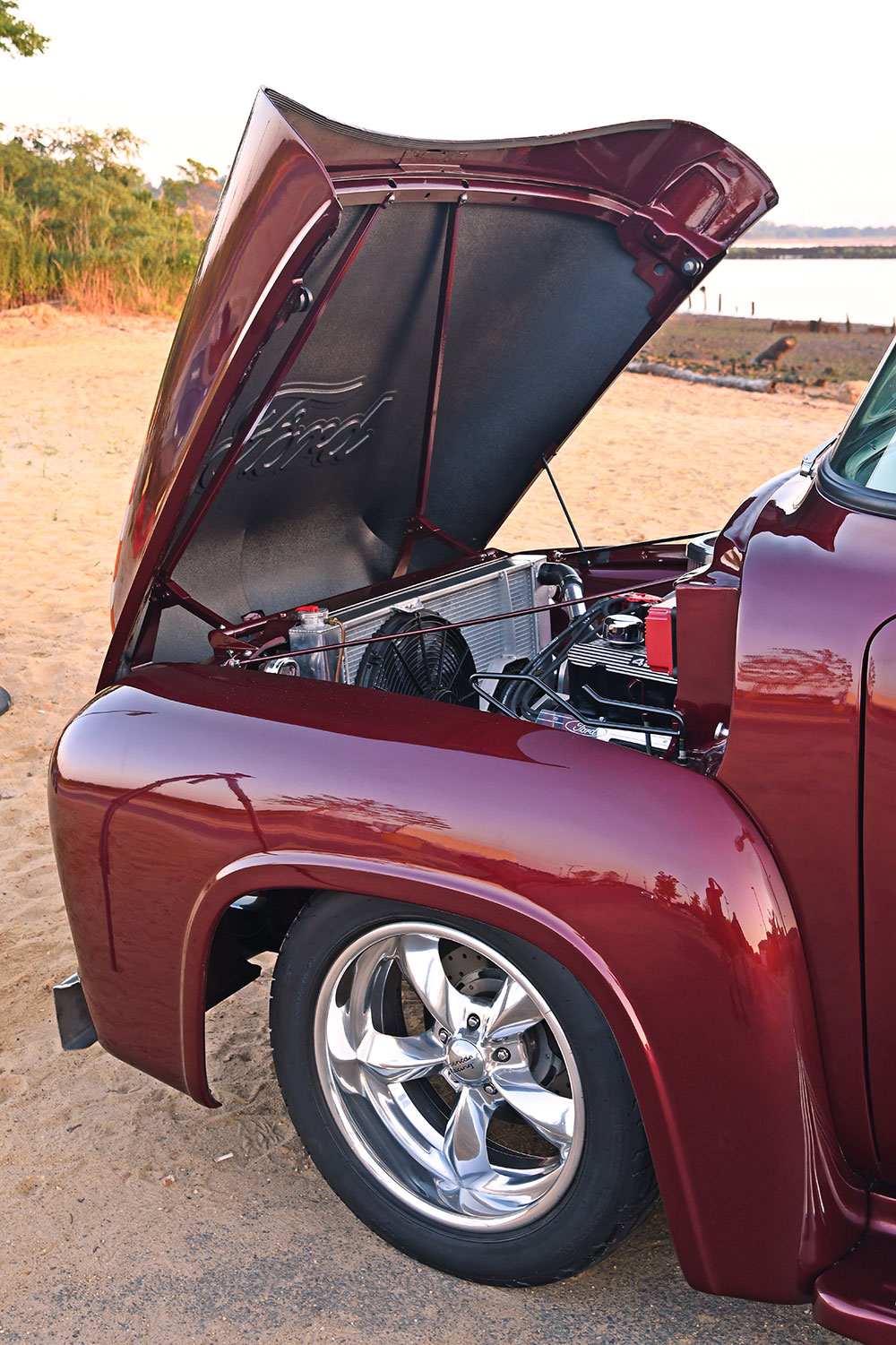 Brain Drain
After several years of working on his '56 Rich finally had the Blue Oval he always dreamed of. "Without a doubt it's the most powerful vehicle I've ever driven. The response is immediate, and it drives like a new truck."
Thanks go out to the people who stood by Rich while building this fresh new Ford. "I have to give thanks to my brother-in-law and best friend Frank LaRoza for his help when it was needed. Special thanks go to my wife, Debra, for always encouraging me to do the things I enjoy. I finally got my dream hot rod. It's just perfect."