An Engine-by-Engine Overview of the Gen V Small-Block
Text by Barry Kluczyk – Photos by the Author and General Motors
Hard as it is to believe, the Gen V small-block—the "LT" family—has been in production for nearly a decade, after debuting in 2013 in the redesigned 2014 Silverado. Shortly after that came the LT1 versions in the C7 Corvette and Gen 6 Camaro.
The LT engine architecture has its roots in the LS family that established unprecedented performance benchmarks and reinvigorated hot rodding, with the same sort of fundamental shift that could be attributed to the original small-block. While there is a lineage from LS to LT, the two branches of the small-block tree are significantly varied.
There are essentially no interchangeable parts between the LS and LT families and all LT engines feature direct fuel injection. With the proliferation of LT engines increasing in production vehicles and as swap material for hot rods, trucks, and Pro Touring machines, it's worth stepping back for a moment to survey the landscape to discuss the engines out there and where they fit in the LT hierarchy.
Like every small-block generation before it, the Gen V cylinder block shares a 90-degree cylinder angle and 4.400-inch bore centers. It's the thread that links them all, even though the bore and stroke specs vary among different variants—with displacements limited to 4.3-, 5.3-, 6.2L, and, most recently, 6.6L, for the new heavy-duty truck gas engine.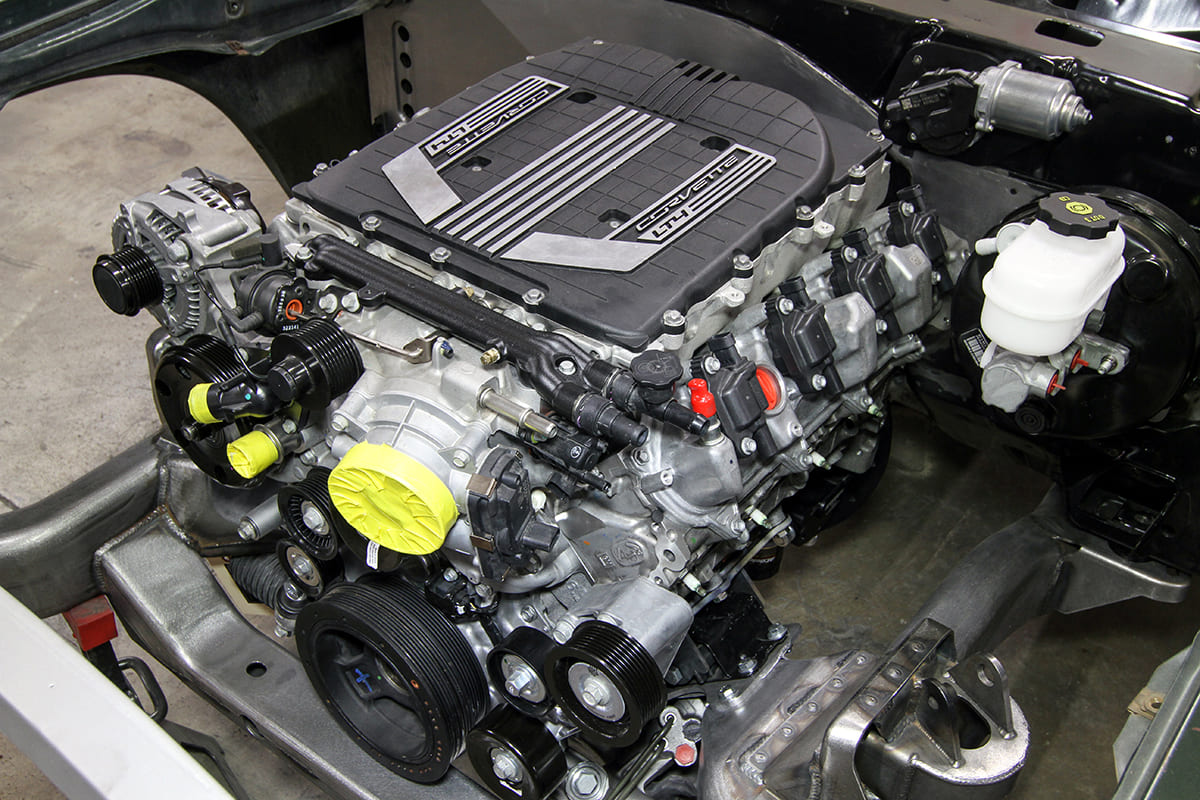 Like the LS architecture, the LT block is a deep-skirt design with six-bolt main caps with built-in provisions for jet-spray piston cooling, as well as accommodations for an engine-driven vacuum pump and the engine-driven high-pressure fuel pump for the direct injection system. By the way: All of the LT blocks except the new L8T heavy-duty truck engine are cast aluminum. The L8T has a cast-iron block (see sidebar on page xx).
The LT cylinder head design builds on the excellent airflow attributes of previous LS family designs and matches it with a direct-injection combustion system. All versions are cast aluminum, using a semi-permanent mold process that produces a more accurate casting for optimal mass reduction and minimal machining.
Although sizes vary among the variants, LT combustion chambers are generally smaller than LS chambers to accommodate the volume of dished piston heads that are crucial for directed fuel spray from the injectors, while also contributing to generally higher compression ratios of up to 11.5:1 on some engines.
As for the direct injection system, it introduces fuel directly into the combustion chamber rather than into the cylinder head ports, per a conventional port-injection system. It is done with extremely high fuel pressure of more than 2,000 psi—and closer to 2,900 psi for the supercharged versions. The precise fuel control with direct injection enables the engine's higher compression ratios, which boost horsepower.
With all that as a preface, we've compiled a reference guide to all of the LT production engines, with their basic specs and unique attributes, from the surprisingly strong V-6 engine in 1/2-ton trucks to the supercharged LT5, along with the LT2 in the mid-engine C8 Corvette, the long-stroke L8T truck engine, and everything in between. There's much to cover, so let's get started.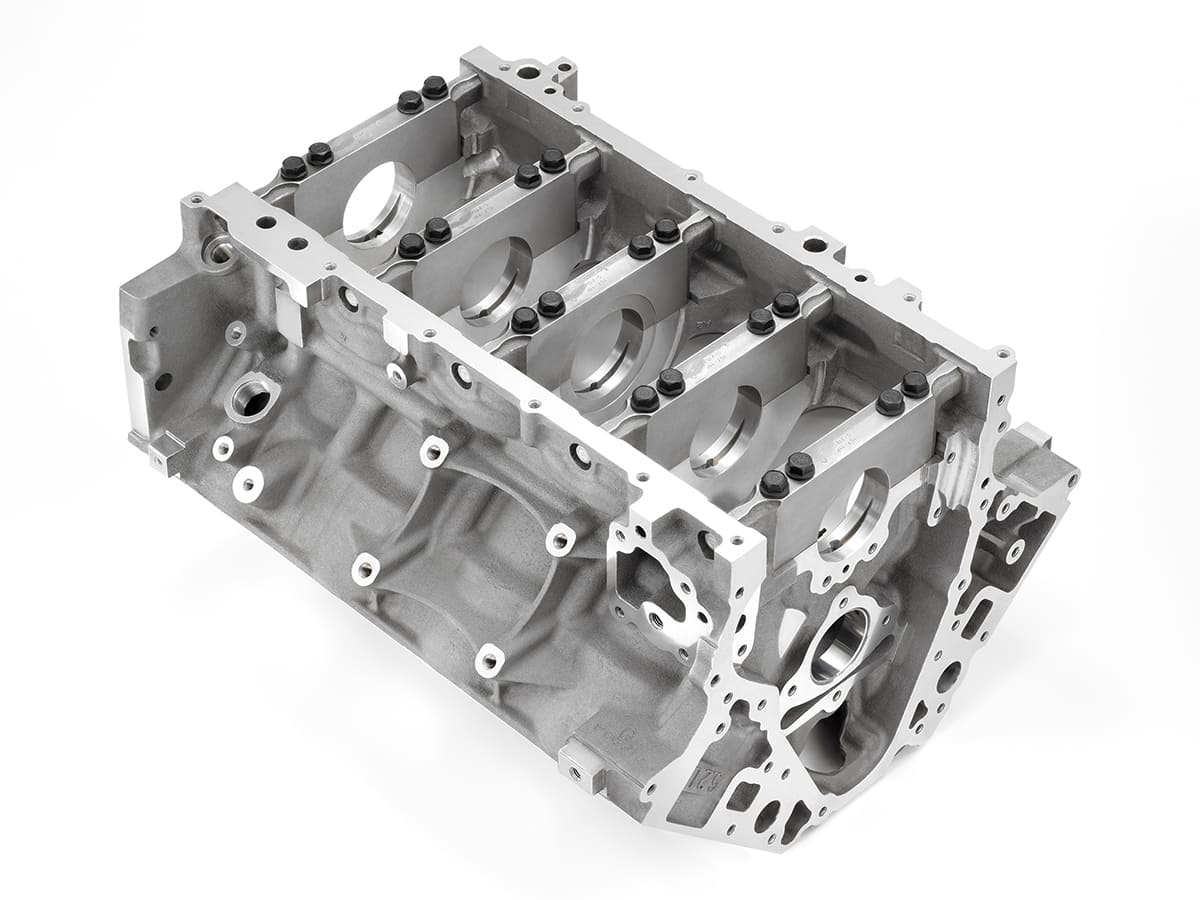 LV3 4.3L V-6
Displacement (ci): 262
Bore x stroke (in.): 3.92 x 3.62
Compression ratio: 11.0:1
Horsepower: 285 @ 5,300 rpm
Torque (lb-ft): 305 @ 3,900 rpm
Just like the old 4.3L V-6 was a small-block with the two rear cylinders lopped off, the LV3 4.3L engine is just a six-cylinder version of the LT V-8 design. It's the base engine in the Silverado 1500. While not widely known, it's a pretty stout powerhouse in its own right, with 285 hp and 305 lb-ft of torque. That's right up there with the output of the LT1 350 engines in early fourth-gen F-bodies. With its lightweight aluminum block and heads and a featherweight composite intake manifold, it has the making of very economical and weight-balanced swap material, especially in smaller cars such as Vegas and Monzas. Hell, a third-generation Camaro with a V-8 never had this much power—and think about all the extra underhood room for fabbing a turbo system.
L83/L84 5.3L V-8
Displacement (ci): 325
Bore x stroke (in.): 3.78 x 3.62
Compression ratio: 11.0:1
Horsepower: 355 @ 5,600 rpm
Torque (lb-ft): 383 @ 4,100 rpm
These LT-based 5.3L variants are the workhorses of Chevy's light-truck lineup, powering the current- and previous-generation 1/2-ton Silverado, Tahoe, and Suburban. The engines actually have a smaller 3.78-inch bore diameter than the LV3 V-6 engine, but use the same 3.62-inch stroke. It consequently revs a little higher, producing its peak 355 hp at 5,600 rpm. As is the case with all LS and LT engines, low-rpm grunt isn't the engine's strongest suit, but it makes a strong 383 lb-ft by 4,100 rpm. There are aftermarket supercharger kits and other bolt-ons for these 5.3L engines, but most of the aftermarket performance options are focused on the larger-displacement 6.2L engines.
L86/L87 6.2L V-8
Displacement (ci): 376
Bore x stroke (in.): 4.06 x 3.62
Compression ratio: 11.5:1
Horsepower: 420 @ 5,600 rpm
Torque (lb-ft): 460 @ 4,100 rpm
The LT engine platform goes oversquare with the high-performance L86 and L87 variants. Similar to the L83 and L84 5.3L engines, these variants are essentially the same but with slight packaging differences depending on the vehicle generation. The L86 was used in the previous-generation Silverado 1500, Tahoe, and Suburban, while the L87 is used on the current-generation models. The oversquare dimensions mean a larger, 4.06-inch bore than the 3.62-inch stroke. Along with a half-point bump in compression, it contributes to greater high-rpm horsepower, which peaks at 420 at 5,600 rpm. Torque is strong, too, at 460 lb-ft at 4,100 rpm. The L86 and L87 are also very similar to the LT1 engine in the Camaro and C7 Corvette—they even share the same camshaft part number—but with a specific intake manifold and other variances to enhance lower-rpm torque production. Another win for the L86/L87 is a super-tough forged steel crankshaft.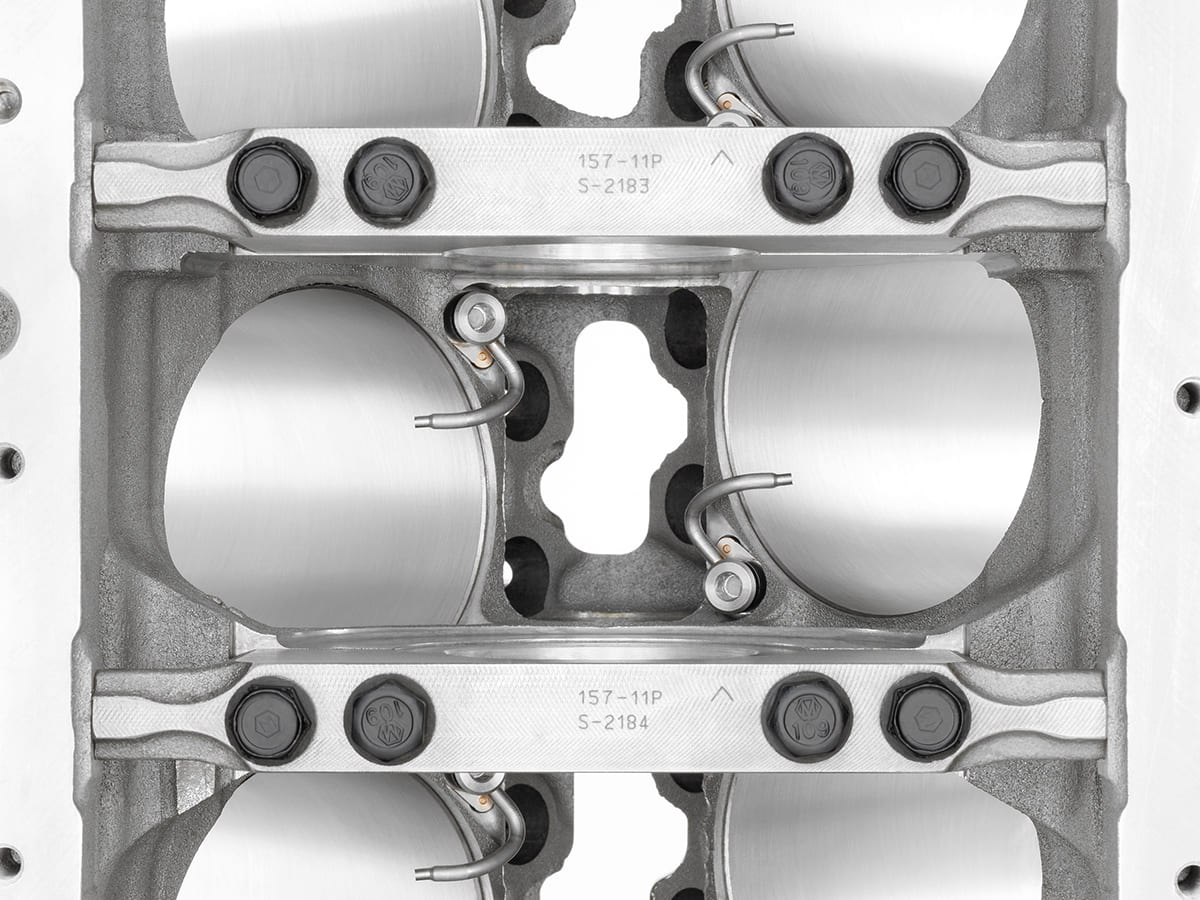 LT1 6.2L V-8
Displacement (ci): 376
Bore x stroke (in.): 4.06 x 3.62
Compression ratio: 11.5:1
Horsepower: 460 @ 6,000 rpm
Torque (lb-ft): 460 @ 4,100 rpm
Debuting in the C7 Corvette, followed shortly thereafter in the Gen 6 Camaro, the LT1 breathes deeper and revs higher than the L86/L87, pushing peak power up to 460 horses at 6,000 rpm and 465 lb-ft of torque (with an optional, lower-restriction exhaust system in the Corvette). It, too, has a forged steel crankshaft and its high-pressure, camshaft-driven, direct-injection fuel pump sends fuel to the injectors at 2,175 psi. Chevrolet Performance offers crate-engine version of the LT1 in conventional wet sump (Camaro) and dry-sump (Corvette) kits. The wet sump version is rated at 455 hp and 455 lb-ft.
LT376/535 6.2L V-8
Displacement (ci): 376
Bore x stroke (in.): 4.06 x 3.62
Compression ratio: 11.5:1
Horsepower: 535 @ 6,300 rpm
Torque (lb-ft): 470 @ 4,600 rpm
This is Chevrolet's factory high-performance version of the LT1, which has been offered strictly as a crate engine from Chevrolet Performance. Compared to the production engine, it features CNC-ported cylinder heads and the higher-lift LT Hot Cam, with 0.577/0.577-inch lift and 228/248 degrees of duration. It revs to 6,300 rpm to push out 535 naturally aspirated horsepower. It's a direct bolt-on for Gen 6 and C7 Corvettes, but it doesn't come with exhaust manifolds or other frontend drive accessories. That's not a problem for retrofits in older vehicles, but like other LT engines, there is no provision in the factory accessory drive for conventional hydraulic power steering. LT-powered production vehicles have electric power steering.
LT4 6.2L V-8
Displacement (ci): 376
Bore x stroke (in.): 4.06 x 3.62
Compression ratio: 10:1
Horsepower: 650 @ 6,400 rpm
Torque (lb-ft): 650 @ 3,600 rpm
As the power behind the C7 Corvette Z06, the supercharged LT4 briefly held the title as General Motors' most powerful automotive production engine, with 650 hp and 650 lb-ft of torque. The boost came from a charge-cooled, 1.7L Eaton TVS supercharger. It was smaller in displacement than the earlier LS6 supercharged engine, but it spun to a higher maximum speed—up to 20,000 rpm—to push out a maximum of 9.4 pounds of boost. To stave off detonation, the compression ratio was lowered to 10:1; and every component of the rotating assembly was unique, including the forged crankshaft, forged powder metal rods, and forged aluminum pistons.
LT5 6.2L V-8
Displacement (ci): 376
Bore x stroke (in.): 4.06 x 3.62
Compression ratio: 10:1
Horsepower: 755 @ 6,400 rpm
Torque (lb-ft): 715 @ 3,600 rpm
Chevrolet threw down the horsepower gauntlet with the 755hp LT5 that drove the C7 ZR1, eclipsing the output of the LT4 to claim the title as GM's most powerful automotive production engine. The guts of the engine were largely the same as the LT4, but the blower was bigger. Much bigger. Displacing 2.65 liters, it was 56 percent larger than the LT4's supercharger. All that extra air required extra fuel and it came in the form of eight additional port injectors that supplemented the direct-injection fuel system at wide-open throttle. It was a sledgehammer approach to building power safely and it worked amazingly. Tipping into the throttle on the ZR1 was like those Star Wars scenes when Han Solo kicks the Millennium Falcon into hyperspace. The stars blur and the thing is gone. That's the ZR1—and peak LT performance.
LT2 6.2L V-8
Displacement (ci): 376
Bore x stroke (in.): 4.06 x 3.62
Compression ratio: 11.5:1
Horsepower: 495 @ 6,450 rpm
Torque (lb-ft): 470 @ 5,150 rpm
Powering the C8 Corvette, the LT2 is largely similar inside to the LT1 but with a unique block casting to accommodate a number of features related to the car's mid-engine layout. That includes a standard dry-sump oiling system, with the oil reservoir mount on the engine. The intake manifold is also reversed on the engine, while high-flow four-into-one exhaust headers sweep up the side of the engine, much like a marine engine. The LT2 has its own camshaft profile, too, with more lift and duration, which helps the engine process more air and push peak power a tad higher in the rpm band, to 495 hp at 6,450 rpm (with the optional exhaust system).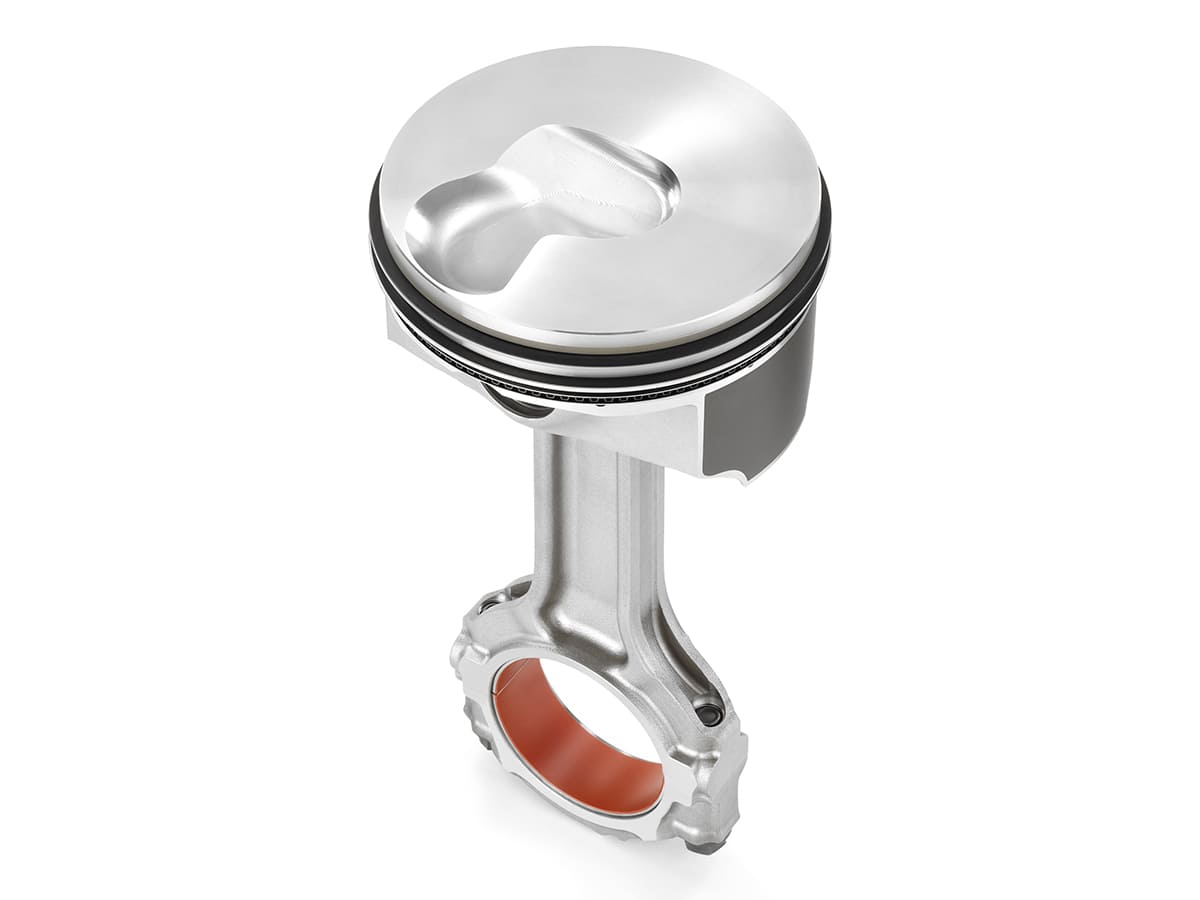 L8T 6.6L V-8
Displacement (ci): 401
Bore x stroke (in.): 4.05 x 3.89
Compression ratio: 10.8:1
Horsepower: 401 @ 5,200 rpm
Torque (lb-ft): 464 @ 4,000 rpm
Introduced in the 2020 GM heavy-duty pickups, the L8T 6.6L engine replaces the previous LS-based 6.0L engine in GM's heavy-duty trucks. It's the largest-displacement engine in the LT family, with a longer, torque-building 3.89-inch stroke and it's the only LT engine with a cast-iron cylinder block. It has a forged steel crankshaft that's located with nodular iron main caps, which all sounds like a firm foundation for boosting. But the engine is built for torque and one of its signatures is a tall intake manifold with long runners. Likewise, its unique camshaft delivers lower maximum lift and duration than, say, the LT1, with a profile designed to enhance lower-rpm torque production. The takeaway here for performance builders is a durable iron block with a factory forged crankshaft.