Our Interview With Tre 5 Customs About Todd Breuer's Blissfully Blue GMC Truck
By Rob Fortier   –   Photography by Grinder TV
Last November, I got the opportunity to lay eyes on Todd Breuer's fresh-from-the-shop GMC at Dino's Git Down in Tre 5 Customs' booth just adjacent to ours. What initially caught my eye, besides the fact that it was of non-Chevy GM origin (my favorite), was the color—Toyota Blue—which stood proudly flanked by the glimmering K5 and C10 that were on display (and also painted by iKandy Paintworks).
Read More: How To Install Wilwood's Forged Narrow Superlite Big Brake Kit
Of course, I spent a considerable amount of time admiring Todd's '52, but didn't have a chance to pick builder Jeremy Rice's brain about the build … till now.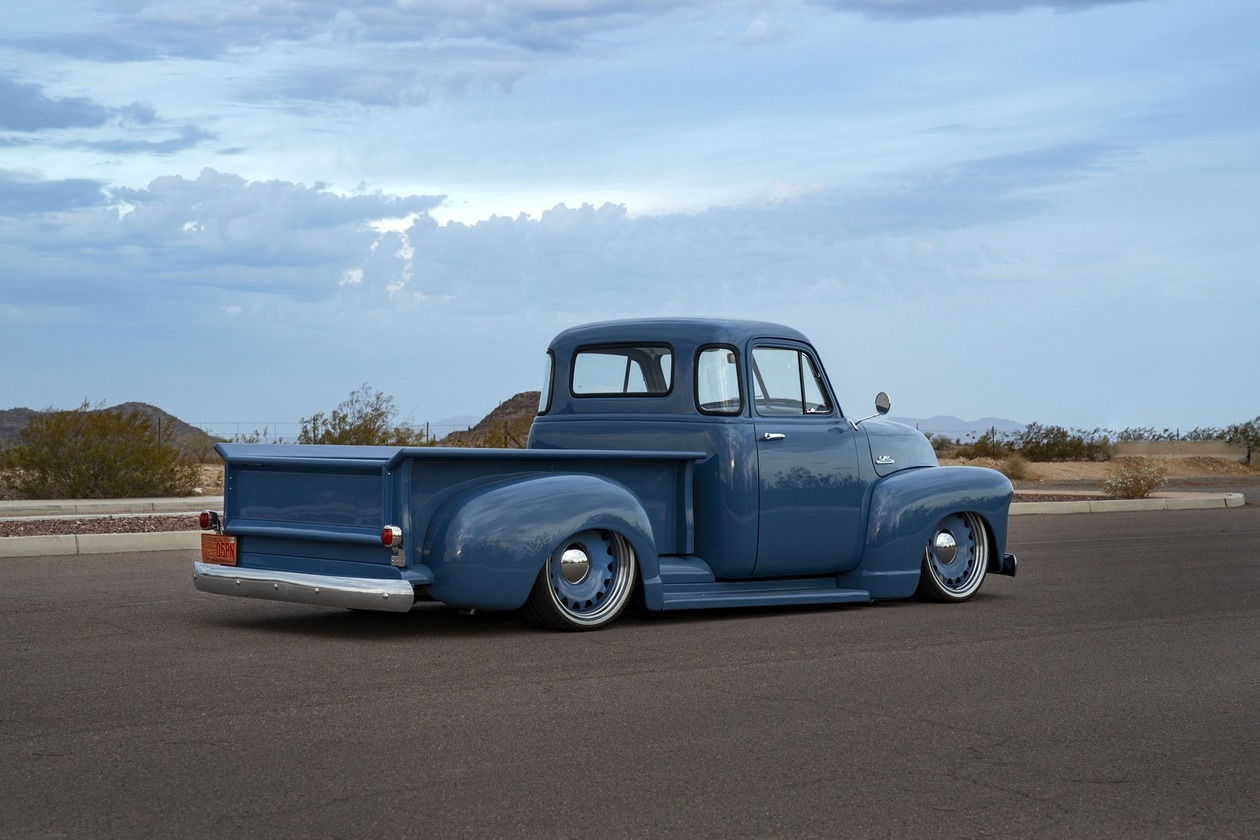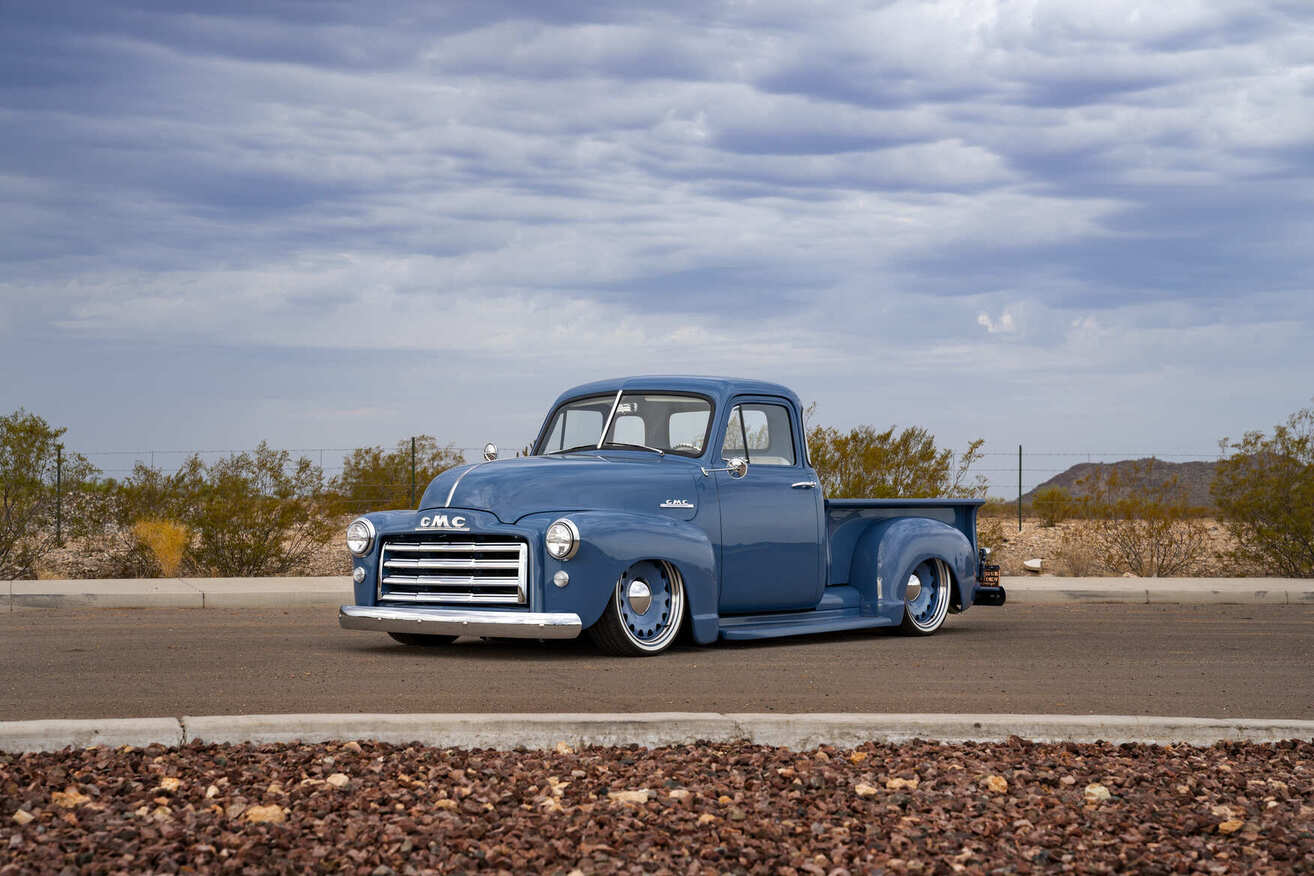 CTP: How was it different, if at all, working with an Advance Design GMC as opposed to a Chevy?
Jeremy Rice: There are a few differences in the front ends of the GMC sheet metal as compared to the Chevy. The biggest difference that affected us was the radiator support mount. We had to cut off the chassis' mount as it was intended for a Chevy and build one that matched up to the GMC. Other than that, they go together similarly … with 10,000 nuts and bolts. The GMC seems to have one or two additional panels from the factory that dress up the look when the hood is open.
CTP: What were the most challenging and most rewarding aspects of this project?
 JR: I am answering this as me and not Todd … The most challenging part of the build is that Todd had ordered a lot of the parts himself. Since we didn't order them, some of the parts weren't parts we're as familiar with using and some of them didn't jive together as well as they should have. But that's our job as builders, so we just sucked it up and made the parts work as they were intended to. The most rewarding thing was when Todd picked up the truck. He doesn't show a ton of emotion and poker faced us throughout the build. Since he lives in town, he would stop by from time to time and check on the progress. He was always stone faced! When he picked it up, we finally saw a crack of a smile and he proceeded to do a couple burnouts around the building [laughs].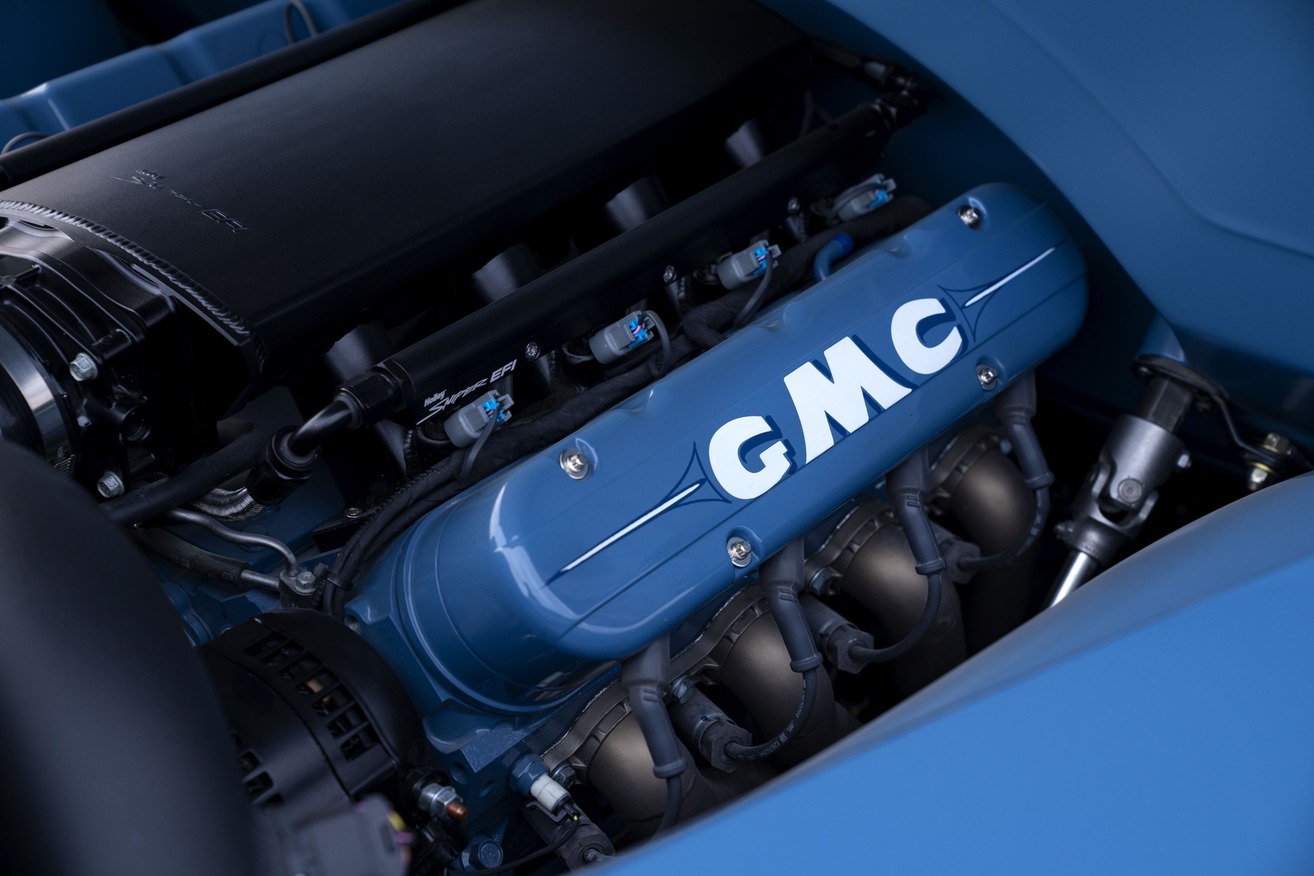 CTP: Reasoning for the particular color choice (which I dig, by the way)?
JR: The color choices were all Todd. He had two to three colors in mind, but between him, Frank, and myself … we all gravitated toward this one.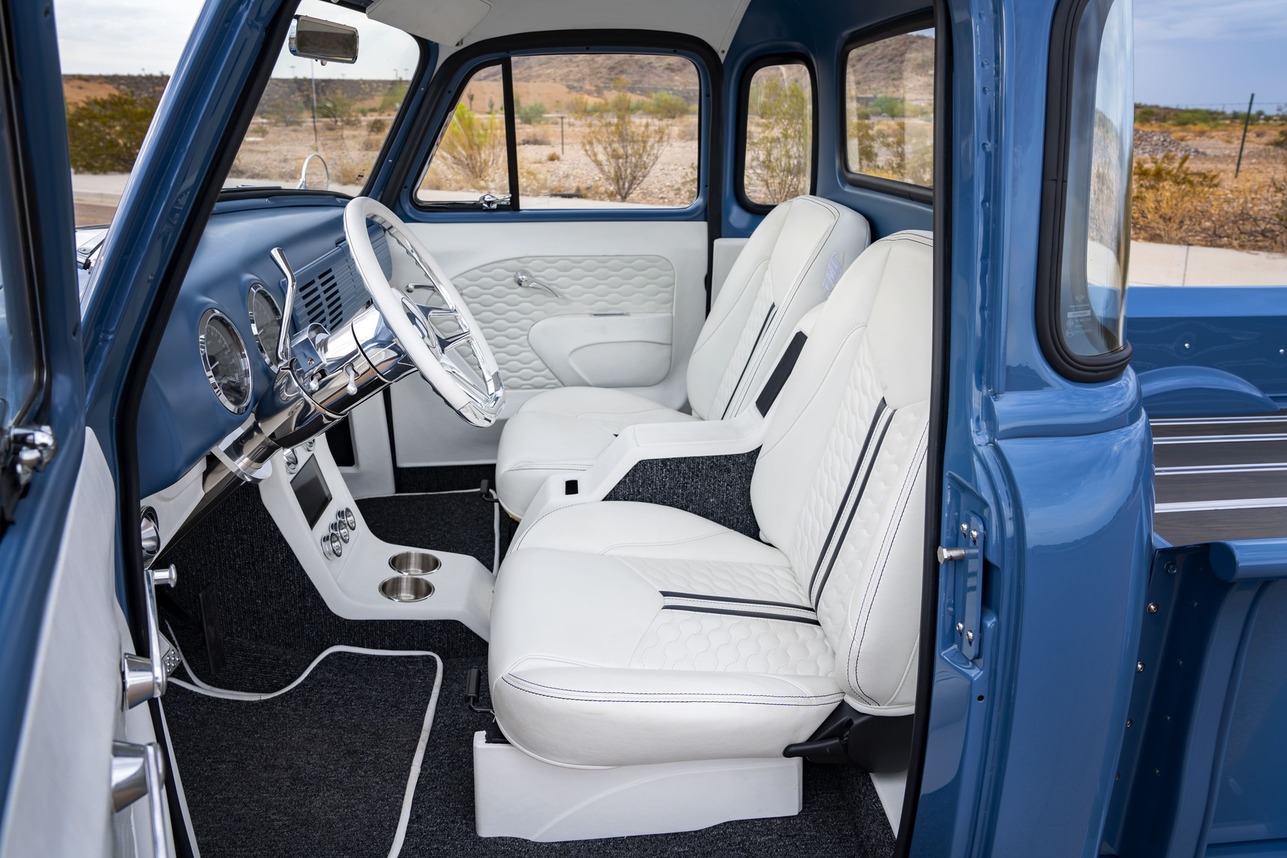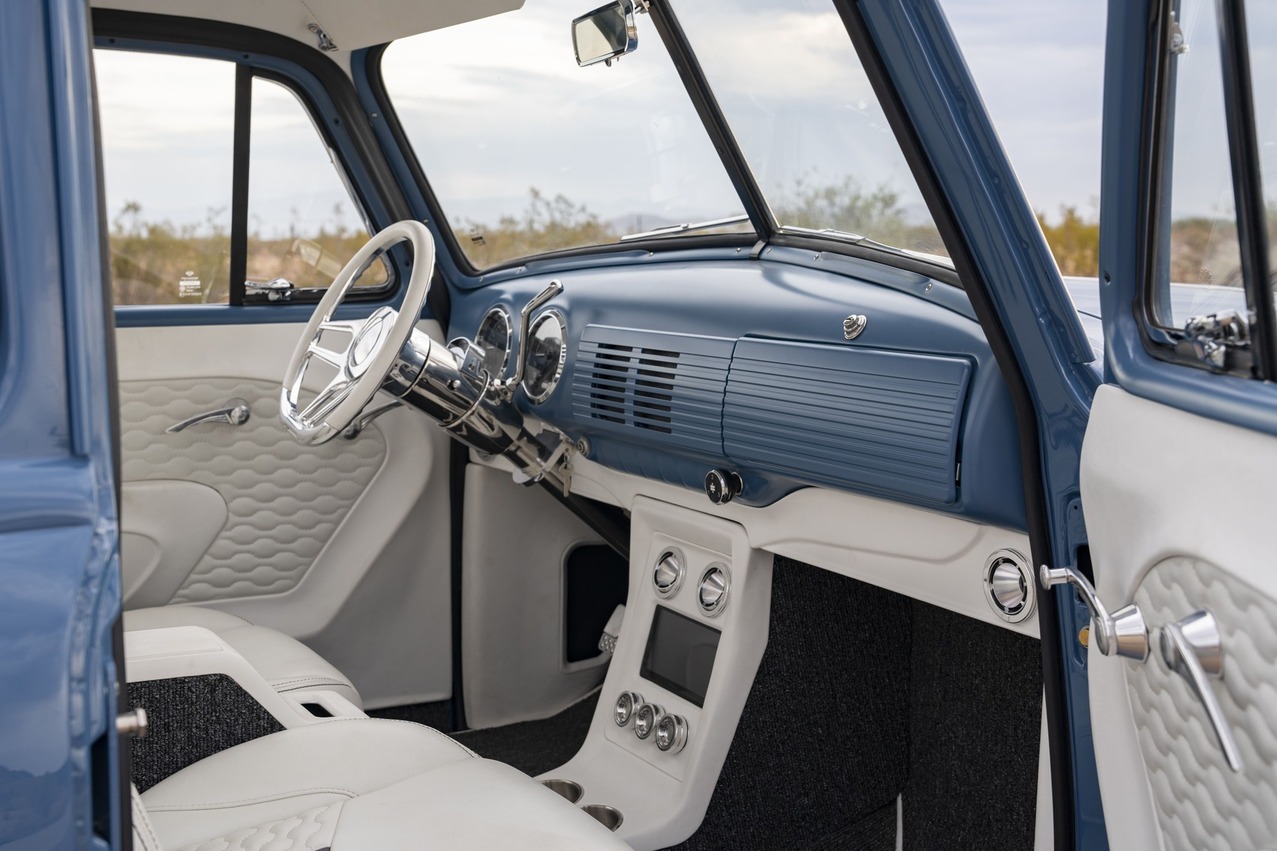 CTP: Bonus question. Do you find any difficulty getting the front sheetmetal aligned on '47-54 Chevy/GMC pickups? If so, any tips you're willing to share? (Asking for a friend!)
Read More: A Family Affair–1948 Chevy 3100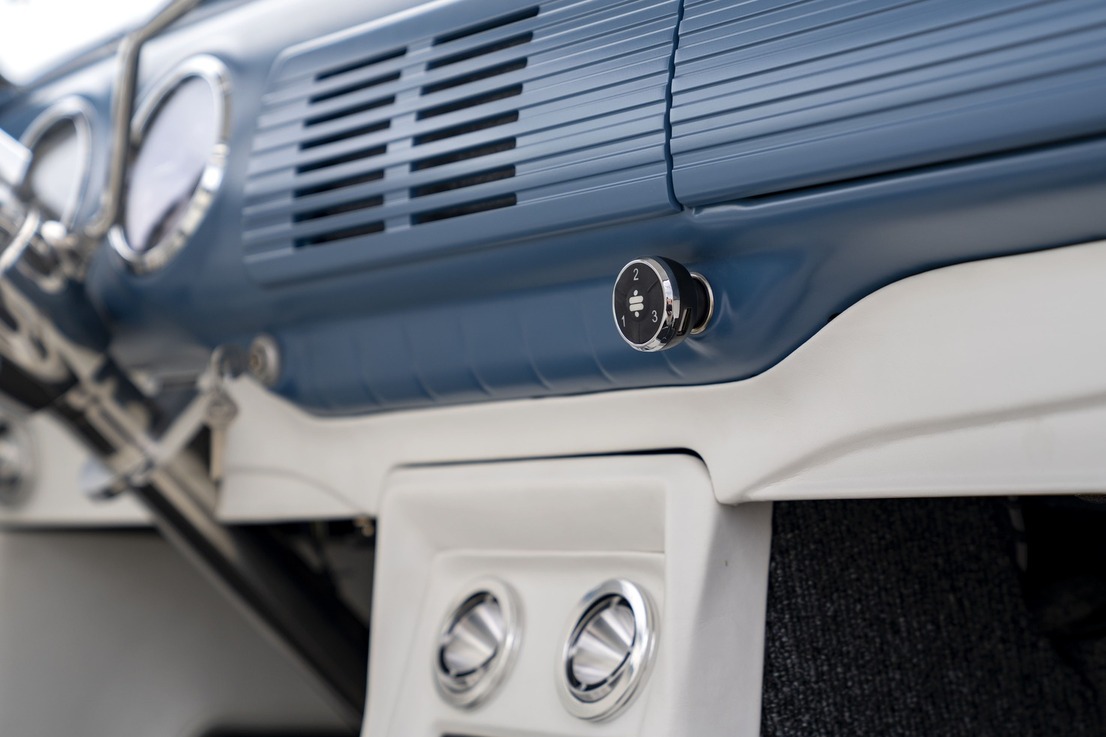 JR: Good luck [laughs]! The only tip I have learned is to be patient! Unless you're going to spend the time to build a new inner structure underhood, expect the gaps to change every time you close it. Without going crazy, we get them pretty close. Always use a nice new gas-assist hood hinge like the ones from All American Billet. Then, make your adjustments with the gas strut in place! Do not spend all the time gapping the hood and then throw the struts on and expect it to land in the same spot.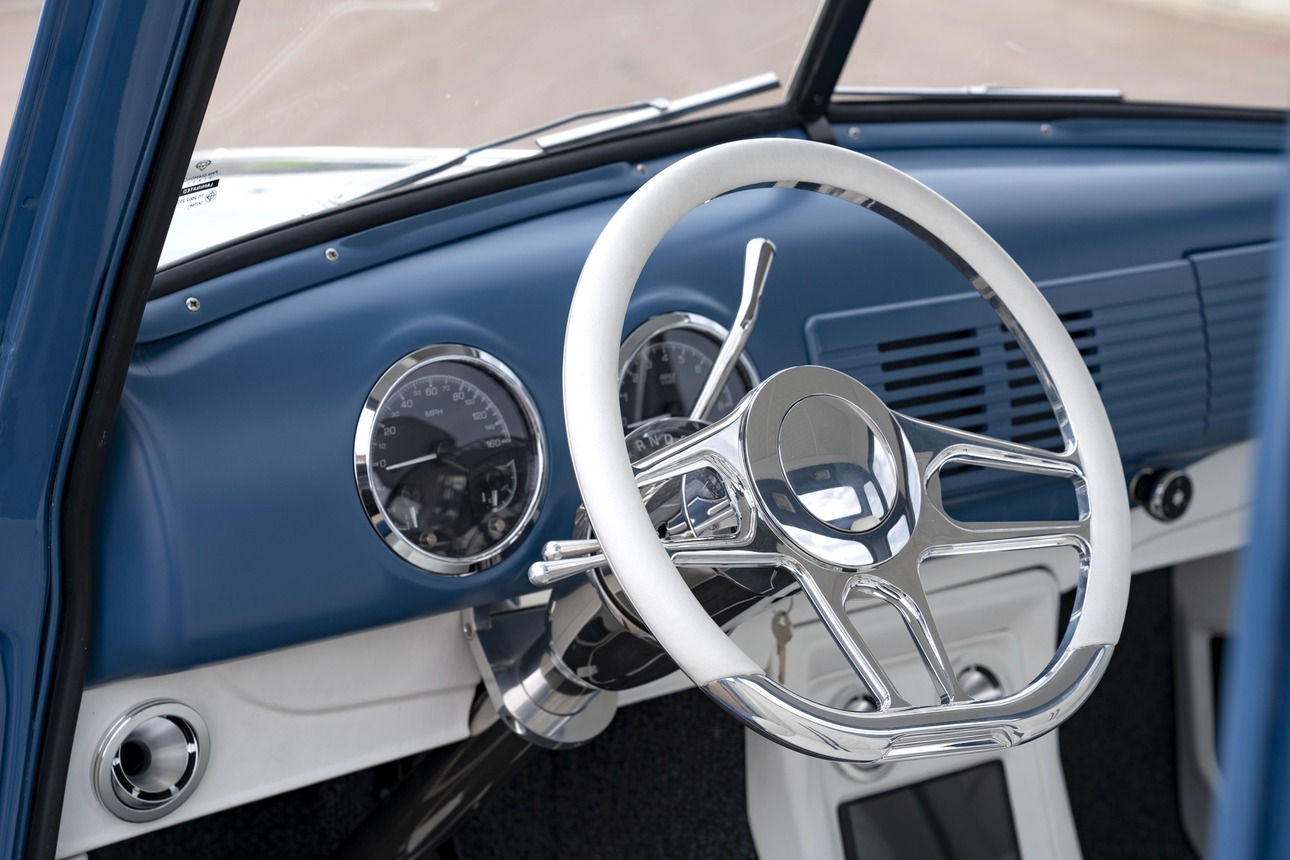 Todd's GMC rides on a No Limit Engineering chassis equipped with Ridetech's ShockWaves, Flaming River rack-and-pinion, and ABS electronically boosted Wilwood brake kit (semi concealed by 20-inch Detroit Steel Mobsteel artilleries with low-pro skinny whitewall radials). Power comes by way of a 376ci/575hp LS3 engine fed by a Holley EFI with a Modern Vintage Systems stand-alone harness with Ultimate headers, custom-built exhaust by Tre 5 Custom, and Borla mufflers. The remaining two-thirds of the drivetrain consists of a 4L60E transmission and a 3.70-geared 9-inch rearend.
Save for a few not-so-minor bed modifications (LS Fabrication–capped bedrails and filled stake pockets) and the addition of '55 Chevy turn indicators, the GMC's exterior is pretty much as intended from its inception in late 1951. Frank Rechlin and crew next door at iKandy Paintworks handled the subsequent bodywork and application of that Toyota Blue, while Ron Hernandez added some stylish flare by striping and appropriately lettering the coil-concealing valve covers in the perfectly color-matched engine bay.
Read More: Sepulveda's Snow White 1957 Chevy 3100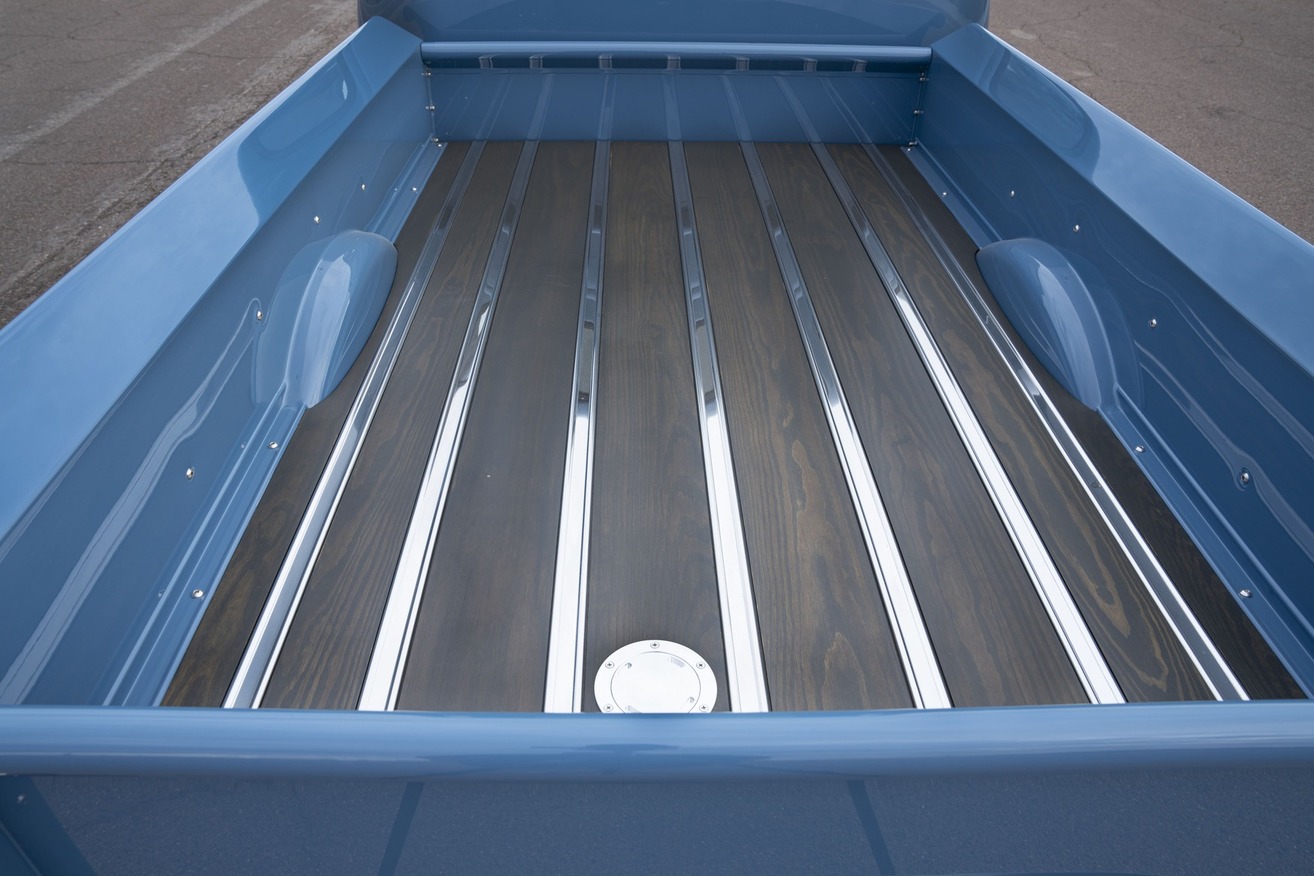 Wrapping things up on the inside, styling elements deviate a bit more from OE when it comes to accessorized features, to say the least. Before Elevated Design did their thing with the custom door/kick paneling and TMI seats, they fabbed a custom below-dash AC panel (to house the Restomod Air ducts) and center console (to house additional AC ducts, Pioneer display, and LS Fabrication billet dash panels). To control the power rack they used a chrome tilt column from the same source topped by a Billet Specialties steering wheel, while Dakota Digital's HDX direct-fit instrumentation provide all the vital stats, as it were.