A Patina-Packed Georgia Farm Truck Gets a New Life on Long Island
By Scotty Lachenauer   –   Photography by the Author
Hot rodder Todd Mc Parlin of Centereach, New York, spent more than 30-odd years protecting and serving the community as a member of a local police force. "When I retired from the force in 2018, I decided I needed a project truck to kick off my newfound free time. What I wanted to do was build a restomod vintage truck that could be driven anywhere, so I set my sights on finding a suitable starting point for my dream 'bedded' hot rod."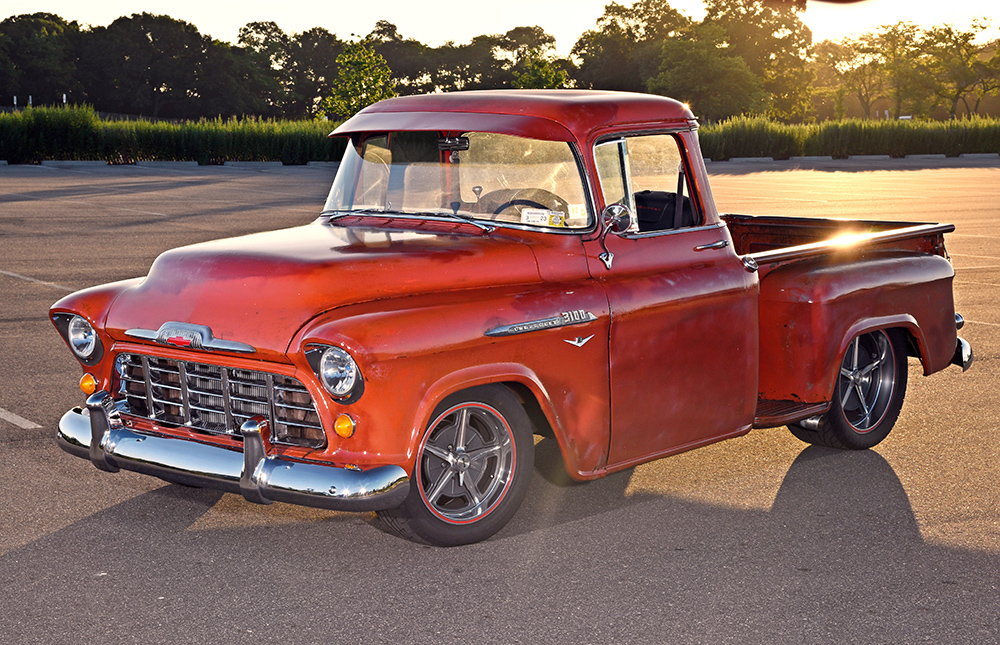 It didn't take long for Todd to find what he was looking for. "After a quick search, I located a '56 Chevy 3100 for sale in Georgia. It was an old farm truck that was not running but had a salvageable body and frame. A plus was that it sported the big back window, which I loved. It looked like a good project truck to take on, so I pulled the trigger and had the truck shipped to my home garage here on Long Island."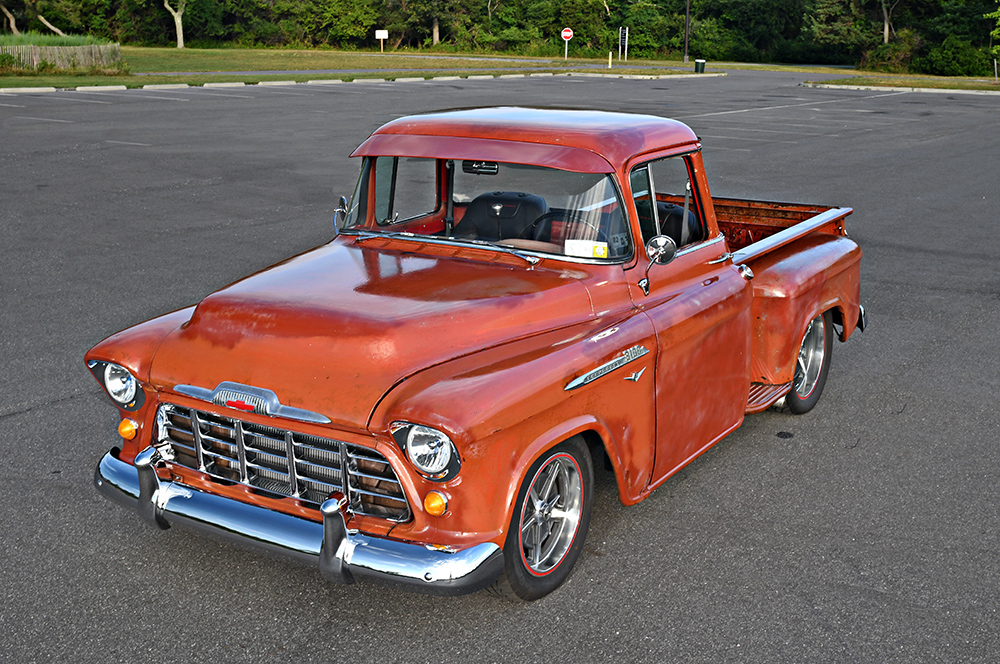 Read More: New 1967-72 Chevy C10 Art Morrison Chassis With IRS Upgrade
Once back at the garage, Todd checked over his purchase. "There were no real surprises," he says. "It was in bad shape, but the bones were usable. It also had a nice patina to it, and right away I went to work on it knowing I was going to try and salvage what was left of the paint to keep the worn, vintage look. I christened the ride 'Old Patina' ('Old Patty' for short)."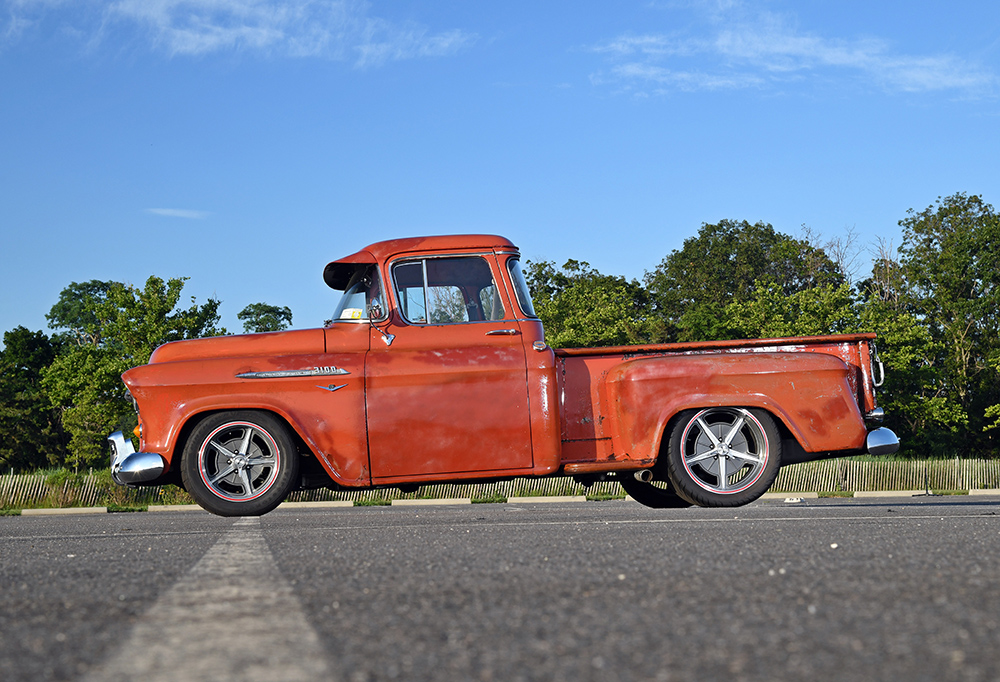 Patty on the Back
First things first. "The truck came partially disassembled. So, when I got it into the garage, I immediately removed the bed and the front clip. From there I went to work on the frame and suspension." After restoring the rails, Todd installed a Total Cost Involved (TCI) four-link suspension with coilover shocks out back and a Heidts Independent Front Suspension Mustang II front end kit with GM big-piston power disc brakes and power rack-and-pinion steering. Next was a set of Competition Engineering front and rear sway bars for extra turning stability.
As the frame came together, Todd then set his sights on the body. "It needed some minor bodywork, so I did that carefully so I could keep that perfect patina. I didn't want to do any major surgery. Any bodywork was blended in with the original paint using varying shades of red and orange." Once completed, Todd covered the patina with a few coats of clear to hopefully keep the weathered skin intact for years to come.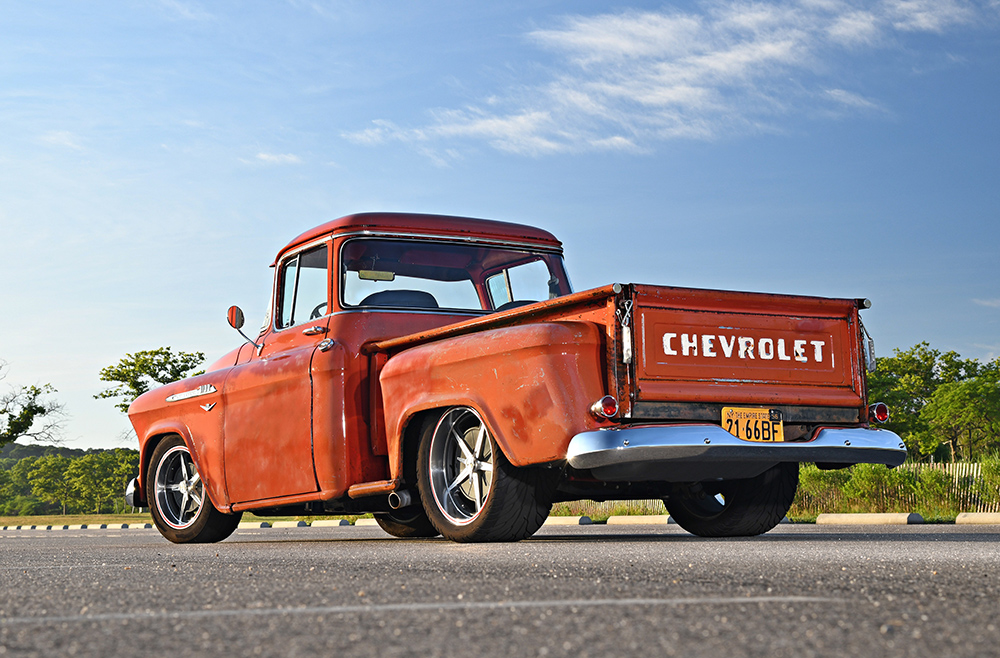 The power for Old Patty was sourced next. That would be an easy decision for Todd, as he knew what he wanted before the project even started. "I wanted reliable, cost-effective power. I found a suitable LS engine that not only fit my budget but also put out enough power to make this a fun ride. The truck was a V8 from the factory, so I knew that the LS was an easy fit. I chose a 5.3L LS3 engine mill backed by a 4L60E transmission; plenty of punch without emptying my bank account. It's a win-win, to say the least." Rounding out the drivetrain out back is a Chevy 10-bolt rear, stuffed with 4:10 gears.
Read More: Tre 5 Customs Built '52 GMC Truck
Once the powertrain was complete, Todd set his sights on the interior. "I wanted the interior to match the exterior paint, so I kept the patina as well, and I accented the cockpit in Victory Red on the dash, column brace, and door panels. Next, I added an AutoMeter gauge cluster with a GPS speedometer for accuracy." A chrome tilt ididit steering column connects to an original '58 Impala steering wheel. Seats and center console are out of a '20 Jeep Trailhawk and a Lokar shifter gets Old Patty through the gears.
Extras include a Tanks Inc. gas tank with built in EFI fuel pump that has been relocated to underneath the bed out back. That sits adjacent to a Derale transmission cooler with a thermostat fan and a drop-down battery box. Sanderson headers get rid of the spent gasses and send it through a pair of Cadillac mufflers. "I chose these particular mufflers because they are both big and quiet and give off a nice, deep rumble." They system exits out under the running boards through 2 ½-inch pipes and angled stainless tips.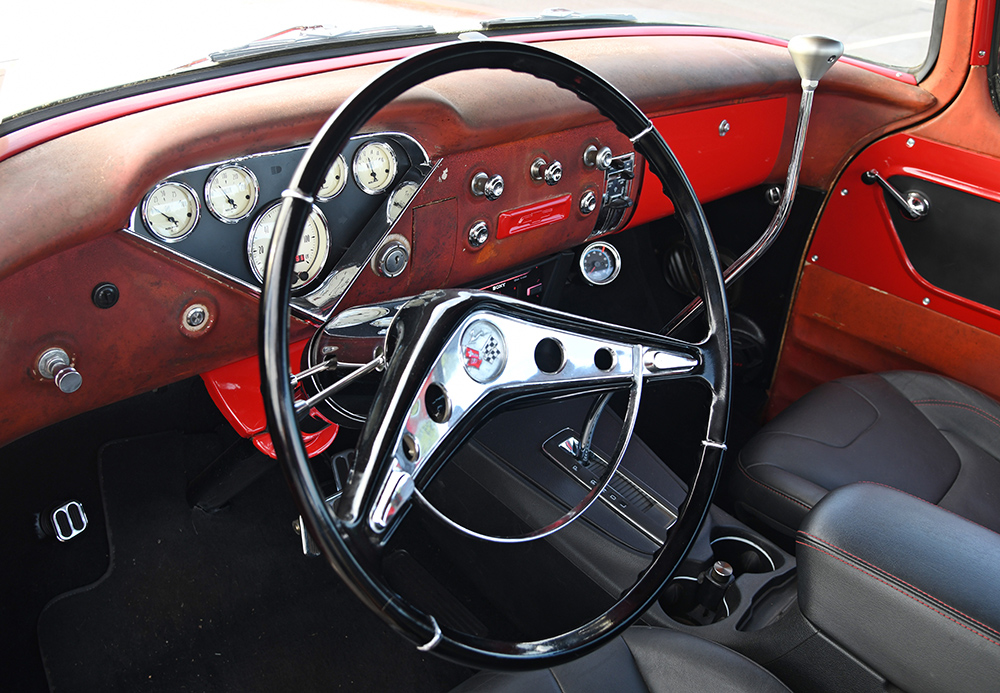 The bed is a sight to see. It's built around Brazilian teak hardwood planks, tied down with stainless strips with hidden fasteners. "I left it raw so it would age right and weather to match the truck." Last but not least, Todd needed some top-notch wheels to make this ride really stand out. "I wanted a certain look to accent the patina body. I wanted to go big but not necessarily flashy. I picked a set of 605 Ridler Wheels. I liked the gray inserts with the polished spokes. They looked old school to me, but modern." Todd picked out 17x7s for the front, and big 20x10s for the rear. They are shod with Firestone Firehawk Indy 500 rubber in 235/55-17 up front, and Mickey Thompson 29x15x20s out back.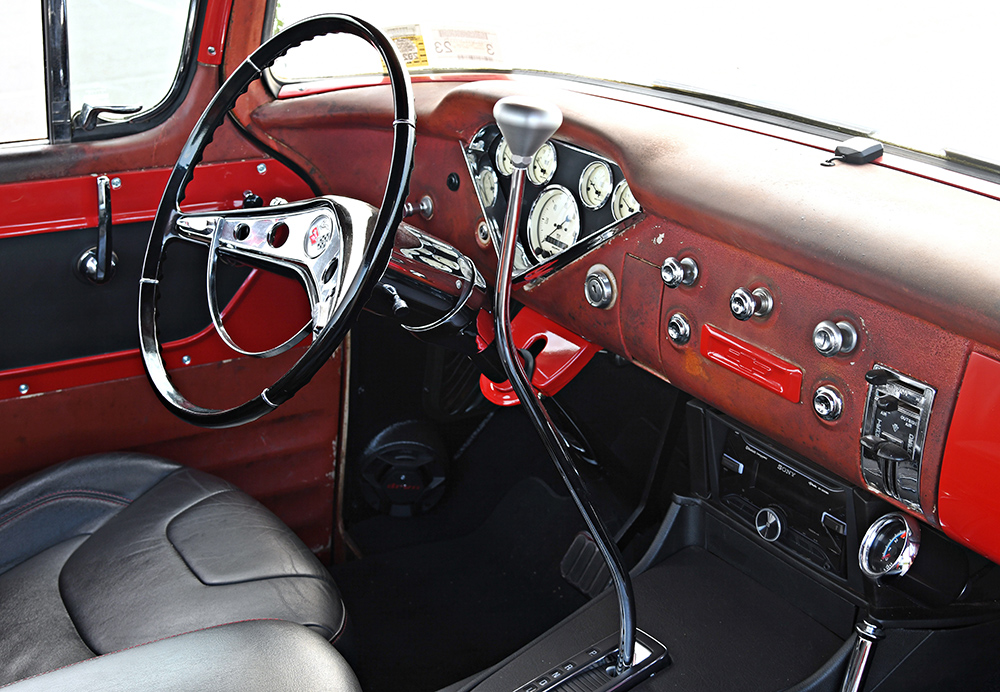 Patty MELT!
Once Todd had Old Patty in the throes of the final tweaks and adjustments, he finally got her back out on the road where she belonged. He then took time to reflect on his build. "My vision of this restomod finally came together after countless hours of building it piece-by-piece. My appreciation and dedication to bringing this vision alive allowed me to make a fast, reliable, and excellent-handling restomod of a vintage, patina'd pickup truck.
Read More: Is It Better To Repair Or Replace A Fender?
"The building of Old Patty brought a new perspective to me that I hope I can share with other people. Now when I look at my truck I feel satisfied knowing that I completed a difficult single-man project with all the long hours, late nights, dirty work, and all the money spent. This is the first restomod truck I completed, and I will enjoy bringing it to cruise nights and car shows for other people to appreciate."