Mike Toupin's 1967 Dodge Sweptline Packs Mopar Muscle
By John Machaqueiro – Photography by the Author
Mopar folks had it rough years ago when it came to building or restoring their muscle cars. They either used what they had, found nice used replacements, or dropped massive sums of money on N.O.S. parts. Thankfully that has all changed in the last decade or so with the explosion of reproduction muscle car parts. Ask anyone wrenching on classic Mopar trucks and they'll tell you they're still the dark ages. That was the reality going in for Mike Toupin when he decided that he wanted to try his hand at putting together a mid-'60s Dodge truck. "I've always liked trucks," he explains. "After building a car, a patina shop truck is what I was after. I had seen a few like that and really thought it was a cool look." Having spent four years building a 5.7L Gen 3 Hemi powered 1963 Dart restomod, the truck wasn't his first Mopar rodeo, but it was every bit as challenging to pull off.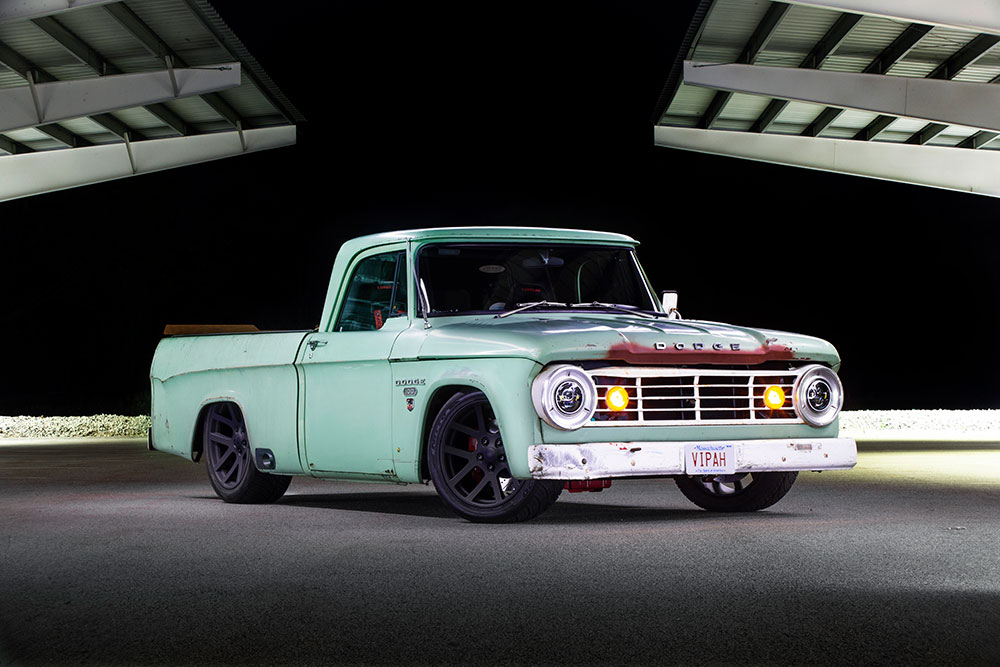 Read More: Gritty 1968 Dodge Power Wagon with Hellcat Hemi Power!
When his search for a suitable candidate began, Mike points out, "I looked on the usual online places, like eBay, Craigslist, and Autotrader. I wanted a Dodge Sweptline and stumbled upon this one on Craigslist in Florida." After numerous conversations and exchanges of photos with the seller, he cut a deal for the old truck and had it shipped up to Massachusetts. "I was quite pleased," he notes. "It was exactly what I wanted." The truck ended up parked for two years because he was very busy working on other folks' cars, but when he finally got around to some planning, he ended up falling back into familiar territory. "My original goal was to drop a late-model Hemi in it. I put one in my Dart and I love it—it's a great engine. That was my plan," he explains. A wrecked 2005 Dodge Ram SRT-10 Quad Cab and the appeal of those 10 cylinders permanently threw a wrench in those plans.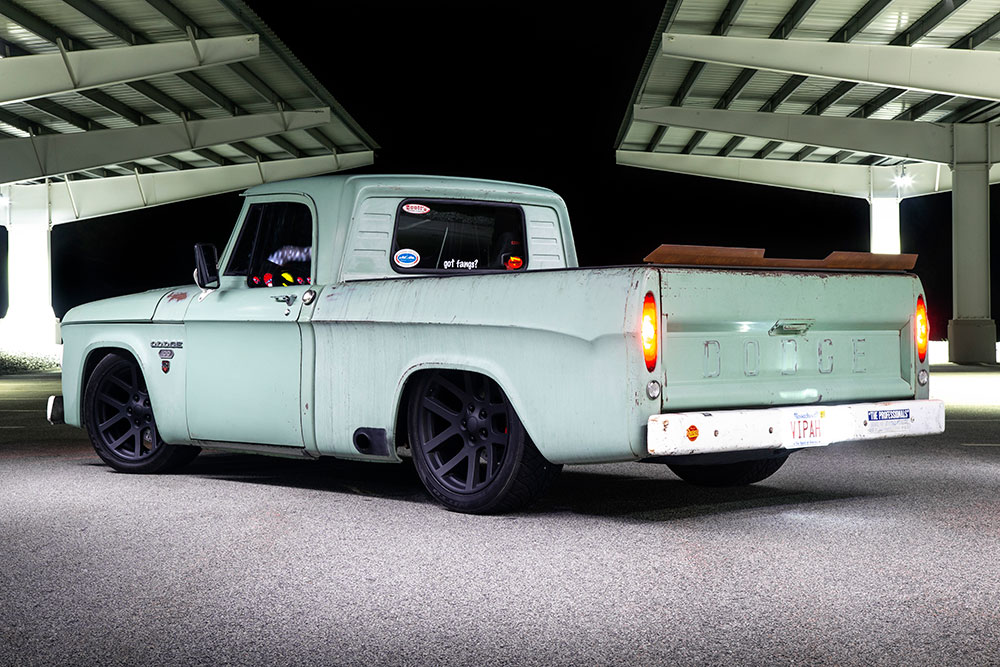 Mike's goal at that point was to marry the 1967 body to the 2005 chassis; however, it ended up being a failed marriage. He recalls, "I tried to figure out a way to use the Ram chassis, but after doing tons of measurements, I realized there was no way that it was going to work—plus there was no way that I was going to get the stance that I was after. I wanted the truck low, and if I had managed to use that chassis it would have ended up looking like a four-wheel drive." At that point it meant breaking out the measuring tape once again to try and rework the 1967 Dodge D100 chassis to accommodate the V10 engine. For that Mike started with some frame reinforcement by boxing it and installing an X-brace.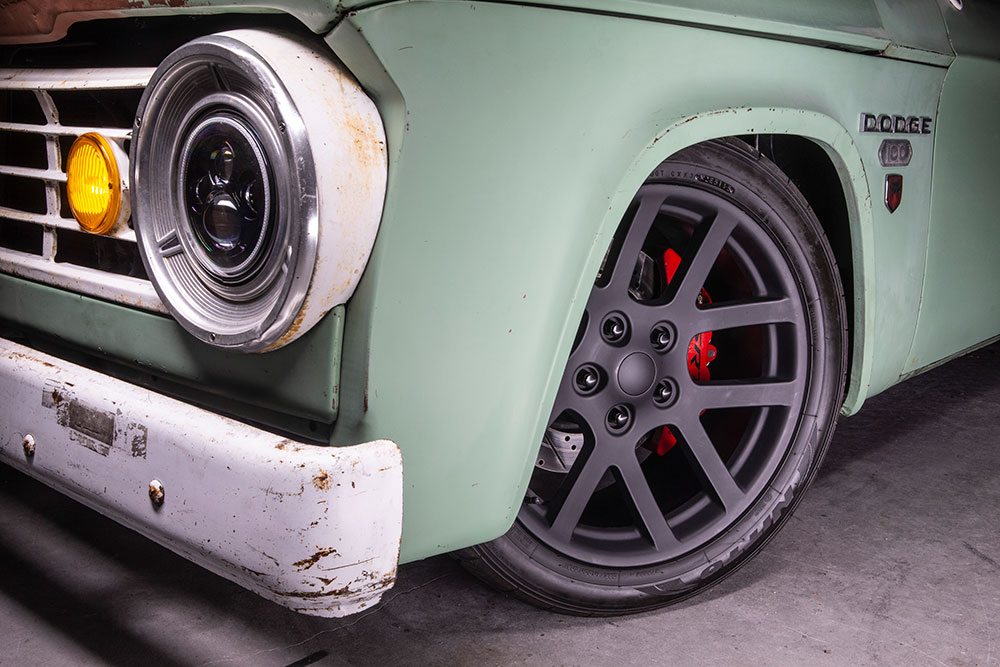 Up front he then added a complete Independent Front Suspension setup from Scott's Hotrods. This addition should have been one step forward, but it was actually a step back. His desire to have a proper stance wasn't happening with the spindles that came with the kit. He explains, "I had to design and make the spindles myself. There is nothing out there that you can buy that will attach to an aftermarket Independent Front Suspension based on a Mustang II front suspension that allows the conversion to the Dodge Ram brakes. So, by making my own custom spindles I was able to use the stock hub assembly, rotors, and brakes from the Ram. I designed them in 3D in Solidworks and had a friend with a machine shop CNC them all out for me and then I welded them all together." At the rear the process was a bit smoother with a C-notched frame and the installation of the stock Ram Dana 60 rear axle. It was narrowed 6 inches and then suspended on a No Limit Engineering Fat Bar four-link. This would all sit on 20×9 and 22×10 SRT wheels wrapped with Nitto NT420S skins.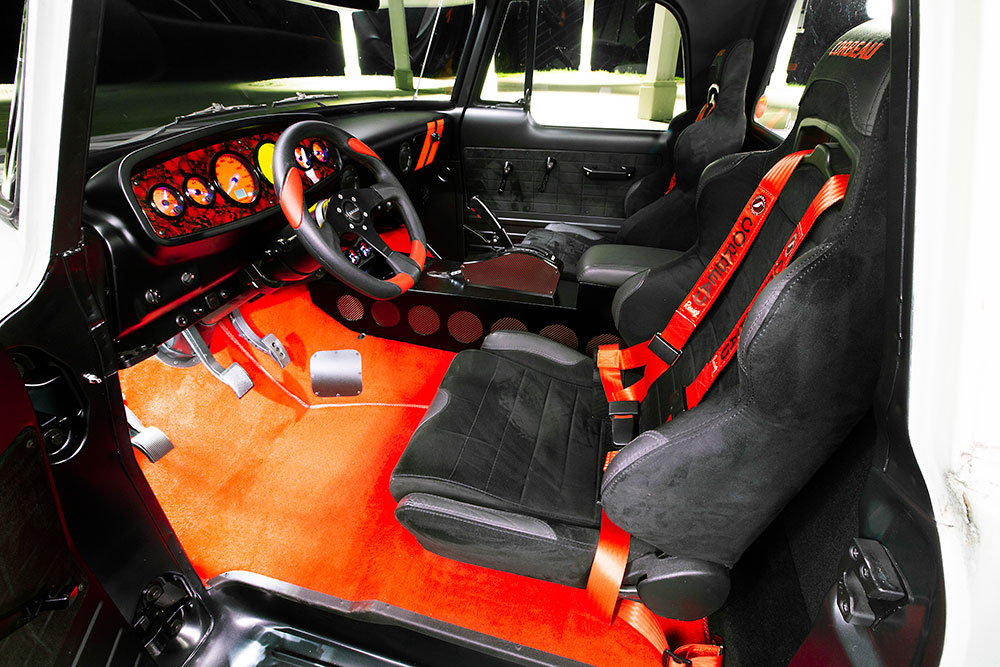 Read More: This Hemi Powered 1950 Plymouth Coupe is all Business
The next hurdle he faced involved stuffing the V10 engine into the engine bay. "Width wasn't a problem as there was plenty of side-to-side room," he points out. "The biggest issue was the length of the engine, so I had to cut back into the firewall 4 1/2 inches and rebuild the cowl." He further adds, "Part of that rebuild extended back into the cab. The floors were rusty and in lousy condition, so I cut the front of the truck out and installed some replacement floor panels." The new floor involved the addition of a custom transmission tunnel to accommodate the 48RE Transmission from the Ram. Forward of the V10 engine, cooling and air supply were also a problem. The cooling side required Mike to modify the existing thermostat housing by cutting it apart, re-angling it, and welding it back up. On the induction side, he dipped into his CAD bag of tricks with a one-off cold air intake that he had 3D printed and then wrapped in carbon fiber. A set of Gibson shorty headers mated to 3-inch pipes rounded out the hardware list for the chassis.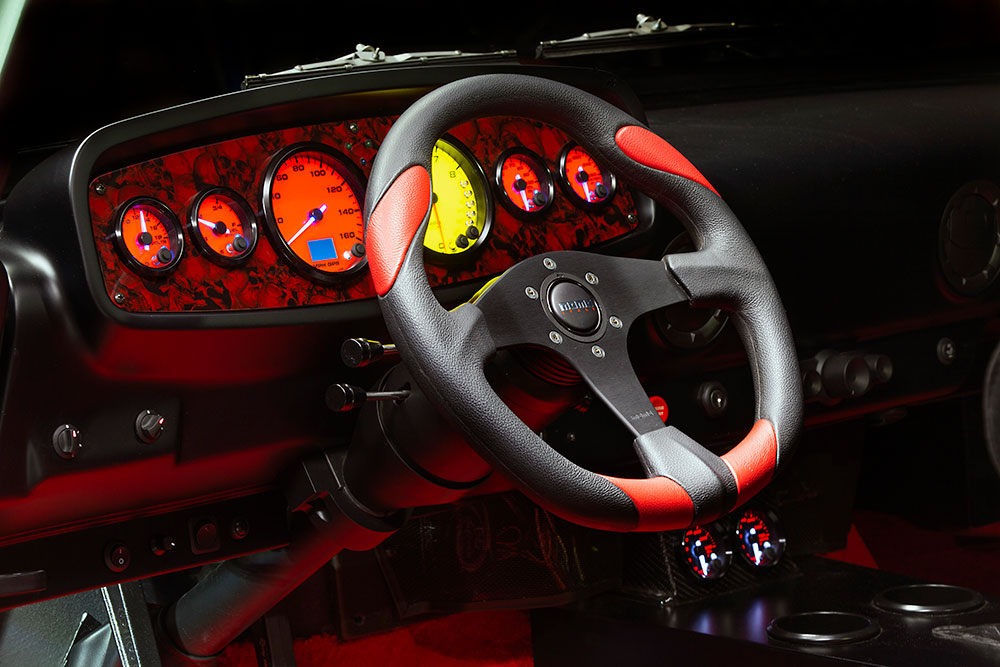 When you pop the hood, you're greeted with a clean installation. That same cleanliness and attention to detail carries over to the interior, which meant bringing it forward a few decades. Mike explains, "Most of the interior was custom made. I designed the center console, had it laser cut, and then I welded it together. I redid the gauge panel as well and also had it laser cut, hydro dipped, and new Speedhut Revolution gauges added. The dash itself is original. I cleaned it up and welded all the holes. There is no radio in the truck. Don't need it when you have a V10 underhood." Other additions included a custom set of carpets, an ididit steering column, MOMO steering wheel, and a pair of Corbeau LG1 seats and harnesses.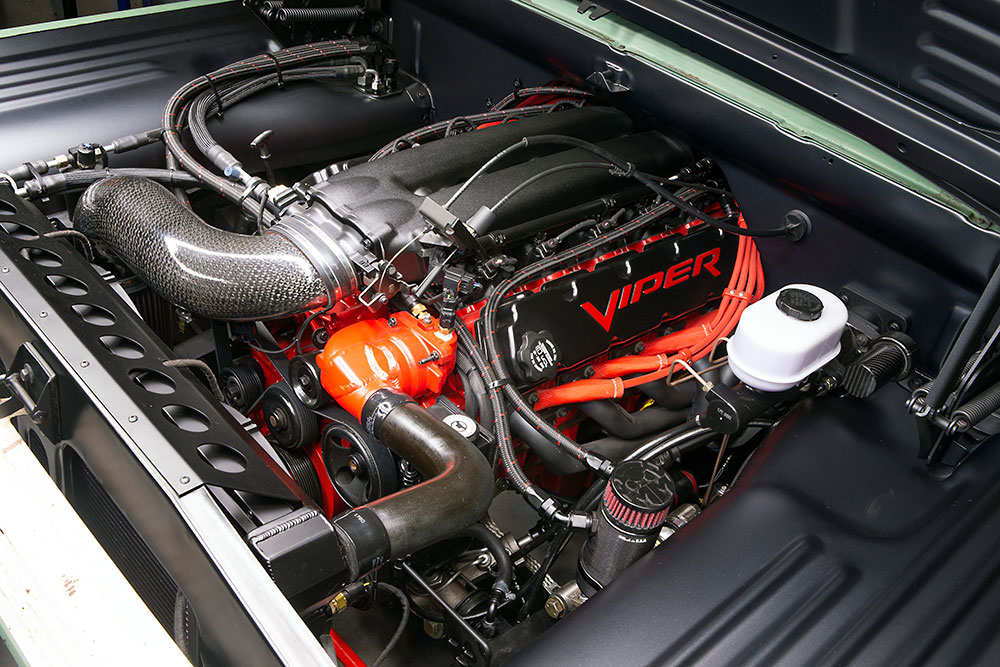 On the exterior it all came down to the aged Turf Green paint. The patina was genuine, and the body was in remarkably good condition, only requiring minor rust fixes and paint blending. Mike does point out when taking on a Dodge truck project that there is nothing being made for these vehicles. "You either go used or N.O.S., if you can find it," he points out. "The biggest problems end up being the small things that go bad that you can't buy. The windshield wiper pivots were all stripped from being so old I ended up having to design and make my own because no one had anything that would fit in there. The door handle latches were also stripped on the inside, so I ended up putting some in from a Ford Bronco that I modified slightly to make it work." Other touches included a home-brewed tonneau cover, Rhino-lined bed, and a rear-mounted battery inside a Craftsman toolbox.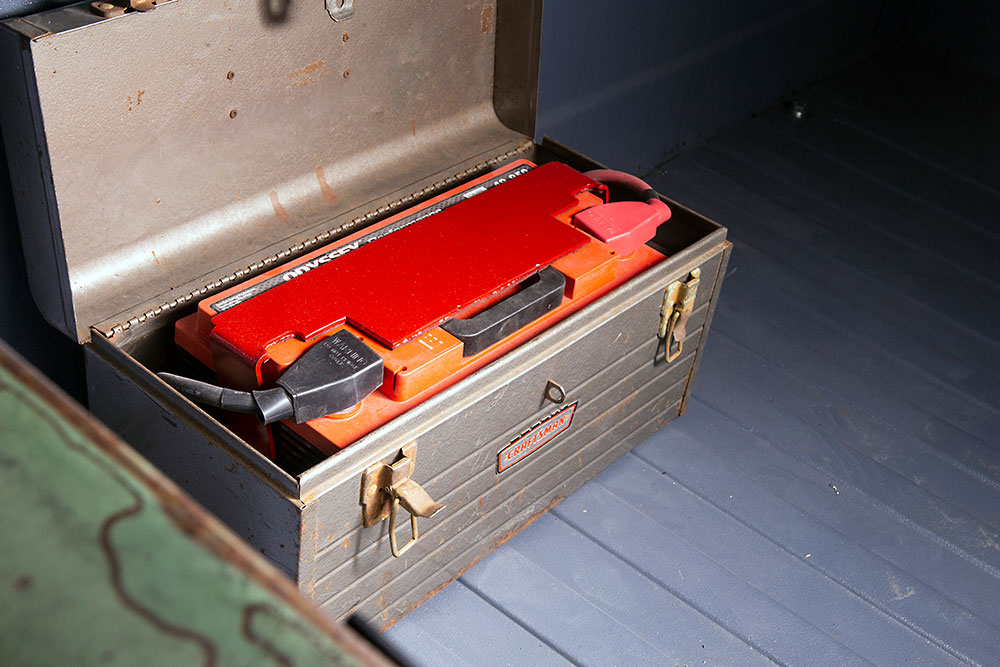 Read More: 1956 Dodge pickup is Packed with Modern Day Hemi V-8
After five years of build time at home the Dodge has now surpassed the debug stage. Mike has sorted out any issues that might pop up to make it reliable. With that sweet spot of reliability achieved, his plan is to start hitting local and long-distance shows. His parting advice to anyone contemplating a Dodge project is that "you have to be a problem solver because you can't just open up a catalog and buy something. You have to be creative and make stuff on your own."