Ron Ernsberger's Slonaker-Winning 1936 Willy's Pickup Seems Like a Familiar Face
By Brian Brennan   –   Photography By John Jackson
By now most of you have seen this 1936 Willys pickup—a Model 77 to be specific. It has taken home major awards, with a significant one in particular, the Al Slonaker Memorial Award from the 2020 Grand National Roadster Show. The Willys is powered by a rare Arias V-6 pumping out 800 hp. Only one of six of these V-6 motors are known to exist.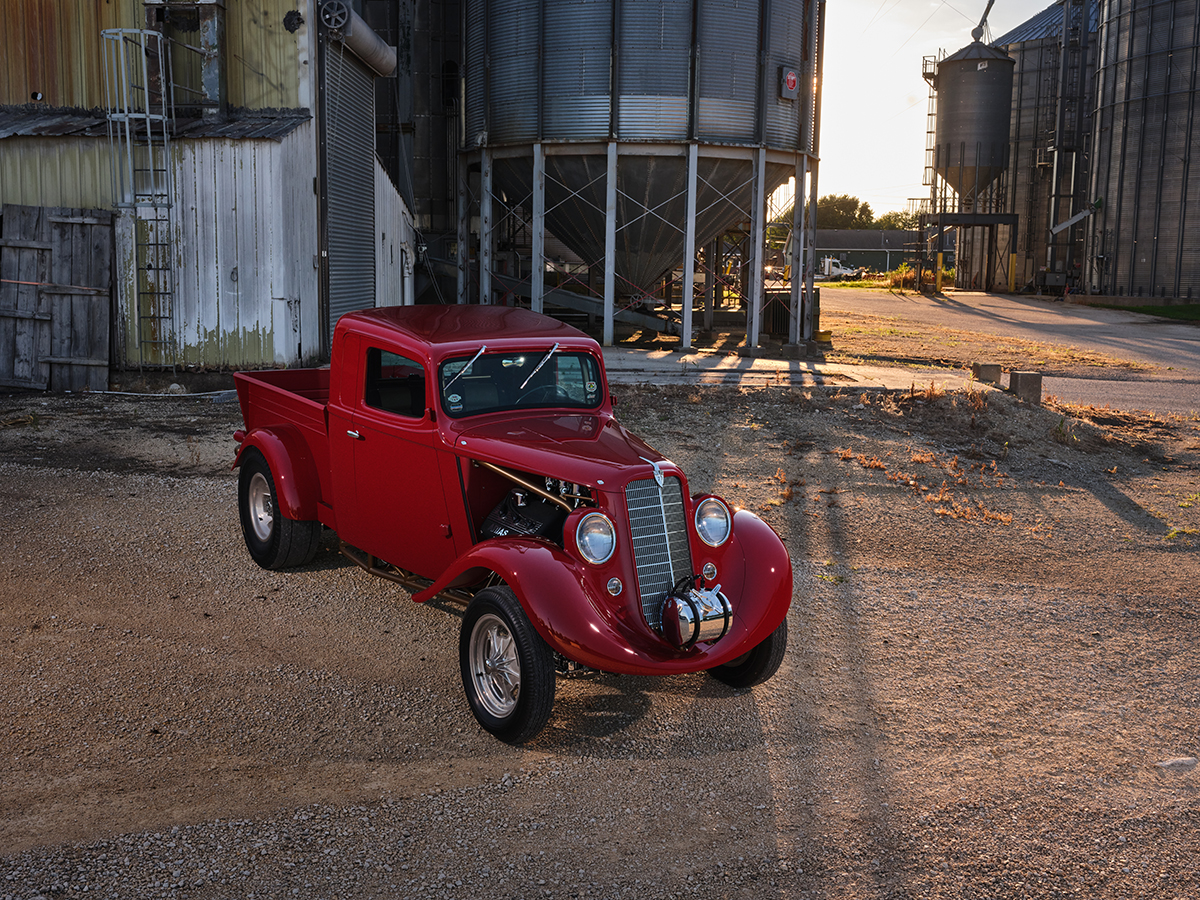 The pickup is a stablemate to another '36 Willys, a '36 Willys four-door sedan; both are owned by Ron and Vicki Ernsberger of Ohio. The two Willys have something else in common. Brian Limberg and his team at The Tin Man's Garage (TMG) out of Illinois are the talented metalmen/fabricators/builder in charge of both projects.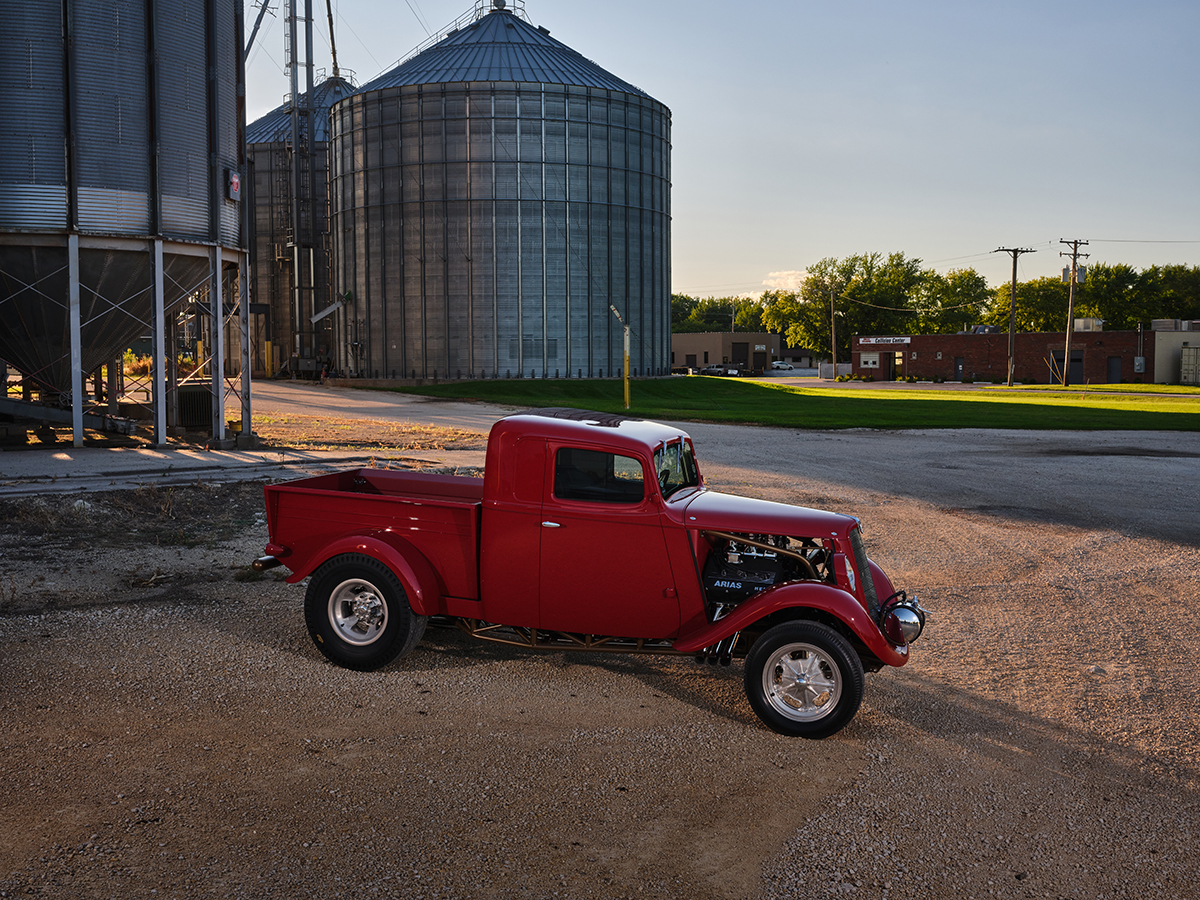 Limberg constructed a chromoly chassis from 0.083-inch wall tubing weighing in at 270 pounds, which is included within the 2,000 hours of construction time that encompasses all the remaining handmade items. The front suspension is based on a custom tube axle (think gasser-style) with parallel leaf springs, '40 Ford spindles, and Bilstein shocks. A custom Schroeder front sway bar is used while the unique-appearing Unisteer Performance rack-and-pinion steering is used. In back, the rear suspension is based on a 4.11-geared Dana 70 with a custom chromoly tube ladder bar system combined with an Afco double-adjustable coilover shock assembly and a custom-made rear sway bar. The rear braking is based on more custom fabrication that includes four Wilwood Dyna Pro calipers, two per side, that are affixed via custom bracketry. The master cylinder is another Wilwood touch that is pressed into use through a custom pedal assembly. The '36 Willys pickup then rolls on a set of vintage 16-inch Halibrand wheels. In front are spindle mounts (16×4) while in the rear the eight-lug mags (16×12) are wrapped with Hurst cheater slicks (pie crust design in 12.00×16) and in front a pair of vintage Firestones (5.60×16).
An Arias V-6 supplies the 800-plus horsepower and torque from 498 ci and is easily recognizable by its hemi heads. In this case, Steve Lanius of Missile Engineered Racing Components assembled the V-6 utilizing an Aeromotive fuel pump pulling from a custom-made Rock Valley tank. Dressing out the top of the motor is a Hilborn intake that's outfitted with mechanical Hilborn injection with custom velocity stacks that was converted to an EFI system. Other engine accessories include a Meziere electric water pump, SPAL electric cooling fans, C&R racing radiator, and a Jones Racing alternator, Quantem Master starter, and a pair of 6V Optima batteries. The fully polished stainless-fabricated zoomies-style headers are a full 2-1/2-inch-diameter tubes. Moving the power rearward is a TREMEC TKO five-speed linked to the rearend.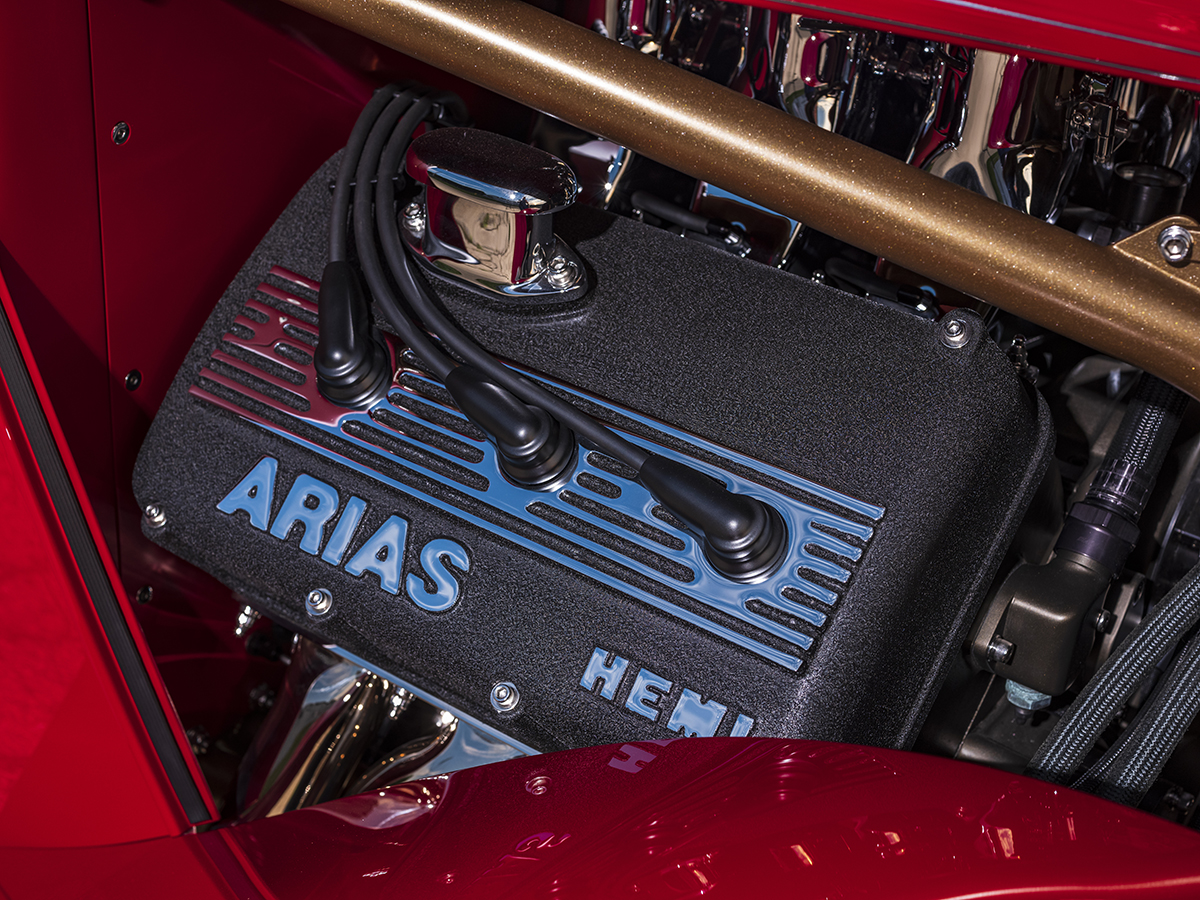 Read More: Making a Custom Out of a 1941 Willys
To say this '36 Willys pickup has undergone copious amounts of sheetmetal work would be an understatement. In fact, it may be more to the point to say that the Model 77 was scratch built by the TMG team of craftsmen. The cab, bed, and rear fenders are all freshly redesigned and fabricated, all by hand. The front clip was heavily reworked, which included the likes of tucking, narrowing, and bobbing the sheetmetal in every which way. For instance, the stock hood was retained but reworked by turning it from an original two-piece into a one-piece liftoff. More sheetmetal magic from TMG came in the form of a rear window (all glass supplied by the Glass Guy) and is now a roll up out of a four-door sedan. The taillights are altered '37 Fords while original headlight lenses are used with CNC custom trim rings with designs that emulate the originals. A vintage Moon tank is chrome plated and can be seen resting in front of the grille. Once Limberg had the metalwork to his liking then the finish bodywork was handled by Adam Krause and The Refinery and then sprayed on the PPG Russo Mugello Ferrari Red. Next up is the immense amount of brightwork that was neatly handled by Advanced Plating.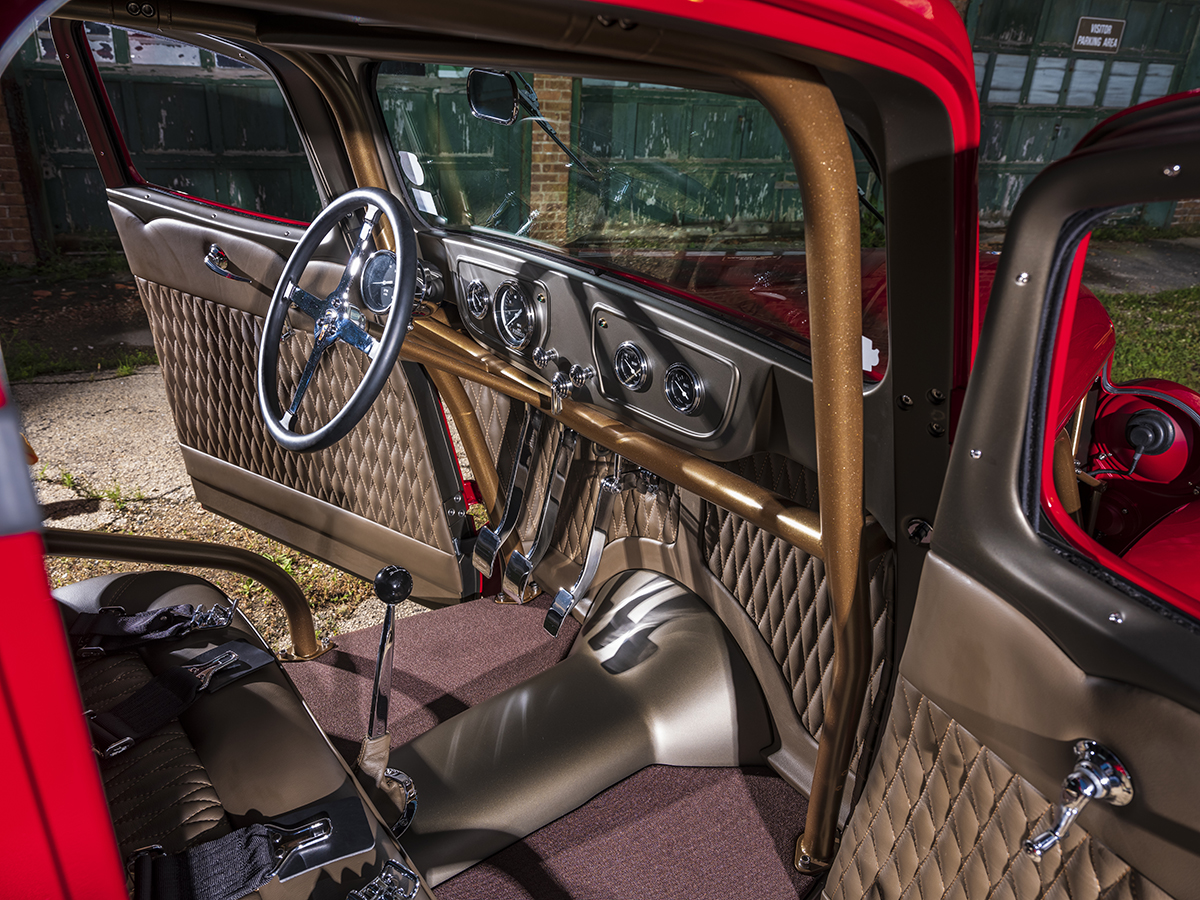 Read More: Artist Tom Fritz Has Spent a Lifetime Capturing Memories
On the inside it appears stock, well, sort of, but is reworked. For instance, it was once converted to right-hand drive as it served as a mail truck. The rejuvenated dashboard is now outfitted with a full complement of gauges from Classic Instruments that includes the tach positioned on the Limberg custom steering column with exposed U-joints and topped with a rubber grip Schroeder Sprint Car four-spoke wheel. You will also see a full rollcage that's powdercoated by Wehrli Custom Fabrication. Schober's Custom Hot Rod Interiors built the bench seat and then handled the stitchwork in a brown-colored Diamond Pleat patterned leather. The carpeting is also a brown color and something you may have seen in a Tri-Five Chevy from back in the day. The four-point (shoulder and lap) belts come by way of Simpson Racing. Hiding beneath the custom seating is a storage area for all the pickup's electronics and computer. The wiring itself is based on an American Autowire harness positioned by the TMG crew.
Well, there you have it. Revisiting an old friend. MR