Josh Sands' "Rusty Ripper" 1969 Ford F100
By Scotty Lachenauer – Photography by the Author
Stories featuring father/son or father/daughter projects never fail in pulling at the heartstrings of even the most cold-hearted hot rod loyalist. It's a time-honored right of passage for many families, with dad (or mom) passing on his (or her) knowledge and love of the car hobby to their familial brood; in return renewing the potency of the pastime for at least another generation of automotive enthusiasts and possibly beyond.
For Josh Sands, a similar scenario played out for his family while growing up in bucolic Quakertown, Pennsylvania. "As a kid my father built a few hot rods in our home garage. I remember taking out his prized 1933 Ford to car shows quite often, so I guess in the back of my mind it has always been something I wanted to do with a vehicle of my own," Josh states.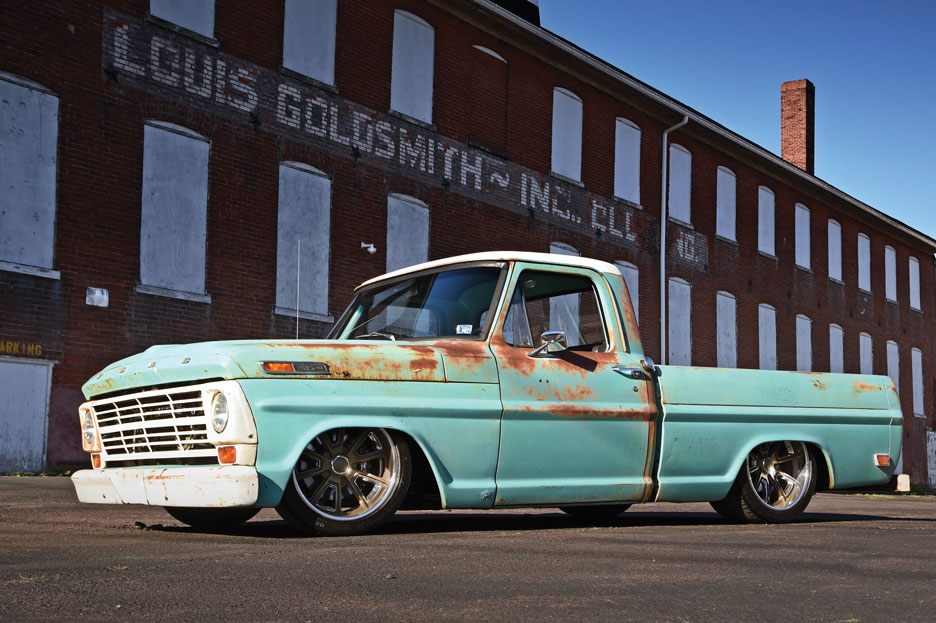 Read More F100s: 1956 Ford F100 Brought Back to Life
Working in the family automobile retail business with his dad has solidified their mutual love of everything automotive. So, when Josh was blessed with a pair of boys of his own, it was only natural to pass that love onto them as well. Once sons Carter (8) and Luca (6) were old enough to enjoy the experience, Josh went out looking for a ride that he could share with his youngsters. "Being a Ford dealer, I knew whatever I bought had to be a Blue Oval–branded ride. The only question left was which model I was going to build. Looking at the high expense of building a Mustang the way I wanted it, I decided that an old Ford pickup was a better choice," Josh says.
Patina Pursuit
So the hunt was on for a good builder classic ride. "I started looking online and soon found something of interest on an auction site. The 1969 Ford F100 I located was originally owned by a hotel/motel out in Missouri and had been bought at an estate sale by the second owner. Once I saw the old truck I knew it would be the perfect clean slate for my build," Josh says. So he trusted his instincts and purchased the truck sight unseen, and soon had it shipped back to his home base garage on the outskirts of Quakertown.
Once he got to put his eyeballs on it in person, Josh is happy to admit he was more than pleased with his purchase. "It was just like it was billed; clean with no rust issues at all." One thing that gave the F100 some extra pizazz, and was a key selling point in the purchase, was the heavy patina that was present in the original Lunar Green paint. "The truck had the look I was going for and it was a shortbed to boot. My sons also loved it. Once they saw it they nicknamed the old truck 'Rusty Ripper,' which fits it perfectly," Josh says.
From there Josh drew out a cerebral game plan on exactly how he was going to make this old Ford into the truck of his dreams. "Aesthetically I wanted something that would turn heads wherever we would go. The patina was an important part of the finished product. Not sure if people would get the look but that was fine with me," Josh says. As far as performance goes, he had a few boxes that needed to be checked off. "I wanted something that was fun to drive; something around 500 hp and a truck built with a chassis that could handle the best modern muscle cars," he says. 
Garage Days
To build the classic performance truck he was after, the choice was made to go with a top-tier aftermarket chassis for the F100. Josh headed over to Roadster Shop's website and ordered a custom set of rails from their huge selection. There were several key points that he had to take into account. First was the adjustable coilover suspension he desired for his truck. A rack and pinion power steering system was the next thing on his short list, which he expeditiously checked off, along with a sway bar kit up front. The decision to add the Ford 9-inch rear with Truetrac posi was a no-brainer for Josh and would certainly do the job of getting the future powerplant's horsepower right down to the pavement.
The next question was probably the most important of the bunch: What was going to be the choice of motor-vation for this hot rod F100? For Josh it was an easy question to answer. "It's a Ford, so I wanted to use a modern Ford powerplant. What's better than a Coyote engine? We sourced one that was pulled from a wrecked 2015 Mustang," Josh says. With over 400 horses available before tweaking, the engine made the most sense for his project ride. So a set of Coyote-specific motor mounts were added to the Roadster Shop invoice to help install the Ford powerplant between the rails up front.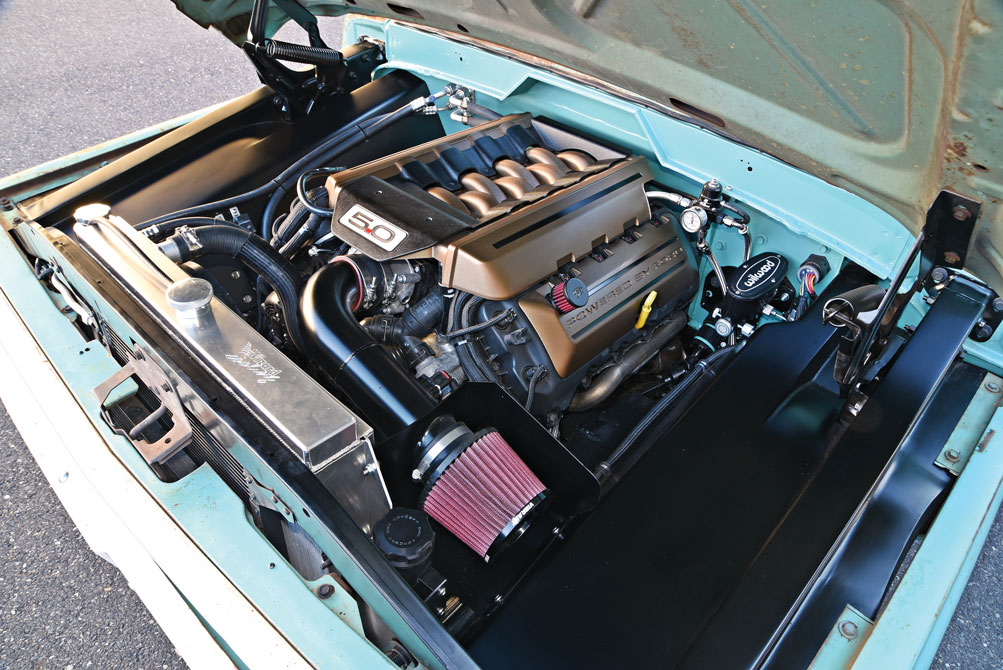 Read More Coyote Swapped Fords: Perfect Weekend Cruiser
Once Josh had his chassis together the next hill to climb was getting the truck's cab to fit over the rails and make it work with the Coyote and the stock six speed automatic transmission. "After cutting up the cab to make it all fit, I decided that it was more than I could handle in my garage. I was definitely going to need help making this project come to fruition, so I decided to take it to Warhart Customs in Quakertown. I figured they could help complete the metalwork on the cab and inside of the bed," Josh states.
Helping Hands
Once the truck was in the hands of proprietors Josh Wardle and Dave Gerhart, the guys took a quick assessment of the situation. "The truck came in with the chassis pretty much complete and the cab just sitting on the rails. It needed some massaging to get it to sit properly," Wardle says. From there the guys went to work on the engine bay, fabricating inner fenders and recessing the firewall to help fit the Coyote properly. Building a trans tunnel was next on the list and an important part of fitting the large Ford 6r80 six speed automatic transmission. "We also made room for a supercharger because that idea was thrown out there as a possible addition in the future," Gerhart states. Lastly, they color-matched the well-worn Lunar Green paint, skinning all the new fabricated sheet metal pieces to tie them into the original metal on the truck.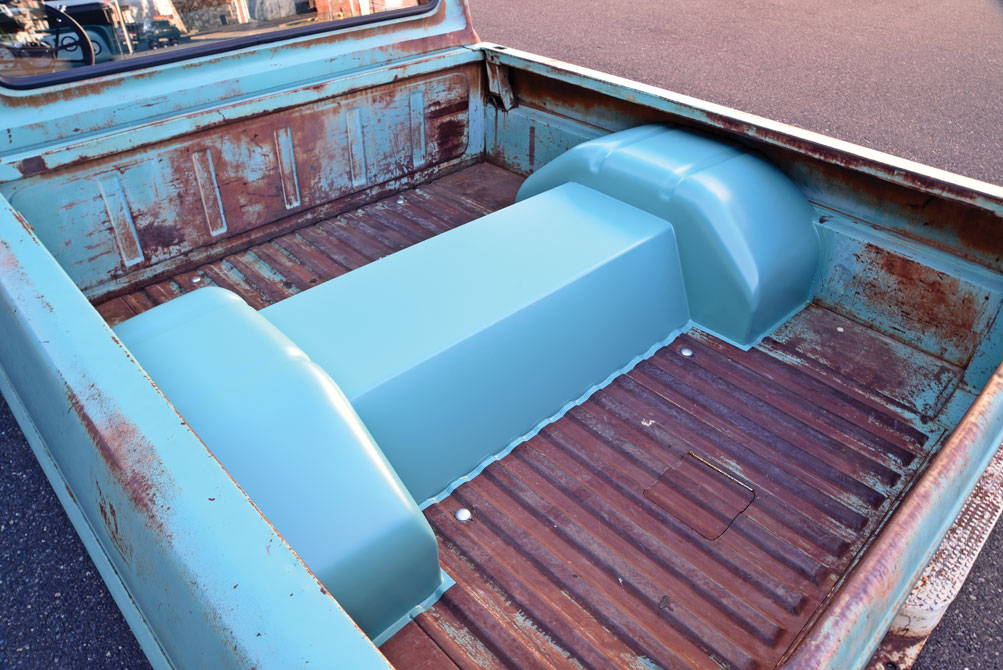 Next, the truck bed was modified to fit the chassis. First thing they did was raise the floor over the axle. The bed floor was notched and stepped due to the big C-section in the rear of the frame. The rear wheel wells were brought inward and enlarged for the big meats that were going to go out back. About this time Josh came in for a visit to see how everything had come out. "I took one look at the work they did and decided right then and there that they were going to finish the whole project. I couldn't have been happier," he says.
So the guys pushed onward and upward. "We built inner fender wells out back and custom aprons up front to house the tire/wheel combo that owner Josh had decided on," Gerhart says. A set of custom-sized Schott wheels, 19×8 up front and 20×12 out back, were bought for the project and skinned in Michelin Pilot Sport rubber, 255/40ZR19 and 345/30ZR20, respectively. A quartet of top-of-the-line Wilwood six-piston disc brakes do the stopping at the corners.
Watch More F100: 1969 Ford F100 MII CS Spindle Install
Other nice touches include the cleaning, painting, and detailing of the Coyote engine to fit in with its new engine bay. Power steering was added to help this truck be as nimble as possible without throwing out Josh's shoulders in a tight turn. A complete stainless exhaust was fabricated from the stock Mustang headers to the tailpipes, using a 3-inch tube and a set of Pypes mufflers. Next, a custom radiator was mocked up and installed up front and a Restomod Air HVAC system was custom fitted under the hood. A Speedway wiring kit ties it all together.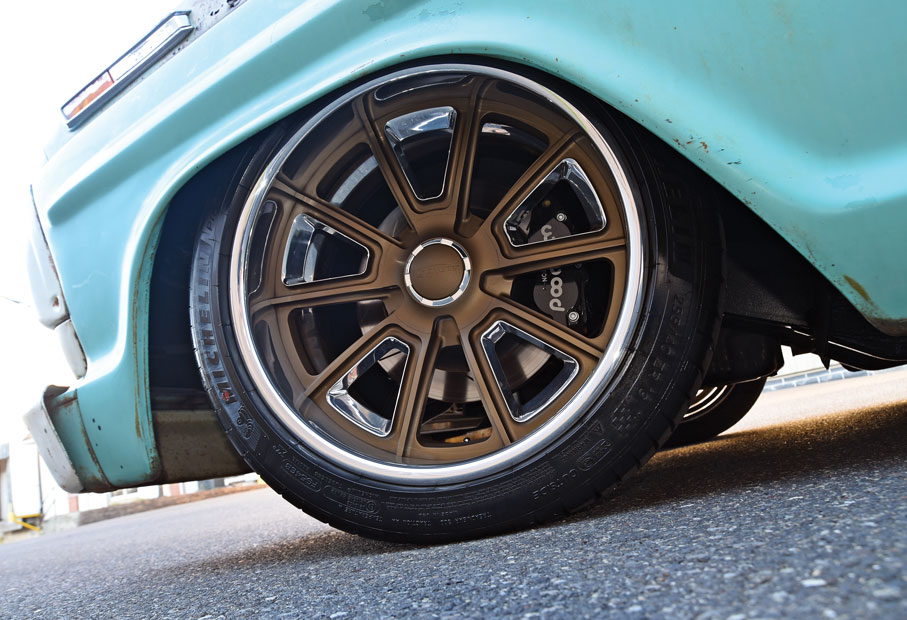 For an interior, Josh realized that he would have to have an upholstery shop that really understood the project and the look he was after. So he did what many others have done before him, he grabbed the truck and headed over to Bux Customs in nearby Pottstown, Pennsylvania. Their proprietor Chris Mc Clintock gave this vintage F100 the upholstery job it needed. Mc Clintock used the original seat and then custom shaped it in foam to give it a modern feel. To finish it off, he skinned the piece in a big hunk of real leather. He also molded and fit the new carpet for the truck. Once completed, an ididit column with shifter was installed along with a Forever Sharp steering wheel to help keep this ride pointed in the right direction. LMC Truck supplied door handles, mirrors, and the dashpad for the cockpit and Phantom II instrumentation by Autometer occupies the original dash layout. 
Delivery Day
After just three months in the shop, "Rusty Ripper" emerged from its lair and hit the streets running. Two people who were immediately impressed with its handling and performance were the two guys who helped finish it off. The boys at Warhart were excited with the results that they helped conjure up. "It's super fast, a blast to drive, and runs like hell," Wardle says. Once Josh got his hands on it, he quickly realized this IS the old truck he'd always wanted. "I am beyond happy with the Roadster Shop coilover SPEC chassis. With the large Michelin Sport tires the truck handles like a modern sports car and it has the power to keep up with them, too!"
Read More Tech: Upgrading to a Modern, but Stealthy Electronic Ignition in Your Classic Truck
With that Coyote engine howlin' under the hood and a chassis built to carve and cruise, the F100 quickly became the most requested ride in the Sands family. Of course, it had to pass the most important test given by the VIPs of the household. The reviews came in fast and furious. "I loved it since the day daddy brought it home and started working on it," oldest son, Carter, says. Josh admits the youngster was excited to hit the pavement with the old truck and he already can't wait for the day he can take it for a ride himself. Younger brother Luca is excited for more trucks. "I want daddy to make another truck, but it has to be a rusty Chevy C10!" Yes, we think papa Josh can make that happen.