By Eric Geisert   –   Photography by the Author
For some folks, finding your dream vehicle is a lifelong endeavor. Maybe it's the rarity or even the cost but there are a lot of people who never get what they've always wanted. At the other end of the spectrum there is Brad Bolves who has always owned what he's always wanted.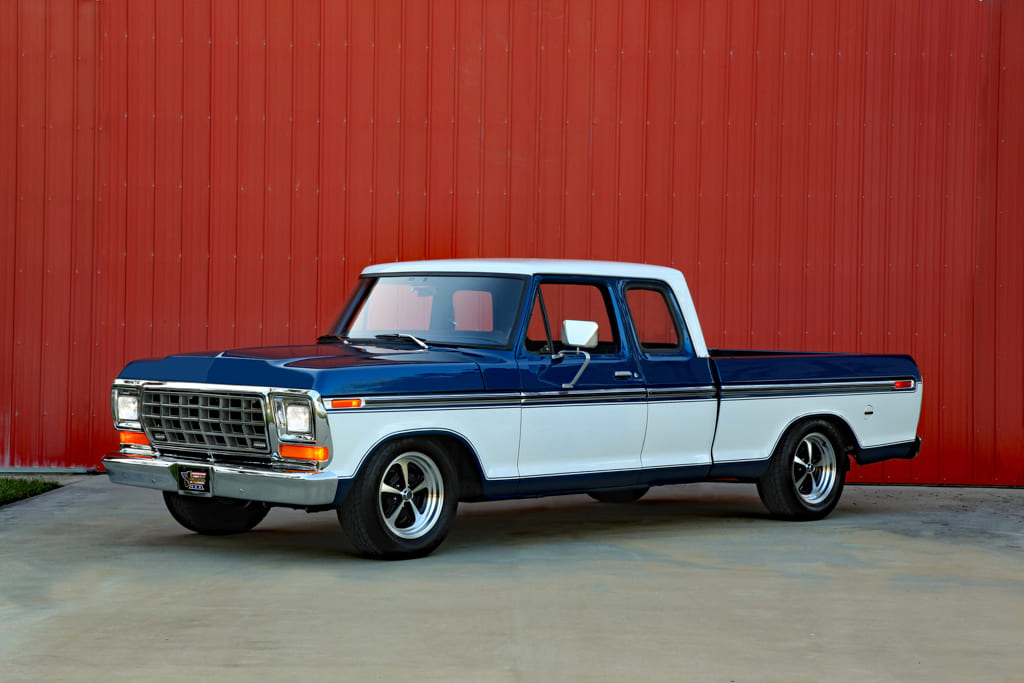 Early in life, the now-64-year-old traded and built cars like they were baseball cards, including a '64 Impala SS, a 383-equipped '62 Dodge Dart, and a '67 Buick Skylark convertible but, when he found an 8-year-old '75 Ford shortbed SuperCab for sale in 1983 still owned by the original owner, he knew he'd found what he'd been looking for. Not long after buying this truck he and his now-wife, Janice drove it to their wedding in 1985. Soon the truck sported a Lance camper out back (stove, sink, and room for four people to sleep) and the Bolves family was off to Mexico for many camping trips. By the time the '90s rolled in Brad's family had grown and, with their four kids and a dog, he decided in 1991 to sell the truck to a neighbor so he could buy a new E-350 van that would be capable of doing some serious boat towing.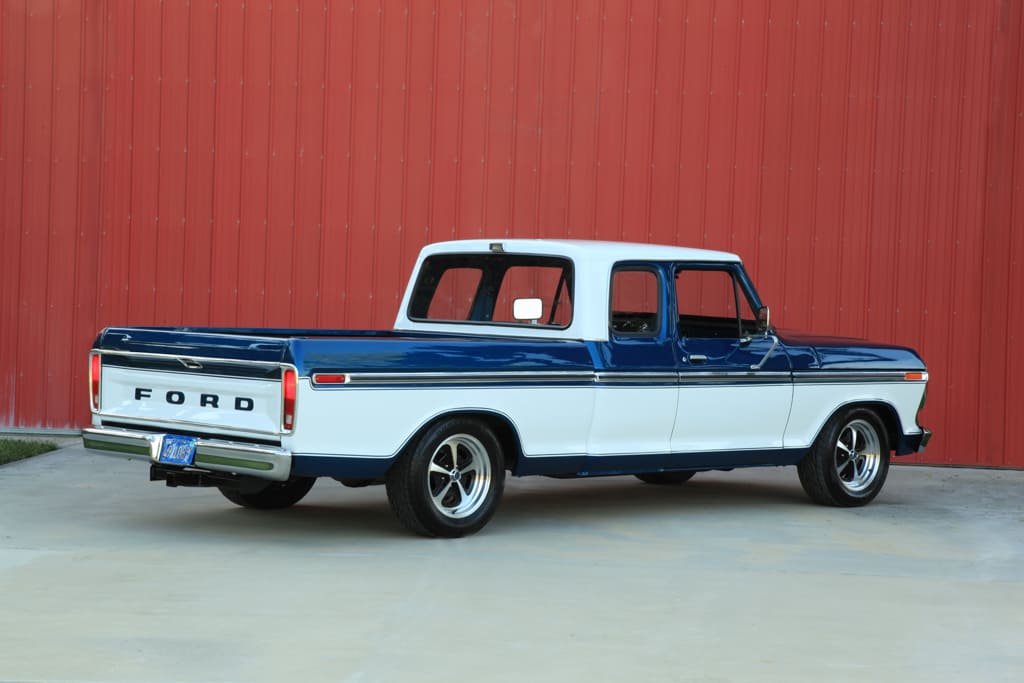 Meanwhile his neighbor who owned the SuperCab wasn't getting along with it too well as it wasn't serving him like the previous owner. Brad would occasionally ask to buy it back but the neighbor told him he still wanted it. But one night in 2017 (over some shots of tequila) Brad asked again about his old truck and this time the neighbor sold it to him (making Brad both its second and fourth owner).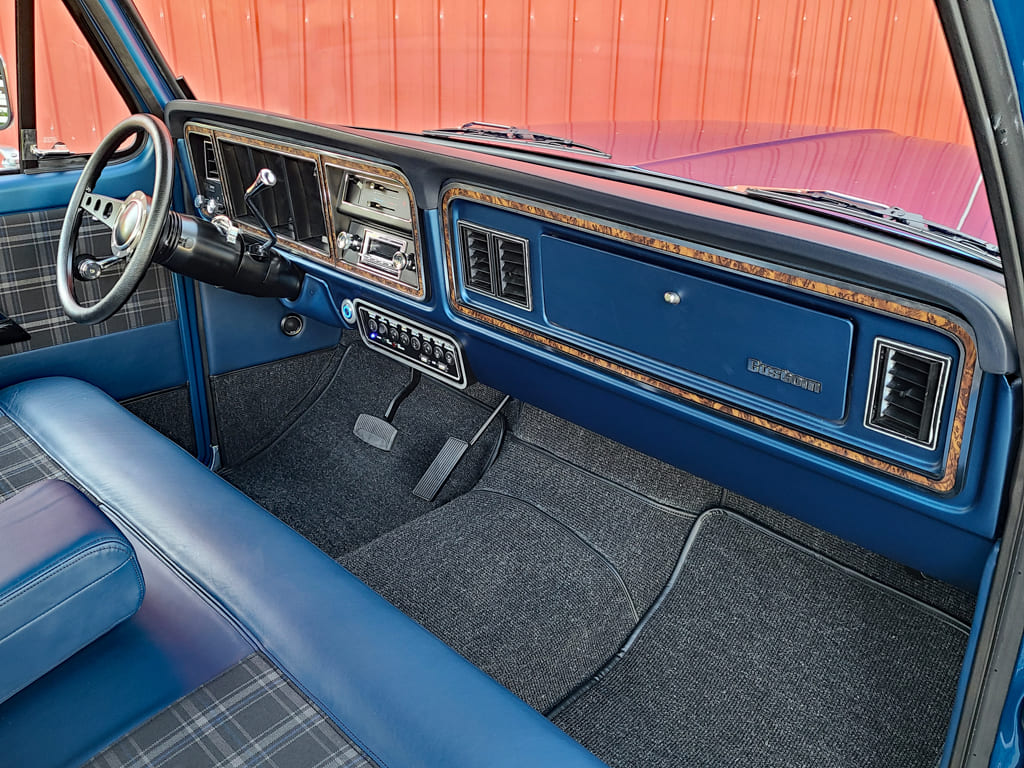 Now that it was back in his garage Brad started saving up some money and figuring out what to do with it. He even attended the annual SEMA Show in Vegas to see what was new and what he might like to use on the truck. He knew he could only do so much of the work himself, so he started looking around online for a shop to help and, both luckily and randomly, found Old Anvil Speed Shop in Orange, California.
Check it out: Legacy Series: Pat Ganahl's '56 Ford F100
Run by Paul and Jenna Bosserman, the shop specializes in chassis and custom metal fabrication work but also does everything else, including paint and upholstery. Brad met Paul at the shop on New Year's Day 2020, saw what he and his team were doing, and was impressed enough to work out a plan to start the project, just a few short months before COVID-19 reared its ugly head.
Despite what was starting to happen around the world, Old Anvil was able to work on customers' cars and Brad's truck was at the head of the line. The truck arrived at Old Anvil without the factory 460 engine because, after doing some more Internet research, Brad had located Bob Lambeck Enterprises and, as luck would have it, the shop was only a few miles away from his home in Reseda, California.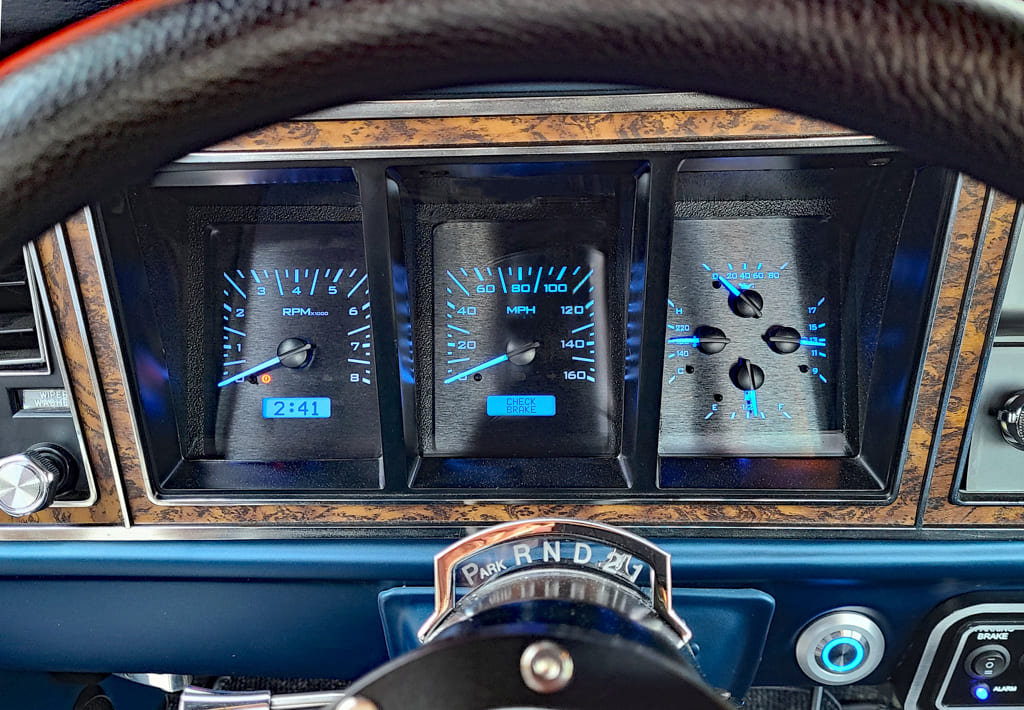 Lambeck has a decades-long experience building drag race engines and was a consistent winner at multiple NHRA tracks around the country back in the '60s Golden Age of drag racing. Known more for his legendary Mopar builds, he accepted Brad's offer to rebuild his 460 Ford and ended up boring it 0.030 over and adding a stroker crank for a final displacement of 525 cubes with 10:1 compression. Adding a Comp Cams bumpstick, an Edelbrock Pro-Flo EFI, and aluminum Edelbrock heads help make it purr—on the dyno the motor made 550 hp at 5,500 rpm with 650 lb-ft of torque at 3,800 rpm.
Read More about Fords: THE ULTIMATE OLD SCHOOL 1969 FORD F250 HIGHBOY
But Brad's idea on the truck wasn't to make it a drag car—he wanted something reliable and comfortable but that could get out of its own way when needed. Its frame is stock but with suspension and performance upgrades such as the QA1 shocks and Wilwood disc brakes on each corner, an Old Anvil custom four-link and Panhard bar out back, and a Tanks 19-gallon EFI gas tank. Old Anvil also outfitted the engine compartment with a collection of unique Old Anvil parts (such as the overflow tank and cap, valve cover caps, battery hold-down brackets, and radiator cap). Even the see-through windshield fluid container (full of blue washer fluid) had its own OA cap up top. Other engine compartment goodies include a Meziere starter, an Odyssey battery, a Ron Davis Racing radiator, an MSD distributor, and a pair of billet hood hinges from CVF Racing.
Ford Power: Coyote-Swapped 1955 Ford F100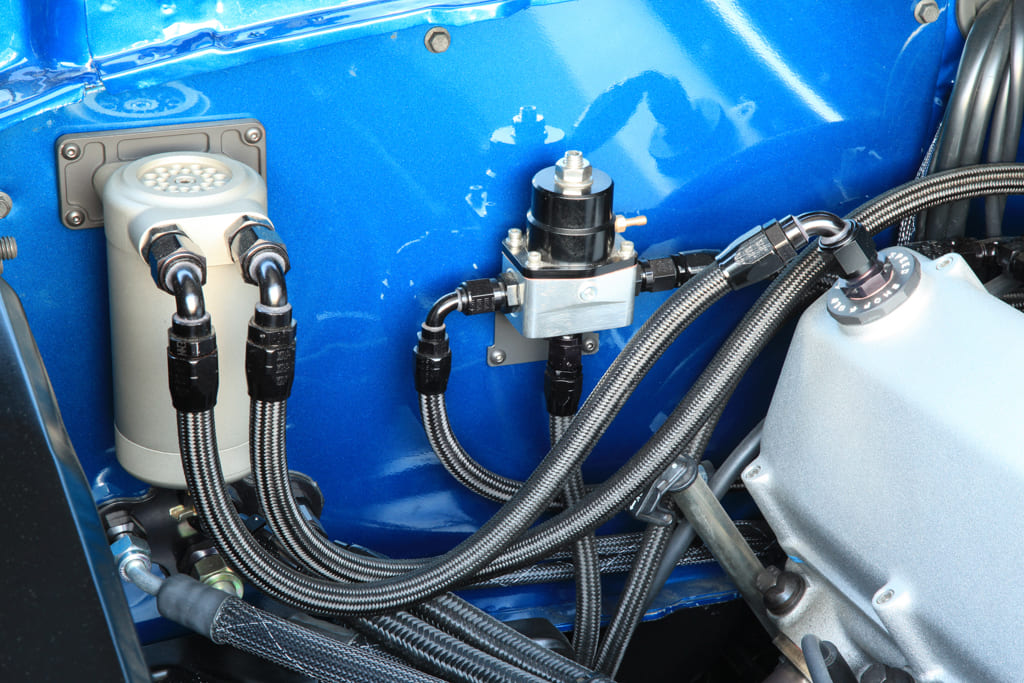 Old Anvil's Brandon Gerringer fab'd up the massive equal-length stainless steel headers that feature 3-inch heavy-wall tubing that was polished both inside and out before they reach the Borla mufflers. The C6 transmission comes with a Gear Vendors overdrive unit (modified by Mike's Transmission) that runs back to a Ford 9-inch outfitted with an Eaton Detroit Truetrac limited-slip differential with a 3.89:1 gearset and assembled with Dutchman's axles. The truck rolls on 17-inch American Racing wheels (picked out by Brad's wife, Janice) shod in Toyo Proxes 255/60R17 rubber.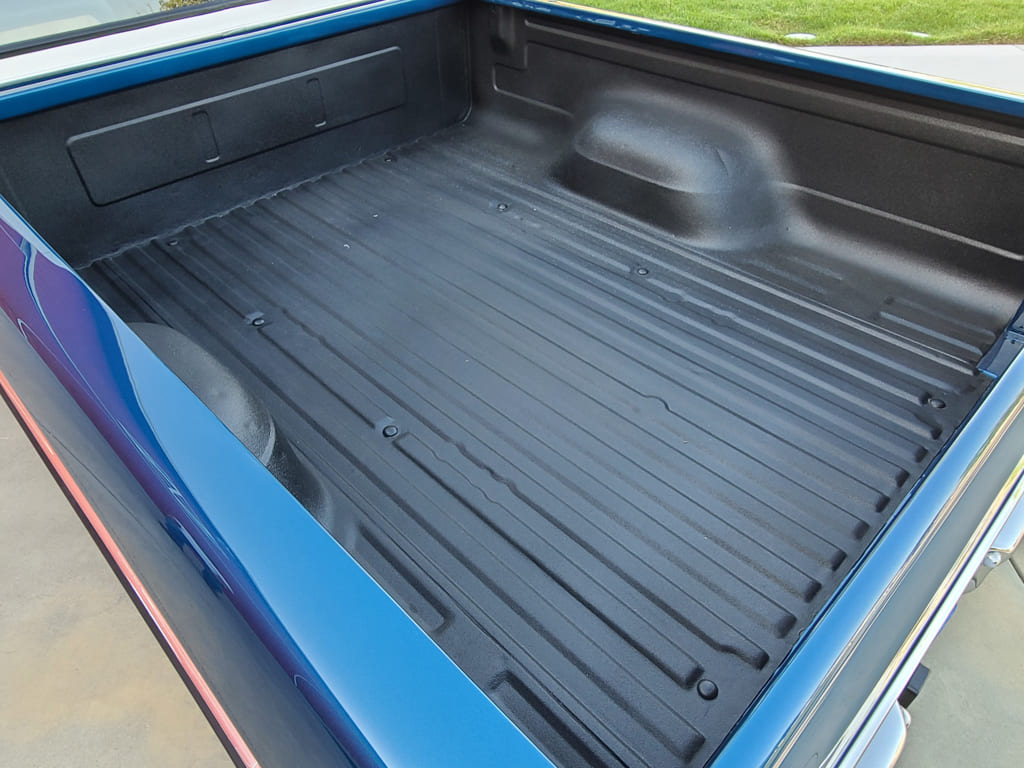 The body and interior have not been altered much, but there are several subtle changes that add to the truck's overall appearance. The grille is one of the biggest changes done by Brad even before he sold the pickup back in 1999. It's off a '78 Ford and swapped in because Brad liked the single, large square headlight arrangement better than the smaller round headlights from 1975. The blue/white paint scheme (white on the roof, C-post area, and lower sides) copies one of the several factory designs offered back in the '70s and it was sprayed by Mahood's in Anaheim, California, using PPG Envirobase paint.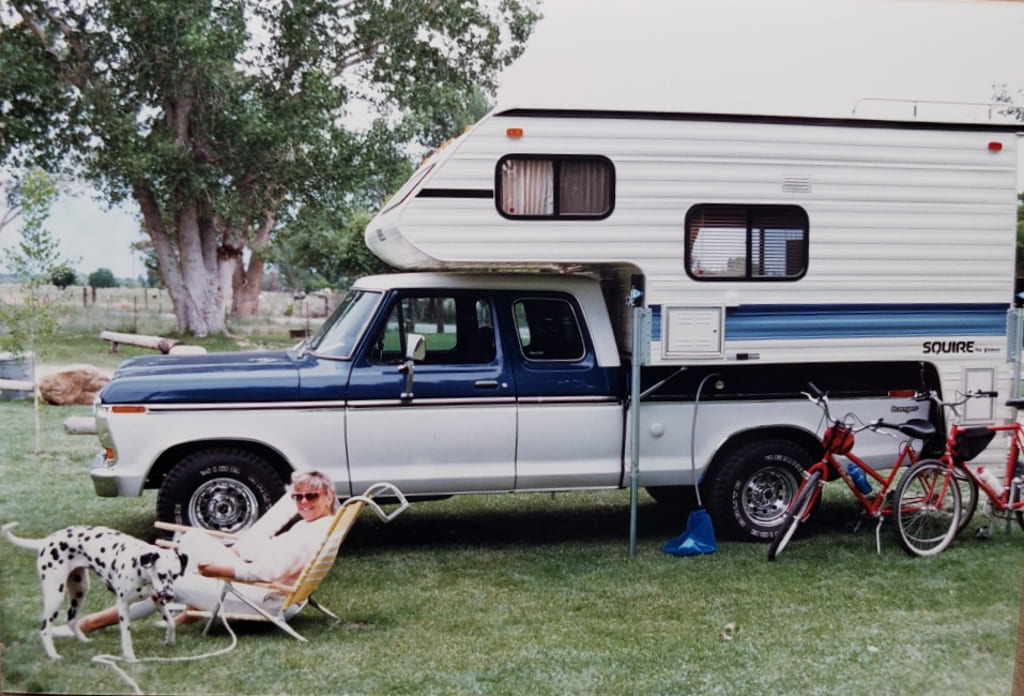 Inside the cab Old Anvil created its vintage look using VW Scirocco Jacky Tartan blue fabric from Relicate (used as an insert to the blue leather surround) found on the front and rear bench seats as well as the headliner and door panels. Billet Specialties supplied the steering wheel for the ididit steering column and RetroBelt provided the age-appropriate seatbelts. The Dakota Digital gauges also give off a blue hue and connect through the extensive rewiring job done by Old Anvil.
Don't Miss Out on this Ford: Farm Fresh 1967 Ford F250
Another one-off part made for Brad's truck is the switch panel that controls high and low headlights, the seat heating, a pair of USB charge ports, and more that is located at the bottom center of the dash. Paul first designed the multi-switch panel as a CAD program, then milled it from aluminum in his shop. Next, laser-etched descriptions were added and soon Old Anvil had a part that looks like it came out of the Ford factory. Extra effort was made with the defrost vents, too, as Old Anvil 3-D-printed those in-house.
Chevy Power, Ford Style: Ross Meyers' Cloaked LS Equipped F100 Flareside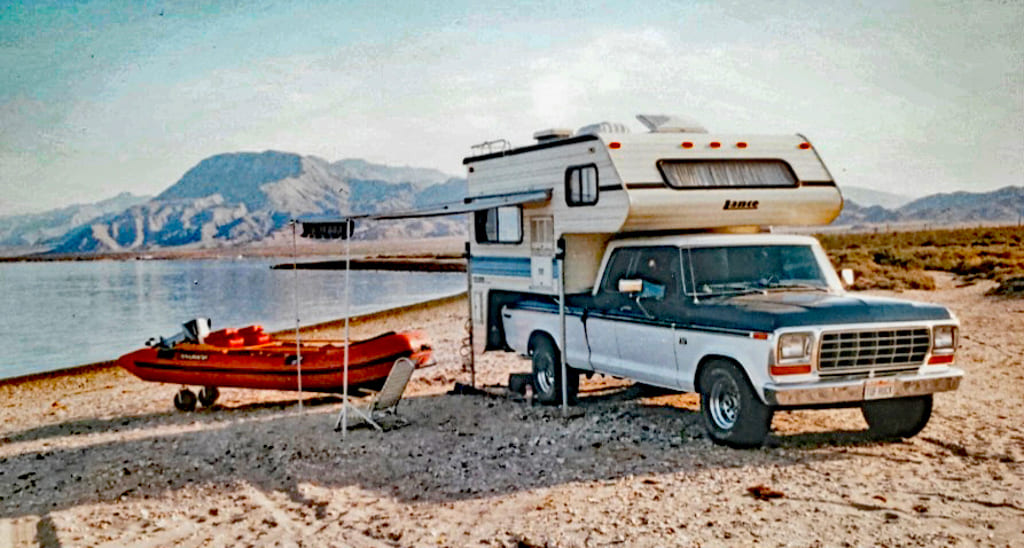 It's those little touches throughout the build that add up to make Brad's SuperFord the badass pickup it is. Nothing over the top, but everything addressed and lightly massaged. The performance motor sounds great (but not annoying) and for those who might see it on the freeways of Southern California but not give it a second look, that's OK with Brad and Janice because you just can't beat the memories the couple have had after owning their truck for as many decades as they have.
Click on this issue's cover to see the enhanced digital version of Brad Bolves' '75 Ford SuperCab.