Radiator Fans Keeping Your Classic Truck Cool
By Ron Ceridono   –   Photography by the Author
A vital component of your truck's cooling system is the fan. Regardless of how efficient the radiator is or the type of water pump used, airflow is the key to keeping engine operating temperatures under control.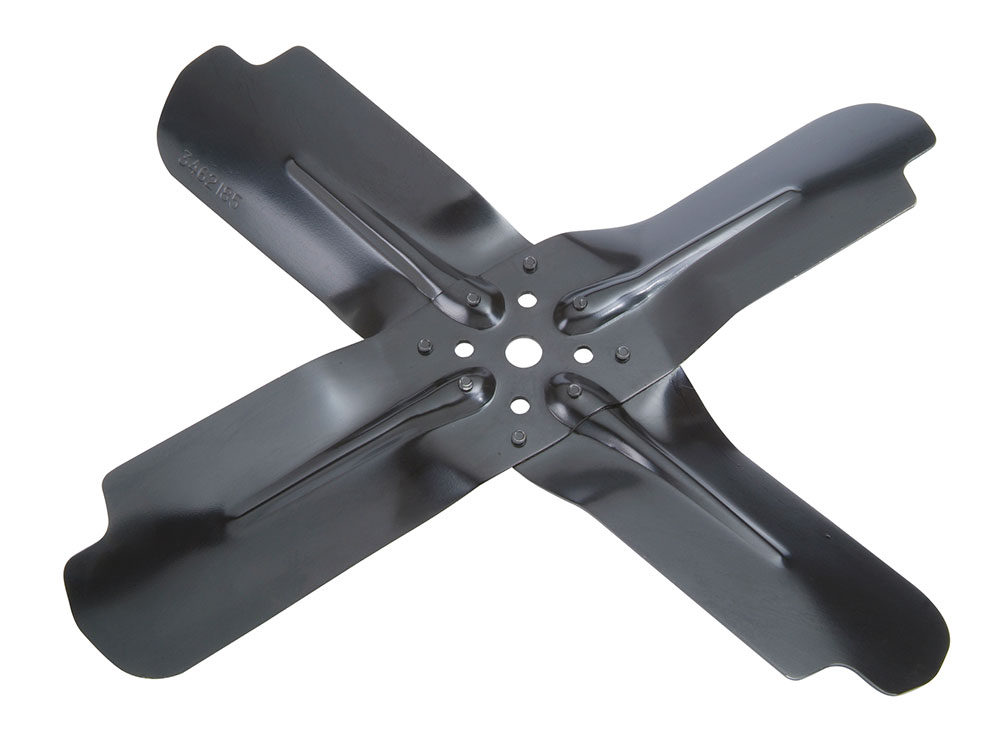 Although once a truck is moving fast enough, usually around 30 mph, to provide ram airflow through the radiator, a fan isn't crucial in most circumstances. But when your truck is moving slower, or worse when it's stationary, an effective fan may be the difference between looking at the temperature gauge with a smile on your face or watching in horror as steam pours out from under the hood.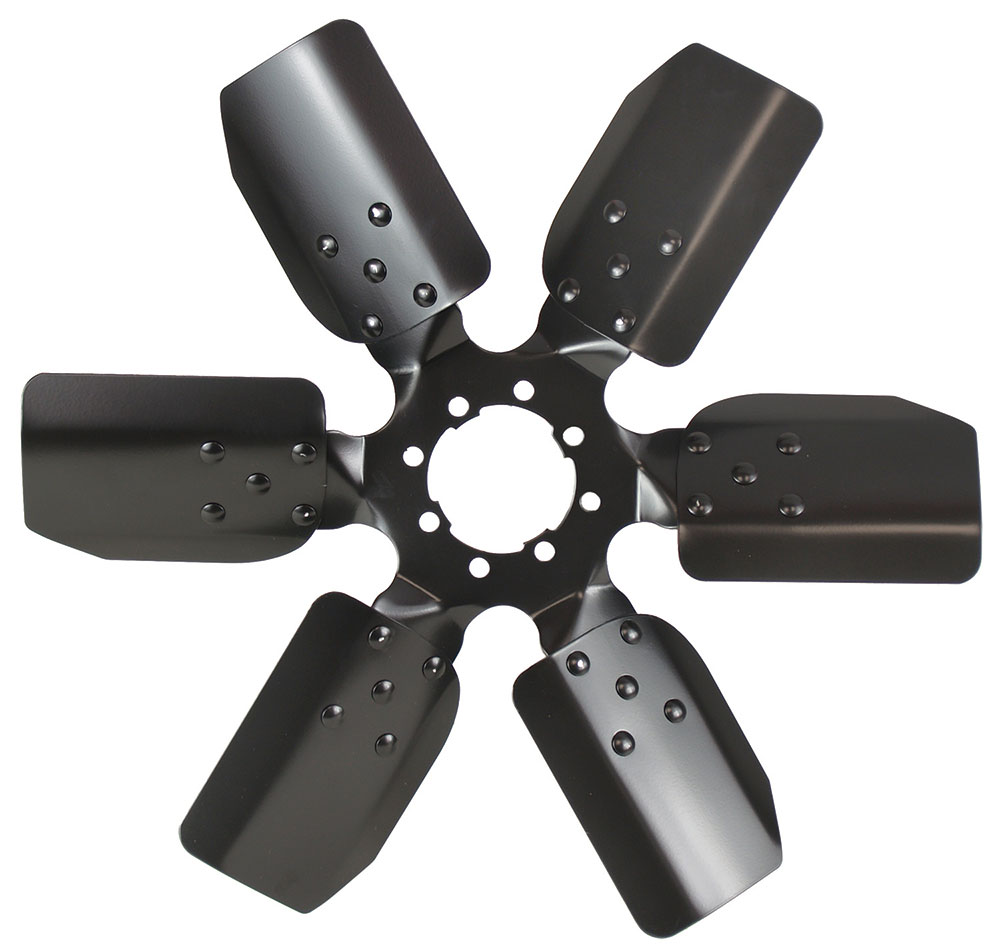 Belt-Driven Fan
When selecting a fan for your classic truck there are a variety of designs to choose from. Mechanical, engine-driven are simple and effective, however, as more blades with greater pitch become necessary to move the volume of air to keep larger displacement and higher-horsepower engines cool, the power required to spin them (and the noise they make) increases dramatically. In some cases the loss could amount to 30 hp or more.
Read More: Everything You Need To Know About Aluminum Radiators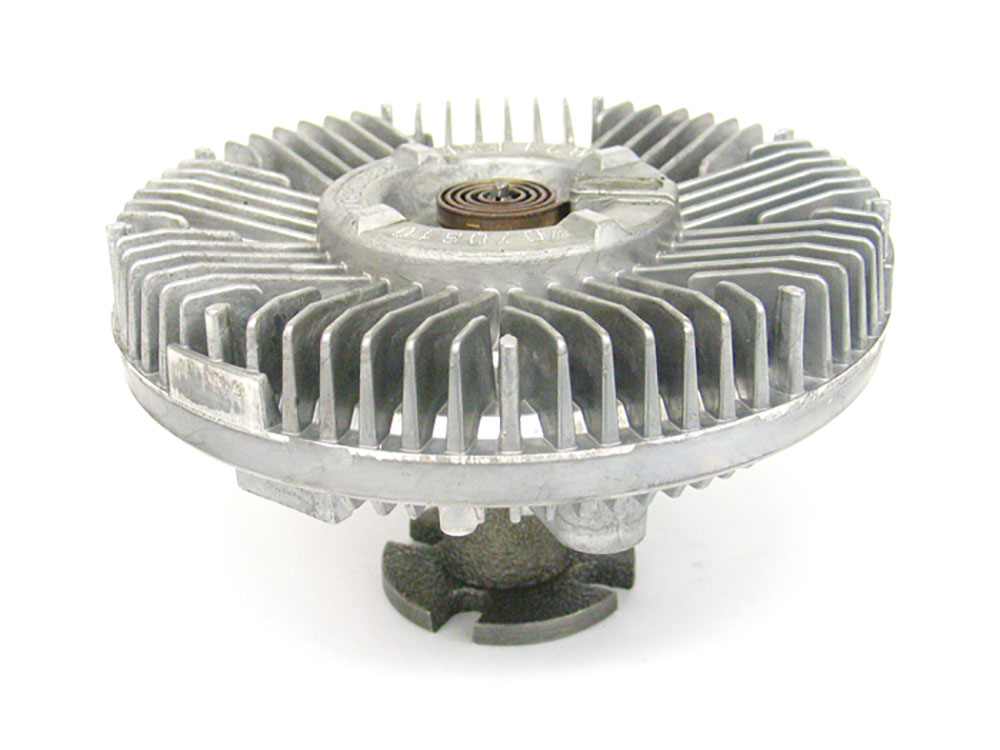 Flex Fans
A popular variation of the mechanical design is the flex fan. The pitch of the blades on a flex fan will pull lots of air at low speeds then flatten out at higher speeds for less drag. Of course not all flex fans are equal. Those made from plastic flex very little, which can make them effective when it comes to pulling in air, but it doesn't do much to reduce drag when the engine speed increases. Fans with aluminum or stainless blades flex more and are therefore more effective at reducing drag.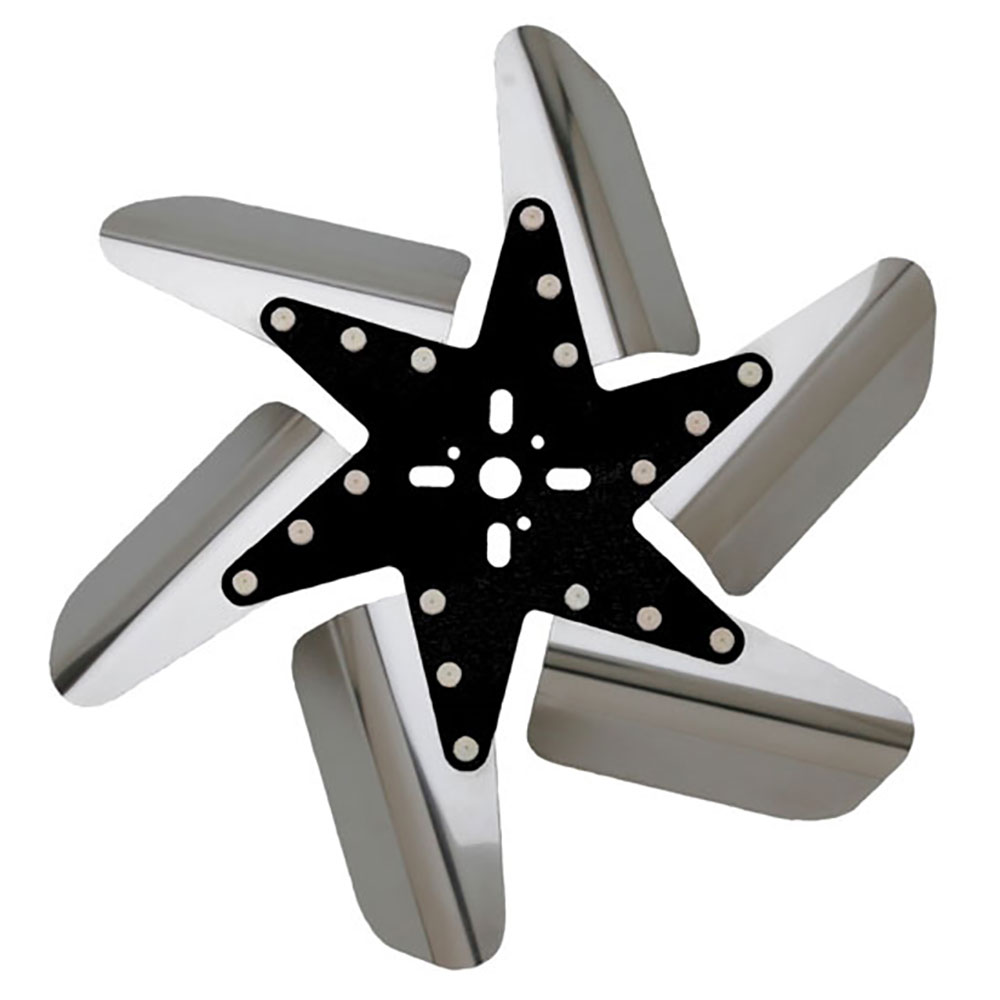 Clutch Fans
Another variation of a rigid fan uses what is referred to as a clutch. Found on many OEM applications, a fan clutch will "slip" to limit fan speed based on engine temperature or rpm. While clutch fans have an obvious advantage of reducing drag on the engine, their big drawback is the space they require forward of the water pump.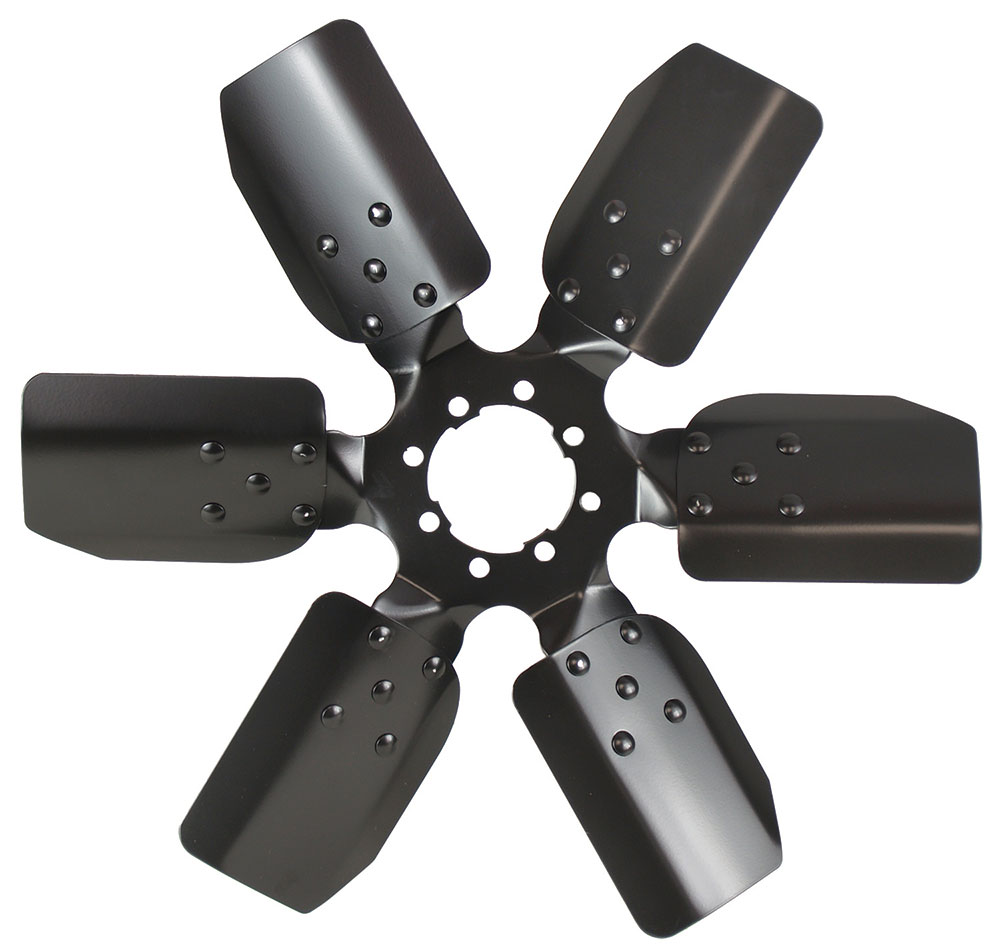 Mechanical Fan Placement
When installing a mechanical fan there should be at least 1 inch from the blades to the core and the blades should never extend past the core. The difference between the lower static pressure at the core and the higher static pressure behind the tanks can cause the fan blade to flex forward. That may result in a weird pulsating sound, or damage to the fan and radiator (see photo 10 on page xx for graphic proof).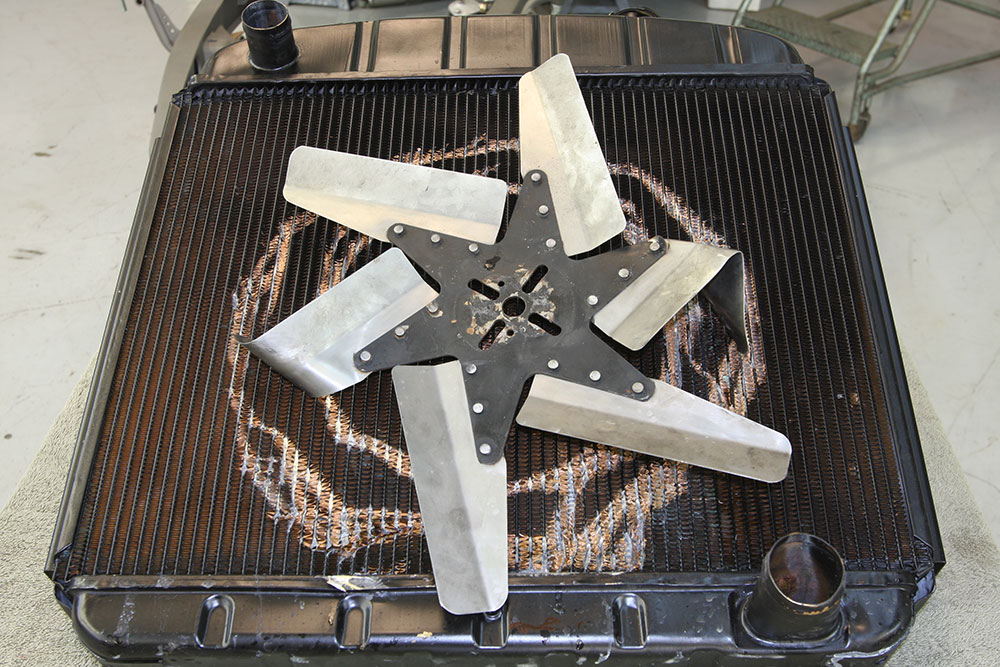 How To Place A Mechanical Fan
To properly locate a mechanical fan, it's often necessary to use a fan spacer—but be aware, quality varies considerably. Some cheap spacers are not very accurate and may cause the fan to have a certain amount of runout, not something you want with the fan hanging off the end of the water pump. The best choice is to opt for a quality, machined aluminum spacer, and limit its length to 3 inches, max.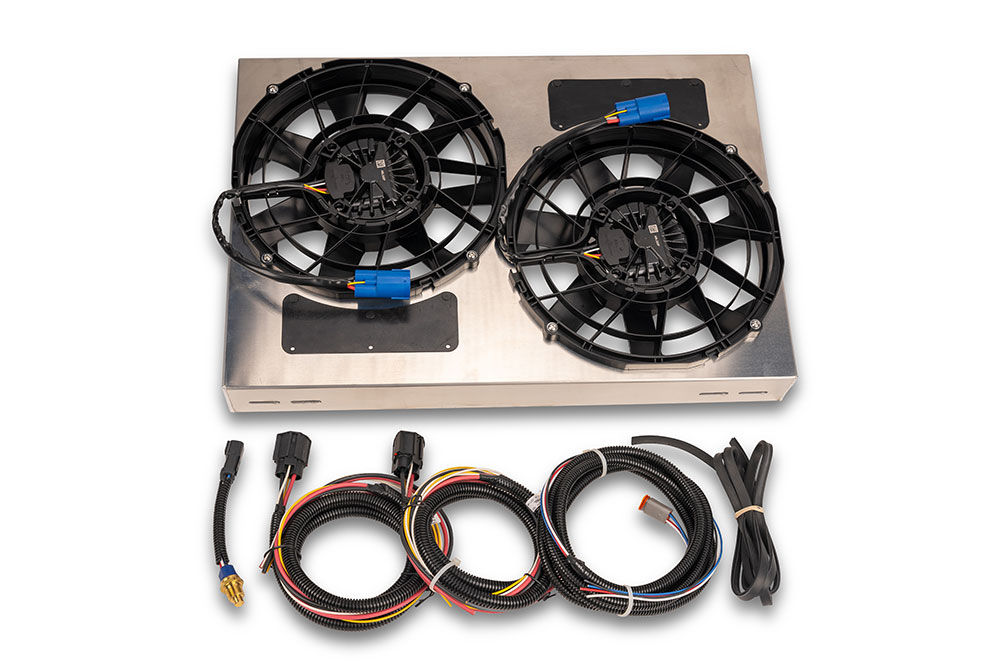 Electric Fans
One of the most popular cooling options is an electric fan, to which there are a number of considerations, the most common is the cfm (cubic feet per minute) rating. Electric fans are normally rated at 0-inch static pressure, which means there is nothing restricting airflow. Put a radiator in front of them and other impediments to airflow, like an AC condenser and an auxiliary cooler of some sort, and the static pressure or the resistance to airflow increases. As Tom Longo from Derale Performance says, "That's when the motor becomes a factor; given equal cfm ratings a fan with a more powerful motor will be more effective as static pressure increases."
Read More: Mom's 55 Chevy With Modern Flair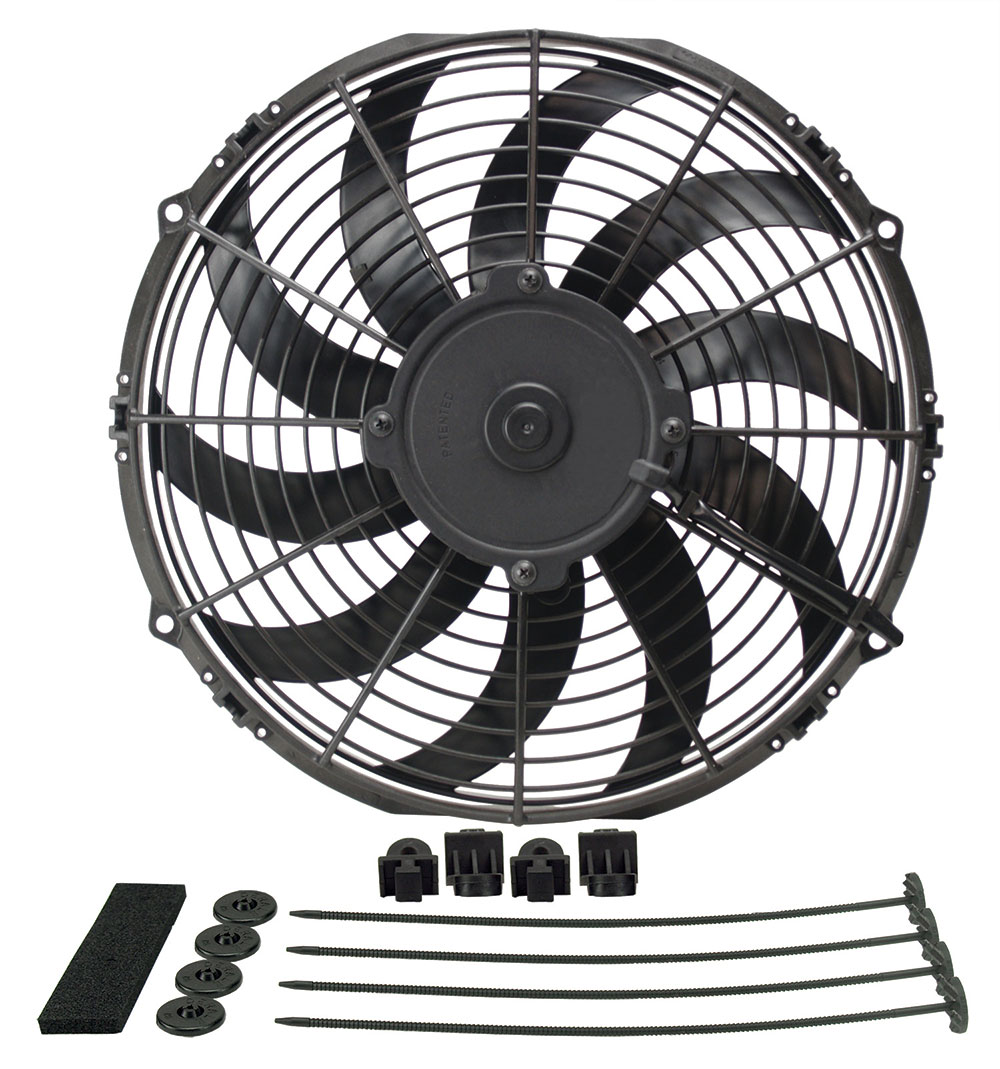 How Cfm and Amps Play a Role
Longo went on to say, "cfm is tricky. Look at any lineup of fans and you will see a huge range. The consumer wants more for less, to most the cfm tells the story. But if the cfm number isn't correct, then what? In any application we look at how to get the most airflow with the size fan that fits. Amperage does help tell the story. The more amps, generally, the more cfm. If you base your decision solely on amperage, cfm should still be used as a reference. This will not apply in all applications, but a rule of thumb is 80- to 100-cfm per amp should get you close." Keep in mind, with electric fans you get what you pay for. Cheap fans are priced that way for a reason.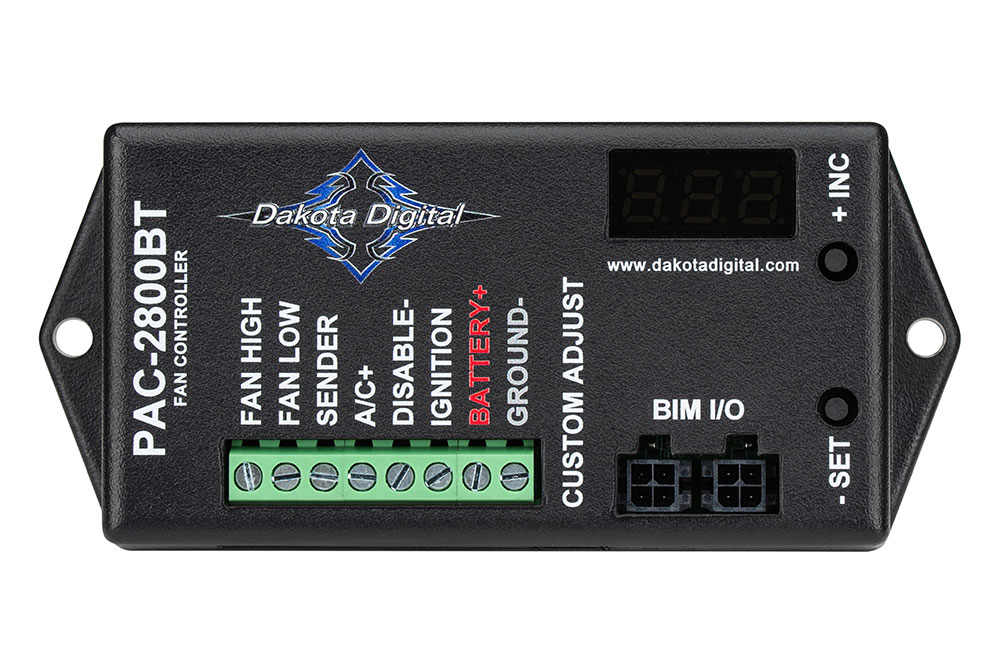 Radiator Fan Design
Other important factors when selecting an electric fan are the diameter of the blades and their design. Size really does matter, so as much of the radiator core as possible should be covered—in some cases that may require dual fans. The other factor is the type of fan blades; they may be straight or curved. In operation, S-blade fans are quieter but both are equally effective at moving air.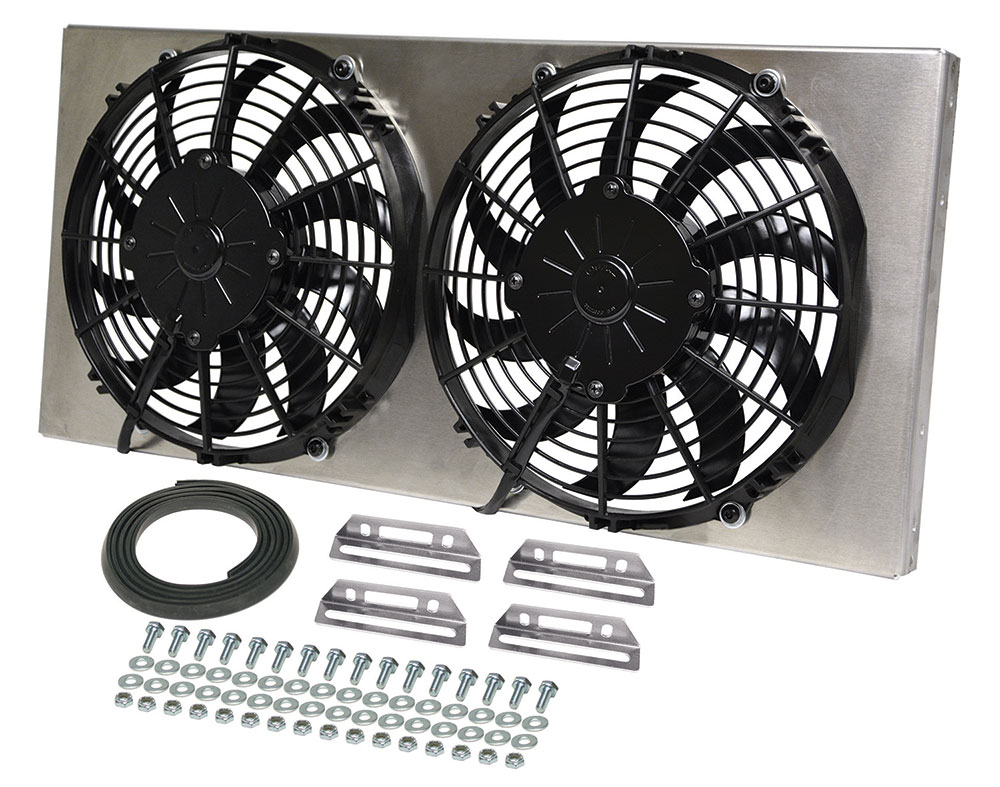 Brushless Motor Fan
The latest development in electric engine cooling fans is the brushless motor. Found on many modern cars, brushless fans are capable of moving more air than conventional fans; while consuming less energy they last longer and are extremely compact. Rick Love of Vintage Air explains, "Brushless fans aren't controlled by relays. Instead, the battery powers the motor assembly at all times and an electronic controller within the motor housing determines when and how to operate the motor based on a signal that comes from the controller that senses the temperature of coolant leaving the engine. When a brushless motor fan engages it begins with a "soft start" at approximately 30 percent power when the engine is approximately at its coolant thermostat opening temperature, then the fan's speed gradually ramps up as engine temperature increases. Since these fans are very powerful, they rarely, if ever, reach maximum speed."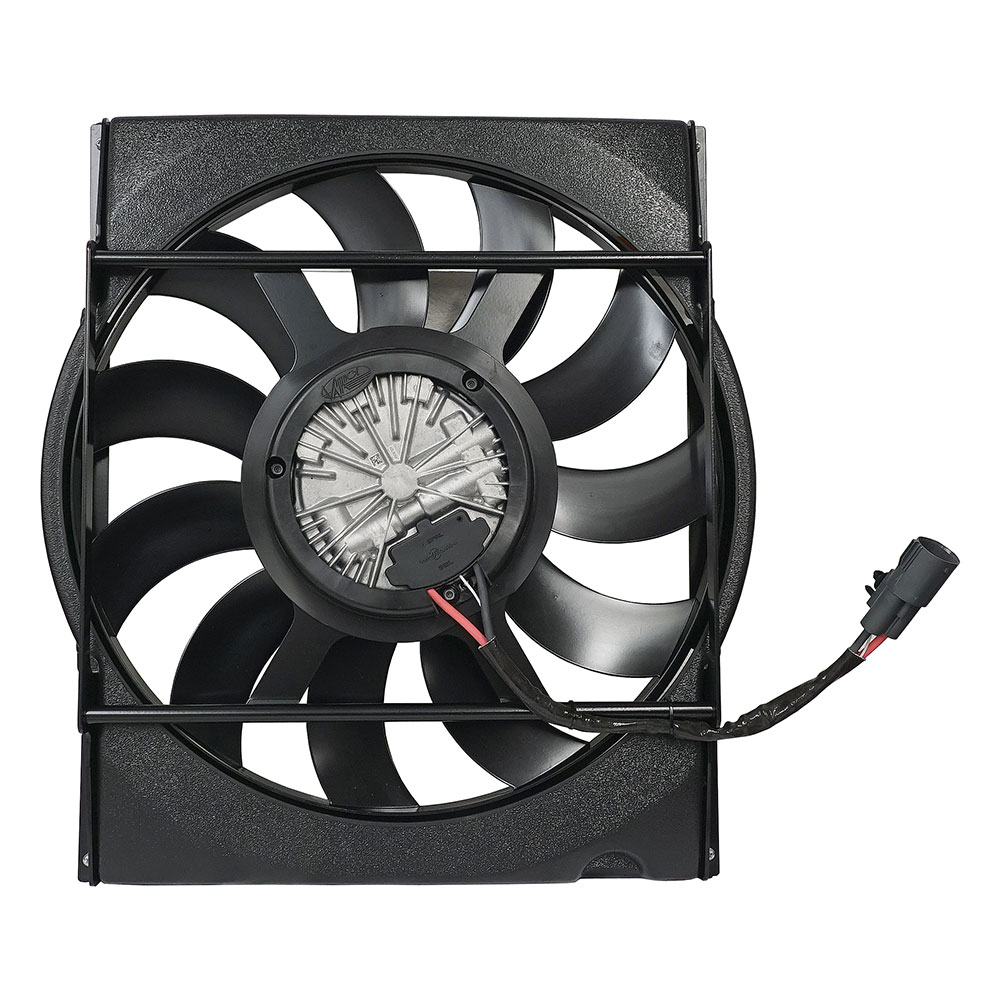 How To Wire A Radiator Fan To A Toggle Switch
It goes without saying that an appropriate charging system is necessary. In addition, a control device of some sort should always be part of an electric fan's wiring. While using a simple toggle switch to activate the fan may seem like a good idea, there are two issues with this. First the fan's amperage draw will burn up an inadequate toggle switch and the other problem is back-feeding through the system. When the ignition is shut off the fan will continue to coast down to a stop. During that brief period an induction motor may act like a generator and back feed through the system and keep the engine running until the fan comes to a stop.  A relay or controller will cure both problems.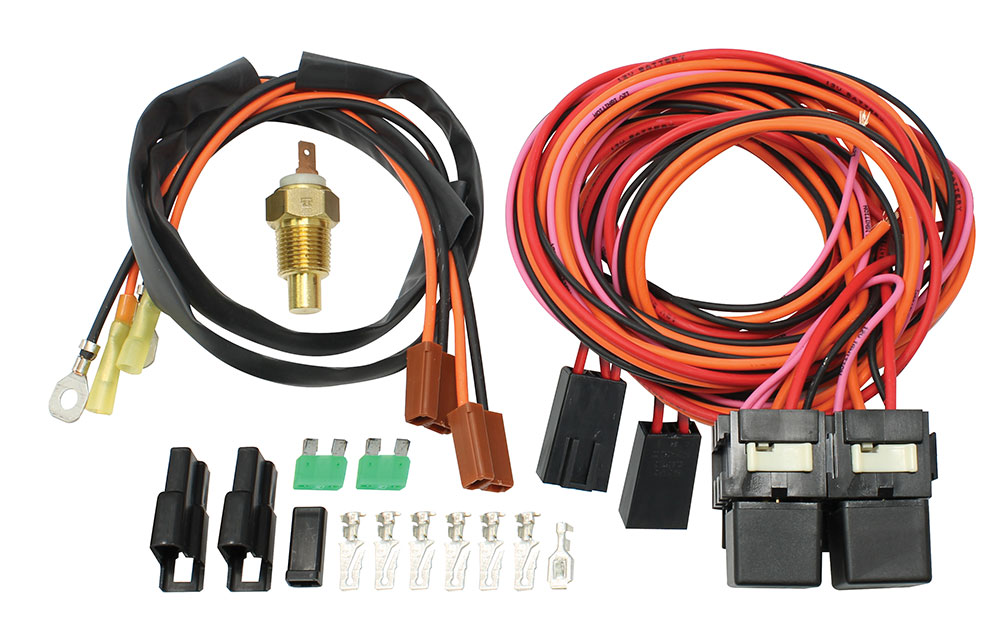 Radiator Fan Controller
Fan controllers range from simple to complex. Basic controls use a thermal switch with set points that turn a relay on and off to control the fan. This style switch should turn the fan on approximately 15-20 degrees higher than the thermostat's opening temperature and off around the thermostat's opening temperature. More complicated controllers have adjustable on and off set points, are capable of controlling variable speed or dual fans, will activate the fan(s) when the AC is turned on and will allow the fan(s) to run for a period after the engine is shut off.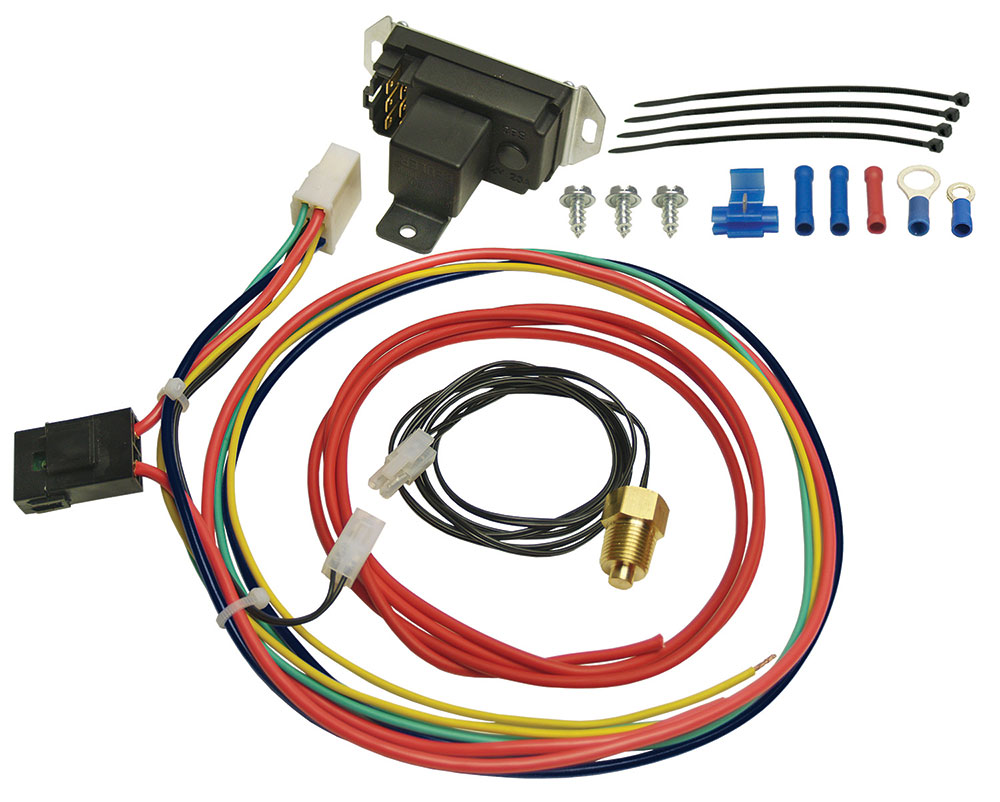 What Is Pulse Width Modulation?
A variation on fan controller design is the PWM (pulse width modulation) type. Simply put, these controllers use on and off electrical pulses to control the motor. The duration of "on time" is determined by a temperature sensor; in turn the controller alters the width of the pulse to regulate the speed of the motor as needed. Basically, the longer the on pulse the higher the voltage and the faster the motor spins.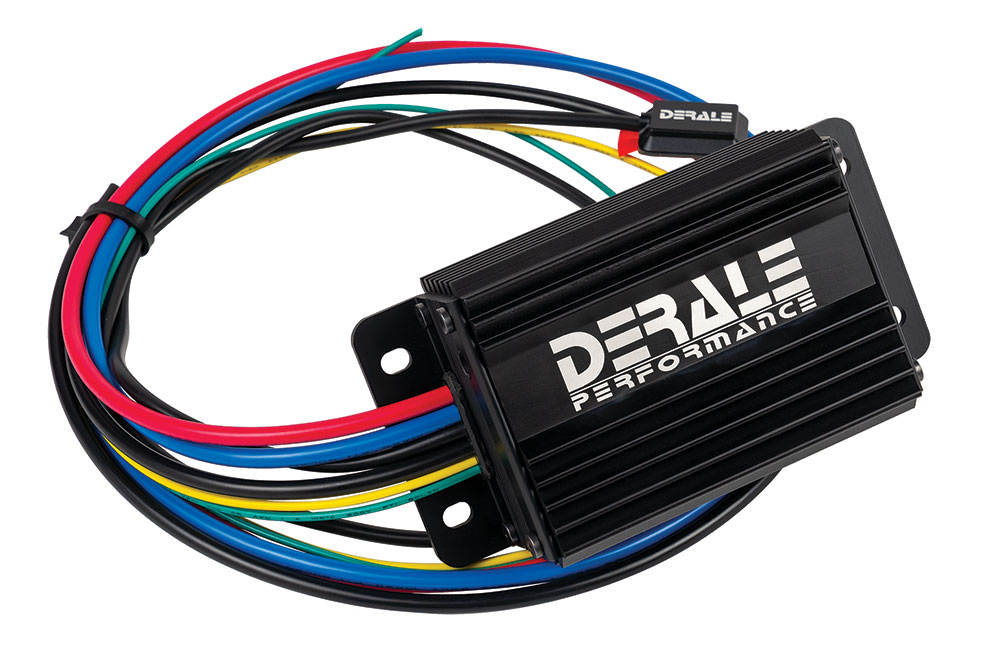 Do I Need a Fan Shroud?
Regardless of the type of fan installed, a shroud should also be included. Without a shroud the fan is only pulling air through an area equal to the size of the blades—a shroud will help pull air across the radiator's entire core. Another method to increase cooling efficiency is the installation of baffles to direct any incoming air through the radiator's core rather than around it.
Read More: How to Fill Holes in Metal with Pre-Fabbed Discs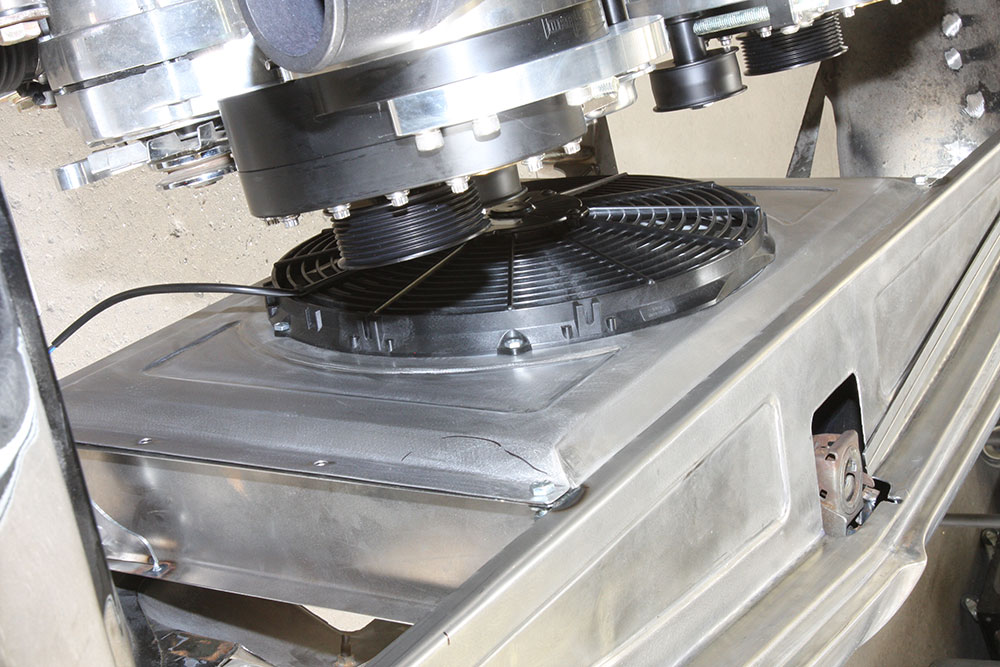 There are many viable options when selecting a fan for your truck so it's important to plan ahead and leave enough room for whatever type you choose. A common problem when an engine swap is performed is finding out there's no room for a fan. More often than not that results in the installation of an inadequate fan with predictably poor results. The secret is to plan ahead by positioning the radiator and leaving plenty of room for a fan before the engine location is finalized. To sum it up: stuff in the biggest fan that will fit, include a shroud, and your classic truck will keep its cool.
Sources
American Autowire
(800) 482-9473
americanautowire.com
Dakota Digital
(800) 852-3228
dakotadigital.com
Derale Performance
(A US Motor Works Brand)
(323) 266-3850
derale.com
Speedway Motors
(800) 979-0122
speedwaymotors.com
Vintage Air
(800) 862-6658
vintageair.com