Backing a Ford 352 engine with a GM 200-4R transmission!
By Rob Fortier – Photography and Videography by Ryan Foss Productions
I remember back in the early '90s I went to great lengths swapping the Saginaw three-speed in my '54 Chevy Bel Air for a Muncie 4-speed transmission and a Powerglide ring-and-pinion. When all was said and done, yes, I had a much beefier transmission in which to bang gears and the freeway speeds were a bit easier on the rpm, however, for the time and money spent I can't say that I was all that impressed.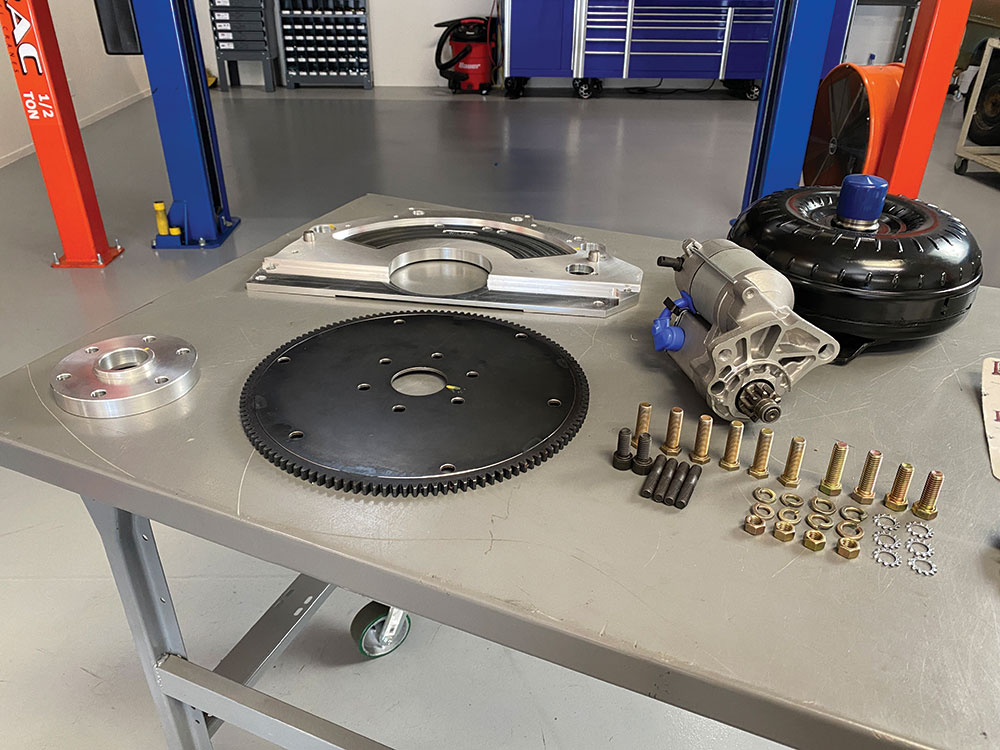 A few years later I acquired a '55 Chevy Stepside which, lo and behold, had that same 3-speed gearbox with reverse—this time, however, behind a 350 small block. When the opportunity arose to swap out that manual transmission, let's just say the word Muncie was not on the tip of my tongue. While I did opt for a 4-speed transmission, in this case I went the automatic overdrive route and the outcome was anything but mediocre. From that point on, any transmission upgrade I've done has been so with the intent to add that crucial overdrive element—whether it was the TREMEC TKO behind the 235 in my '53 Chevy 3100 (as well as my Flathead-equipped '33 Ford) or the 200-4R transmission in my '53 Bel Air.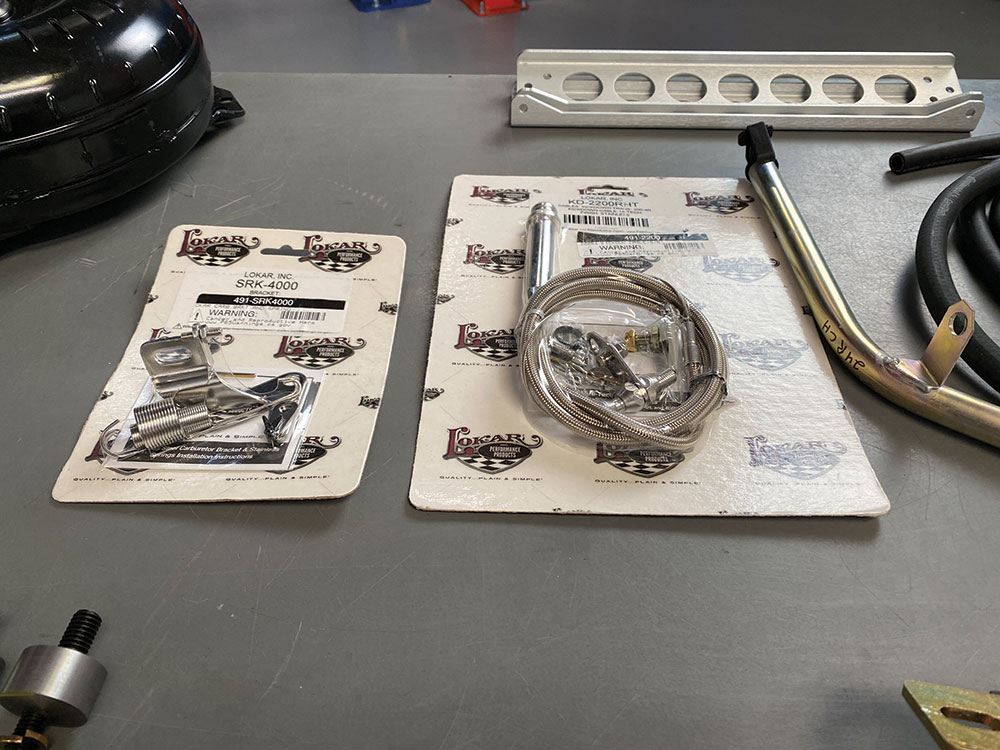 Read More: Alluring Sterling Silver 1956 Ford F100
Speaking of 200-4R overdrives, it was that above-mentioned swap that sold me on the beefed-up, compact 4-speed automatic as a perfect option for smaller-spaced applications (in lieu of a 700-R4 or 4L series) without sacrificing performance and durability. While the cores are not as common as the bigger 700s due to lower manufacturing numbers, they are still available (remanned, and new from Hughes Performance; Phoenix Transmission offers full levels of 700s as well as TH350/400 and an array of 4L series applications; and Bowler Transmissions offers 700-R4 packages).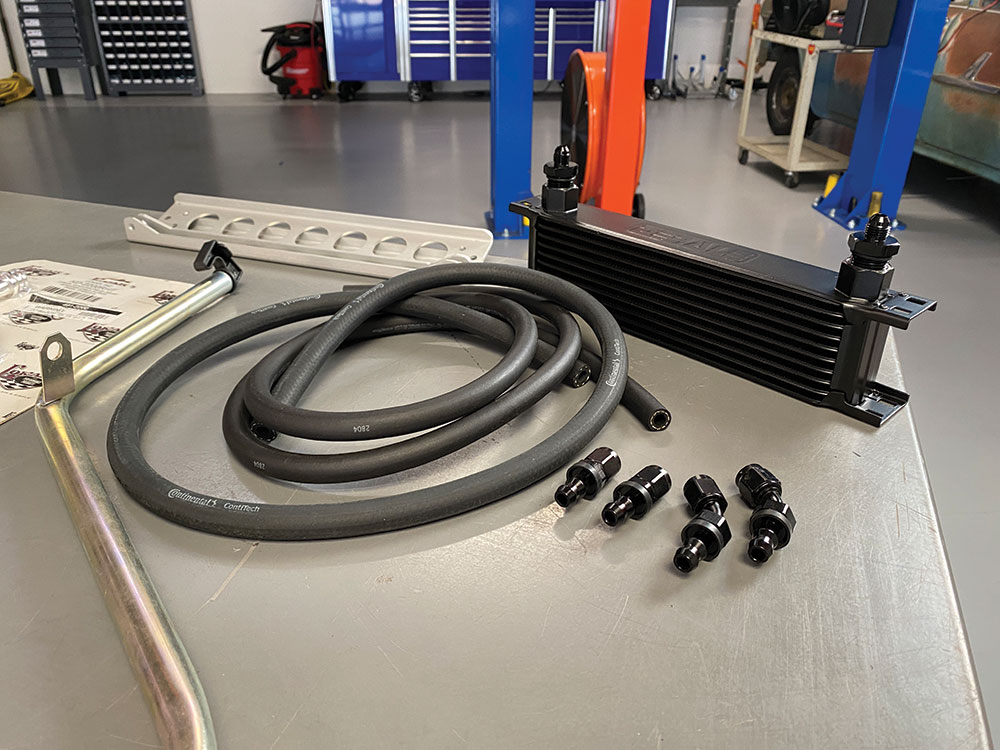 The important factor when choosing any overdrive is whether you want to go electronic or manual control—if the latter, you're limited to the 200/700 series. When the opportunity arose to swap out the 3-speed manual transmission in the '67 F-100 in our shop, well, let's just say none of the Ford ODs were the first options to come to mind … at least in my mind, that is.
Read More: HGM Automotive Electronics's Bluetooth CompuShift Controller For 4L60E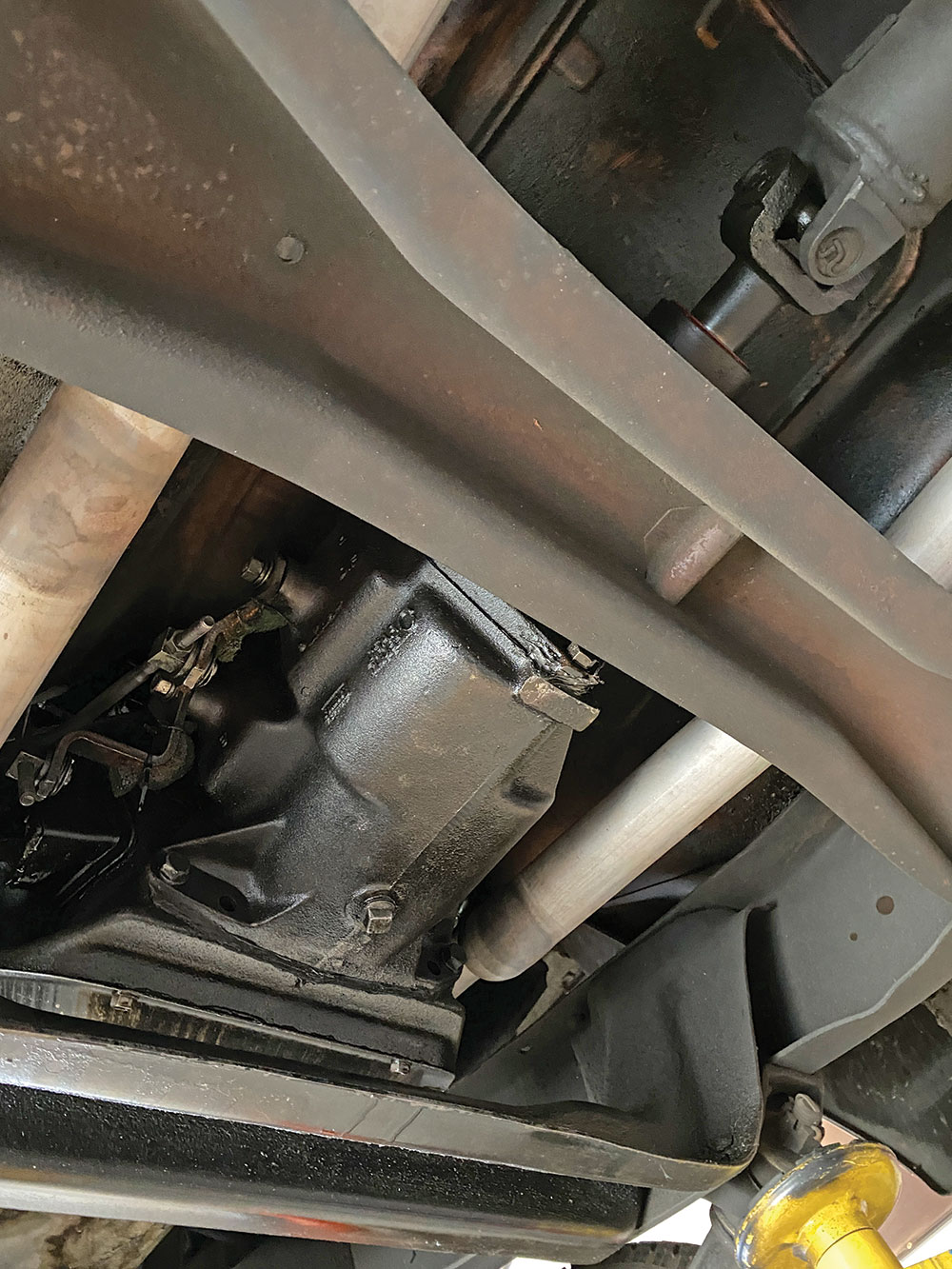 A GM transmission behind a Ford engine, you ask/scoff? And if so, how so, you ask? Yes, and, for starters, it's as easy as picking up the phone and ordering a transmission adapter kit from a name many a hot rodder ought to be very familiar with: Wilcap Co. in Pismo Beach, California. Since the late '40s, Wilcap (short for Wilson-Capanna for the two owners at the time, Red Wilson and Tony Capanna) has been producing machined ways in which to mate engines and transmissions, among other things, that were never originally intended to be mates, so to speak. And since 2002, Patrick McGuire has been keeping that tradition alive—offering a wide array of adapter kits … including the 390-350 kit that allows users to bolt a GM TH350/TH400/700-R4/200-4R behind the '58-76 Ford FE series V8 (332-428 ci) that we acquired for said swap.
Wilcap's 390-350 engine to transmission adapter kits include the following: their in-house machined and Blanchard-ground aluminum adapter plate, steel flexpate with brand-new ring gear, billet crank spacer, alignment dowels, and all necessary Grade 8 hardware. Additionally, we acquired the Mopar mini starter specifically modified for use with this application.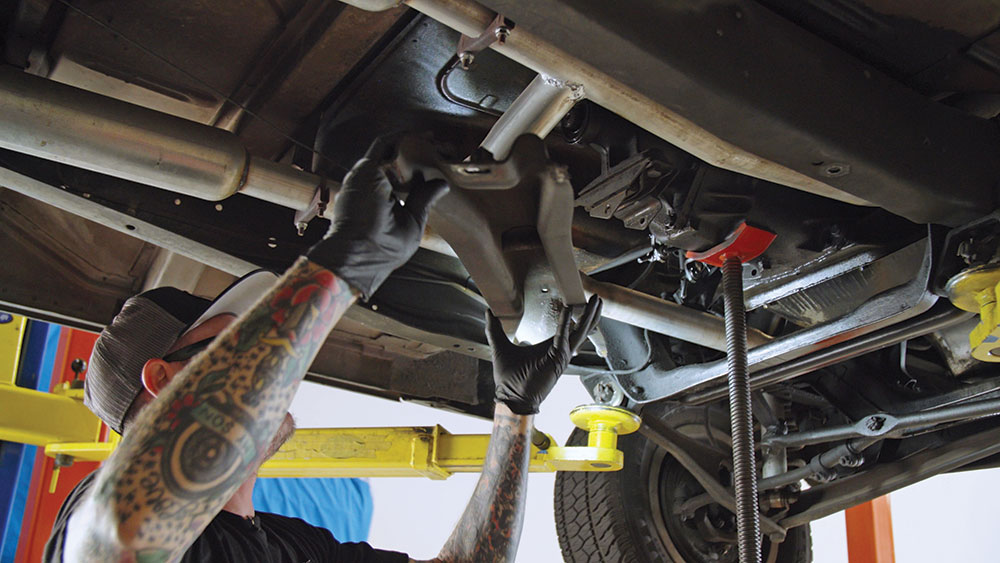 Read More: Purpose Built Sport Truck: 1958 Chevy Cameo
To manually control the shifting of our 200-4R, we chose to use Lokar's TV kick-down cable system (KD-2200RHT) and carburetor throttle bracket (SRK-4000). Since the F-100's radiator was ill-equipped for automatic transmission cooling capabilities, we obtained a Derale Series 10000 stacked-plate remote transmission cooler to mount below the radiator itself. And other than supplying our own urethane tailshaft mount, the only other thing we had to provide was the time in which to perform the swap. (Of course, the aid of Harbor Freight's transmission jack and support stands greatly helped too!)
For all you non-purists who have stuck around—follow along as we modernize this beautiful old Ford Bumpside's highway drivability. Next month, in lieu of modifying the three-on-the-tree, we'll wrap things up with a new steering column install to accommodate the actual shifting requirements.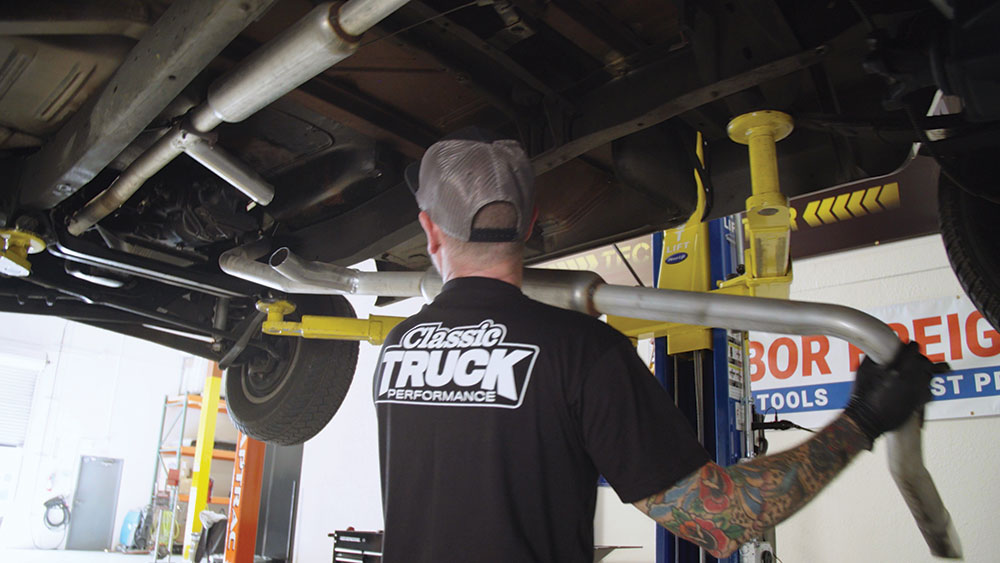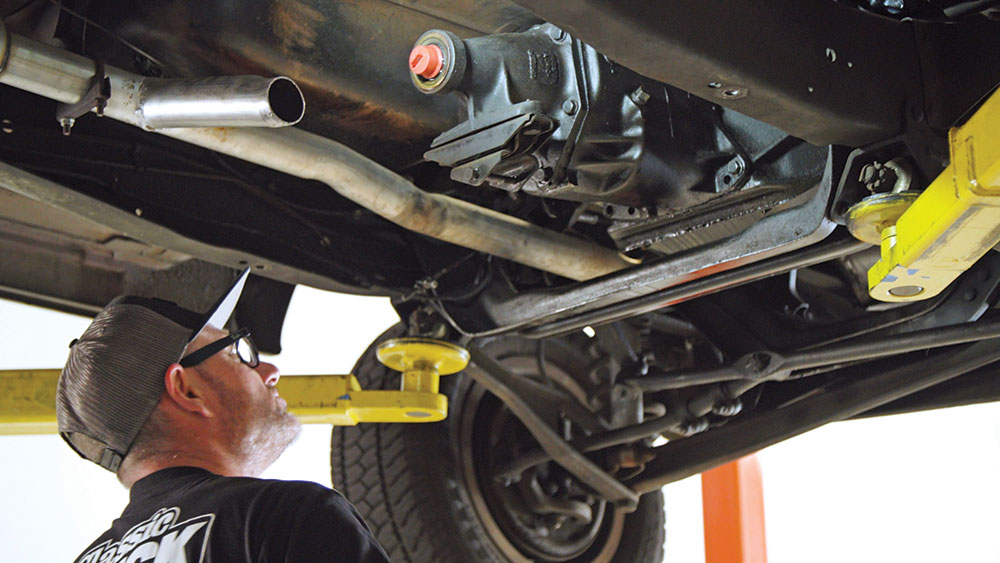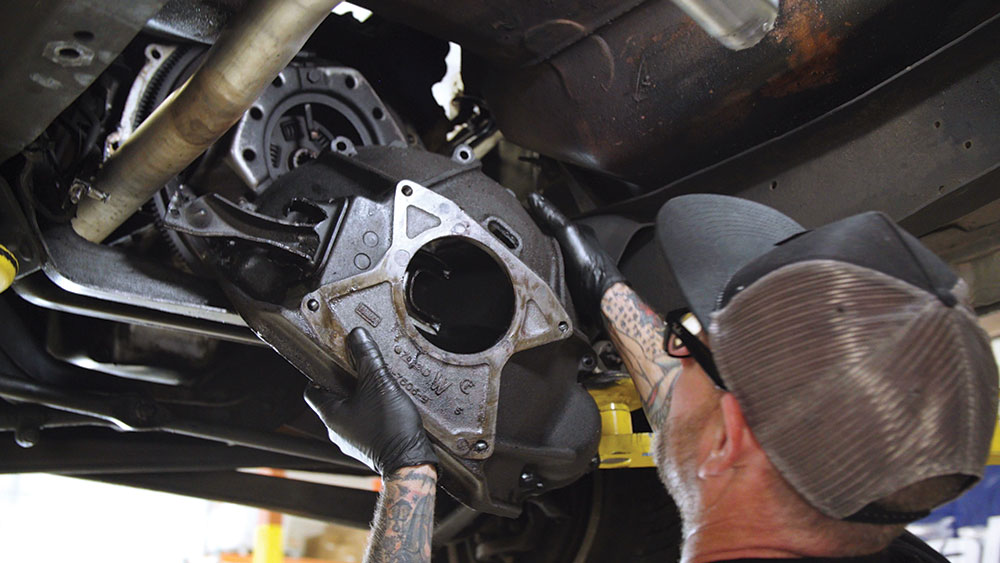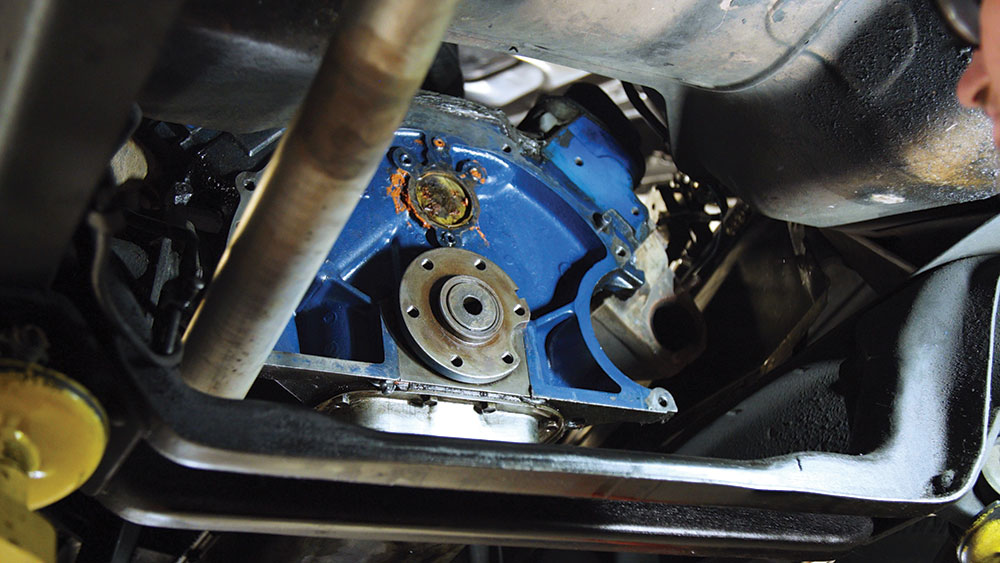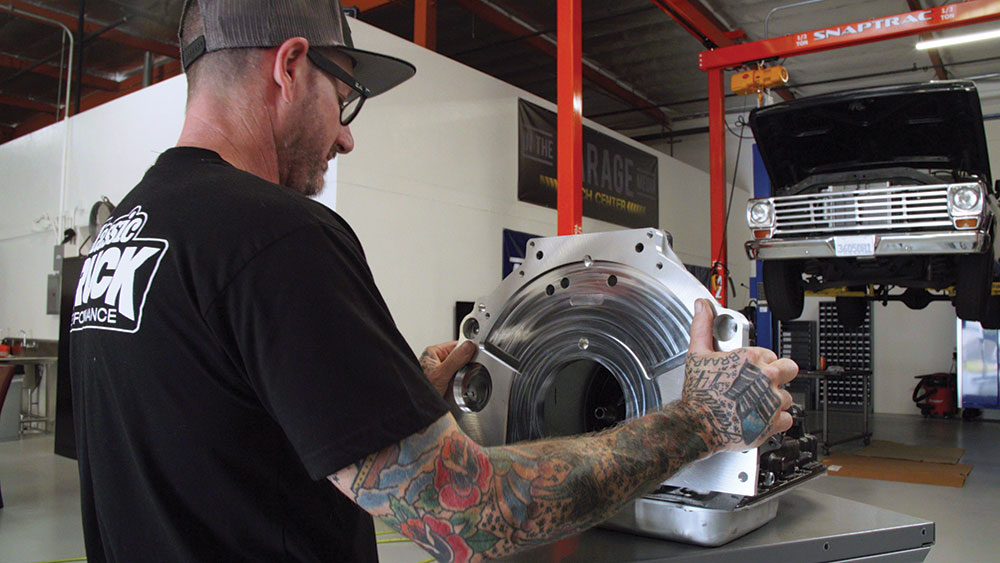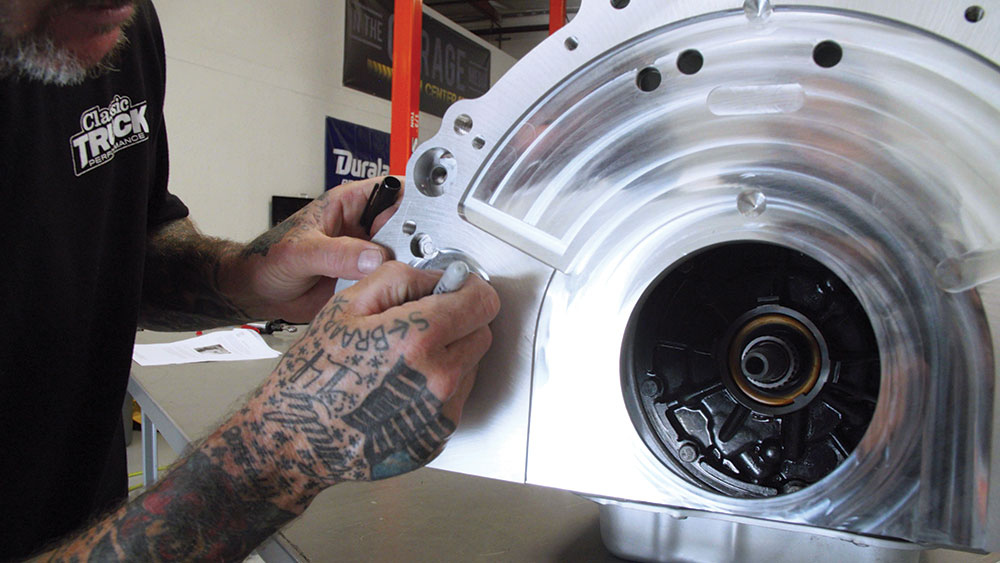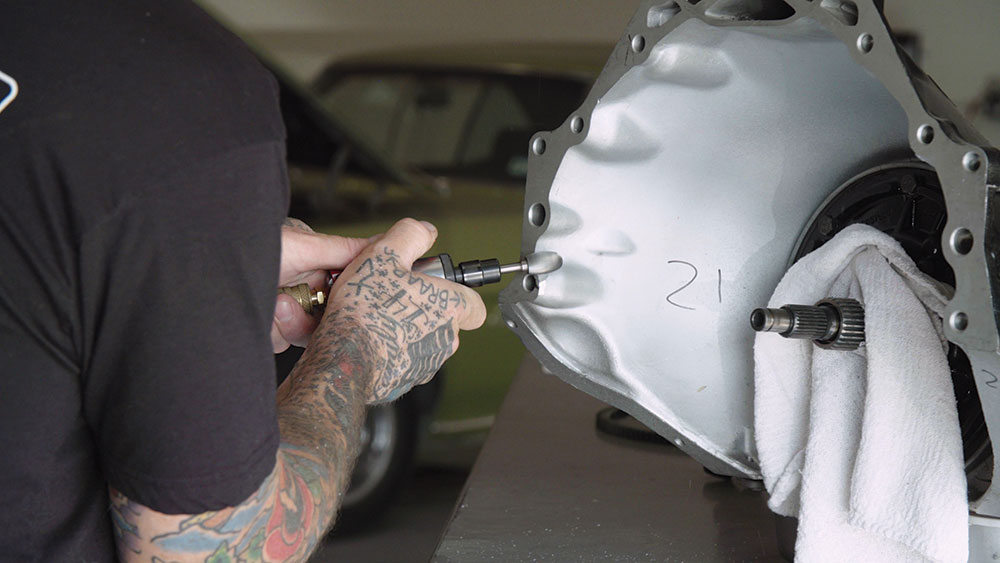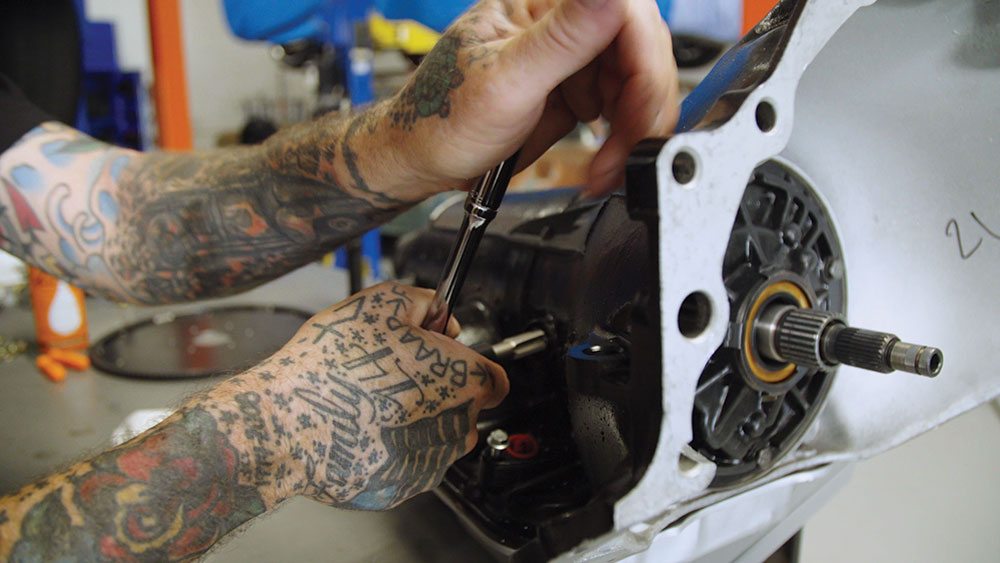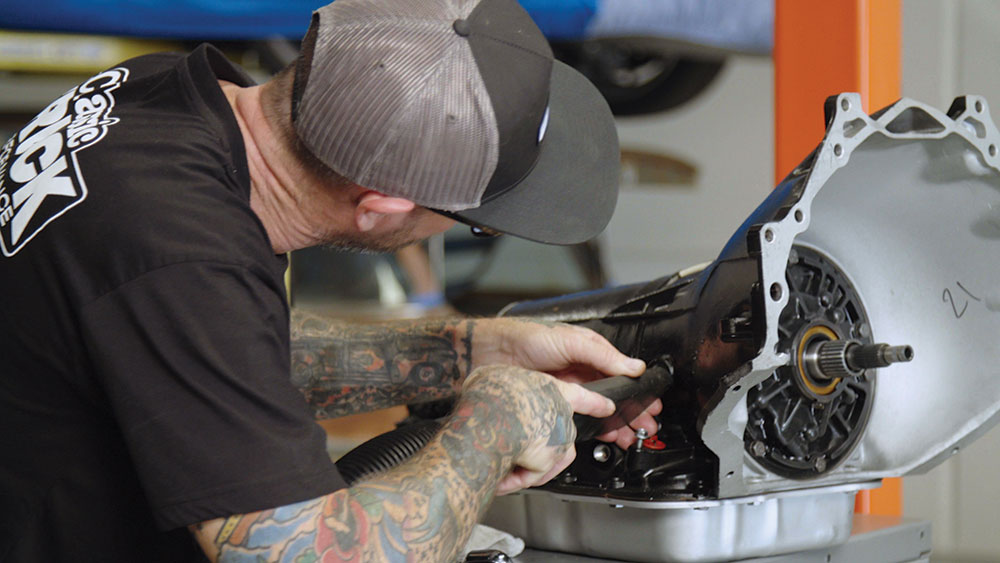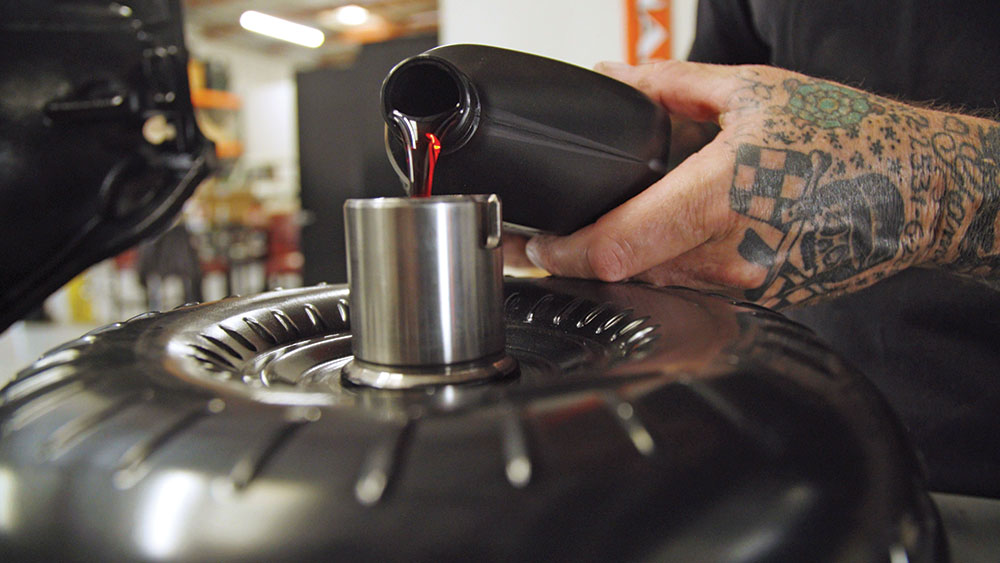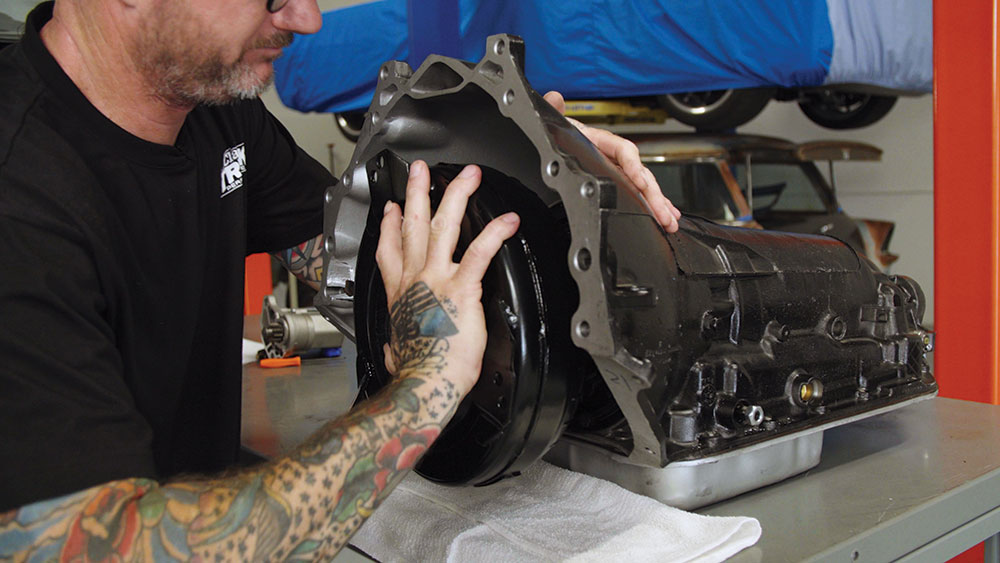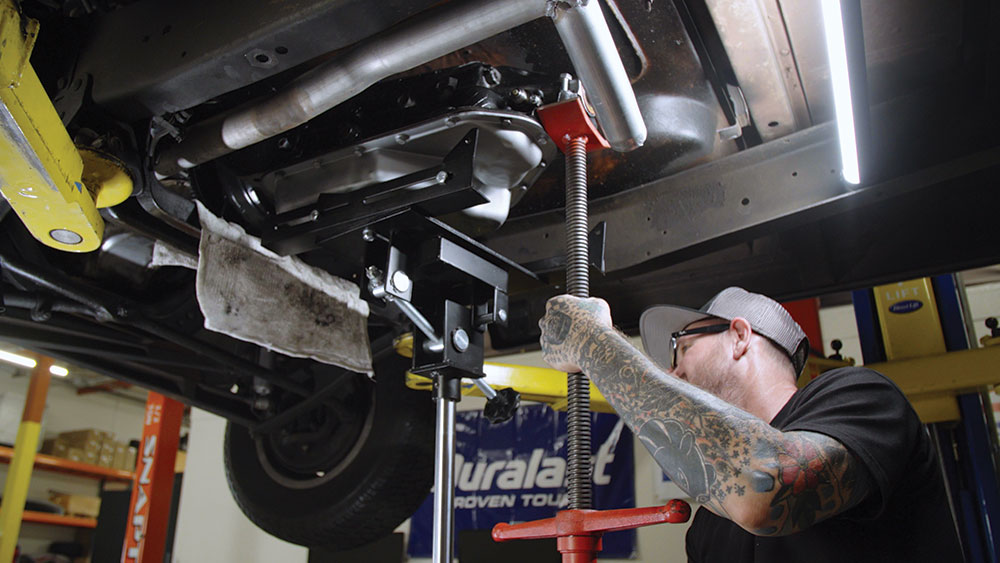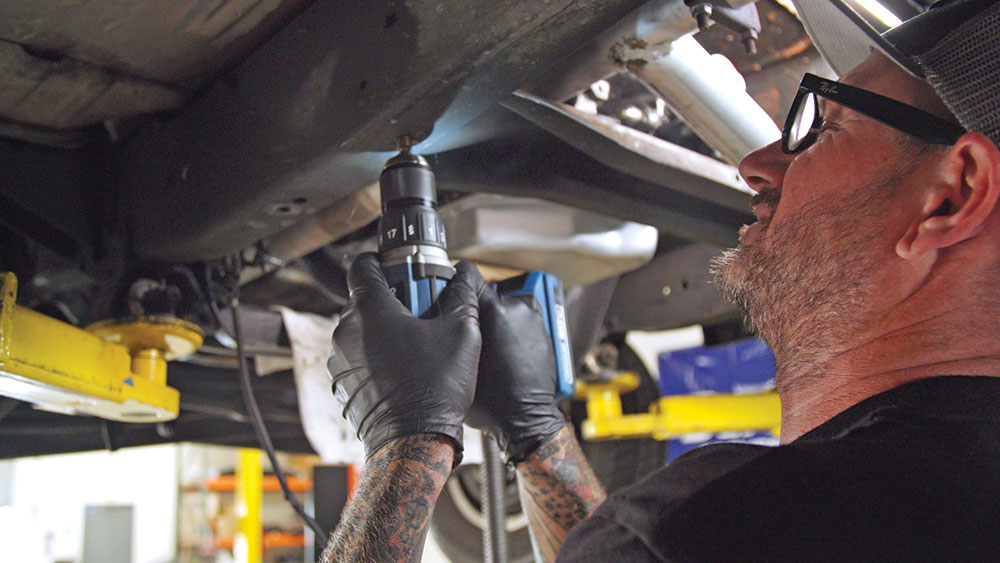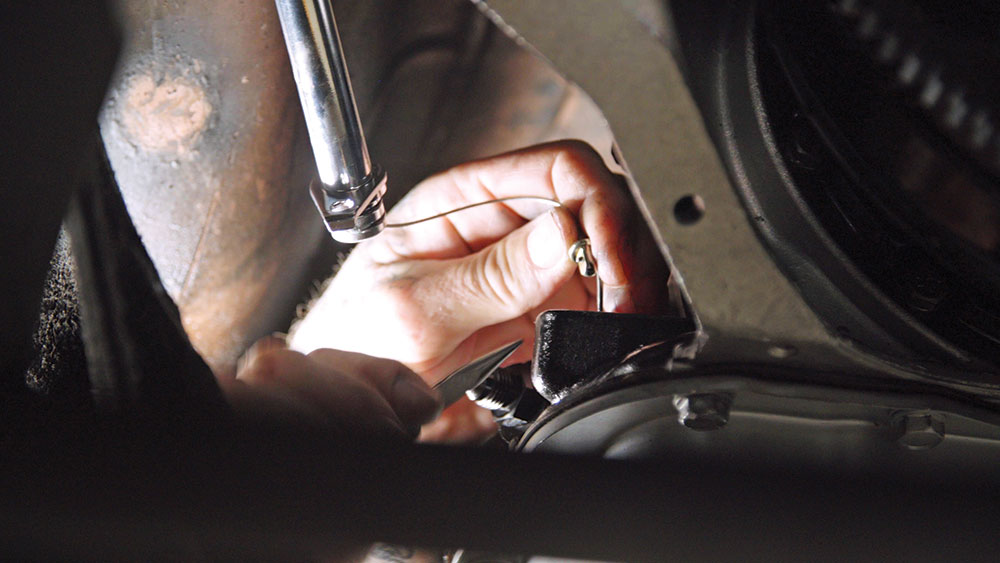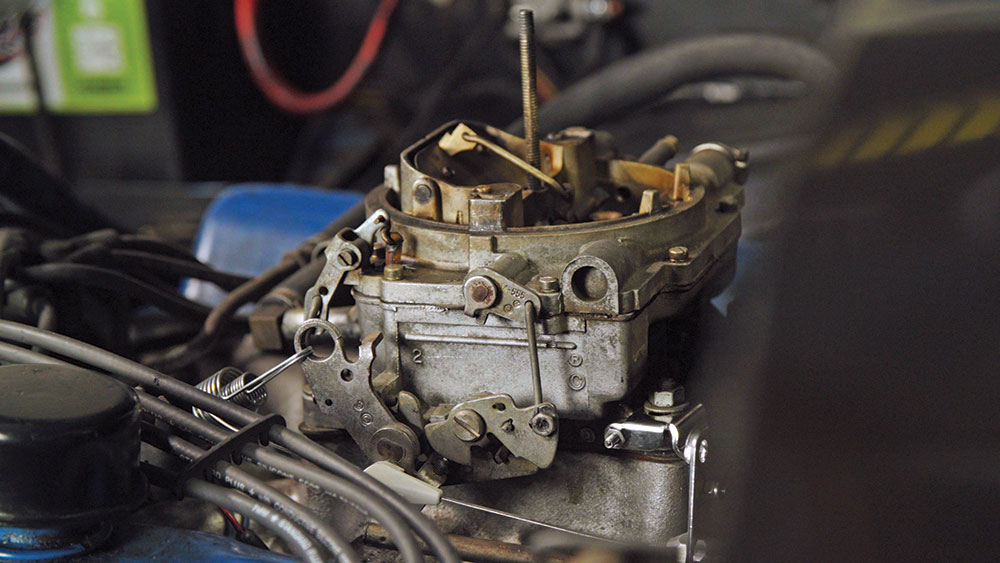 Wilcap Co.
(805) 481-7639
wilcap.com
Lokar
(877) 469-7440
lokar.com
Derale
(800) 421-6288
derale.com
Harbor Freight
harborfreight.com