Fitech EFI for Classic Trucks
By Ron Ceridono – Photography by Ron Ceridono & Courtesy of FiTech Fuel Injection
Fuel injection has been around longer than most people think. In fact, in 1903 the Wright Brothers' airplane was equipped with a crude but effective form that fed its engine. Shortly before World War II, Ed Winfield was granted a patent for mechanical fuel injection with Stuart Hilborn receiving a patent on his system shortly after the war, which was the design that quickly became the choice of race car builders.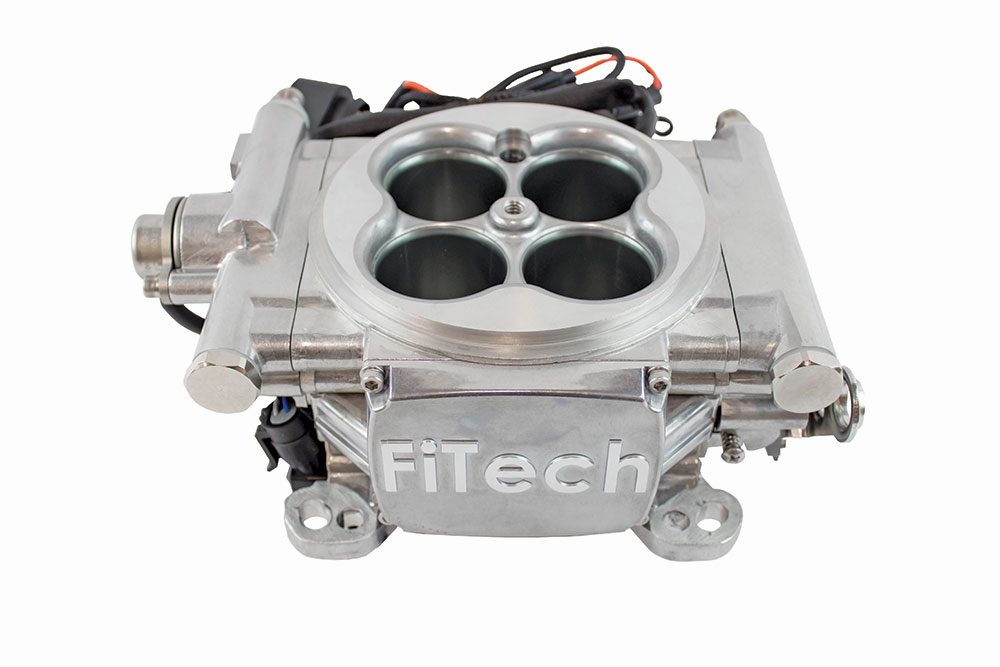 By the '50s, mechanical fuel injection was appearing on a variety of European cars and in 1957 General Motors' Rochester fuel injection became available on Corvettes and Pontiac Bonnevilles. By 1958, development of electronically controlled systems began in earnest and Chrysler offered the Bendix Electrojector, but reliability issues caused virtually all of them to be replaced with carburetors under warranty.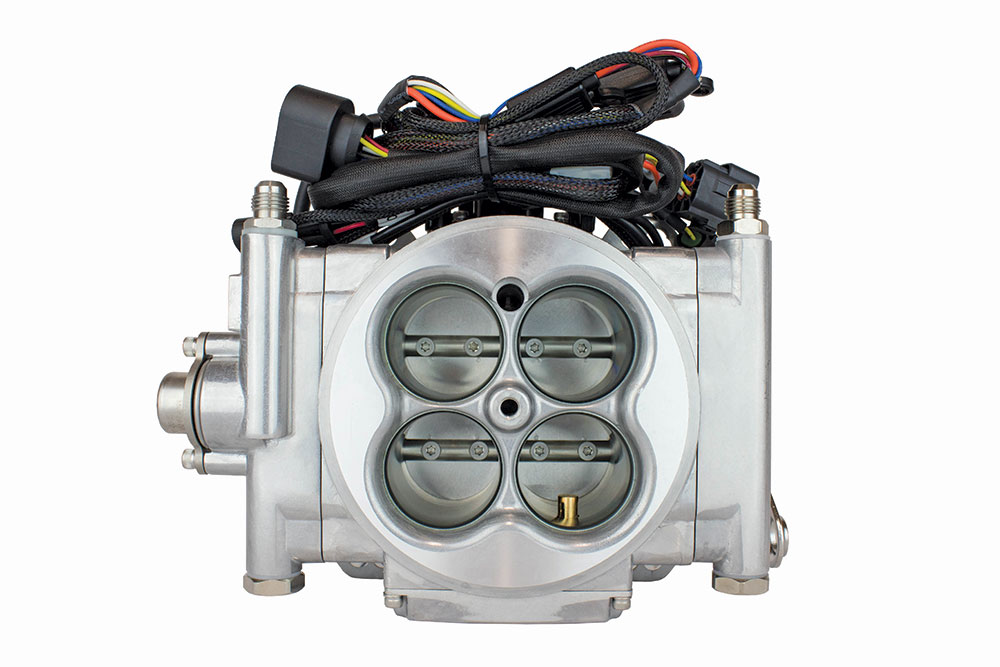 Over the past 30 years fuel injection systems have improved dramatically and to be fair we have to give some credit to an unexpected source for that—the federal government. Thanks to OBD (on-board diagnostics) mileage and emissions requirements, today's OEM electronic fuel injection systems have become extremely sophisticated—and performance enthusiasts have benefited as well with the availability of equally advanced aftermarket systems, such as those from FiTech.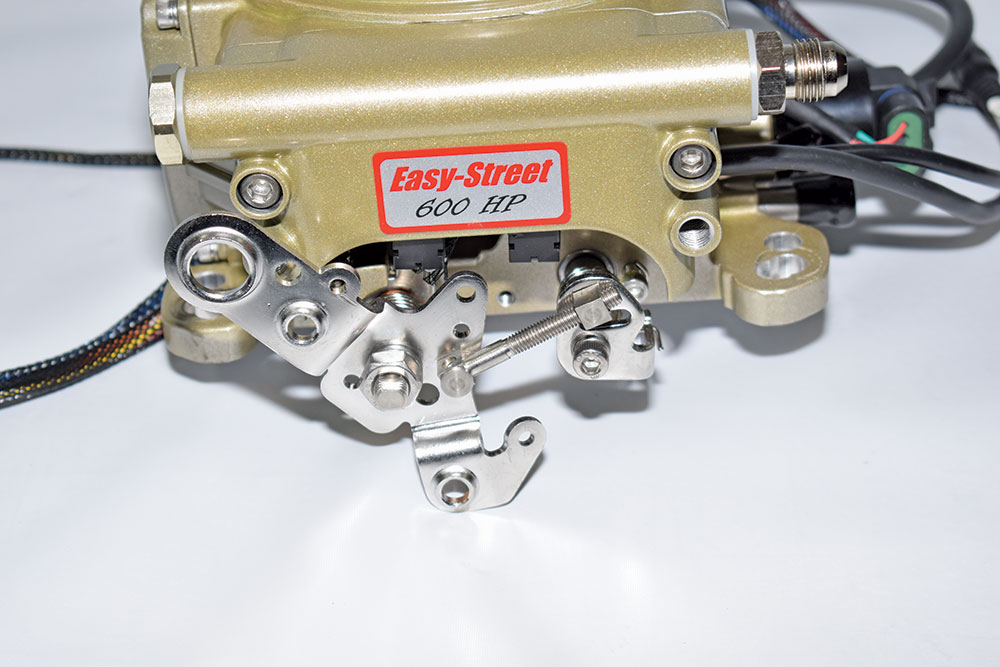 Throttle Body vs Multi Port Injection
There are two basic styles of aftermarket fuel injection systems, throttle body and port injection. As Bryce from FiTech explains: "The major difference between throttle body injection and port injection is the location in which fuel is injected into the engine. Throttle body injection injects fuel up in the throttle body and the fuel will travel through the intake and into the cylinders of the engine. Port injection injects fuel into the intake port and sprays fuel at the back of the intake valve in the cylinder head.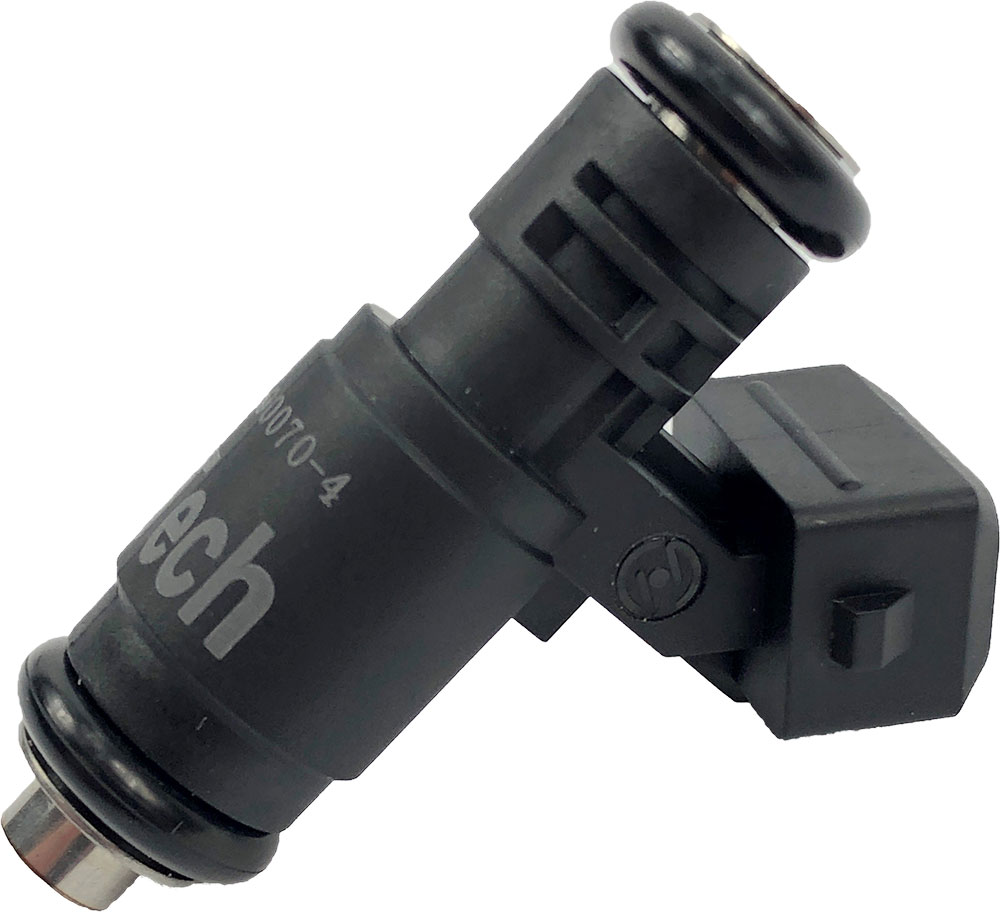 Read More: EFI Troubleshooting/Tuning Tips
The difference between these two injection types is the time it takes for fuel to get to the cylinder from the time the injector introduces fuel. The benefit of throttle body injection is the ease in which a system can be installed. The intake manifold does not need to be replaced, which simplifies the installation. For port injection the location of fuel being injected into the engine means the time in which the computer commands fuel to be injected to when it makes it to the cylinder is very short. This short time makes for quicker, more precise control of fueling to the engine."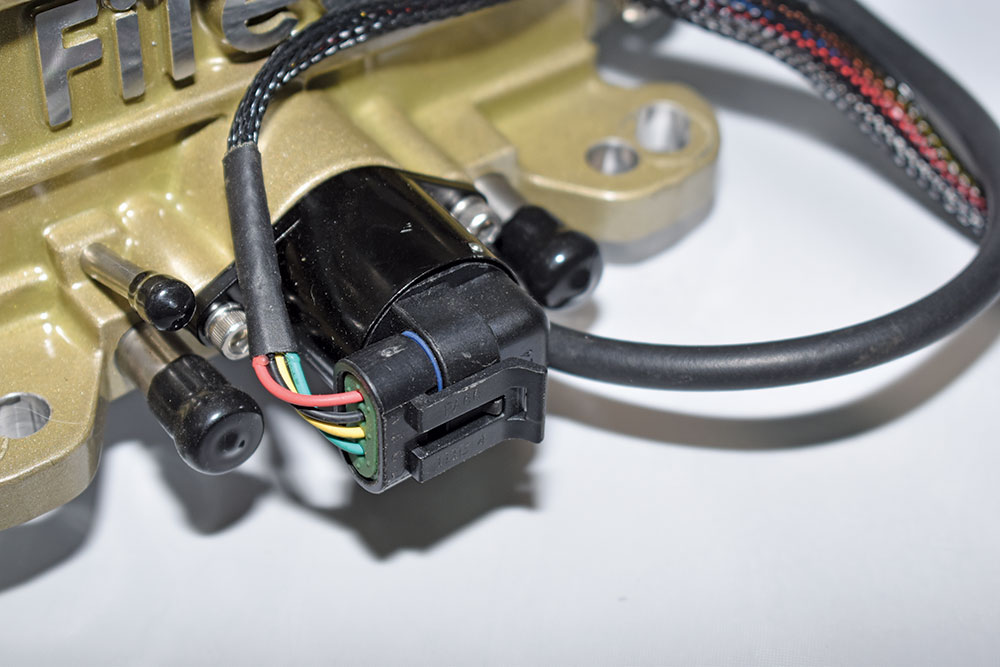 EFI vs Carb
When it comes to comparing carburetors to fuel injection there are those who will point out that dyno results often prove there is little or no difference in the maximum horsepower produced between a properly prepared carburetor and EFI. The problem with that claim is this, you don't drive a dyno. On the street an engine's demands are much more involved than just running at wide-open throttle (WOT). In the real world, an EFI's Electronic Control Module (ECM) makes continuous changes to the engine's state of tune to meet the prevailing conditions from cold starts to idling in traffic and of course WOT performance as well. And all those adjustments are done in the blink of an eye.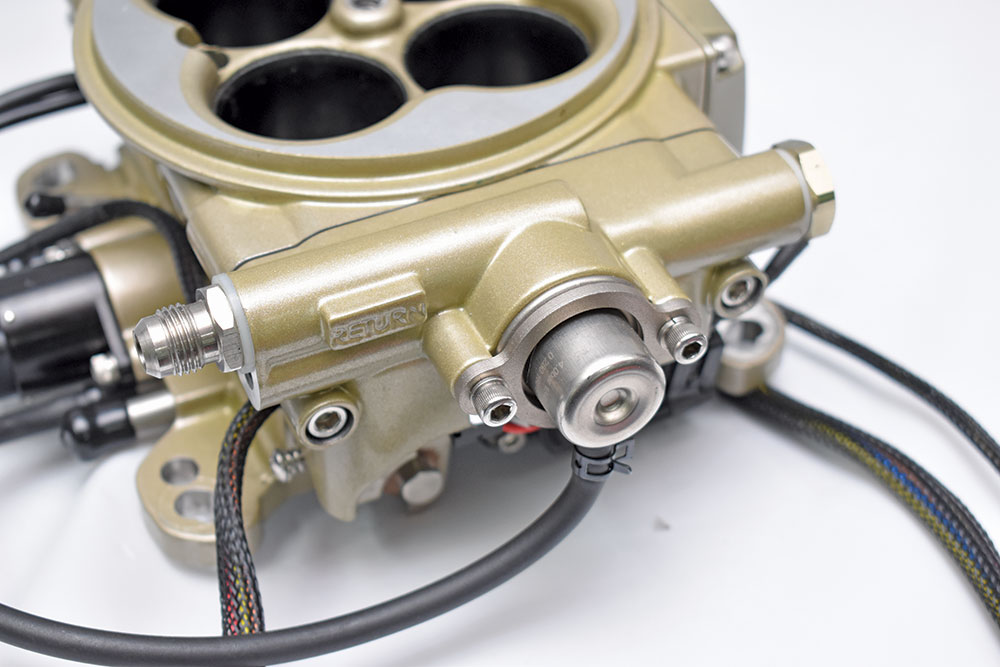 How Does Fuel Injection Work?
To explain how EFI works in simple terms we'll start at the business end, the fuel injectors, and work backward. Electronic fuel injectors are basically electric solenoids that open and close to spray fuel into the engine—they're rated by the maximum amount of fuel by weight they can supply in a given length of time at a specified pressure (normally 43.5 psi). An example of an injector rating would be 36 pounds per hour (lb/hr), so it follows an injector with a bigger rating; 55 lb/hr, as an example, would deliver more fuel. Now comes the really tricky part; the ECM regulates fuel delivery by controlling what is called pulse width (the amount of time of time between the injector opening and closing, measured in milliseconds) and duty cycle (the comparison between how long the injector is open to deliver fuel and  how long it's closed; a 50 percent duty cycled means the open and closed durations are equal). To control the operation of the injectors the ECM uses input from a variety of sensors then adjusts the Air fuel ratio for idle, cruise, and WOT:
Mass Air Flow (MAF) sensors measure the volume and density of air entering the engine.
Manifold Absolute Pressure (MAP) is for altitude compensation and load correction.
Coolant Sensor (CTS) monitors operating temperature for fuel adjustments (think of it as the choke).
Throttle Position Sensor (TPS) is feedback for fuel control.
Idle Air Control (IAC) bypasses air to maintain a consistent idle speed.
Inlet Air Temp (IAT) compensates for changes in air density due to air temperature.
Oxygen Sensor monitors the amount of oxygen in the exhaust to indicate how rich or lean the fuel mixture is.
FiTech has made installing a throttle body as simple as swapping a carburetor for a throttle body or an intake manifold for port injection. The included wiring harnesses for both are clearly labeled and only two sensors have to be installed, the CTS, preferably in the intake manifold close to the thermostat, and the O2 sensor in the exhaust system. The ECU, TPS, MAP, IAC, IAT, and fuel pressure regulator are incorporated in the throttle body of all the systems. (The few exceptions are the 3×2 and Classic Series systems that use an external ECU.)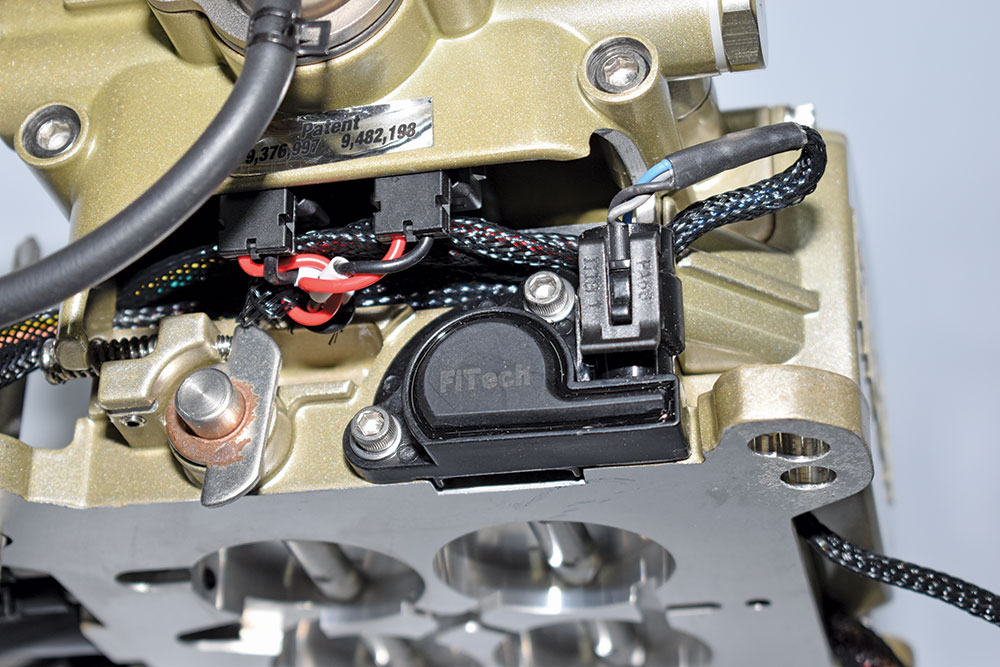 Read More: EFI in a Ram Intake
For the initial setup, all FiTech EFI systems use a unique controller. After inputting a few simple values, such as number of cylinders, displacement, type of cam (mild to wild), ignition type, and idle speed, the Advanced Self Tuning feature makes any adjustments necessary as the vehicle is driven. Basically the ECM will continue making adjustments to the Air fuel ratio until they are optimized. After the initial setup the controller can be used to display gauges for monitoring course after initial setup, the screen, or advanced tuning options.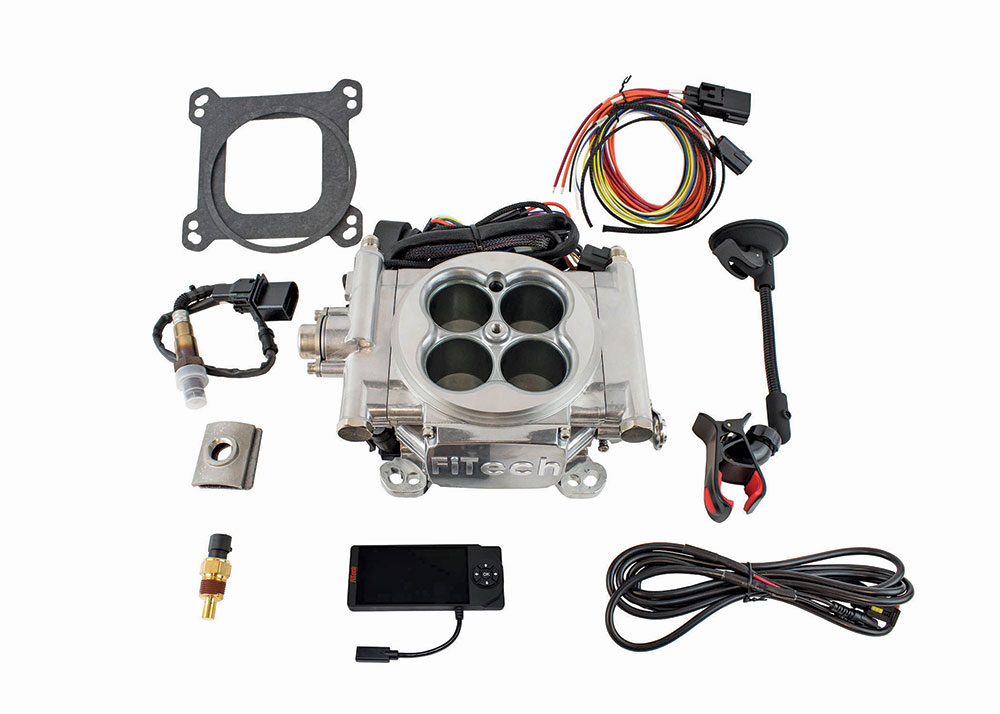 Of course in some cases an engine may have special A/F requirements, which can be accommodated by going to the Go EFI Tuning menu on the controller and making the necessary adjustments. This menu has 10 adjustable settings. Number one is for idle Air fuel ratio, which can range from 13.4 to 14.7, on average. Adjusting this setting will help idle quality and take off from an idle. Cruising Air fuel ratios can be adjusted from 13.8 to 14.7 on average, depending on the engine's needs and desired fuel economy. The cruise AFR only affects cruise, so it will not affect acceleration or other AFR settings. WOT are enrichment settings used for adjusting the desired fueling for accelerating under either part throttle or WOT. The average for these settings ranges from 12.4 to 12.7 (an A/F of 11.5 to 11.7 on any engines with boost).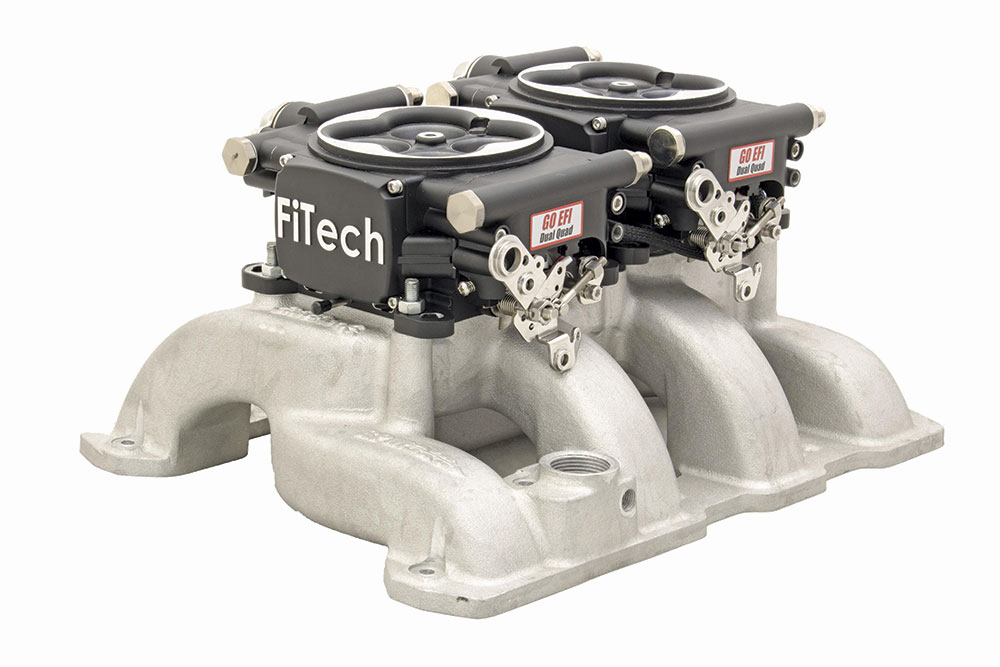 When installing a FiTech EFI system a high-pressure fuel pump will be required. There are three basic choices to accomplish that: inline fuel pump such as FiTech's PN 50001, an in-tank fuel pump module with 340-LPH (liter per hour) pump (PN 50015) or with 440-LPH pump (PN 50016), or one of the Force Fuel Systems that mounts under hood.
Read More: Farm Fresh Chevy 3100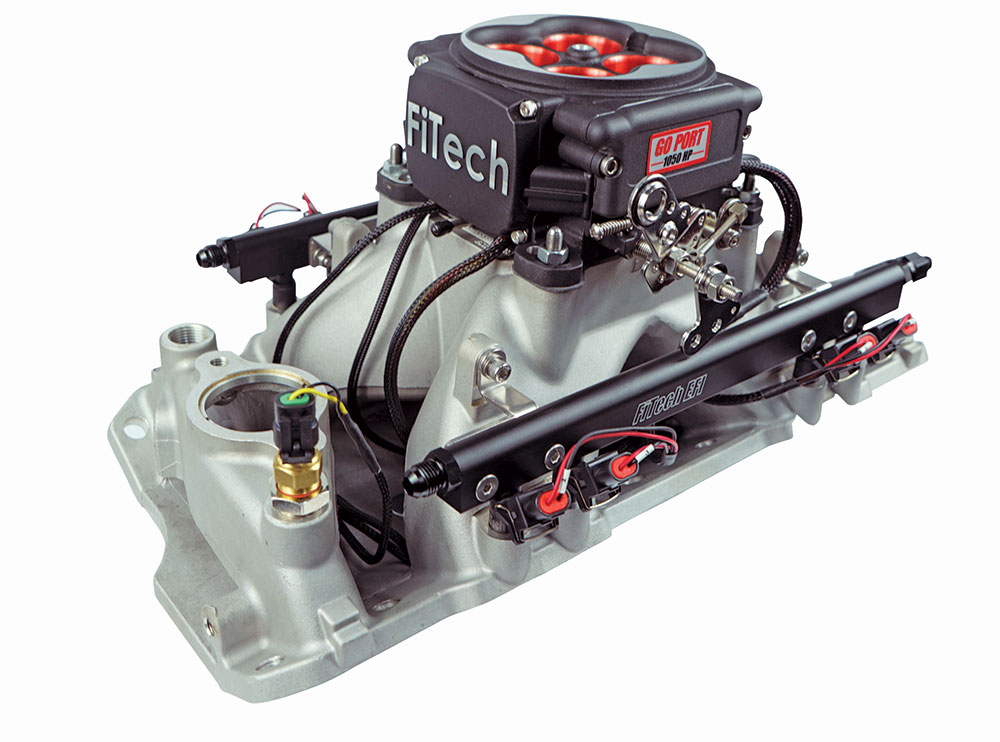 When it comes to choosing a modern aftermarket EFI system FiTech offers throttle bodies in a variety of configurations, ranging from two-barrel upgrades, three-twos, as well as single- and dual-quads. There are options for boost and nitrous to support up to 1,200 hp. FiTech's Go Port EFI system features eight injectors placed precisely in each intake runner to inject fuel right into the cylinder head port while their Ultra Ram EFI Systems delivers port fuel injection performance with an aggressive-looking sheetmetal intake manifold. All FiTech software includes OBD-II diagnostic readouts and limp home modes, just like OEM ECUs. Best of all FiTech's EFI systems use self-learning technology to constantly adjust to meet the engine's demands, and that's something a carburetor can't do.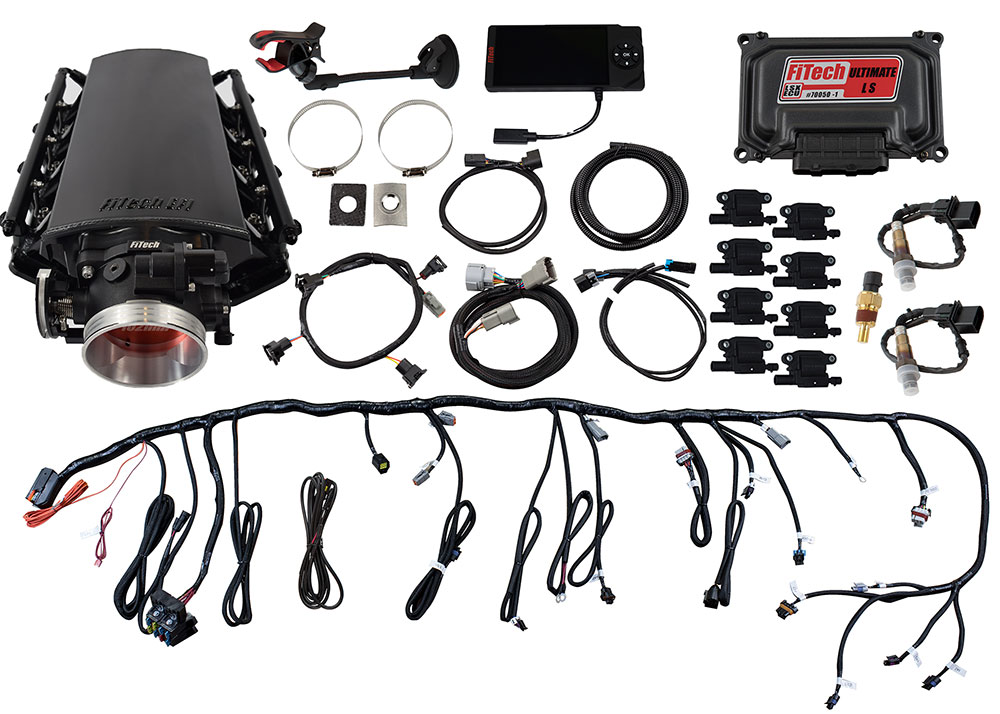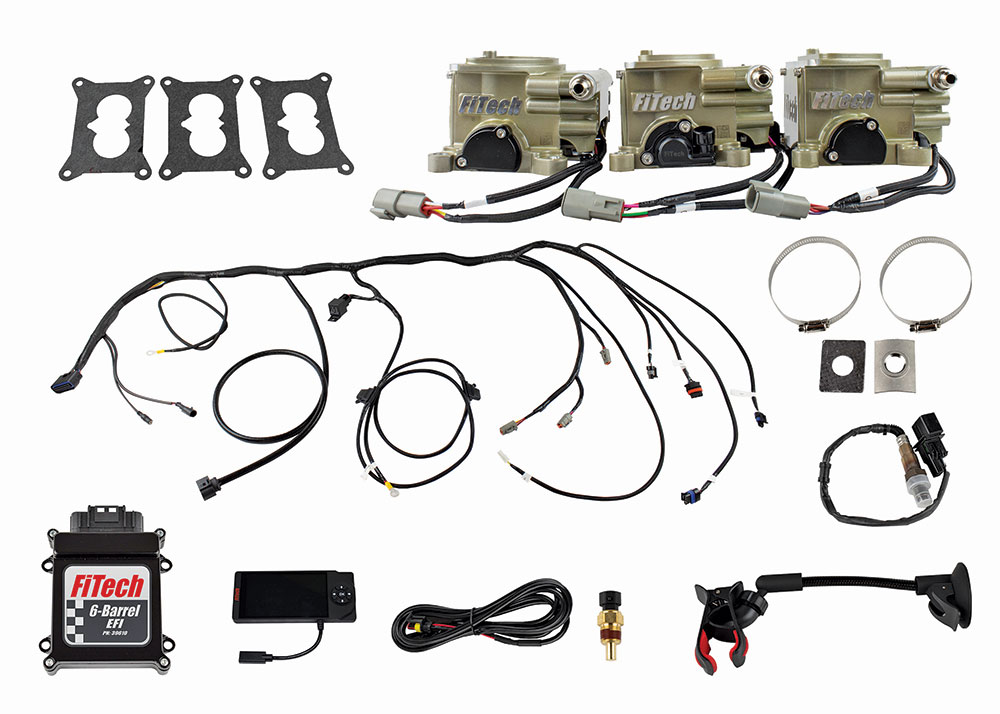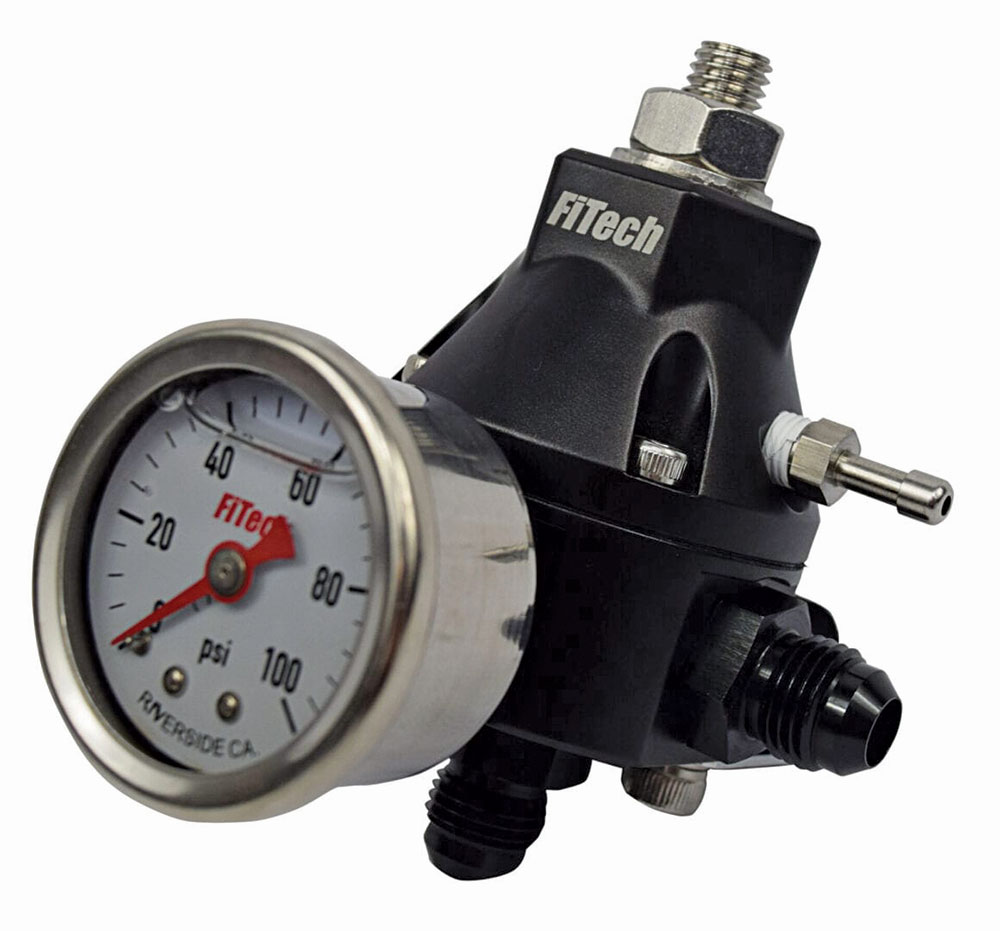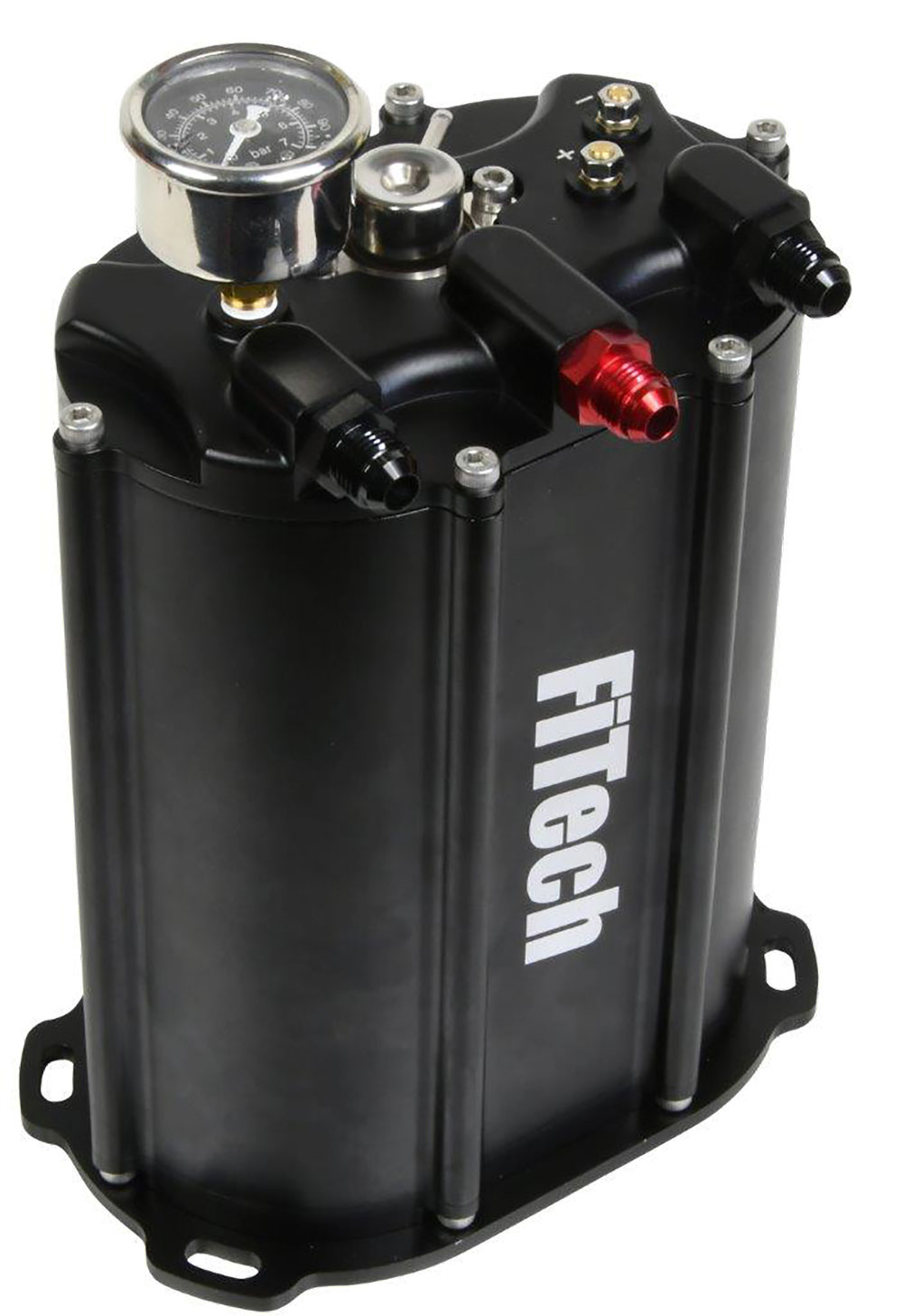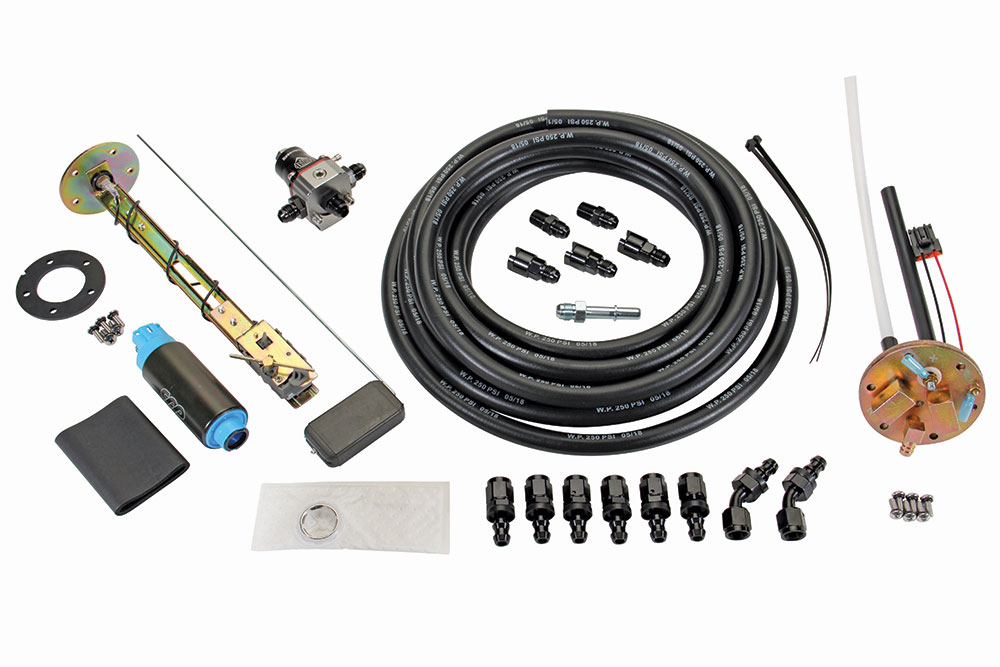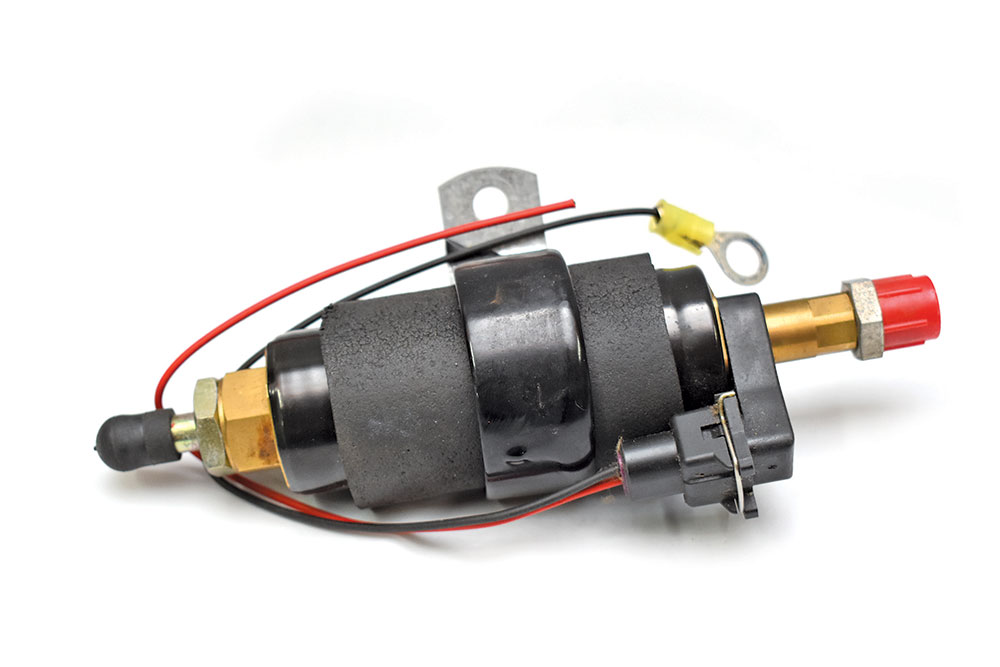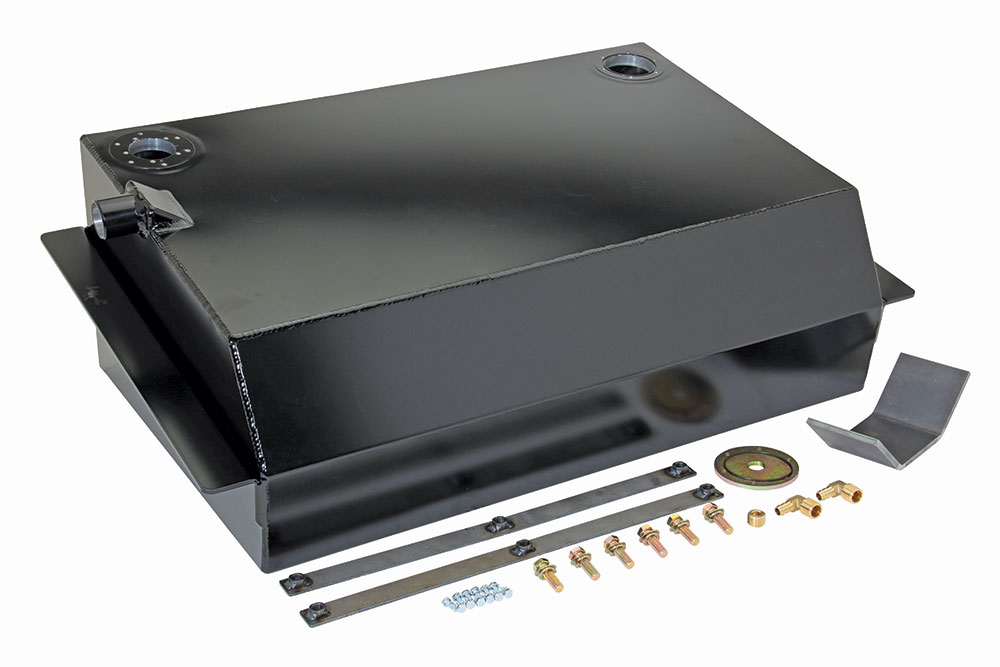 Sources
Classic Performance Products
(800) 760-7438
classicperform.com
FiTech Fuel Injection
(951) 340-2624
fitechefi.com