Jeff Hughes' 4-Door 1969 Ford F-250
By Fuelish Media – Photography by Author
Modern pickups equipped with four-door crew cabs are pretty much standard issue today. A spacious interior is tough to give up once you've gotten used to it. Passenger comfort is vastly increased and so is extra cargo space in the back, if needed. Within the classic truck market, however, four-door crew cabs have never proven to be as popular as they have been in recent years. Classic truck builders typically prefer single-cab, two-door trucks, but there is a group of truck enthusiasts who are of the opinion that twice as many doors equals twice as many cool points, and we are here for it.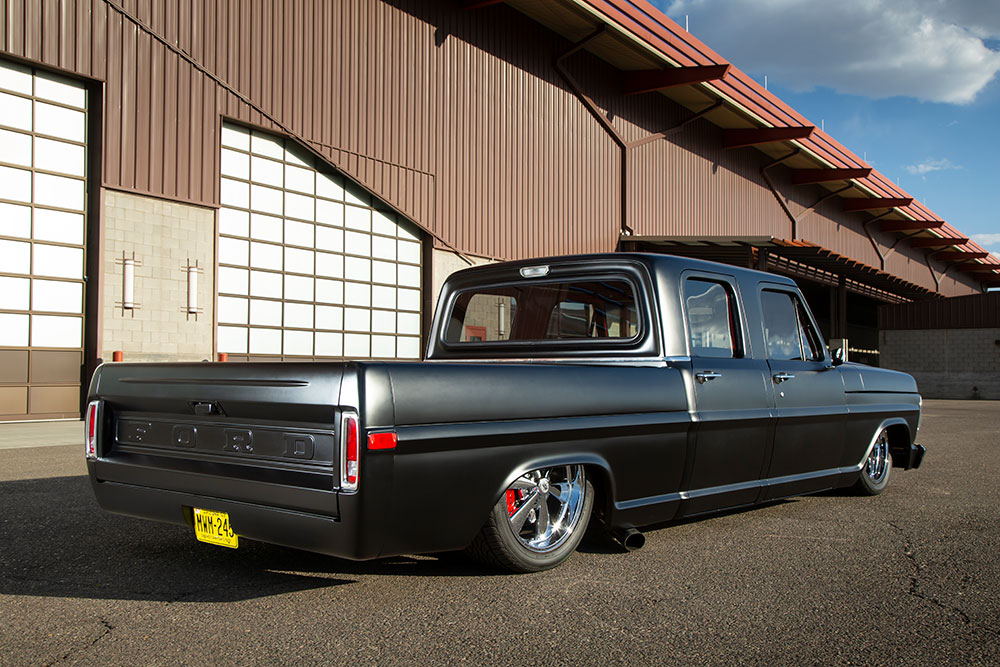 Read More: Rediscovered Passion: 5.0 Coyote Powered 1961 Ford F-100
Jeff Hughes, owner of Hughes Performance, is a self-proclaimed admirer of old crew cab trucks. Having extensive experience with custom vehicles of all kinds while growing up working for his mom and dad at the family business, there was always something about old Ford trucks built for utility that appealed to Jeff. "I've always loved the particular body style of the late-'60s/early-'70s Ford pickups, and even more so for the crew cab short bed models," he admits.
Now, Jeff may have been ahead of the curve with these classic trucks, as the popularity of old 4-door truck models is sharply spiking. "At the time when I picked this truck up, these models weren't looked at much," he says. "This particular '69 Ford F-250 that I bought was in great shape. There was no rust and no body damage and it drove perfectly. My wife, Lisa, and I would take it out every weekend for breakfast because I just loved driving it."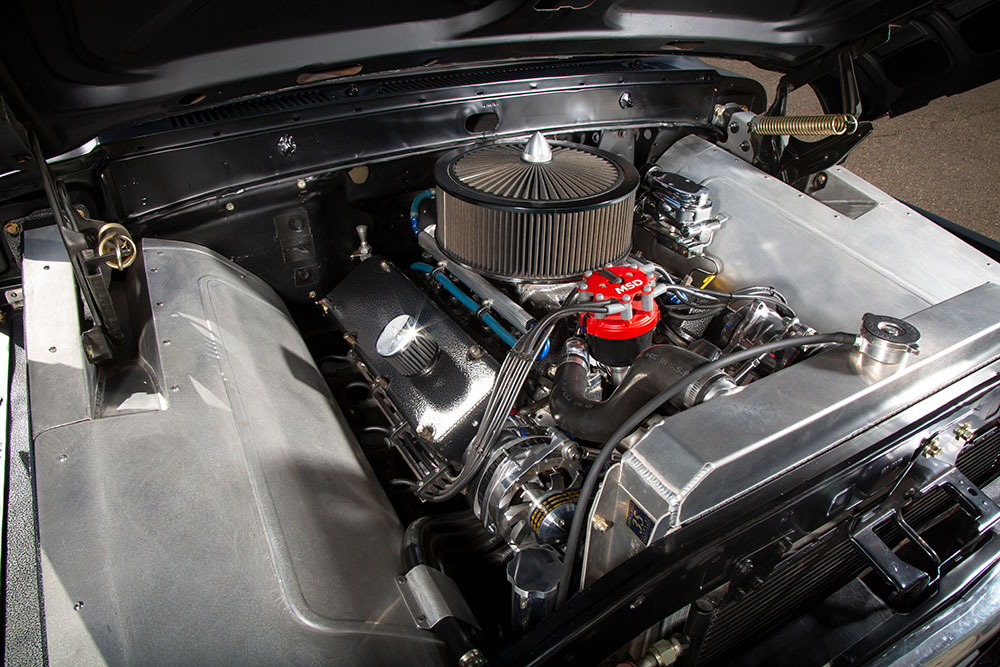 Friends of Jeff's would constantly ask what the heck he had planned for that "thing" he enjoyed cruising around in so much, and he really didn't have a good go-to response. He figured he'd let his old truck do all the talking once he started working on it, and he did have quite a few tricks up his sleeve that would soon silence the naysayers. "I've owned this truck for 18 years now, and it took me about five years to finish putting my own personal spin on it," Jeff says.
To start, Jeff wanted to see the old Ford truck sitting as low as possible. To help bring his Ford down, he turned to Lonnie Sherman of Sherman welding to fabricate this beast from the ground up. Sherman installed a Fatman Fabrications front subframe with A-arms and a fully custom four link suspension for the rear. Classic Performance Products provided the drop spindles and Sherman Welding fabricated all the mounts and miscellaneous tabs needed to attach all the airslamit components to the frame. Upgraded Baer brakes were bolted on to boost the F-250's stopping power. To jazz up the wheel selection, Jeff chose a set of 20×10 Cragar SST wheels to give his truck an updated old-school feel. Falken tires handle the road contact and provide the grip the Ford needs to mob down the highway in nimble fashion.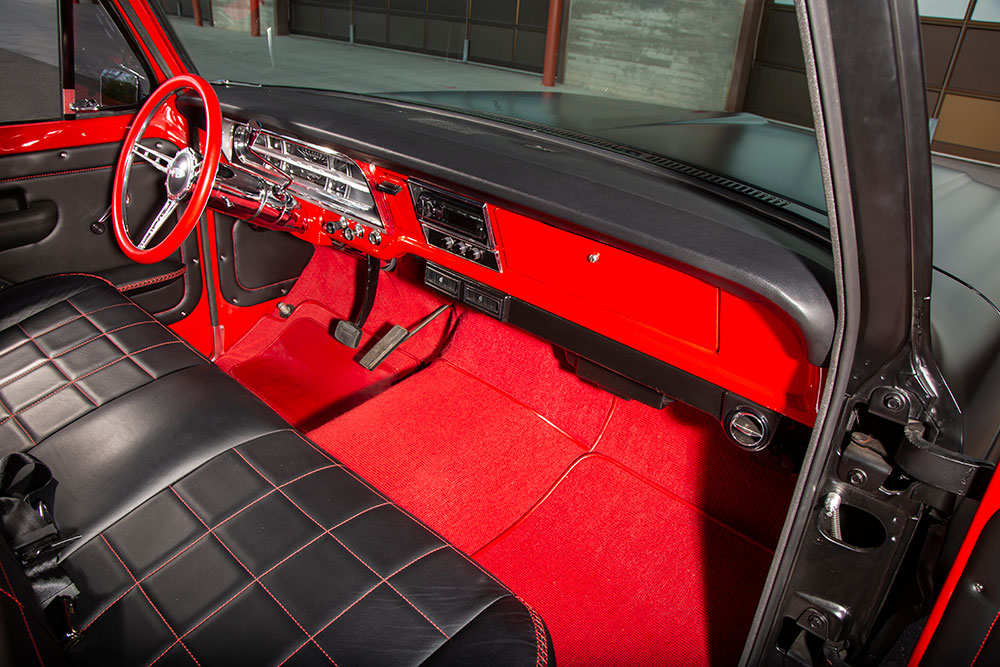 Read More: WOLF IN SHEEP'S CLOTHING: 1956 FORD F-100
Also assisting in propelling Jeff's Ford F-250 is a stroked '71 Ford 460 engine assembled by Roger Lorton at Standard Machine in Phoenix. Lorton jam-packed the big-block engine with tons of top-shelf performance parts in the way of Comp cams, Edelbrock heads and an Edelbrock intake manifold, an aluminum Ron Davis radiator, custom Ford 460 valve covers by Hot Rods by Dean, McCabe Racing headers, and split exhaust with the rumble of dual Borla mufflers. The current horsepower count sits right about 780—definitely nothing to roll your eyes at. Since Jeff knows just the place to score a 4L80E transmission, a Hughes Performance unit was put into place along with a Hughes 25-30LHD torque converter. This old Ford certainly has some scoot, that's for sure.
Jeff wanted to see his old F-250 decked out in true classic street garb, so when the time came to select a paint scheme with Enrique and Danny at Luna Auto Body in Phoenix, he suggested PPG matte black. The look is clean, timeless, and won't be going out of style anytime soon. Sherman Welding was brought in once again to perform some custom touches in the bed where the 25-gallon aluminum fuel tank and air components are on full display. Kerr West Plating then stepped up to re-chrome the front bumper and a few other parts to give the Ford's exterior a much-needed, refreshed glow.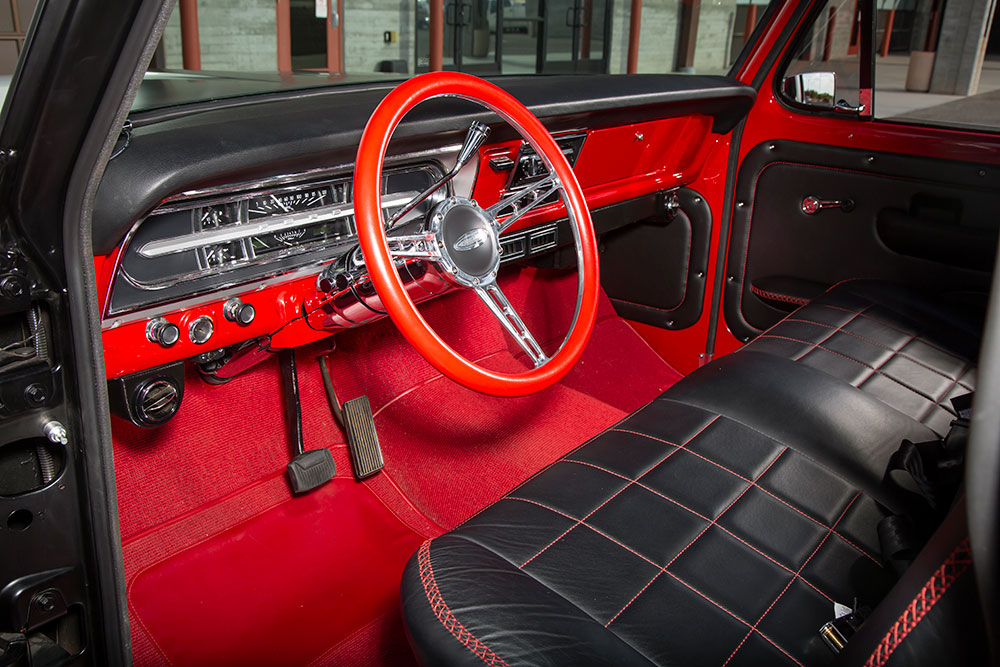 With Jeff's Crew Cab Ford truck now rocking true hot rod–style paint, he figured he'd carry the look inside the cab. He reached out to Hot Rod Interiors by Glenn for his one-off custom interiors to outfit the factory bench seats, door panels, and headliner with custom black leather upholstery with contrasting red stitching. Dakota Digital gauges dress up the dash, as does a shiny Grant steering wheel and a Vintage Air system complete with air vents and control panel.
For the wiring, Jeff went straight to the best. Gerald King of Finishline Racing wired up the complete truck, from the headlights to the taillights and everything in between, as well as a full audio system featuring a Sony head unit and Rockford Fosgate amps, speakers, and sub. Hot Rods by Dean put the finishing touches on this awesome truck and then took it to the next level as Hot Rods by Dean is well known for their award-winning builds and attention to detail.  Who wouldn't want to drive around town in this interior environment? Even during the hottest summer months Jeff can keep his cool while cruising through the desert heat in Phoenix.
Read More: Gritty 1968 Dodge Power Wagon with Hellcat Hemi Power!
After a certain point Jeff stopped getting asked what on Earth he was going to do with his four-door Ford truck. If anything, he probably only gets asked if there's an open seat in the back during cruise nights. "I'm glad to see that these larger crew cabs have picked up in popularity," Jeff says. "I've always enjoyed them and I'm glad that I stuck with mine to get it to this point. There were some tough stretches along the way, but the end result was well worth the effort."