This 1970 Chevy C10 Has Plenty Of Memories
By Rob Fortier   –   Photography by Tim Sutton
 "When I was 15, my brother and I spent a summer with my aunt and uncle in Idaho. My uncle had a '70 C10 that I fell in love with. That trip was a special time for us due to my mother's [death] the summer before. So, having this C10 is a true remembrance of the summer." —Ken Tilton, 2023
Above and beyond being a tribute to Mom, as it were, Ken Tilton's 1970 C10 has even more family ties associated with it, as his wife, Sonia, was beyond instrumental in seeing that her husband persist in the completion, especially during the times he simply wanted to throw in the towel.
Read More: Next Level Pro Touring Truck
"[Sonia] has been behind me since I got the truck back in 2006. There were multiple times when I wanted to sell it due to business and personal reasons … but she would not let me. Her words were: 'You will regret it! If you are going to build this truck, build it right … and no short cuts!'" Ken told us. One couldn't ask for a more supportive wife!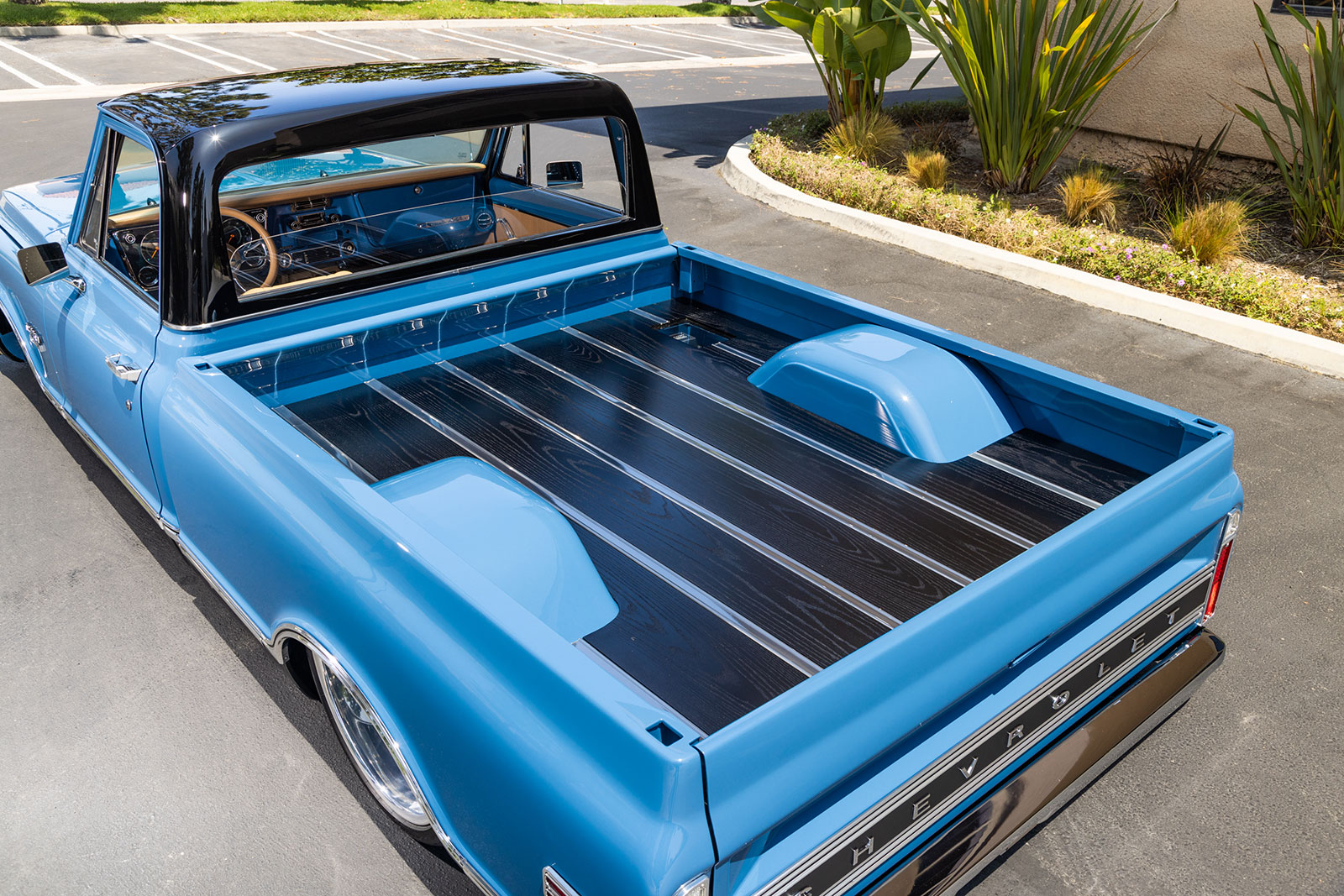 And though Ken initially purchased the truck (off eBay) well over 15 years ago, it wasn't until 2018, with encouragement from his friend Kevin Pittman (aka Chassis Brad), that it went from a relic resting alongside his house in Glendale, Arizona, to becoming a full-on project. "Once we rolled that truck into my garage, the build was on!"
Over the following four years, Ken not only relied on Chassis Brad's key player role in the build but enlisted the following to ensure that, as his wife insisted, there were no shortcuts: Cory Bones (Broken Bones Garage: firewall/front wheel tub fabrication and mechanicals), Anthony Arteaga (Supreme Garage: body, paint, and final assembly, engine build and tune, and Bedwood & Parts install/finishing), Travis McGuire (roughed in the custom framework for the sliding rear window), Alfredo Carranza (Mizark's Mobile Detailing: fabricated center console), and Edwin (The Chrome Guy: mass parts acquisition and referral to Supreme Garage!).
Read More: 1953 Chevy Truck With Family Ties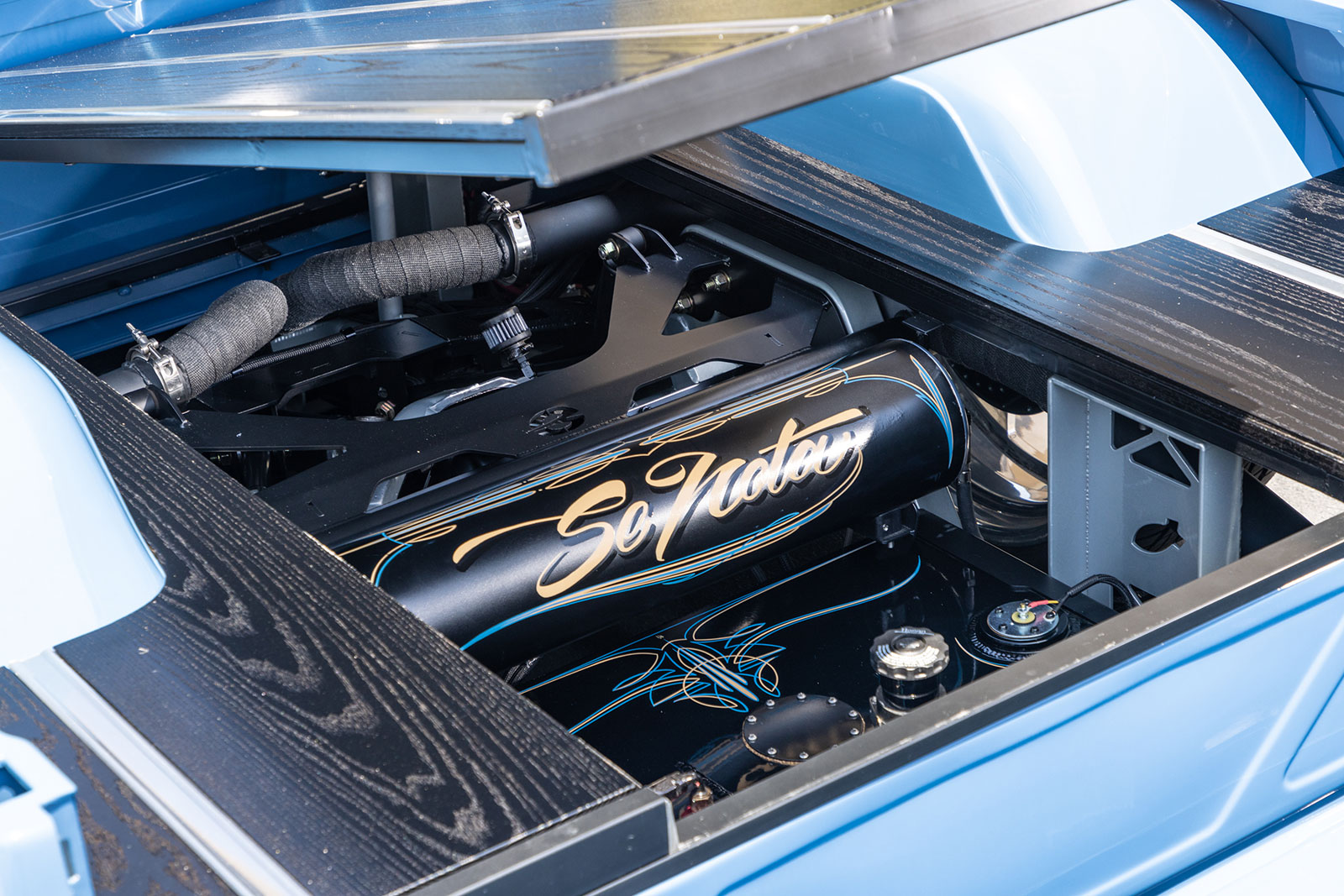 Ken's stunning C10 now rests on a Chopping Block foundation complete with its own front and rear Airslamit suspensions (all properly color-dressed by Glendale Powder Coating), Classic Performance Products Big Brake kit (capped with 22-inch American Legend Apaches), and power rack-and-pinion steering. The aforementioned engine build by Supreme Garage revolved around a 383 Texas Speed engine with Precision Race Components cylinder heads, Texas Speed intake manifold with Holley Terminator X EFI/ECU, and custom-fabbed exhaust.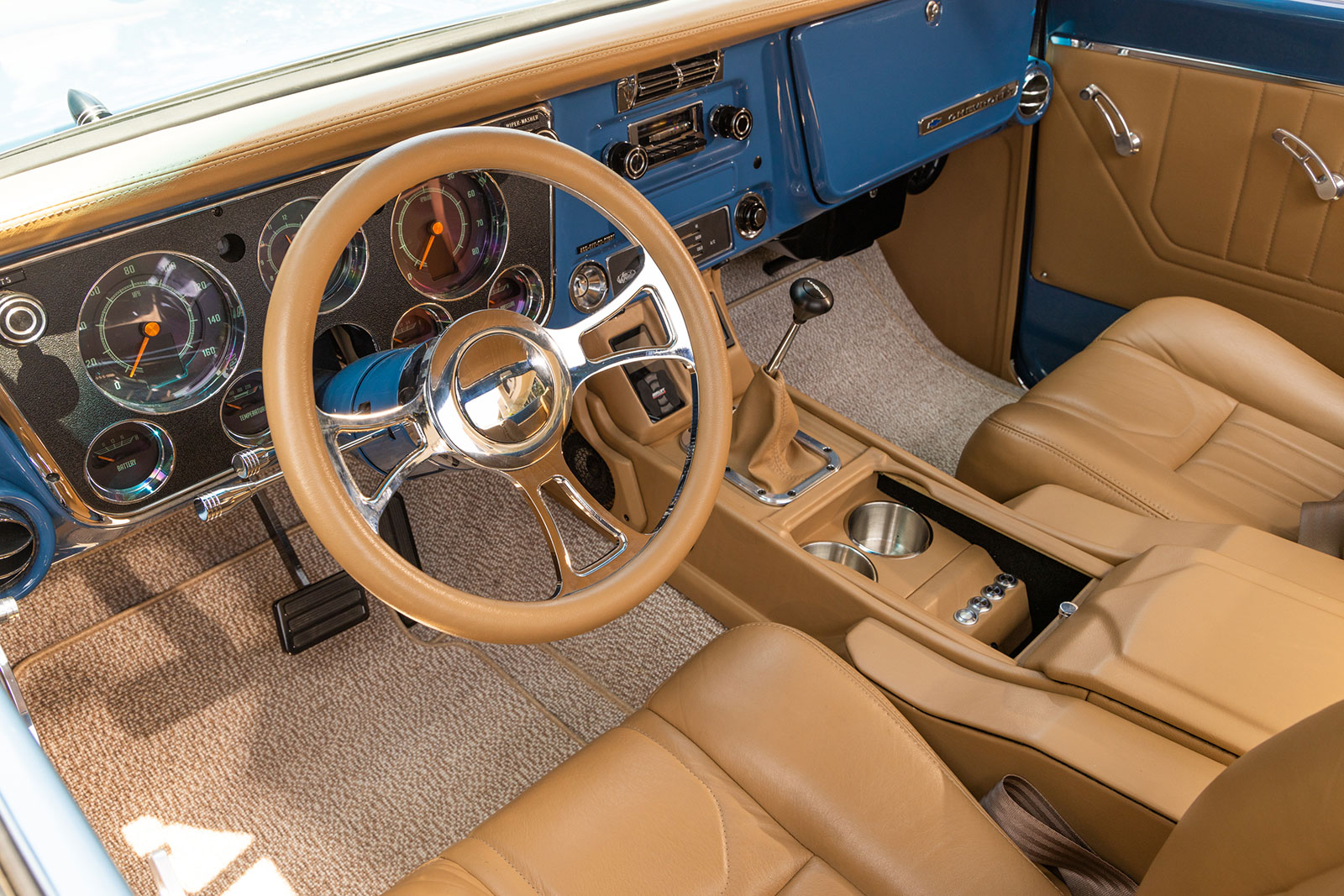 After he'd finished with the underlying (flawless) bodywork, Arteaga sprayed the C10 in Toyota Calvary Blue with Ebony Black rockers before Ken added the requisite full-chrome and stainless trimmings. Lastly, following the installation of Dakota Digital RTX gauges and wiring the entire truck using an American Autowire Highway 22 harness, Tilton enlisted Bell Auto Upholstery in Phoenix to handle the cab's classic saddle-colored leather interior.
Read More: Modern Patina, Modern Performance '57 GMC WideSide
Originally, Ken had purchased the truck to build and ultimately finish with his father—but unfortunately his dad died before the C10 was completed. "Back when we started to work on the truck, I would always watch American Hot Rod and the other cable TV shows that were on at the time and tell my dad that the truck could be done in six months … and every time I would see or talk to him he would always tell me, 'Man, that's a long six months!'" So, this one is indeed a true tribute to Mom AND Dad!