John Lenhart's Stunning Orange Pearl Paint and Pro Fabrication Make this Signature Hot Rod Truck "Orange Krush" Rock!
By Scotty Lachenauer   –   Photography by the Author
Not everyone can go to work each day saying they truly love what they do for a living. John Lenhart, of Anderhart Speed in Doylestown, Pennsylvania, is one of the chosen few who rises every morning and just can't wait to slip into his work overalls and hit the garage at full speed. As proprietor of his own business, the young gun knows that in today's world, success in our hobby isn't a given by any means; it's earned with every car, truck, and hot rod that rolls through his shop's bay doors and into the hands of a satisfied customer.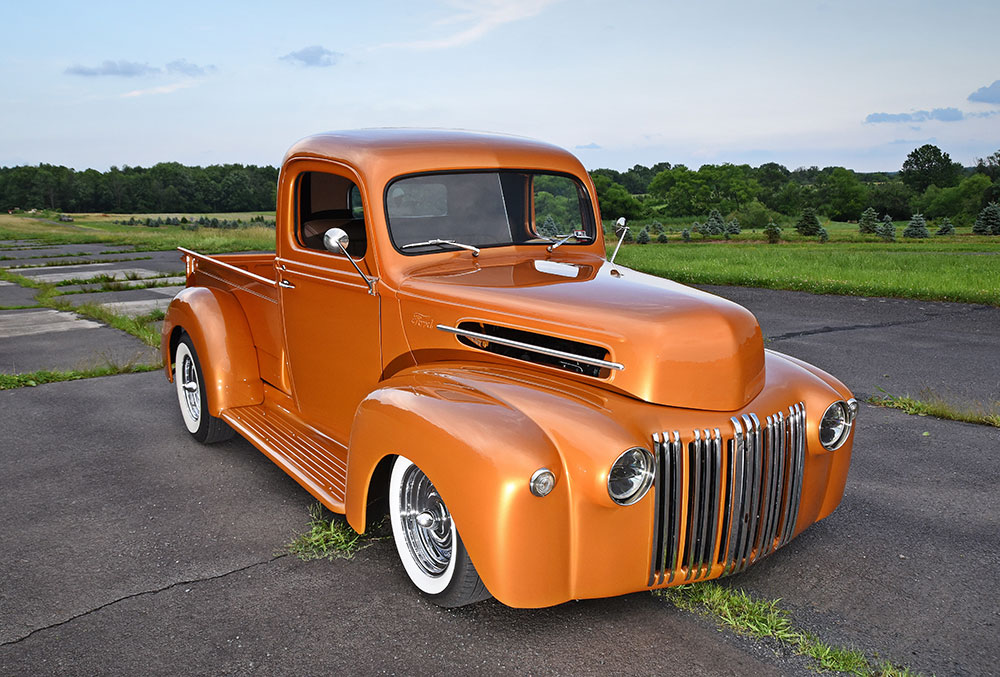 Once
Like many young motorheads, John jump-started his love for working on and modifying cars with the cheapest and most prevalent sports car out on the streets at the time. "The first car I started working on was a Foxbody Mustang. Growing up, we were all into them. They were always great low-buck performers out on the street. I've been wrenching on it for years now. It was my daily driver back then and it still occupies a space in my garage today. I'll never sell it," John states.
After he finished high school, John made the executive decision to attend the University of Northwestern Ohio for their high-performance automotive program. Once completing the curriculum, John landed a job at the renowned Posies Rods and Customs shop in nearby Hummelstown, Pennsylvania. It was there at Posies that he learned traditional hot rod fabrication and classic horsepower "enhancement" from the resident staff. "My time at Posies was great; a complete learning experience. We still keep in touch and remain friends to this day," John says.
Read More: Kenny's One Of A Kind Show Truck
Once John was ready to spread his wings, he took off on his own with Posies' blessing. He founded his new shop, Anderhart Speed, in his 30×30 detached garage at the homestead. "It was something I needed to do. I just wanted to express some of my own ideas and put my own signature on the builds that come in and out of my shop. It's been such a great experience," he says. Today, Anderhart Speed occupies a 4,000-square-foot space just a few miles from his house, pushing out custom builds that have John's style plastered all over them.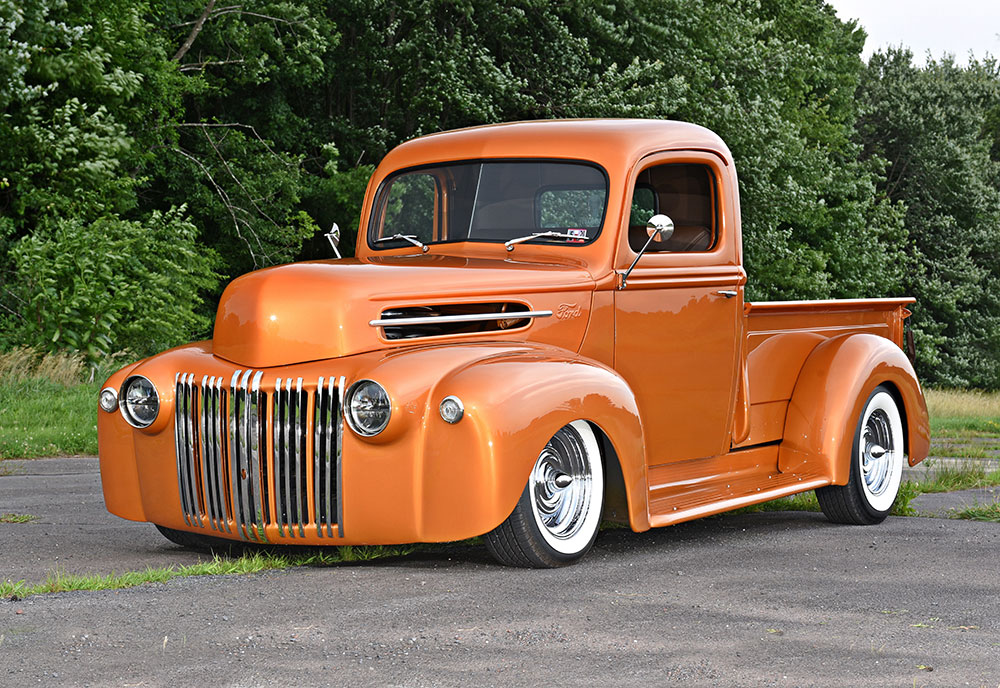 Even Flow
Right after he opened his shop, John got the urge to build a hot rod that would be the "spokesmodel" for his company, the face of Anderhart Speed. A ride to show off John's signature style, adorned with custom body work and paint, choice mechanical mods, and unique touches that could give prospective clients an idea of what to expect from John's shop.
So now John was on a mission to find that unique ride. "I looked out of the box and chose a project that would not only be an eye grabber when completed, but also a vehicle that isn't one of your ordinary inhabitants at your local classic car show," he says. What he found would definitely catch the eye of any true truck or car enthusiast.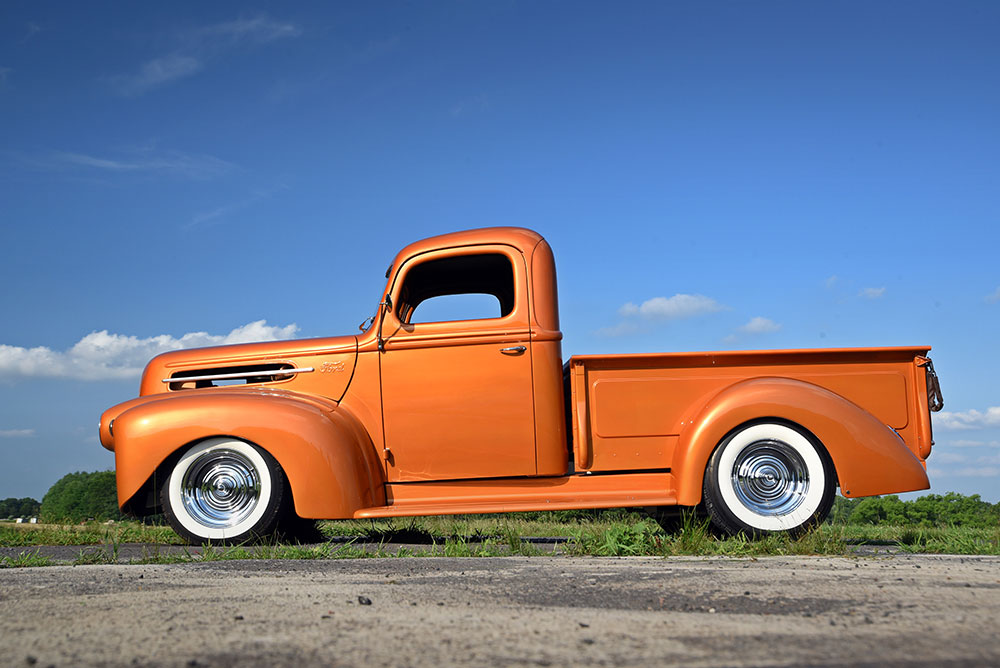 "With the help of some friends I found a very needy 1947 Ford truck in a condemned barn. It was in pieces. The frame was in the dirt and the cab was detached and next to it. It also had a near-complete 327 engine sitting next to it with newspapers from the '90s stuffed in the intake and cylinders. It was a big job but once I saw the truck I knew I needed to have it," John states.
The 1947 Ford truck is an interesting model as it was the last of the lineage of Ford trucks that started production in 1941 for the following model year. Once World War II erupted, Ford shifted all hands to help with the war effort and production was put on the back burner. Once the war ended in 1945 Ford was allowed to boost production of its civilian trucks once again and it quickly redesigned their line for 1948. So, this particular truck is the last in line, so to speak, the final year for this unique design.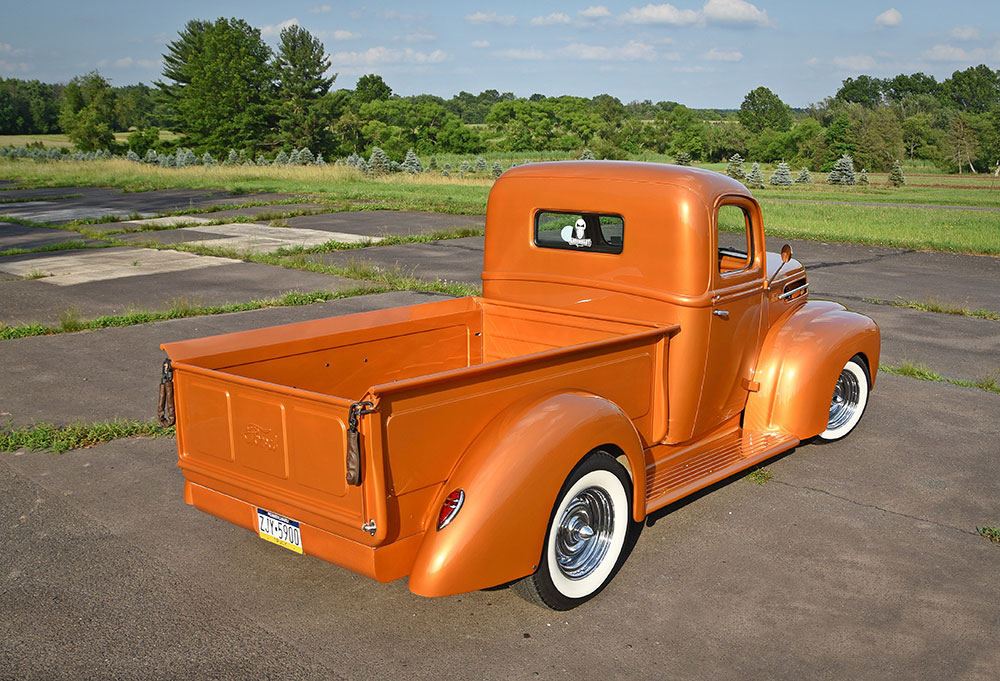 Once in his possession, John wasted no time getting down to the bones of this derelict truck. The plan was simple: Design a clean and unique classic truck, combining the feel, sounds, and smells of a traditional hot rod, but also build something that was comfortable to drive long distances and didn't need to be constantly maintained. Once he gathered up a grocery list of needed parts, he started to combine them in his own unique hot rod recipe.
First John attacked the body. After blasting it and laying eyes on the remaining metal, he preserved what was left in epoxy primer. Next, he made some interesting mods, which included sectioning the front fenders and nose panel to make one cohesive front clip. Fender mounts were sectioned as well and a new mounting system for the front clip was fabricated to drop the nose 3/4 and make it all come together. Though people think the grille is different, John disagrees. "The front grille is the only thing that hasn't been modified. I also cut out the hood vents and custom-fabricated trim out of aluminum. I removed all factory trim from the hood," John says.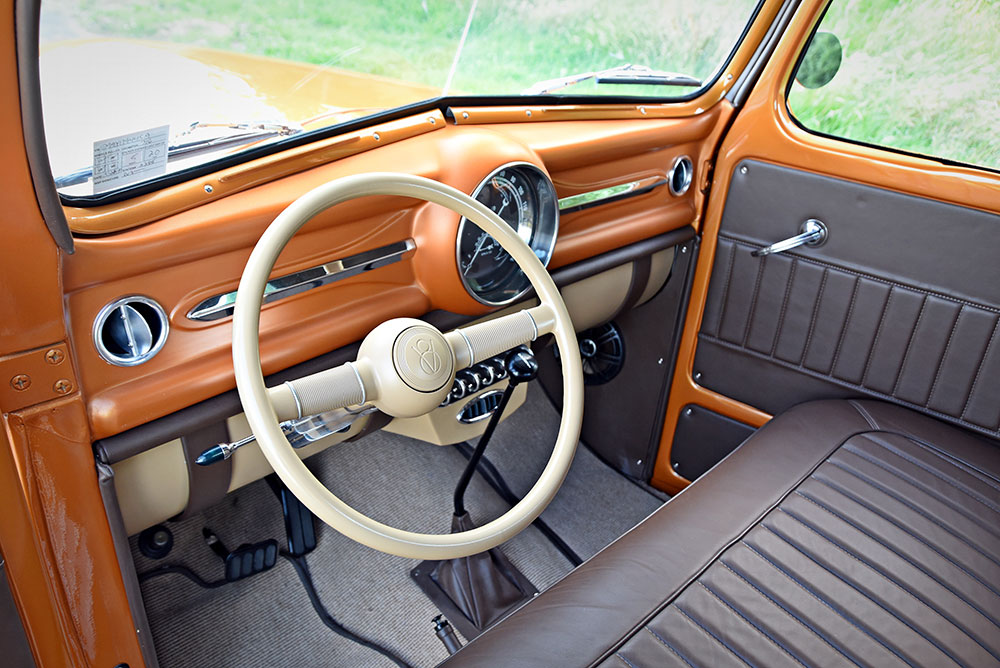 Read More: Electric Parking Brake Conversion Kit For C10s
As you can see, the engine bay is entirely custom, built with adjustable fender supports and air ducts to tie into the grille. The inner fenders have been "boxed" to hold wiring and are also ducted to the grille for an influx of fresh air. There were also no doors with the pickup and as you can figure, they are not in large supply. "We did a nationwide search and with Posies' help we found a set in Nebraska. I met the guy in Carlisle, which really helped me out," John states.
The bed out back was trashed so a new one was ordered from Midwest early Ford and fabbed to fit. Lastly, the fenders needed a lot of attention to look the way they do today. "A lot of hammer and dolly work was what it took to make them usable. I then blended them into a handmade roll pan out back," he says.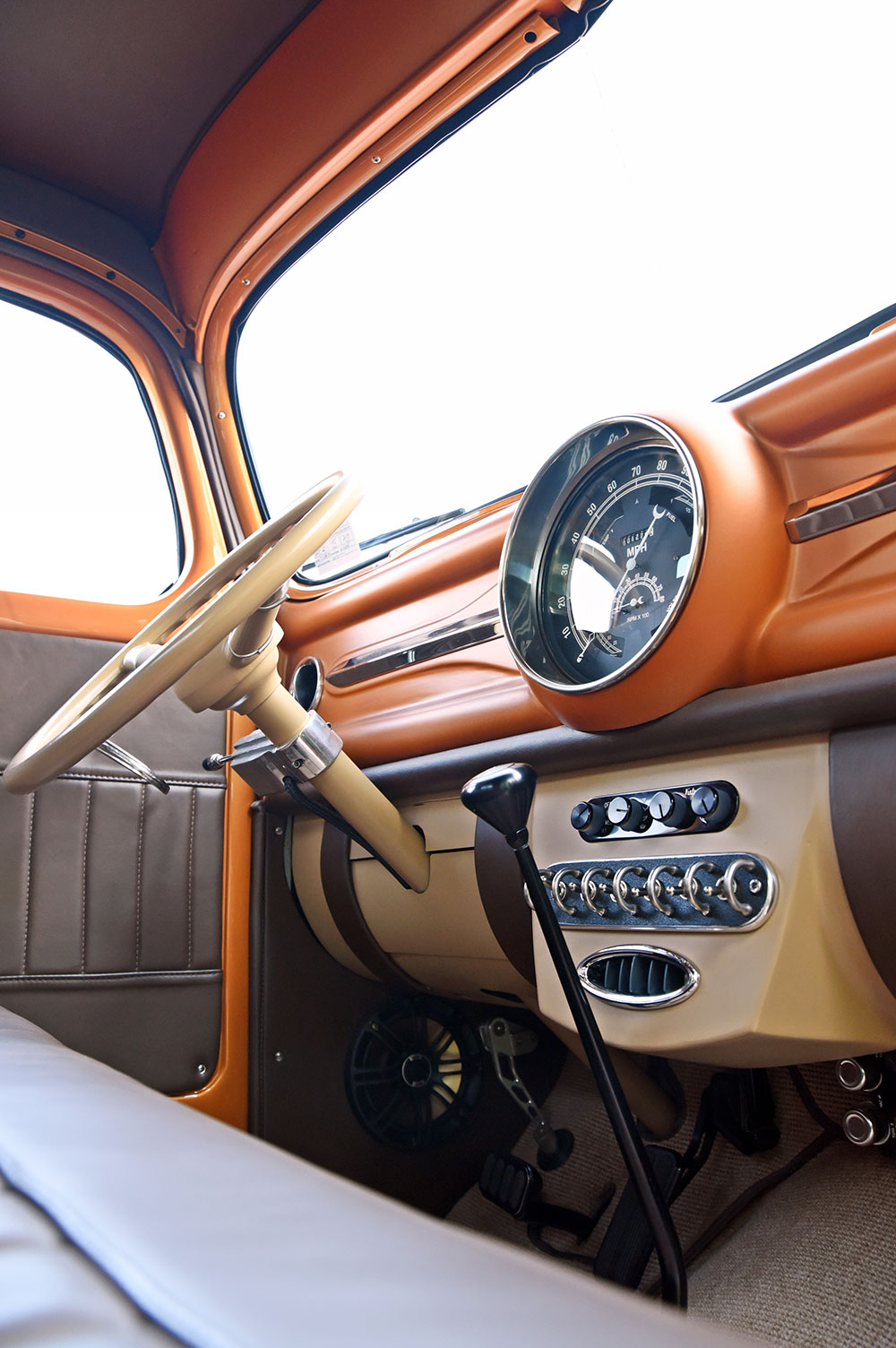 Next was the motor-vation that would propel this bedded hot rod down the road. "I used the 327 engine the truck came with. I kept it as old school as possible and used an Isky flat-tappet cam, 461 Fuelie heads, forged Ross pistons, Clevite bearings, and a vintage dual-quad Edelbrock C26 intake manifold up top," John states. To finish it off, the owner added a pair of Moon finned valve covers that were polished to perfection along with a pair of Edelbrock carburetors for driveability.
By now John was ready to deal with the chassis. "I thought about slamming the truck to the pavement, but I didn't want a hump in the bed. So, I first blasted and repaired the frame and squared it away. I then boxed the front section and fabricated my own Mustang II–style front crossmember," John says. From there he installed a set of Ridetech Strong Arm control arms up front and a four-bar suspension out back. An AccuAir kit controls the Ridetech ShockWave airbags on all four corners. Wilwood brakes add stopping power to this hot rod truck.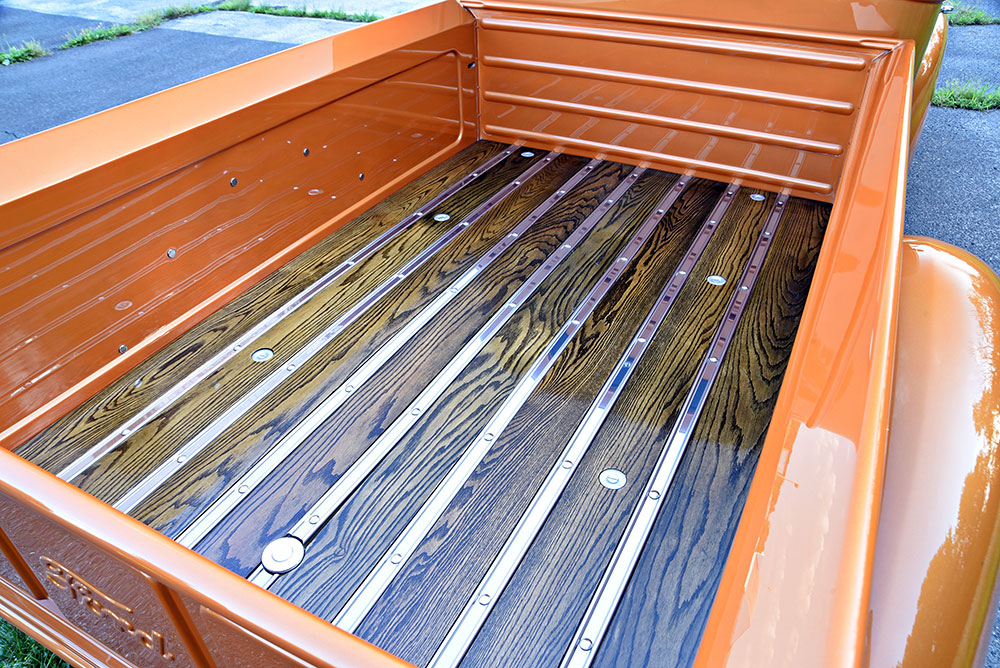 Deep
John knew that paint time was definitely not the time to slack off. He wanted to lay a killer skin on this truck so it could stand out even in a field of George Barris show cars. So he went for a home run and painted the pickup a custom-mixed PPG Orange Pearl paint, laid over a white base. The pearl is super reflective and sun rays will turn this truck's outer skin into a blazing shade of popsicle orange. Once the base color was finished, he then sprayed white/cream on the frame and suspension, which overall complements the orange pearl perfectly. The exterior pearl paint on the flanks responds differently in and out of the sun, going from mild to wild with changing light intensity.
Once the paint was out of the way, John laid out a killer ebony-stained oak bed with polished stainless ribs out back. Up in the cockpit of this feisty Ford, he installed a Classic Instruments 6-in-1 gauge set in the dash. More metal trickery can be found in the custom interior where the dashboard has been modified to contain the Vintage air conditioning system. "I tried to imagine a late-'40s truck that had a taste of art-deco luxury (they weren't built like that) and design it that way.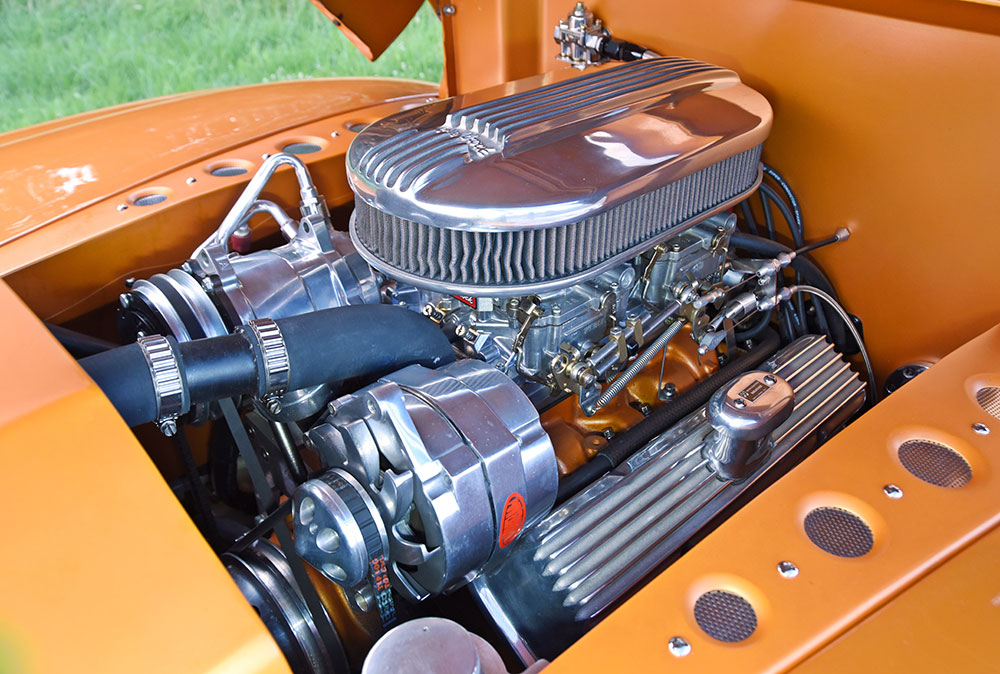 The truck's switch panel is custom-made in-house and uses reproduction Bell X-series switch guards from Perihelion Designs. A nasty Bluetooth-driven sound system featuring Rockford Fosgate, and Polk audio speakers and built with a Clarion EQ and JB subwoofer play the tunes. The custom upholstery was done in Relicate chocolate leather and the floor is covered in Relicate square-weave carpeting.
Read More: Hughes Performance Built Classic Ford Crew Cab
To help splice the whole electrical system together, Painless Performance Products supplied the wiring kit on this stunning bedded hot rod. Reverse chrome Classic 15×7 smoothie wheels give this ride that old-school look and feel that will never go out of style. They are shod in Diamond Back Classic radial tires all around. The lighting is incandescent in the interior and gauges. Headlights and front turn signals are modern LEDs. The taillights are frenched-in 1937 Zephyrs, also built with LEDs.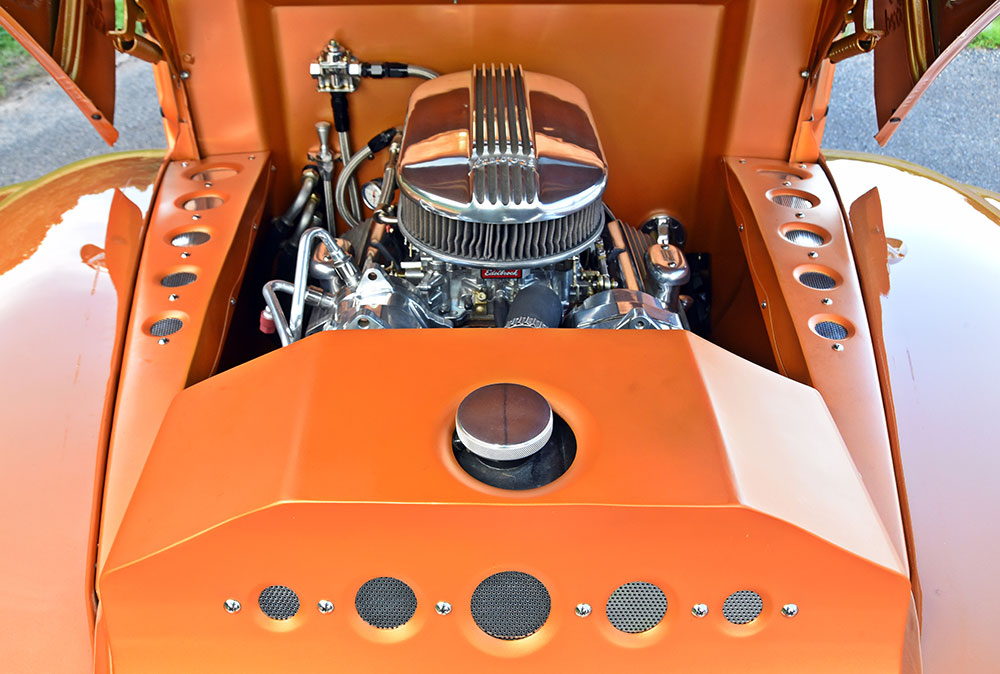 ALIVE!
After three years of working on the truck after work hours and on weekends, John completed the truck in May 2017. At that point he had to make some tough decisions. "I originally started this project with the goal of building this 1947 into a showstopper that would help promote the shop and then I would sell it. But then everything changed after I took her out and drove her. She works so well and drives so beautifully that I now have a sentimental attachment to her," John says.
The ride has now become the cornerstone for Anderhart Speed. It's only natural that John has big plans for her future.  "After we moved to our new 4,000-square-foot location I started working on a vintage front engine dragster and matching trailer. We named the old truck "Orange Krush," so we are now building a front-engine dragster based on a late-'50s Chassis Research design. The paint scheme will match the truck, with Orange Pearl bodywork and white cream chassis and suspension," John says.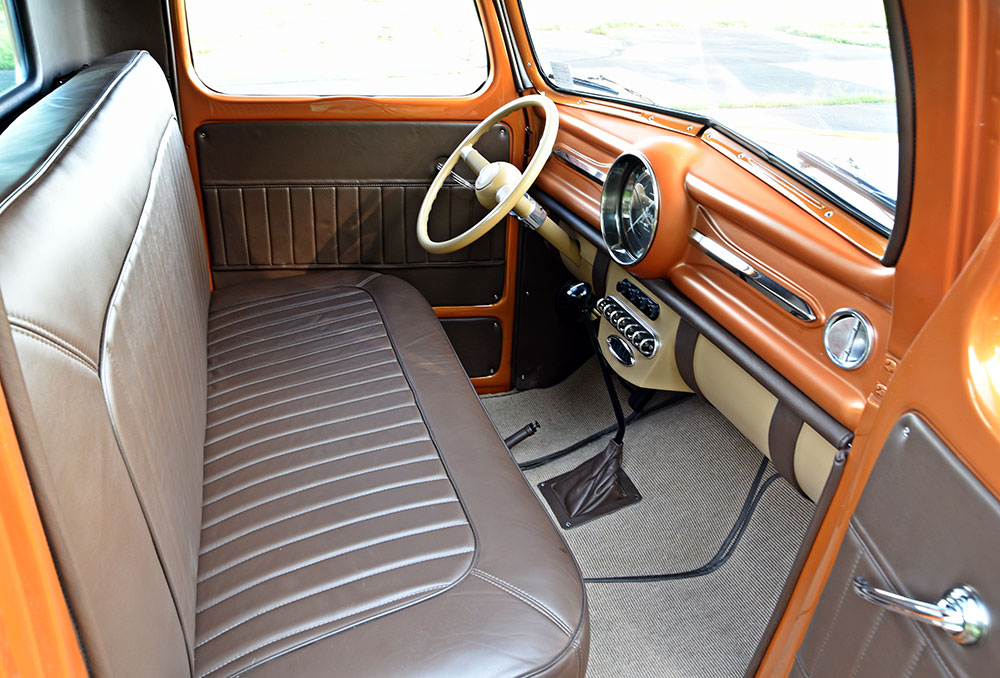 Another surprise that's ready to happen any day now is that the vintage 327 engine powering Orange Krush right now will soon be given up for the dragster. "I want a correct vintage mill in the FE dragster so it's a better fit for sure. It will run on methanol with a Hilborn mechanical fuel injection setup," John says. In its place John has already built a stout 383 stroker, which should drop into the truck without any issues.
So, of course, now John's excited about the months ahead. This old truck will not only move into the future as a reborn ride, but it will also be put to good use at Anderhart Speed as a badass tow vehicle!
The Perfect Hot Rod Recipe? Lenhart's 1947 Ford Truck