ARP is getting into supporting the hot rod industry in a big way. ARP is known for sponsoring two of the most prestigious awards (AMBR and Slonaker) at the Grand National Roadster Show. Now ARP is sponsoring the ARP West Coast Challenge for a four-show series that includes the GNRS, Portland Roadster Show, Spokane Speed and Custom Show, and the Sacramento Autorama. Now there is more.
ARP is now the presenting sponsor for the Triple Crown of Rodding for the Street Rod of the Year, Street Machine of the Year, and Street Cruiser of the Year. LMC is the presenting sponsoring for the three truck awards, earmarked for trucks built up to 1972, for those manufactured from 1973-87, and 1988-98. And if that isn't eye-opening enough, how about the latest major company to participate: CPP as the Official Suspension Sponsor. CPP will be handing out awards to the Top 30 and the Elite 10. As the expression goes, "The event is getting its own legs."
The show is slated for September 8-9, 2023, at the Nashville Super Speedway in Tennessee. There will be plenty to do, with such get-togethers as the Meet & Greet held on Friday and Saturday at 1:00 p.m. in the pit garages with plenty of industry heroes. Next up there will be the Swap Meet & Car 4 Sale Corral all day on both Friday and Saturday. Then there will be the Nostalgia Nitro Dragster Exhibitions at noon and 2:00 p.m. on both Friday and Saturday. If you want to kickback and have enjoy some music, there will be a concert at 3:00 p.m. on both Friday and Saturday. You want more, maybe something a little more interactive, how about the Cruise The Racetrack from 4:00 to 6:00 p.m. on Friday. Then there will be the TGIF Participant Party at the Embassy Host Hotel in Murfreesboro held from 6:00 to 10:00 p.m. on Friday night. That should keep you moving!
So far, the Triple Crown of Rodding has drawn tremendous support from the hot-rodding community. To date the following are the industry leaders who are supporting the event and will be handing out Celebrity Choice awards: Foose Design (Chip Foose), Rad Rides by Troy (Troy Trepanier), Brizio Street Rods (Roy Brizio), Roadster Shop (Phil and Jeremy Gerber), Ringbrothers (Mike & Jim Ring), Goolsby Customs (Jonathan Goolsby), Johnson's Rod Shop (Alan Johnson), Greening Auto Company (Jesse Greening), Big Oak Garage (Will Posey), Detroit Speed (Kyle Tucker), Charley Hutton's Color Studio (Charley Hutton), Pete & Jakes (Jason & Jerry Slover), Dave Kindig (Kindig-It Design), Posies Rods & Customs (Ken Fenical), and Alloway's Hot Rod Shop (Bobby Alloway). The Street Machinery/Patina Plantation (Boris Maryanovsky) will also be present to participate.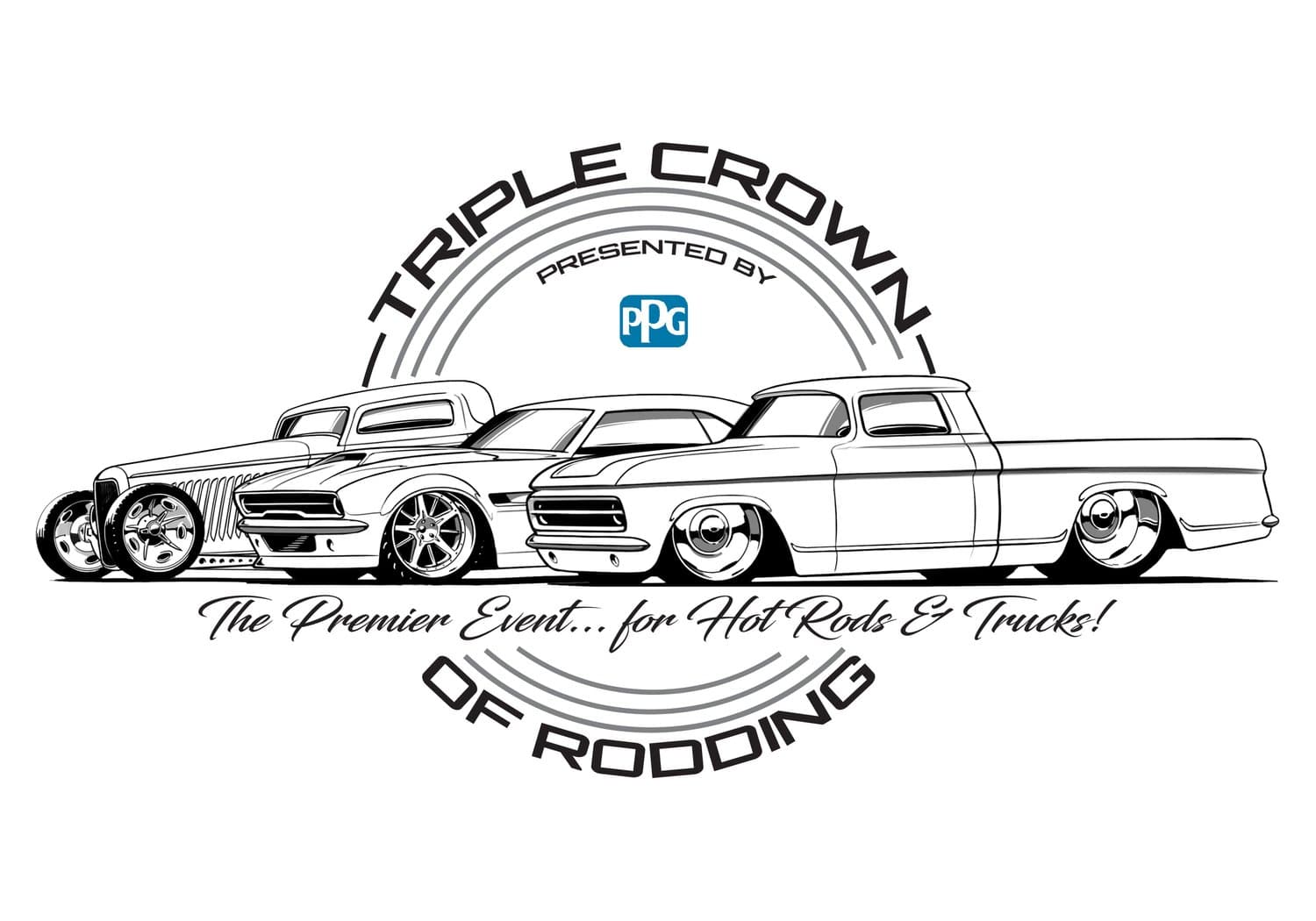 As for manufacturers who will be present and showing off what's the latest and greatest in our hobby are the following companies: In The Garage, Media, Inc., Acme Trading, Advanced Plating, ARP, Art Morrison Enterprises, Alumicraft Street Rod Grilles, American Powertrain, Auto Metal Direct, B-Rod & Customs, Barrett-Jackson Auction Co., Beeler Designs, Billet Specialties, Bowler Performance Transmissions, CPP, Dakota Digital, Design Engineering (DEI), Customs by Kilkeary, Gandrud Performance, Farris Insurance, Griots Car Care Products, Hills Hot Rods, Hot Wire, Hot Shoe, HushMat, Johnson's Hot Rods, Kindig-it Design, KTL Restorations, LMC Truck, Lokar, Moore & Giles Leather, NC Equipment, Posies Rods & Customs, Powermaster Performance, Pete & Jakes Hot Rod Parts, Precision Hot Rods, PPG, Phoenix Machine, JDD Creations, Streetside Classics, Squier Inc., Roadster Shop, Toyo Tires, Wilwood Engineering, Woody's Hot Rodz, and X-Tream Products.
Wow, that's plenty of excitement for the wildest two-day car show in the country. Make sure to check registration and other information by visiting the Triple Crown of Rodding event website at https://triplecrownofrodding.com.