Chris Carlson Hot Rods' Drop Top Buick Is A Modern Day Cruiser
By Brian Brennan   –   Photography By Grant Cox
The "backstory," the story behind almost any hot rod, is the one usually of utmost interest. You know, the story that's behind the scenes and isn't often told unless you really sit down and begin talking hot rod stuff. Such is the case for this 1953 Buick Special convertible, 1 of 6,701 that were originally built. Chris Carlson is no stranger to hot rods, owning his own shop, Chris Carlson Hot Rods in Mulvane, Kansas. As we said, it's the backstory. So, let's have Chris tell us in his own words what's up.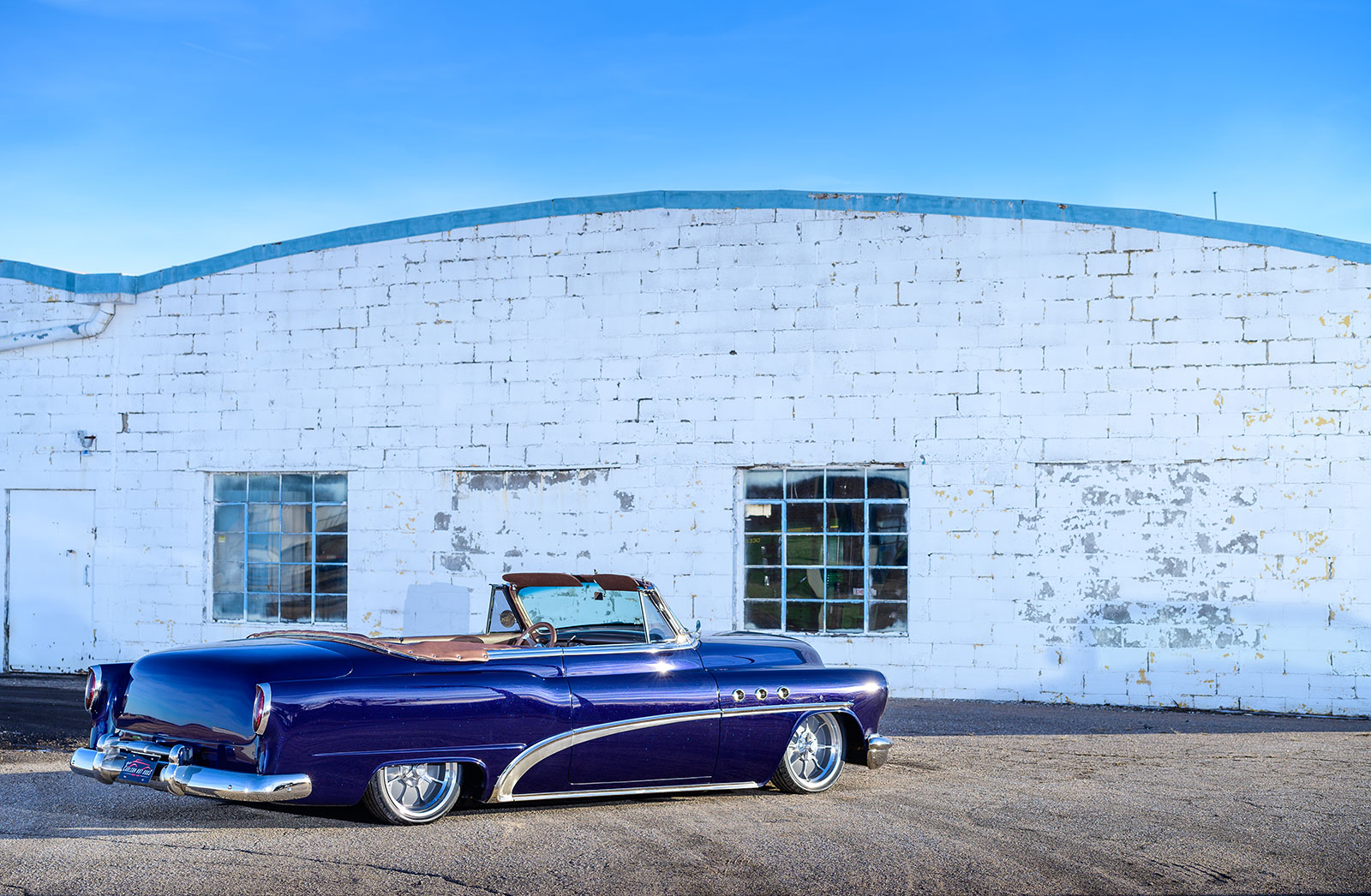 "The 1953 Buick Special convertible was two weeks from being completed when it was damaged in our shop fire. After a lengthy fight with the insurance company and the owner, the car became ours. It was a sore subject and not the car I wanted. I had two different clients commit to buy it and then backed out. My son, Drew, convinced me to build it. We decided if we were going to build it, then we would build it to our style and debut it at SEMA."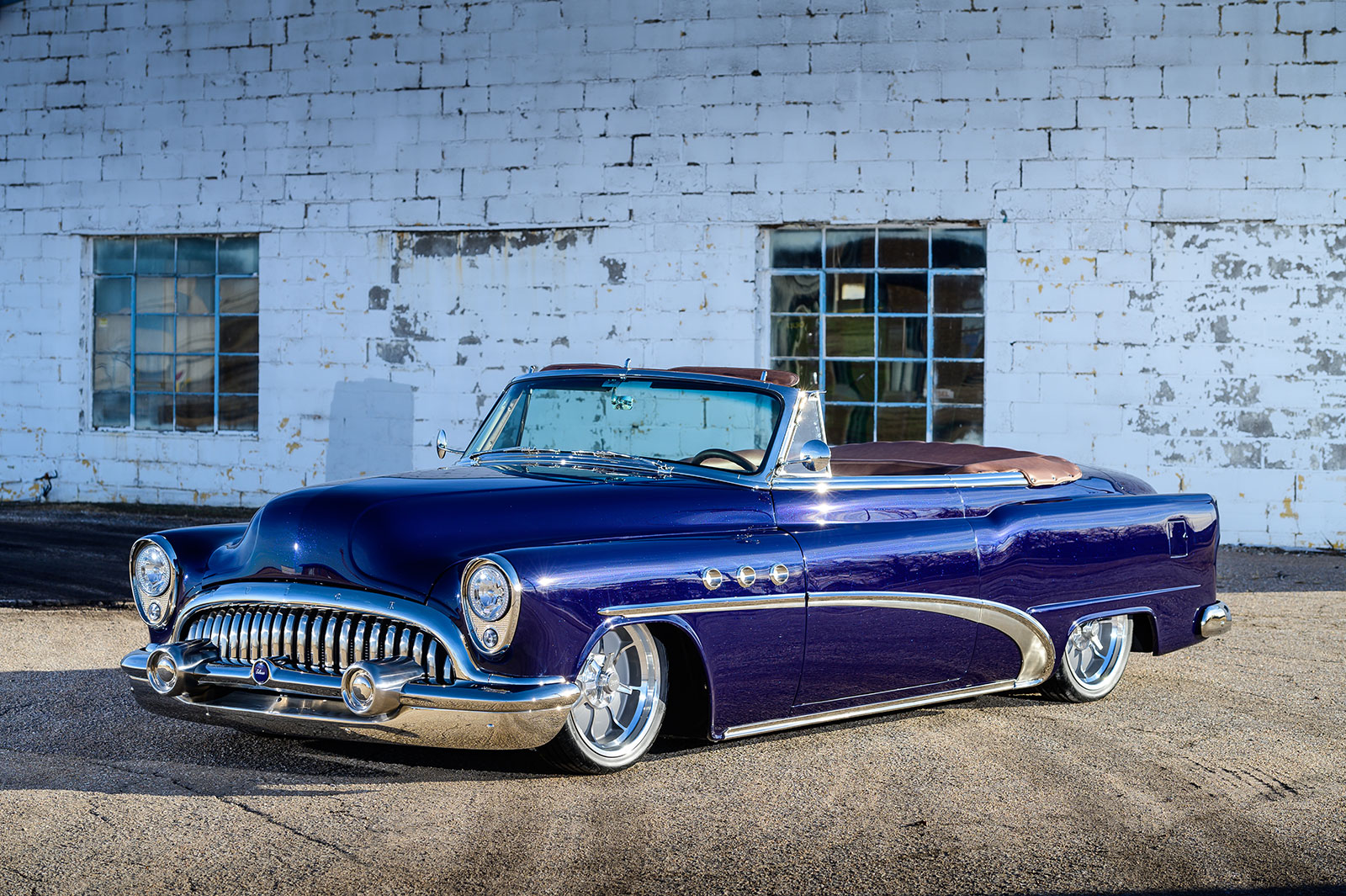 They made the 2019 SEMA Show and the car was displayed as an outside feature car for Steele Rubber Products. But what did it take to get there? It was Drew who talked his father into finishing the Buick 'vert the way they wanted with a nod to some modern touches.
Read More: 1949 Cadillac Sedanette With State-Of-The-Art Performance
Chris who pointed out, "… it was our intent to do a twist between honoring the beautiful lines and chrome of this Buick and giving it some modern looks and touches. But it's a Buick, and you must be careful not to stray too far from the Buick styling, just enhance it."
Back at the shop, the crew (all five, which included the bodyman, painter, and mechanic, along with Drew and Chris) all jumped in and began. Handling the "heavy lifting," primary work was managed by Chris and Drew. At the time Chris' youngest son, Wes, helped on the fabrication and the mechanical side. To this day he is still working in the shop and is the lead mechanic … must have that "hot rod" gene.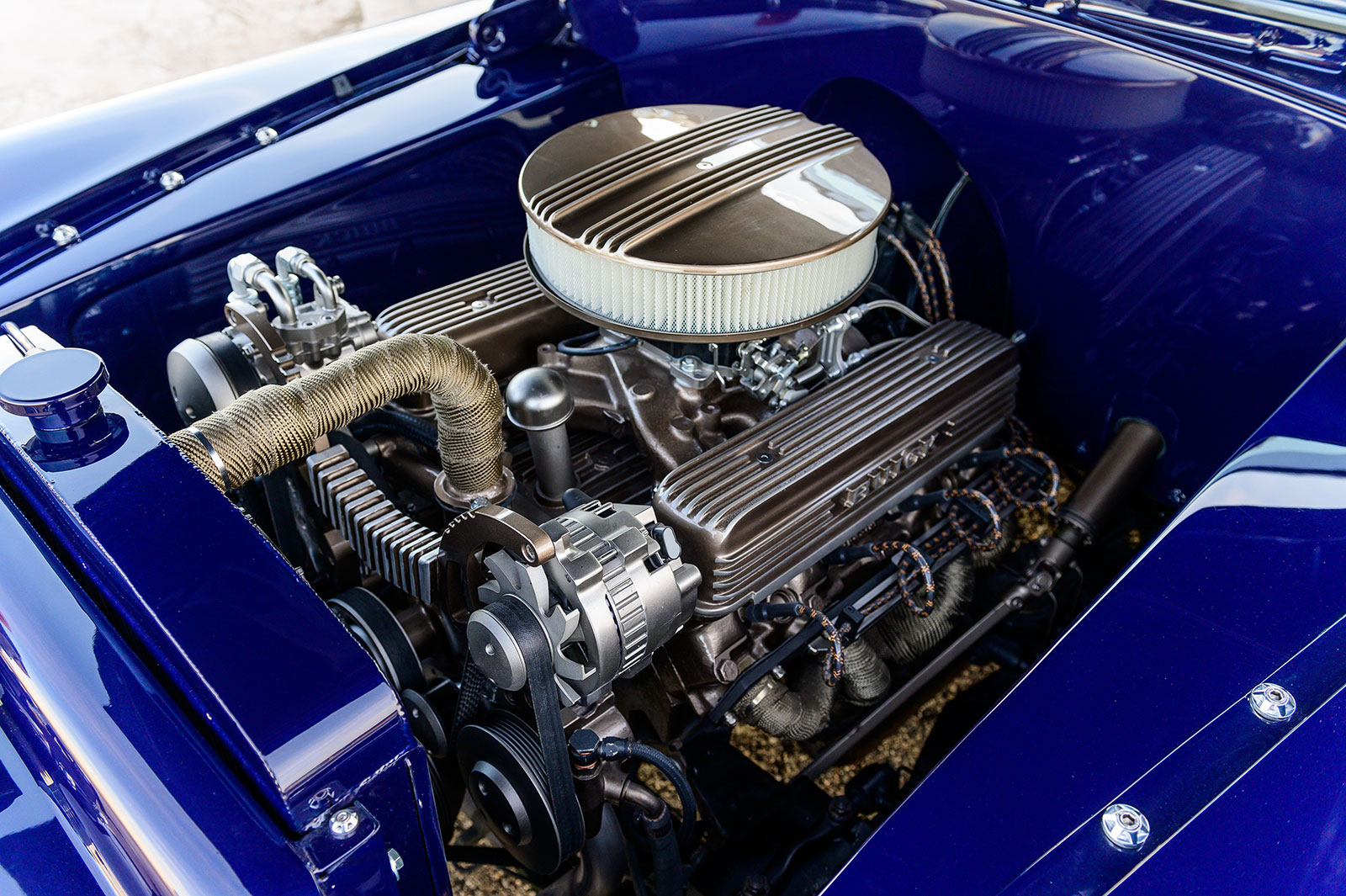 To this rare 1953 Buick Special convertible there were a handful of modifications performed, but remembering all along not to destroy the already-beautiful factory lines. Beginning up front the hood was shaved and smoothed and from there the door handles were shaved. In the back the decklid also received attention having all emblems removed. Also, while in back, the taillights were swapped out for a pair of 1954 Chevy tail lights and lenses but the headlights remained vintage 1953 Buick Special. The bodywork was done at the shop, and according to Chris, "… we prepared a custom PPG mix with Concept Clear that has loads of blue crystal and glass to give the final color an old-school flake look but based on modern paints."
Read More: 1966 Ford Mustang DSR350
Inside the drop-top Buick it initially appears to be the factory dash but with plenty of touches to give it a modern look. The factory 1953 Buick dash was modified by the removal of the center speaker/grille, clock, and glovebox. From here a set of the latest Dakota Digital gauges were dropped in, followed by an underdash Vintage Air AC and heat system. Also bolted to the underside of the factory dash is a tilt ididit steering column with a leather-wrapped banjo (three-spoke) steering wheel. Note the use of Lokar pedals and a custom center console equipped to hold cups, provide hidden storage, and house the air suspension controls. An American Autowire hot rod wiring kit was used and installed by the team at the shop, which in turn brings everything to life. The stitchwork is the combination of two-tone Camel Brown marine vinyl (soft leather feel) that covers the bench seats (front and rear) by Chris' shop. To this the dark brown carpeting is more handiwork from Chris and the crew. The seatbelts are from Juliano's.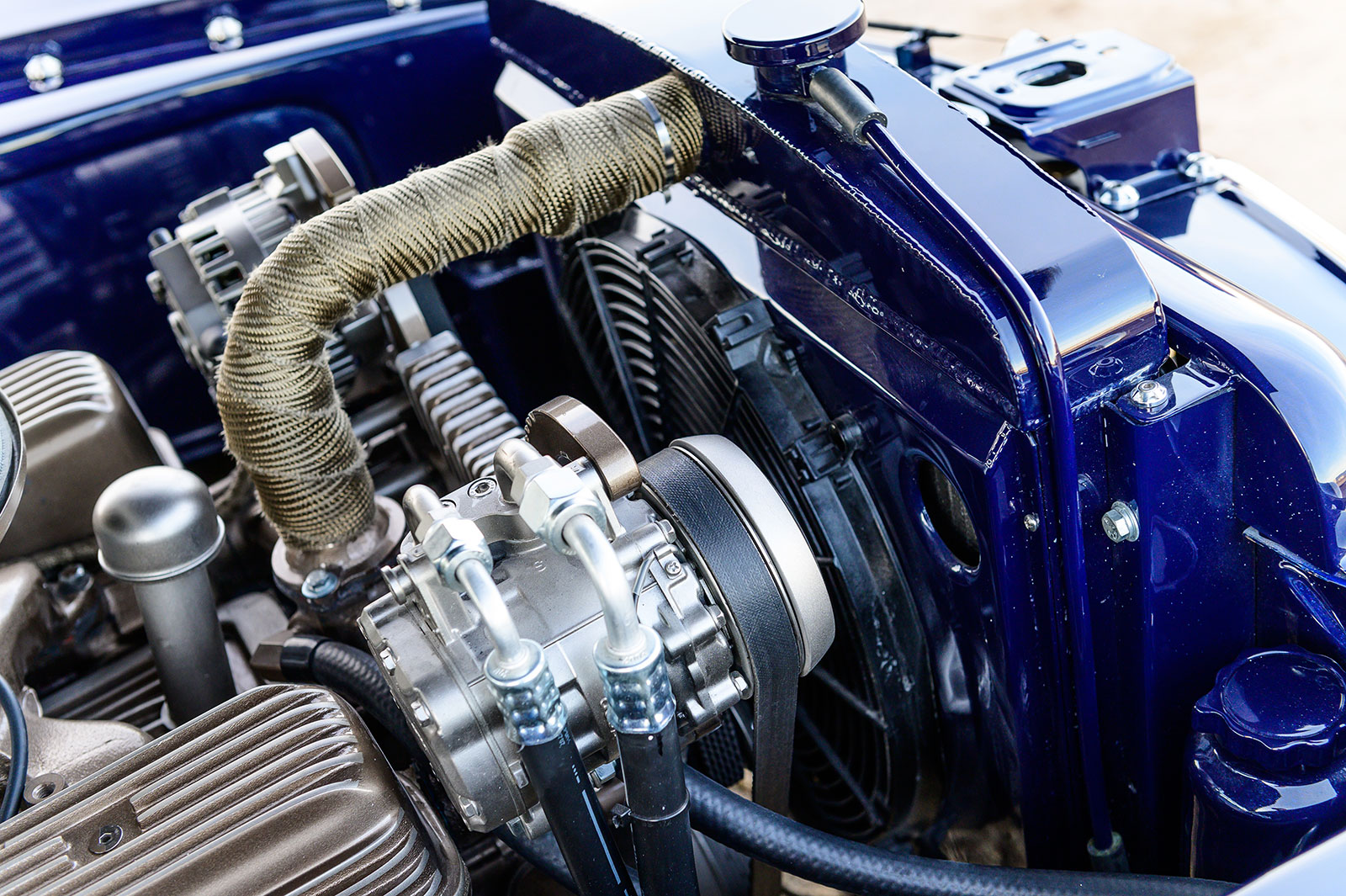 The 1953 Buick Special convertible rests on a factory frame that Chris reworked, boxing it and smoothing it out for a better-looking appearance. In front is a Heidts Mustang II Independent Front Suspension with 2-inch drop spindles, airbags with Ridetech shocks, and Wilwood brake kits based on 11-inch rotors. The Independent Front Suspension also utilizes a ¾-inch Heidts sway bar. In the rear Chris made his own triangulated four-bar for the 1953 Buick Special rear end that also utilizes airbags with Ridetech shocks and 1953 Buick big-fin drum brakes. The brake system is operated by an underfloor-mounted Wilwood master cylinder.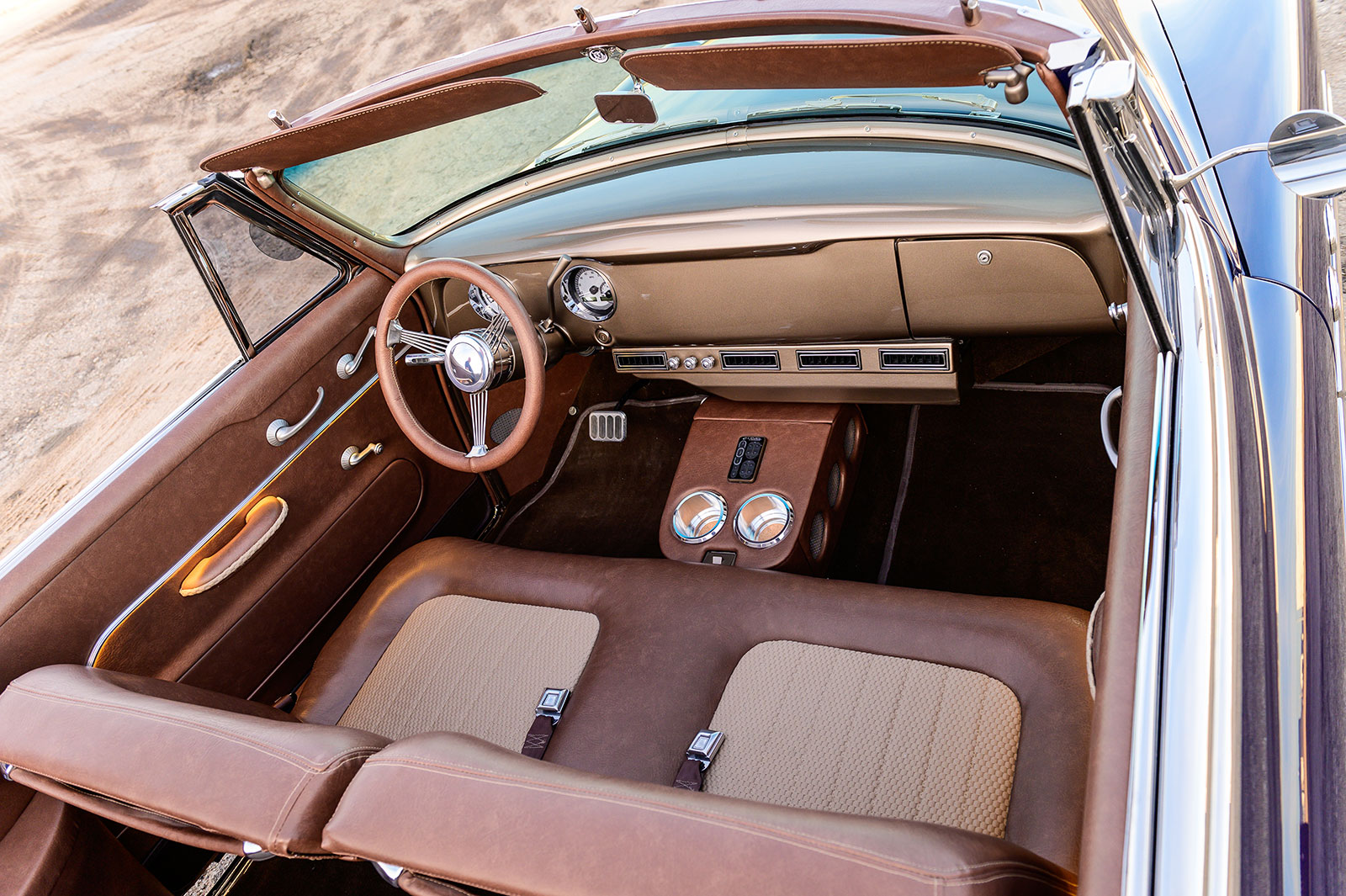 Chris spoke with David Coker from Rocket Racing Wheels and together they opted for a hot rod–style wheel rather than wires. As such they came up with the 18×6 Rocket Fire model wheel in gray. To this the wheels were wrapped with 245/35R18 Diamondback tires. Diamondback provided the service of grinding off the sidewall lettering for a smooth and clean appearance.
Read More: Hellcat Swapped 1955 Chrysler 300
Hustling this Buick 'vert down the road is a 1959 vintage Buick Nailhead that began life at 325 inches, now it's a 401. To add a bit more "go" the factory intake is fitted with a Holley-prepped Demon four-barrel and fuel pump. The ignition is provided by a PerTronix (Patriot) HEI system with ididit cloth-wrapped New Vintage plug wires. To make sure all the spent gasses leave the Nailhead engine a set of Sanderson headers are used and plumbed through a set of 2-1/4-inch tubes. From here the gasses flow into a pair of stainless steel MagnaFlow mufflers that are wrapped with DEI Titanium wrap. Engine accessories come in the form of PML valve covers, air cleaner, valley plate, and a March Nostalgia series serpentine belt system. A 700R4 transmission makes sure to move the power from the Nailhead back to the rear end.
It's a great looking ride and surely rides as well as it looks. Nothing like those "land yachts" from the '50s and then the '60s to make for great modern-day cruisers. MR