Modifying Classic Trucks Runs In The Family
By "Rotten" Rodney Bauman   –   Photography by the Author
If we think back to our first 16 years of life, before coming of driving age, we may recall it as a long, boring period. Provided the DMV (or MVD, or whatever it's called where you live) was open on our birthdays, we were there in line for the test.
Growing up around classic truck hobbyists can certainly fuel a youngster's fire. Being raised by the professionals who assist those hobbyists (in this instance at a Riverside, California transmission shop) was gearhead insurance for young Gilbert (just "G" to his family and friends) Aguilar and his younger brother, Ray.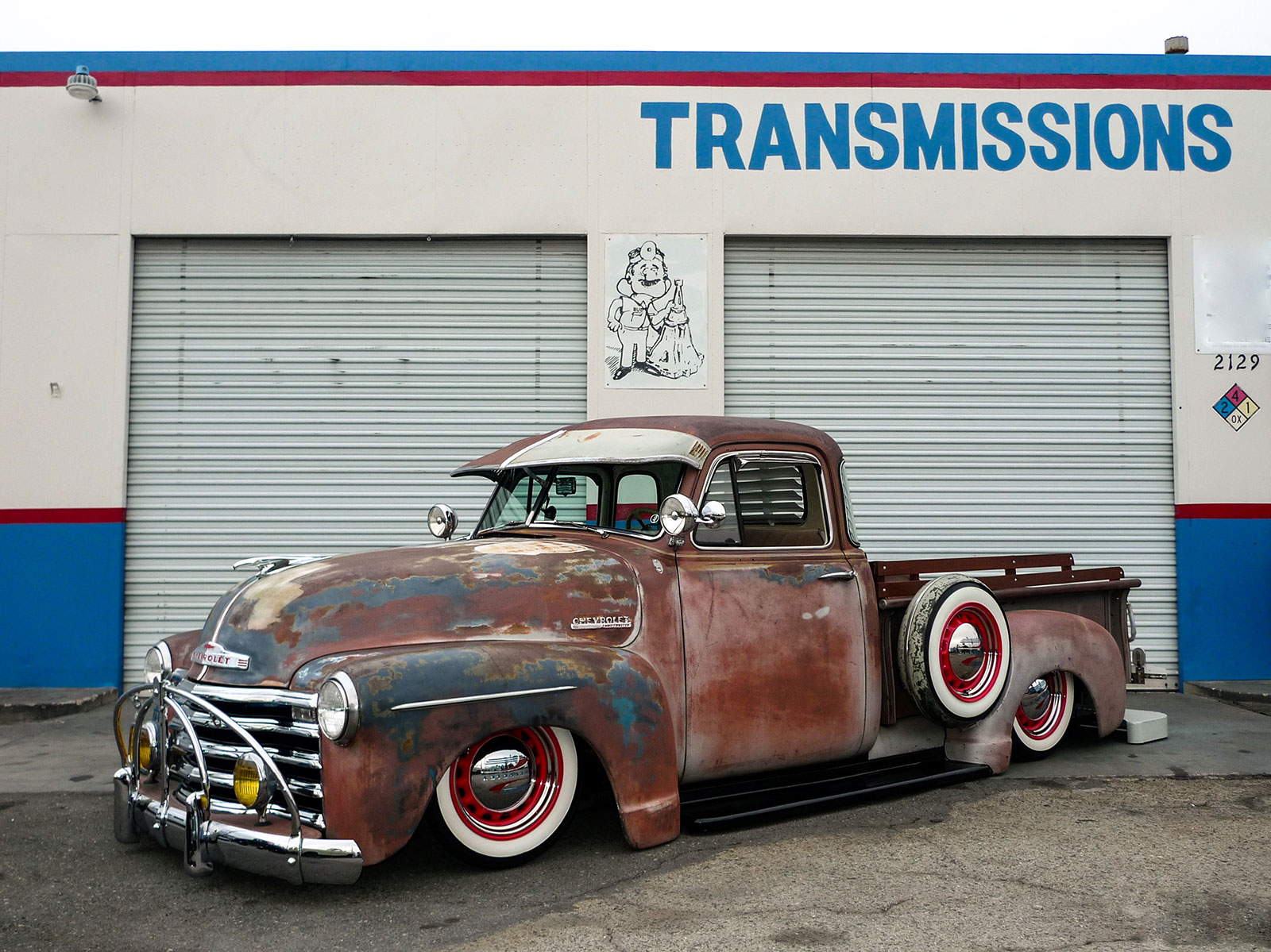 The Aguilar brothers' Chevy pickups are both ongoing works in progress. Both trucks are father and son projects, and both sons are quick to give due propers to their father, Roman.
Read More: Home-Built C10 Hot Rod
In our lead photo's foreground, the '53 Chevy Advance Design is G's first set of wheels, which he managed to acquire at age 12. As G tells it: "A neighbor discovered this truck, garaged nearby in the Highgrove area where it had been used as a work truck in the orange groves for years. It had a Chevy 283 that had been swapped-in by its second owner who'd had the truck since 1961. It was rust-free, and it made a great starting point for the truck as you see it—the truck that my dad and I envisioned."
As a solid-enough foundation, G's project pickup retains its original frame. From there, however, suspension components as well as their installations are by Matt Johnson of Johnson Motorsports. Locating a 12-bolt GM intermediate rear end is Johnson's own two-link setup. Up front with a manual rack-and-pinion, Independent Front Suspension resembles other Mustang-based kits, but it's also Johnson's own, with ups and downs, provided by Slam Specialties double-bello airbags.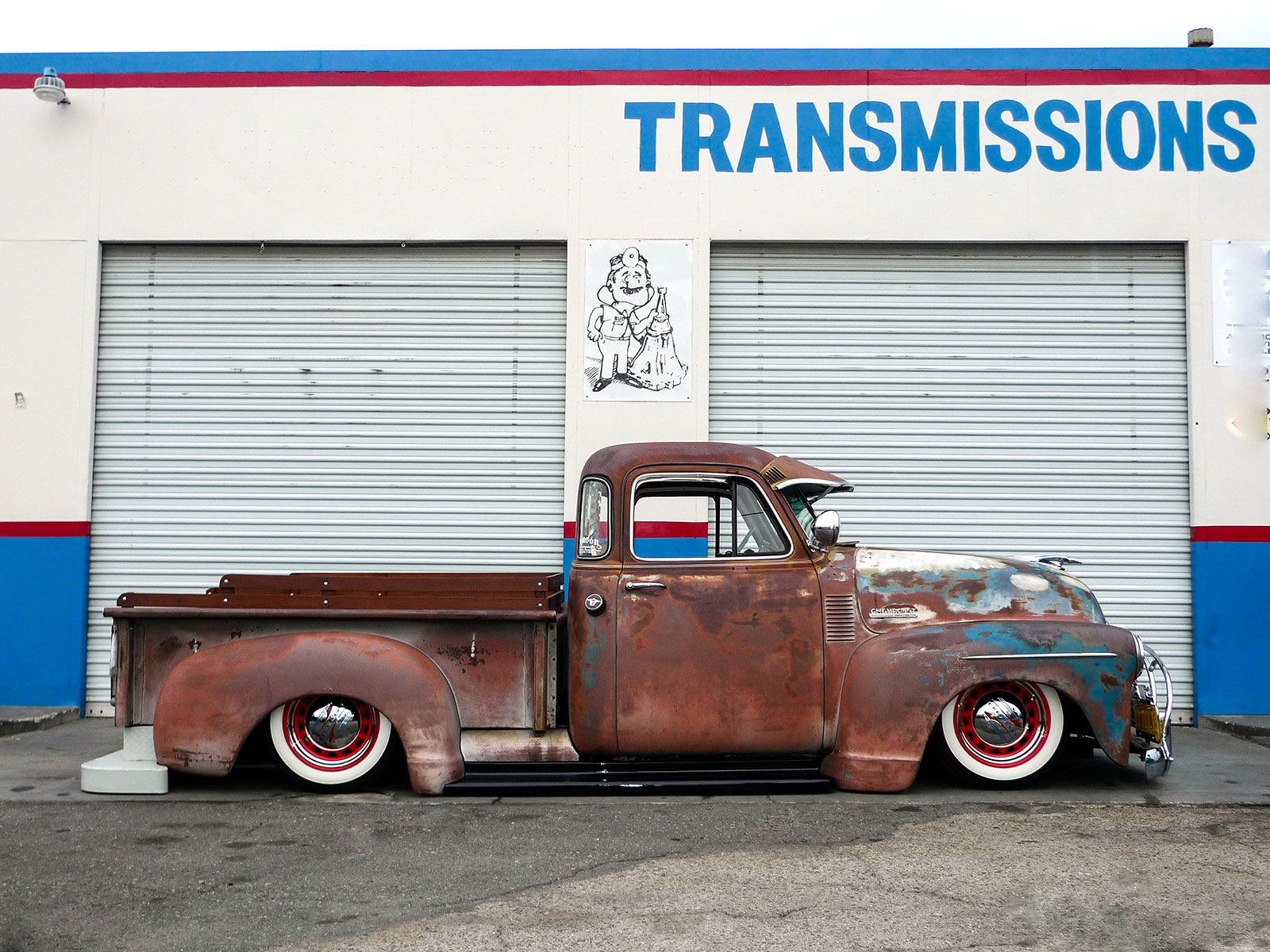 For rolling stock, G has kept it straightforwardly simple with 165R15 whitewalls Coker Classic tires on authentic artillery wheels. Those are torqued to a disc/drum brake combo. Reproduction trim rings and '41-48 passenger car 'caps make nice finishing touches, but G swaps them with '54 Chevy passenger car full wheel covers just for contrast now and then.
G's current mill is a fresh Chevy 235-cid six-cylinder. With machine work by Wayne's Engine Rebuilding, assembly took place in-house at the family transmission shop. Discreetly down low, just out of view, a Powermaster one-wire alternator flows ample amperes for add-on electrical accessories. A retrofitted oil bath air cleaner doubles to obscure a two-barrel Weber carburetor and G's exhaust manifold is split—the old-fashioned way. From there through pea-shooter tips, unrestricted 1-1/2-inch twice-pipes by Larry Gavilla of Gavilla Automotive pass the gasses with a "snap-crackle-pop" as a four-row recore radiator by La Cadena Radiator Services keeps it all cool.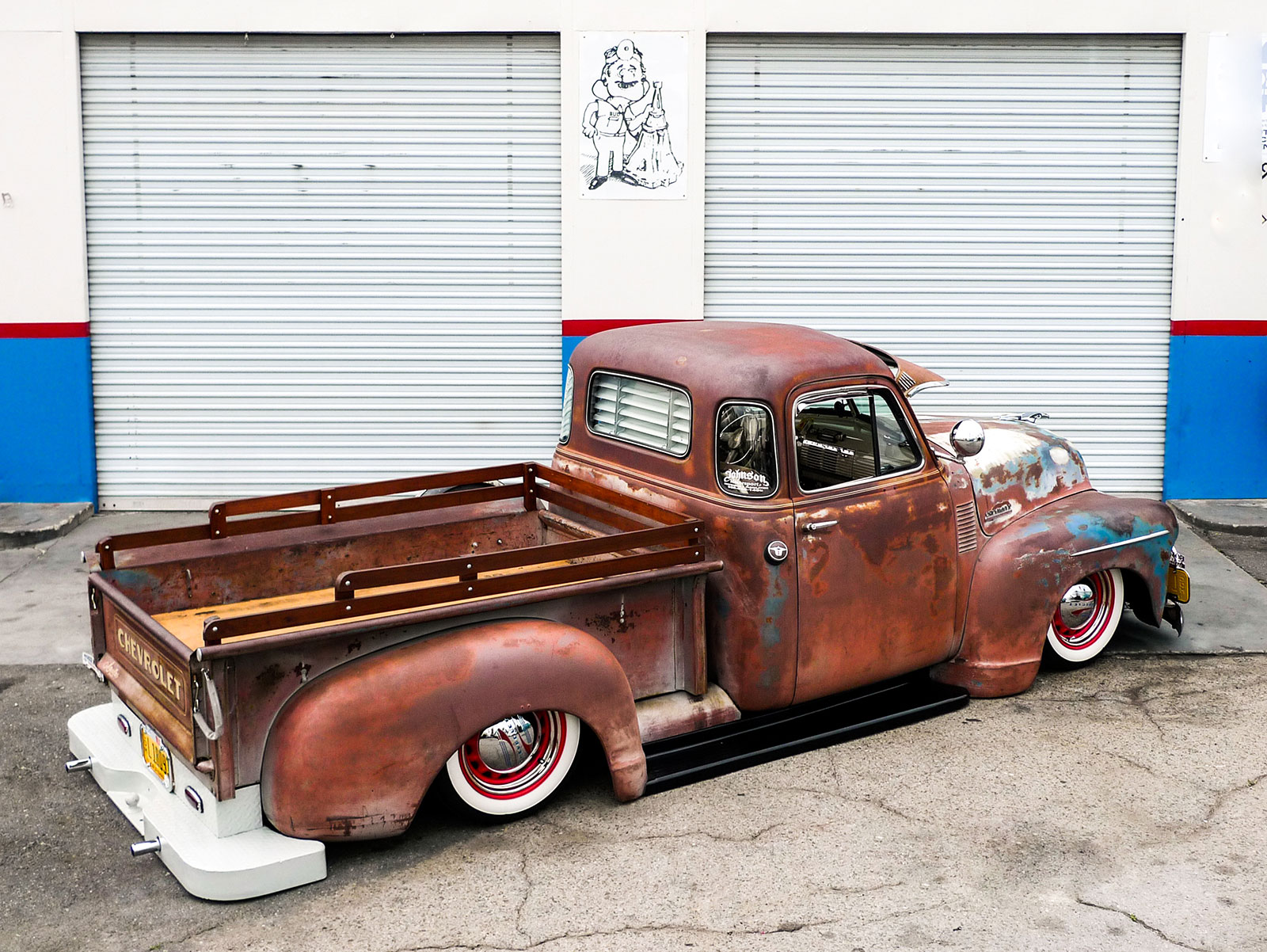 Read More: Chevy 3100 With Pro Street Performance
The overhauled inliner is backed by an S10 type BorgWarner T5 transmission, which was freshened in-house as well. If, by chance, you're wondering which transmission adapter is employed, there's none. With the input shaft machined as necessary, a '55-57 Chevy six-cylinder-type bellhousing becomes its own adapter for the T5 transmission.
In this day and age when some might pay up for faux patina, some still demand the McCoy. G's truck's finish is what's left of original Mariner Blue lacquer. At least for now, or perhaps a while or two longer, G intends to preserve that and its underlying lacquer primer. The engine bay, however, is freshly refinished in the truck's future hue. At the firewall we may also catch a glimpse of artful cloth-covered wiring by Aguilar family friend, Carlos Diaz.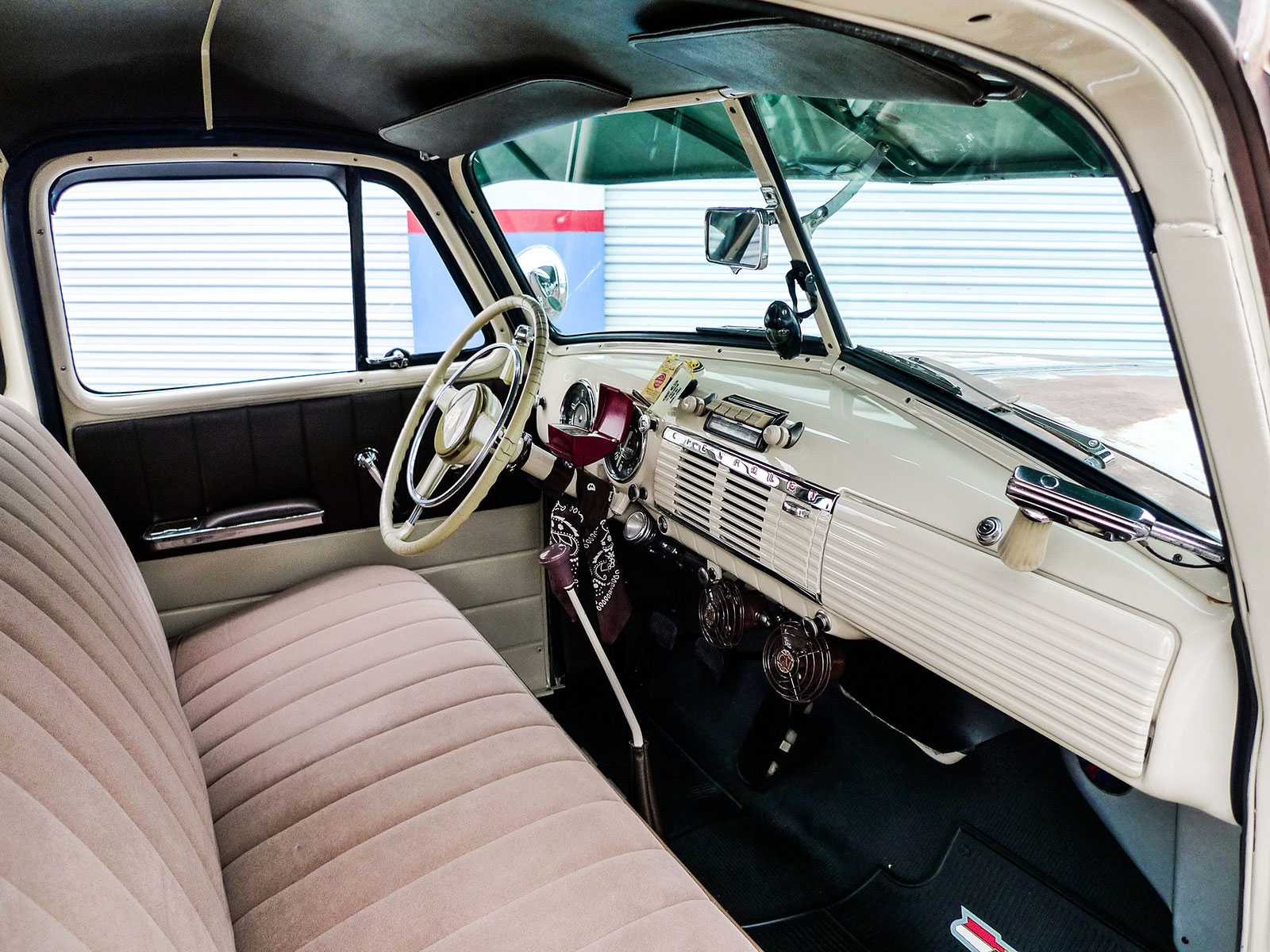 For the most part, this truck's chrome plating is by Brothers Polish & Chrome. Inside the cab, interior trim is the work of Max Meza of Max Upholstery. If there's a crown jewel topping that off, it's the rare '42-48 Chevy accessory banjo steering wheel for sure.
In our lead photo's background, the '67 C10 Fleetside is Ray's personalized version of the truck his father built before he was born. Just as it was for his older brother, Ray acquired his truck at age 12. As Ray tells it: "This truck began as my dad's gift from Double AA Towing. It was an old Riverside County fleet truck, still rolling less engine and transmission. When it was passed along to me, it was beautifully finished in Pro Street style. In my own vision, it just had to be slammed."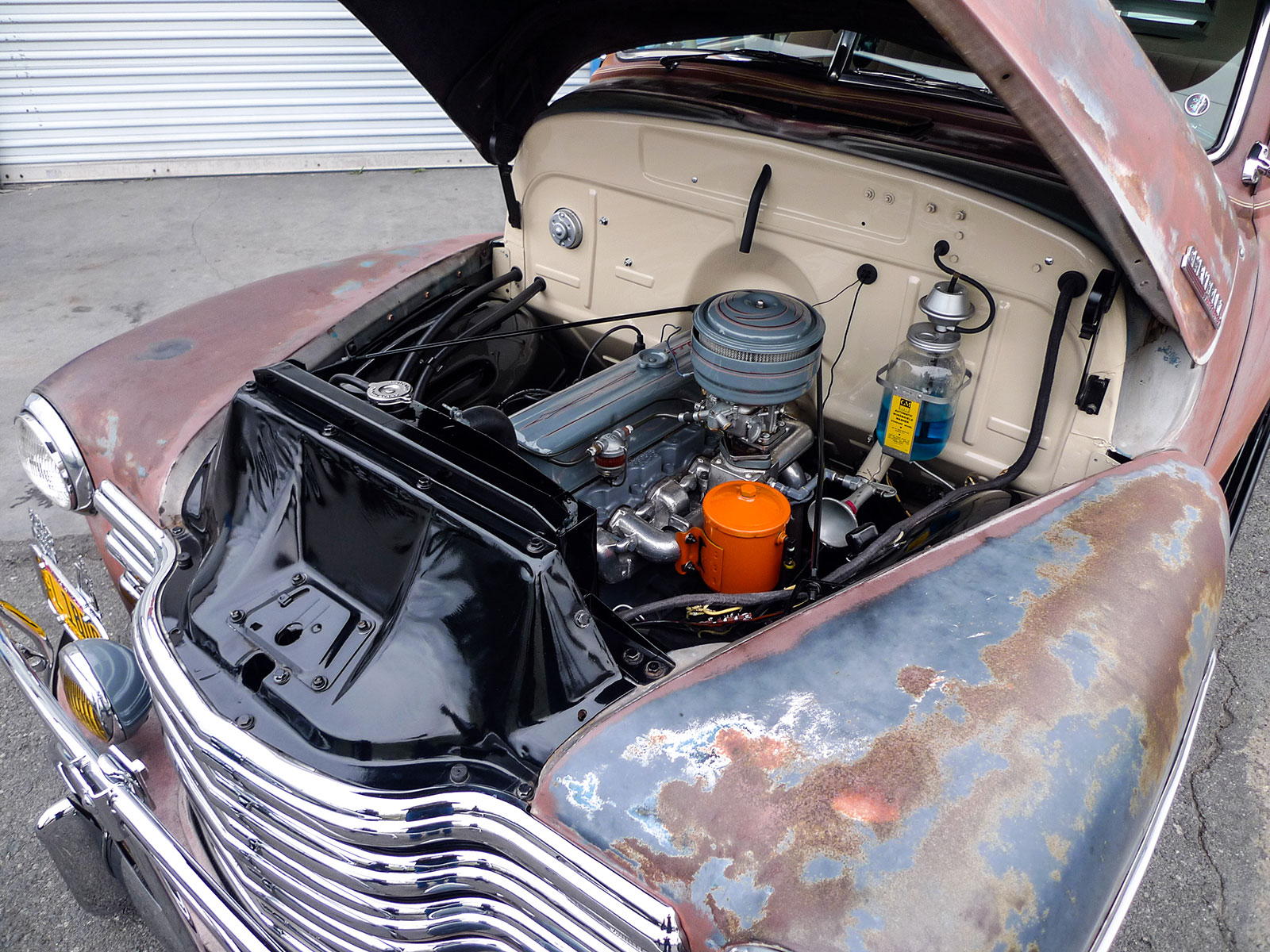 As Ray's eight-month personalization process began, orders were placed with Choppin' Block for a '63-72 C10 Extreme front air-ride suspension kit and double-bellow air bags from Slam Specialties. For the rear, Universal Air double-bello airbags were conveniently available just a short drive away. Apart from that, rear four-link fabrication, necessary crossmember modifications, installations, and so on are all by Matt Johnson of Johnson Motorsports—who did receive assistance along the way from Ray.
Read More: Ken's Tribute C10 Truck Was Worth The Wait
In order to go Pro Street Delete, a '98 Chevy Silverado donated its stock-width 3.73 limited-slip rear end. In this truck's updated configuration, brakes are a power disc/drum combo. Steering is now power rack-and-pinion and KYB shocks smooth the bumps at all four corners.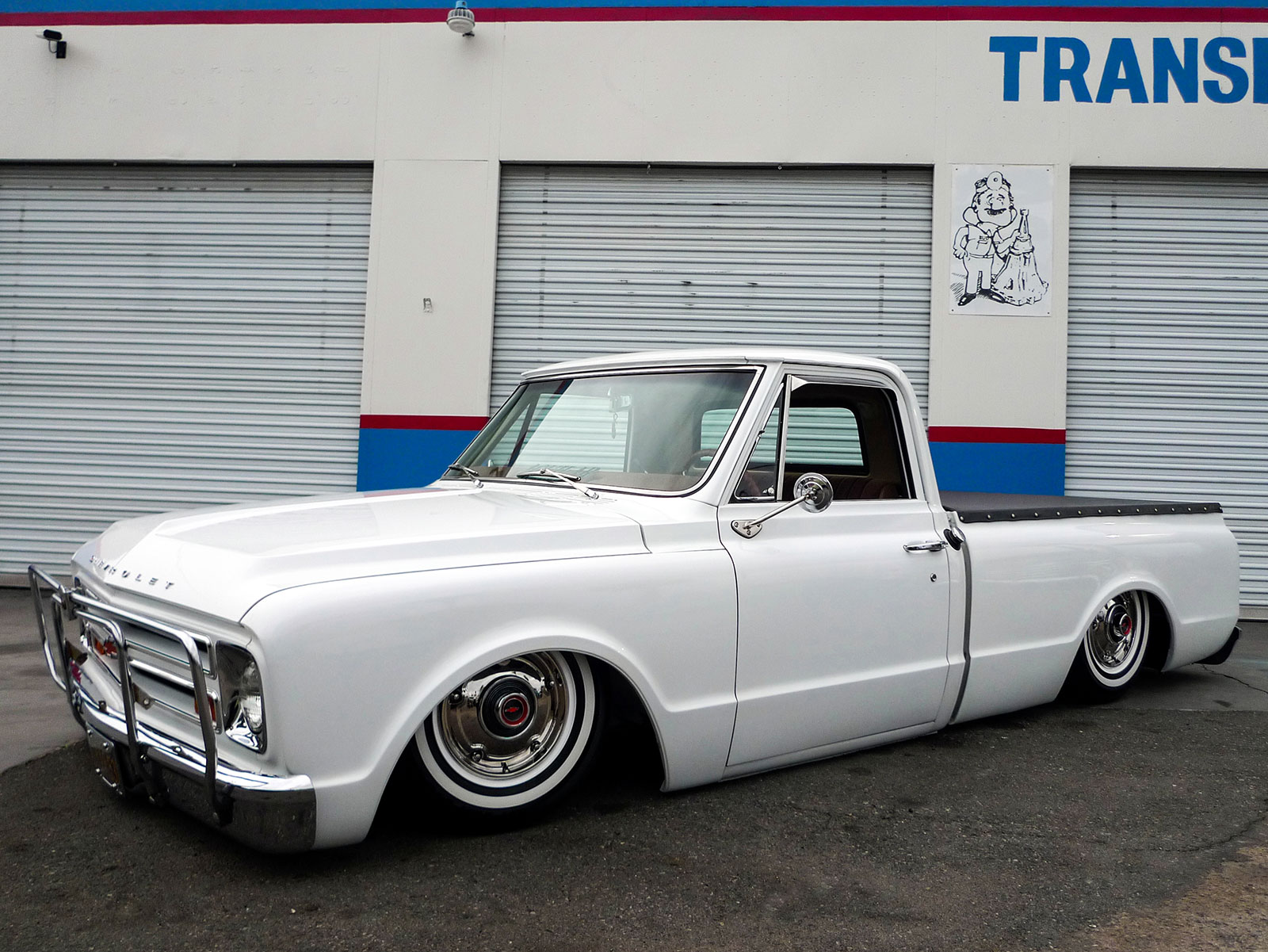 Ray's way today, rolling stock consists of R1 205/75R15 whitewall Vitour Galaxy tires on refinished GM steelies. Those are quite properly topped with '67-68 Chevy pickup full wheel covers.
Beneath Ray's custom-hinged hood we find a sanitary presentation of straightforward stuff, beginning with a Chevy 350 V8 engine. In the shadow below the shiny air cleaner there's a 1406 four-barrel 600-cfm  Edelbrock carburetor, and the bumpstick is a street-friendly grind by Isky Racing Cams.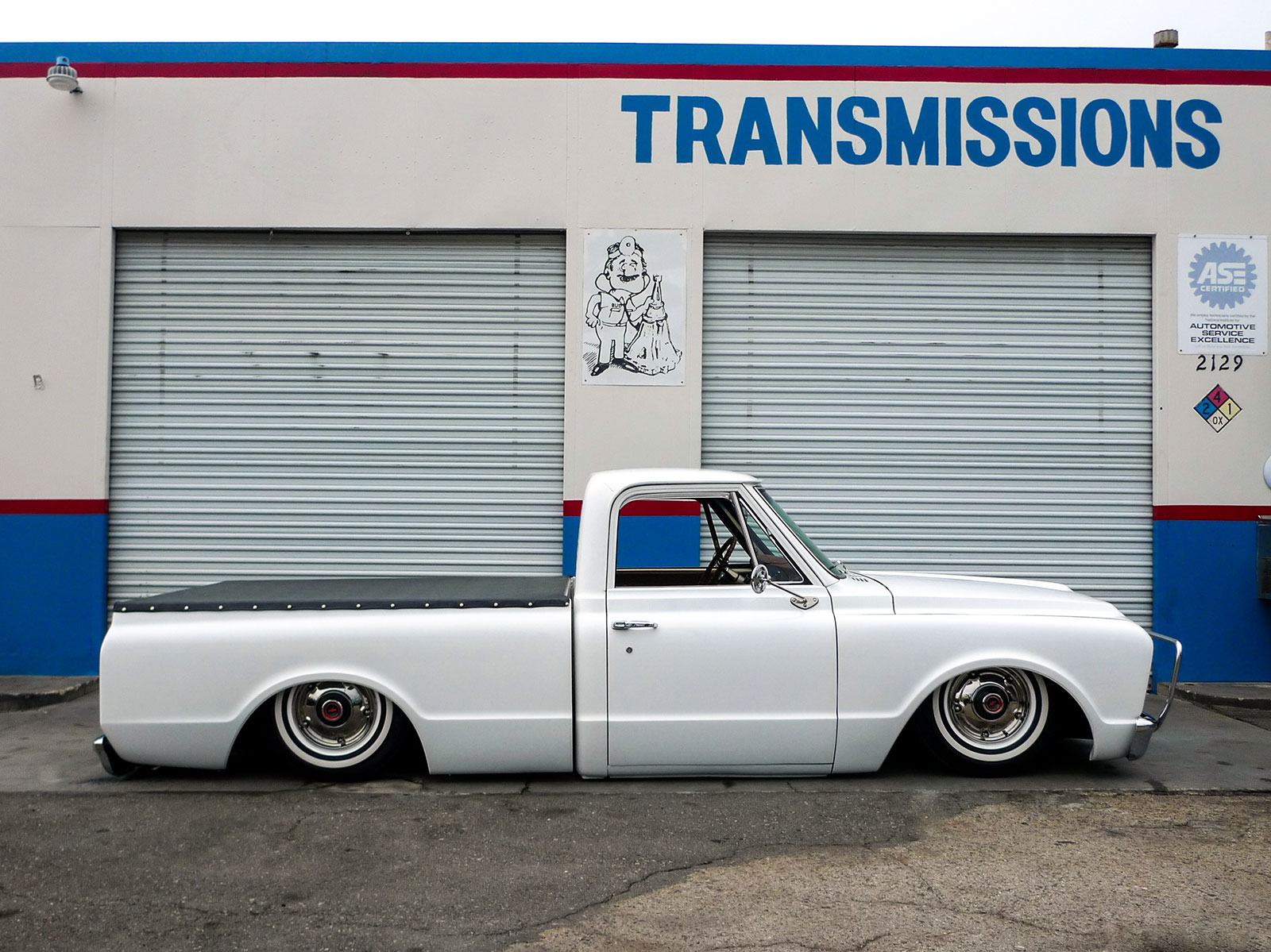 A trusty Delco alternator powers a big, booming Alpine-brand sound system. For the pleasantst of noises, Ray's exhaust system begins with Shorty headers from Speedway Motors. From there it's 2-1/2-inch twice-pipes with dual glasspack-type mufflers by Larry Gavilla of Gavilla Automotive. For keeping things cool, we see a four-row recore radiator by La Cadena Radiator Services.
Backing Ray's power package is a 700R4 transmission. It was freshened in-house at the family transmission shop, and it now takes orders from the truck's original column-type shifter.
Pretty obviously, there's no patina preservation going on with Ray's ride. When his father first began with this truck, it was faded but unmistakably Code 416 Chevy Truck Orange. Its current hue is closer to Code 12 Chevy Truck White, but only the painter knows for sure. Due propers for this truck's enduring urethane finish go to Kiko of Inland Empire Collision. Here his paintwork is over 10 years old and still like new.
Read More: 1953 Chevy Truck With Family Ties
Here once again, chrome plating is by Brothers Polish & Chrome. On the inside, the aforementioned '98 Silverado parts donor that gave its rear end for Ray's project gave its bench seat as well. From there, interior trim is by Max Meza of Max Upholstery. Topping this truck's original tilt column is its original steering wheel.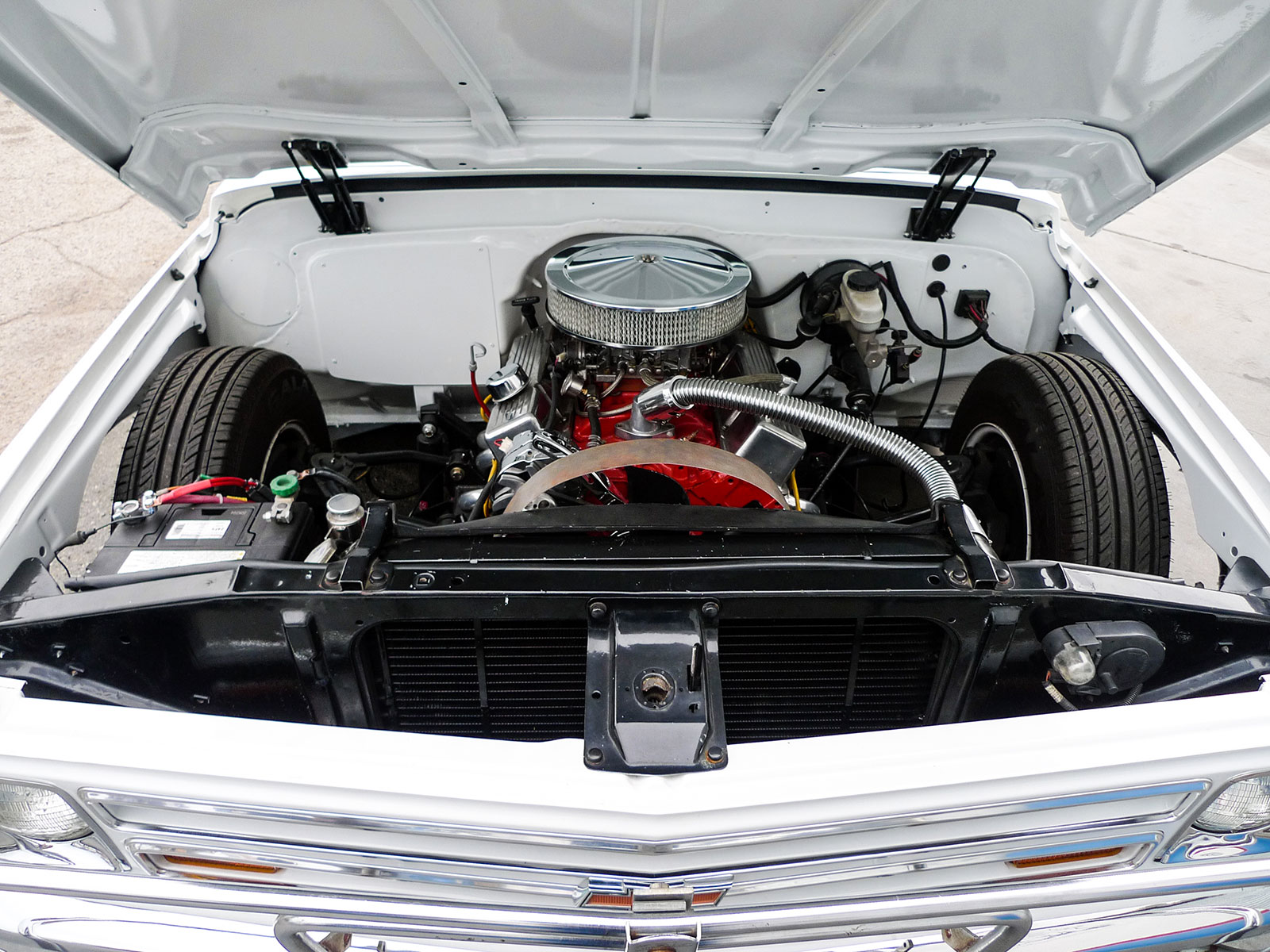 So, as we may have said earlier, the Aguilar brothers' Chevy pickups are both ongoing works in progress. As it's working out for G and Ray, growing up in the right environment makes for a great head start.
Click on this issue's cover to see the enhanced digital version of Distinct Duo: Aguilar Brothers' Project Trucks.