Shadow Rods Model T Named Goodguys' Street Rod of the Year 2023 Presented by Classic Instruments
Goodguys Rod & Custom Association congratulates Jon Hall and his 1927 Track Model T Roadster for being named their 2023 Classic Instruments Street Rod of the Year. This sought-after award was announced during the Goodguys 25th Summit Racing Nationals presented by PPG in Columbus, Ohio, July 8, 2023. Hall's roadster graced the July 2023 cover of Modern Rodding and has been featured in several build stories.
The all-steel 1927 Ford Model T body and frame from Shadow Rods of Saginaw, Michigan, is also where much of the initial sheet metal and machine work took place. The project then went to Greening Auto Company, in Cullman, Alabama, for more details and custom components.
Read More: GM A-Body Coilover Conversion Guide
The heavily modified Model T features a unique track-nose grille, providing a vintage racing flavor that is highlighted by the extremely low, sectioned body. The engine is a 327ci all-aluminum Flathead engine built by MotorCity Speed, equipment inspired by the historic Ford V8 engine. The chassis, wheels, headlights, and nearly every part of the roadster have been modified or custom-fabricated, making it an absolute one-of-a-kind street rod.
Congratulations to Jon Hall, Shadow Rods, and the team at Greening Auto Company for being named the Goodguys Street Rod of the Year.
SO CAL Speed Shop Offers Hot Rod & Classic Car Storage
SO CAL Speed Shop is now offering short- and long-term storage for your hot rod. You've come to know SO CAL Speed Shop for all sorts of valuable hot rod parts and apparel. Now they offer a place to store your hot rod.
There are three storage packages, Gold, Silver, and Bronze, payable by the year, six months, or monthly depending upon the package you select.
Read More: Classy Oldsmobile 442 Looks, With Modern LS Power
The basic features include 24/7 security, ultraclean facility for storage, car battery tending, regulated tire pressure checks, scheduled vehicle startups, and professional detailing (if desired).
For more info on the SO CAL Speed Shop Hot Rod & Classic Car Storage call (909) 469-6171 or visit sales@so-calspeedshop.com.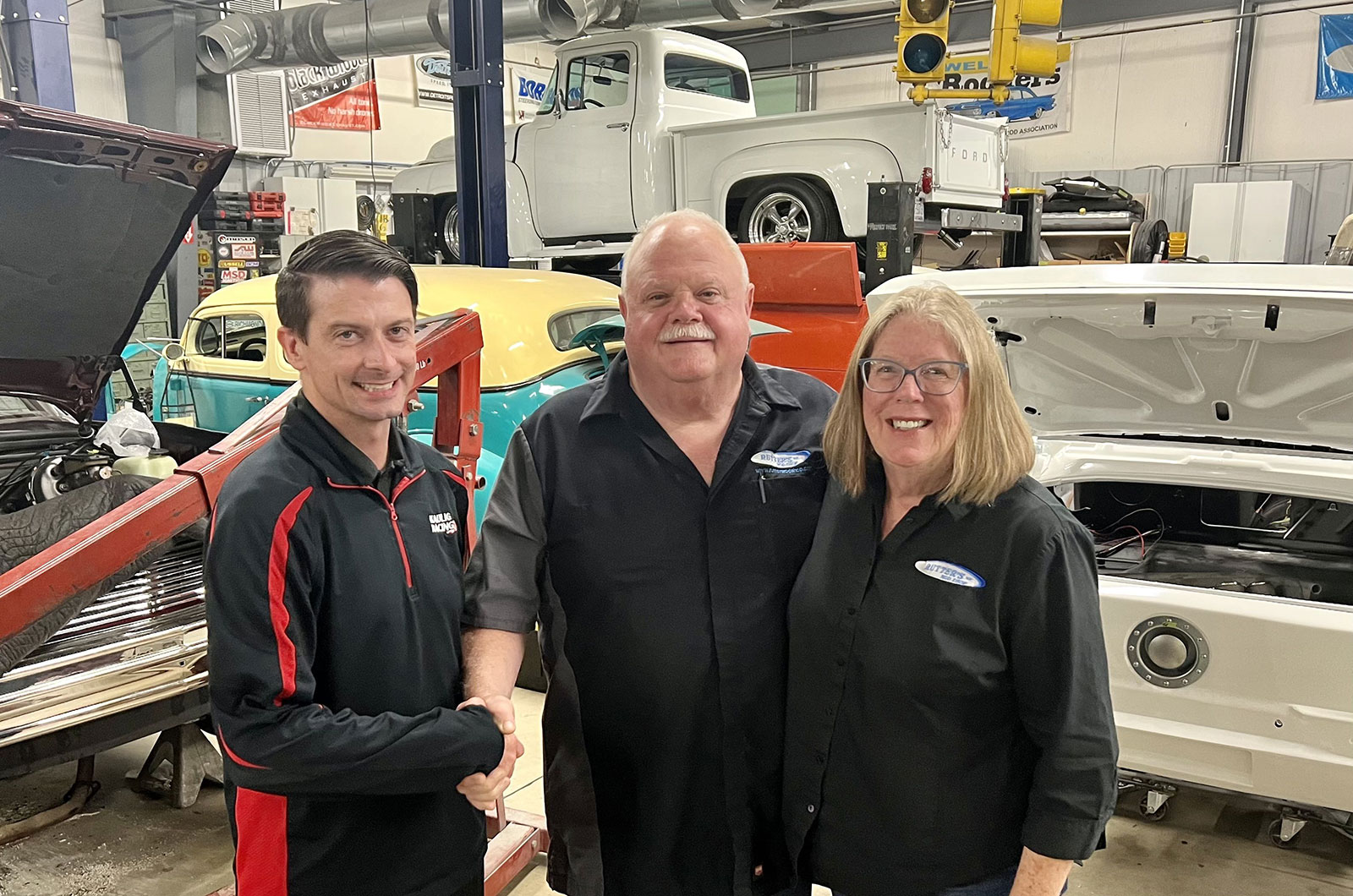 Rutter's Rod Shop Under New Ownership
After 25 years in business professionally, Rutter's Rod Shop founders Bob "Rutter" and Patt Rutlidge have retired from the business to relax and pursue other things in life, which they've always valued.
The new owner, Matt Swiderski of North Carolina, has a lifetime history of building high-performance vehicles and has had a longtime career working in NASCAR as crew chief and engineer for several teams such as Team Penske, Richard Childress Racing, and Kaulig Racing.
Read More: Old Anvil Speed Shop Built Scudellari's 1929 Ford Roadster
Matt has stated he intends to keep the high standards and reasonable policies set by the Rutlidges over the years. He plans to keep doing business as Rutter's Rod Shop and will continue offering the complete fabrication, installation, repair, and body/paint shop as well as the small parts showroom in the current 7,000-square-foot facility. The comprehensive website with e-commerce sales of parts is a great way he will continue marketing this business.
For more information about Rutter's Rod Shop call (704) 462-1050 or visit ruttersrodshop.com.