Alex Finigan's 1955 Chevy 210 Revives a Signature Look
By Chuck Vranas – Photography by the Author
It doesn't matter what era you've grown up in since the mind of a young hot rodder is always at work. Regardless of whether you're sitting in class or daydreaming in the lunch room, you're always making plans to build the ultimate hop-up. Many times the dreams are just that, often staying locked up with hopes that they might get nudged into reality as soon as an opportunity arises. For Alex Finigan of Marblehead, Massachusetts, he didn't get to build the 1955 Chevy he envisioned in 1965 while attending high school until now, and all we can say is it was worth the wait!
Growing up in North Arlington, New Jersey, Alex was no stranger to all the local street racers in his area since he worked for his cousin, Bobby Burgess, who owned NHR Speed Shop in nearby Harrison. It was the exposure of selling all of the latest performance goods to clients as well as spending weekends at Island Dragway supporting the shop's 1955 Chevy and 1956 Corvette that caused his head to spin in a haze of nitro and burnt rubber. He eventually saved enough to buy a 1955 Chevy 150 with aspirations of building it into a street sleeper, however it never materialized. As the years passed, plenty of muscle and sports cars moved through his garage, but he never forgot the one car that kept him awake at night.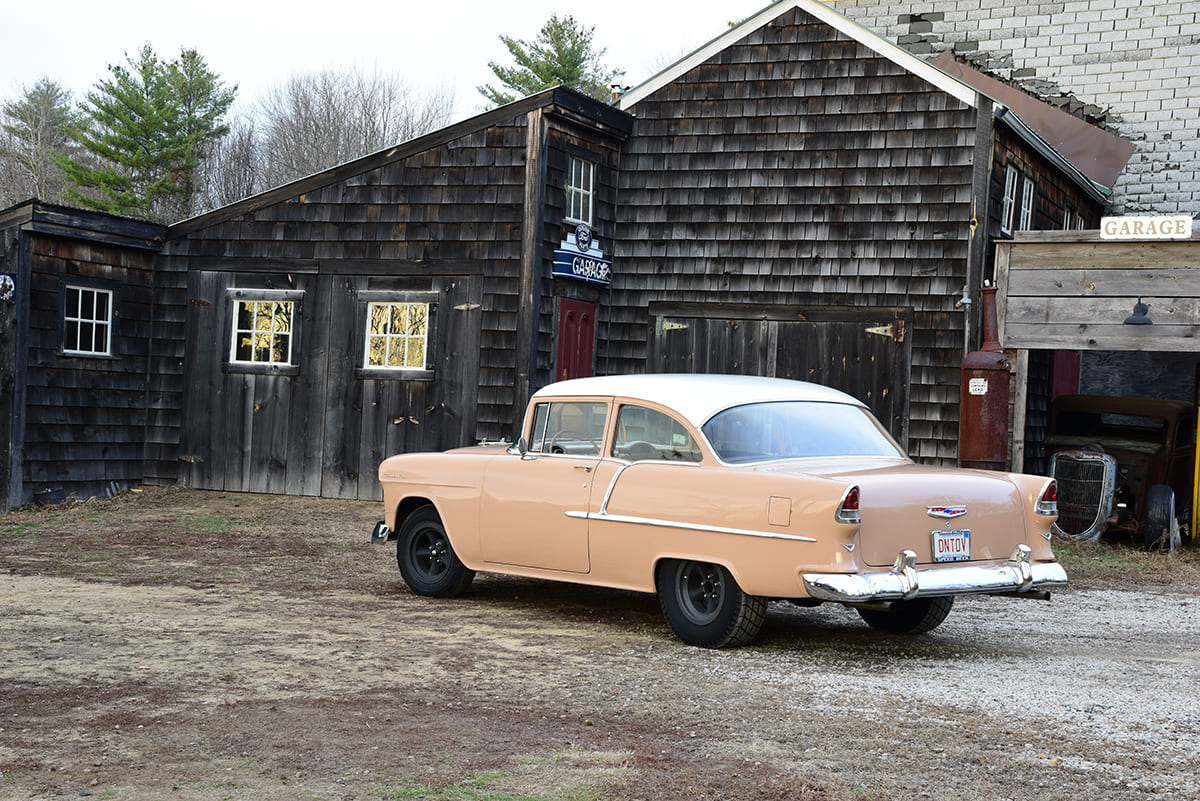 Alex's original formula to create a perfect early '60s vibe fused just the right amount of creative restraint where subtleties speak volumes, especially when you're crafting a Saturday night special. Remembering back, it was always the cars with the least amount of features that stole your cash when you ran while vying for street domination. The ones with radiused rear wheelwells, hood scoops, and all the flash were an obvious sign of bigger things under the wrapper, warning you not to take the bet. Alex finally made the decision to dust off his high school aspirations and started the search for a suitable 1955 Chevy 210.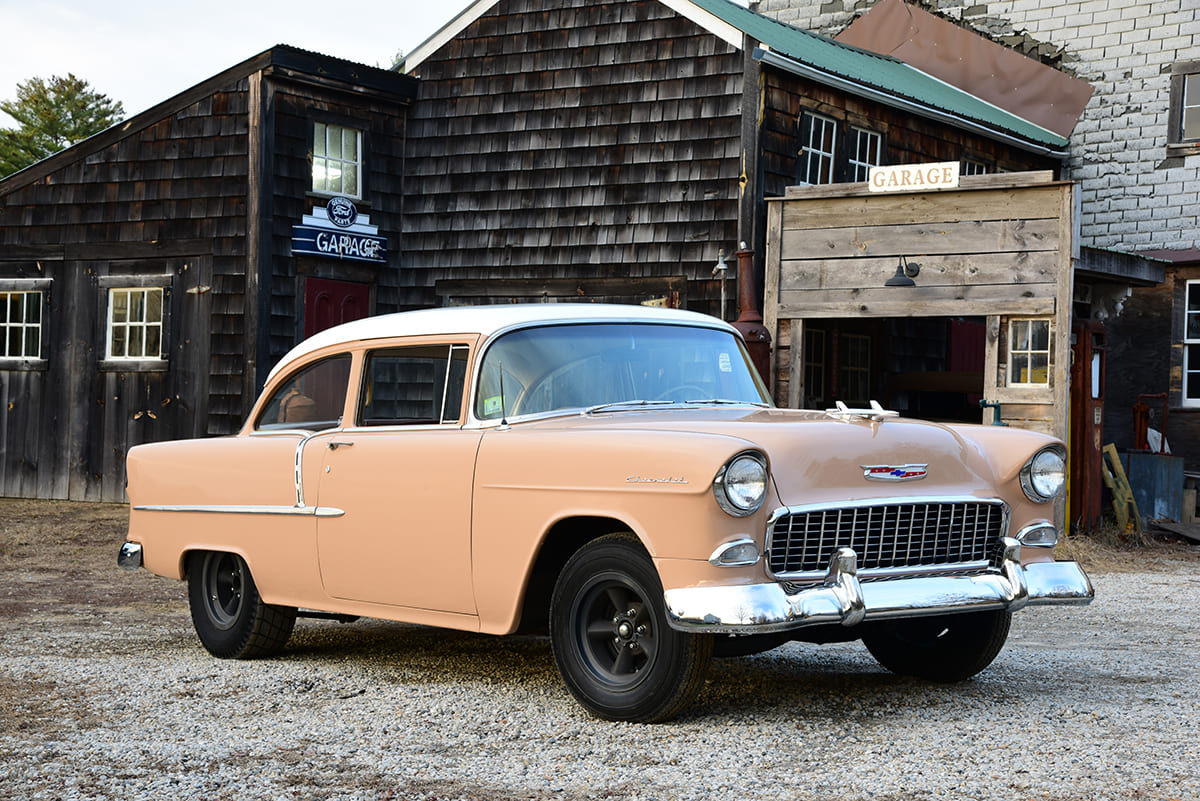 In Alex's case he struck gold when a friend gave him a lead on a one-owner car being offered by a broker in California. After exchanging calls, pictures of the 210 proved that it was indeed rust-free. It was amazing that the car had only been repainted once in its lifetime and still possessed the original 265ci V-8 and Powerglide trans. The only twist was that it was an odd color combination that he had rarely seen before, making its presence even more alluring. Without skipping a beat, a deal was made, swapping cash for keys, and the car was shipped back East. Upon delivery it was even nicer than described, having never even been undercoated, damaged, or suffered any corrosion damage, making it the perfect platform to transform.
Alex wasted no time and delivered his newfound treasure to Mark Allin of Precision Auto Restoration in Exeter, New Hampshire. The pair discussed what it would take to bring his ideas to life and got started, focusing first on the chassis. Since the factory frame was in mint condition, a decision was made to freshen it up, starting with the suspension. Out back, a new Currie 9-inch rear spins 3.73:1gears linked to matching 31-spline axles suspended in place by a combination of new leaf springs and tube shocks from Danchuk along with period-correct Traction-Master Bars.
To rekindle that new-car feel up front, the factory IFS was given new life thanks to a complete rebuild with parts from Danchuk, including new coil springs, tube shocks, ball joints, and all steering-related components. When it's time to stop, a CPP dual master pushes fluid through steel lines to factory 11-inch drums freshened up with new parts from Danchuk. Alex then nailed the look with a set of vintage American Racing magnesium five-spoke wheels, sized 15×7 rear and 15×6 front, wearing Towel City Cheater Slicks and Coker Tire radials, respectively.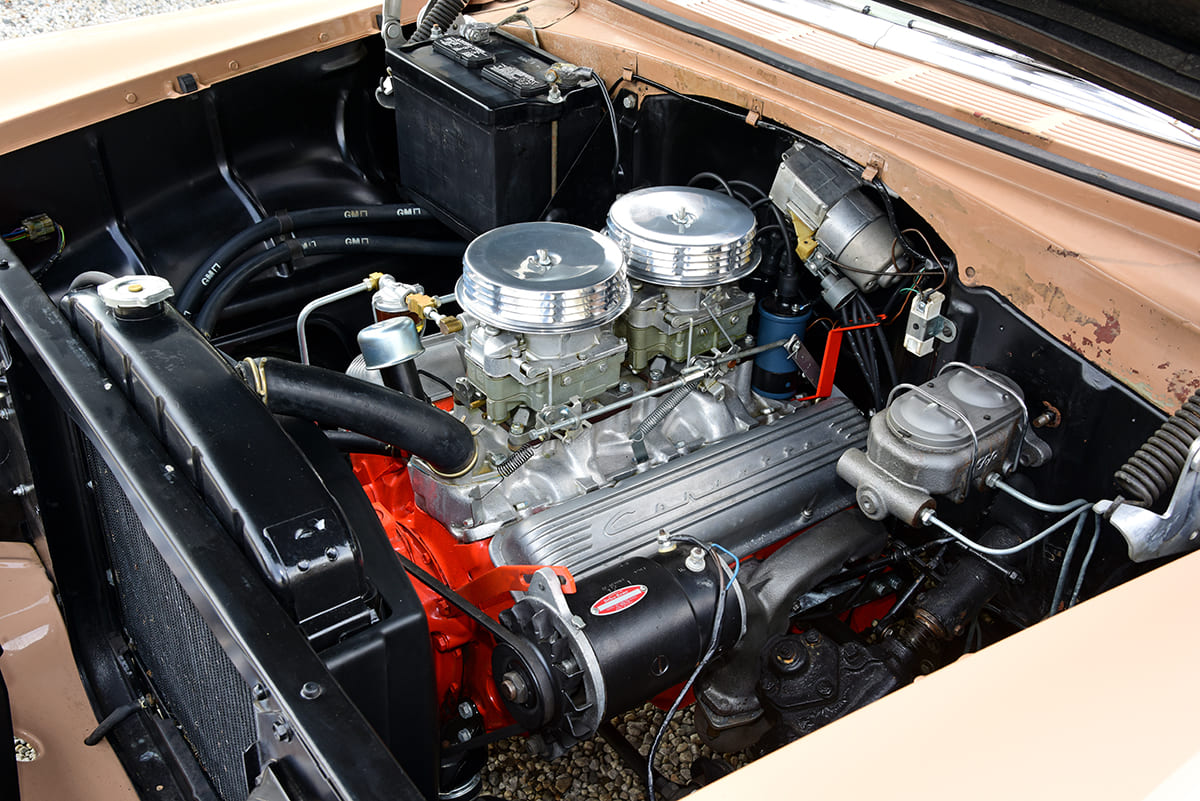 When it came to updating the powerplant it was as if Alex reached into the parts bin in 1965 while working at the speed shop. Having sourced plenty of go-fast goods over the years, he sent his parts to United Engine Specialists in Wichita, Kansas, to build his ultimate engine. Starting with a 1964, 327ci iron-block, the team bored it 0.030 over and filled it with a renewed factory rotating assembly capped with flat-top pistons getting bumped with a Schneider solid lifter cam. Up top, a set of massaged iron camel-hump heads make plenty of power, especially when matched to a 1956 Corvette dual-quad intake sucking down fuel through a pair of Carter WCFB carbs. A factory ignition packing power from PerTronix lights the fire while Corvette Ram Horns dump gases through a 2 ½-inch exhaust with Turbo mufflers. Clean getaways come from a Richmond Super Street five-speed trans linked to a custom driveshaft.
Looking at the body it was obvious there was a perfect patina on everything, from the Navajo Tan and India Ivory exterior, to the chrome and trim giving it a well-earned personality. Alex had Eli English from Traditional Speed & Custom in Pittsfield, New Hampshire, buff the paint to bring it back to life as well as touch up any minor areas in need. Inside, the factory dash features original gauges plus a column-mounted Sun tach and underdash Stewart-Warner dials to monitor the vitals—both installed by Mark—while English adapted the 1959 Corvette steering wheel to the factory column. Picking gears are quick thanks to a Hurst stick, while the original seats wear tidy brown and tan seat covers accented by brown carpeting.
The car sees plenty of miles on New England roads with Alex flashing a teenage grin as he relives the past, and to us that's as real as it gets!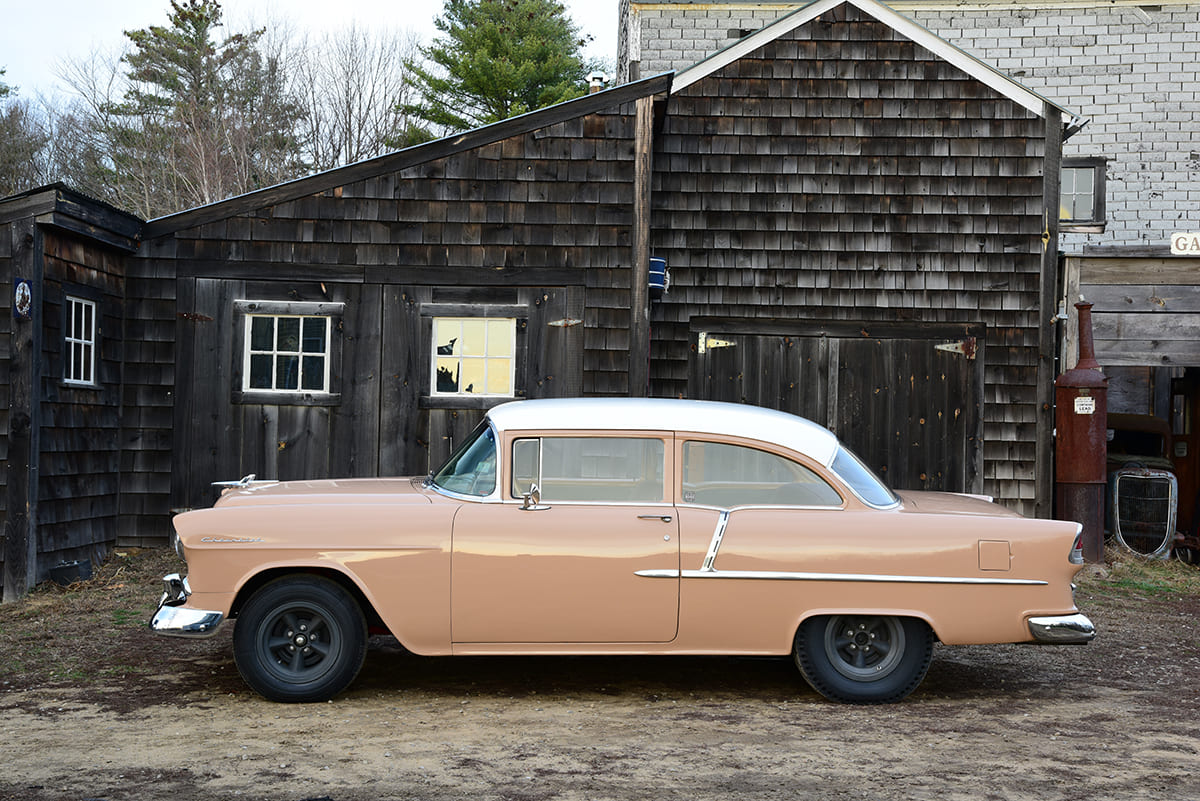 TECH CHECK
Owner: Alex Finigan
Marblehead, Massachusetts
Vehicle: 1955 Chevy Bel Air
Engine
Type: 1964 Chevrolet V-8
Displacement: 327ci to 331ci
Compression: 9.5:1
Bore: 0.030-over
Stroke: Stock
Cylinder Heads: Iron camel-hump, 461 casting
Rotating Assembly: Stock
Valvetrain: 2.02 intake/exhaust
Camshaft: Schneider 142F, solid lifter
Induction: 1956 Corvette dual-quad intake/Carter WCFB carbs
Ignition: 1956 Corvette with PerTronix
Exhaust: Corvette Ram Horns, 2 ½-inch exhaust, Turbo mufflers
Output: 330 hp
Drivetrain
Transmission: Richmond Super Street five-speed
Rear Axle: Currie 9-inch, 3.73 gears
Chassis: Stock
Steering: Stock
Front Suspension: Stock IFS
Rear Suspension: Stock leaf springs, shocks, Traction Master Bars
Brakes: Stock 11-inch drum
Wheels & Tires
Wheels: Vintage American Racing 15-inch magnesium
Tires: Towel City Cheater Slicks rear, Coker 185R15 front
Interior
Seats: Factory bench
Upholstery: Two-tone brown and tan
Gauges: Stock, Sun tach, Stewart-Warner
Steering: 1959 Corvette
Carpet: Brown
Shifter: Hurst
Exterior
Paint: Navajo Tan, India Ivory
Hood: Stock
Grille: Stock