A 1970 Nova Built Simply for Simplicity
By Nick Licata – Photography by Jason Matthew
With the early '70s came a good number of appealing and capable new cars from the auto industry, yet there was a slew of models that failed to achieved high rankings as well. Cars such as the 1971 Ford Pinto, Chevrolet Vega, the 1975 AMC Pacer, and the Plymouth Sapporo (we'd never even heard of that one), just to name a few. But nowhere on the '70s "sucky car" list was the Chevrolet Nova. And for good reason: It had nice styling and the car's engine was known for durability and reliability. Today, the Nova hasn't achieved muscle car supremacy like the 1969 Camaro, but it does have a substantial following. Finding one in decent condition can still be had for a relatively reasonable price, but the popularity of these cars continues to grow and so does their market value. With that said, the aftermarket has responded positively by offering a wide variety of restoration parts as well as numerous performance enhancers.
Many of us remember "plain Jane" '70s Novas as "grandma" cars, as most were outfitted with the L6 or a 307ci V-8. Yes, the Nova was offered with a 350ci in which over 34,000 people took advantage but only 5,567 Novas were armed with the 396ci big-block powerhouse. But sales numbers weren't what grabbed the interest of Hamilton Santo. He's always had a keen eye for the car because of its appeal and ease of accepting an LS engine swap, which enabled him to fulfill his dream of building an LS-swapped Nova.
Finding the car on craigslist, Hamilton described it as a "brand-new shell." With bodywork less of a priority at the beginning stages of the build than most vintage muscle car projects, he and his son, Erick, dove into the project with able hands, a garage full of tools, and a $17K budget.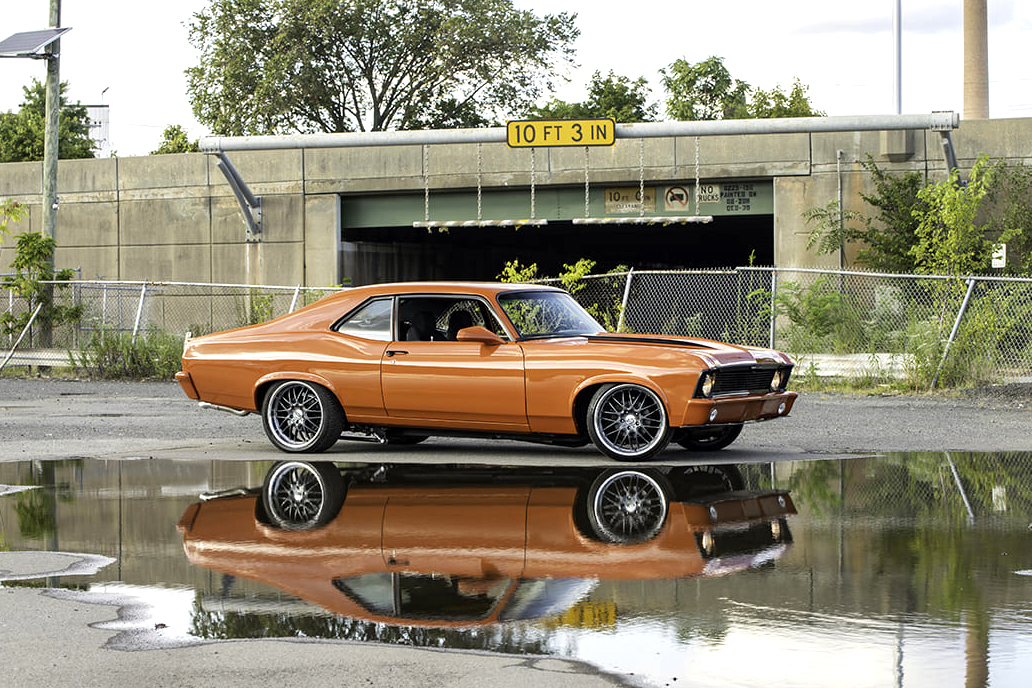 With a blank canvas and a relatively small budget for the build, Hamilton and Erick did manage to retain the car's stock rear suspension and bolted up a set of Calvert Racing CalTracs traction bars. Up front, the stock suspension bits were replaced with QA1 coilovers shocks and springs. Right Stuff disc brakes with 11-inch rotors reside on all four corners and are managed by a Right Stuff master cylinder and brake booster. Michelin Pilot Sport rubber (225/30R19 front, 245/35R19 rear) wrap around a set of custom 19-inch wheels.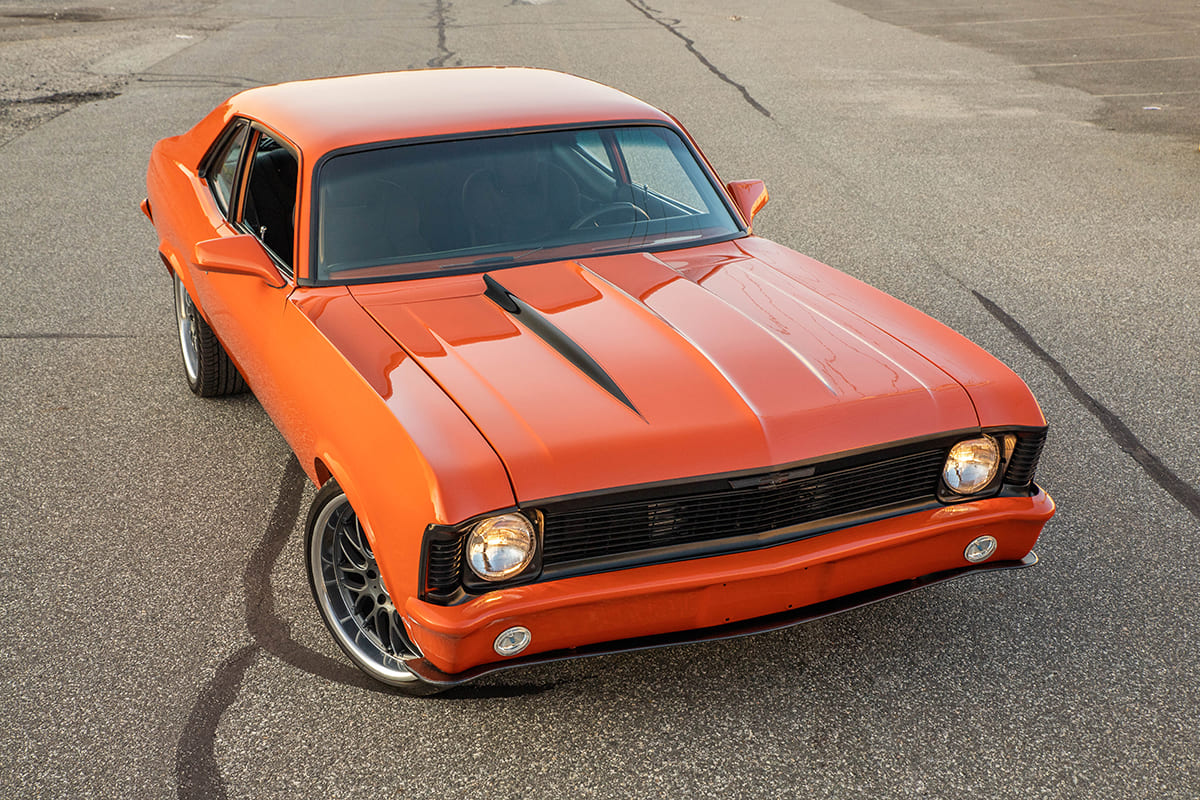 From day one the plan was to arm the Nova with a modern LS powerplant–nothing over the top, but an engine with a good amount of giddyap and substantial reliability. That combination was found in a 6.0L, 396hp LS2 straight out of a 2006 Pontiac–not earth-peeling power by today's standards, but enough go for what Hamilton had in mind to keep his Nova on the simple side. The Trans-Dapt shorty headers and Pypes 2.5-inch exhaust offer a few more ponies and just the right rumble at idle, yet announce the car's presence when Hamilton mashes the pedal. A Spectre cold-air intake supplies plenty of cool atmosphere to help keep the engine temps in check. Should he feel the need for a power adder, the LS2 is an excellent base, which responds well to such upgrades.
A 4L60E transmission sends power to a 12-bolt rearend with a limited slip diff and 3.73 gears. Jegs' 30-spline axles offer additional strength and security.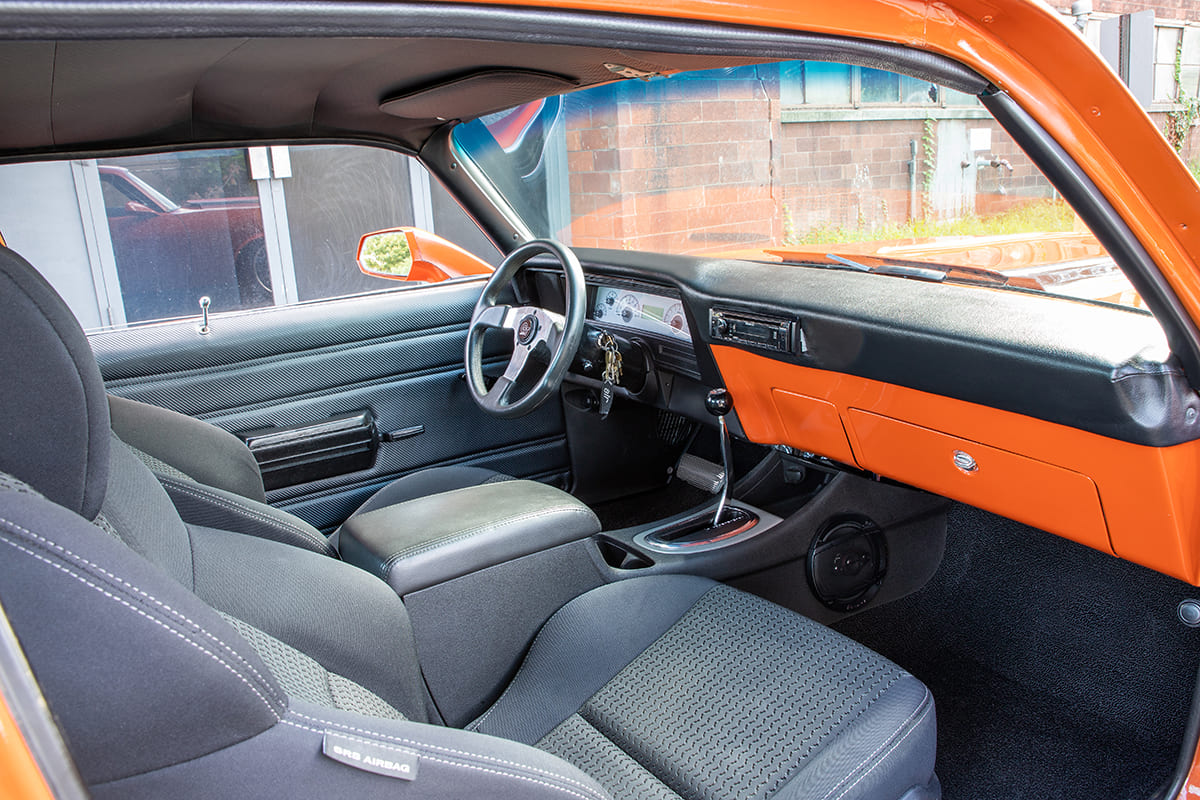 The interior takes on a modern approach focused on comfort with the addition of seats from a 2010 Genesis, while the stock dash carries on an updated look and today's technology with Dakota Digital gauges. Hamilton and his wife, Maria, took on installing the rest of the interior, keeping this build a family project.
The exterior consists of mainly original sheetmetal, sans the 2-inch cowl hood sourced from Ground Up, and the attention-grabbing custom Orange Inferno paint gives the Nova a rather vocal personality even when the car is sitting still.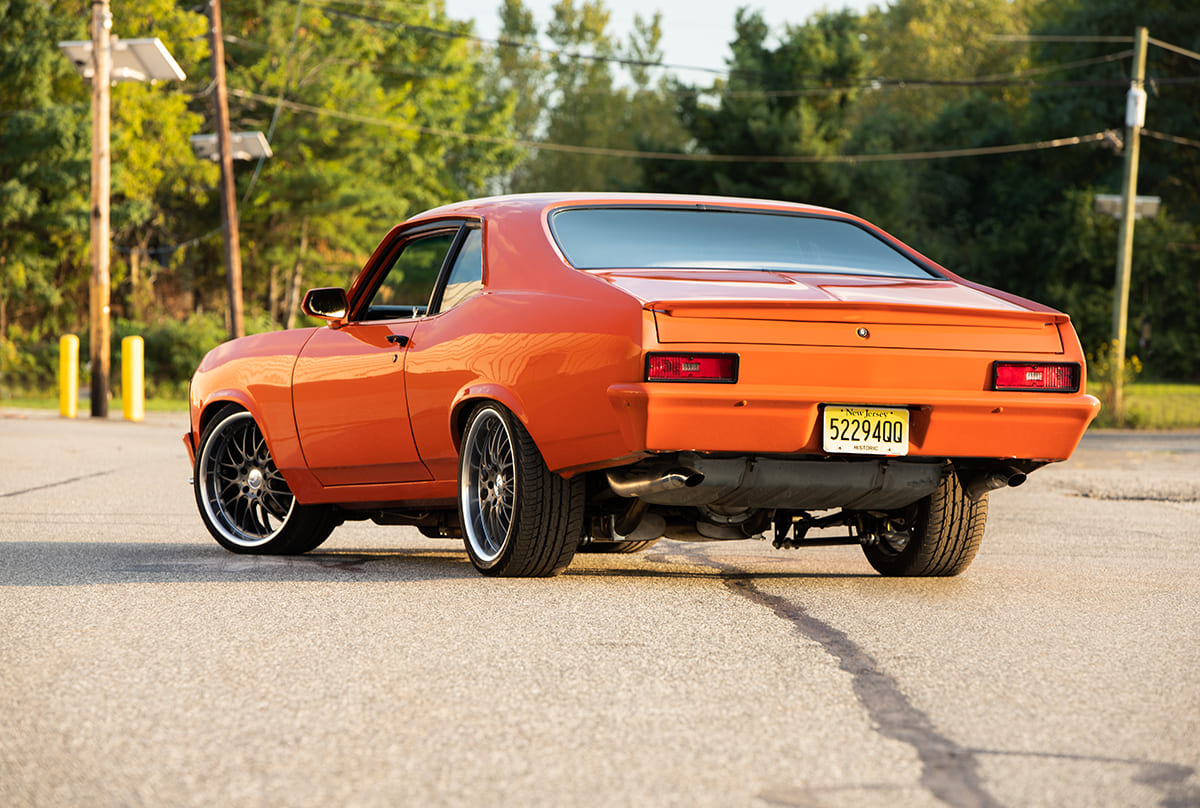 A diligent work ethic by the father and son, with mom stepping in when necessary, brought the project to fruition in a mere year and a half–a relatively short period of time for a vintage muscle car undertaking. Yes, they ran into a few snags here and there, such as sourcing the proper oil pan, getting the engine and transmission electronics on speaking terms, and working out all the little bugs that happen with a fresh build. Most projects tend to offer a bit of drama, but as Hamilton said, "firing up that LS2 for the first time in my favorite car was the highlight of the whole process and made the little hiccups seem trivial."
We asked Hamilton if he'd take a different route on any aspect of the build if he were to do it all over again. "Yes, next time, I'd wouldn't skimp on cheap parts," he says. "As I ended up replacing those for more expensive and better ones, anyway."
Bringing the car to life was a family affair, and even with a limited budget, Hamilton now has the ride of his dreams, which makes this Nova even more special at any cost.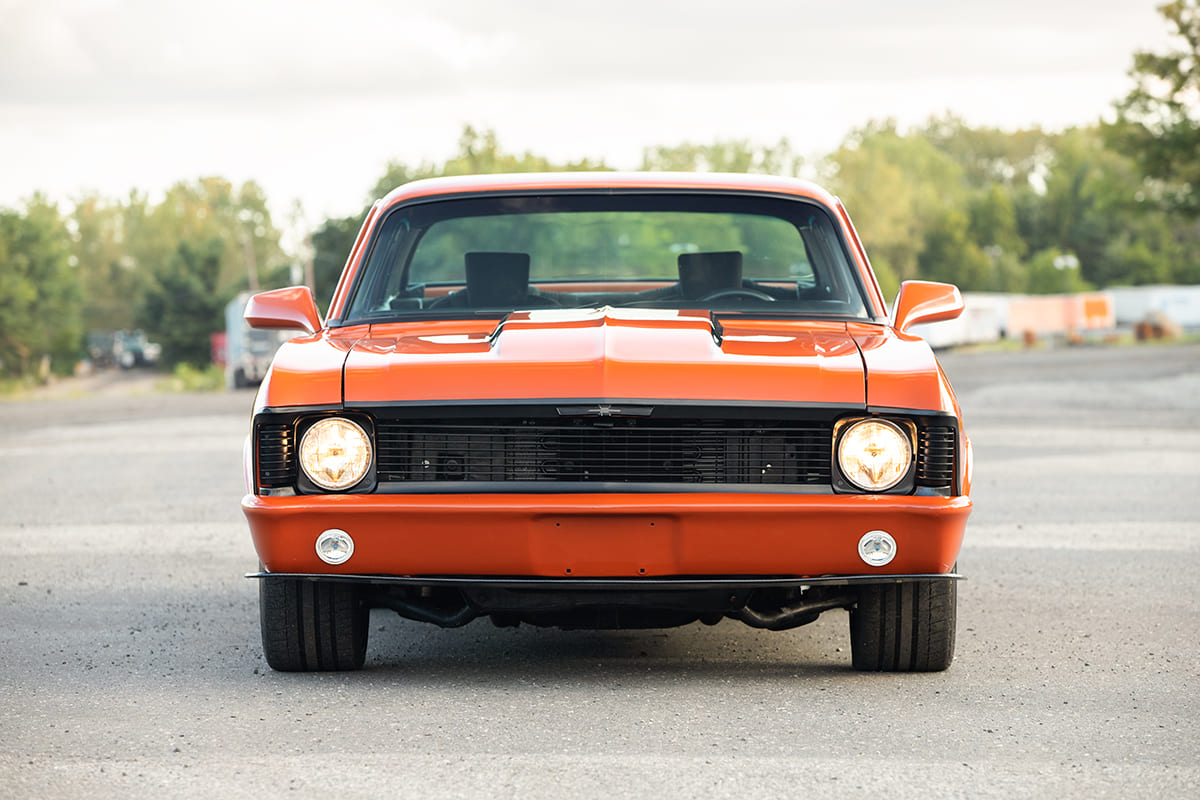 TECH CHECK
Owner: Hamilton Santo
City and State: Little Ferry, New Jersey
Vehicle: 1970 Chevy Nova
Engine
Type: GM LS2
Displacement: 364ci
Compression Ratio: 10.9:1
Bore: 4.000 inches
Stroke: 3.622 inches
Cylinder Heads: Aluminum cathedral port, 2.00/1.575 stainless steel valves, 65cc combustion chambers
Rotating Assembly: Cast-iron crankshaft, powdered metal connecting rods, hypereutectic aluminum pistons, six-bolt main bearing caps
Valvetrain: Aluminum 1.7 roller rocker arms, 7.35-inch pushrods, hydraulic roller lifters
Camshaft: Hydraulic (0.520/0.521-inch lift, 204/213 deg. duration at 0.050)
Induction: Stock manifold, 90mm throttle body four-bolt silver blade, 34 lb/hr at 58 psi fuel injectors
Exhaust: Trans-Dapt shorty headers, Pypes 2.5-inch stainless steel exhaust system, and mufflers
Output: 395 hp, 400 lb-ft
Drivetrain
Transmission: GM 4L60E
Rear Axle: GM 12-bolt, limited-slip differential, 3.73:1 gear ratio, Jegs 30-spline axles
Chassis
Front Suspension: Stock with QA1 coilover shocks
Rear Suspension: Calvert Racing CalTracs Drag Profile traction bars
Brakes: Right Stuff disc brakes with 11-inch rotors front and rear; Right Stuff master cylinder and booster
Wheels
Wheels: Mesh-style 19×8, 19×10
Tires: Michelin Pilot Sport 225/30R19 Front, 245/35R19
Interior
2010 Genesis cloth seats
Upholstery: Vinyl
Carpet: Black loop
Steering: Stock
Shifter: Hurst
Dash: Stock
Instrumentation: Dakota Digital gauges
Audio: Kenwood head unit, Pioneer Amp, 5-inch speakers in console
HVAC: None
Exterior
Bodywork: N/A
Painter: N/A
Paint: Custom Orange Inferno
Side Mirrors: 2010 Camaro
Front Spoiler: Custom
Rear Spoiler: Monte Carlo
Hood: Ground Up 2-inch cowl
Grille: Stock
Front Bumpers Stock modified
Rear bumper: Stock