ED NASH'S '72 CAMARO
By Nick Licata – Photography by Kevin DiOssi
You ever go to a car show just to look around and appreciate the cars with no intention to buy? We do all the time, same goes for Ed Nash … usually. He and his wife, Terry, go to these events because they like vintage muscle cars and to promote their business, Chassis Crafters in Daytona Beach, Florida. "We were at a local car show when Terry spotted a cool Chevy pickup, and while giving it a look she struck up a conversation with the owner, Jeromie Fehrenbach, from Sterling Customs Hot Rod Shop. She told Fehrenbach that they brought a customer's '71 Camaro to display in their booth," Ed relays. "[Fehrenbach] mentioned he had '72 Camaro project for sale at his shop in Blue Ridge, Georgia, that a customer had started then backed out." Coincidentally, Blue Ridge is where Ed and Terry spend a good amount of time vacationing.
On their next trip up they made a point to stop by Fehrenbach's shop to check out the Camaro. Turns out the owner of the project was going for a patriotic look as the radiator and core support were painted blue and white and had red suspension components. "It wasn't our style and the body needed some work, but it came with a freshly built 10-bolt with a new Auburn Gear centersection, so we ended up buying the car," Ed says. "It was basically just a shell, a rearend, and some trim pieces."
More Camaro Goodness: Pro Touring Perfection Lives in This 1968 Camaro
Ed is well-versed in second-gen Camaros, so he was itching to start digging into the project, unfortunately when you own a hot rod shop, personal vehicles take a back seat to customer cars, so the build took several years as Ed and his righthand man Steve Ward were only able to pick at it when the shop got slow or afterhours.
Being a chassis guy, Ed provided the F-body with one of his shop's custom Chassis Crafters' subframes and loaded it with C6 Corvette spindles and rack-and-pinion steering. Double-adjustable coilover shocks and 550-pound springs came from QA1 and he dialed in a splined NASCAR-style torsion bar. Out back is a Chassis Crafters four-link rearend decked out with 250-pound springs and QA1 dampers. A Panhard bar ensures everything remains centered.
Sticking with the Corvette goods, Ed employed C6 binders on all four corners (13-inch rotors in front, 12-inch rotors in rear) that work in concert with a manual Wilwood brake master for more-than-efficient stopping power. A set of Coy's C5 Gunmetal wheels (18×8 front, 20×10 rear) join the cast and are wrapped in Nitto NT555 rubber, 245/40R18 and 315/35R20, respectively. Ed and Steve grafted in a pair of Detroit Speed mini-tubs to provide ample real estate for the modern-sized rolling stock out back.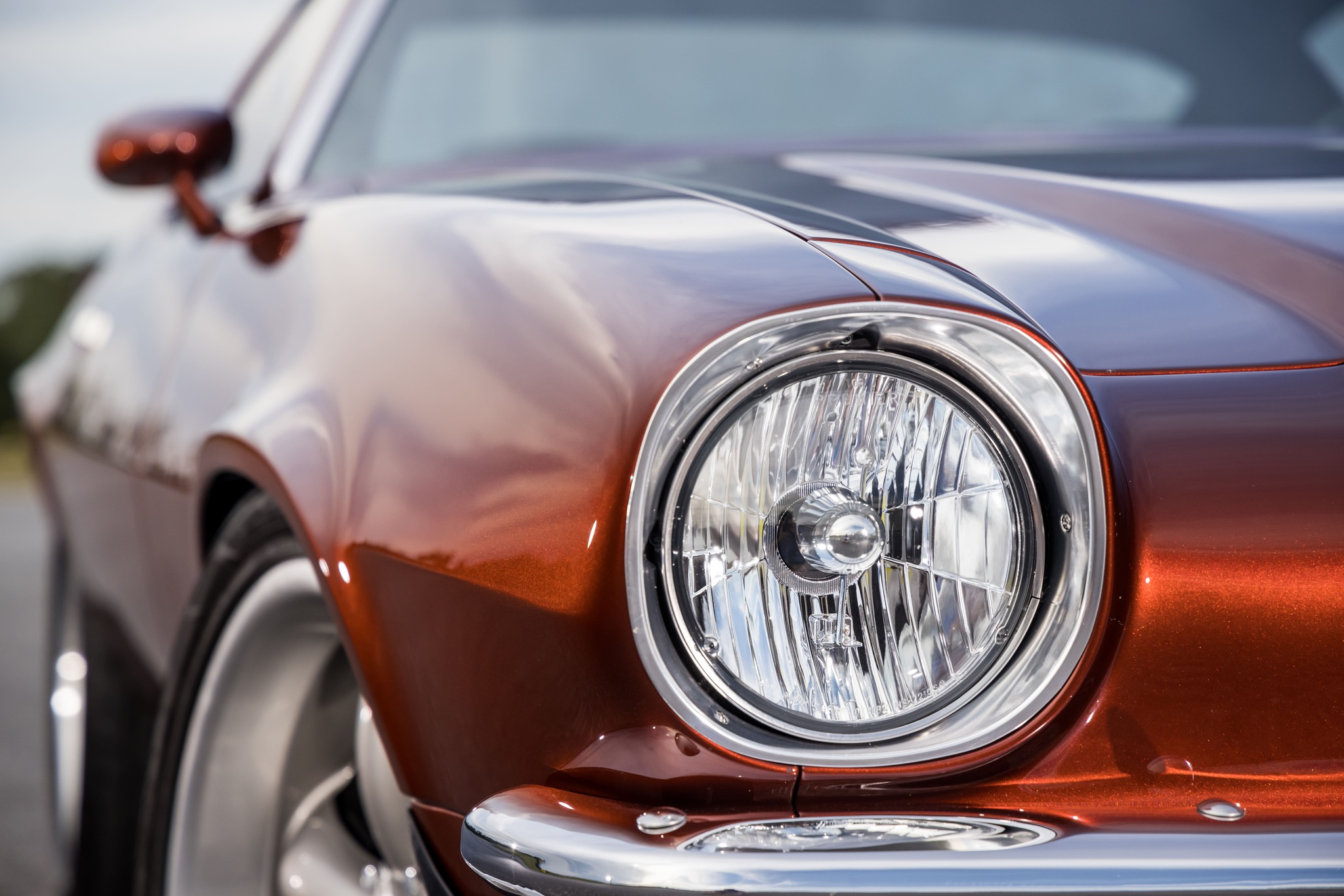 With the suspension dialed in, Ed motivated the second-gen with a 5.3 LS yanked from a crushed Tahoe. He upped the power with a Texas Speed camshaft and valvesprings, then bolted on a set of Texas Speed ported and polished heads for a more potent performer. A FiTech intake houses Holley Terminator X EFI system, which supplies a precise fuel/air mix to the mill. That intake tube is a Chassis Crafters metal-fabbed one-off topped with a Vibrant Performance element. Ultimate Headers are mated to a custom 2.5-inch 304 stainless exhaust topped with MagnaFlow mufflers. Ed spruced up the engine bay with a smoothed firewall, custom-painted Eddie Motorspors valve covers, CVF Racing hood hinges, and set of in-house custom-fabbed inner wheelwells all held together with Diamond Engineering fasteners. Ed confessed he wasn't out to set any land speed records with this car, but with over 450 hp it offers enough grit for weekend autocross events and makes for a pretty badass street machine. Ed also uses the car as a calling card to show off his shop's ability to build gorgeous vintage muscle cars.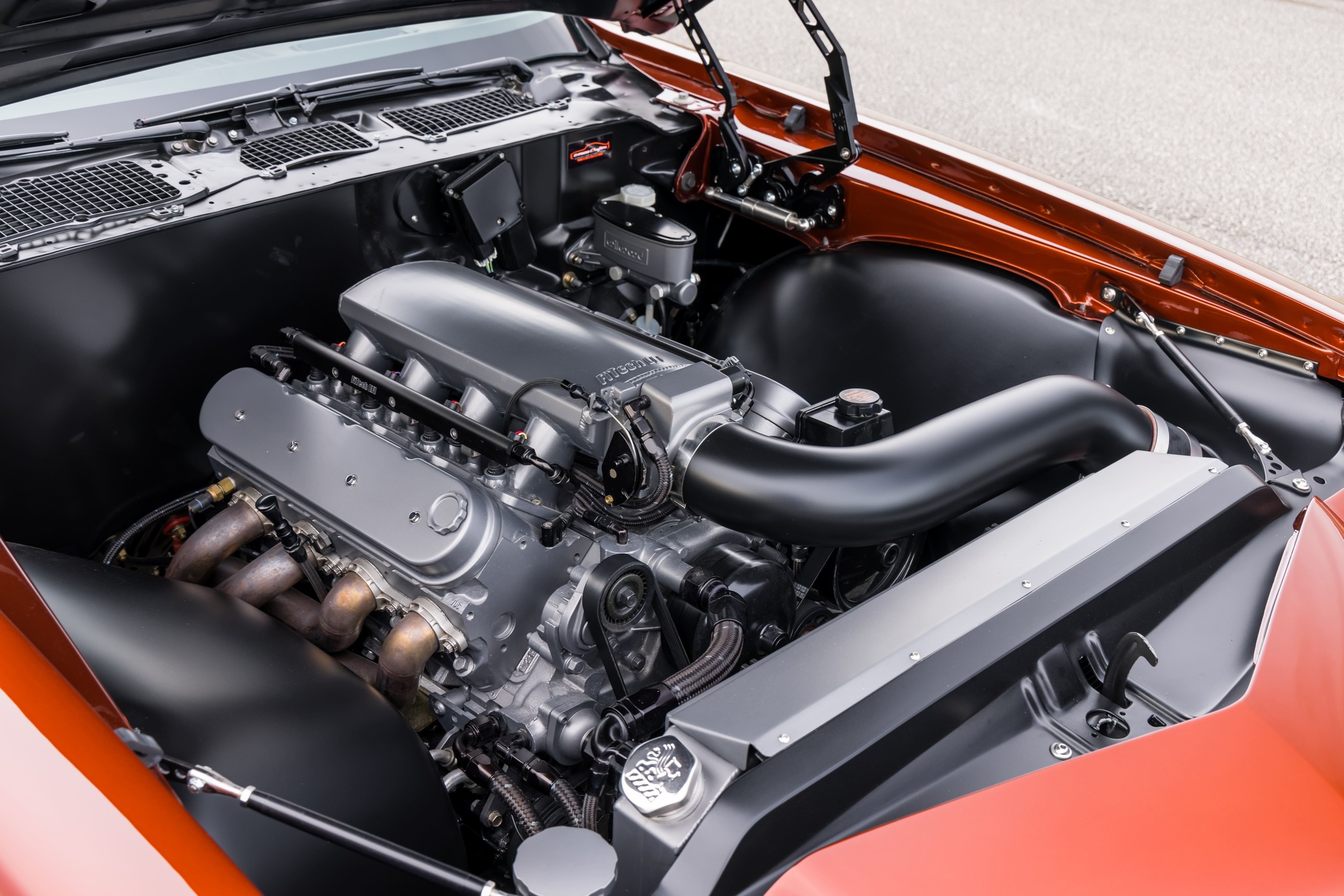 Three pedals were a must for Ed, so he incorporated a TREMEC T56 transmission backed by a McLeod clutch as he prefers manuals over the simplicity of driving an automatic. Ed employed a Lokar shifter for gear changes, and he stuck with the aforementioned 10-bolt and Auburn Gear differential loaded with 4.30:1 gears, a limited slip posi, and Moser axles.
Check Out Jay Doerfler's 1969 Camaro: Supercharged 1969 Camaro
The interior offers a plush scene with Dakota Digital VHX-series gauges housed in the stock dash. Steve Ward took charge of wiring in an American Autowire Classic Update kit and installed a sound system consisting of a Pioneer head unit with Digital Designs speakers and a Sundown Audio 10-inch sub. The system provides ample juice to crank up AC/DC while the Vintage Air A/C system keeps Ed and Terry cool as cucumbers.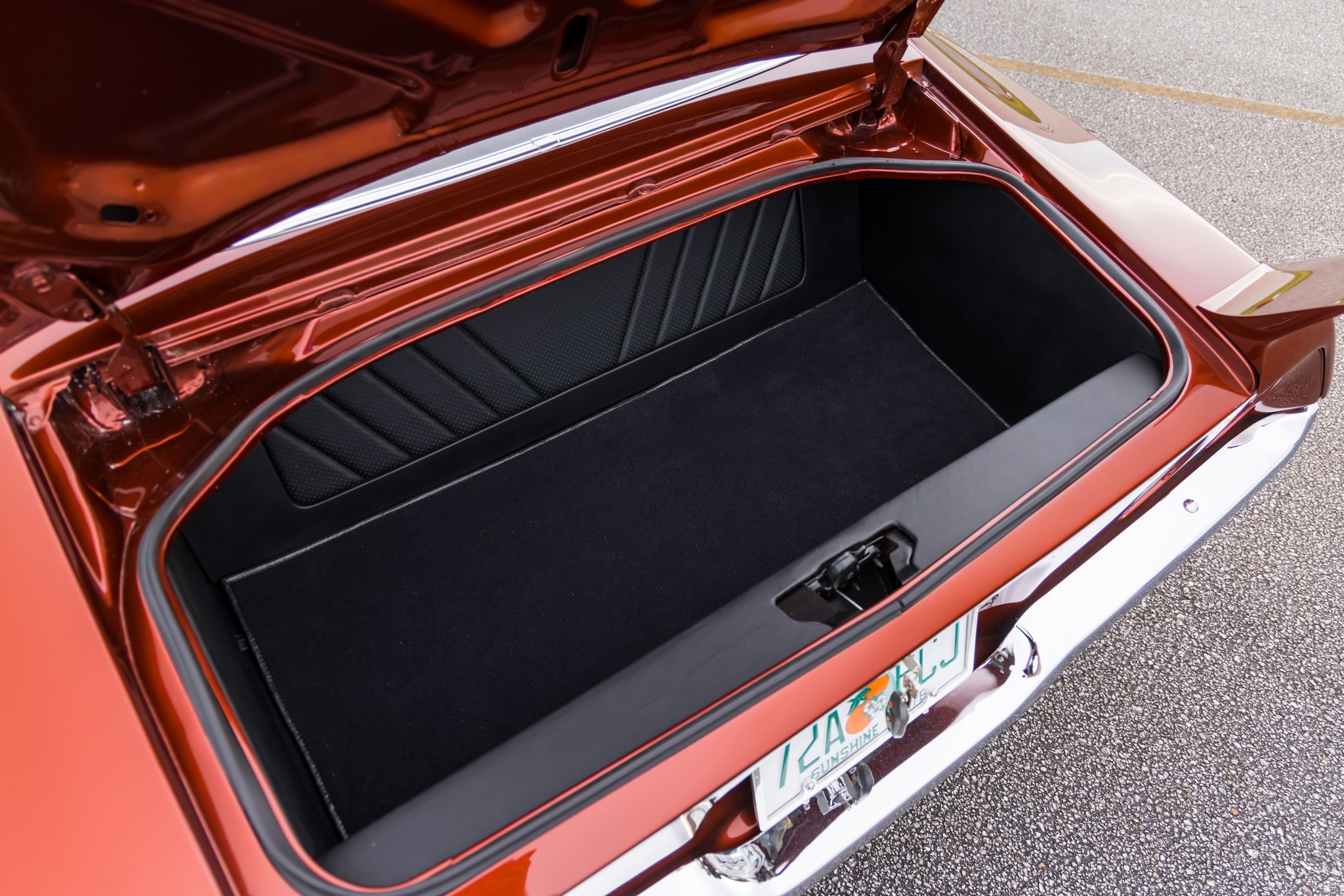 Tony's Upholstery (Edgewater, Florida) added some flair to the interior with black leather-covered fourth-gen Camaro seats and leather-wrapped aluminum door panels. The orange stitching is a subtle touch that adds a sporty flavor. The Midnight Series Lokar pedals and shift lever look on point with the interior's black theme.
Ed took on the shell and replaced the quarter-panels with fresh AMD sheetmetal, then smoothed and primed the body and set the gaps prior to laying down the custom Axalta pigment. It started out as a Hot Hues Toffee then Ed concocted a special blend he calls "Georgia Clay." From there Ed's custom bits consist of deleting the cowl vent, cut out custom rear pan exhaust pockets, and removed the marker lights–all mild touches carefully done to not upset GM's original design.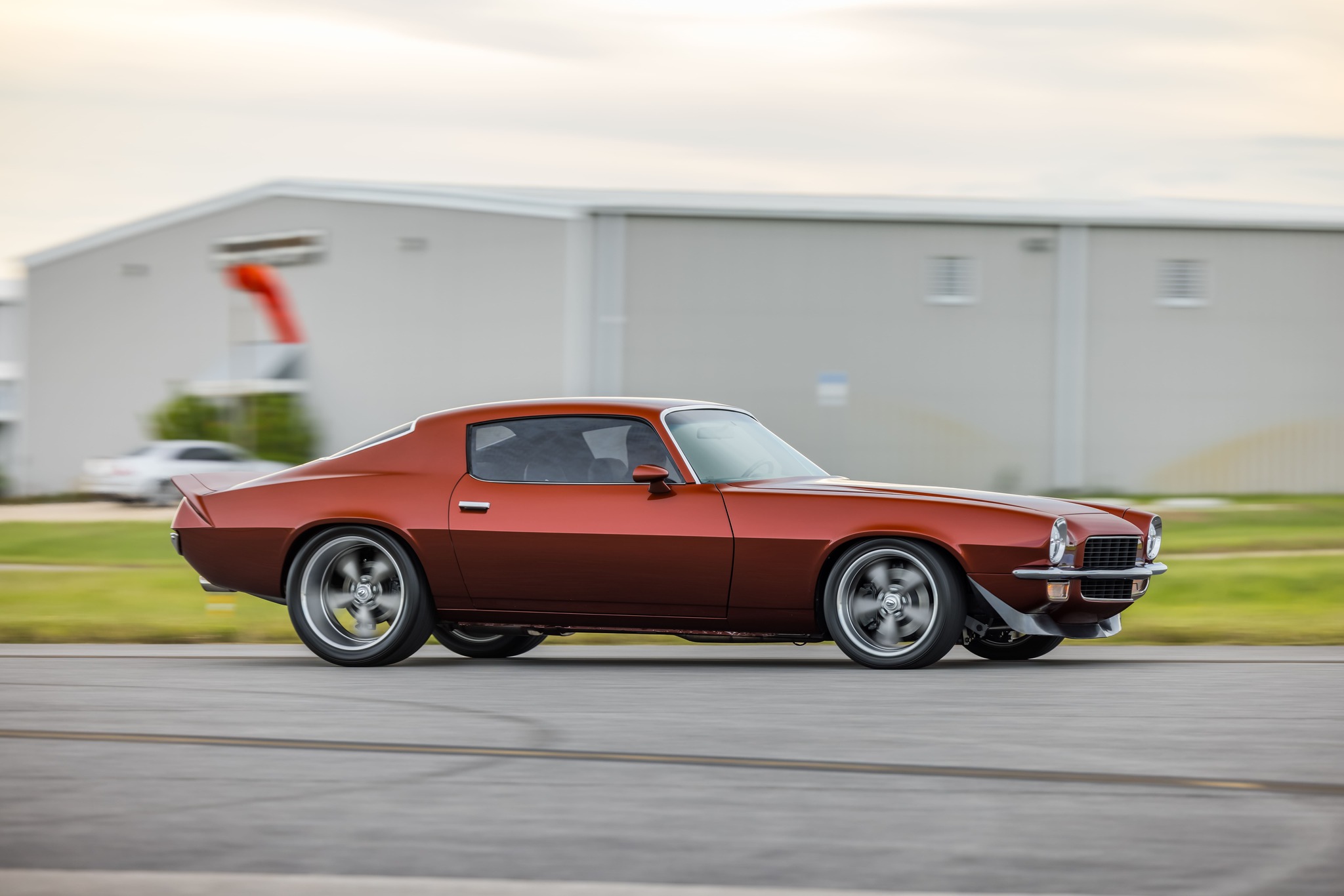 With the car recently finished, Ed and Terry are proud of how the car came out, but the friendship they developed with Fehrenbach and all at Sterling Customs made the build even sweeter. "Since purchasing the car, [Fehrenbach] and I have become great friends," Ed says. "We've gone to many car shows together and chat almost daily. It's kinda cool how things work out in the car world."  ACP
TECH CHECK
Owner: Ed and Terry Nash
Vehicle: '72 Chevy Camaro
Engine
Type: Chevrolet LS
Displacement: 323 ci
Compression Ratio: 9.6:1
Bore: 3.780 inches
Stroke: 3.622 inches
Cylinder Heads: Stock CNC-ported by Texas Speed
Rotating Assembly: Cast-iron crankshaft, I-beam connecting rods, and hypereutectic pistons
Valvetrain: Stock GM with Texas Speed valvesprings
Camshaft: Texas Speed hydraulic roller (0.600/0.600-inch lift, 228/232 deg. duration at 0.050
Induction: FiTech intake, Holley Terminator X Fuel Injection
Engine Assembly: Texas Speed
Exhaust: Ultimate Headers 1 7/8-inch headers, custom Chassis Crafters 2.5-inch exhaust system, MagnaFlow mufflers
Ancillaries: ITC coil relocation kit, Eddie Motorsports valve covers, CVF hood hinges, Billet Specialties accessory drive system, Griffin radiator, Diamond Engineering fasteners, Vibrant Performance element
Output: 470 hp
Drivetrain
Transmission: TREMEC Magnum T56 six-speed
Clutch: McLeod Street Pro single disc
Rear Axle: 10-bolt, Auburn Gear diff, 4.30 gears, Moser 30-spline axles
Chassis
Front Suspension: Chassis Crafters subframe, C6 Corvette spindles, QA1 double-adjustable shocks, QA1 550-pound springs, splined sway bar
Rear Suspension: Chassis Crafters four-link, QA1 double-adjustable shocks, QA1 250-pound springs, Panhard bar
Brakes: C6 Corvette 13 calipers inch front, 12-inch calipers rear
Master Cylinder: Wilwood manual
Wheels and Tires
Wheels: Coys C5 Gunmetal; 18×8 front, 20×10 rear
Tires: Nitto NT555; 245/40R18 front, 315/35R20 rear
Interior
Upholstery: Tony's Auto Upholstery (Edgewater, FL)
Carpet: Mercedes-style black
Seats: Fourth-gen Camaro custom black leather with red stitching
Door panels: Custom black leather with red stitching
Steering: Stock Column, Billet Specialties steering wheel
Shifter: Lokar
Dash: Stock
Instrumentation: Dakota Digital VHX Series
HVAC: Vintage Air
Wiring: American Autowire
Exterior
Bodywork and Paint: Ed Nash at Chassis Crafters
Paint: Axalta custom-mix "Georgia Clay"
Hood: Stock with custom cowl vent deleted
Grille: Stock
Bumpers: Stock
Headlights: United Pacific LED
Taillights: United Pacific LED