We Build a 5.3 LS Short-Block Capable of 1,200 Reliable Horsepower
By Jesse Kiser   –   Photography by the Author
The LS engine has long been the king of high-output budget builds. Grab a junkyard truck engine, add a cheap turbo, and make quadruple-digit power. We start our supercharged 1,200hp LS build with a short-block capable of considerable, reliable power on a budget.
There are millions of forum pages dedicated to the topic of LS budget builds, so tread lightly. The sloppy fans will tell you the true budget LS is one that goes straight from the junkyard in between the fenders of your hot rod. There's some truth to that, as the LS features many architectural improvements over its predecessor, the small-block Chevy. Advancements include a Y-block design with six main bolts (four vertical, two horizontal), extra-long head bolts, a taller deck, better flowing heads, larger cam journals, and a cam centerline that's higher in the block. "The GM engineers have done a very good job. If you don't get too far off the map from OE, you shouldn't have to make many more changes," Dennis Borem, owner of Pro Motor Engines (PME) says. "These engines are built to last hundreds of thousands of miles."
Record chasers have made around 1,200 estimated flywheel horsepower with stock bottom ends, and around 1,800 hp with stock blocks. But, we want this engine to remain versatile with the ability to street drive and use for later testing, so we need a better rotating assembly that can reliably handle the abuse. "You can make that kind of power with a stock engine, but it takes a very skilled tuner and an optimized setup," Tick Performance owner Jonathan Atkins says, who volunteered to build this engine in conjunction with PME. "The better rods and pistons may survive a tuning misstep that stock parts would not, but really they'll perform better and last much longer."
It seems 1,200 hp is that rough maximum for the basic aftermarket support. "When you start climbing over that power range, the price of the components goes significantly higher," Atkins says. Companies like Summit Racing and ARP make bolt-in components to help bring us to that level of reliable power.
More LS Power Gains: 10 Smart Spending Strategies for Building Your Next LS Engine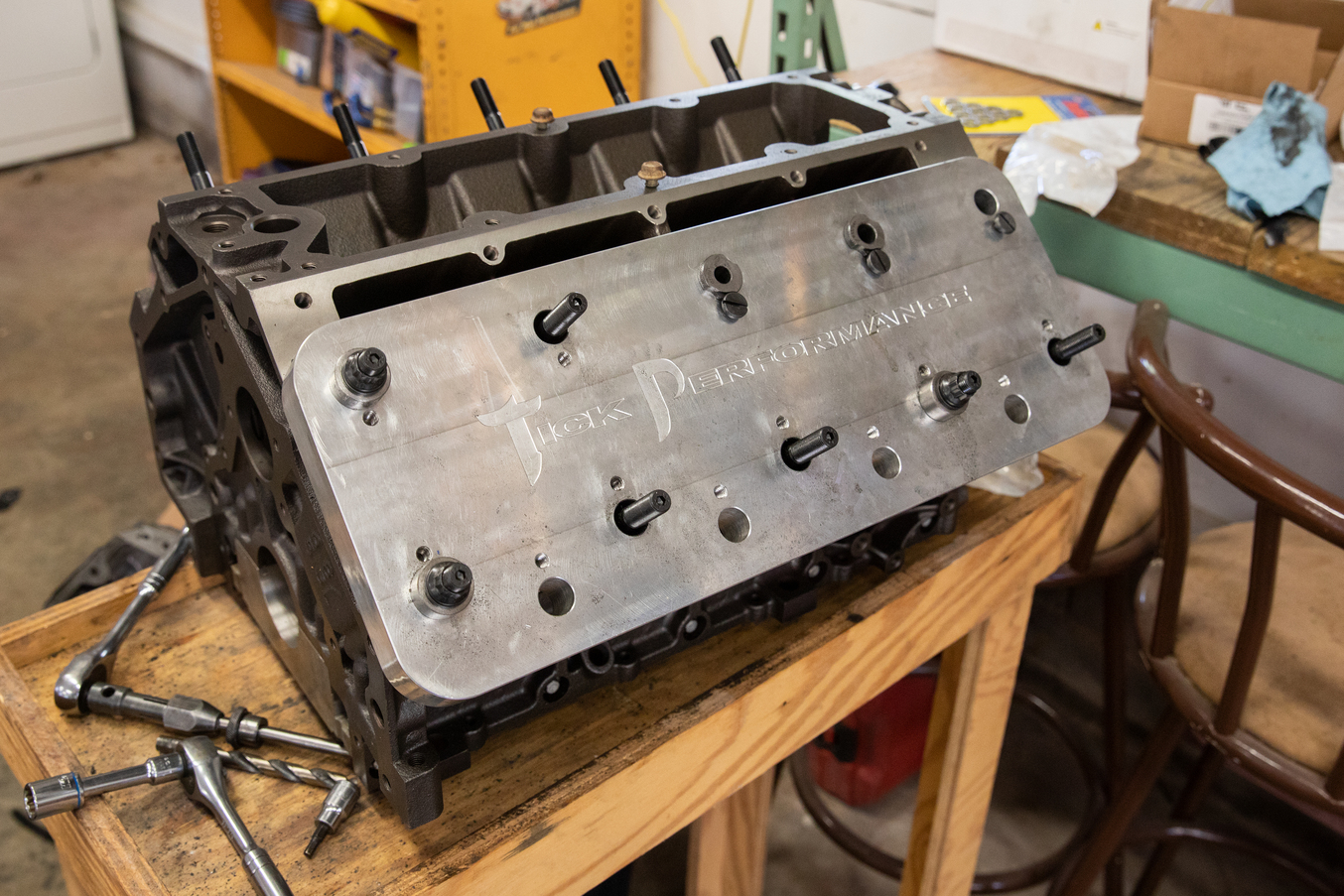 The complete iron-block 5.3L engine was $300 from a friend, with unknown details. Depending on the condition, a complete and running LS runs between $300 and $1,200. So, we're off to a good start. We initially thought it to be a run-of-the-mill Gen III LM7 engine due to its valley cover (Gen III valley covers feature two large holes for the knock sensors), but once we pulled the heads, we realized it uses Gen IV head bolts (Gen III uses two different length bolt, and Gen IV uses all the same length).
A set of stock-style pistons would cost around $300, but for only $900 more we can upgrade to the Summit Racing Pro Series forged rod and piston kit. PME magnafluxed and ground the stock crank 0.0010 inch, so we opted to save some money and keep it. This kit is great for boosted applications and includes pistons, piston rings, wristpins, ARP rod bolts, and both PME and Atkins have had experience with the kits.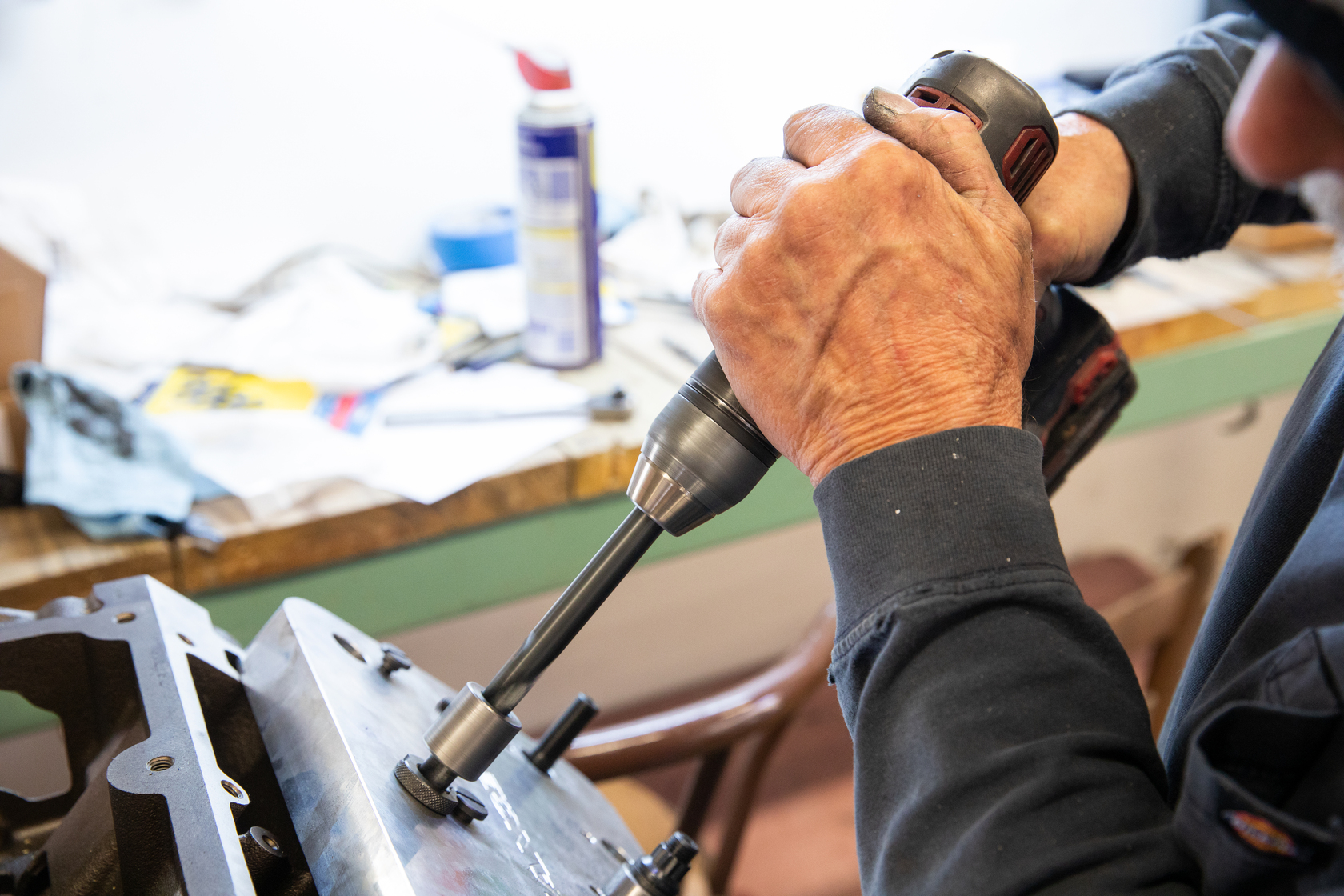 Boost is the answer, no matter the question. Another technique for keeping boost in the engine is upgrading from factory 11mm head bolts to ½-inch ARP head studs. We use the Tick Performance DIY ½ Head Stud Fixture Kit, which allowed us to do the job at home and save on machining costs. This upgrade is another heavily debated topic, likely because you can't perform this operation easily on small-block Chevys as the boltholes are too close to the water jackets. The LS does not have this problem, and there's plenty of meat in our iron block.
"You're clamping two parts together, so you're increasing clamping force. It's cheap insurance for a boosted application," Borem says. The stock head bolts and studs torque at lower yields than the ½ inch, which require a final torque of 120 lb-ft. It requires much more force to lift the head with these studs compared to stock size.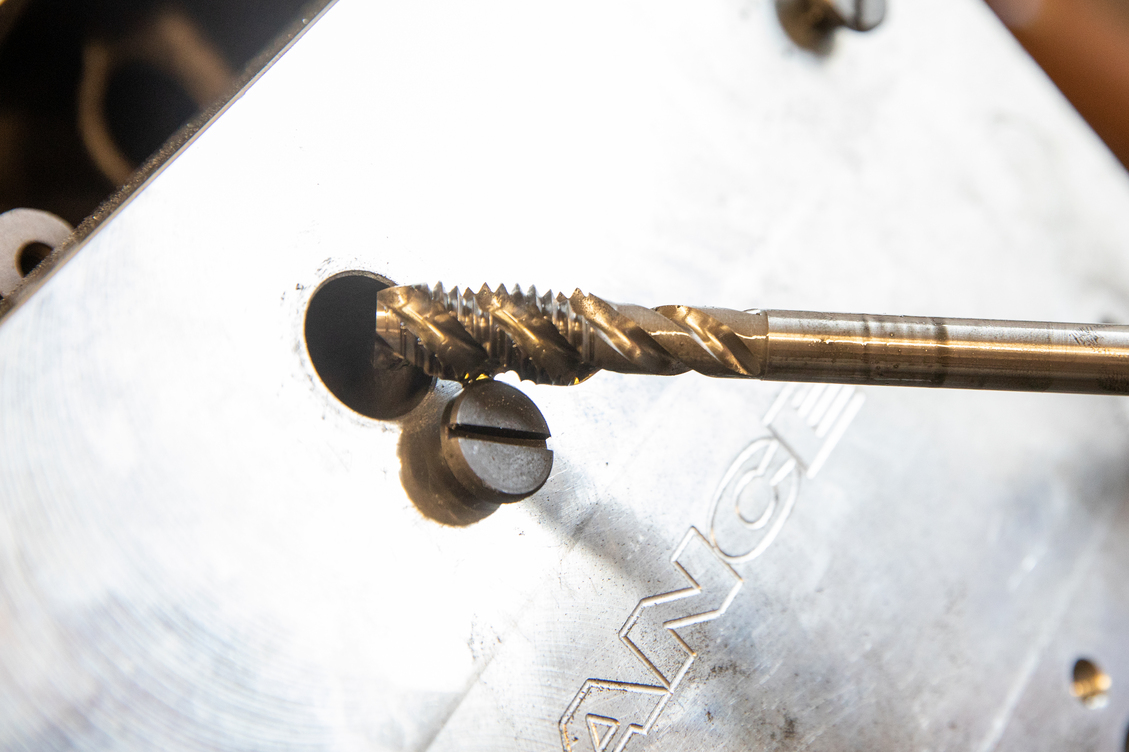 We start by stripping the engine and sending the block to PME in Mooresville, North Carolina. They're known for circle-track race engines, supplying Super Stock Late Model, NASCAR, and Trans Am TA packages. They provide sealed engines to various series, including the Trans Am TA2, which uses an LS2, so they know their LS stuff. PME stripped and cleaned the block by heating off the gunk and tumbling it.
Built at Home: Homebuilt Old-School Small-Block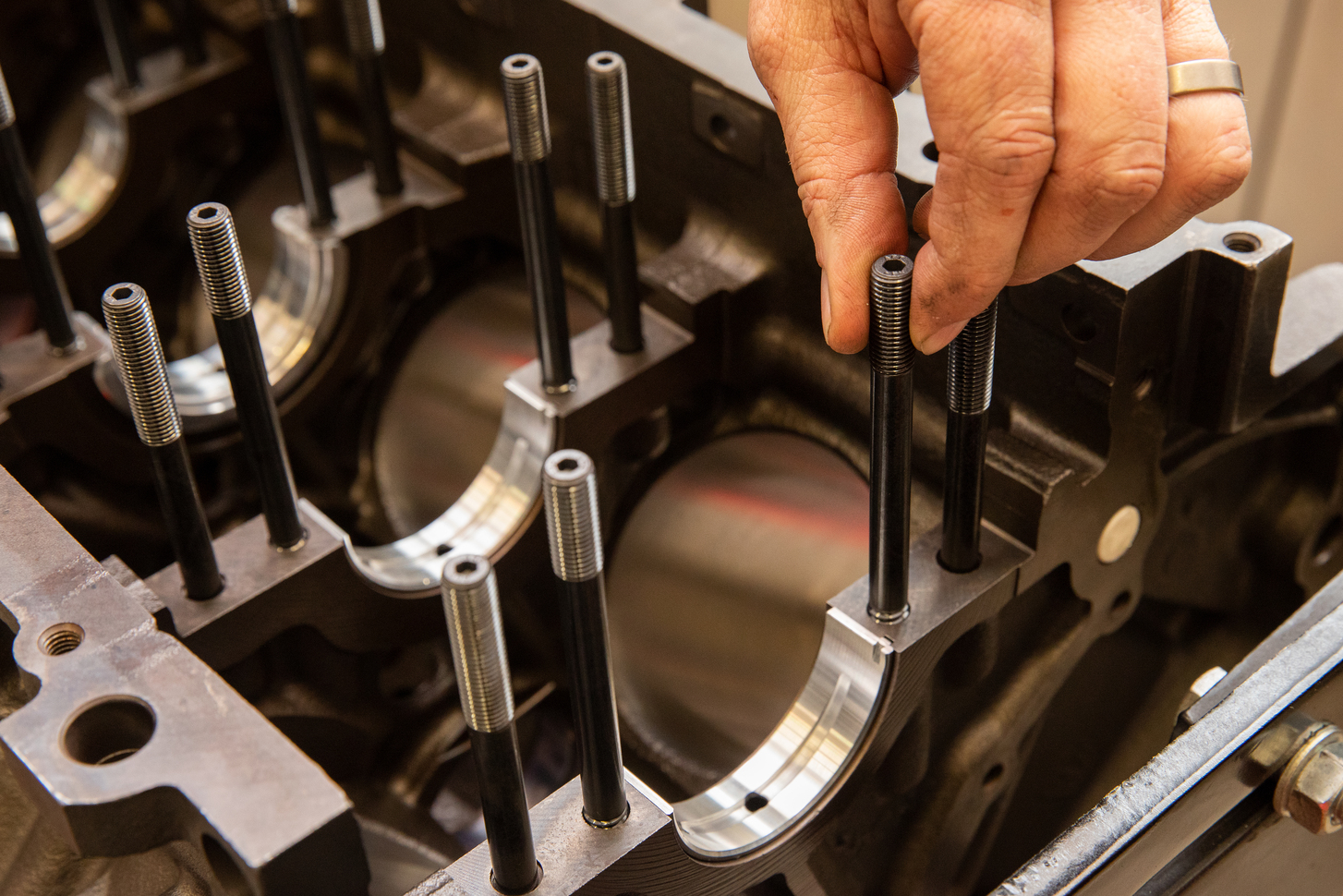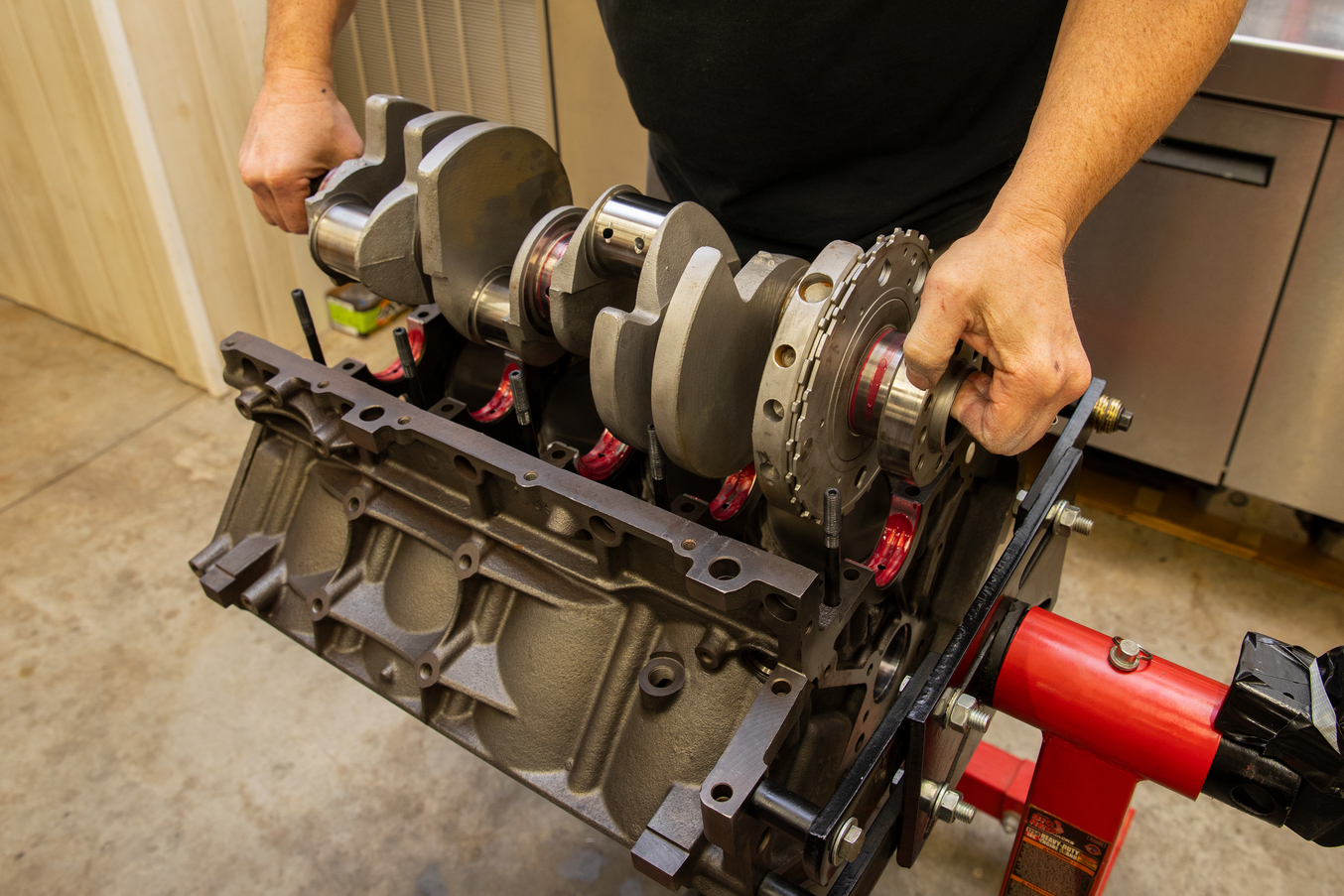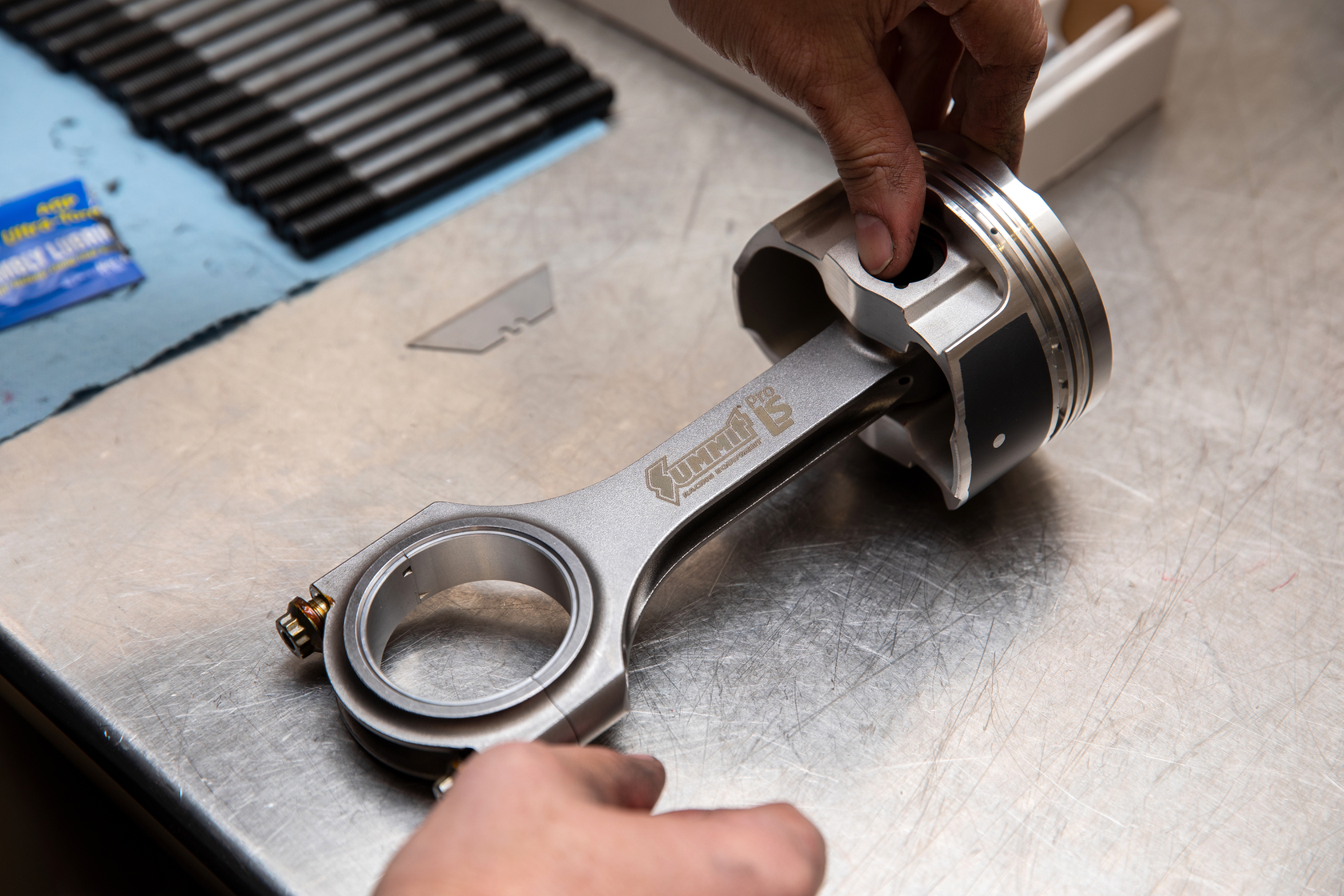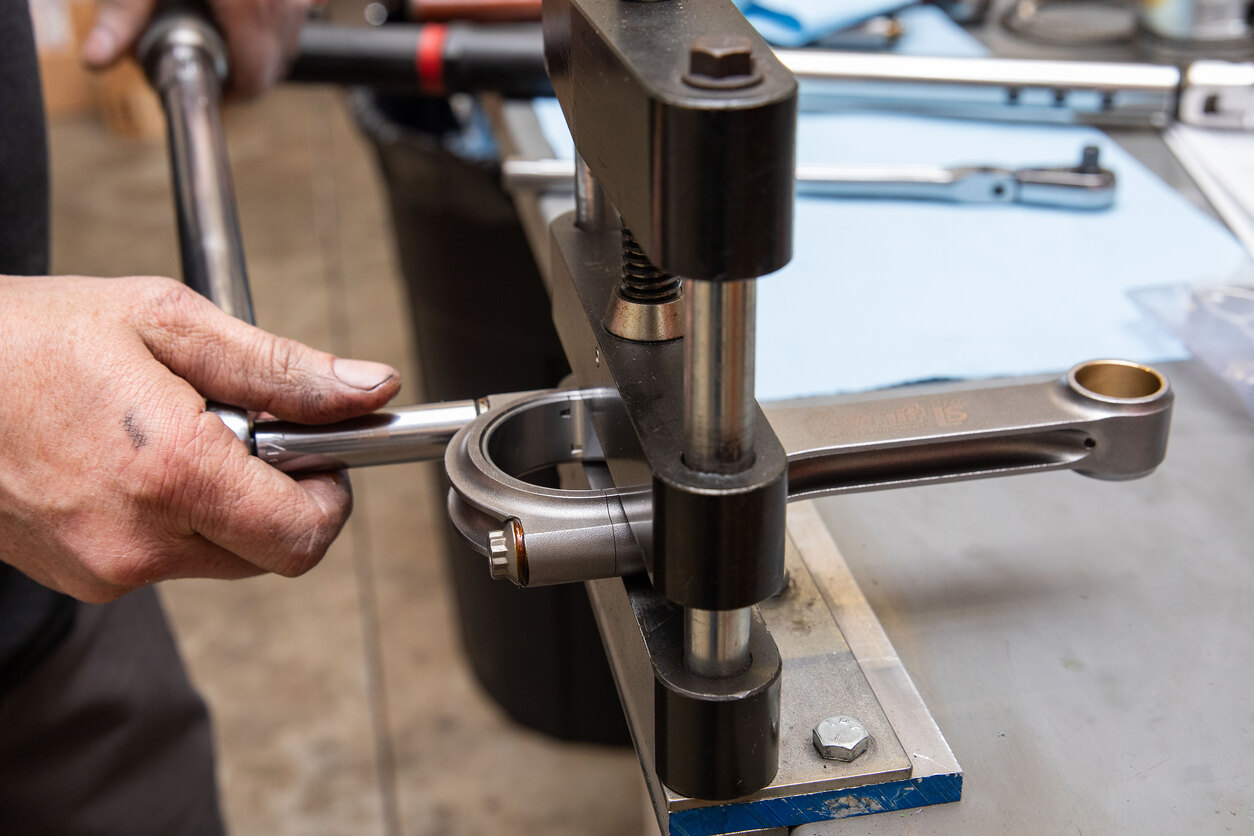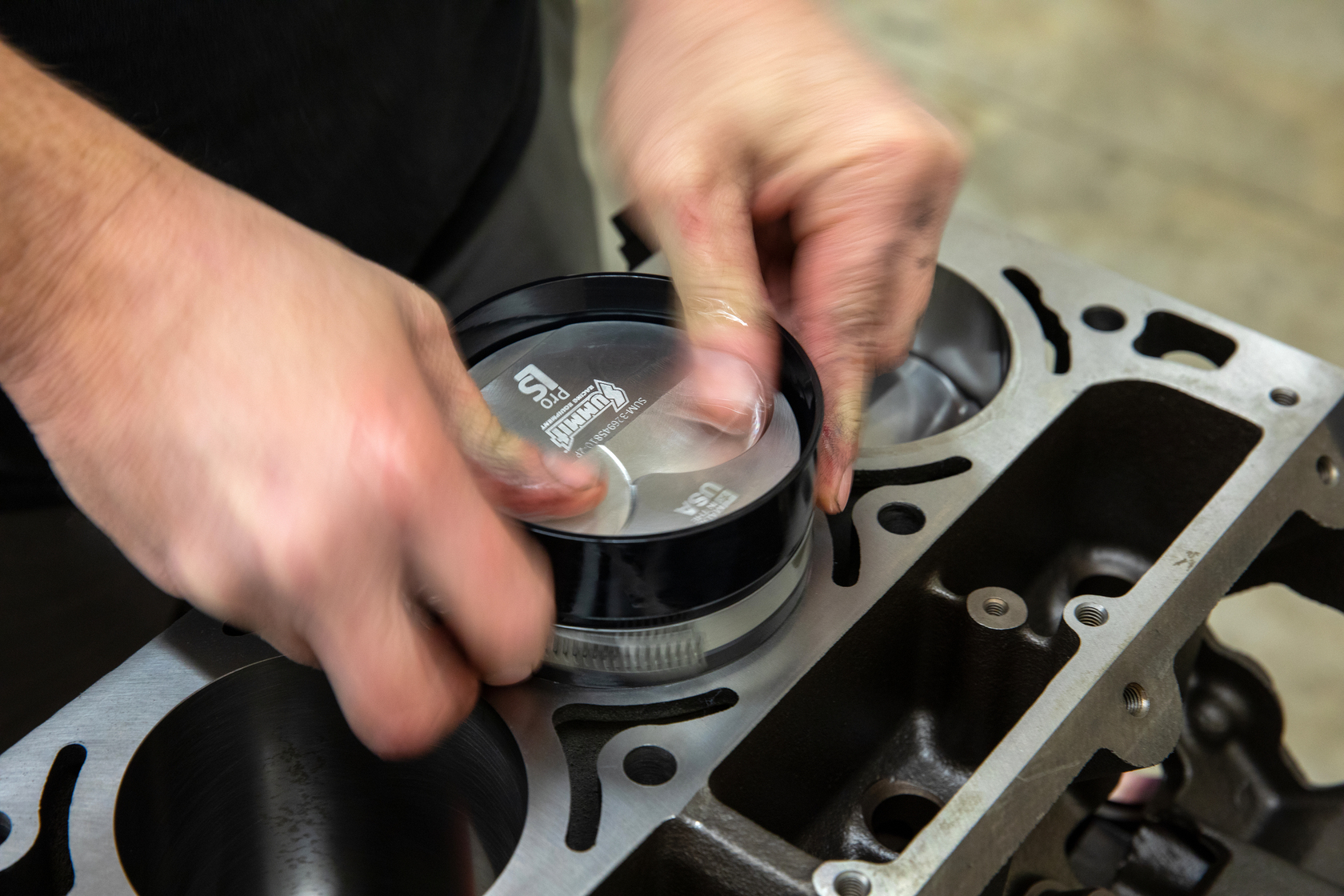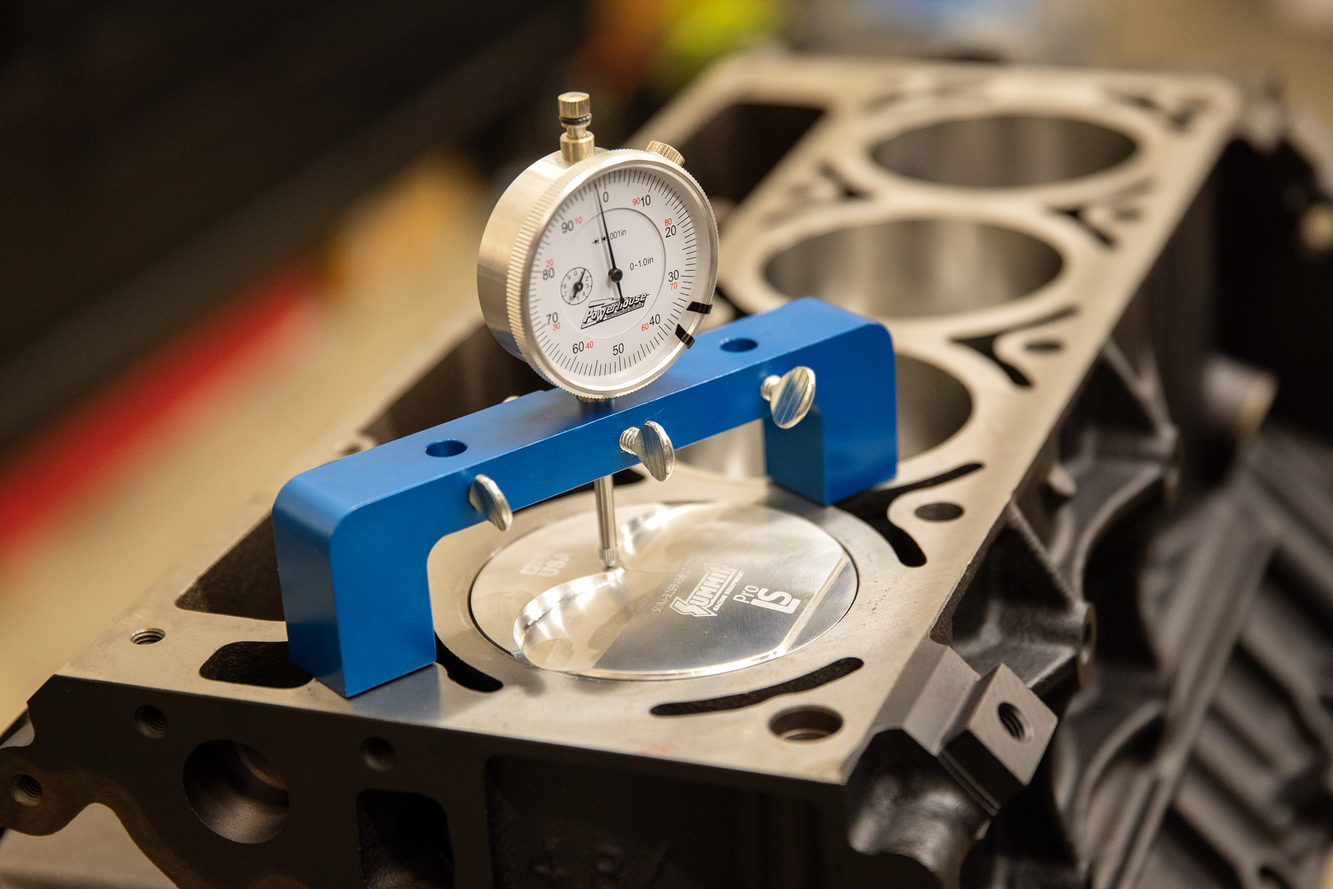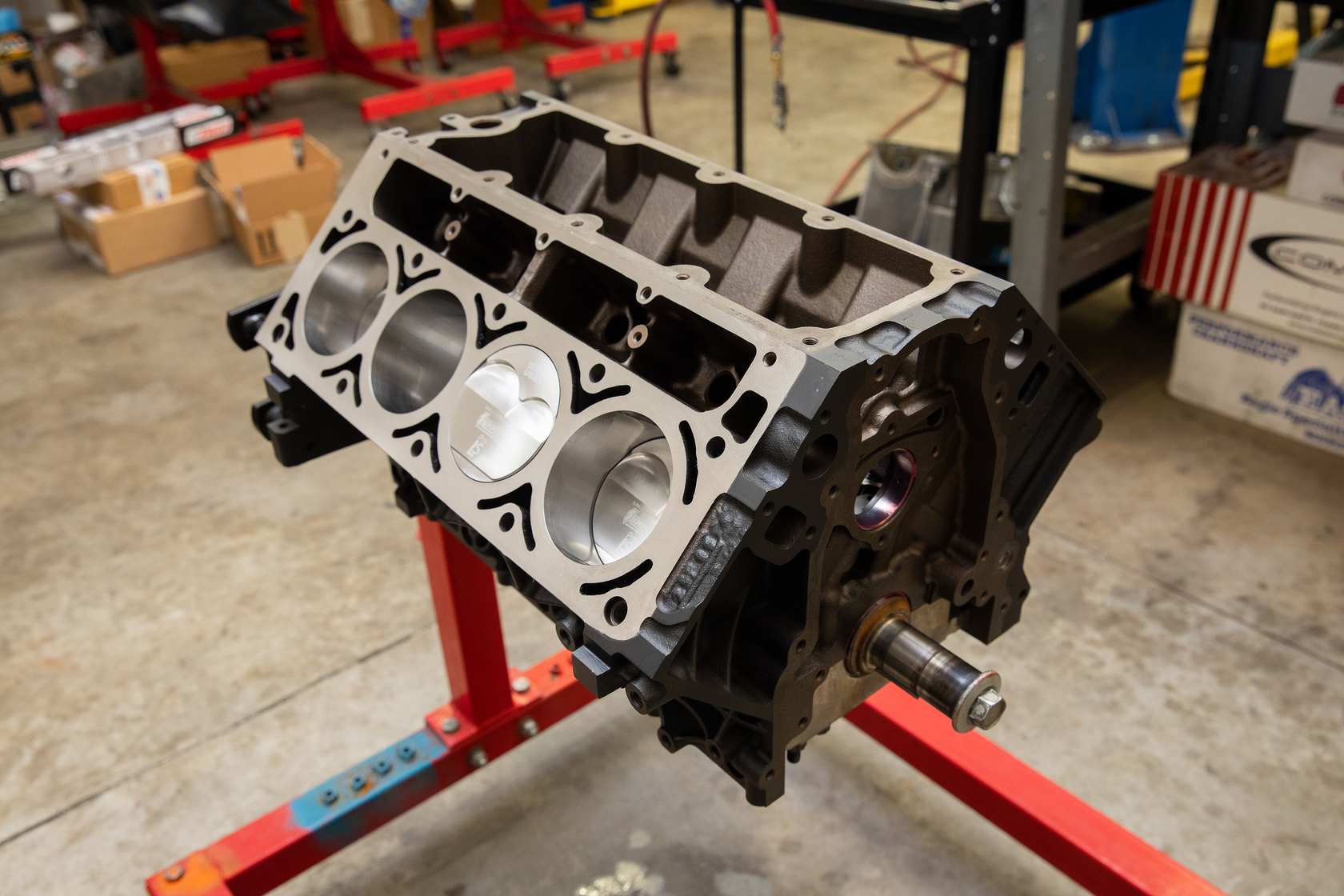 HARD PARTS
| | | | |
| --- | --- | --- | --- |
| Brand | Component | PN | Price |
| ARP | Main Studs | ARP-234-5608 | $229.99 |
| Dura-Bond | Cam Bearings | DUR-CHP-23 | $40.99 |
| King Engine Bearings | Rod Bearings | KGB-CR807HPN010 | $63.99 |
| Sealed Power | Main Bearings | SLP-7298MA10 | $84.99 |
| GM | Used 5.3L Engine | N/A | $300 |
| Summit Racing | Piston/Rod Kit | SUM-PR368102 | $1,200.97 |
| Tick Performance/ARP | ½-inch Head Studs | TPHSKG4 | $239.99 |
| | | Total | $2,160.92 |
ADDITIONAL TOOLS
| | | | |
| --- | --- | --- | --- |
| Tick Performance | ½-inch Head Stud Fixture | TPHBDF2543 | $449.99 |
MACHINING COSTS
| | | |
| --- | --- | --- |
| Company | Job Description | Charge |
| Pro Motor Engines | All Machining Costs | $900 |
| Jonathan Atkins | Engine Assembly | $750 |
| | Total | $1,650 |
COMPLETING THE SHORTBLOCK
| | | | |
| --- | --- | --- | --- |
| Brand | Component | PN | Price |
| Melling | High Volume/Pressure Oil Pump | MEL-10298 | $164.99 |
| Summit Racing | Billet Timing Set | SUM-G6602R-B | $99.99 |
| Fel-Pro | Front Cover Gasket Set | FEL-TCS45993 | $49.99 |
| Fel-Pro | Oil Pan Gasket | OS30693R | $59.99 |
| Tick Performance | Cam Only | N/A | $389.99 |
| | | | Total: $764.95 |
Grand Total: $4,575.87*
*Short block only, does not include lifter and head gaskets. Prices subject to change.
SOURCES
Automotive Racing Products
(800) 826-3045
arp-bolts.com
Pro Motor Engines
(704) 664-6800
pmeengines.com
Summit Racing
(800) 230-3030
summitracing.com
Tick Performance
(336) 719-0599
tickperformance.com