Former NASCAR Driver Wendell Chavous' Rosa Red Slammed Silverado
By Rob Fortier   –   Photography by Grinder TV
From behind the wheel of a NASCAR Camping World Truck Series Chevy on the track to behind the wheel of a slammed OBS Chevy on the streets, former professional racer Wendell Chavous knows his way around a Silverado!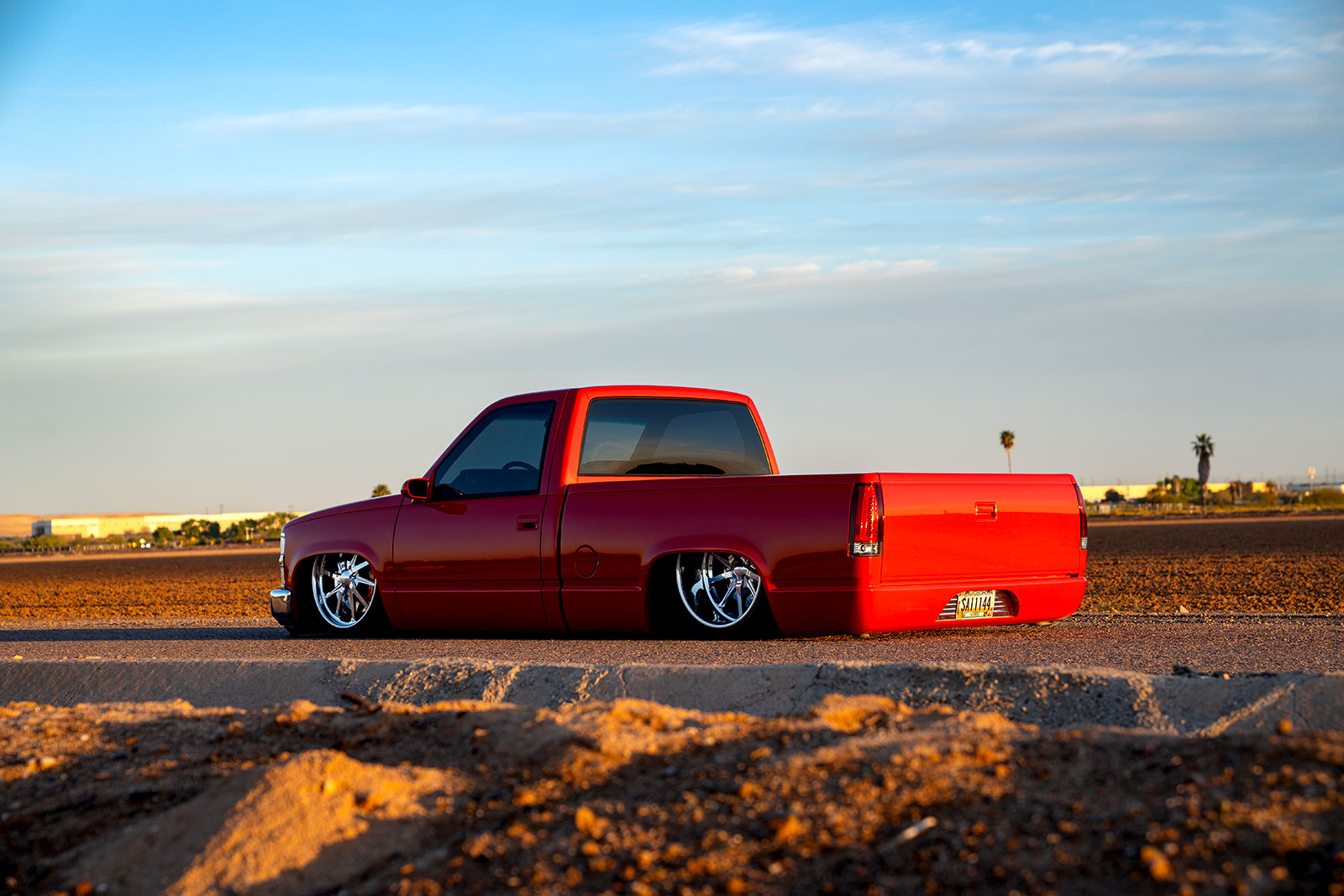 While Wendell's career in NASCAR may have ended in 2018 (he chose to pursue a family business), his newly found classic truck hobby is just starting to blossom. "This [Chevy OBS] is my first build," Wendell told us. "I had an idea of what I wanted and started making plans and purchasing parts for the build. But when I got to the point that I needed to get a shop involved, I found that getting anyone on the East Coast to help was nearly impossible."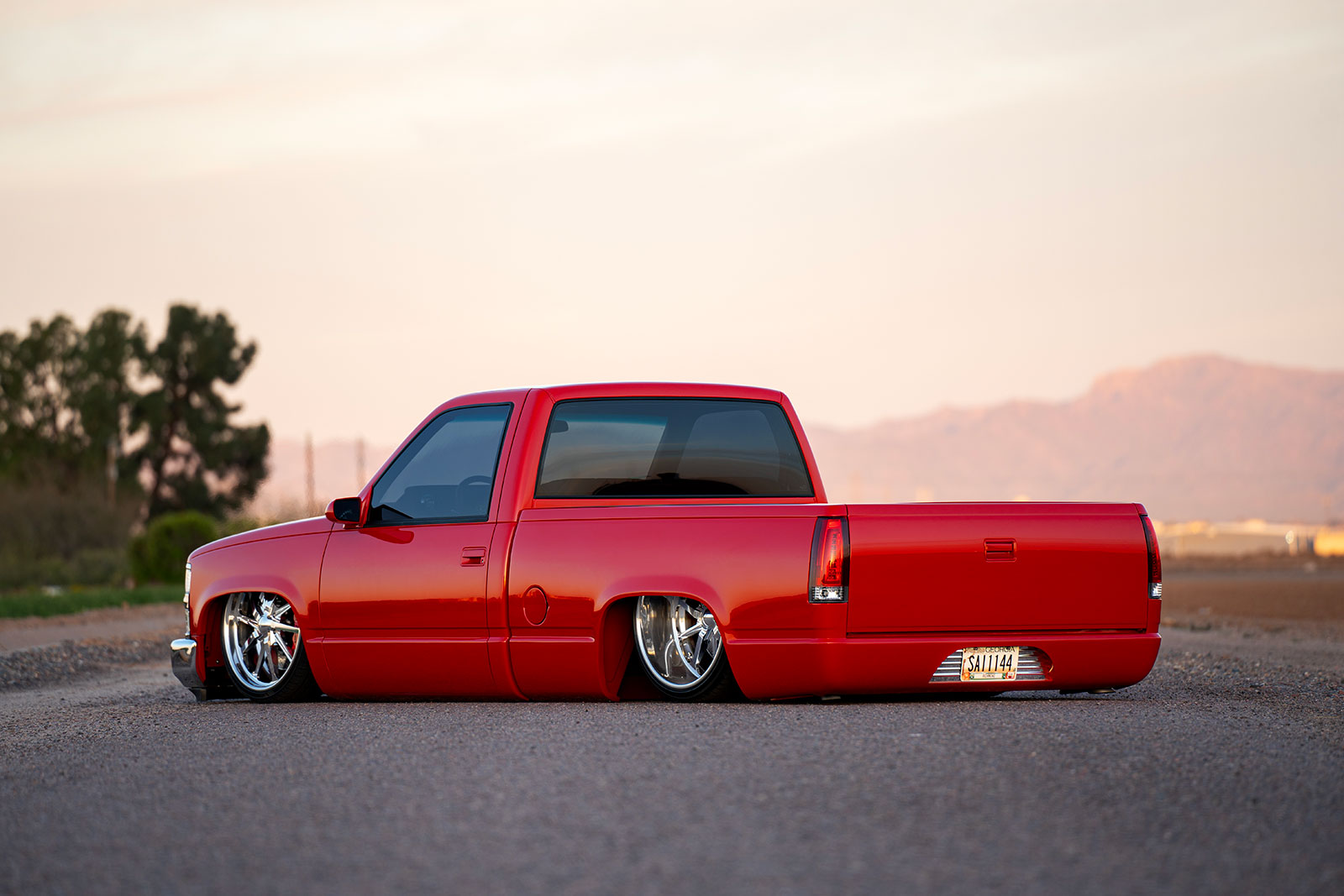 Luckily for Wendell, there's this thing called Instagram …
"I found Tre5 Customs on social media and eventually reached out. We scheduled the drop-off a few months later during the weekend of Dino's Git Down. But once I saw all the other projects going on in Jeremy's shop, I completely changed the direction of my build—basically, I decided the truck needed to be built the way the guys at Tre5 Customs do them!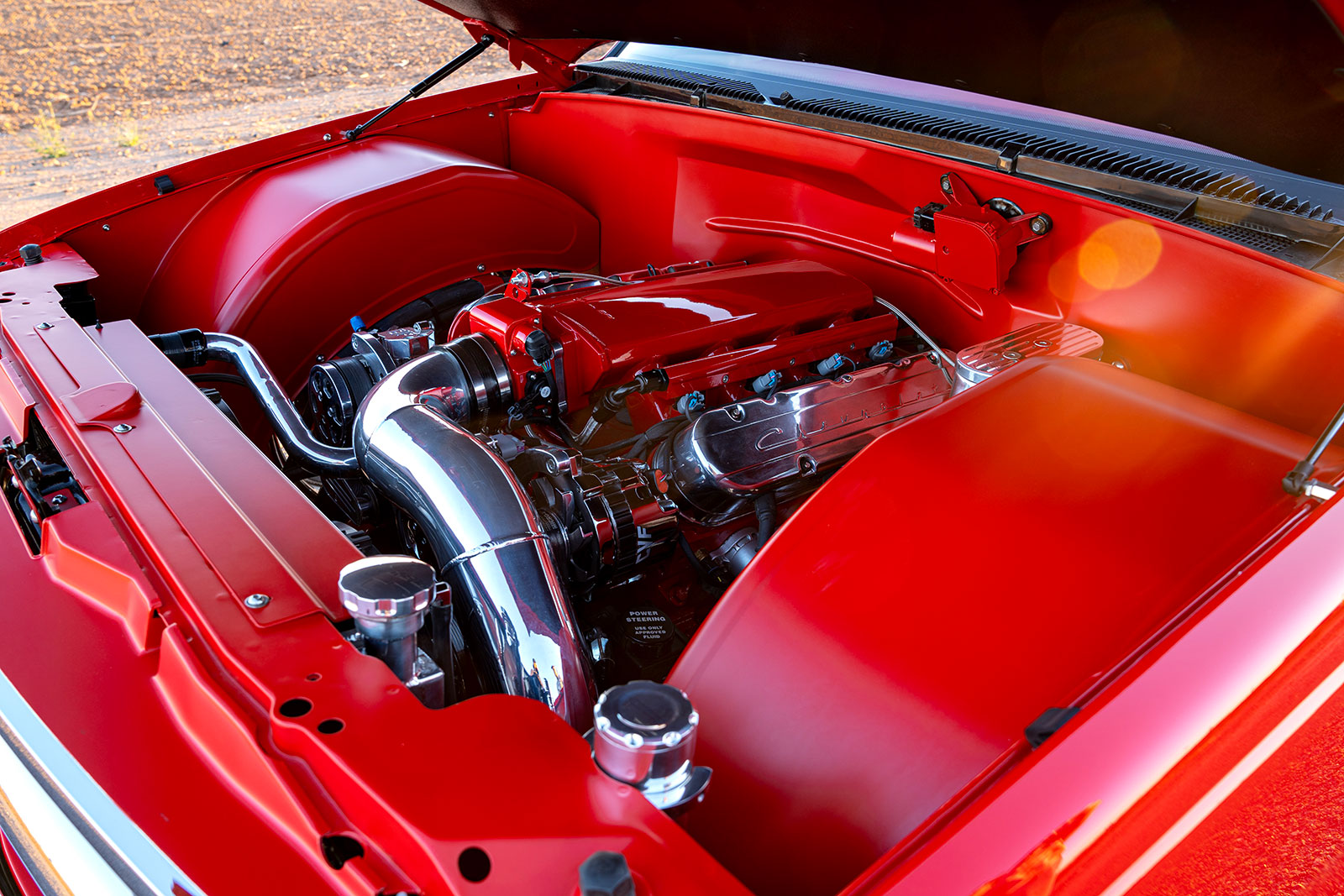 "Once the new plan was in place, it took six months or so to get all the parts in. The build went pretty quick from there, and I was able to drive it exactly a year later when I returned for the following Dino's Git Down in November 2022."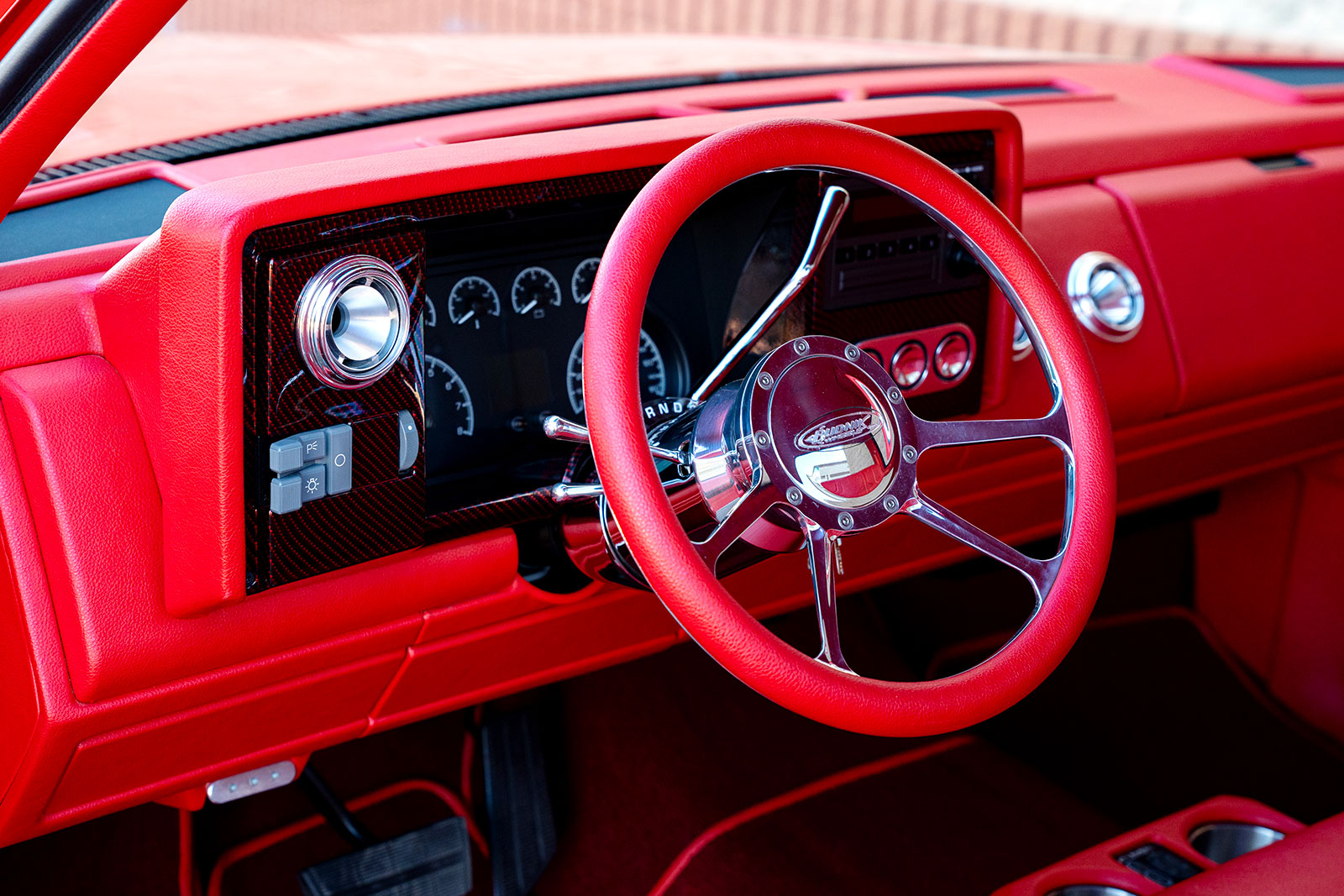 In that yearlong process between the Dino's Git Down, Tre5 Customs took Wendell's Silverado from one extreme (stock) to another (beyond not-stock). First and foremost, the original chassis was ditched in favor of a complete GSI Machine and Fabrication air suspension (GSI front/rear arms, Classic Performance Products spindles with Baer brakes, Air Lift 'bags with Ridetech shocks … the whole modern enchilada, so to speak). Power now comes from an LQ4 engine reworked by Ross Automotive Machine backed by a 4L60E transmission and a Currie 9 inch rear end. Tre5 Customs fabbed up a stainless steel custom exhaust that uses Ultimate headers and Borla mufflers, while the Holley EFI (and the entire drivetrain) is controlled by a Modern Vintage Systems ECU.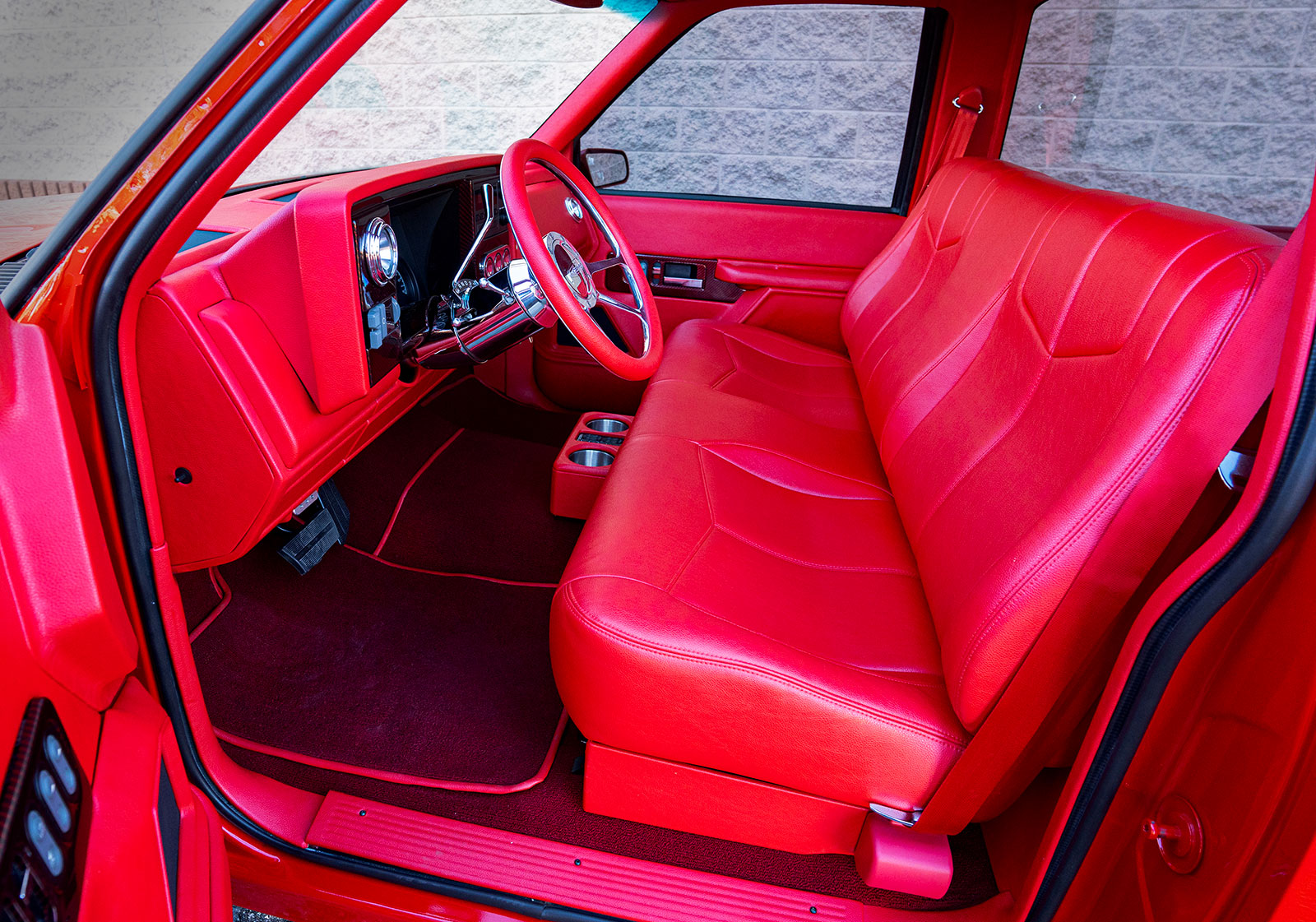 On the exterior, Tre5 Customs added a Grant Kustoms roll pan, raised the bed floor/widened the wheel tubs (and repurposed to access the chassis below), and removed all the emblems and trim before having neighboring IKandy Paintworks massage the OBS and seal it in an eye-searing Ferrari Rosa Red. Accents were added in the form of billet grille inserts, chrome bumpers with billet inserts, RZ Custom LED lighting, polished aluminum license surround, and the fully polished, 22-inch Gassers Budnik wheels (which now wear Lexani tires).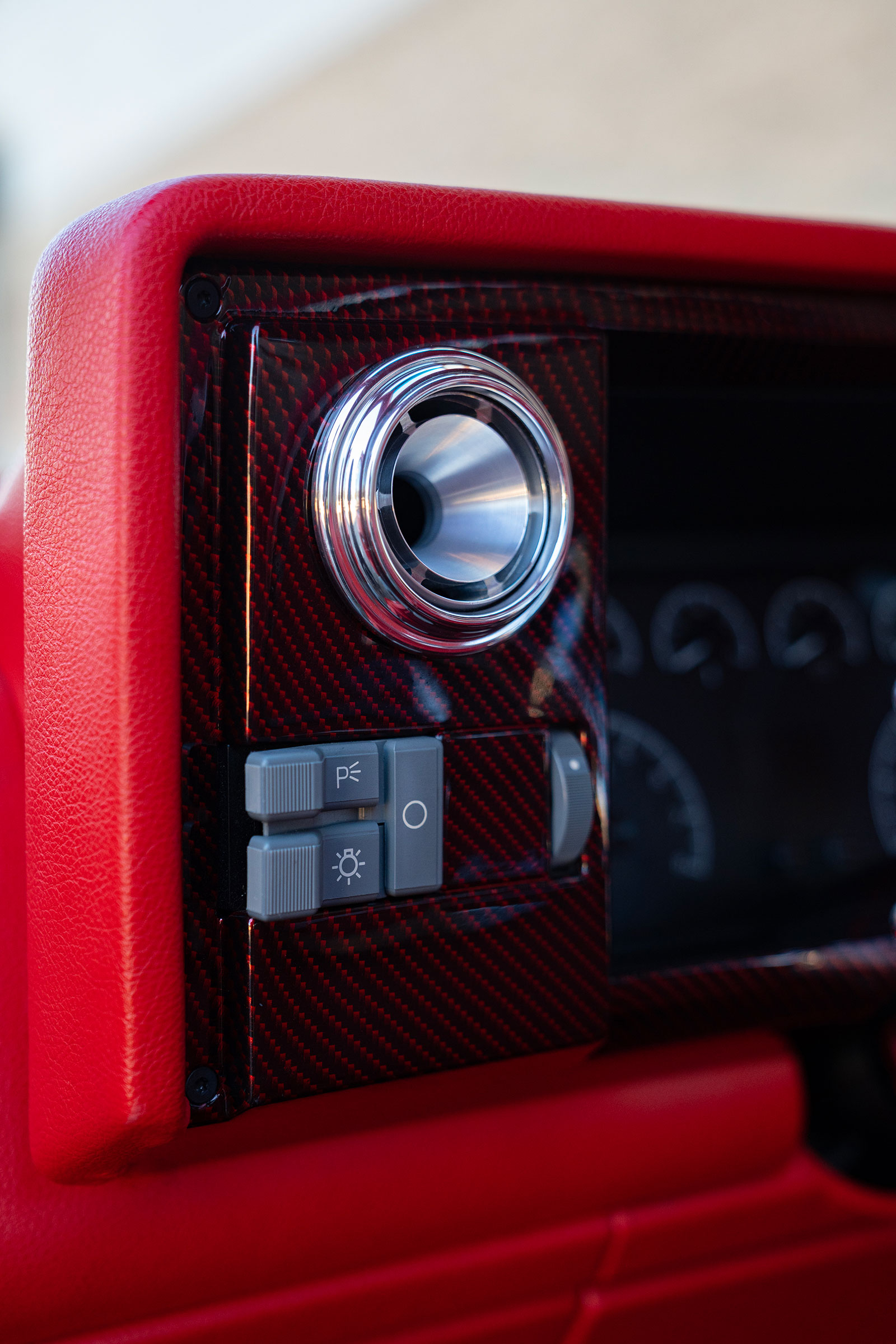 Lastly, before sending the Silverado off to Steve at Elevated Design for the all-red interior, Tre5 Customs installed Dakota Digital HDX gauges (capped with a hydro-dipped bezel), RestoMod Air AC system and billet registers, Flaming River steering column with billet Budnik steering wheel, and a JL Audio/Morel sound system. Now, when we say "all"-red, that's exactly what we mean—from the upholstered dash to the Snowden seat and everything surrounding, including the covered door panels that feature matching "dipped" inserts and custom speaker enclosures.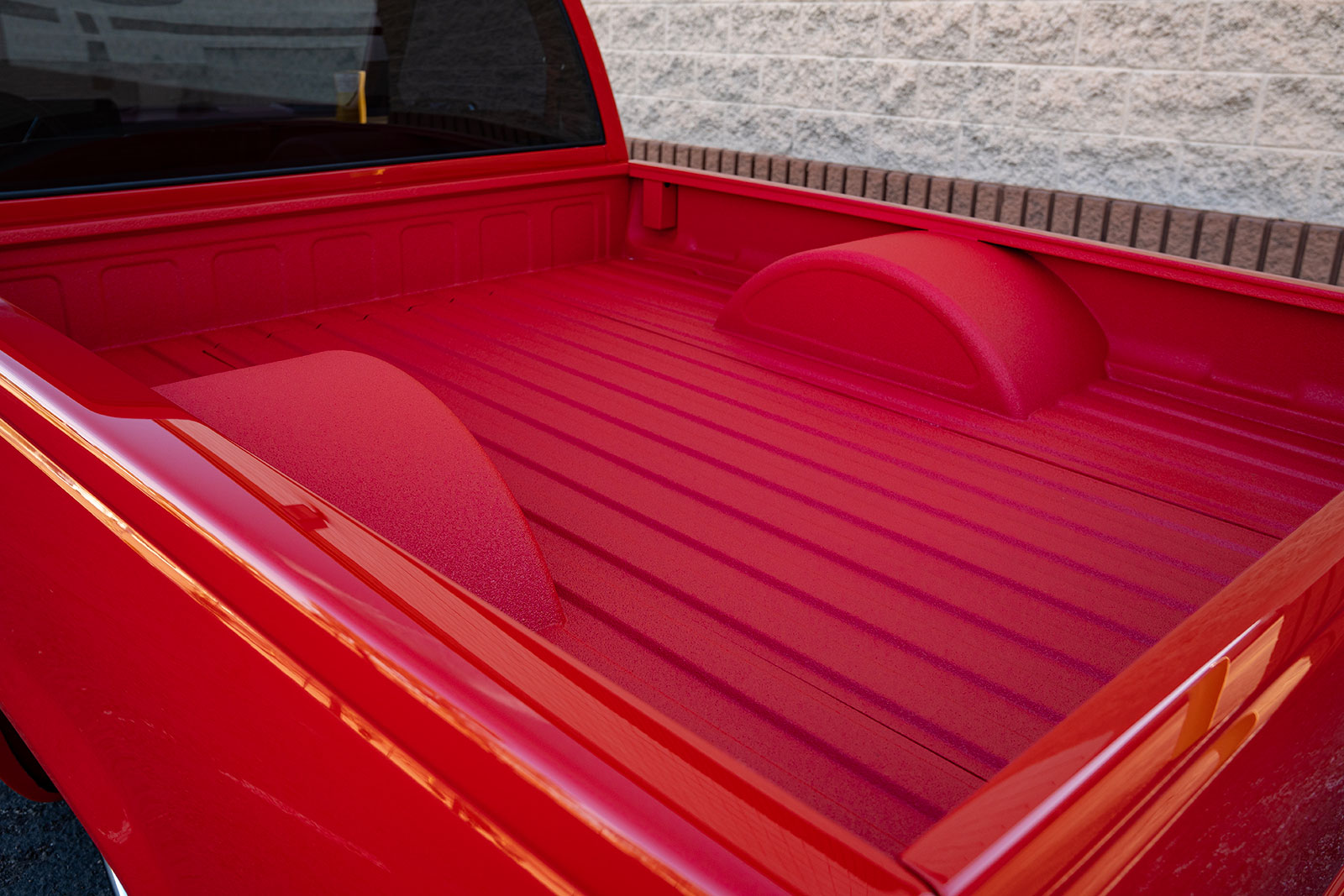 "Love the way the truck came out so much that I'm already on schedule with Tre5 Customs for the next build!" Wendell adds … we can't wait to see what's next!
Click on this issue's cover to see the enhanced digital version of Tre5 Customs-Built OBS Chevy Truck.