This 1969 Dodge Coronet Convertible is a Great Deal More
By Brian Brennan – Photography by John Jackson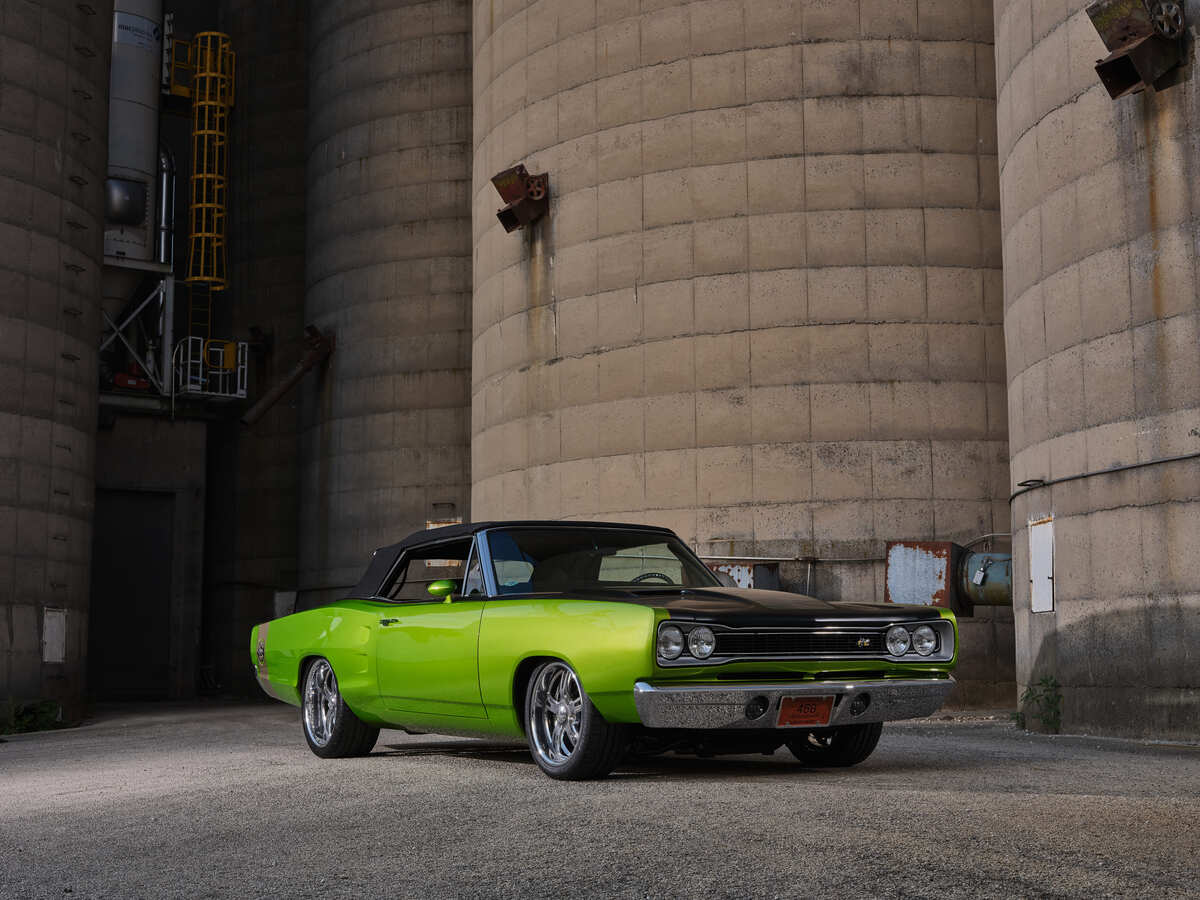 Any of us who have undertaken a major project, especially one that undergoes midstream changes, knows all too well how fast time can fly by. Dennis Hanke, of Algonquin, Illinois, fully understands how and why his 1969 Dodge Coronet convertible took the time it did. Seven years is a long time; during this time our likes, dislikes, and new ideas "trick" us into making changes. Anyone who has built a ground-up project will tell you: "Don't make changes once a you've begun, otherwise it will cost you dearly in time and money." Dennis "survived" his project and he will tell you he couldn't be happier.
As is the case with so many rodders the Coronet was a boyhood favorite, having had one. Then came life and time passed. There comes a point when many of us have fulfilled our family responsibilities and find ourselves with the time and resources to go back and enjoy one more try at a boyhood dream. Such was the case for Dennis. He found a 1969 Dodge Coronet convertible and with support and coaxing from family, especially his mom, he bought the car from a used car lot and brought it home.
While it's true this hot rod started life as a 1969 Dodge Coronet convertible, the reality is the Mopar has undergone numerous changes from bumper to bumper and top to bottom, yielding a stunning droptop. It's also proven it's a delight to look at and has caused many a rodder to scratch their head wondering exactly what was done. All of the effort paid off with its debut at the 2019 Detroit Autorama where it took home a First Place in Class and from there went on to the World of Wheels in Chicago where it won a Top 20 award, Outstanding Paint, and another First Place in Class. Come the summer of 2019, Dennis was invited to bring his Dodge to participate in the Builders' Showcase at the 50th anniversary of the NSRA Street Rod Nationals where it once again wowed the crowd. Early in 2020 it was back to the World of Wheels in Chicago and another First Place in Class. And then 2020 really dug in and there would be no more outings.
Initially because of his mom's help and encouragement he opted to restore the Coronet with a bit of a restomod touch and tribute by building a Super Bee. It didn't take Dennis long to realize he had much more on his hands than he'd first thought. The initial go-around started with Craig Hopkins at The Installation Center in Cleveland, Georgia. Turned out there was an extensive amount of work to be done and it included framerails front and rear, complete bottom, firewall, upper cowl, front inner fenders, radiator support, inner and outer rear wheelhouses, trunk drop offs, tail panel, and rear quarters—just your basic stuff!
Once Dennis brought the Coronet home, it didn't take much to see that the new engine sat higher than the stock one. After realizing the stock hood wouldn't fit, he looked around and found that a 1970 Challenger hood might just work. And so began another build odyssey. It was at this point that he was speaking with Mike Dumas of Platinum Custom Cars (PCC) and it was decided that PCC would help Dennis out with the hood dilemma. This led to other ideas and the next thing you know the cowl design was changed to accommodate the difference in hoods (length and design).
This led to a series of other changes; at this point Dennis opted to bump the car up to another level. PCC was up to the challenge (as the photos attest) and besides additional body modifications there was also the suspension and paintwork to be handled. There were a number of body mods and we probably won't catch them all but the following will give you a good idea of just how much effort was put forth. Beginning with the side markers, door and trunk locks, and body, side moldings were all shaved and filled. Next up the lower rocker panels were extended 3 inches to cover the pinch welds and next the rear quarters were flared and matched to the 1969 Charger spoiler. The rear inner fenderwells were modified to handle the major rubber and wheel combination. The stock taillight panel and lights were replaced with 2015 Challenger items, next the rear bumper was replaced with a 1970 Roadrunner piece that was narrowed and fit to the body and modified to accept the rear exhaust as it passes through. Underhood the shock towers were removed, allowing for the physically larger engine to more comfortably fit while cleaning things up a bit. Next in line the stock firewall was cut out and replaced with a smooth panel and in addition you will note that the brake booster was replaced. You will also see that the front fenders were sculptured to match up with the bodyline of the Challenger hood. One subtle, or not, modification to the interior was the removal of the 1969 dash that was then substituted with a 1970 Dodge Coronet RT dash.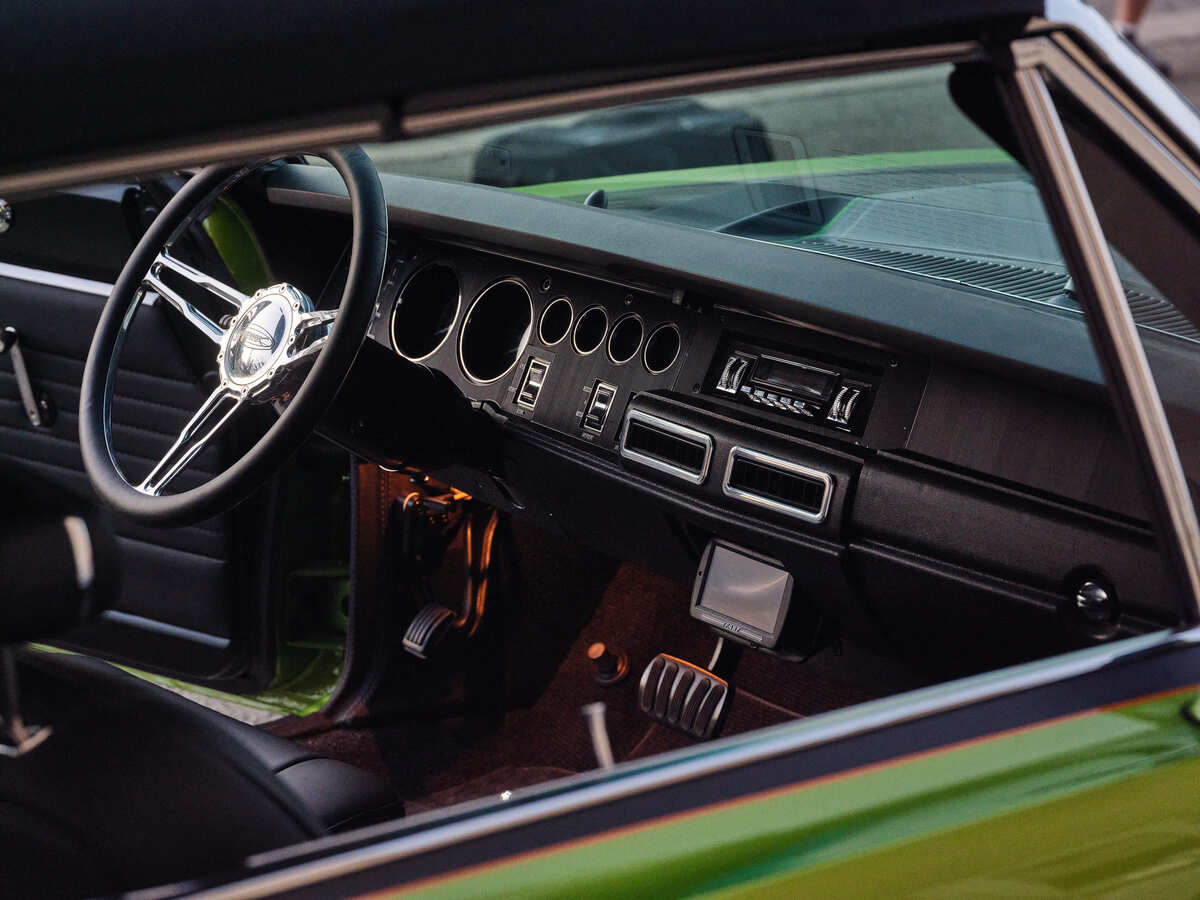 The bodywork and final paint prep on the Dodge were handled by Adam and Tyler Kruse of The Refinery (known for stunning specialty body- and paintwork). It was then painted in a 2010 Viper color using Matrix MPB basecoat in Snakeskin Green Pearl with matte black highlights and covered in Matrix MS-52 (universal urethane clearcoat) all applied by PPC's own Dumas. PPC's Bob Thrash handled the graphics, such as the custom striping, accents added to the upper hood, trunk, and body as it surrounds the upper portion of the body. He also applied the custom rear Bumble Bee strip that included a water drop effect that's a modern take on the Super Bee logo that was then painted on each side of the car along with the Bumble Bee stripe.
Once inside the droptop you will see the 1970 Coronet RT dash is equipped with a Dakota Digital VHX-68D-CHG gauge cluster, which is reminiscent of stock but fully modernized, and what appears to be stock A/C is upgraded to a Vintage Air system. Other interior choices include an ididit steering column crowned with a Budnik Chicane leather-wrapped wheel. Getting all of the electrics to work is an American Autowire harness that was wired into place by Dumas while the juice is supplied by a trunk-mounted Optima battery. Seating is a combination of 1969 Chrysler 300 bucket seats surrounding a 1971 Coronet center console while the rear seating was custom built by Dave Schober. In fact, all of the fine stitchwork was handled by his shop, Schober Hot Rod Interiors. Black and gray leather was sewn into place while black and gray German weave carpeting was laid down. More Schober handiwork is the automotive cloth convertible top.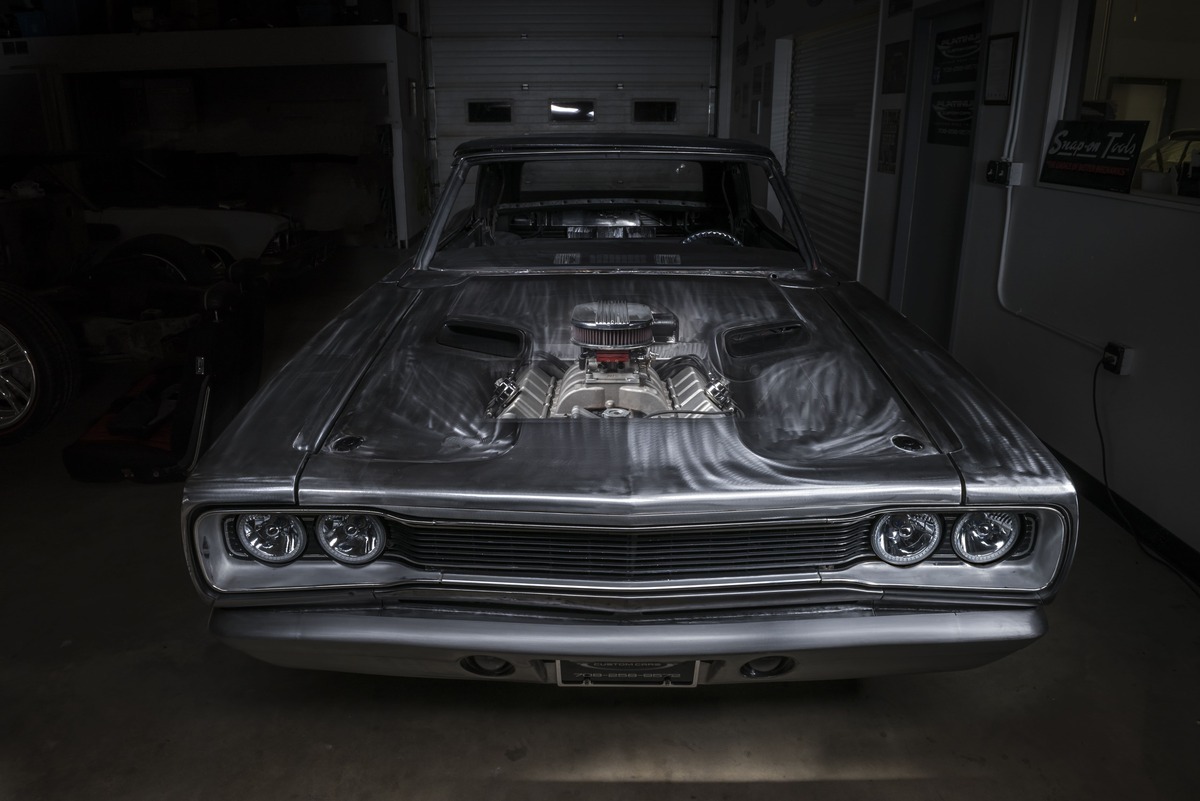 All Mopars are known for their power so why should this 1969 Dodge Coronet be any different? It's tailored with a fully blueprinted and assembled 6.1L Indy Cylinder Head crate motor with aluminum heads, capped with FAST EZ-EFI dual throttle bodies, and crowned with Billet Specialties ribbed dual-quad air cleaners. The heads were ported and a Comp Cam 'shaft is used to help pump out the 497 hp and 435 lb-ft of torque. Other engine choices include MSD ignition control box, Indy Cylinder Head plug wires, a March serpentine belt system, and dual-electric fans. Exiting the spent gases is a set of TTI Performance Exhaust and Headers with 1-3/4-inch primary tubes running down to a 3-inch collector and then into 3-inch stainless steel exhaust pipes that pass through dual mufflers. Supplying the fuel to this monster is an 18-gallon stainless steel tank with submerged electric pump from Rick's Hot Rods. All this power is backed up to a Silver Sport Transmissions A41 automatic 4-Speed PerfectFit overdrive kit and an SST 11-3/4-inch converter with a 2,400-rpm stall speed.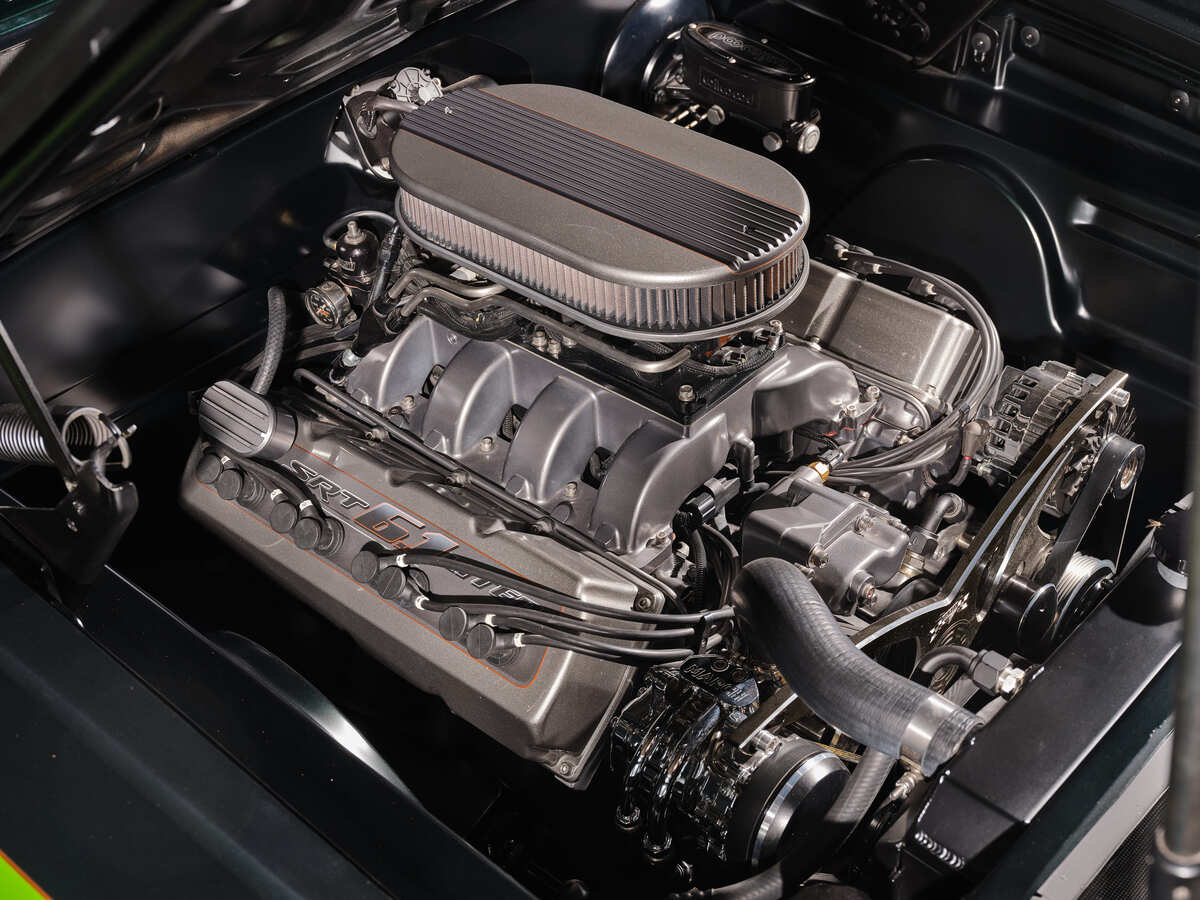 The chassis is based on a stock Coronet unibody frame and it was from here that Dennis installed the USCT Motorsports connectors now welded into position. These connectors are made from 12-gauge steel (factory is 16-gauge) and bent for a precise fit. From here the connectors are designed to be welded to the existing unibody floorpan. No cutting of the floorpan was required and, as is the case, once welded into position a fully boxed framerail connector now exists that's stronger than the original factory setup.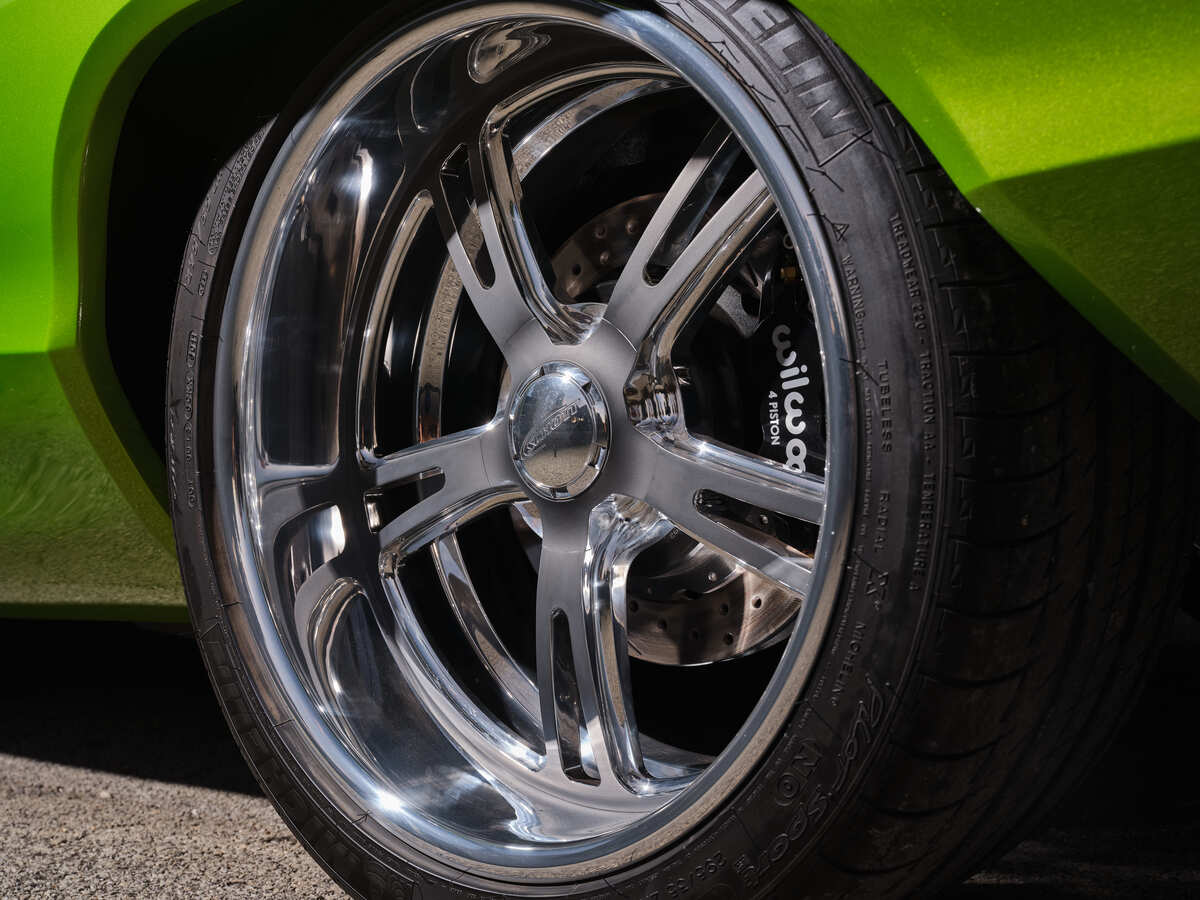 From this point the front suspension is based on a Riley MotorSports AlterKtion IFS system that includes a K-member and suspension configured around their front spindles, Wilwood six-piston calipers and 13-inch drilled/slotted rotors, RideTech mono-tube single-adjustable coilovers, AGR power rack-and-pinion, and a 1.25-inch sway bar. This front IFS yields an impressive 5-1/2 inches of total travel leading the way to a good handling and nice highway ride. In back more Riley MotorSports suspension can be found in their Street Lynx triangulated four-bar suspension that was lightly modified to handle the aggressive wheel-and-rubber combination. Part of the system are Viking double-adjustable coilover shocks and more Wilwood braking with four-piston calipers and 12-inch drilled/slotted rotors. Pressing the brake system into service is a Wilwood master cylinder and a Corvette 9-inch power brake booster with modified stock pedal assembly capped with Lokar pads. Wrapped around the Wilwood brake system are MOD 5 Cover-Loc split five-spokes from Schott Performance Wheels. Framing the wheels are Michelin Pilot Sport rubber measuring 245/40ZR18 in front and 295/35ZR20 in back.
Yes, it's a 1969 Dodge Coronet convertible but that's only the beginning of the story. There's so much more to see and to marvel over with this remarkably crafted droptop. MR