Butch Lloyd's Dual-Purpose Chevy 3100 Shop Truck
By Chuck Vranas   –   Photography by the Author
There's nothing more gratifying than putting your classic truck to use for its original intended purpose. From the moment it came off the assembly line it became one of the most important tools for an individual or business, regardless of whether its life was devoted to farming, making pickups and deliveries, or servicing clients. Sure, we're all passionate about our trucks and treat them like they're part of the family, with many still rolling as stockers while others get dropped, packed with a hot V8, and treated to a myriad of custom updates. Somehow though, it seems that creating a dual-purpose hauler would bring the best of both worlds together. The slick 1954 Chevy 3100 Series laid out across our pages, owned by Butch Lloyd of Wilmington, Delaware, is one such truck.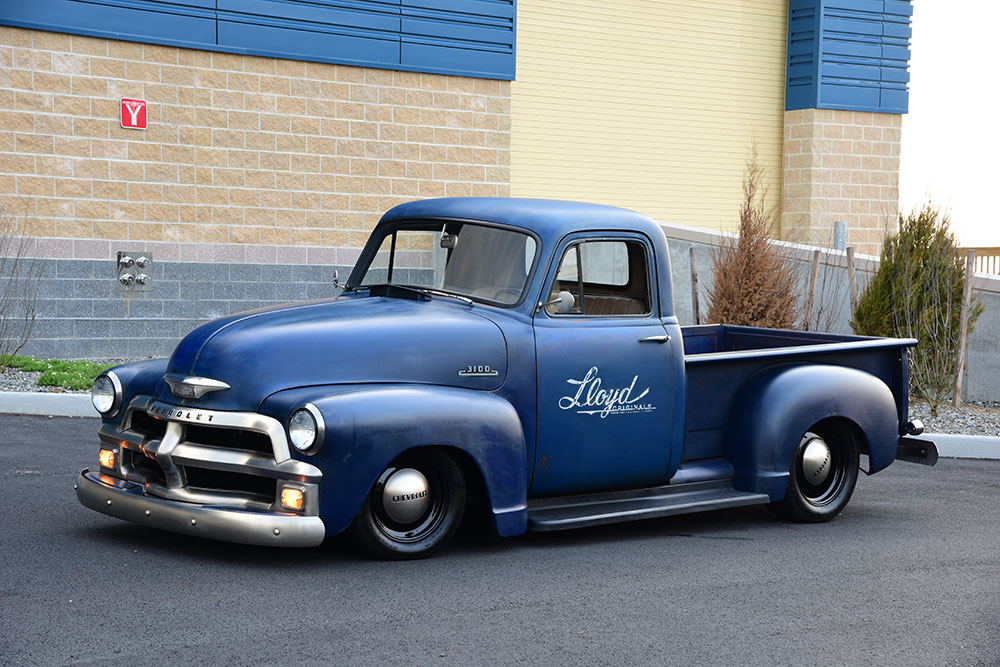 Read More: Behind the Scenes At L&S Customs
As the owner of Lloyd Originals, a custom fab shop specializing in the builds of hot rods, custom cars, and motorcycles, Butch has always relied on a shop truck for taking care of business. Having always had a passion for Chevrolet Advance Design trucks, it was only going to be a matter of time till one found its way to his possession. Hearing that a local collection was being cleared out it was fate that brought him face-to-face with a truck that he had seen years earlier and lost touch with. The '54 Chevy 3100 supposedly came from the well-known DuPont Estate where it was used to haul flowers from the greenhouse to the mansion. Its weathered exterior was in need of attention as was the driveline but it was a perfect base to start with, so Butch wasted no time rushing to the bank to get the greenbacks to swap for the title. Once home in his shop all it took was a keen eye and a well-balanced dose of practical magic to bring it to life. Butch's formula was a simple one … add just the right amounts of stance, dependability, and attitude. No wild electronics, airbags, or complexities were used to repurpose it into a daily driven work truck that's also at home cruising nights and weekends to grab dinner or take in a car show.
Let's take a peek into what makes this Chevy so darn cool. After evaluation it was obvious the original spine was in solid shape, making it a perfect candidate for some updates to dial it in. Starting out back, Butch boxed and C-notched the frame rails and added a refreshed '85 Chevy S10 rear end packed with 3.73:1 gears. It's suspended in place by a combination of new factory leaf springs with custom-fabbed 4-inch steel lowering blocks and adjustable Gabriel air shocks for when it's time to haul the heavy stuff. To lay the nose in the dirt, he first boxed the front frame rails and then added a Speedway Motors Mustang II Independent Front Suspension kit complete with their exclusive tubular upper and lower control arms, 2-inch dropped spindles, single-adjustable QA1 coilovers, and power rack-and-pinion steering. When it's time to halt the hustle, a Gen-1 Camaro dual power master moves fluid through stainless lines to rear S10 drum brakes and 11-inch front discs with matching calipers from Speedway Motors. Linking it all to the street are a set of classic 12-Series Smoothies from Wheel Vintiques, sized 15×6 in front and 17×7 in rear, wrapped in Goodyear RSA tires size P195/60R15 and P235/55R17, respectively.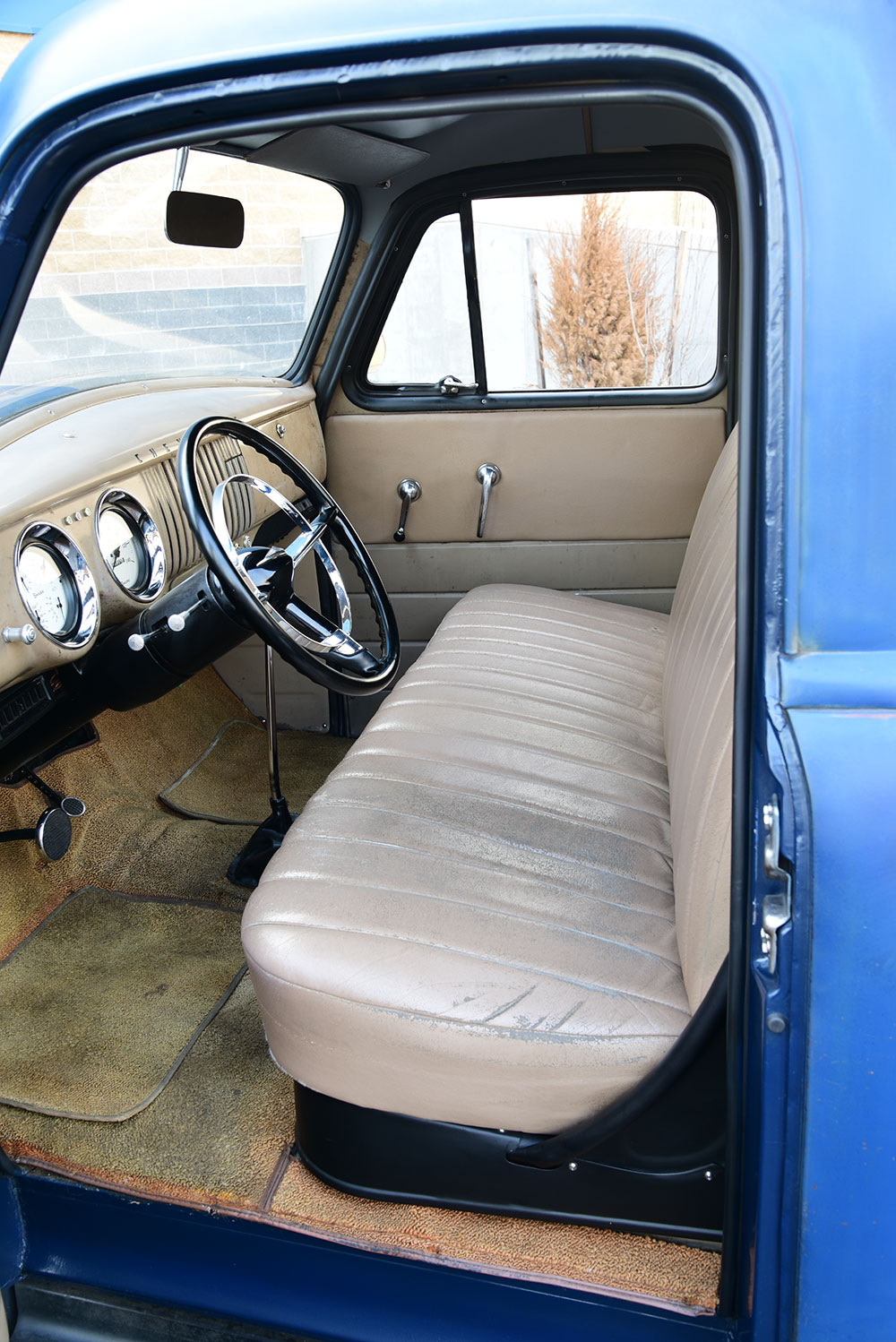 Read More: 12th Annual Chevy/GMC Southeastern Truck Nationals 2022
Knowing that the truck was going to see plenty of road time it was obvious the engine would need to be up to the task. Nothing says rock-solid dependability better than GM's venerable 350 small block V8 engine. Starting with a '70s-era four-bolt main iron block filled with a stock rotating assembly, Butch added a Comp cam for more bump. Up top, a set of tweaked double-hump heads generates plenty of power while a Weiand intake manifold breathes deep through an 650-cfm Performer Edelbrock carburetor topped by a finned aluminum air cleaner from Speedway Motors. It all sparks to life through an MSD ignition while hot gasses roar through a set of shorty headers from Speedway Motors to a 2 1/2-inch exhaust with Flowmaster mufflers by the owner. Butch also got busy underhood by fabricating a custom bead-rolled firewall along with complementing bead-rolled radiator cover and fan shroud. He also added a hidden overflow tank sunken into the driver side inner fender. Final additions include aluminum sbc finned valve covers from Speedway, Alan Grove Components drive accessory brackets, and an Edelbrock fuel pump. A warmed-over GM 700R4 transmission from Deltrans of Newark pushes power to a custom driveshaft.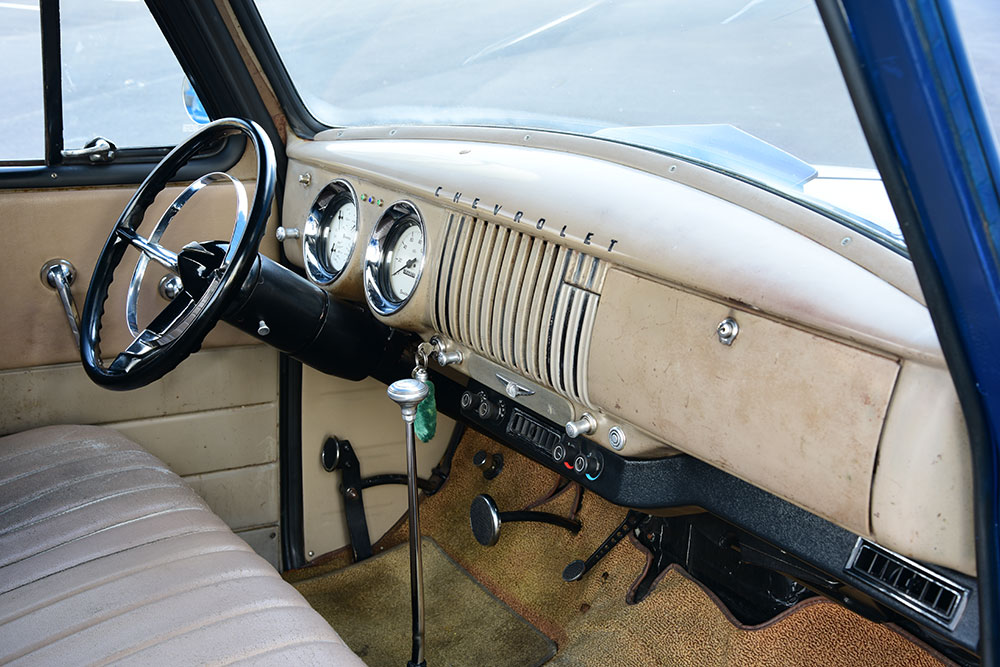 When it came to the exterior, thankfully, the truck hadn't seen a hard life, however it was definitely in need of some attention. Butch went right to work by first replacing the driver side fenders with fresh sheetmetal from Brothers Trucks and followed by color-matching them to the existing patina. The bed wood was then replaced by good friend Franco Fregapane with custom black stained oak, complemented by brushed stainless strips along with a Lloyds logo sunken into the front bed panel. Easily one of the truck's most subtle details drawing your vision across every plane are the brushed chrome and stainless finish on the front grille, bumpers, hubcaps, and all exterior trim by Butch that helps separate it from the rest. To complete the exterior he added custom door designs perfectly matched to the Chevrolet logo on the tailgate.
Read More: Affordable Independent Rear Suspension Upgrade For Your Classic Trucks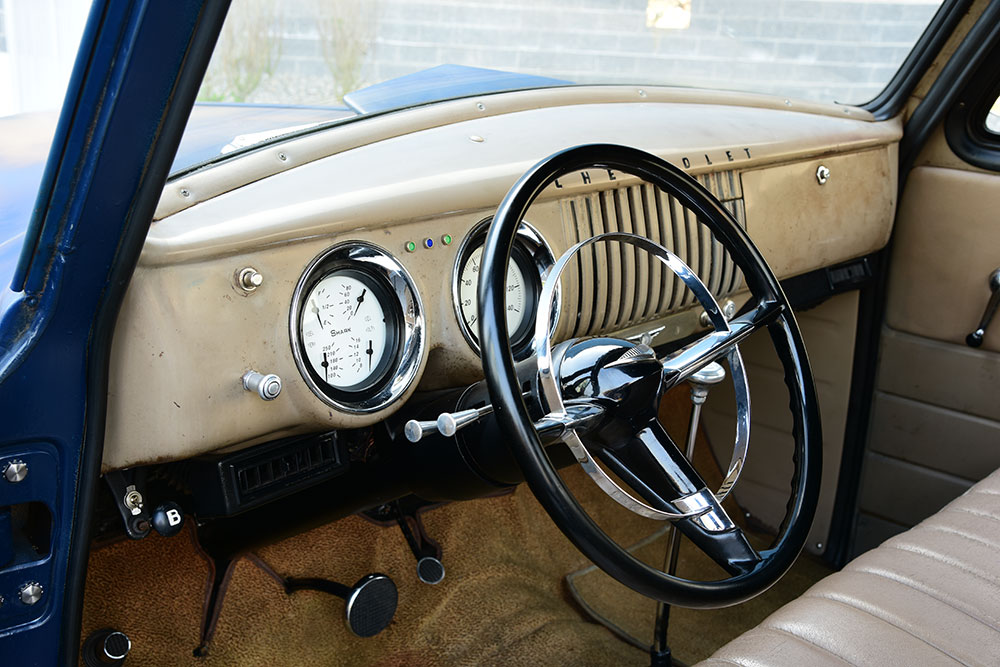 Inside, the well-worn bits make no apology, proving the hauler has seen plenty of hard miles over the years as a workhorse. The stock dash packs Shark-model dials from Dolphin Instruments to monitor the vitals while a '56 Chevy steering wheel from Speedway Motors mounted to a GM tilt column carves a course with shifts moving though a stick from Lokar. Cool breezes are compliments of Vintage Air, while tunes flow thanks to thunder from a Pioneer head unit deftly matched to a combination of Pioneer and Rockford Fosgate speakers urged by a pair of vintage Orion SX amps with an EZ Wiring kit bringing it all together. For plenty of comfort the stock bench was recovered with pleated tan vinyl complemented by brown loop carpet. Butch's '54 has become a fixture on the East Coast hot rodding scene for the last decade, rolling into countless cruise nights and national events while also hauling the goods for his business on a regular basis, racking up at least 7,500 miles a year, and to us that's as real as it gets!