By Chuck Vranas – Photography by the Author
For a young John Gagetta of Pittsburgh, Pennsylvania, discovering hot rods as a young teen in 1959 paved a path that led him on a lifelong journey—the pinnacle of which can be seen across our pages with his freshly completed '32 Ford B-400.
Check Out: Don Demers 1932 Ford Channeled Coupe
His indoctrination started thanks to the sounds of a rumbling V-8 filled with a hot cam, leading him to a neighbor's garage to discover a hopped-up '32 Ford pickup packed with a 352 Ford V8 being worked on. Soon after, he fell under a spell of traditional hot rods that eventually led to weekly visits to Pittsburgh International Dragway. Once he earned his license he began racing there as well as becoming part of the local street racing scene. There was always plenty of action happening nightly running across the iconic Westinghouse Bridge since it had a perfect ½-mile stretch, making it a great platform to see who ruled the streets on a regular basis.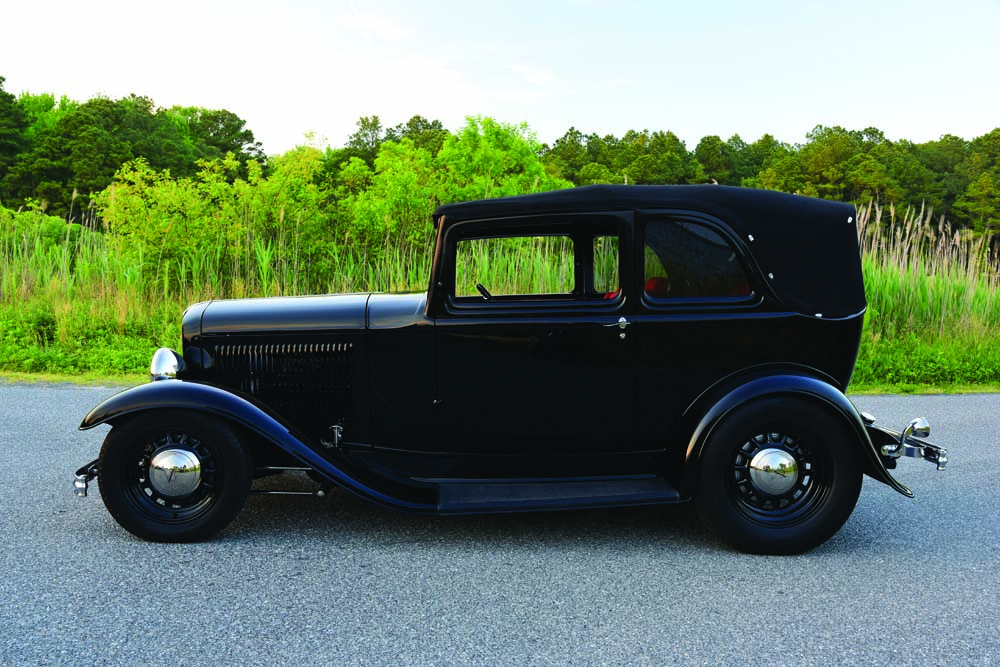 John's passion for hot rods led to a long-term affair with a number of cars, including a traditionally styled '31 Ford Victoria and Deuce roadster as well as a '69 Corvette, which have been in his collection for decades. Over the years he gained a fascination with early Fords, especially the rarely seen body styles. One in particular became his personal unicorn, the mystical '32 Ford V8 B-400 convertible sedan. With its truly unique coachwork it allowed for a tight cabin to keep out the elements with the added bonus of a convertible top.
Check Out: In The Garage: 1932 Ford Highboy Roadster
It took years but finally he was able to locate one thanks to the perseverance of great friend Bernie "Murph" Wentker of B&W Vintage Auto Locators in Manchester, Maryland. Thanks to Wentker's extensive research, he was able to source an original righthand drive body with fenders and complete interior in Vancouver, British Columbia. The car is believed to have been delivered to Argentina, eventually making its way to England and then onto Vancouver. With a well-stamped passport it finally made its trip to the USA.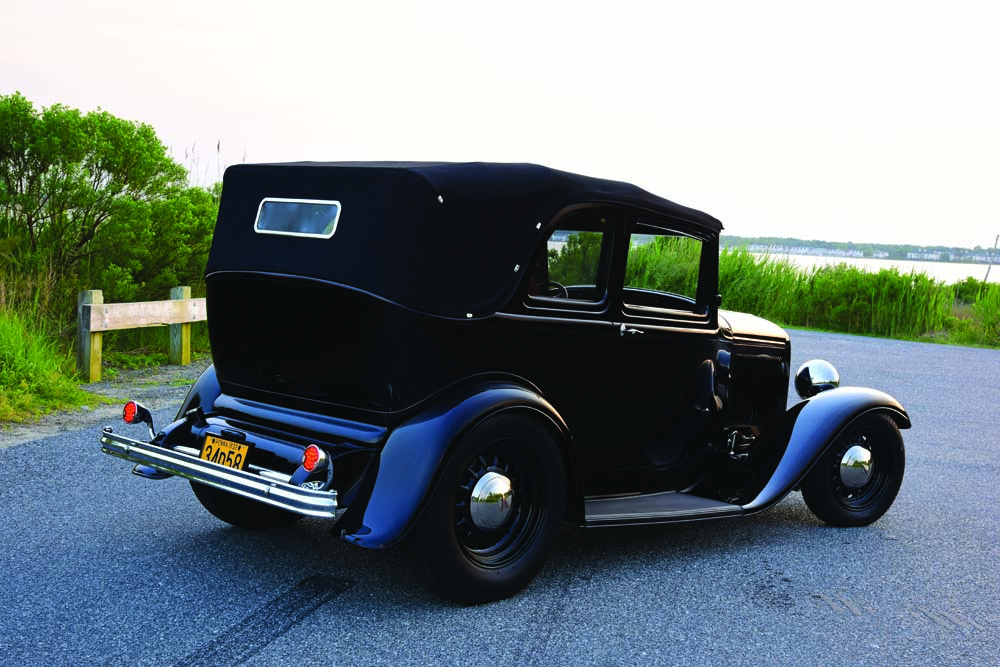 Having the car finally in his shop, John marveled at its originality and clean sheetmetal, only showing one repaint. After studying it he knew there was a need to refresh its personality. It was Wentker who recommended that he speak with the team at Bad Donkee Hot Rods in Hanover to evaluate the build with their special attention to traditional style. After meeting with Howard Kelly and team member Clark Bates the trio shared many of the same ideas of what it would take to give the vintage steel a newfound elegance. Not wasting any time the car was delivered and the build commenced.
For a rock-solid base, a SO-CAL Speed Shop (SCSS) Step-Boxed Deuce frame was selected, featuring American Stamping 'rails combined with recessed boxing plates, front and rear crossmembers, tubular K-member, and swept-C out back. A Ford 9-inch rear packed with 3.50 gears spinning Strange Engineering 31-spline axles was suspended in place by a custom four-link combined with an SCSS Panhard bar and Aldan American coilover shocks.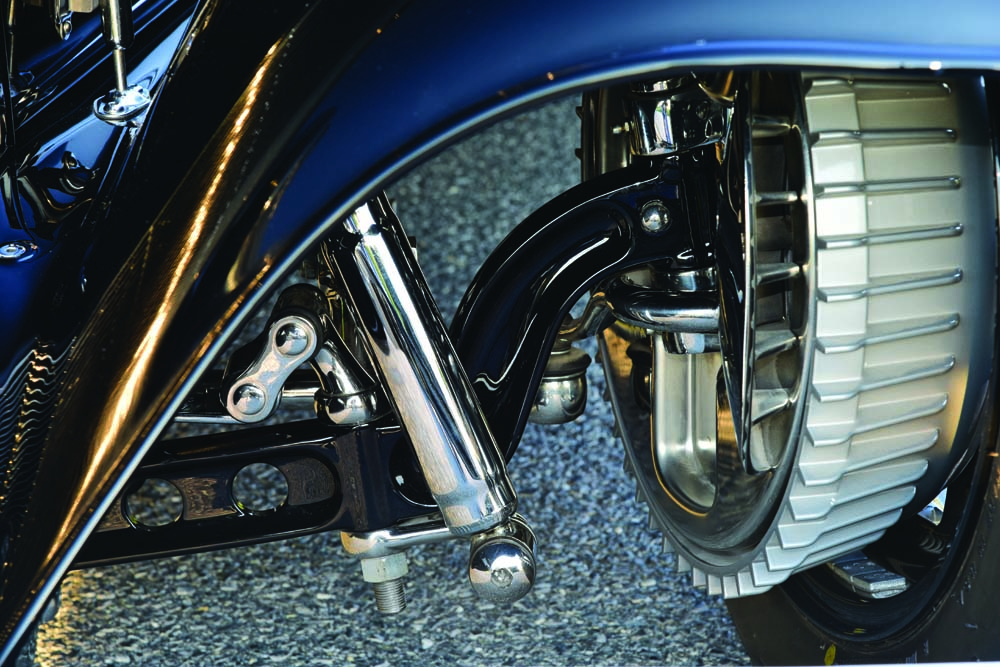 Up front it's all business with an SCSS 4-inch drilled-and-dropped axle deftly matched to their exclusive GT2 polished stainless spindles and four-link, Panhard bar, tube shocks, and Posies SuperSlide transverse spring to soften the bumps. When it's time to stop, a Ford dual master pushes fluid through stainless lines to 11-inch Ford drums out back and SCSS front discs with finned aluminum drum covers. Bringing it all to the street, a set of custom-ordered 16×4 front and 18×6 rear Artillery-model wheels from Wheel Smith were shod with Coker/Excelsior rubber.
Check Out: 1932 Ford Five Window Coupe & It's All Steel
For building the ultimate small-block Chevy V8, John worked with Evanuik Performance in North Versailles to pack plenty of dynamite between the 'rails. To start, a 1969 Corvette 350 small block was massaged to a 383 stroker and packed with a speed shop full of go-fast goods. The guts included an LPC 4340 forged steel crank linked to matching 4340 H-beam rods capped with Mahle forged pistons getting bumped by a custom-ground stick from Comp Cams.
A set of RHS Pro Action aluminum heads make plenty of seamless power, especially when matched to an Inglese 8-Stack EFI system to add the final punch. A FAST ignition lights the fire with expended gases dumping through custom headers by Evanuik to a stainless 2-½-inch exhaust combined with Flowmaster mufflers for a mellow tone. Other cool bits include an alternator and starter from Powermaster, custom valve covers, and air cleaners from OTB Gear. To move the goods, a StreetFighter 700-R4 trans from TCI Automotive links to a custom driveshaft by Evanuik.
Taking on the vintage steel was a feat handled by the entire team, starting with stripping the body, N.O.S. fenders, and all related panels to bare metal. Thankfully, the years and countries the B-400 lived in were kind to its existence. A number of subtle modifications were added to enhance the look of the car, starting with removing 1 ½ inchs from the rear top bow of the top to soften the roofline. From there, the windshield was flush-mounted in place, cowl lights were eliminated, and the stock headlights were mounted direct to the fenders.
Check Out: 1932 Ford Highboy Roadster New Zealand-Style
A custom hood top was fabricated by Rootlieb, with an intricate operating mechanism accented by a Dan Fink grille insert and custom front emblem from Greening Auto Company. From there the team added new floors, metal finished the body, and set all the gaps. To bring it all to life, a classic coating of Glasurit Black was added complemented by maroon fine lines from Kevin Sweeney.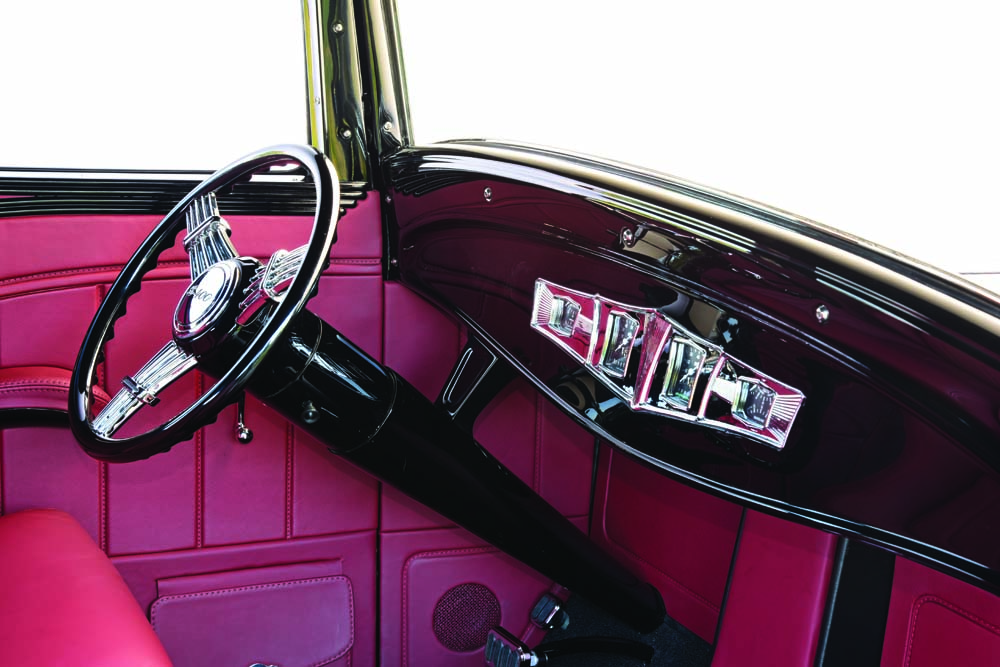 Wanting to infuse just the right amount of elegance to the interior, the factory dash was fitted with a '31 DeSoto gauge insert with dials restored by Classic Instruments while steering moves through a custom wheel from Greening Auto Company mounted to a Flaming River tilt column. Gears select from a Lokar stick while cool breezes are from Vintage Air. The team then wired the car using a Ron Francis kit before handing it over to Custom Upholstery Plus of Monroeville, Pennsylvania, to work their magic. A pair of C4 Corvette bucket seats were restyled and treated to Bordeaux Red leather accented by matching side panels, a custom console, Daytona weave black carpet, and a black Haartz top to complete the look.
The combination of stance and style has brought a newfound allure to the '32 B-400 and we're sure that John is enjoying plenty of drive time now that his dream hot rod is on the road.  MR