Ekstensive Metal Works Builds A Top Tier Truck
By Fuelish Media
There probably isn't a better feeling in the show scene than hearing Bill Carlton of Ekstensive Metal Works refer to your truck as the "C10 of all C10s" on television. He really spoke those words on record on Texas Metal where Carlton and his crew began and finished the long process of building up Jose Rubio's 1968 Chevy C10 from nothing more than a pile of beaten parts.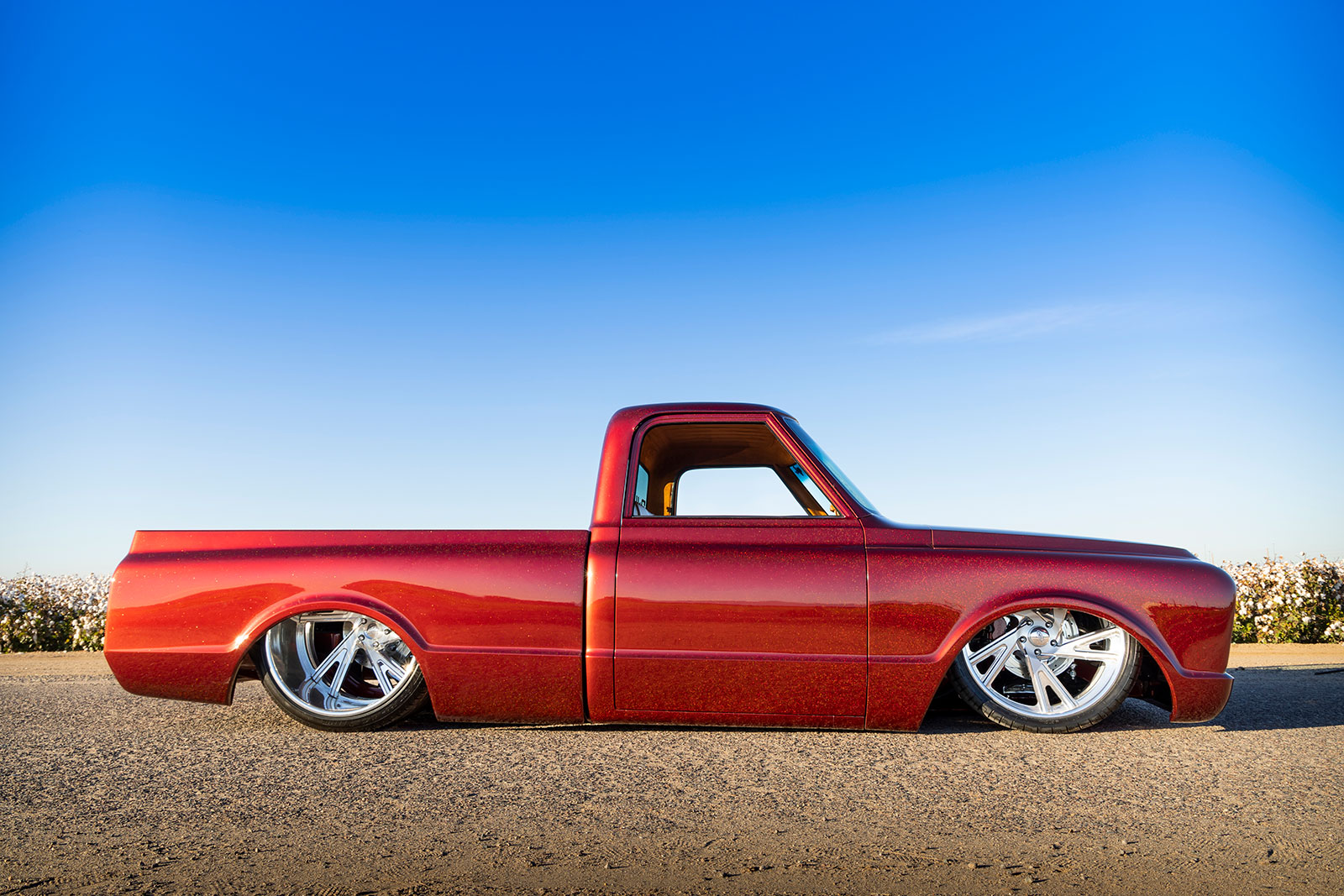 The build of Jose's truck was covered in four episodes of Texas Metal, but in actual real time, the project spanned two years of construction. Now, when Jose dropped the truck off with Ekstensive Metal Works, all he had was the cab, the bed, doors, and the front clip—that's it! All he was asking of Carlton was to create a custom truck chassis that he could build upon slowly at his own pace. Obviously, that isn't what happened. The project was just too good not to go full bore on. Plus, there were cameras readily available to document the in-depth transformation—there really wasn't a good reason to not rebuild the entire truck from the bottom up.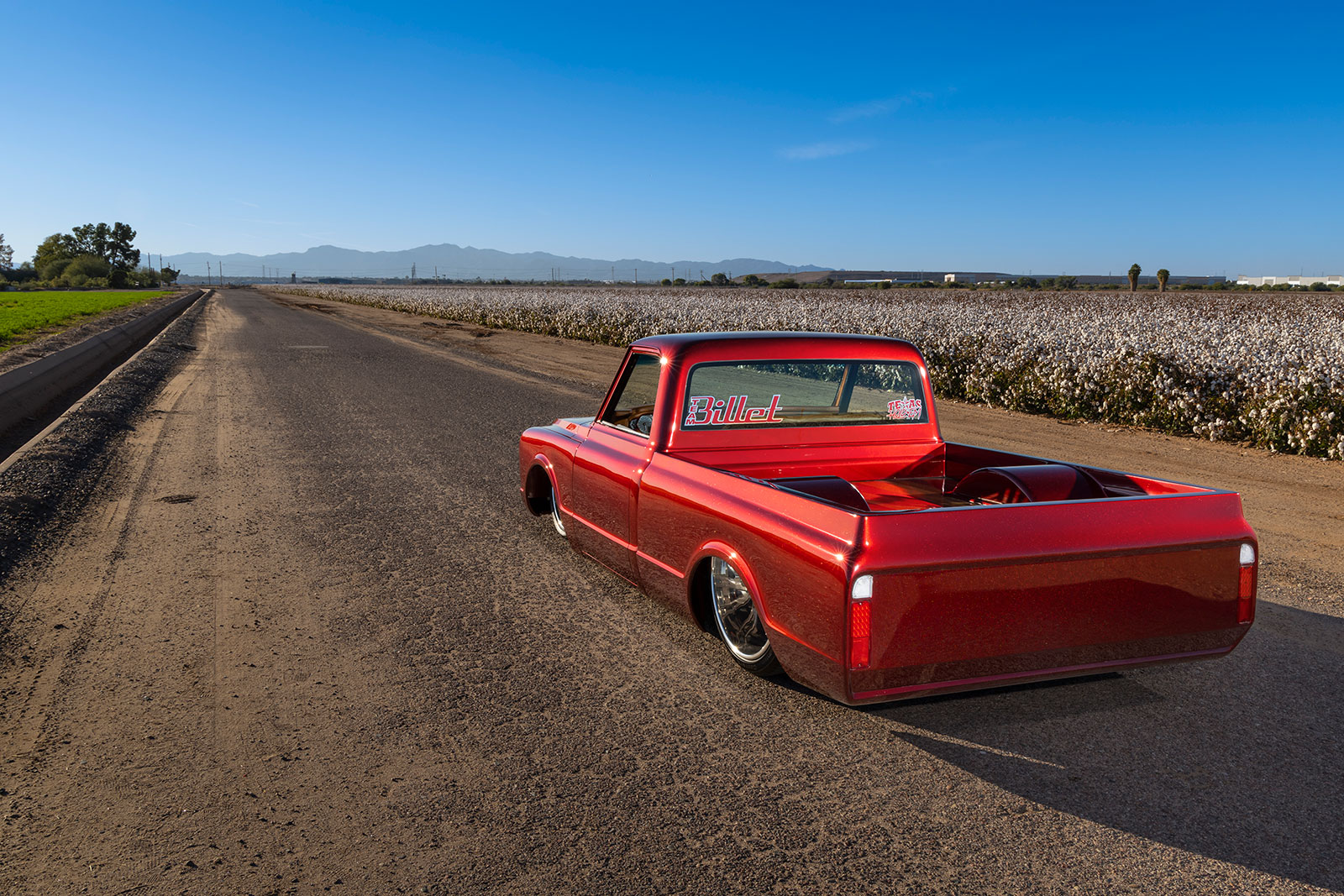 Read More: How To Update Chevy OBS Suspension
Since Jose is a car show promoter in the Houston area (Texas Hold 'Em Show), the idea of committing to a large-scale, high-profile build did start to sound more appealing. After some more thought, the project was put into gear, starting with the initial reason the truck was brought to Ekstensive Metal Works to begin with—a one-off chassis. A hand-built, custom body-dropped frame was fabricated, sent out for powder coating, and prepped for full paint to match what would soon be the color of the rest of the truck. The Ekstensive Metal Works team equipped the new chassis with quick-connects throughout to be able to run all the lines inside of the frame to conceal any and all unnecessary distractions. Of course the frame still needed to be finished off and dressed, and Wilwood brake kit along with a ton of chrome parts and a hand-built fuel cell fit the bill perfectly.
The one-off frame was also tailor-made with one more specific important reason in mind other than to drop the C10 low—to comfortably fit a staggered set of 24×9 front and 26×16 rear Twisted Infamous Intro wheels. Yeah, these things are pretty intense, but what else would you expect from Jose—a member of a truck club called Team Billet.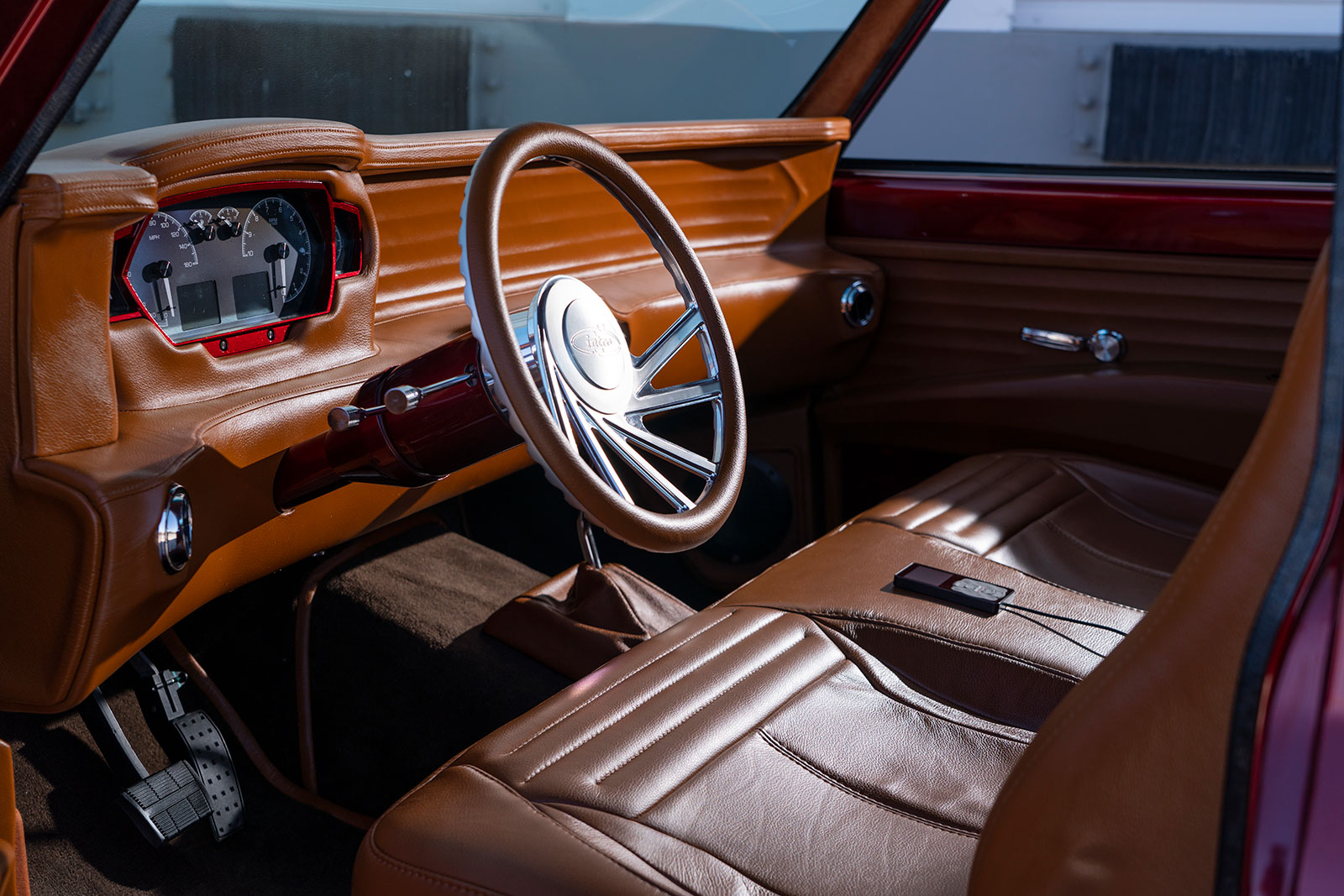 With a full custom chassis serving as a steadfast foundation for Jose's C10, Carlton recommended to build upon its impressive nature with the inclusion of a high-performance engine. Not one to shy away from going big at this point, Jose agreed with that logic and before too long the guys were able to get their hands on a '19 ZR1 Corvette LT5 engine supercharged powerplant and a 4L80 transmission to go along with it. The crew estimates a total of 755 hp and 715 lb-ft of torque have been harnessed, which will make for a rubber scorching good time in the near future—that is if Jose has the heart to burn down a perfectly good set of 26-inch tires.
Read More: Home-Built C10 Hot Rod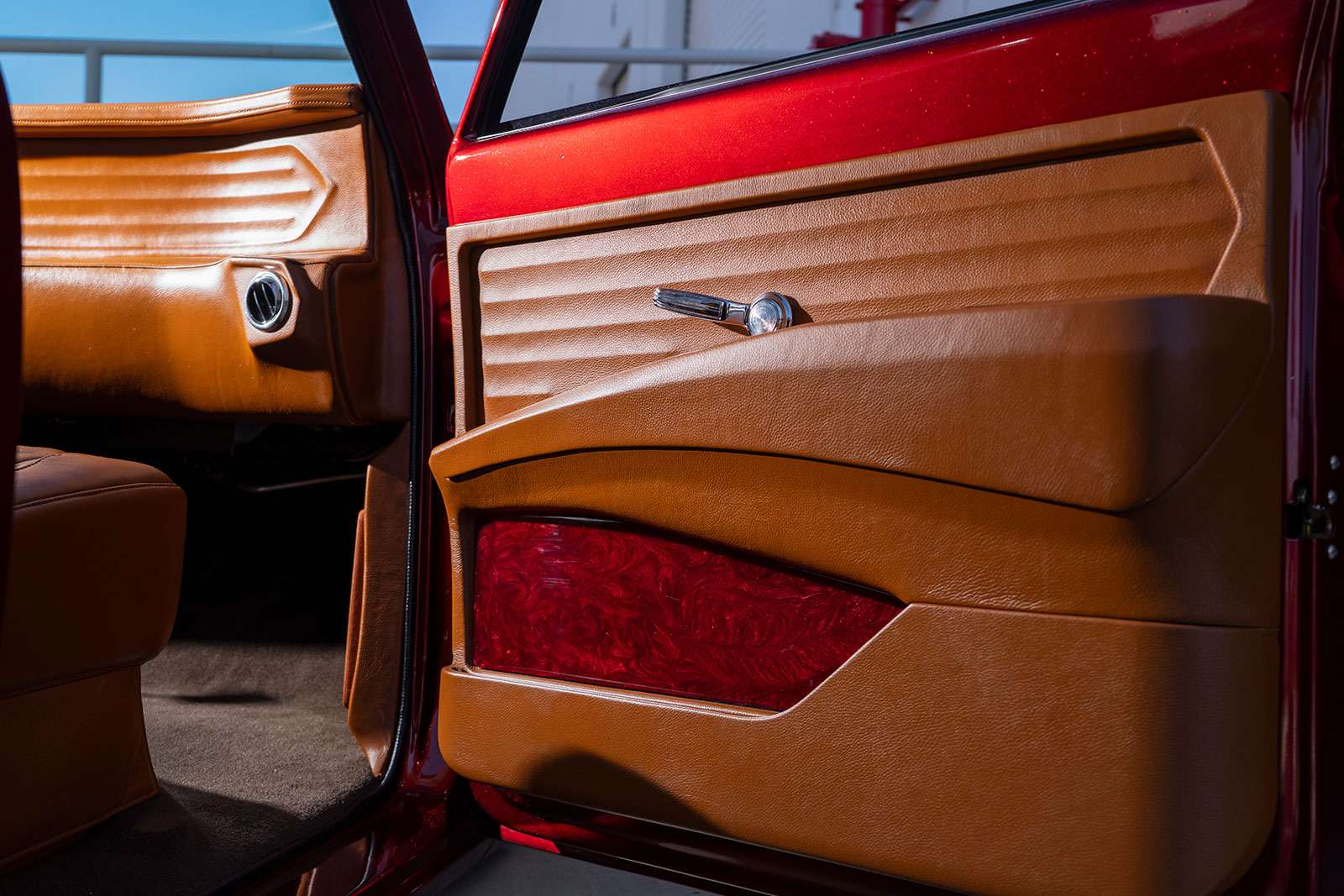 Next, the guys figured it was time to give the C10's exterior some attention. A great deal of unwanted parts were shaved from the surface of the cab and bed for cleanliness sake, and a lot of fabrication work in the way of custom sheet metal panels and bead rolling went into creating an ultra-streamlined appearance. The flush windshield, rear glass, and one-piece door windows also lend to the aesthetic the crew was going for. A one-piece front clip with a flush front bumper along with some sheet metal work underhood further cleaned up the forward portion of the C10 but Carlton had something particularly special in mind for the Chevy's posterior.
To make the rear of the truck as memorable as possible, the guys welded in a rear tailgate/roll pan combo skin, but it's what's inside the bed that makes this truck truly worthy of remembering. A combination of pecan wood planks and custom epoxy give the bed floor an ultra-exotic appearance but it's the center panel powered by actuators that allows onlookers with an insider sneak peek to the custom inner workings of the tricked-out chassis below. If all this wasn't enough to get Jose's truck noticed, the metal-flake-enhanced PPG Brandywine paint job demands attention from every direction. There is no missing this truck, and there is no mistaking it for any other C10 out there. Making a lasting impression is what Carlton and the guys at Ekstensive Metal Works were out to accomplish, and while they were on a major killing spree with the truck, there was still more work to be done.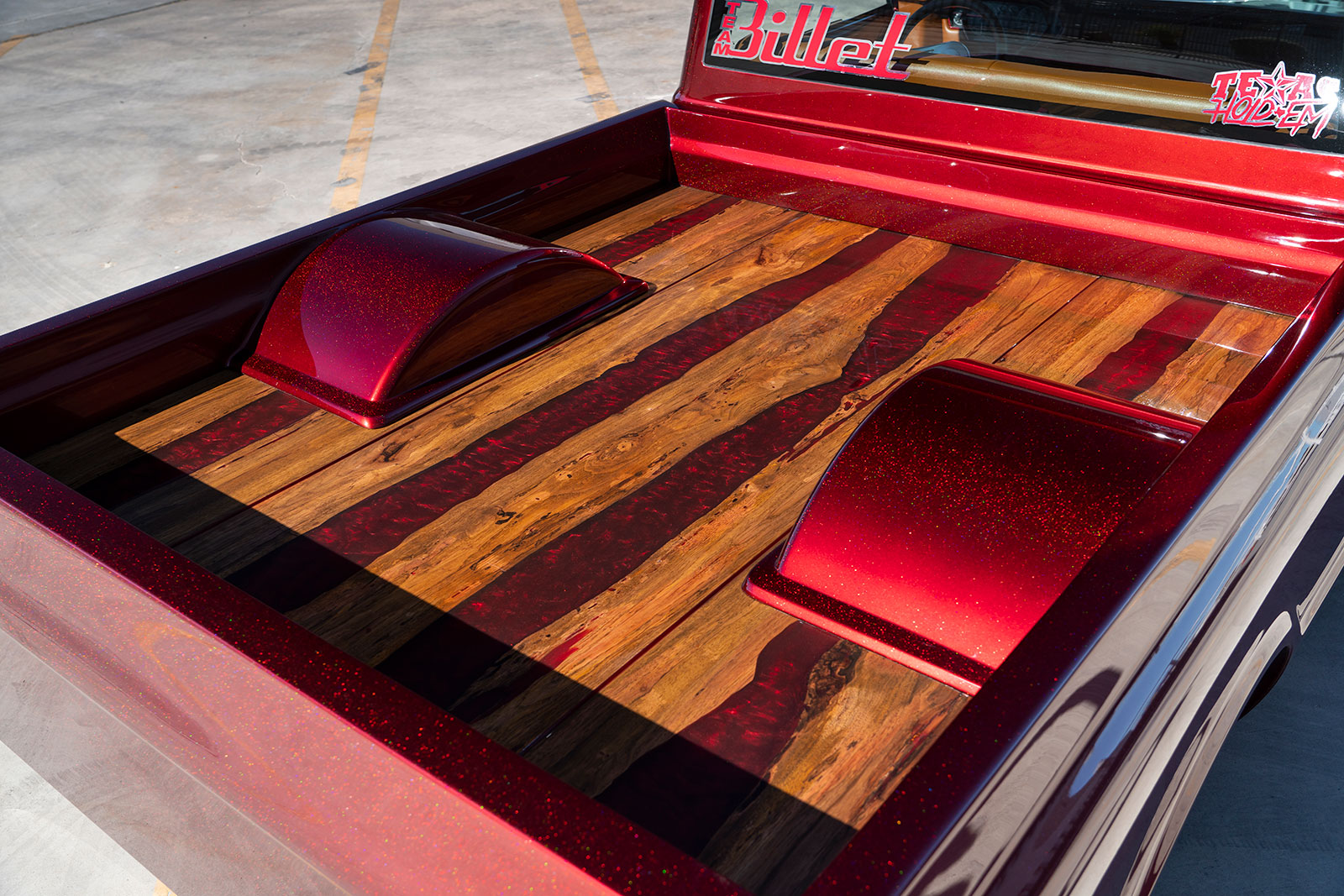 John Burgess of Twisted Interiors was then recruited to not only work his magic on a fully leather-wrapped custom dash, but his talents were also requested to create one-off door panels and an opulent custom bench seat that is just as supple and comfortable as it appears. The look and feel of the interior was quickly becoming the perfect complement to the rest of the truck's high-end styling. Additions in the way of a leather-wrapped Twisted Intro steering wheel, Dakota Digital gauges, and a handful of billet knobs, vents, and handles are just enough to add to the Chevy's lavish interior space without taking away from its striking handsomeness.
Read More: Coyote-Swapped 1955 Ford F100
Whether Jose was ready for it or not, his C10 has quickly risen to the upper echelon of custom classic Chevy pickups. It's hard to imagine that this truck started out as a lowly pile of decrepit parts and pieces, but it now stands as proof that anything is possible once the right minds and hands become involved in the resurrection process. Countless man hours and endless amounts of creativity have been invested into bringing this one back from the grave—don't let the razzle-dazzle of the camera fool you. Builds like this just don't come together in the time frame of four television show episodes, and not everyone out there is capable of making a truck look this damn good.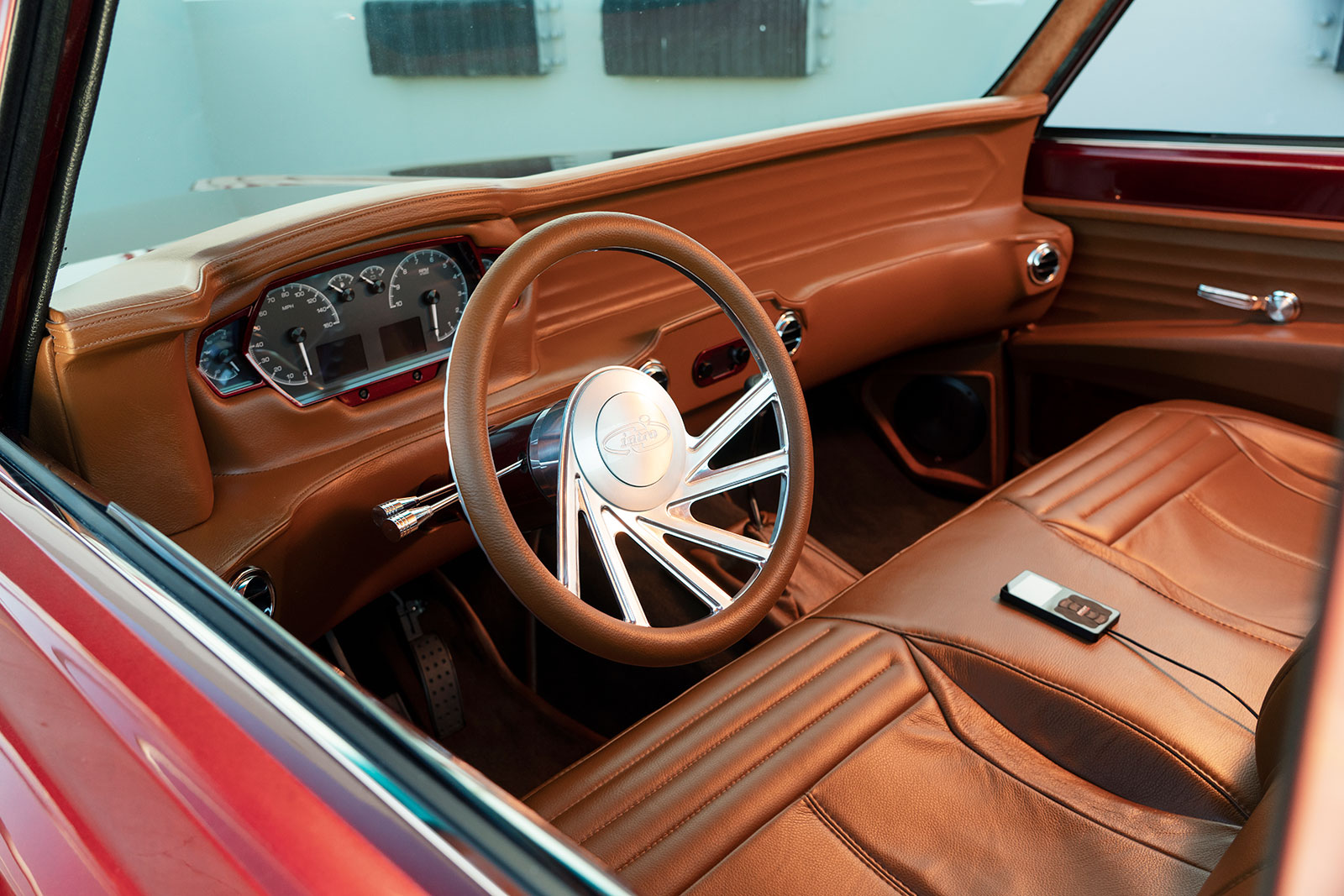 Jose wishes to extend his endless appreciation to his wife Kristel, Andri Cruz, and his Team Billet family for their support and encouragement, as well as a special thanks to Bill Carlton and the entire Ekstensive Metal Works crew for creating a literal work of automotive art.
Click on this issue's cover to see the enhanced digital version of Jose Rubio's Wine Red 1968 Chevy C10.