This California-Sourced 1955 Chevy Truck Is As Good As It Gets
By Chuck Vranas   –   Photography by the Author
You never know where the base for your next classic truck build will come from. It's kind of like setting out to find a diamond in a mountain of sand once you make the decision on what year, brand, and model of truck you want to start with. Couple this with your intended budget and overall condition you're hoping to find and it's time to roll up your sleeves and start digging till it materializes. For Dave Sareault of Walpole, Massachusetts, locating the '55 Chevy Task Force Series was one in which fate had a heavy hand.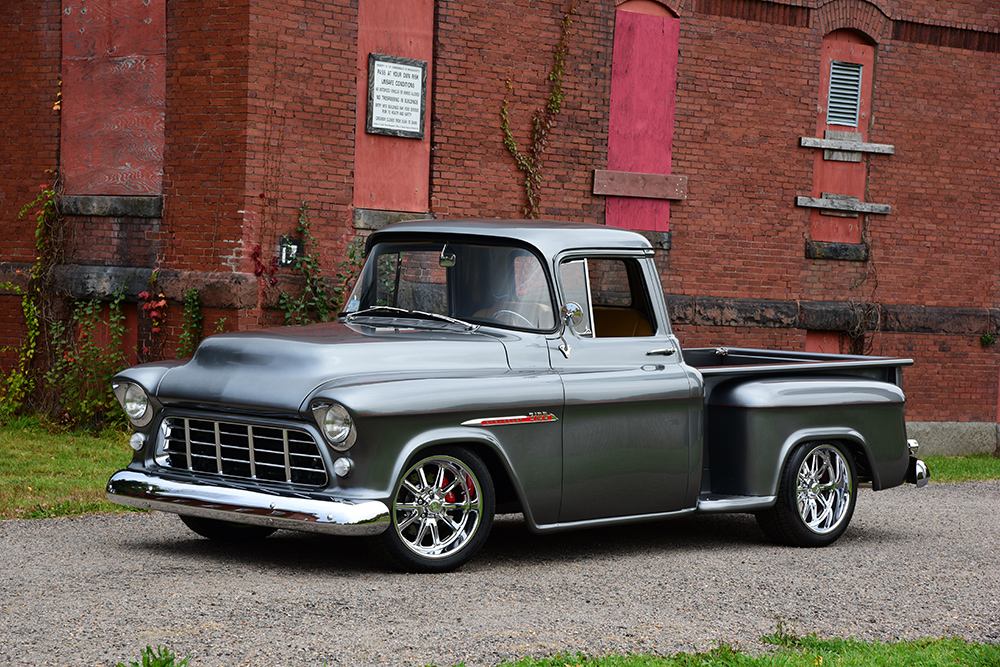 Read More: Old Patty: 1956 Chevy Vintage Truck
Acting on a lead from a friend at a local cruise night telling of an old Chevy truck that had been sitting for a quarter-century in a local garage, his interests were heightened to check it out firsthand even though he wasn't in the market for a new project truck at the moment. Once face-to-face with the truck he was left in awe. First, it was located only 3 miles from his home and second it was a stalled project that was left without a driveline, making it a great start. The crowning touch making this a dream find was that it was a rock-solid Southern California truck with amazing rust-free sheet metal. When you live in New England where harsh winters and road salt tests the limits of steel, it's a breath of fresh air finding something this clean. Without wasting any time, Dave laid down the cash and hauled the truck to his home shop to tear it down and get started.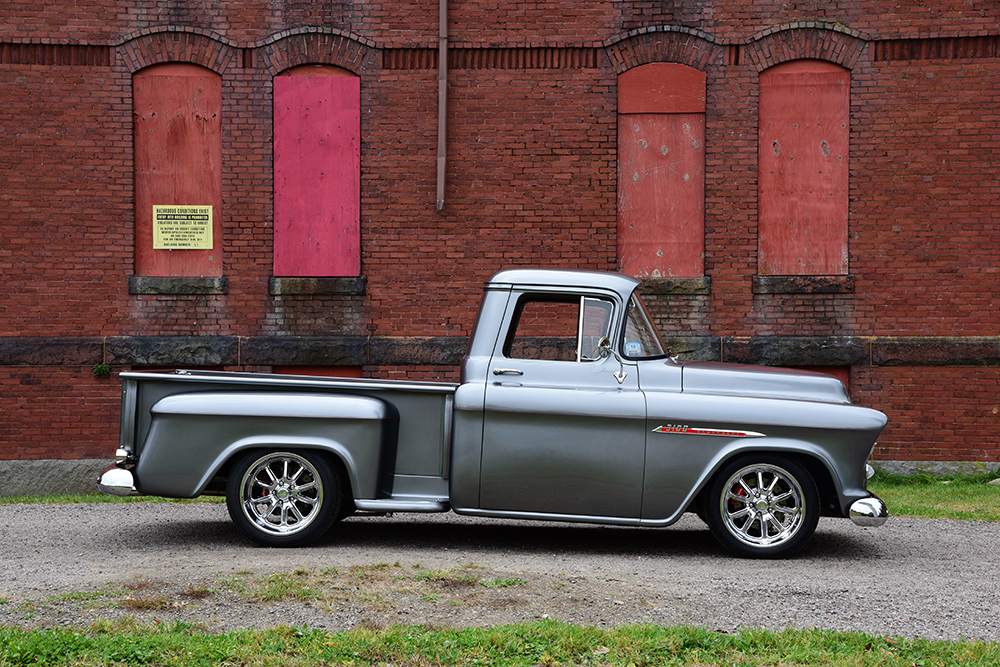 Having owned a number of classic Chevys, including pickup trucks and K5 Blazers, it was obvious this build needed to be a dependable driver that could also hold its own at a car show or cruise night with a well-balanced vibe and stance. Even though the original chassis was in solid shape, a decision was made to repurpose it to a restorer and opt for a fresh base, incorporating plenty of modern suspension technology. A call was placed to Total Cost Involved for one of their '55-59 Chevy Independent Front Suspension chassis, featuring 8-inch-tall fully boxed frame rails combined with a custom-fabricated center section to tie it all together.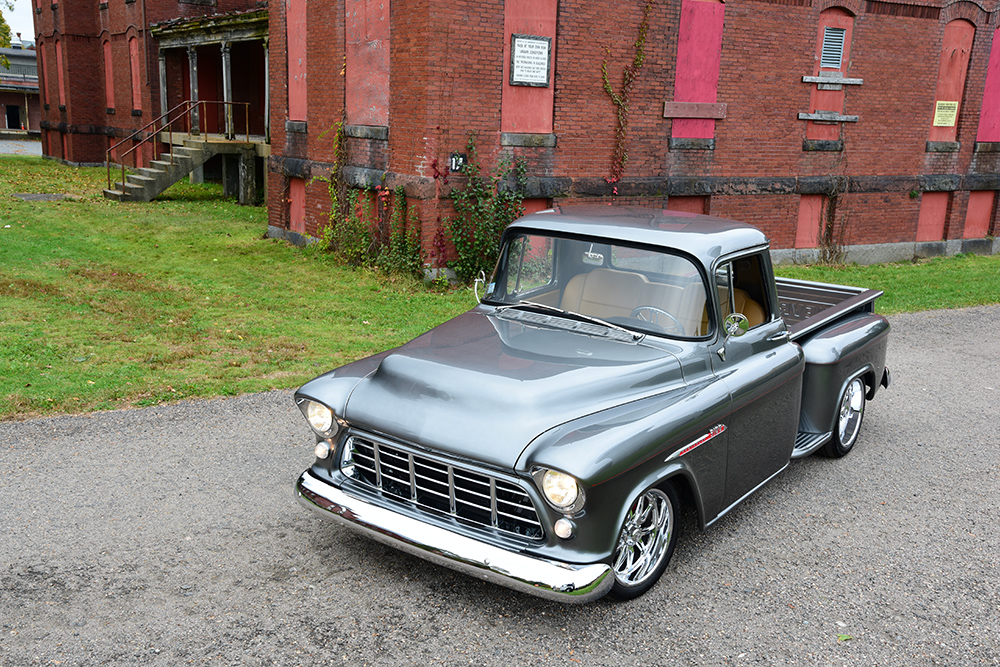 Out back, a Currie Enterprises Hot Rod Ford 9 inch rear end spins 3.89 gears to matching 31-spline axles. It's suspended in place by an equal-length adjustable four-link combined with adjustable Ridetech coilovers and anti roll bar. For slot car–style handling, the Independent Front Suspension features their exclusive heavy-duty tubular upper and lower control arms deftly matched to 2-inch drop spindles along with adjustable Ridetech coilovers, performance anti roll bar, and power rack-and-pinion. When it's time to shed speed, a dual power Wilwood master cylinder moves fluid through stainless lines to matching 12-inch drilled-and-slotted discs with four-piston calipers anchored at each corner. For a killer stance linking it to the street, you'll find a set of Rambler-Series US Mags wheels, sized 18×8 front and 18×10 rear, wearing Continental ExtremeContact rubber, sized P245/45R18 and P255/45R18, respectively.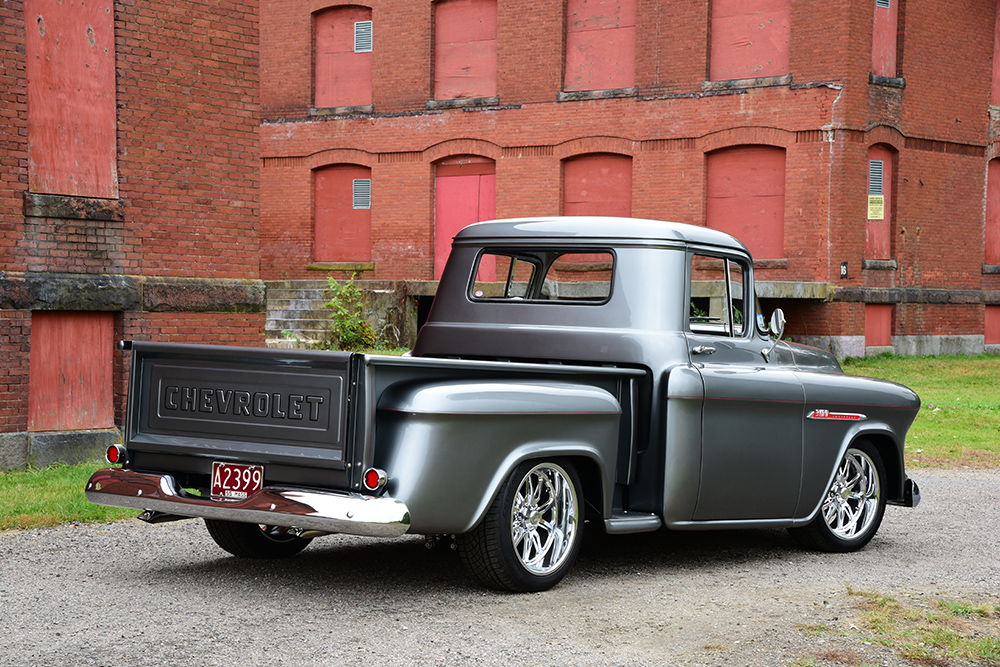 Read More: Tre 5 Customs Built '52 GMC Truck
Knowing that the truck would see plenty of miles once completed, Dave contacted Chevrolet Performance for one of their venerable SP383ci Deluxe small block crate engines packing a stout 435 hp. Starting with a cast-iron block with four-bolt main caps, they pack a speed shop full of goodness inside, starting with a forged steel crank with matching heavy-duty rods capped with aluminum hypereutectic pistons getting a bumped from a hydraulic roller cam. A set of aluminum Fast Burn Cylinder Heads with 62cc chambers generate plenty of power, especially when matched to a high-flow aluminum intake breathing deep through an Performer-Series 750-cfm Edelbrock carburetor. An MSD ignition system lights the fire with exhaust moving through Sanderson headers to a custom-fabricated MagnaFlow 2 1/4-inch stainless exhaust with matching mufflers by Procision Industries of Taunton, Massachusetts. Other cool bits include a March Performance Style Track accessory drive system and neat Cadillac-style air cleaner. To move the goods, a TCI Automotive Street Fighter 700R4 transmission meets a custom driveshaft.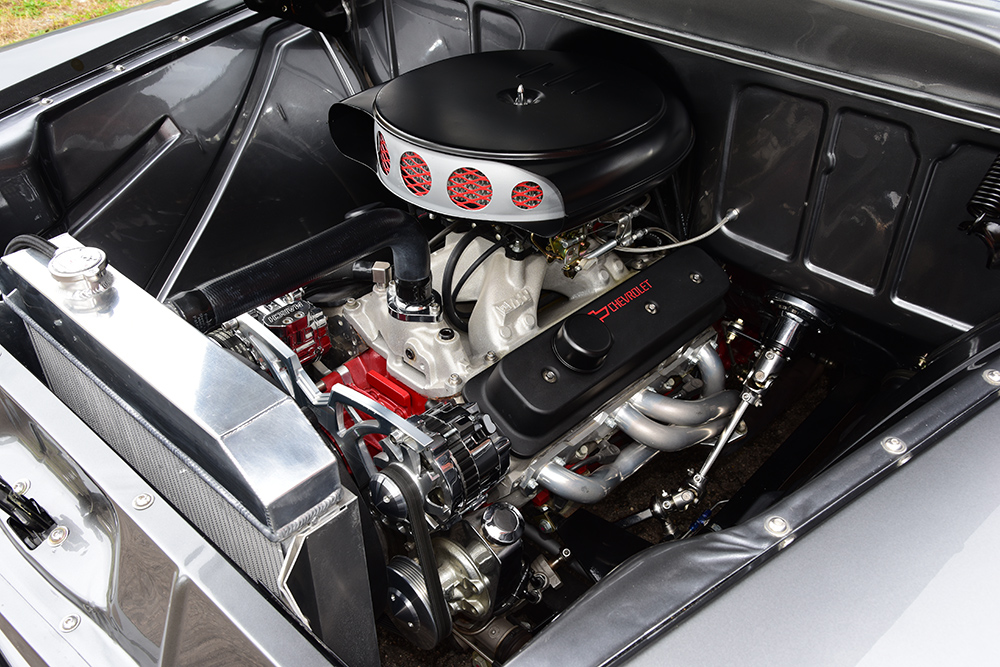 You never know what you're going to find when it comes to vintage steel till it's been blasted clean, revealing its past. Fortunately for Dave, the California sun treated his truck well, proving that it only needed minimal attention in the fabrication department. The team at D & D Autobody in Norwood, Massachusetts, started by smoothing out the firewall along with inner fenders and shaving the hood followed by finessing the original panels to perfection while also setting all the gaps. They also prepped a freshly struck steel replacement Stepside bed from LMC Truck. The team then laid down a lustrous coating of PPG Maserati Ghia Gray to bring it all to life. To add luster during reassembly, fresh bumpers, grille, handles, mirrors, and trim from LMC Truck brought it to the next level with Dave custom-milling the new tiger maple bed wood for installation. Classic lines from the brushes of John Hartnett of Norwood brought the exterior to completion.
Read More: Affordable Independent Rear Suspension Upgrade For Your Classic Trucks
Inside, the original dash was smoothed by D & D, treated to new dials from Dakota Digital to monitor the vitals while steering moves through an tilt ididit steering column with shifter topped by a Mark 9 Supreme Lecarra steering wheel. Cool breezes are from Vintage Air with an American Autowire Classic Update Kit tying it all together with installation by Procision Industries. For plenty of comfort, the factory bench seat was treated to classic pleats and tan vinyl by Mark's Auto Upholstery of Foxboro, Massachusetts, who also installed the complementing door panels and square-weave carpeting. Russ Capobianco of Accurate Performance in Hyde Park then fine-tuned everything, preparing the truck for the street. Dave also wanted to thank good friends Joe Houston and Wayne Magliozzi for their constant help and support throughout the build. This is one '55 Chevy Task Force that's seeing plenty of drive time, and to us that's as good as it gets!