Once Again, the Nats are Hosted in Looavul, Loueville, Looeyville, Luhvul, or for Some of Us Louisville.
By Brian Brennan   –  Photography By the Author
It's been a long time (1970) since the first Street Rod Nationals in Peoria, Illinois. Louisville, or one of its southern speak derivatives, has acted as home for the NSRA Nats at the Kentucky Expo Center since the late '90s. The Nats is now the keynote event hosted by the National Street Rod Association while also serving as host to eight additional regional events. This year was the 54th running of the Nats (remember we are near the home of the Kentucky Derby).
From the numbers the NSRA tells us, there were 649 swap spaces—and we must confess it did look very busy—and 224 exhibitors. The truly big numbers are a direct result of the 9,112 registered street rods and a spectator gate (including participants) that was a tick over 58,000 individuals. Now that's a four-day get-together.
More on the numbers, as they are impressive. Did you know that this event needs more than 500 volunteers that represent 40-plus car clubs and other associations as well as the NSRA staff that is ever present? The Lone Star Street Rod Association had six members driving a total of 4,770 street rod miles to Louisville while the Northeast Arkansas Street Rod Club had 13 members rack of 5,289 miles. If you like miles then how about the Long-Distance Continental USA Award garnered by Cody Bilson with his '55 Chevy Bel Air from Bakersfield, California, coming in at 2,099 miles. Not to be outdone there was Mario Fortin of Saint-Eustache, Quebec, Canada, with his '41 Dodge who captured the Long-Distance Outside Continental USA Award with his 926 miles.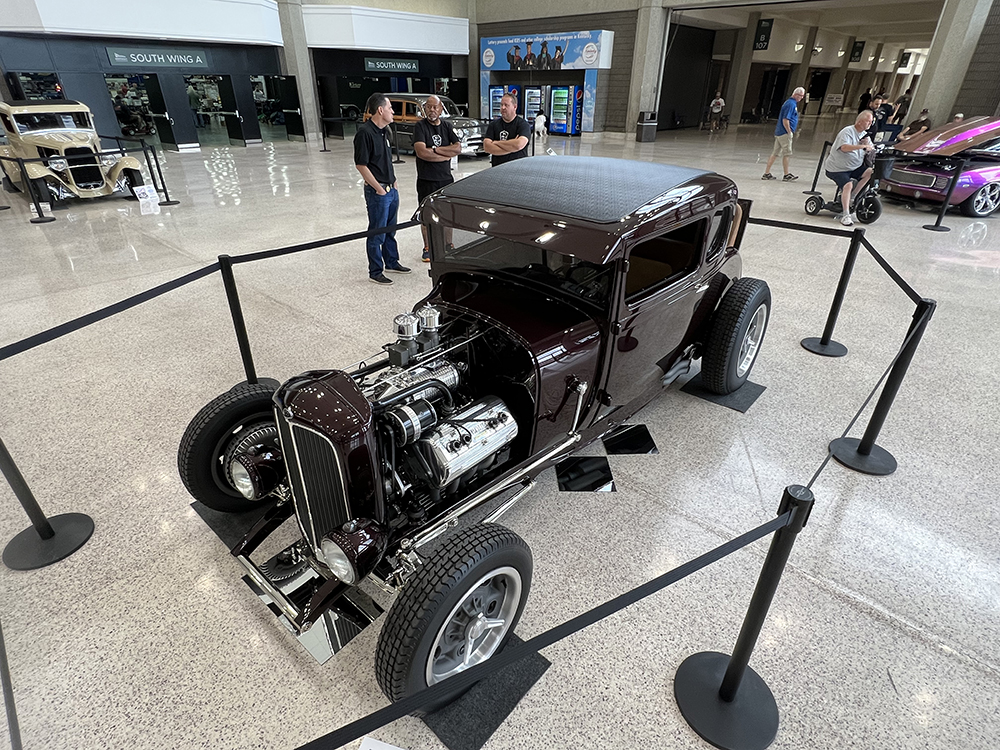 The major giveaway prize was the '77 Chevy pickup that was built by Harrison's Rod & Custom, out of Greenville, Tennessee, and won by Gerald Earney Jr. of Supply, North Carolina. Side note, it's the 43rd vehicle given away at the Nats by the NSRA.
Speaking of "major winners," how about Mike Goldman of Mike Goldman Customs for the '52 Chevy Tin Woodie they built, owned by Kevin and Lynne Kirby of Meridian, Mississippi. They took home the honors in America's Elite Builders of the Year chosen from the participants in the Builder's Showcase over others, such as Martin's Custom AutoBody, Nate's Hot Rod Garage ('29 Ford Model A highboy coupe with ARDUN power), and Hot Rod Construction.
The NSRA Pro's Pick of the Year, an accumulation of winners from throughout the year and then picked while at the Nats, is Rod Bryant of Windsor, Colorado, who took home the yearly honors for his burgundy '51 Ford pickup. In the 29 Below category, sponsored by Vintage Air, the winner was Patrick Yoakum from Centerburg, Ohio, with his gold '70 Mustang Mach 1, who took home a complete  Vintage Air A/C system. Also taking home a major prize from the 29 Below get-together was Devin Doss of Memphis, Indiana, with his black '87 Chevy C10 who was gifted a Classic Instruments gauge set. The NSRA also handed out the 2023 Manufacturer of the Year to March Performance Products from Naples, Florida, while the NSRA Person of the Year was presented to Justin Padfield of Scott's Hotrods 'N Customs out of Knoxville, Tennessee.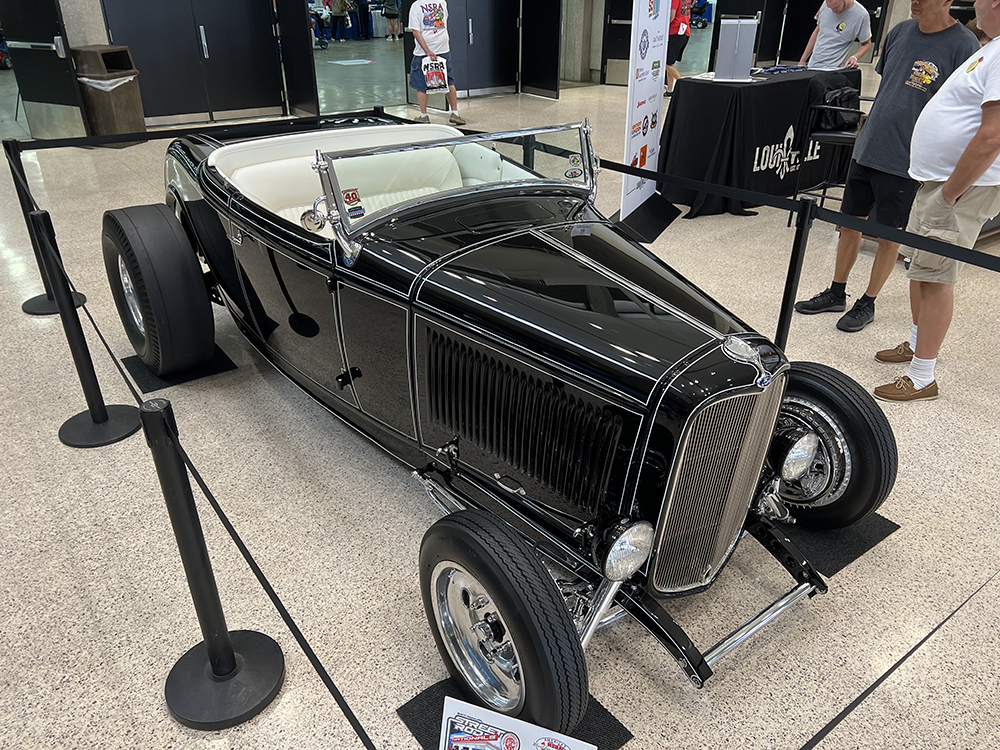 The always popular to visit and equally interesting to see who wins are the New Products of the Year awards. This year there were four categories up for the award, including Best Safety Product of the Year. Talk about having a "banner year" as Flaming River walked off the stage with three awards: Group B winning product was the VDOG Variable Angle Gear, Group C winning product was the Microsteer, and Best Safety was the Slip Shaft Kit. It was the Holley (Classic Instruments) Easy Level Universal Fuel & Fluid Laser Level Sender that "broke up" the clean sweep. To date, some 5,748 new products have passed through the New Products viewing area since its inception in 1978, giving all rodders a chance to see what's new for their next project. (Back in 2003 there were 225 new products submitted, making it the largest viewing of new products. The first year for the Best Safety award was back in 1985.)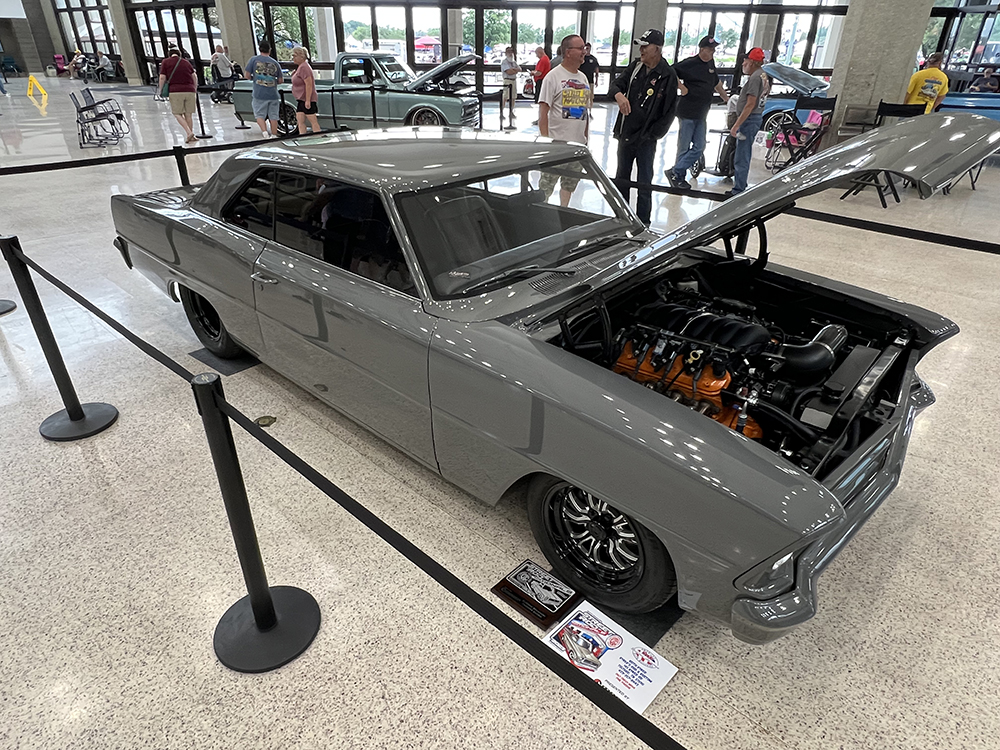 One of our favorite hangouts while at the Nats is the Michigan Hot Rod Association Rod Repair Shop in its 51st year of participation. It always proves to be just what some unlucky (yet lucky) street rodder will need during the show to get them home that weekend. Along those lines and in the Rod Repair Shop area is Powermaster, now participating in its 15th consecutive year, offering starting and charging system testing … a big plus for any rodder with electrical woes. There are other valuable spots for rodders to visit, such as the Safety Inspection Program, which began in 1980, that is both free and very informative for all street rodders and their rides. The program consists of 23 items and should your ride pass you will be given a windshield sticker giving you the proverbial thumbs up. There are four additional items that are recommended but not necessary for your street rod to pass. To date some half million vehicles have been safety inspected, bringing much wanted peace of mind to rodders from around the country. There is also UPS-sponsored Commercial Way in its 23rd year (began in 2001). It's both a service and a place to be judged. There are three awards handed out at Commercial Way and you can have your street rod car or truck weighed for total weight as well as the front-to-rear weight distribution also supplied. A little extra information to help you tune up your ride. The list of things to do or visit goes on and on. There is always something to do or see, making for a full day of activities as well as a full weekend. Another fun exhibit to visit was the Vintage '33 Display sponsored by Vintage Air. Here you could see a collection of great-looking '33 hot rods. The display is meant to celebrate the 90th anniversary of the year 1933 and all the great hot rods that come from that year.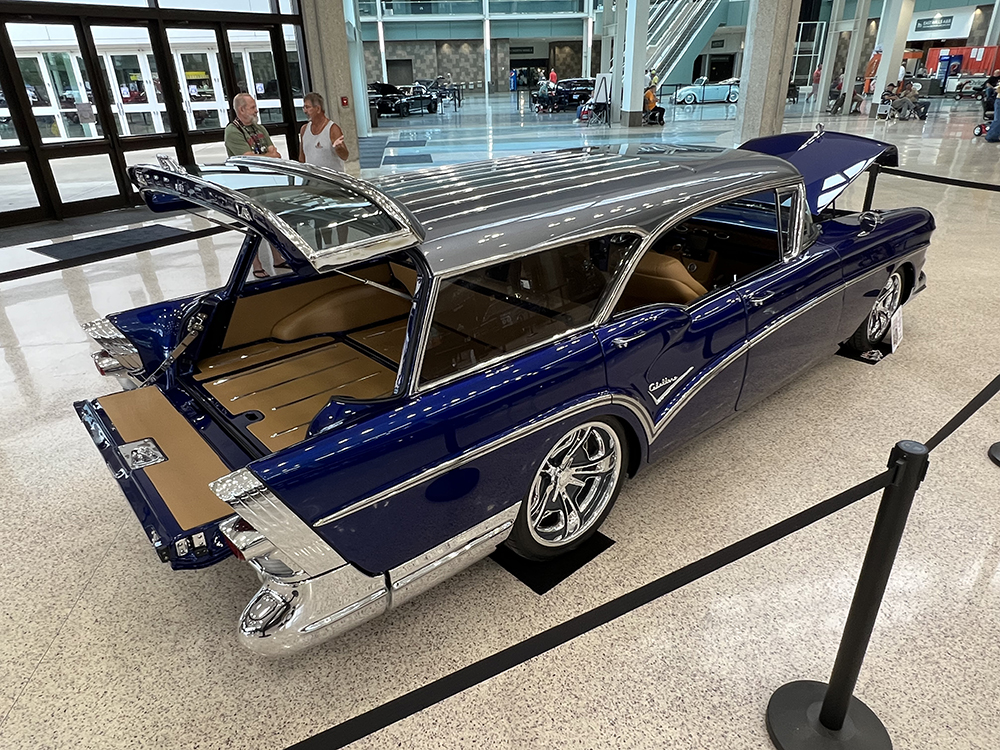 An ideal visit to escape the heat and humidity common to Louisville is the NSRA Industry Driven area, this year featuring the cars and trucks of Legens Hot Rods out of Martin, Tennessee. (Although we must admit the weather was pretty good for the entirety of the show.) There were multiple hot rod cars and trucks on display going back many years.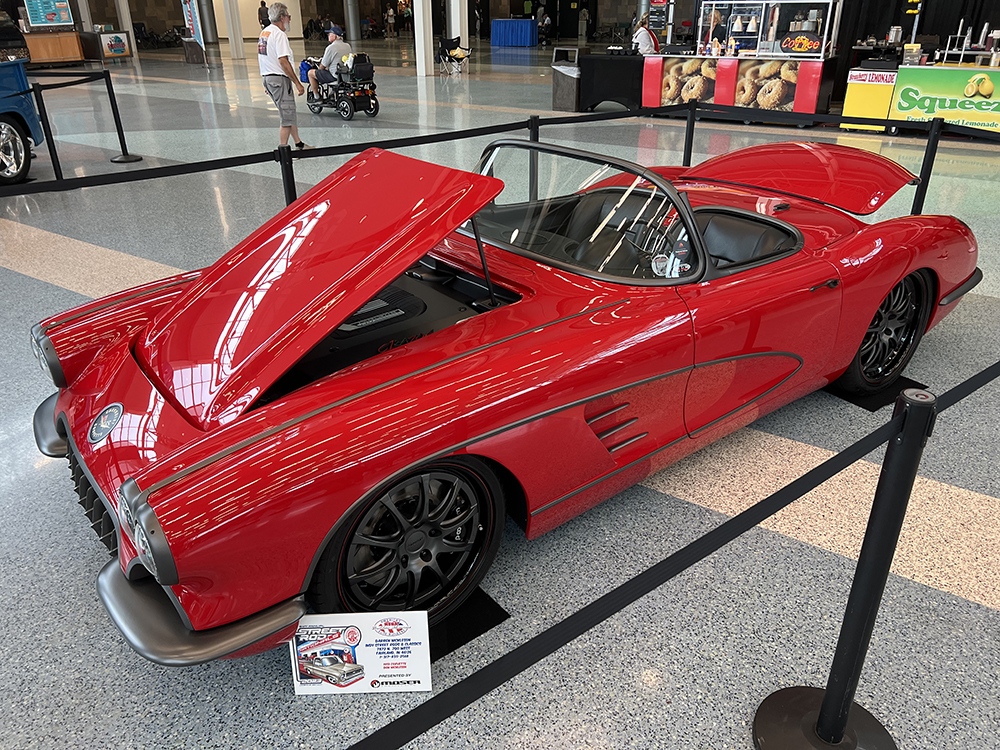 It was in 1991 that Steve Legens began his shop in his father-in-law's tool shed and from here filled the various buildings with a metal, body, machine shops, as well as a paint booth. In 1999 Legens expanded into a new 7,200-square-foot shop with all the bells and whistles.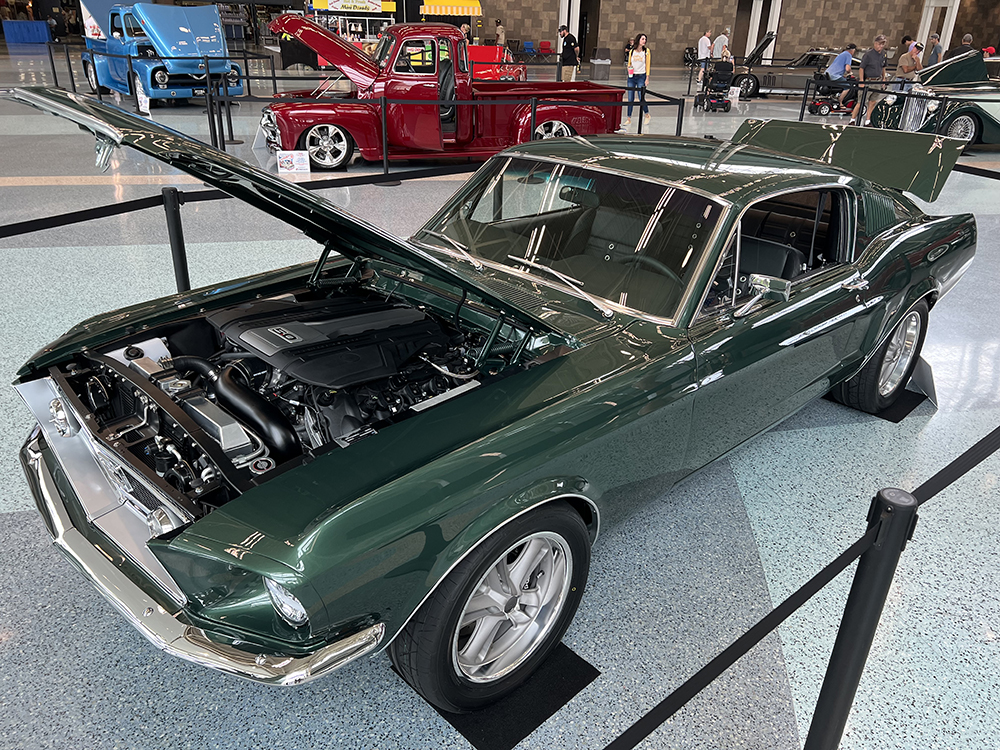 Aside from shop work Legens expanded into a product line and in 2001, a year later, took home a SEMA New Product award for their fuel filler concealment kit. It was in 2007 that Legens purchased Don's Hot Rods (famed builder Don Pilkington thought it was time to move on), which included some 120 street rod products.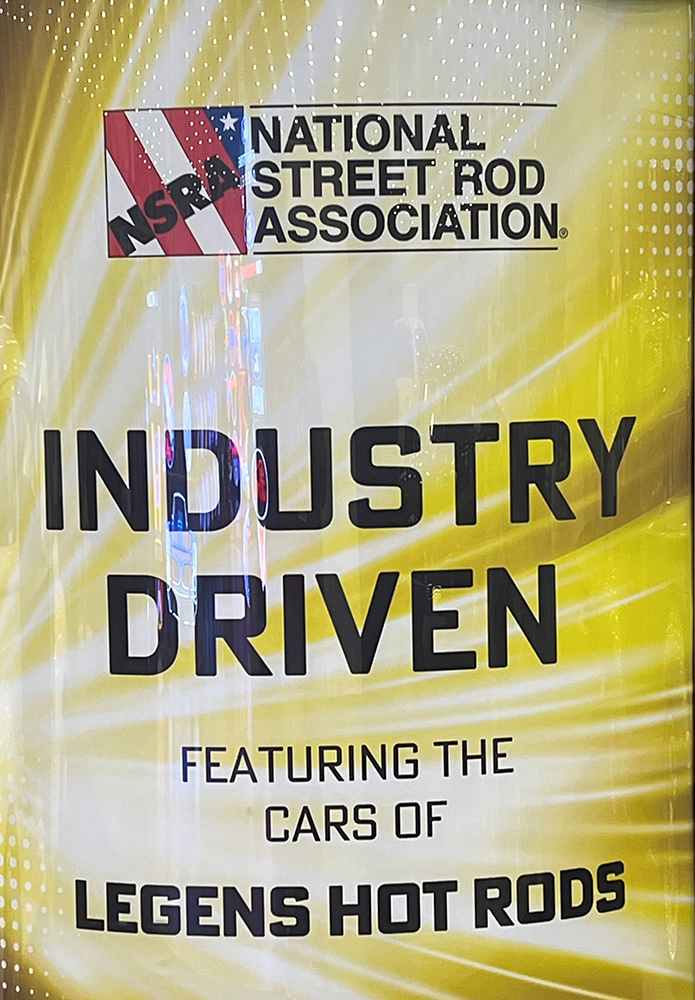 There was a great deal more to see and do. If you've never been to the Nats you must place the NSRA Street Rod Nationals, hosted at the Kentucky Exposition Center in Louisville, on your list of "must dos". It's always the first full week in August and is worth the drive. MR